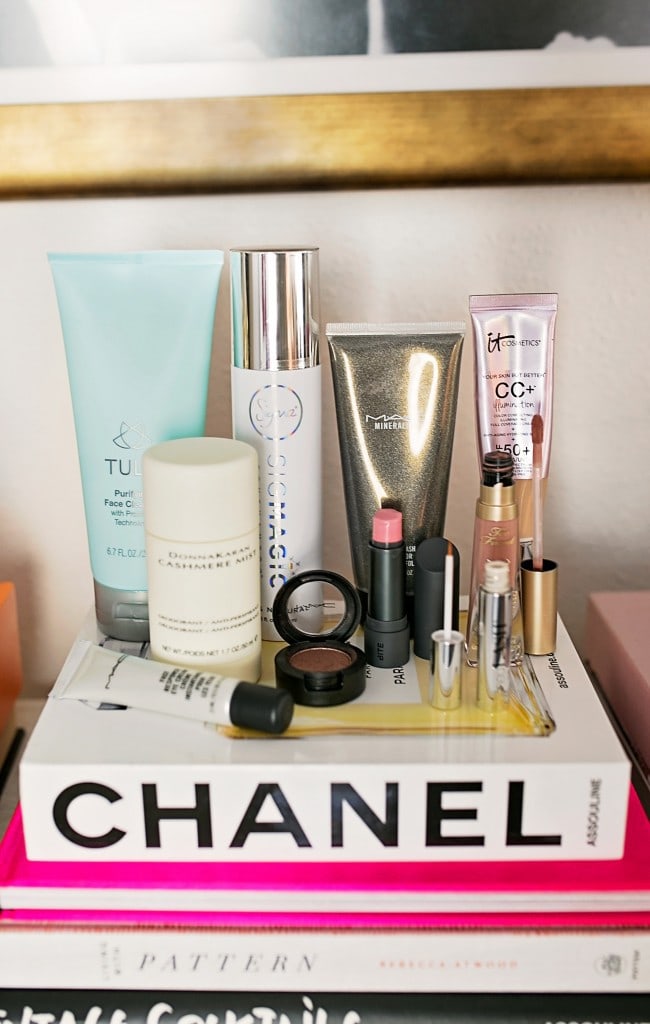 As a self-professed beauty lover and blogger that is constantly testing products, sometimes my bathroom cabinets can get a bit overwhelming. I feel as if I rarely repurchase products because I'm trying new things for the blog, so it can be difficult to think, "What are my overall favorites and not just favorites of the month?"
While doing my monthly makeup clean out [I'm always checking expiration dates, etc.] I decided to really think about my top 10 favorite beauty products. Which ones do I genuinely repurchase time and time again? Which ones could I not live without? Which ones would I want if I only kept one makeup bag for toiletries?
After chunking a ton of old body creams and eyeshadows I realized I will never use again, I was easily able to compile this list! Some you'll have seen a million times on the blog [which attest to my love for them] but some I may rarely have covered at all just because I don't give much thought to something I use daily. It becomes redundant if you will! So here's our little COF Oscar winners for beauty. 😉
1.Tula Purifying Facial Cleanser
I have an entire basket in my bathroom of backup Tula facial cleanser because I'm scared to ever run out. And truth be told, my husband loves the stuff too. I actually threw a different cleanser in the shower a few weeks ago just trying to use it up and he said nonchalantly [trying to not sound like he even knew what face wash was], "Hey babe, where is the blue Tula cleanser?" I said, "Oh it's in the cabinet but I just threw the other stuff in there to use up." His response?
"Oh, well can you go ahead and use it up?"
This cleanser is gentle enough for daily use, but removes everything from stubborn eye makeup and prevents blemishes. I got hooked on it before my wedding as I don't break out, but I do get hormonal break outs and I always think those are the worst! Blemishes are built up for weeks before you even see them, so using this cleanser daily prevents that. If you want more info on my skincare routine see this post! Also, today they are offering a FREE full-sized cleanser with a purchase of $30 or more! Just use code: winterskin at checkout!
My mom got me hooked on this deodorant when I was a freshman in college I think and I really can't use anything else. I've tried. I really have. Because sometimes I'm a bit embarrassed to need a deodorant that comes from a department store. But NOTHING smells better or works better. I live in Texas where we will go 65 days straight with 100+ temps and you seriously do not sweat if you wear this and you smell so good. You know the smell you have before you can shower off a spray tan? I swipe this on after a spray tan and it completely covers the scent up before I can shower in 6 hours.
I don't think I've shared this product on the blog before but it's one I picked up when I was pregnant. I decided break up with eye cream during my pregnancy just because I knew most have really strong anti-aging agents in them and I just didn't think it was necessary for the time being because I could just use coconut oil in place at night. However, I found that my under eye concealer just applied extremely cakey and didn't blend out well when I skipped it. I picked up this and it has all the properties I love about a morning eye cream! It feels like a silicon base so it smooths out any fine lines. It depuffs your under eye area, battles dark under eye circles and concealer applies like a dream after.
I chatted about this shampoo last week when I shared my top beauty brushes. I love this product simply because of how quickly it cleans my makeup brushes [the entire task now takes me 10 minutes as opposed to the old 30] and how well it cares for my brushes. I'm not left with dried bristles or overly-conditioned blush brushes that just allow product to catch and apply unevenly.
I used to only wear MAC eyeshadow [I mean didn't we all in high school?!]. But then I feel like once Urban Decay started their Naked Palette trend, every brand stepped up their palette game and I didn't really go back to single shadows. But one that is always in my GLAMbox no matter the season is MAC Sable. It's the perfect plum-brown that melts beautifully in the lid. I always love eyeshadow after it's worn for 5 or 6 hours because your skin's natural oils make it dewy and Sable always looks like you have these natural smokey eyes that you don't have to fuss with much. It's also a frost so it's so easy to blend with other colors if you want a heavier smokey look.
This is another product I don't think I've ever shared but it's always in my shower! And I'll be honest, I tend to think brands do one thing well: either makeup or skincare. If a brand is known for their skincare, chances are I'm not dying to buy their lipstick and vice versa. However, MAC does make some stellar skincare items and this one is that! It's a really strong exfoliator in the sense that it removes any trace of dry skin and that's why I love it. Some exfoliators don't have a lot of grit to them and I wonder if they do the job. However, this one is a bit messier as it is black, so I only use it in the shower. Otherwise you're left with a mess all over your sink!
7.Bite Beauty Lipstick Souffle
Bite lipsticks are always so creamy, pigmented and above all, moisturizing. [I also love Sugarcane, Meringue, Cava and Honeycomb]. I'm convinced 2016 was the year of the dry lip with liquid lipstick this and that. However, liquid lipsticks made me so picky! Now I hate 80% of lipstick formulas because the color payout is so much less. However, Bite really nails their formula down by providing color and moisture. I have a few shades but one I always keep in my purse is Souffle. By itself, this is a seriously cool-toned pink, so I never wear it alone. But what I love to use it for is mixing with any lipstick I wear. I hate warm-toned lipsticks on me [they make your teeth look more yellow! Blue-toned gives you a white smile], so I just apply a layer of this over any lipstick I normally wear.
8.Neulash
Now I don't use this while pregnant [or nursing] but it's the one product I'm excited to get to use again whenever that time comes. This gives you eyelash extension-length lashes without the damage or upkeep! I stopped using this right when I was pregnant and no my lashes didn't fall out! In fact, I didn't even notice a difference until I was about 8-months pregnant which goes to show how long it kept my eyelashes healthy and long. I have a post here which goes a bit more in-depth on the product.
9.It Cosmetics CC Iluminating Cream
I'll buy all the lipsticks and blushes in the world, but I really don't stray from foundation. Why fix what isn't broken? This is my favorite daily foundation and it blends so beautifully with a dampened beauty blender. I am shade light and I've used this for 2 or 3 years now! It's a CC Cream that works to help better your skin while you wear it, but it also can have full-coverage benefits to it in the sense it easily covers blemishes or uneven skin tone. I love the natural glow it gives you. It reminds me of a spray tan, just your natural shade. It also has SPF 50 in it which makes me feel good! I then don't have to use as sunscreen over my moisturizer during the day if I won't be outside much because this does the job for me! 🙂 However, if it is summer I also use a sunscreen.
This is my favorite nude lip and I always swipe the Bite Beauty Souffle over it! So if you ever see me in Snapchat with a neutral lip, 9 times out of 10 this is what I'm wearing!

Photography by: Angie Garcia