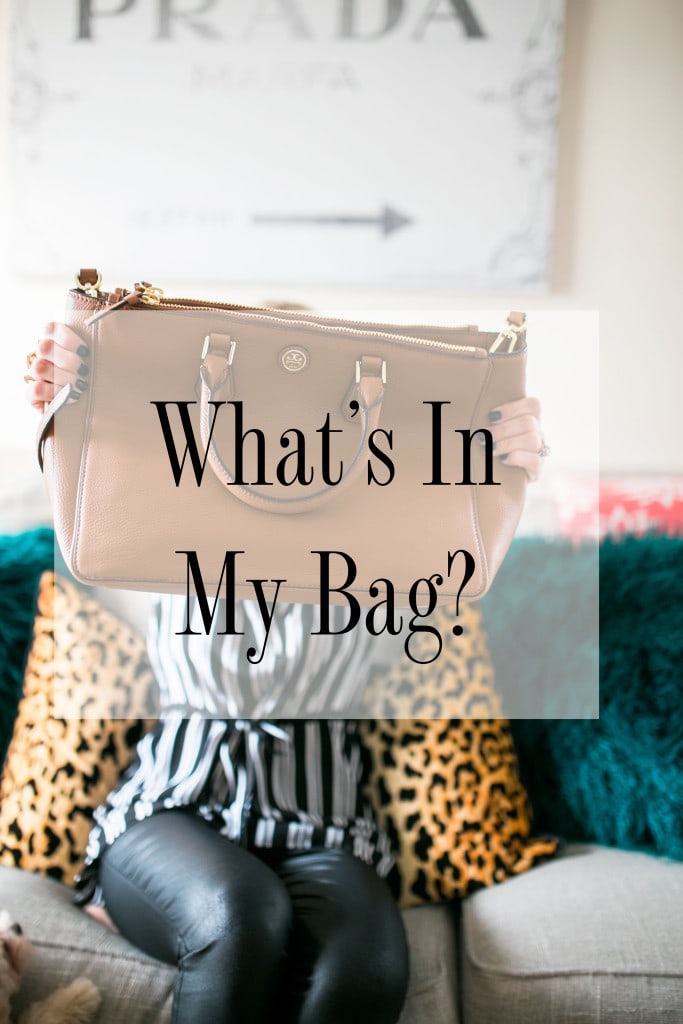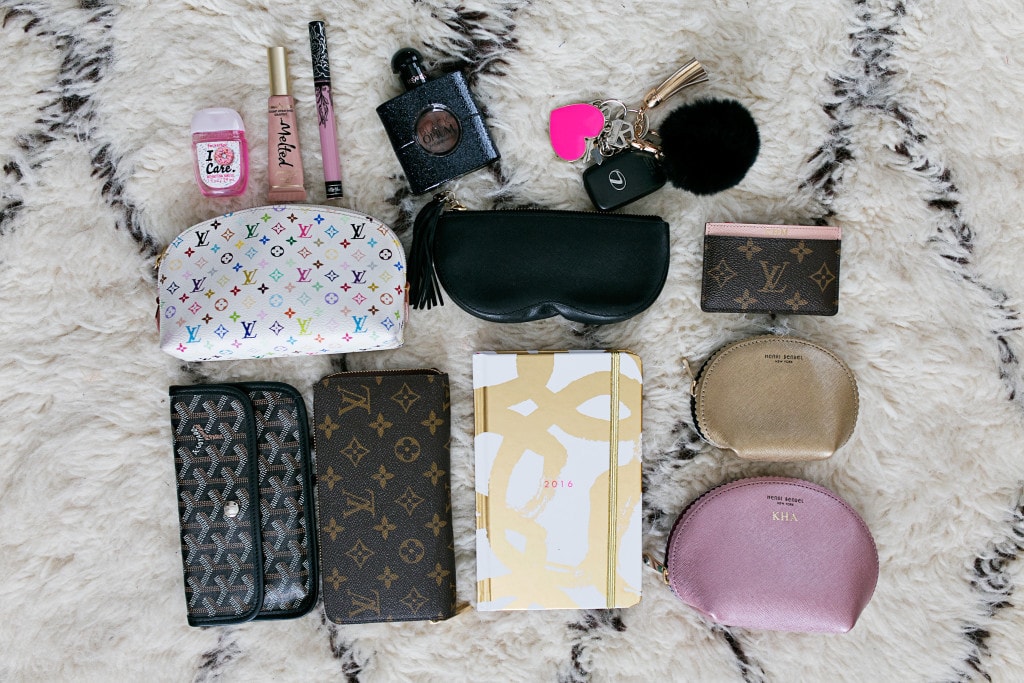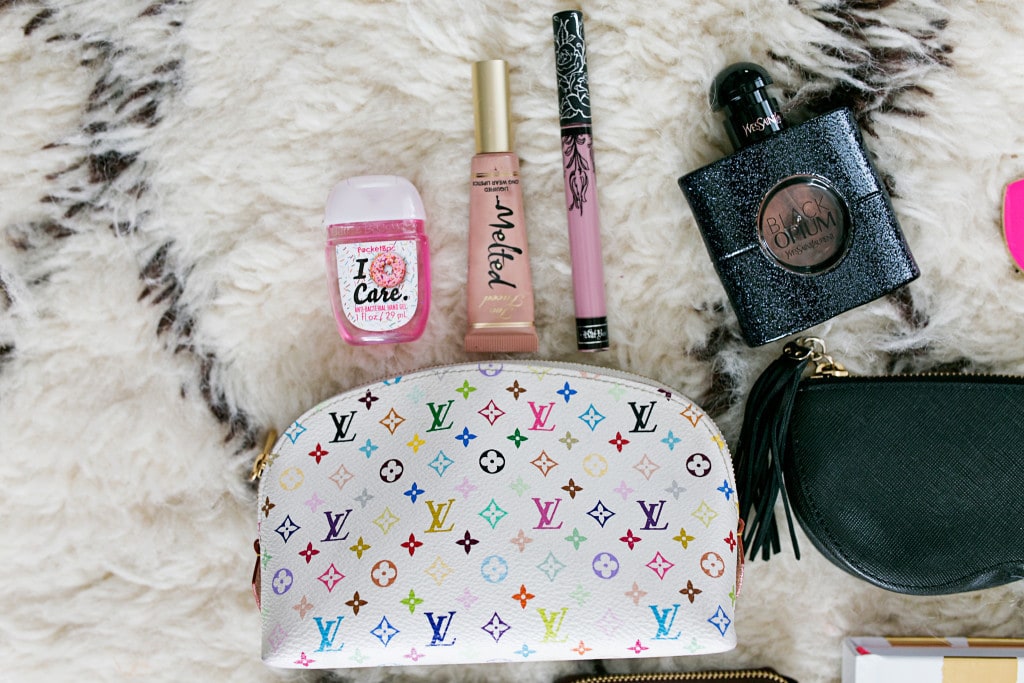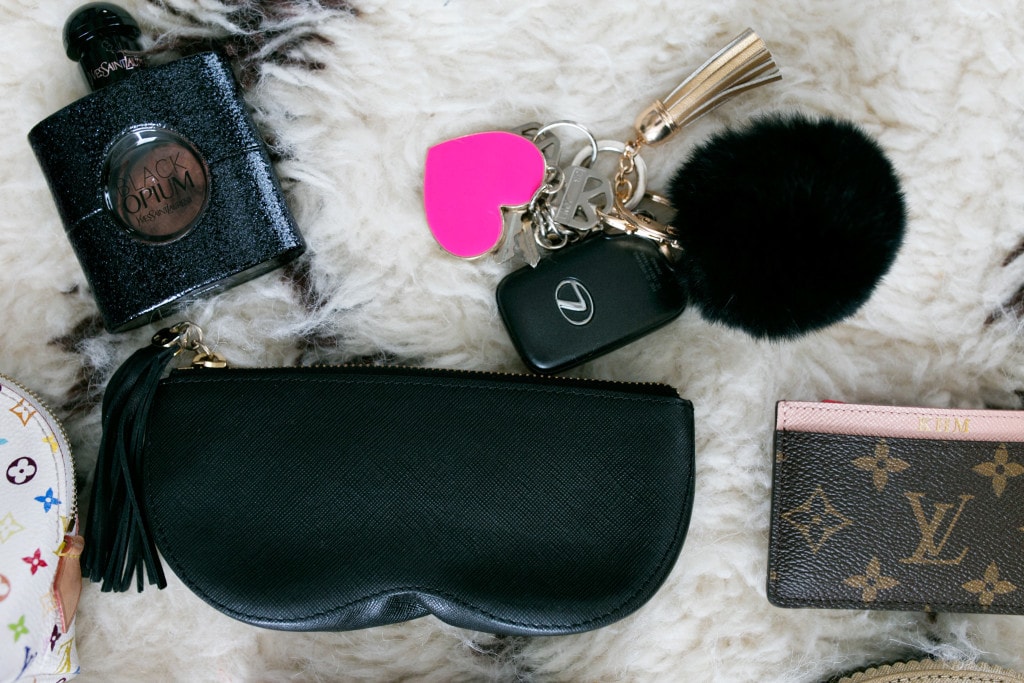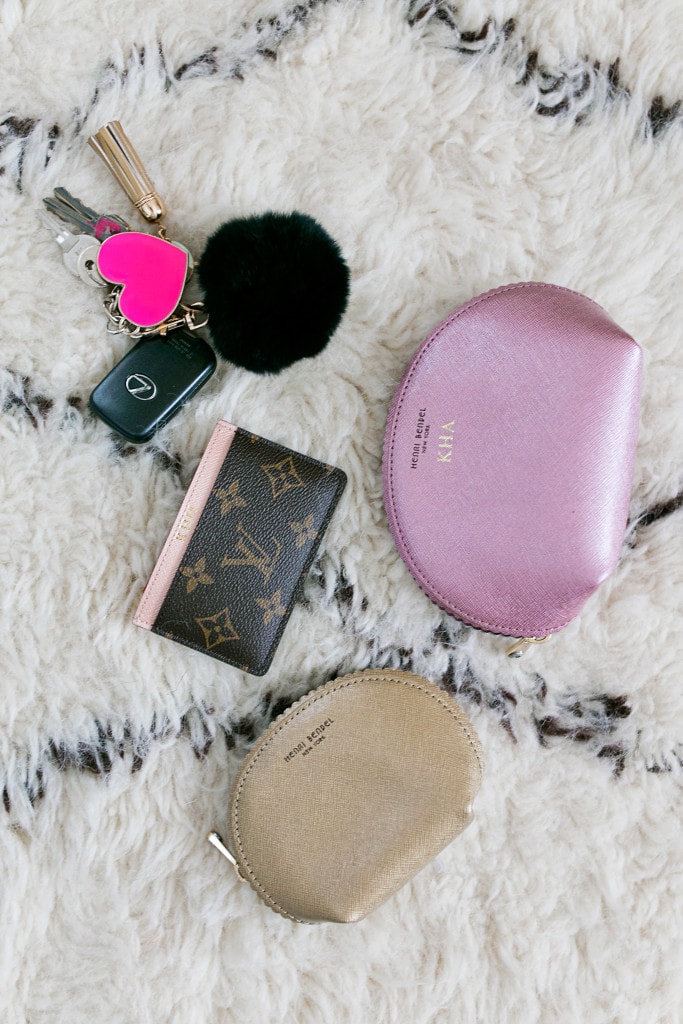 Bag: Tory Burch, Similar, Similar | Top: Nordstrom, Similar | Leggings: Nordstrom
Photography by: Angie Garcia
---
Happy Thursday! I've gotten lots of requests to do a "What's in my bag?" post, because y'all know this little girl [ahem, me] is 50 shades of Type A. I've always been a naturally organized person. I used to gift my mom coupons for holidays when I was little and half of them would say:
1. One Coupon Good for Katey Cleaning Your Bag
2. One Coupon Good for Katey Cleaning Your Closet
I still might do that, too! 😉 [Because when you clean out your mom's purse you get to take a few lipsticks home and I have no shame in doing so!]
Purses can be one big black hole, so I wanted to share how I keep mine from being too cluttered. I truly also think this allows your bag to last longer just because lip gloss and Tic Tacs don't end up getting crushed in the bottom of the bag.
Two little tricks I have for keeping your bag in good condition:
1.Clean it out every night before you go to bed! 
Organize your receipts, throw out old gum wrappers and save your coins. That sounds really tasking to do every day but it just takes me about 30 seconds since I do it daily.
2.Stuff your bag with this while you aren't using it. 
To make sure your bag doesn't lose shape, I always stuff my bag when I'm not using it. If it's a clutch I just use tissue paper, but I swear by these for large bags! Use the large size for totes and the medium size for most satchels.
WIMB: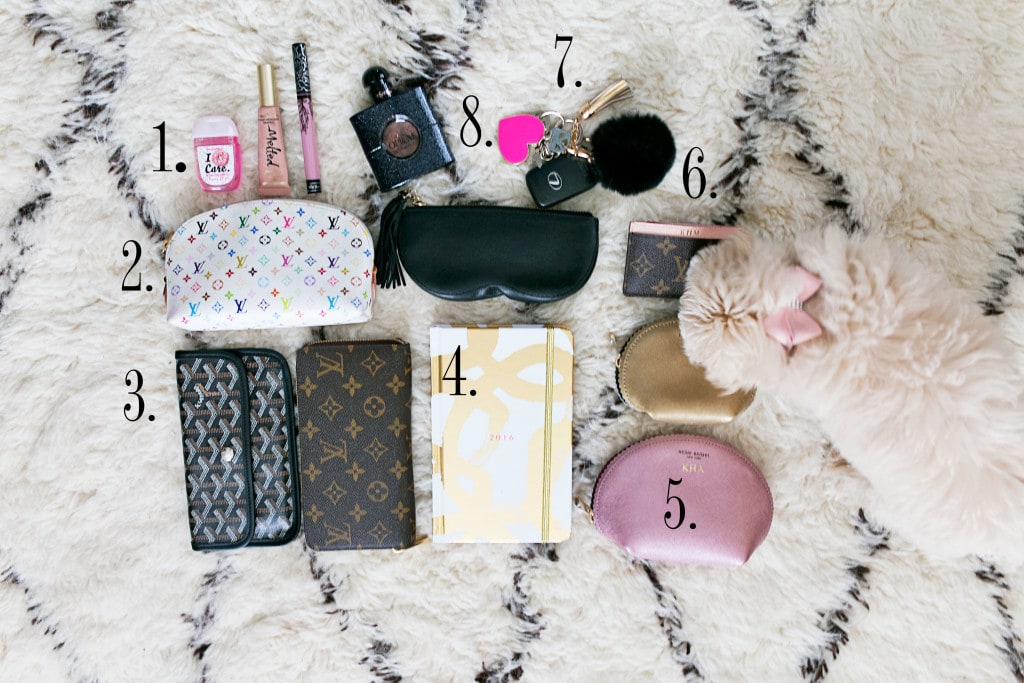 1. Must Haves
I always keep hand sanitizer, a Too Faced Melted [these apply so easily and give you great pigmentation while looking natural] and a liquid lipstick in my makeup bag. The Too Faced shade is Melted Sugar and the lipstick is Kat Von D. Requiem. I'm such a lipstick hoarder, but I really only like to keep 2 shades in my bag so I actually use the product and nothing goes to waste.

2. Makeup Bag
I keep a colorful LV makeup bag in my purse to house the must haves listed above, gum, tissue, ponytail holders and my perfume! I also love this makeup bag for a bright colorful touch. I like to keep everything in little compartments so when I switch purses I can grab and go. Depending on the size of the bag, this is usually what I switch over because it houses all the necessities.

3. Wallet & Checkbook
Y'all, this Texas girl is old school. I still write out my budget. I married a CPA and I write out my business budget as well as our home budgets. Granted, I keep everything on my computer as well [he would have a stroke if I didn't], but I just like to keep things hand written, too. Every Sunday afternoon I grab Peaches, head to the couch and we hand write out what Paul and I spent the previous week, etc. Could I get anymore 1950's?! So yes, I still write checks. We just got the bill for my surgery in November and I went to grab our checkbook and Paul stared at me like I was mad.
He said, "You know you can just call and pay over the phone?"
To which I replied, "Yeah, but I don't like that way." haha! So I keep all my cards, coupons, cash and receipts in my LV wallet [love this one too!] and my checkbook in my Goyard clutch. This one is also a super cute option for a good price!

4. Planner
I am glued to my planner, as well! So it always goes in my bag, and I am using a bando one this year!  Unfortunately, it sold out but below are the ones I always use! I used them for the past 3 years and had no complaints!

5. Henri Bendel Cosmetic Cases
If you squint you can see these cases say "KHA." Nope, not my initials. I took my maiden name as my middle name, but my mom is still mourning that. She picked my middle name and was so upset when I had to swap it for my maiden name. I kept my maiden name for business reasons and for my dad! But my mom gave me about 14 monogrammed items for Christmas that say "KHA" so I'm definitely getting the hint! 😉
She gave me these Henri Bendel Cosmetic Cases for a few reasons! In the large one I keep medicine, vitamins and all the teas my mom gives me! She swears by teas for healing any ailment, so I always have like 14 in my bag at a time. In the medium sized one I keep gift cards. In the small case I keep jewelry that I swap out while I shoot. I kept losing earrings/rings from shooting so I just throw them in there!

6. Card Case
I keep a card case on hand for my license, debit card and Sephora VIB card. Shows what I do too much… Mine was a gift and is LV, but I'll list a few more reasonably priced ones below!

7. Keys
This is the faux fur pom I keep on my keys, it's a steal!

8. Sunglass Case & Perfume
I use a Henri Bendel sunglass cass [this one is old but here are a few more current ones] and always keep perfume on hand! I love the YSL Black Opium, it seriously smells like classy candy. haha! You know those candy perfumes [Paris Hilton whatever] we all wore back in the day?! This has spicy undertones so it takes me back to middle school, but it also has coffee notes so it isn't overpowering in the sweet department.

What are your must haves in your bag?!