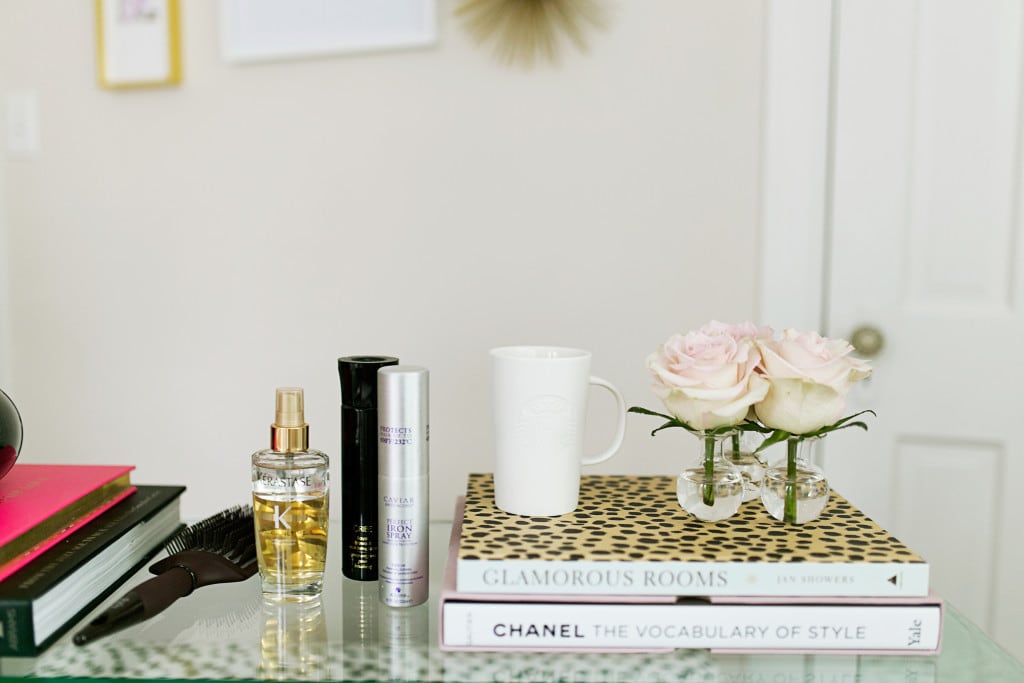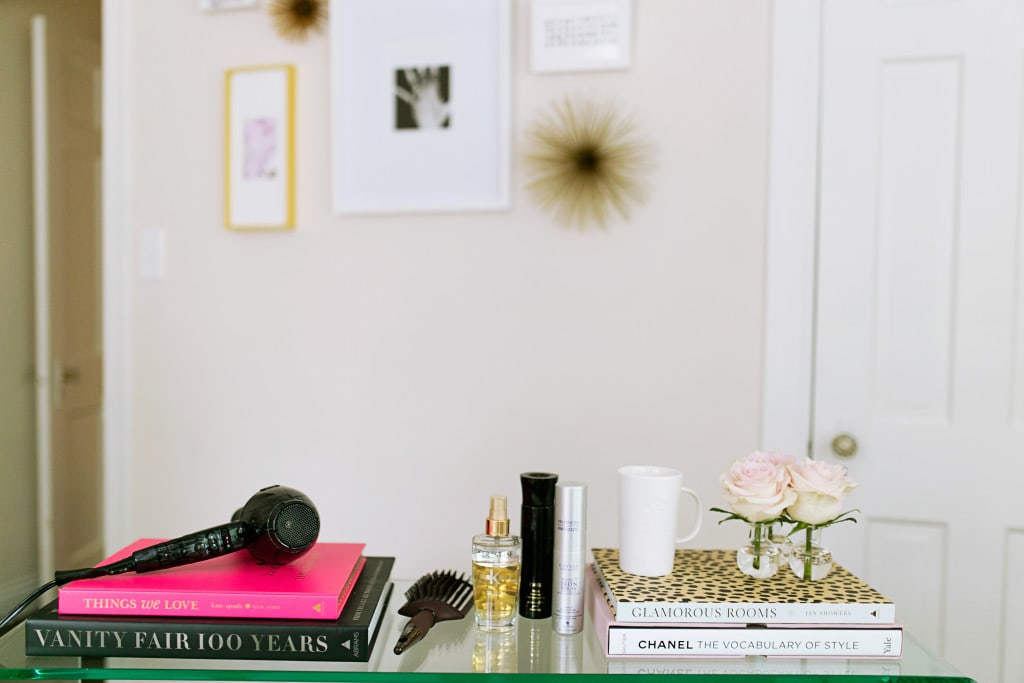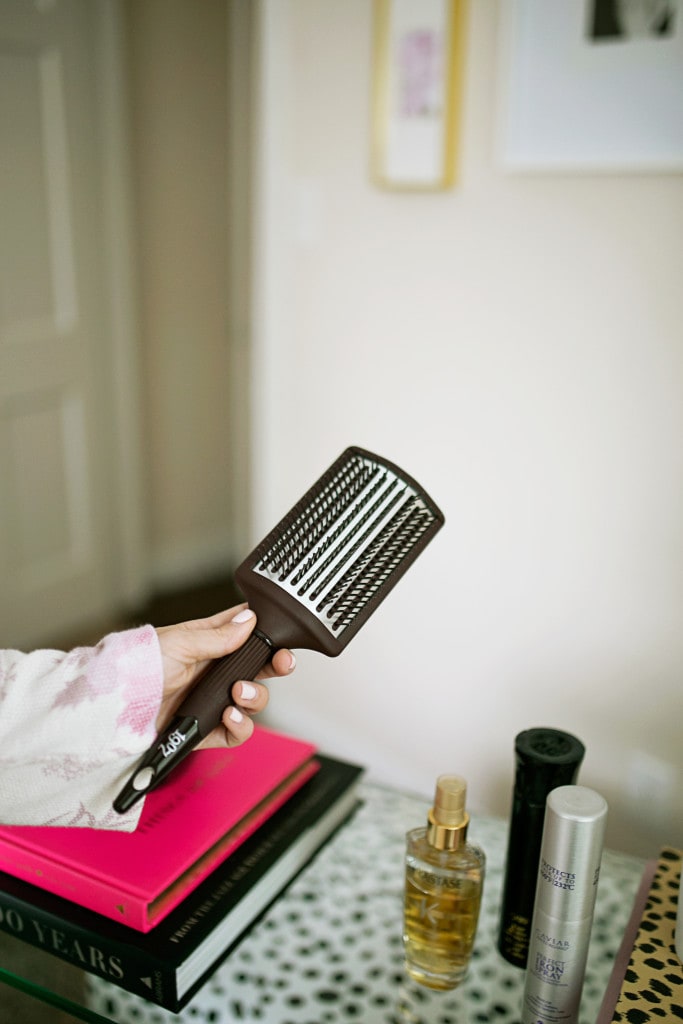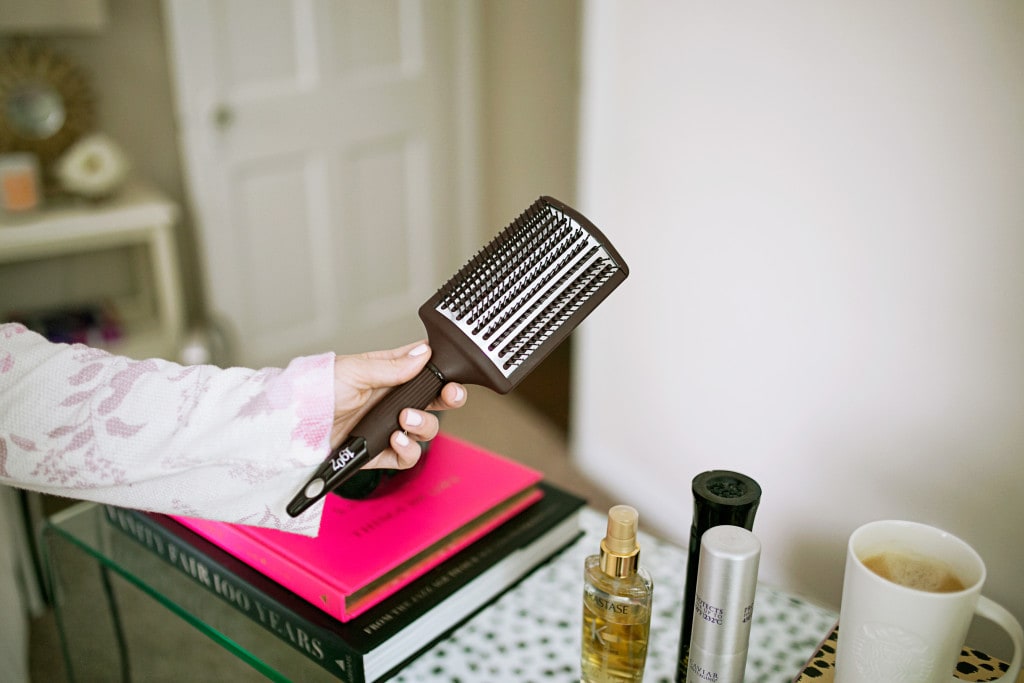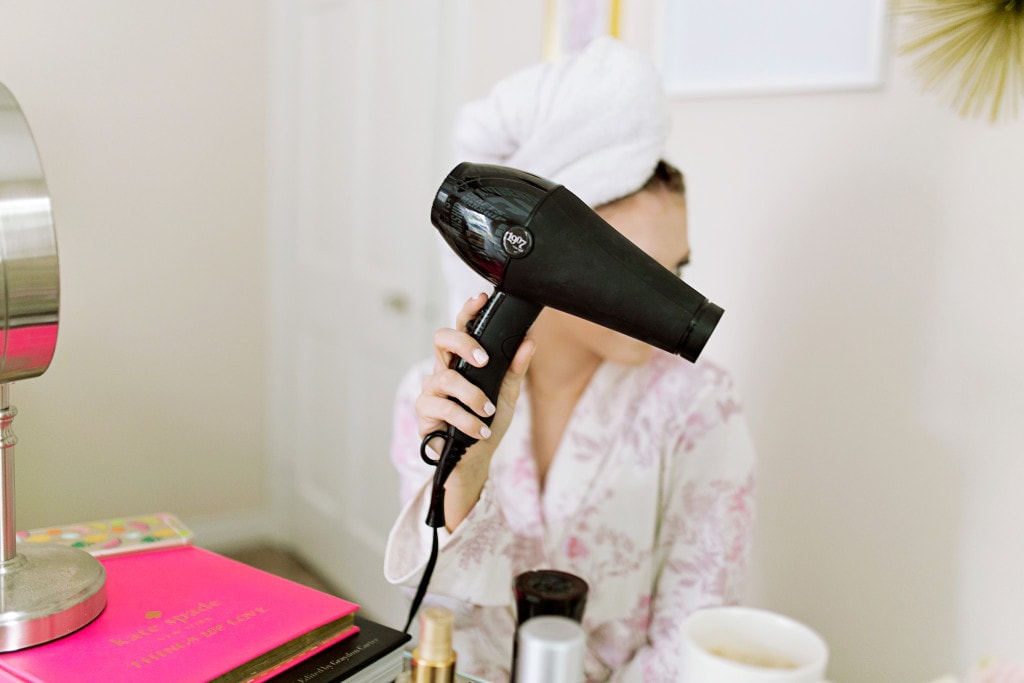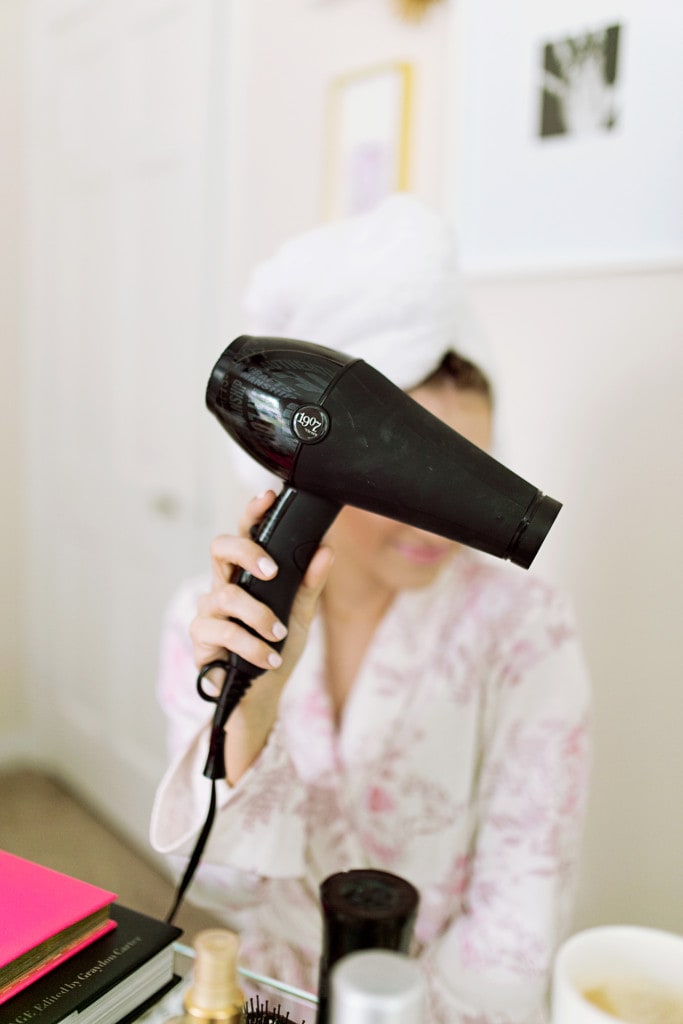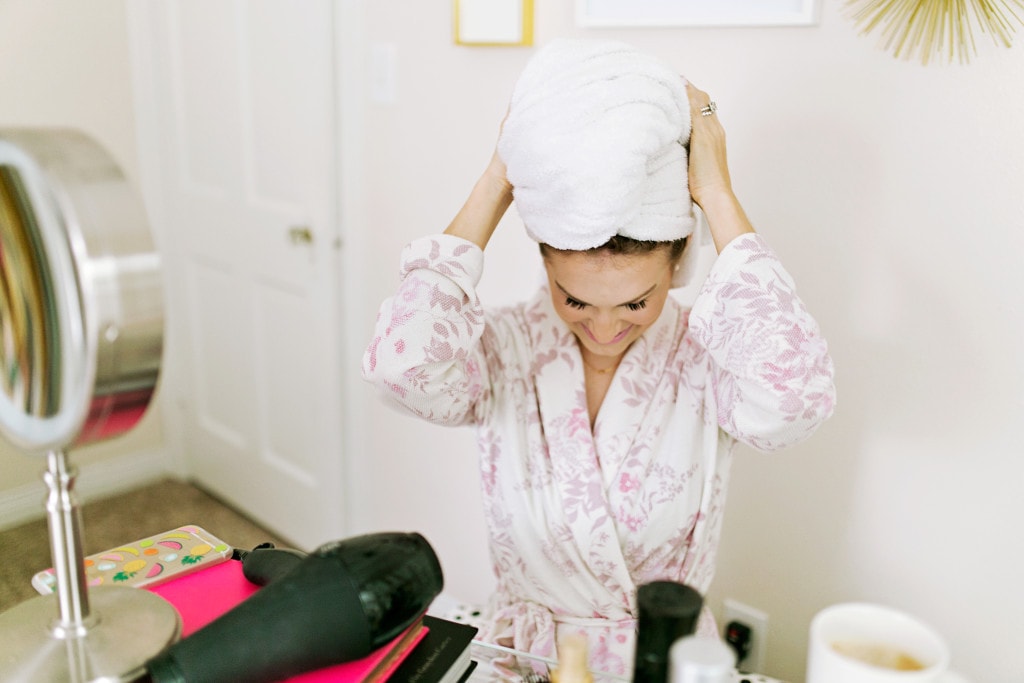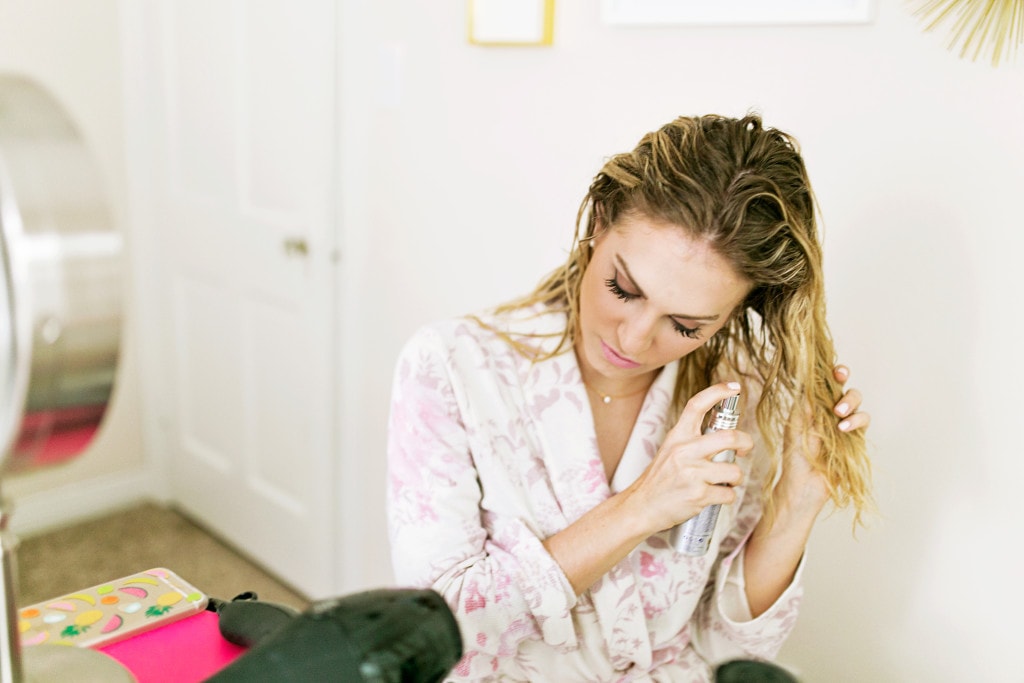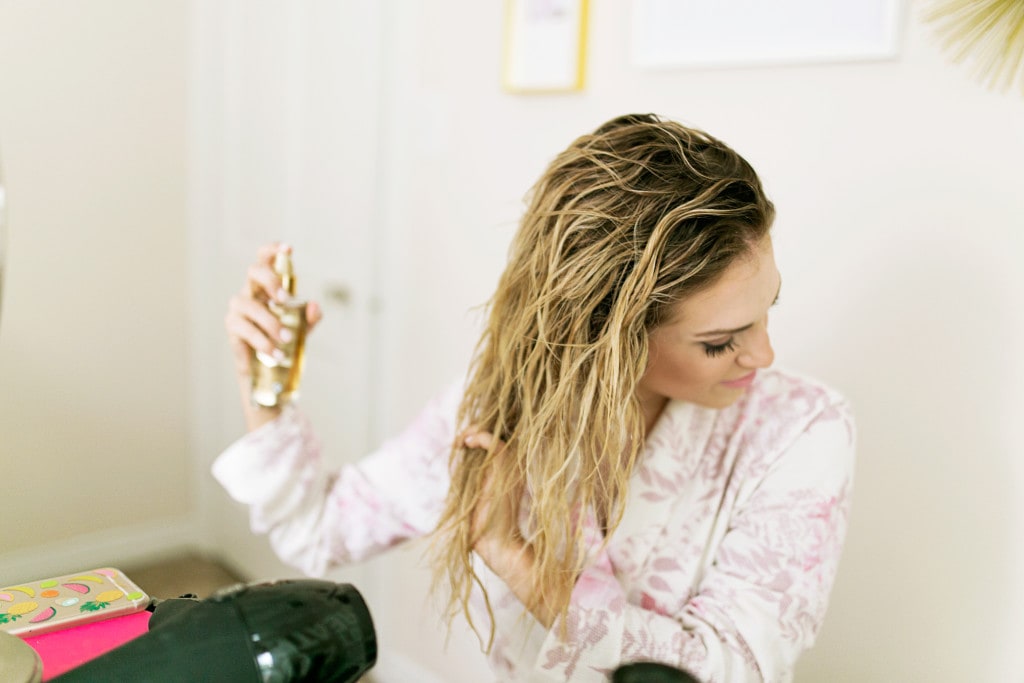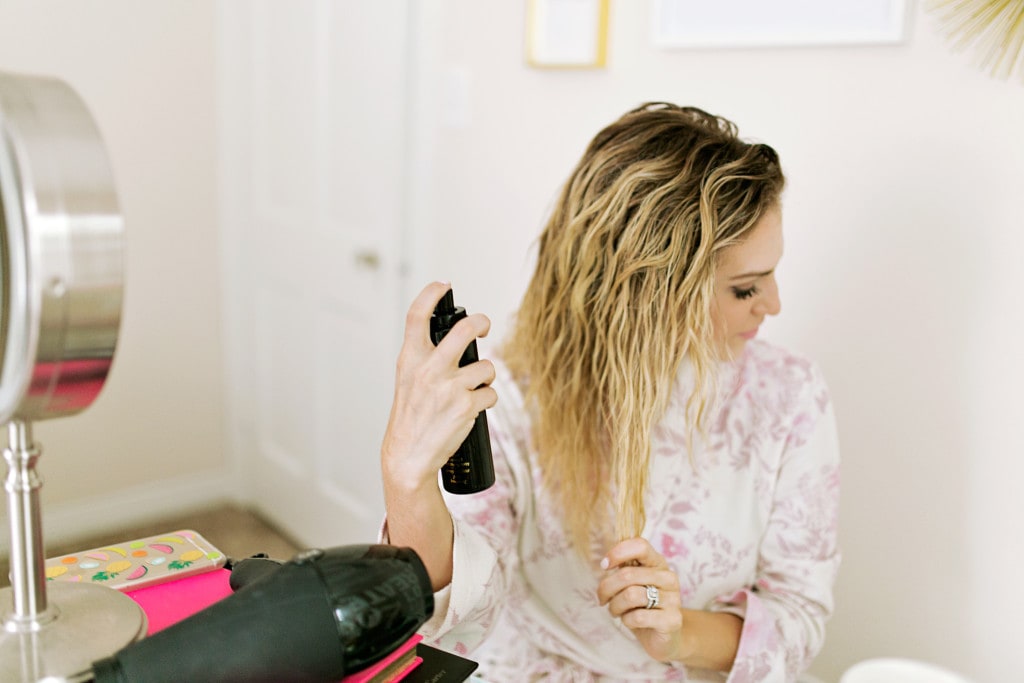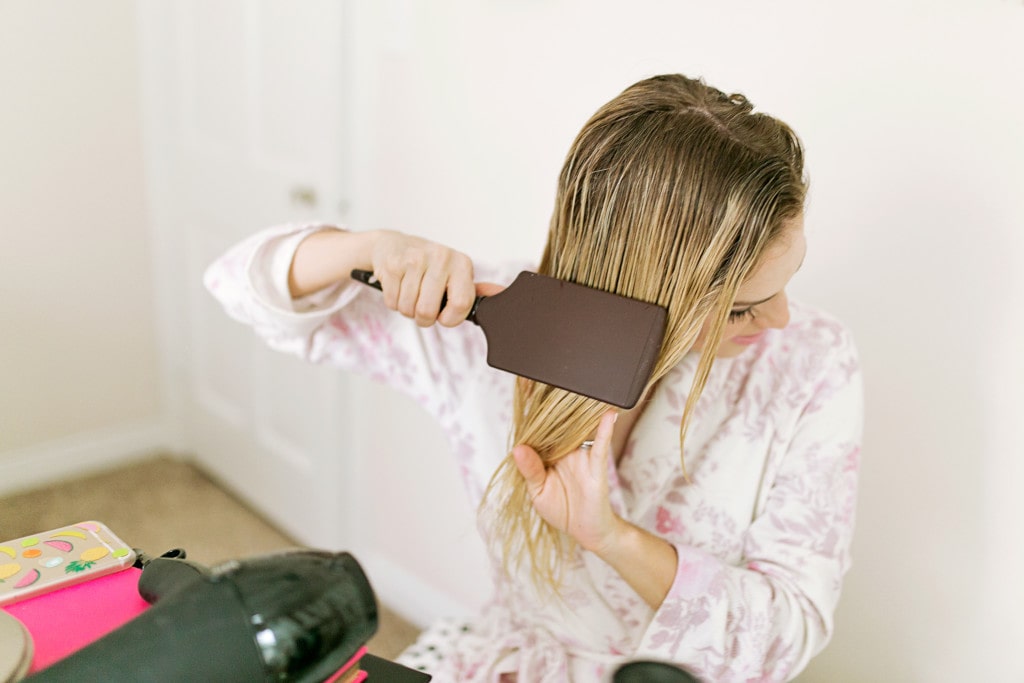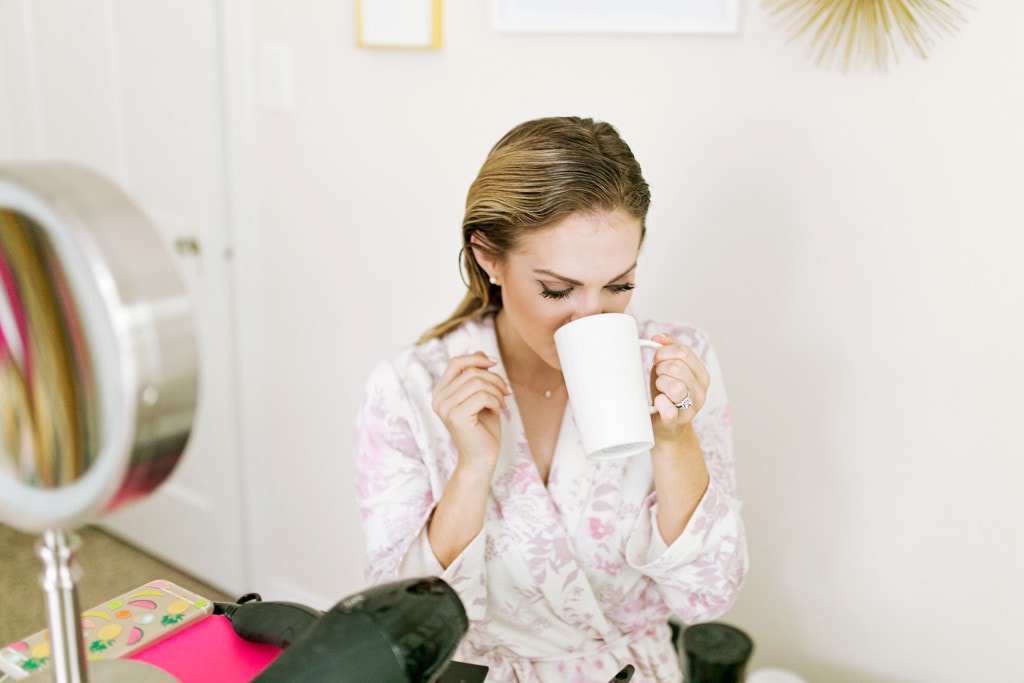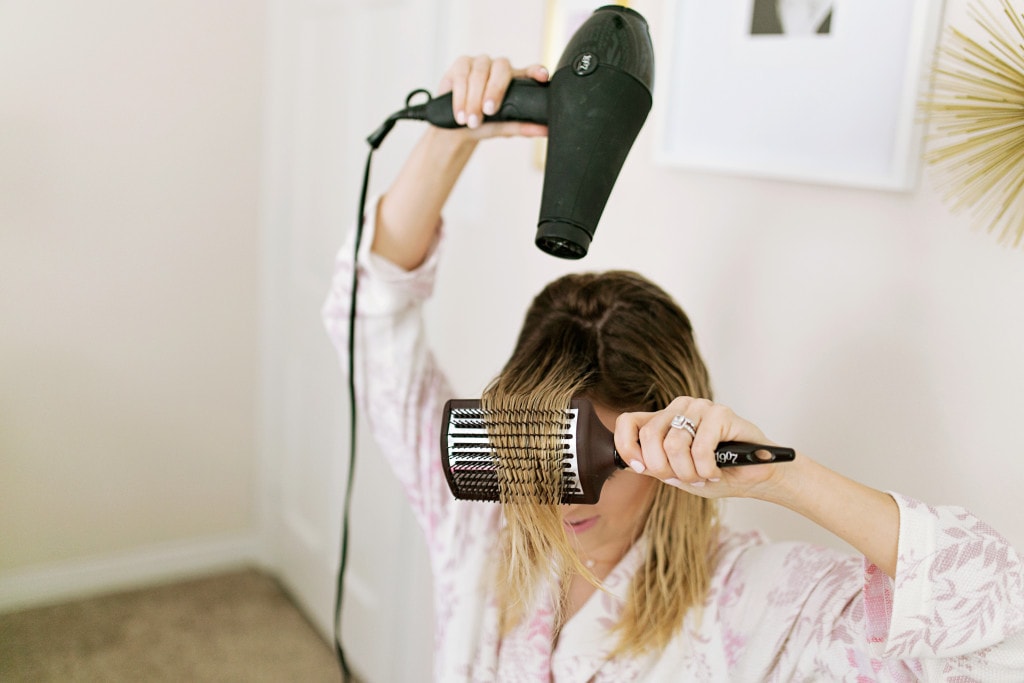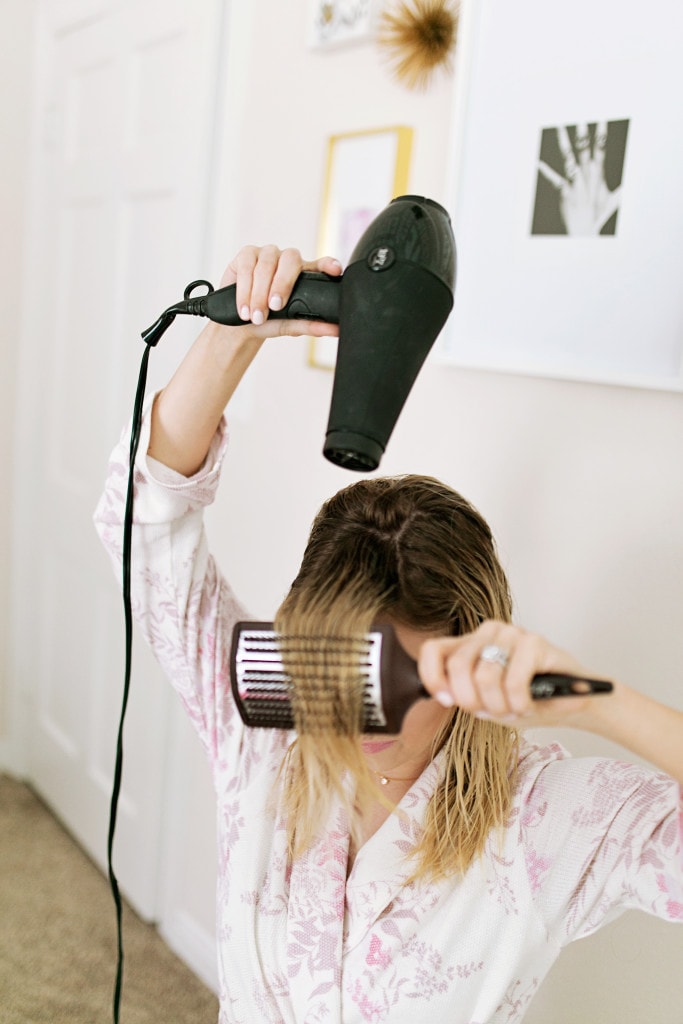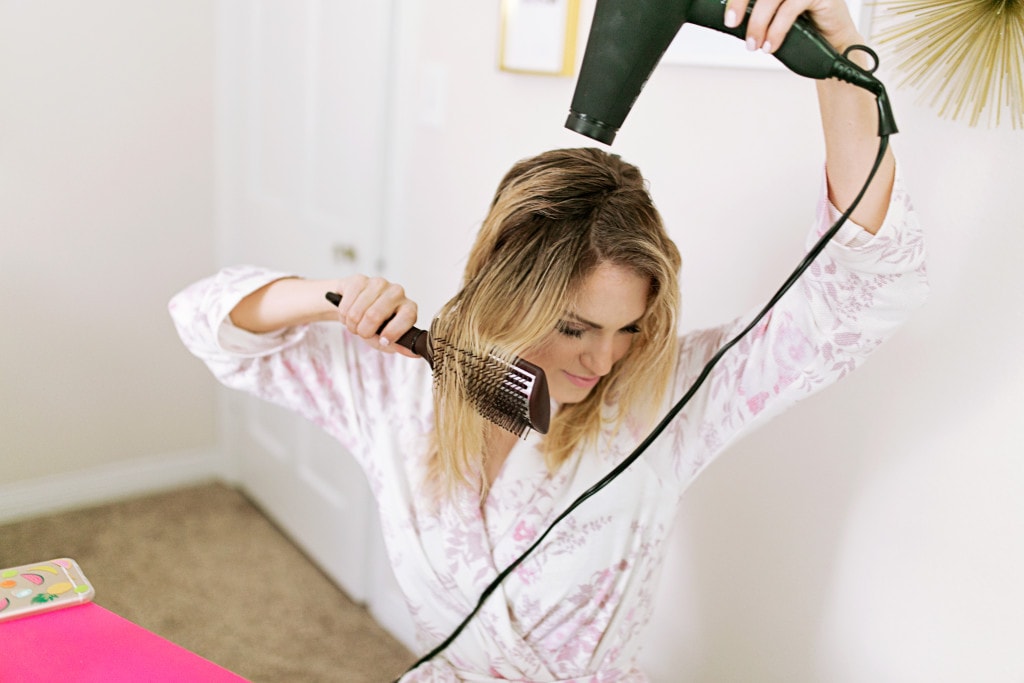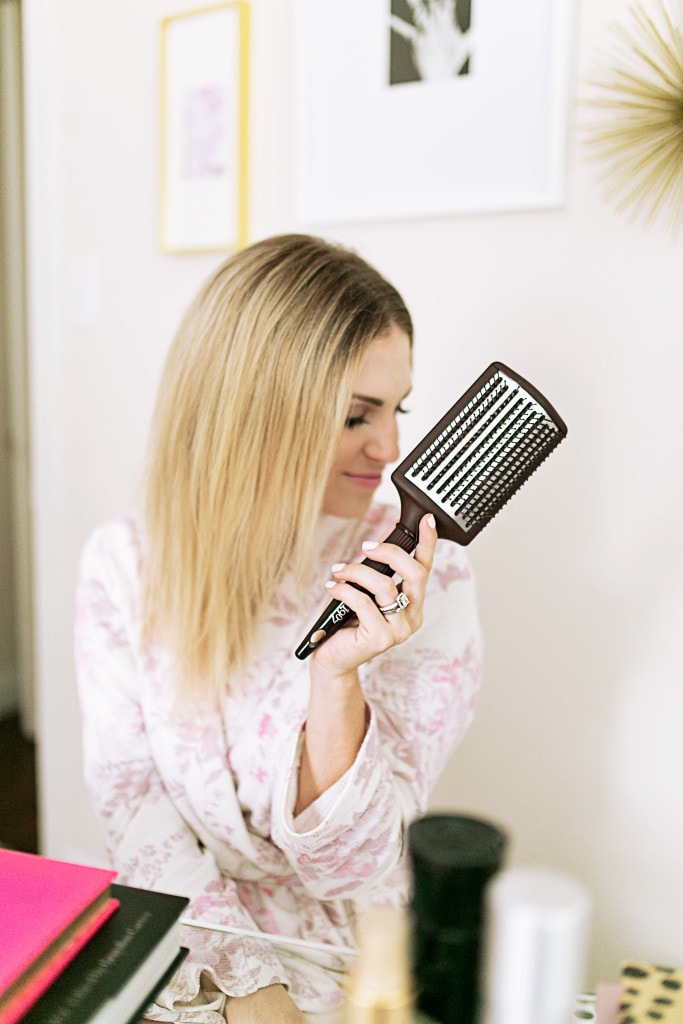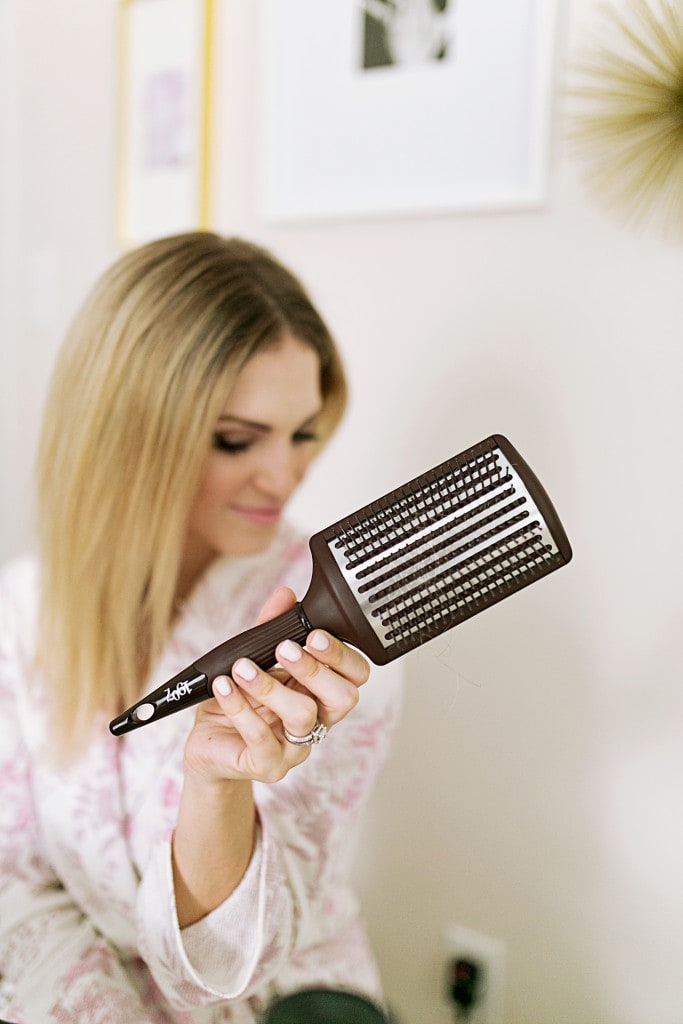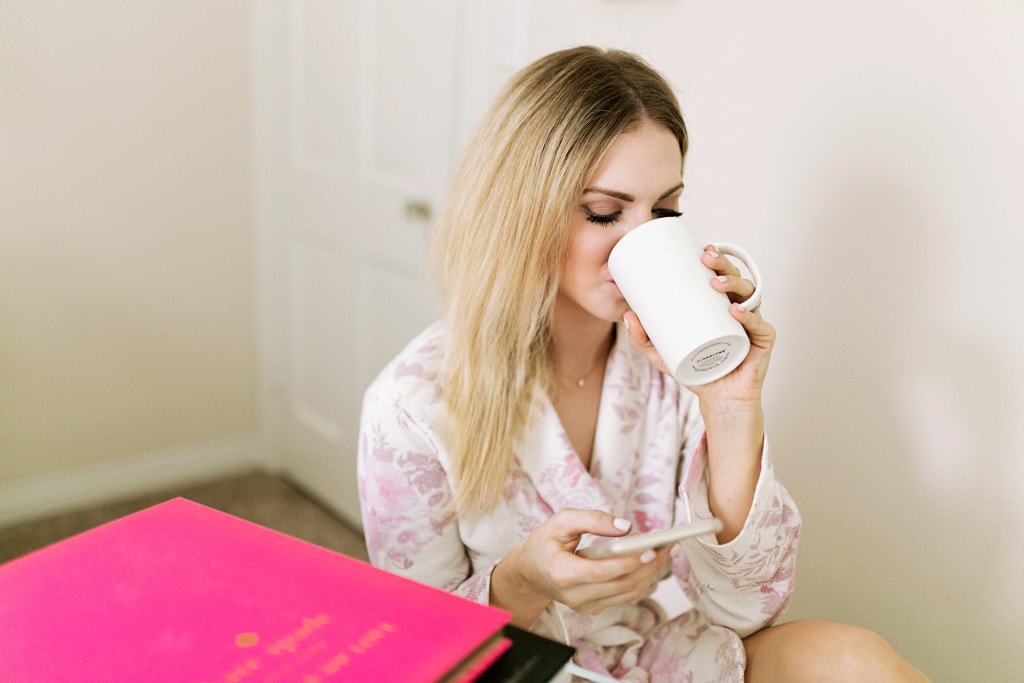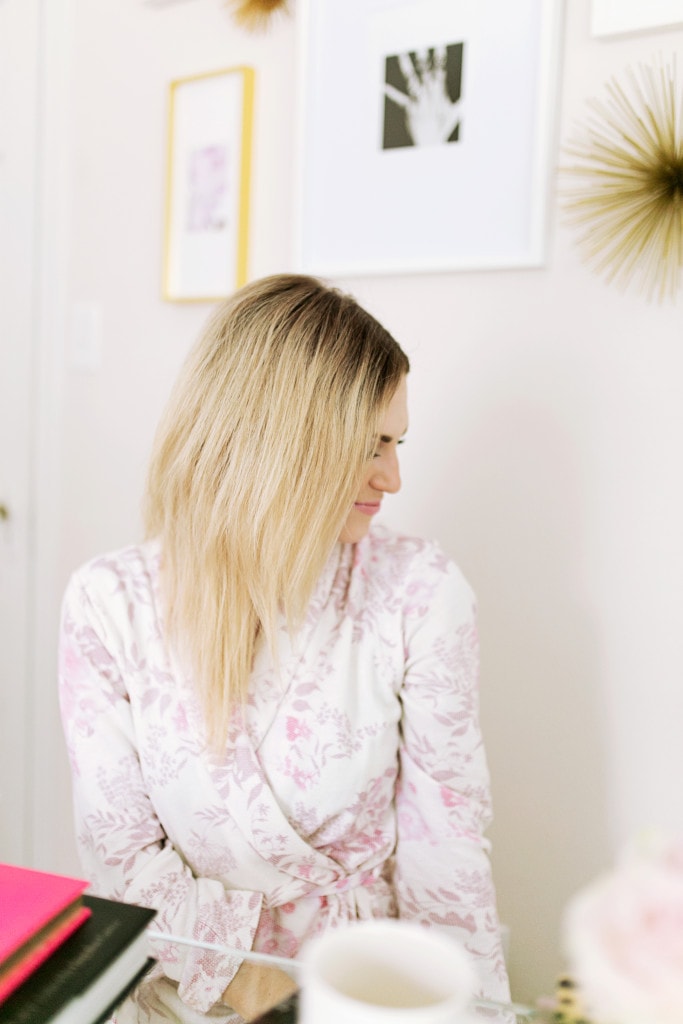 Robe: Anthropologie | 1907 by Fromm blow dryer: Fromm [c/o] | 1907 by Fromm Hot Paddle: Fromm [c/o] | Kérastase Elixir Ultime: Kérastase [c/o] | Royal Blow Out Spray: Oribe | Clear Console: Similar
Photography by: Angie Garcia
---
If there is one thing in the world I hate doing it would be blow drying my hair. And let me just list the ways….
1. I've Got Textured Hair
The reason I have a lot of body is because my hair is pretty textured. There are so many "pros" to it. I only have to wash my hair twice a week, whatever I do to my hair will last for days and I never worry about my hair falling flat. But oh boy, are there "cons." One being that blow drying my hair TAKES FOREVER. And even when I'm done I don't have Disney Princess, silky, fine hair that can just whip in in the wind and cue Colors Of the Wind to start playing. I've still got to play around and style it.
2. We've Got a Small Bathroom
Old home = one small bathroom. I'm so thankful because our bathroom was built with a little vanity area so I can sit and do my hair while Paul gets ready too. However…..it normally takes about 15 minutes for my hair to blow dry and that just makes it hot and uncomfortable. I feel like I've just made all my foundation dewy by the time I'm done and I feel anything but ready to go out the door.
3. It Takes Away My Morning Time
I've shared that I prop up my iPad and watch Youtube videos while I curl my hair and do my makeup. It makes the process enjoyable, I get to support my friends that do Youtube and I learn about products while I get something done. #productivity
As most women can relate, from the second I run out the door I'm running 90 MPH the rest of the day. And when I finally crawl in bed at 11 p.m. the last thing I can do is have "me time." My eyes are exhausted, I can't read a chapter to unwind, I can't catch up on news and I can't text a friend. I'm just completely beat. So my morning time is truly coveted and the only time of day I feel 100% at peace. But blow drying my hair just cuts into that time and really takes away from it.
But a girls got to do what a girls go to do and that would include not leaving the house with wet hair. I was sent a brush to test out and blow dry my hair with. It claimed that it cut down on drying time and gave you an extra 10 minutes in the morning.
I've been playing "hair dresser" since I could hold a brush above my head, so I wasn't sure how that would work. But as Snapchat knows, it works. It works incredibly well! I am able to blow dry my hair in 4 minutes and actually spend time styling it, which is what I truly enjoy doing. By cutting out an extra "11" minutes I'm able to have my "me time."
Here's how I blow dry my hair in 4 minutes!
1. Prep Hair
I gently towel dry my hair while I do my makeup and let it dry a little naturally! You never want to step out of the shower and directly put heat on you hair as that is the most fragile state it can be in. Lately, I've been using Kérastase Elixir Ultime. This is a leave-in treatment for fine to normal hair that is a beautifying oil. It gives you more volume [as if I needed that but you know #TexasProblems]. But what I love most about this product is how soft it leaves my hair! My hair air dries wavy but the top layer is limp and doesn't wave or anything! It just looks like a limp green bean. haha! This allows really natural movement while moisturizing. Then I spray in Oribe Royal Blowout Heat Styling Spray. If you have the time to section your hair, spray as you go and blow dry each section. Your hair will blow dry SO straight and silky. However, I wanted this tutorial to be focused on getting out the door quickly, so I just sprayed all over and dryed. it. This also repairs split ends and heals your hair wile the heat is on it.
2. Brush
Then I gently brush through the products with the 1907 by Fromm Hot Paddle. This brush is the key to getting your hair to dry quickly because of base. The base of the brush was created with aluminum ceramic plates, it this brush retains heat better than a traditional paddle brush and promotes faster straightening.
3. Dry
Another way to incorporate volume is to dry your hair by pulling the paddle away from your scalp. If you head to my Snapchat today [kateymcfarlan] I will share a video showing exactly how I dry my hair with the brush and the paddle. Essentially, I start with the front section of my hair and pull the paddle brush away from my scalp. You can see in the photos, but this provides a lot of body for your hair instead of just applying heat straight to your scalp! If you have time, you can section off and I would start at the top layer of your hair and work your way down, as opposed to the opposite direction.
4. Me Time
After the 4 minutes I have my "me time." I use this extra 10 minutes in my morning schedule to catch up on my phone while I sip my coffee. I CAN'T drink iced coffee. Anyone else?! Coffee is something so comforting to sip and I feel like iced coffee makes it a thirst quencher. haha. I sip my coffee, and catch up on my phone.
I've shard before that I'm really bad about going through text messages quickly because I like to be present in the moment of whatever I'm doing throughout the day. So I take that time to respond to messages from the evening before and catch up on the news. I use the Skimm to stay up to date. You get an e-mail each morning and it takes 2 minutes to read all of the updates. I play with Peaches, finish my coffee and I'm ready to style my hair, throw on clothes and head out the door.
You can get the 1907 by Fromm Hot Paddle here and I use the 1907 by Fromm blow dryer as well! I've been using it since last December and love it!
I hope this post was helpful for all you busy girls out there! I know you have no time to waste and I appreciate you spending a few minutes on COF this morning! Have a wonderful weekend!

In Partnership with Fromm Beauty. All opinions are my own.