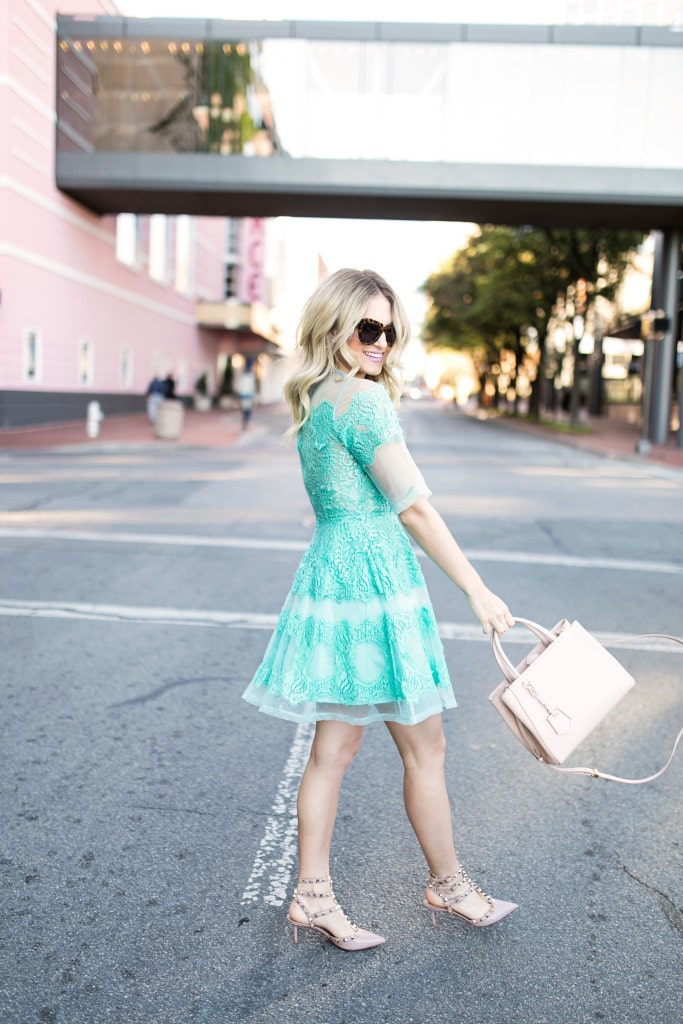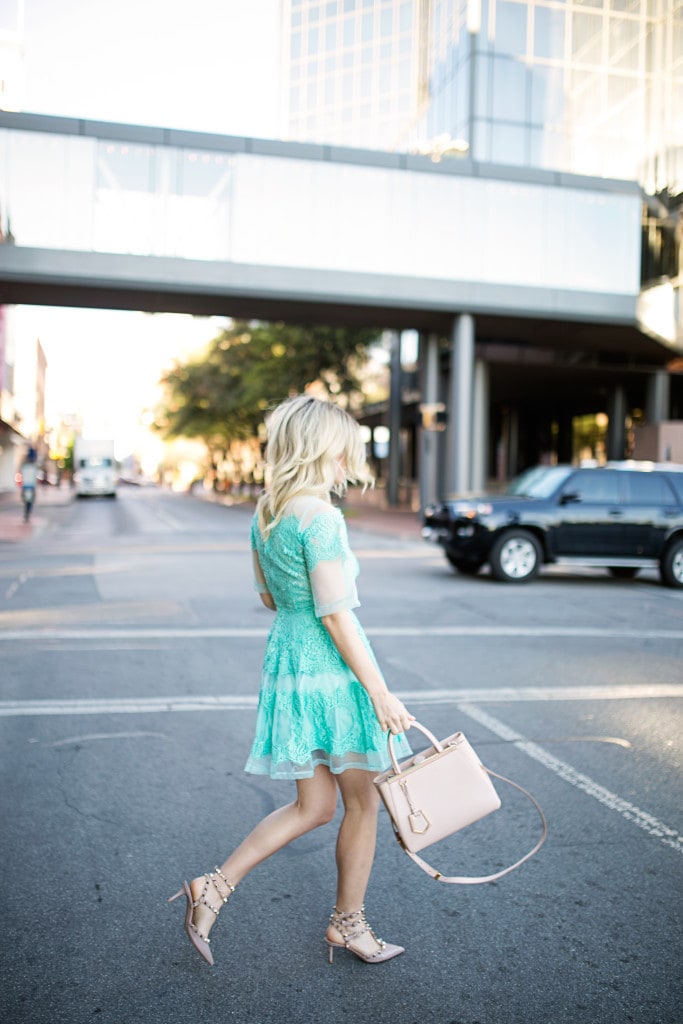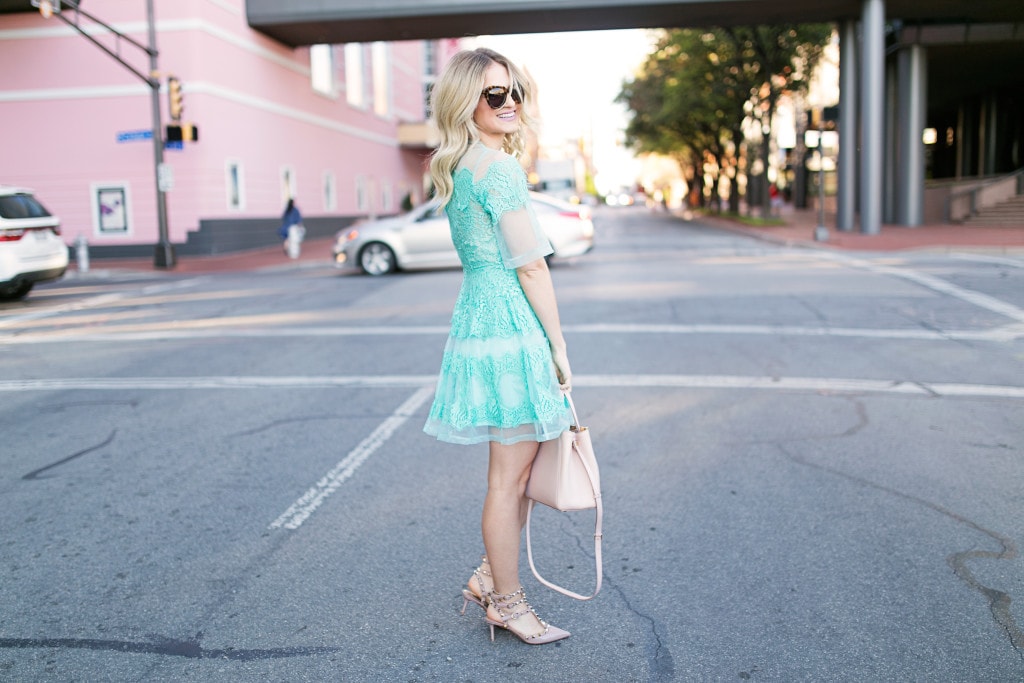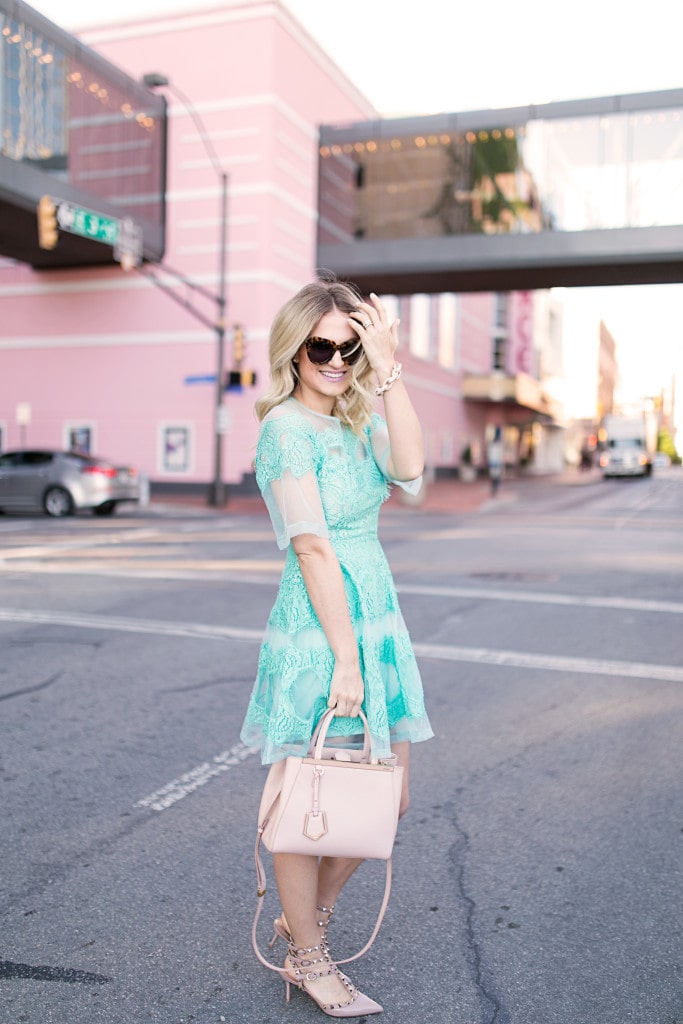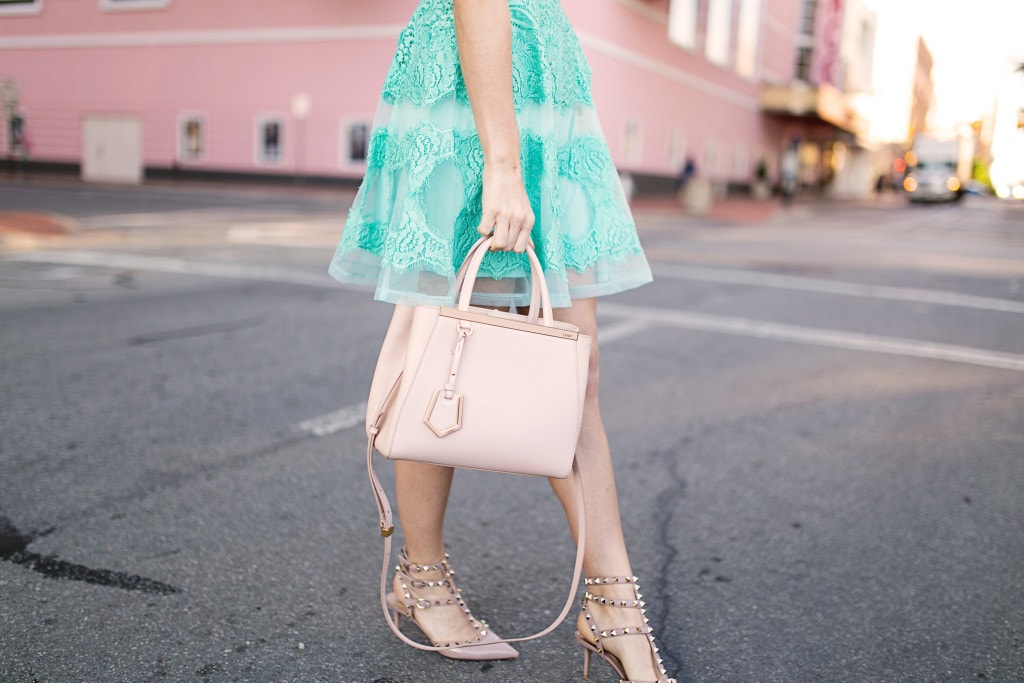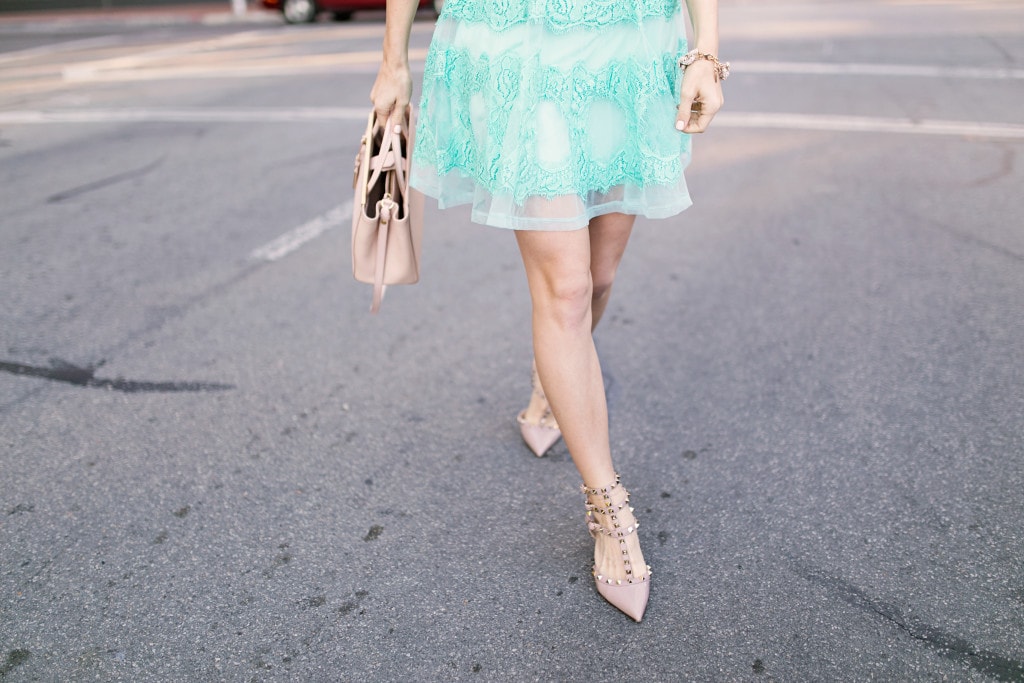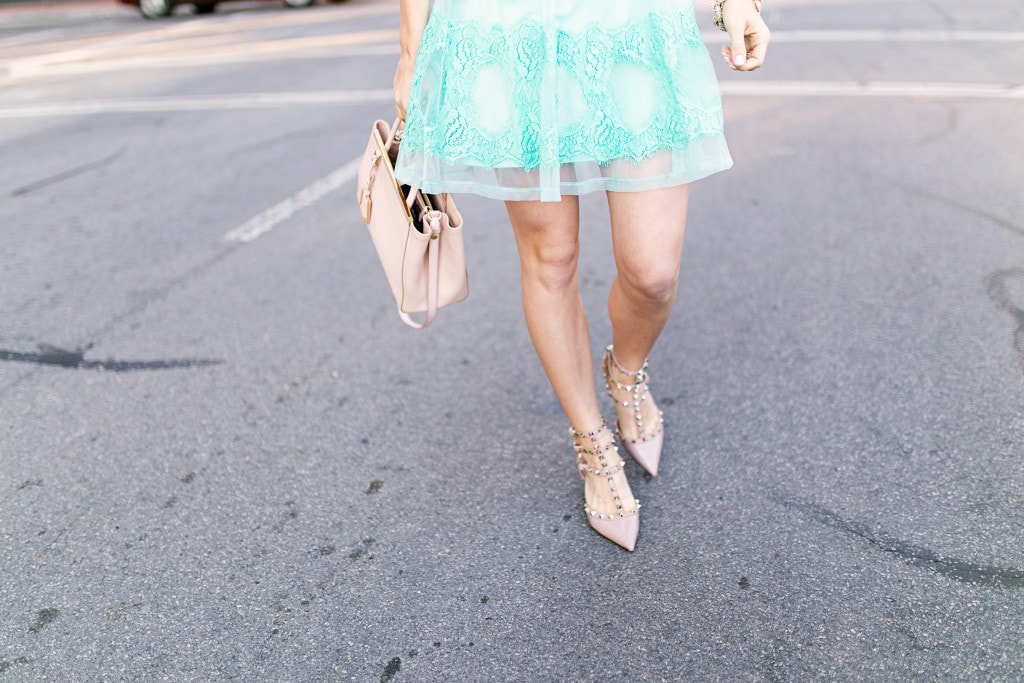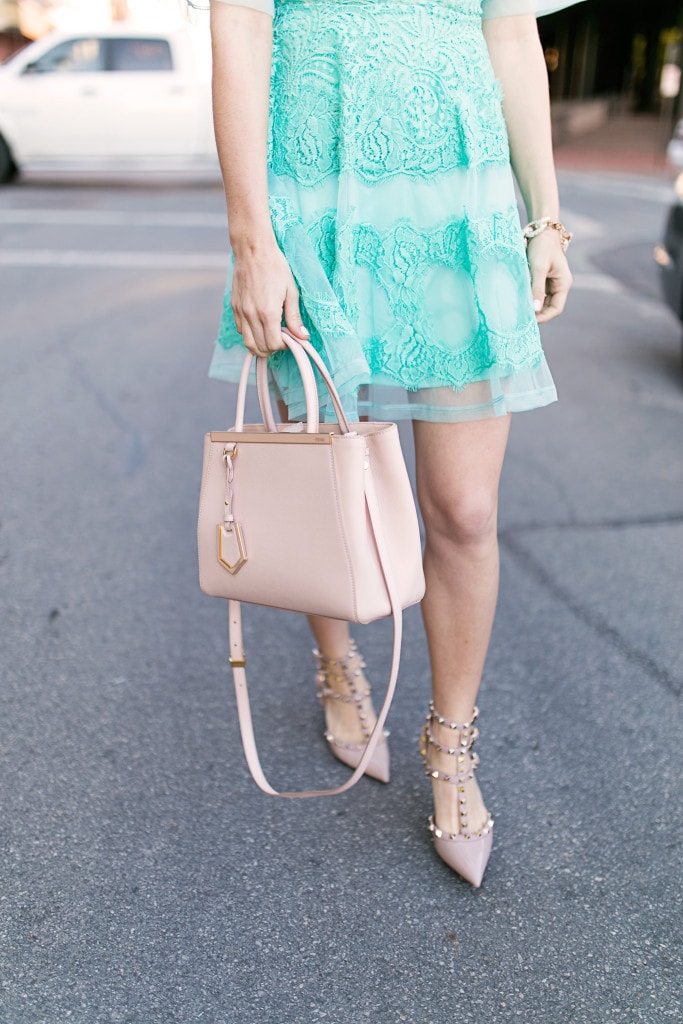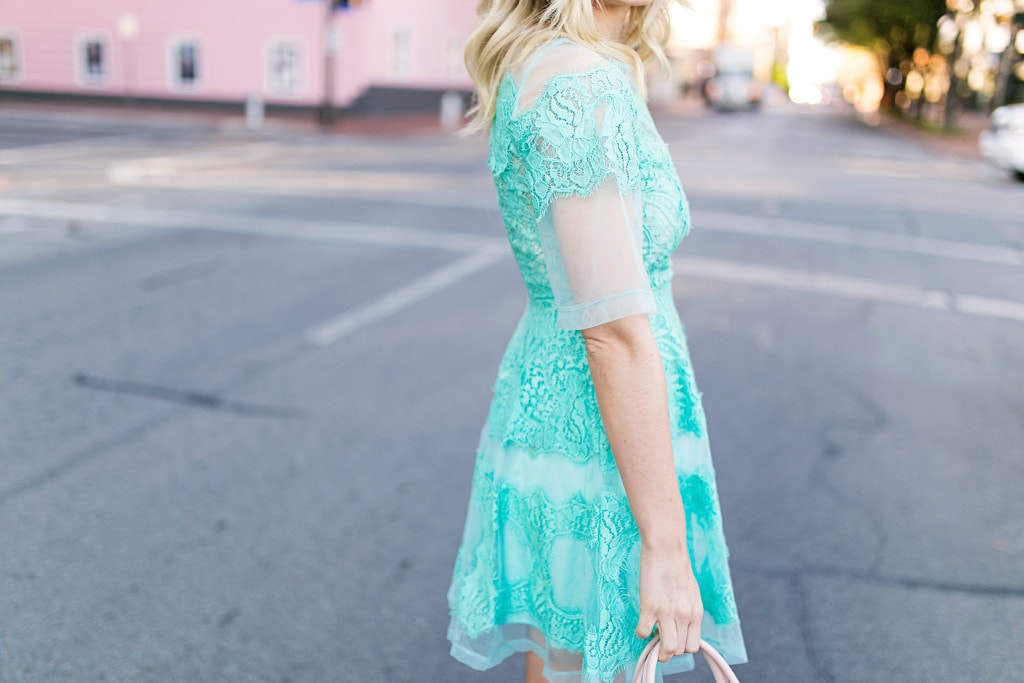 Dress: ASOS [go up a size!] | Shoes: Valentino, Similar | Bag: Fendi, Similar | Sunglasses: Karen Walker | Bracelet: Baublebar | Lipstick: Requiem
Photography by: Angie Garcia
---
It's Friday!! And Paul and I are playing hooky!
Technically it isn't hooky because he got today off because he is in between an audit and I decided to be "in between an audit" too and take the day as well. I got this dress for the conference I went to last week and ended up saving it for a wedding coming up! I do want to warn you that the lace is sheer to wear a neutral tank or slip underneath and go up a size! But it's so feminine and I love the color!
Here's a few links for your weekend reading.
1. Sleep
My husband and I have completely opposite sleep habits. I get a lot of anxiety if I sleep it. He could sleep in every morning if I didn't force him to get up and eat breakfast. However, he is so good at having a bedtime. Paul is really disciplined on when he needs to be in bed and I'm over here like, "I mean I have e-mails and 5 more episodes of Fixer Upper to watch so….."
I was wanting to work on another morning routine post so I asked on twitter how much sleep y'all get a night. I'm embarrassed of my adult habbits. Y'all, I've been sleeping like 4 hours a night! No wonder I'm exhausted by 4 p.m. Here are a few tricks I need to try to get 6-7! Is it also wrong to reward myself with these pajamas if I stick to a bedtime for a week? Because if it is I have no intention of being right…
Do y'all have any strict rules for bedtimes?! I need them!
2. Friendship
As you age, friendships require a lot of work! In The Meaning of Marriage by Tim Keller [highly recommend!] he talks about how friendship best survives when two people don't want companionship, but rather want to enjoy similar interests and passions. This then leads to a more fulfilling companionship that people find remaining loyal to, easy.
Grocery shopping together, going to the gym together or volunteering together are such simple and fun ways to foster friendship dates. I also love these 29 ways listed here! Investing in your girlfriends is always worth it and it never hurts to have a few new ideas to try. 😉
3. Off The Shoulder
Off-the-shoulder anything is a major trend this season. My mom always says, "You may be insecure about your arms, but every woman has a beautiful shoulder!" It's a fun way to add in flirtiness to your look while keeping your attire still tasteful. I am absolutely in love with this Topshop Off The Shoulder Dress! Go up one size! This is a great price point for spring or summer weddings as well.
4. Spring Cocktails
I love to bake and cook, but when it comes to cocktails I'm not very crafty! #nopunintended #maybe
I can make a mean margarita, but other than that I ask my guests, "Red, White or Bubbles?" One thing I want to work on this spring is adding to my list of cocktails I can make! Maybe I'll bring the bar cart back?! 😉 I had to store our wedding China in that space instead, but I can ALWAYS rearrange. Always!
This spritzer seems like the perfect place to start and is light enough to serve at a few showers I'm hosting this month!
5. Pedicure Season
If you're anything like me, every season is pedicure season. Any excuse to step away from the real world, read a book for an hour while your toes smell like lavender vanilla dreams is a great excuse to me! But it seems like I always forget to bring the right pair of shoes. A few years ago I had Tkees sandals and my mom stole them from me! These are probably the chicest "flip flops" out there but they are simple enough they go with any outfit. Perfect for pedicures to sundresses. I'm getting a pair this weekend after I had to grocery shop in the pedicure foam flip flops they provide #sobadyall #sobad. Shop them here!
I hope you have a wonderful weekend!