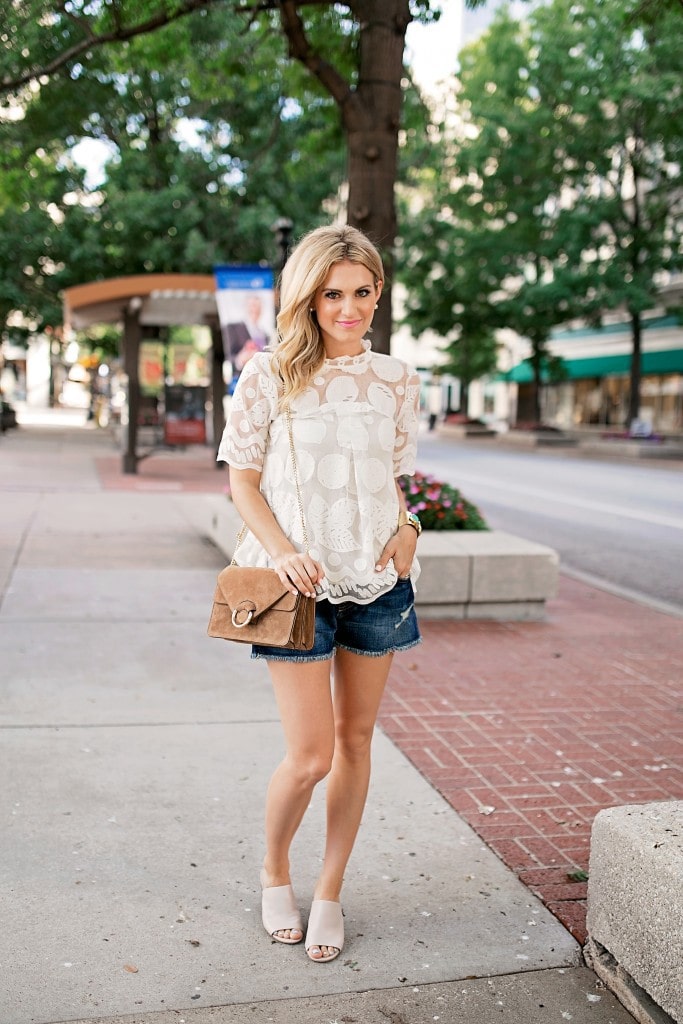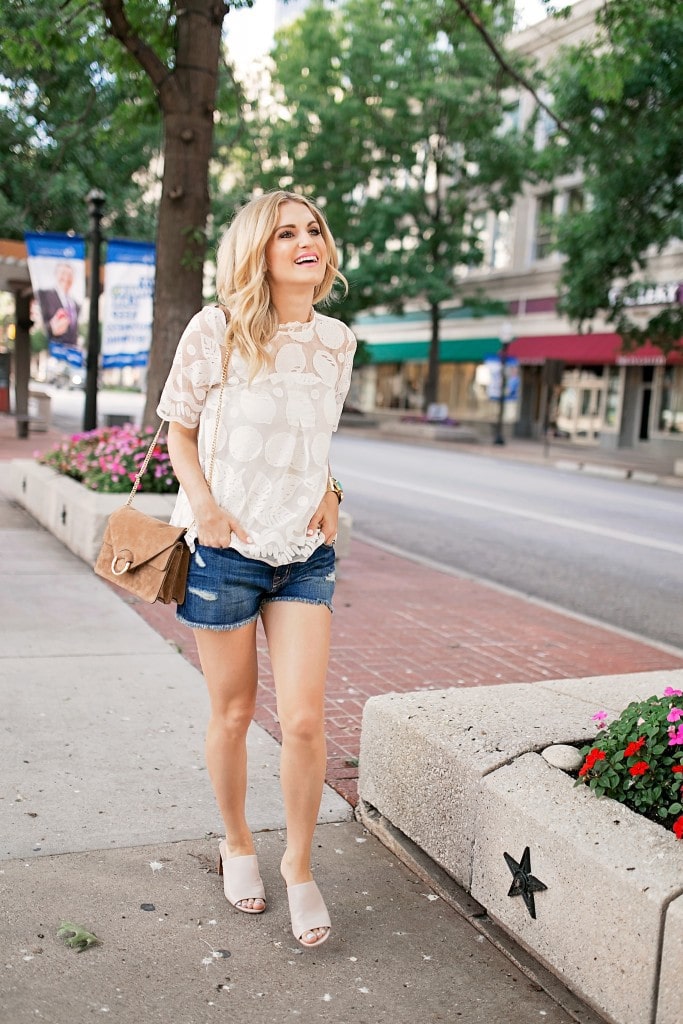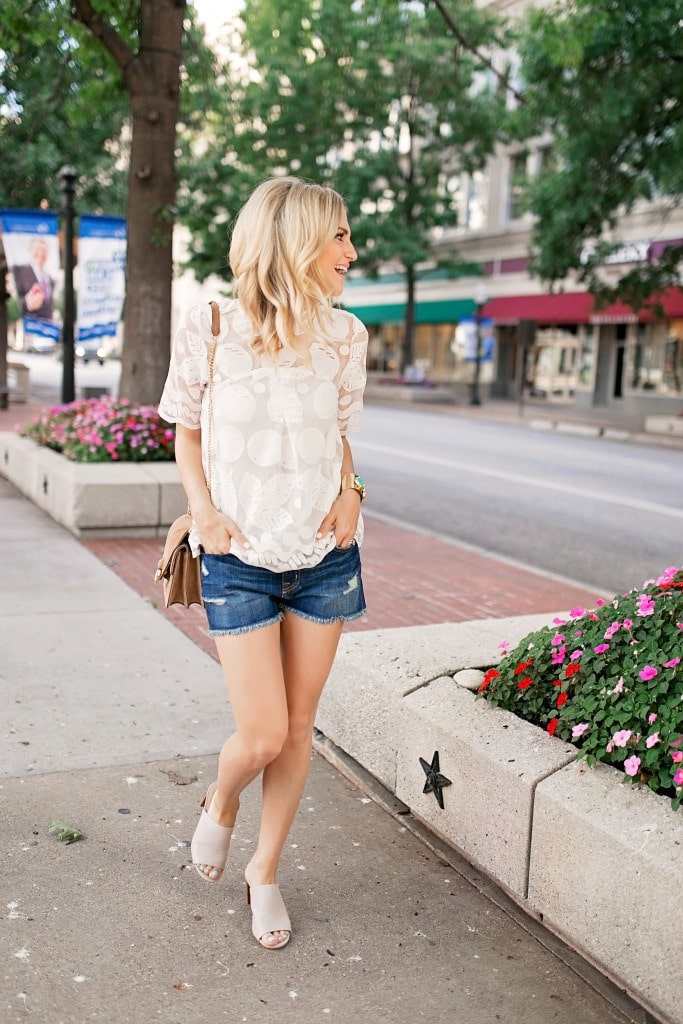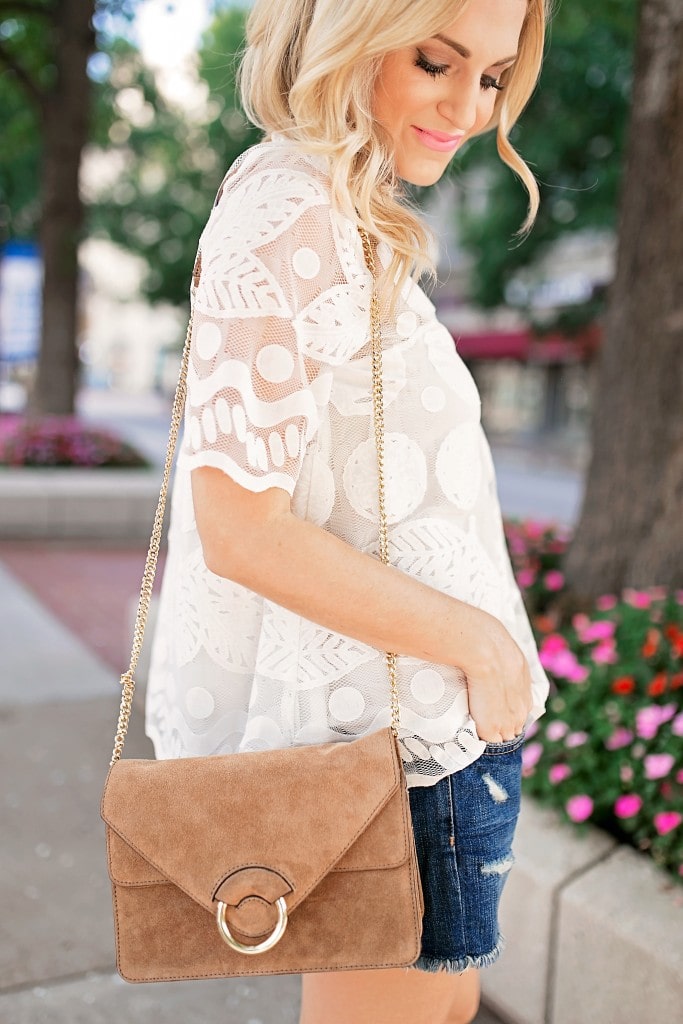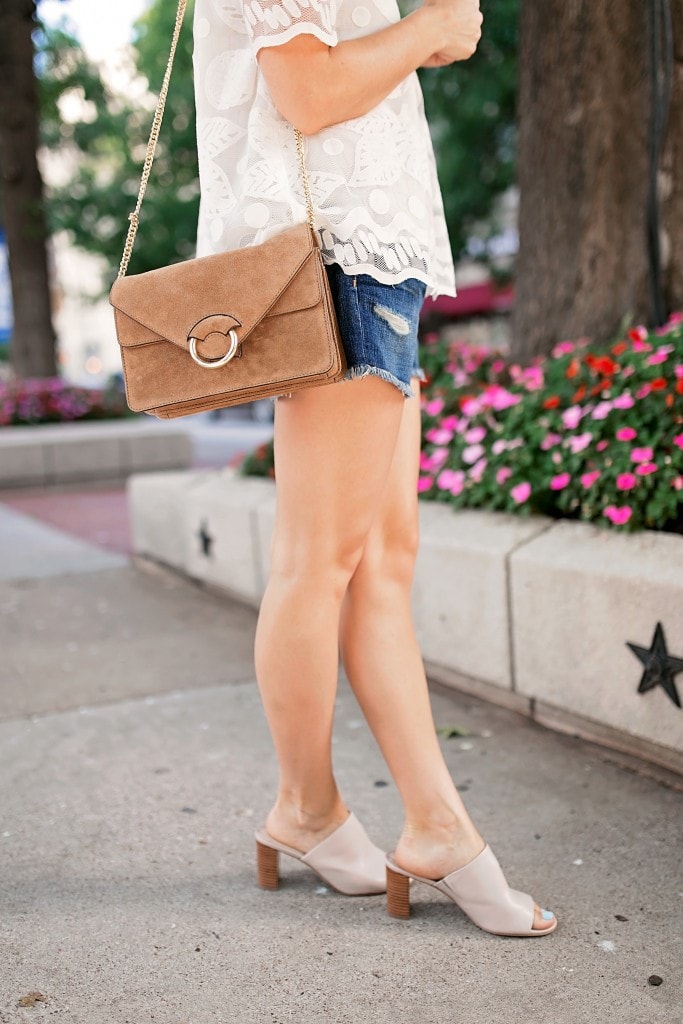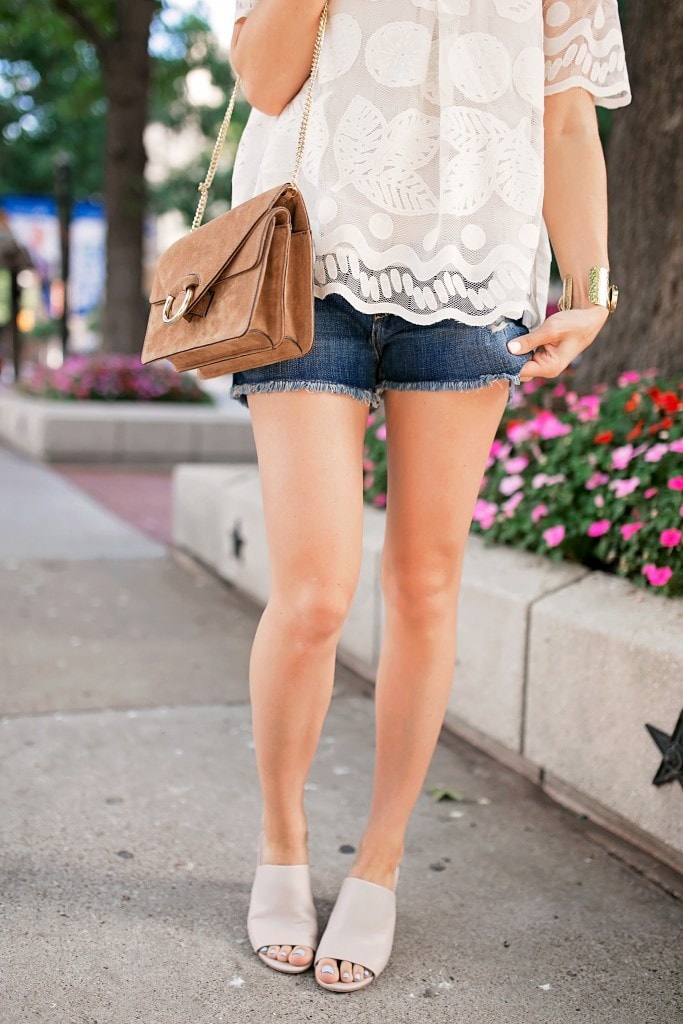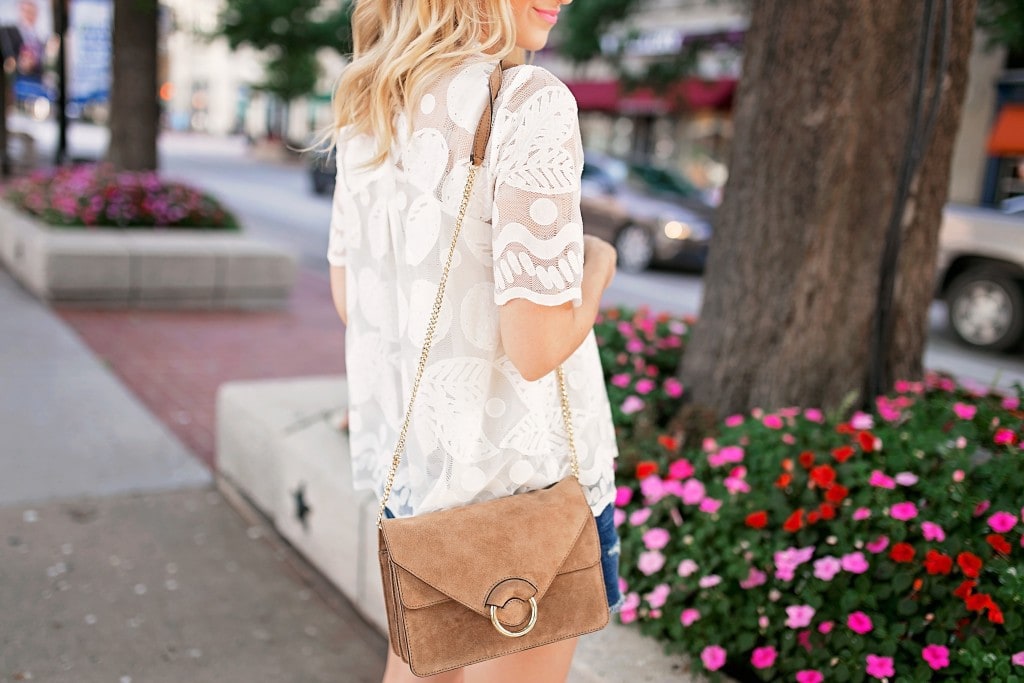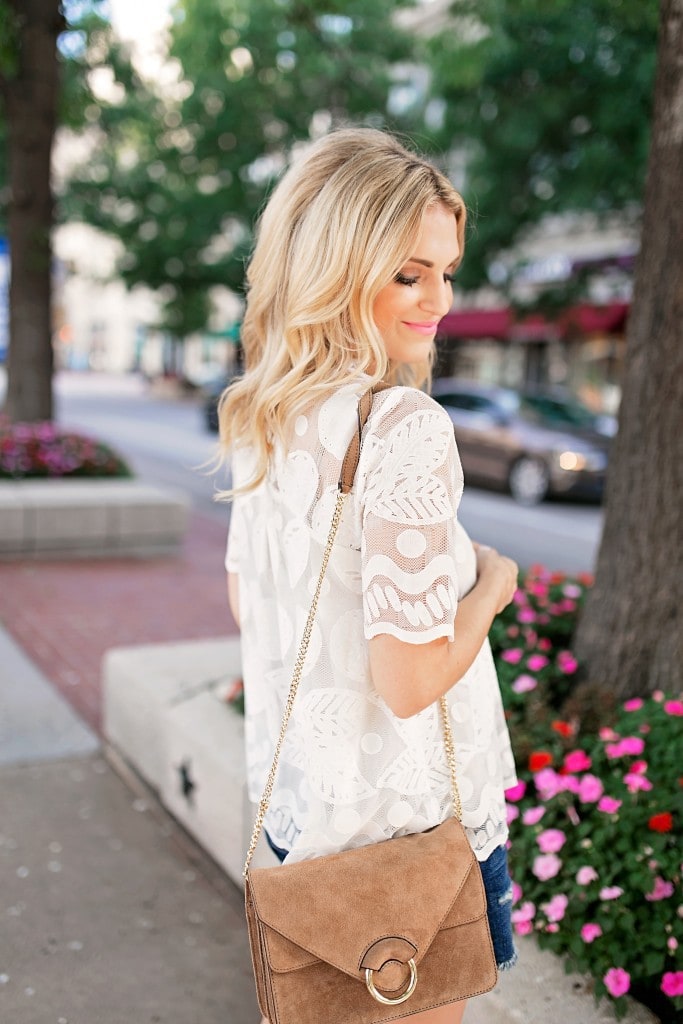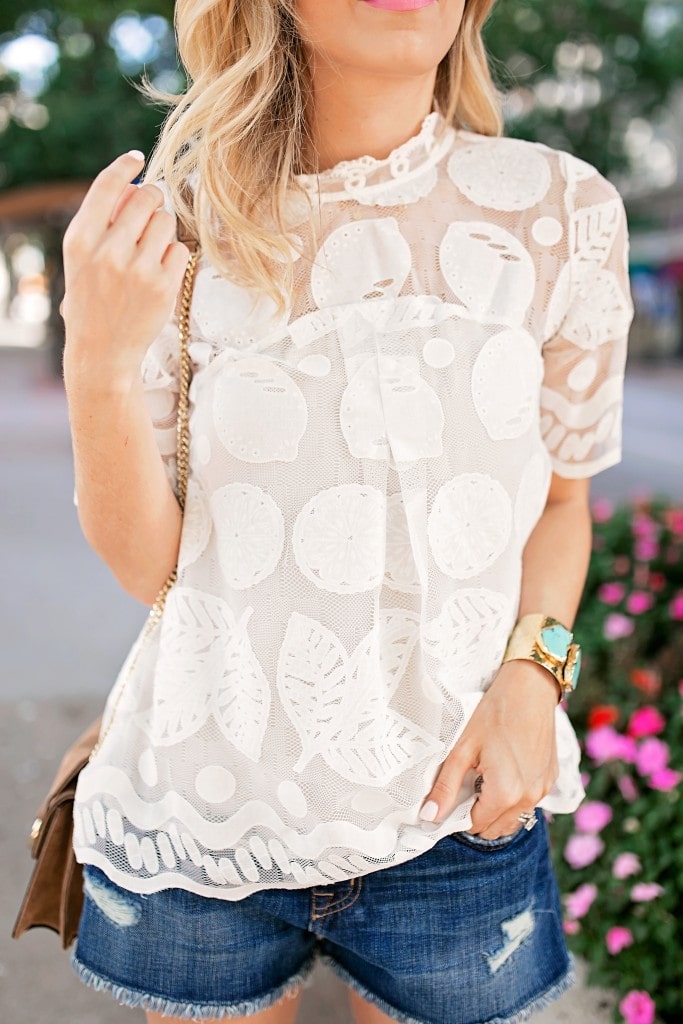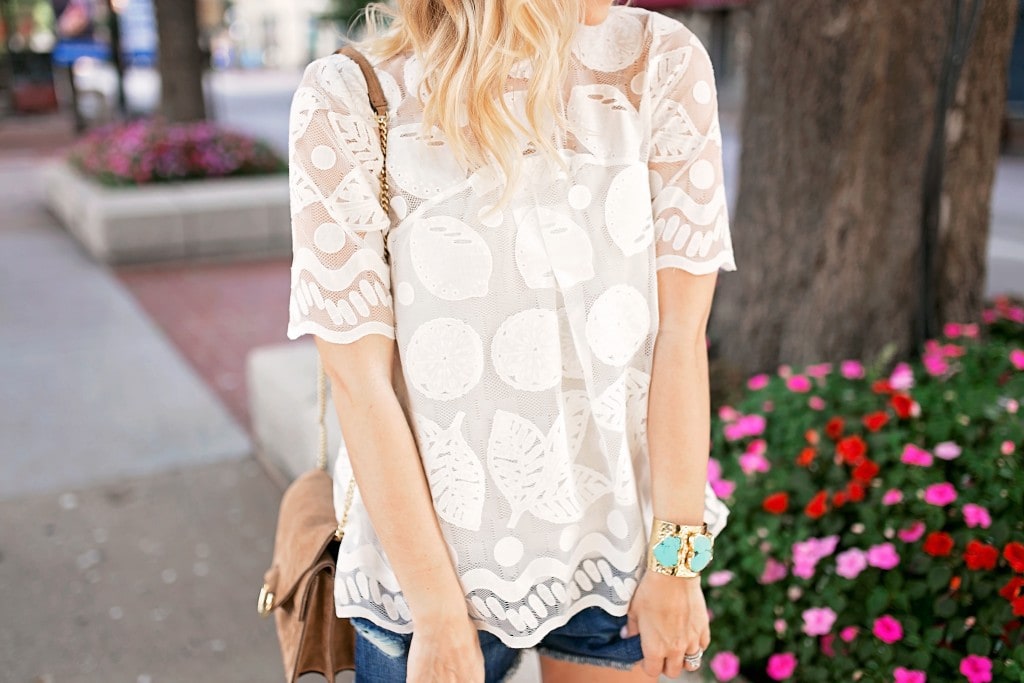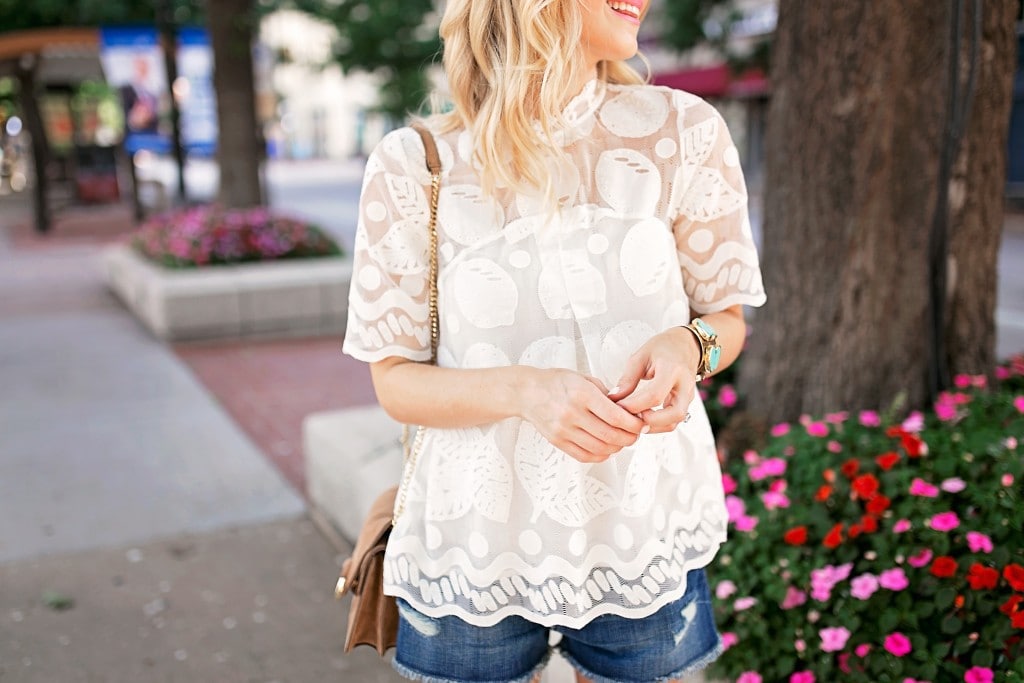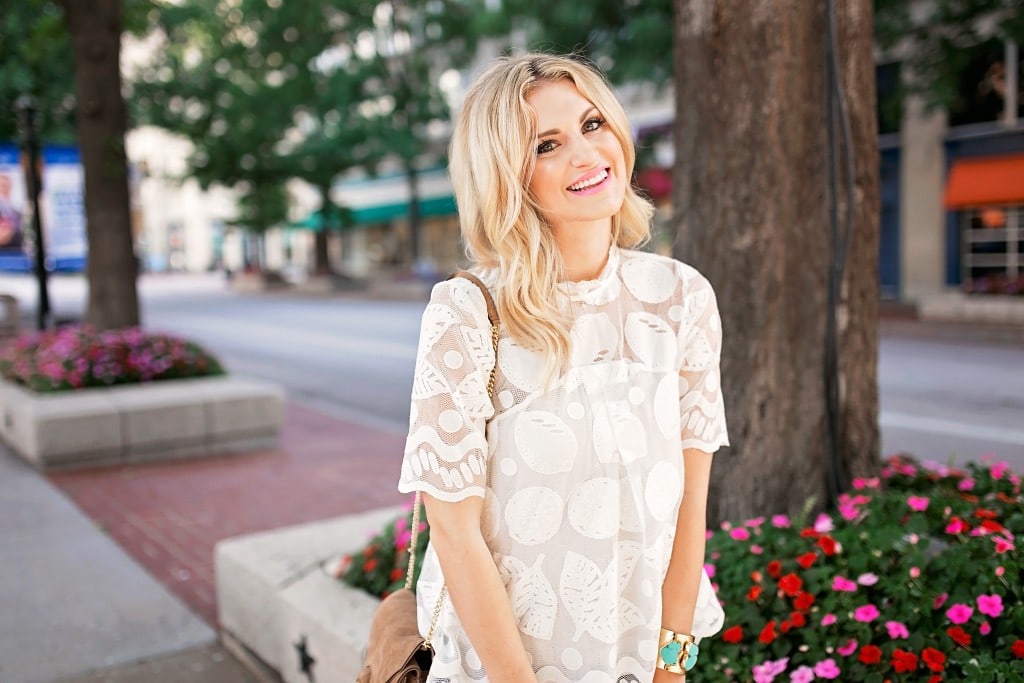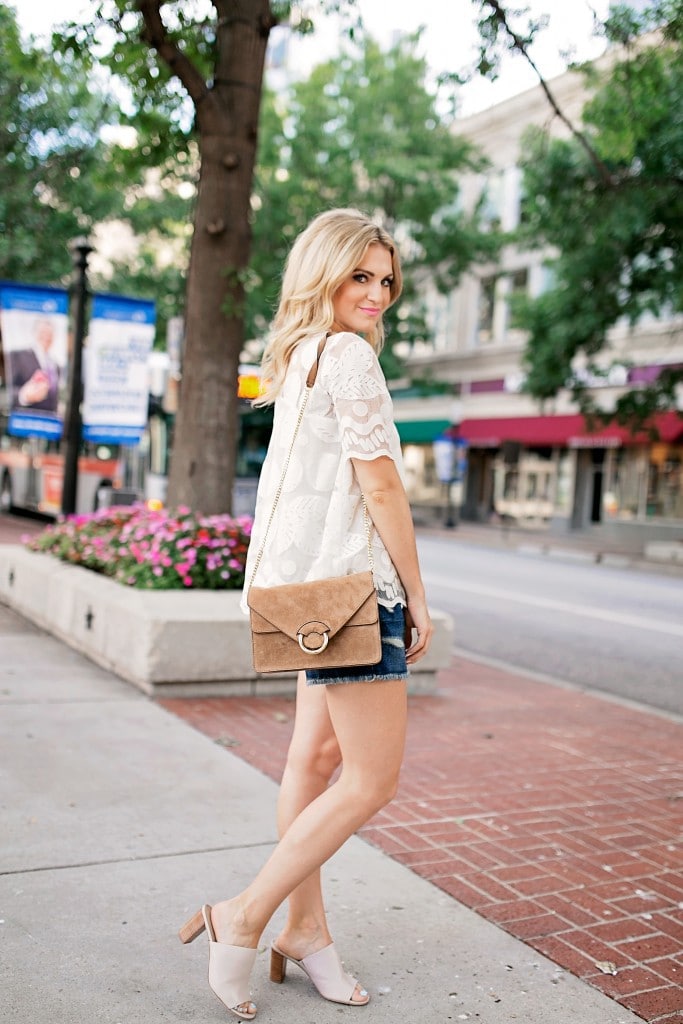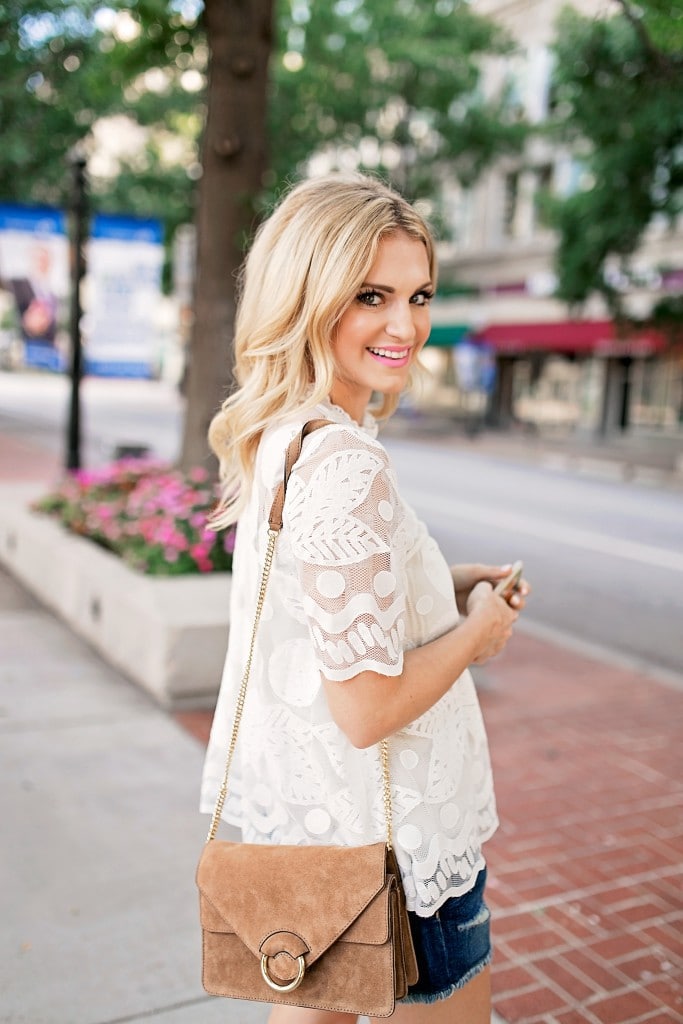 Top: Anthropologie [TTS, if in between sizes it runs smaller] | Shorts: Nordstrom [run big] | Bag: Banana Republic | Lipstick: Nymph | Shoes: Nordstrom | Bracelet: Goldenstrand [c/o]
---
Happy Friday! This weekend we are headed to Magnolia Market with some friends! I went way back in the day before their show was really popular. Their show might have actually not even been on back then, I honestly can't remember! But her candles are incredible and the one thing I always stock up on when I go there. I'm not really looking for anything for our house, but I did prepare Paul that I think we need AT LEAST 3 candles, you know, to get us through life… 😉
I'm going with one of my littles and her husband from my sorority! She and I have such a special friendship and have truly experienced everything in life together from dealing with tragedy and death to the joys of getting married at the same time! It's so true, friendship is not defined by location, or how often you see each other. True friendship is defined by a mutual understanding of the heart and when things happen we always just pick up the phone to call one another and we know how the other person copes best. So our poor husbands are going to be stuck in the car with us for 4 hours while we talk 90 miles a minute there and back! haha
I wore this look with family for dinner the other day and this top was one that I fell in love with immediately. I actually saw a friend wearing it on Snapchat, asked her where it was from and every so kindly begged asked my husband to pull over so we could run in and get it. Isn't Paul lucky to be married to the least needy woman on the planet?! Isn't he?!
Sometimes high-neck tops can be anything but flattering, but the lace detaining and fit of this flowed perfectly!
On to the Friday Frills:
1. Designer Dupe
Handbags have always been a soft spot for me. It's funny, sometimes I get e-mails and people will say, "So now that you are a blogger do you love designer bags or shoes more?" I'm like, "I loved bags since I was in the womb, it's never changing!" I'd like to say I was just brilliant at the age of 16 and understood resale value, but I didn't. I came home from school and told my mom the lovely idea of how my bff, Emily, and I were going to get matching Dooney and Bourke bags. We saw them in Teen Vogue one night while we sat by her pool eating ritz crackers and peanut butter and knew it was destiny. We talked about it at school the next Monday and knew we had to head to our local Dillard's and get the last matching pair. My mother died laughing. My parents told me I had a brain and good parents so I was expected to get a full scholarship to college or pay for it myself, so what on earth made me think they'd treat me to a bag? #firstbornlife I hustled so hard for that little bag. Let me tell you! I was a hostess, I nannied, I babysat every free moment after school and took odd jobs. I never loved a little bag more!
But every now and then I die over a dupe. I share a post here where I go a little more in depth! But before I surprise you with the dupe, did you know you can shop TJ Maxx online?! Completely. Life. Changing. Now look at this Valentino Tote look-a-like for $34! Could this be anymore perfect for work?!

2. Summer Updates
One little trend I love to see in homes is agate! From coasters to bookends, they are such dreamy accents and come in almost any jewel tone! I found some bookends for our built ins and then went down the rabbit hole online shopping and thought I would share my favorites!

3. Sermons
This week I shared on Instagram and Snapchat a few of my church's sermons. I got a few e-mails from readers asking where they could watch and here is the link! You can watch each week! This sermon had me in tears. I know the bible says to boldly ask God for your desires but I struggle with that. I'm human so I know that I'm ultimately selfish and don't know better! So when I'm praying I feel as if I shouldn't ask for anything and this sermon completely changed that. It's not prosperity gospel at all, it just shares how real, honest communication with God allows our heart to be opened and his plan for us and our hearts to really be implemented. You can watch it here! It had me in tears and chills all at the same time!
4. Work Out Class Review
I love workout classes far more than I love being all by my lonesome at the gym. UNLESS I'm running on a treadmill watching my shoes. Then I want to be left in peace. haha. I loved this review of NYC's cult workouts. Whether you live in NYC or not, I thought this gave a lot of good insight of what workout class in your city might be good for you! Maybe you want a lot of sweat, or burn or you want to be sore and this little review breaks it down!
5.Before & After Kitchen
Kitchen remodels are so pricey, but there is nothing I love more than looking at renovations! This one had me in shock! So many kitchen renovations are either really simple and I can see where they started or it just looked like the home was incredibly nice already. Talk about a true change, this is stunning and I'm obsessed with the bar stools!
I hope you have a blessed weekend and I'll be sure to snap a lot of Magnolia Market!