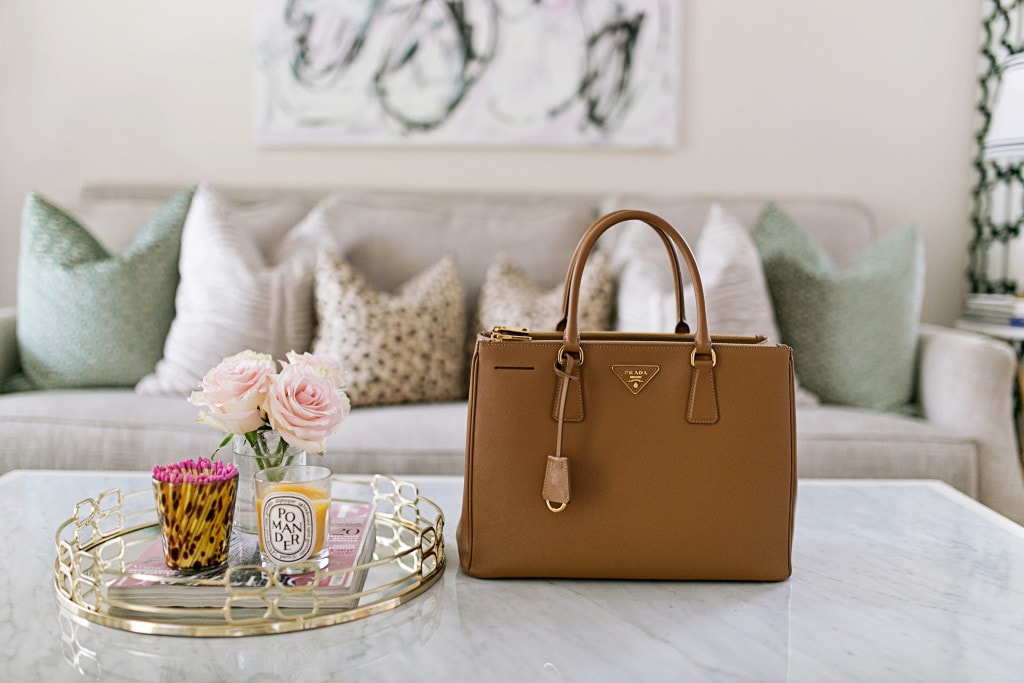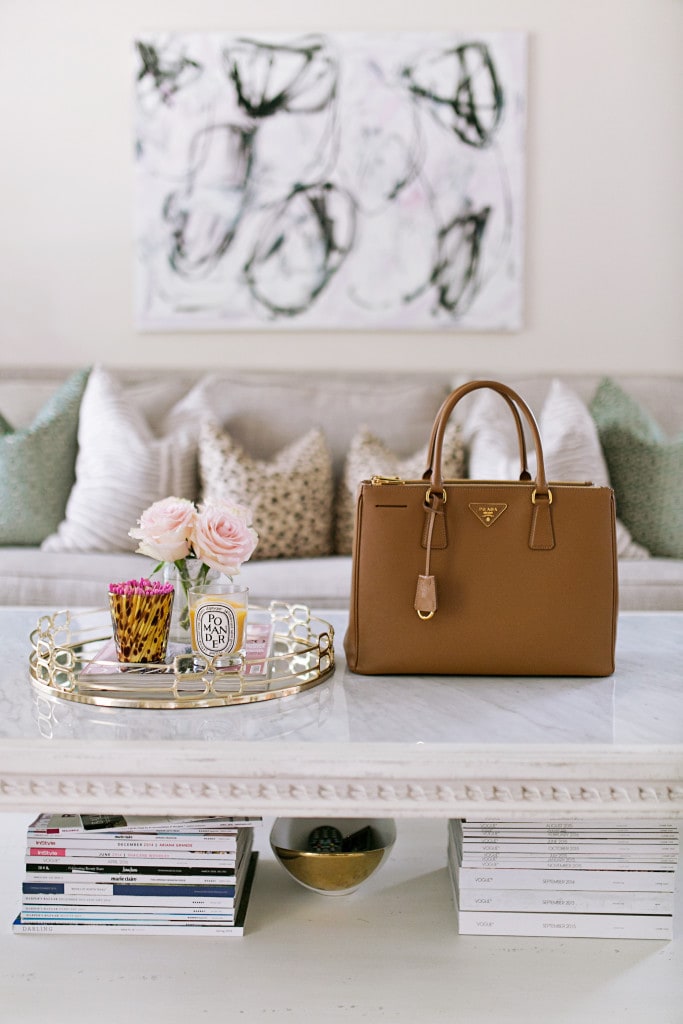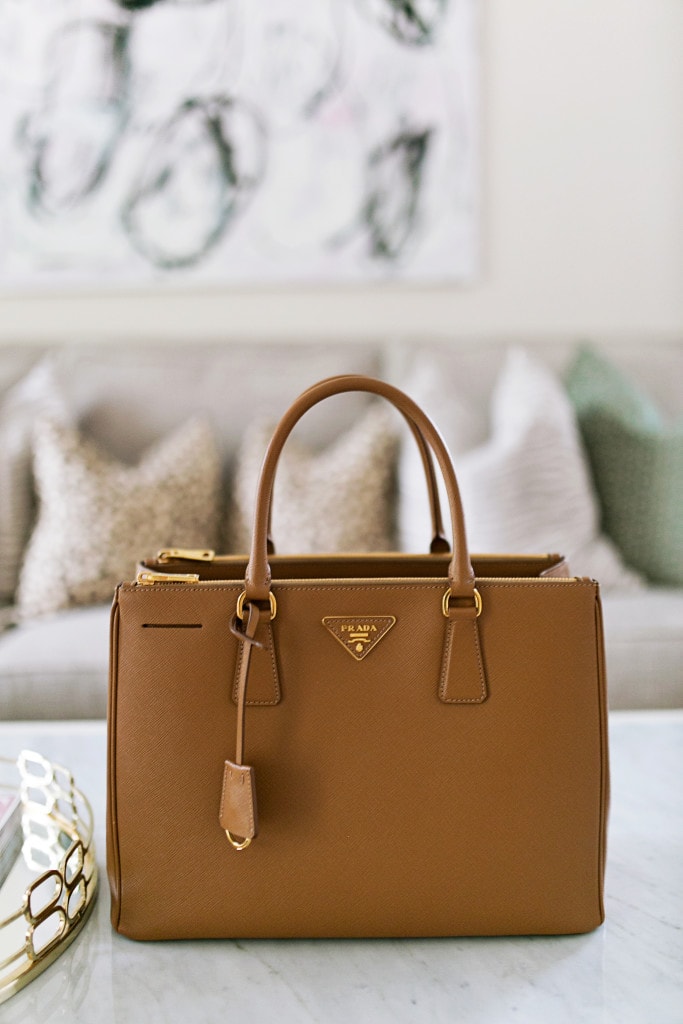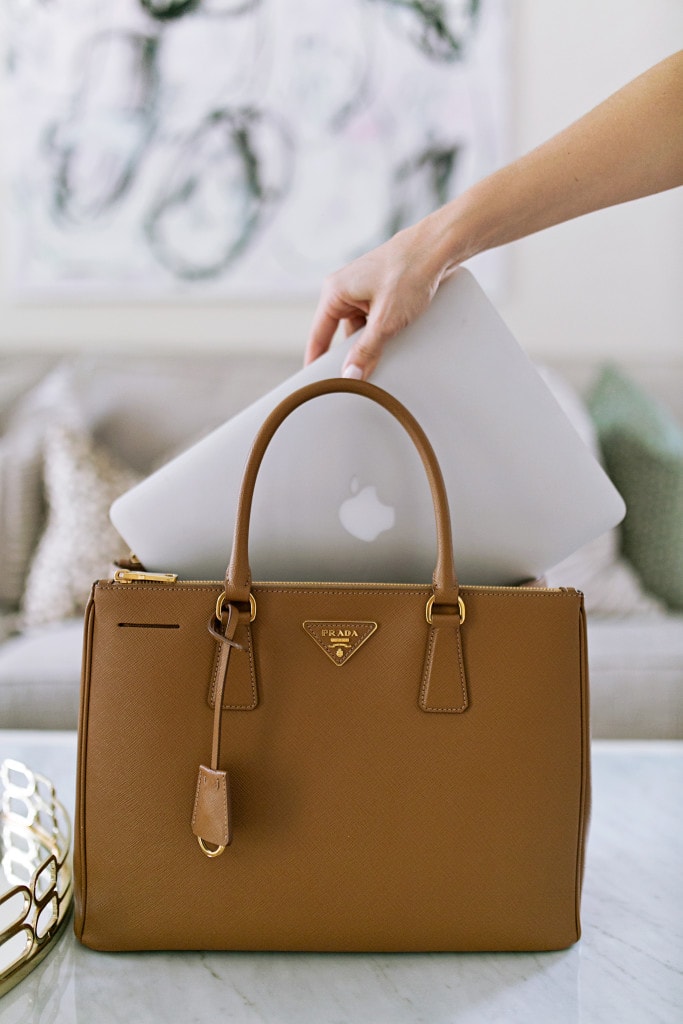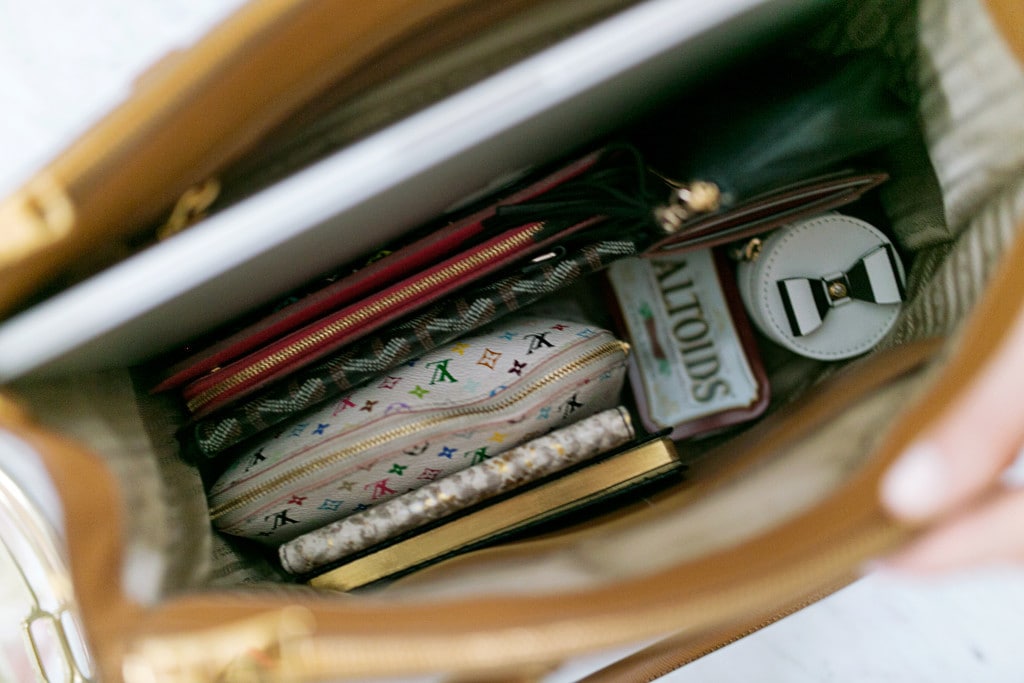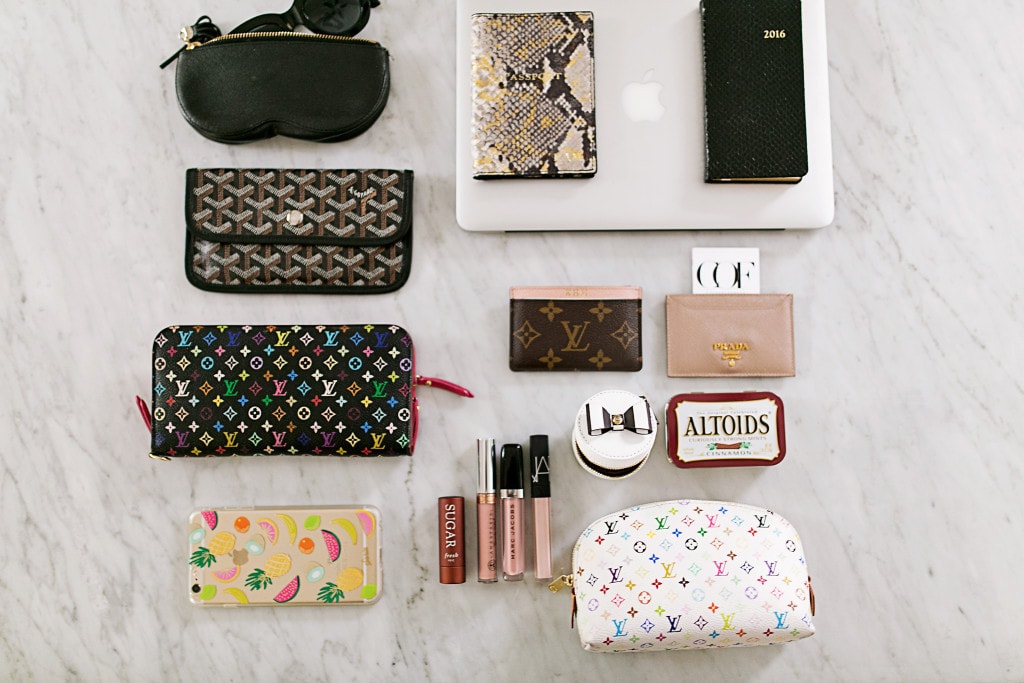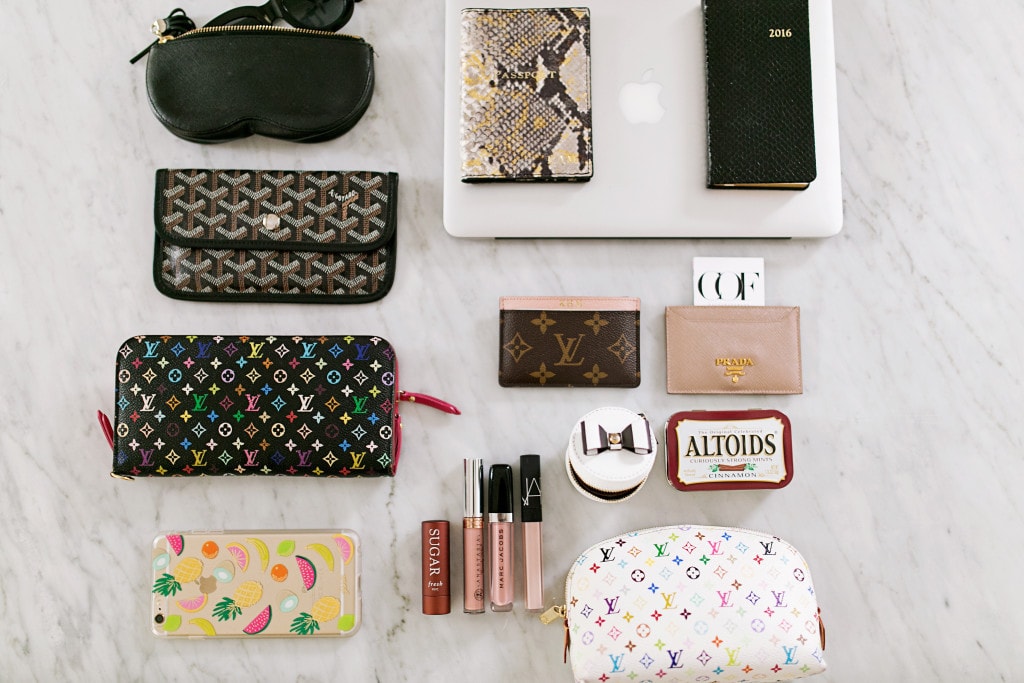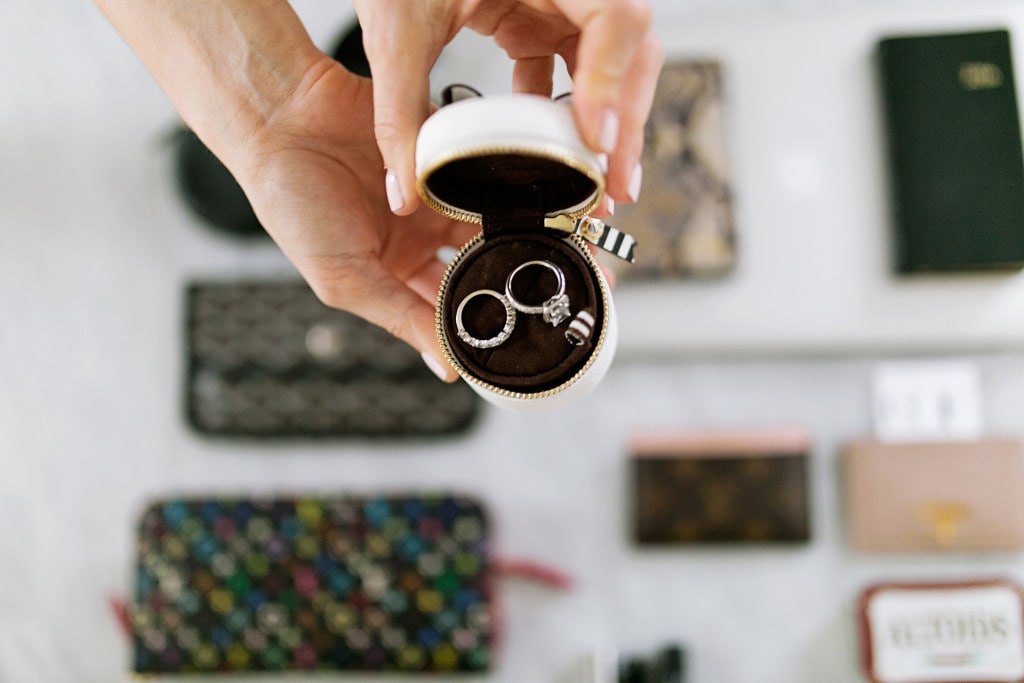 Bag: Prada Saffiano Double-Handle Tote | Leopard Pillow: Arianna Belle | Bag Contents: Down Below
Photography by: Angie Garcia
---
After the blog conference I attended a few week ago, I came home realizing I really wanted to invest in a work-friendly bag. I had the Chloé Faye on my mind for summer, but shifted gears. I realized I didn't have anything that could comfortably fit a laptop, documents and my camera, so I thought I needed to make a more wise purchase!
We all like to invest in different things and budgets are all relative, but I thought it would be fun to share a bag review. Because while preferences about splurges may differ, I thought this might help for girls having questions about this handbag!
After carrying this bag for almost a month, I have to say it is one of my favorites! The structure is incredible, but I love how it cleans up any look I have on. I could have on workout clothes grocery shopping and this bag helps me feel like I'm so put together I could go strut into a party. Is this what we call a false sense of confidence?! I felt so comfortable reviewing this bag because I had to sit and think for 15 minutes about any "cons" that it even had!
Bag: Prada Saffiano Double-Handle Tote
I purchased this bag from Neiman Marcus in the Cannela shade. I went with the smaller version because when I reached for the executive size the sales associate really steered me away. I'm 5'3″ and she thought it would be too large and that it really worked better for travel.
Ideal For:
I think this bag is really ideal for the classic working girl. It fits everything from a laptop to a camera and I always feel pulled together when I pair it with a look. It's mature, without feeling stiff. For example, I think some investment bags just look better on your arm as you age. It's really ageless, but allows me to feel even more ladylike.
Pros: 
1.Durable Leather
I have had one too many bags scratch or have color transfer. I really try to not get upset, because it's a material item! At the end of the day, it just doesn't matter! But I do get upset at myself when I purchase a bag that has sensitive leather because I feel like I should have known better. This leather is so durable, doesn't scratch and I haven't experienced any color transfer. This leather allows for the bag to have incredible structure, so I'm not having to use a bag shaper when I'm not carrying it!
2.Great for Work
My main objective for this bag was something incredibly work appropriate. This has an attachable strap so you can carry it on your shoulder if you have to walk to your office and you don't want it in the crook of you arm.
3.Fits More Than Expected
This isn't a slouchy tote, but it fits much more than expected. My biggest worry with getting the smaller size was regretting the amount of items I could fit. But after a weekend trip, plenty of work meetings and road trips, I can easily say this fits everything from numbers water bottles to my DSLR.
Cons:
1.Difficult Zipper
The zipper on the inside [where the authenticity card is] is difficult to open and close. However, there are inner pockets so I don't ever open it. But if you wanted to, that might be frustrating.
2.Price
Sadly, most designer bags do increase in price as the years go on. While that can make you feel more comfortable about the decision you're making [you aren't losing value!] it is really something to consider!
3.Not Edgy
If you're really edgy, this may not be the bag for you. Not to say you couldn't style it that way, this just fits a more classic style, so you may not feel true to your personal taste.
Alternatives:
I like to ask myself a question with any choice I make pertaining to my wallet.
"Is this wise?"
As stated above, wise money choices are all relative. What is wise for one isn't wise for another and what is wise one month may not be wise the next. I like to ask myself a few questions before investing in items to make sure I'm being wise. These questions aren't necessarily "budgeting" questions. I set aside money to save up for purchases like this, but I do like to take it one step further to make sure I am not being rash.
1.Is this celebrating something?
  If I wait to accomplish a specific goal, or am personally celebrating something I think that's a great time to invest. As long as I have tithed, saved, invested and saved for this purchase, the celebration aspect makes it even sweeter. I'll always remember the goal, moment or accomplishment that led to this purchase.
2.Do I have something similar?
This can be so hard to not fall to! When I love a specific bag, sometimes I think it's great to get something similar so I know I'll like it! But being younger and building a wardrobe, I try my best to not duplicate. I didn't have anything like the structure of the Prada Saffiano or color, so I knew it would be different.
3.Is this an emotional purchase?
I make investment purchases by myself. If I'm with girlfriends shopping I may be giddy from spending time with them and make a purchase because they agree with a bag I'm looking at.
This isn't to say, don't go buy a bag after a breakup! In fact, I'd be the friend telling you that you need a new sidekick, so if you've saved, go for it! I personally just like to make those investment decisions by myself because they are a big deal and it's your bag.
I like to be by myself [or with Paul], go look at a bag, get a coffee, walk the mall a bit more and then if I still think today is the day, I go get it. It can be easy to get caught up in other's opinions [positive or negative] and base a decision off of that. If you want a specific bag and you've done the work for it, a girlfriend saying she hates it shouldn't lead you to a different bag.
If you find that this bag isn't the one and it isn't a wise choice for you, here are a few similar ones I love that give you the structure and shade!

What's In My Bag
Sunglasses: Quay
Sunglass Case: Henri Bendel [old]
Ring Holder: Henri Bendel [great for travel or using lotion!] [c/o]
Goyard Pouch: I use for my checkbook
LV Wallet: Keeks
Phone Case: iPhone 6, iPhone 6+
Passport Holder: Graphic Image
Small Planner: Graphic Image
Card Holders: LV & Prada
Lip Products: Sugar Lip Balm, Anastasia Liquid Lipstick in Milkshake, Marc Jacobs Gloss in Moonglow, Nars Gloss
Makeup Bag: LV
I hope this review answered any questions you may have had about this bag! It's truly one of my favorites!