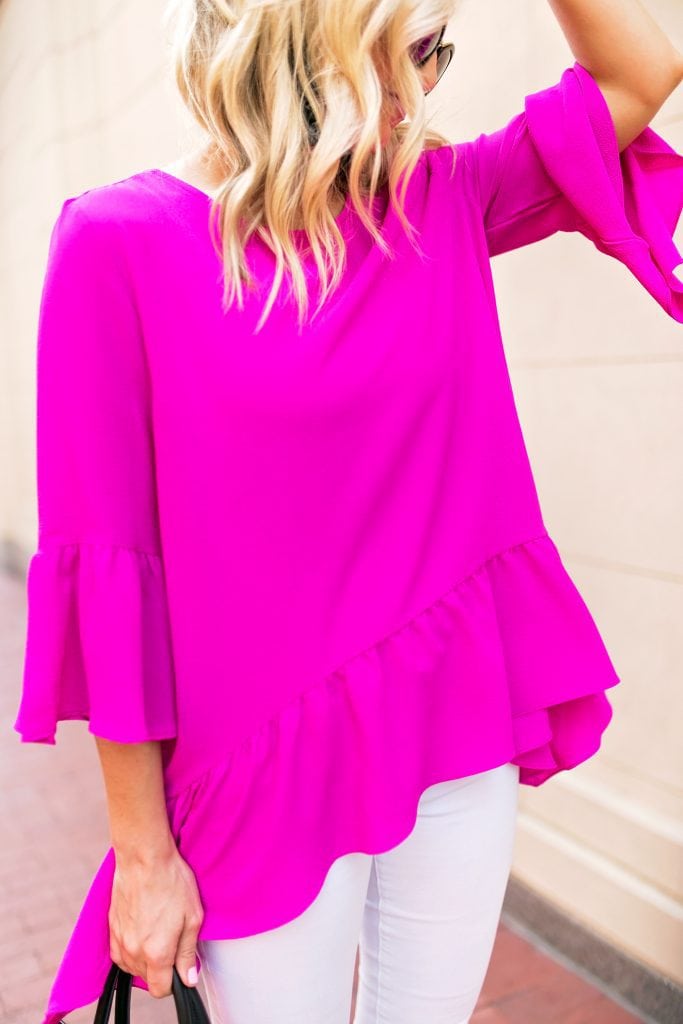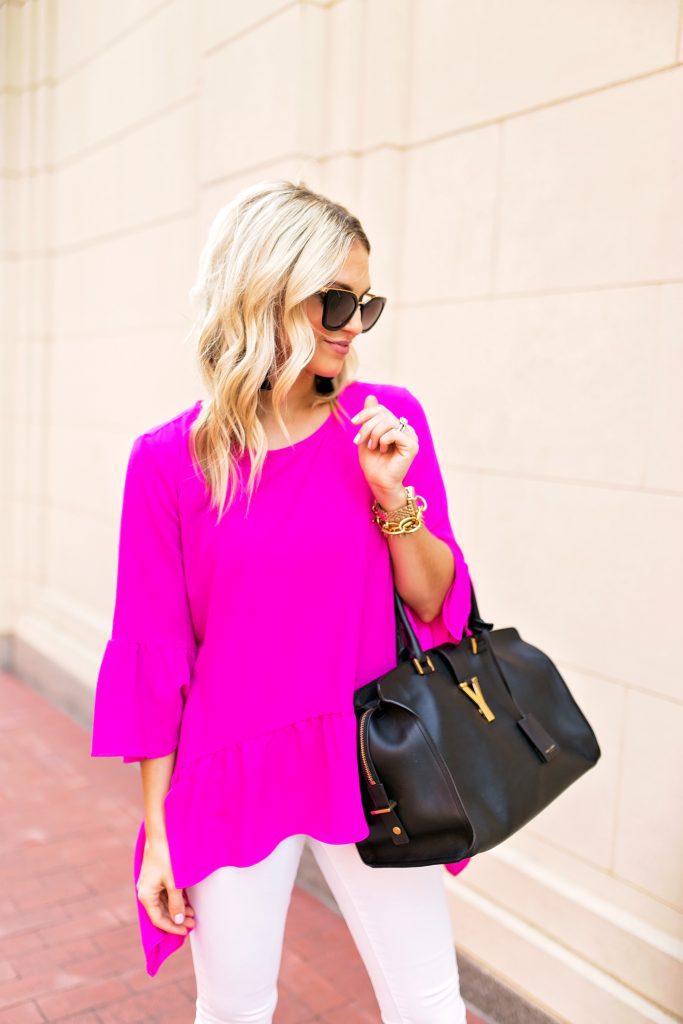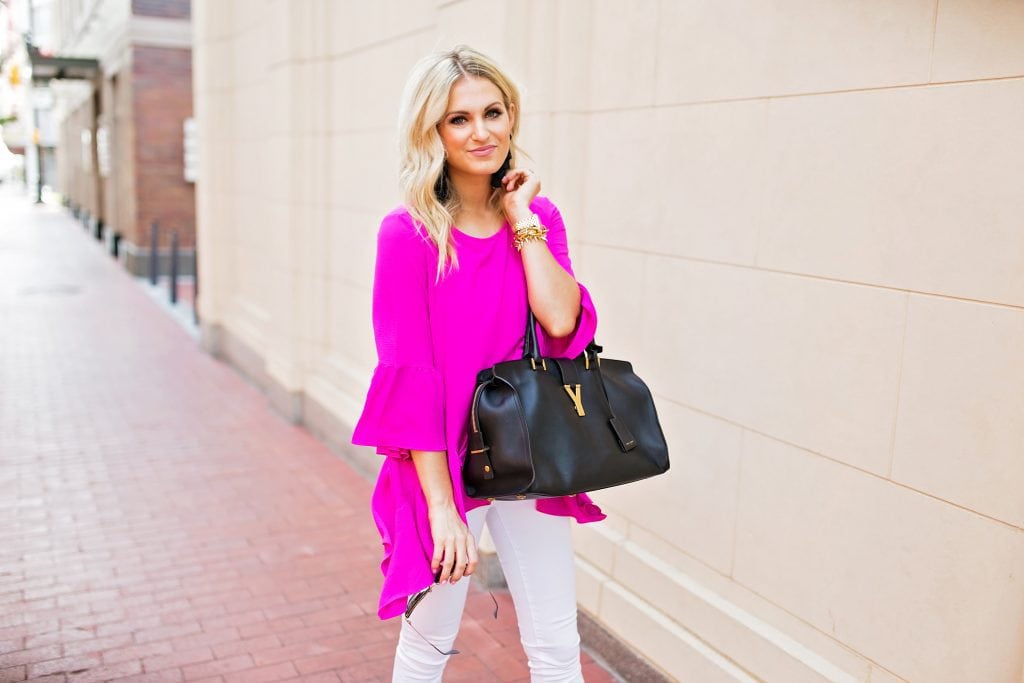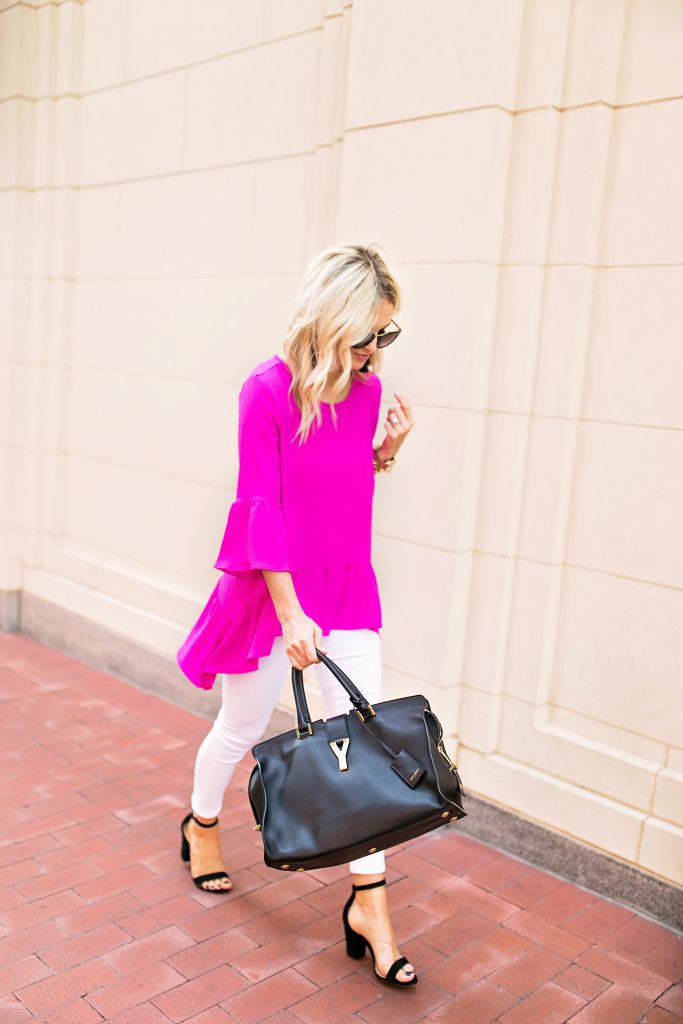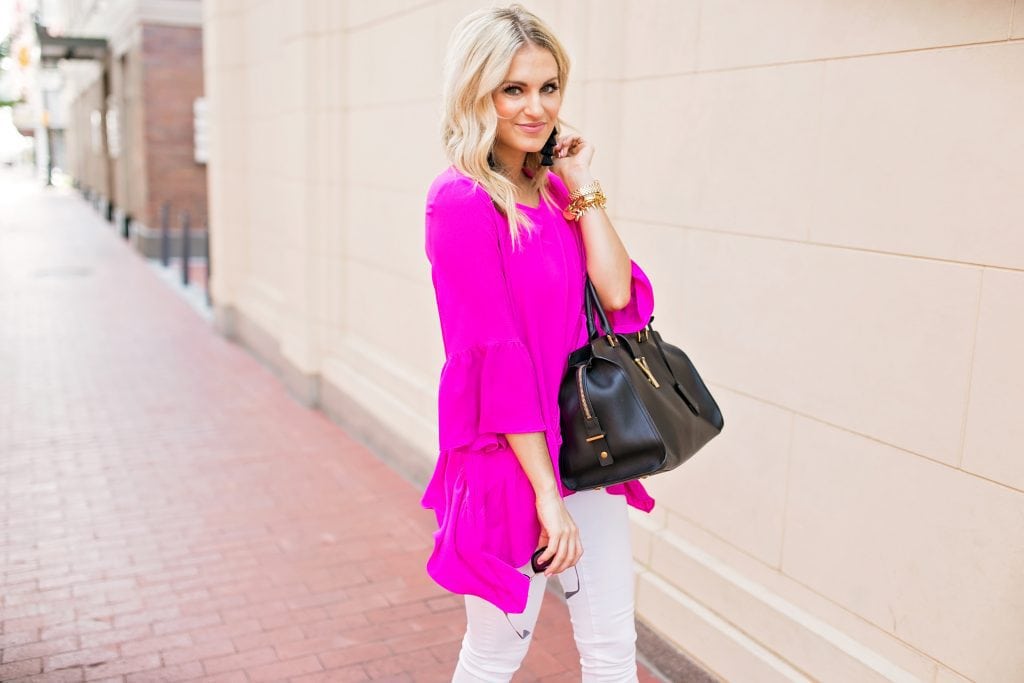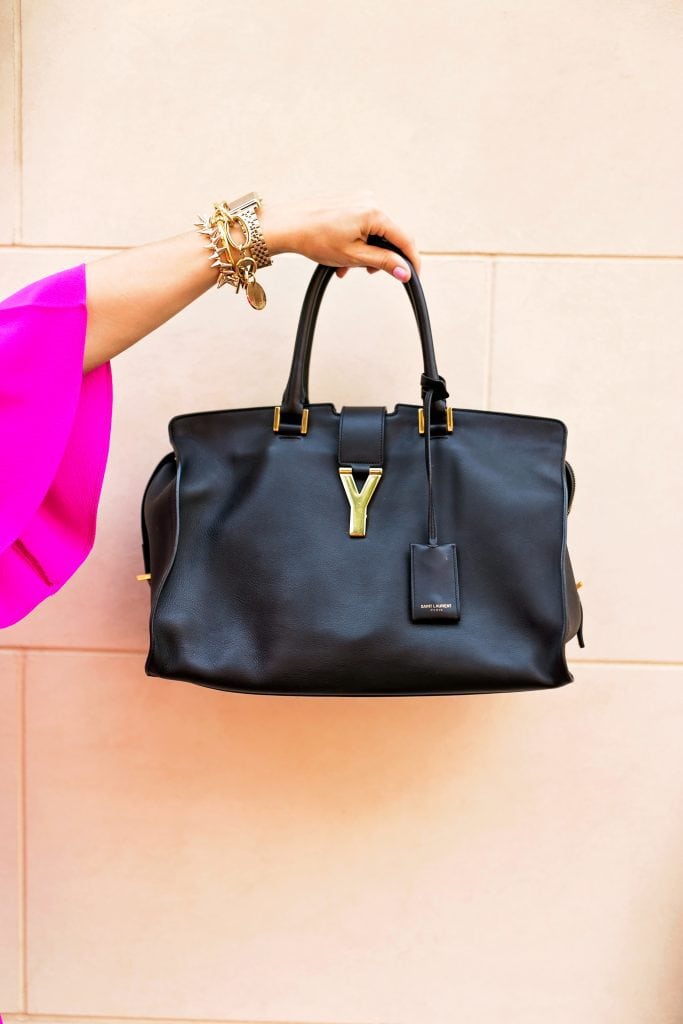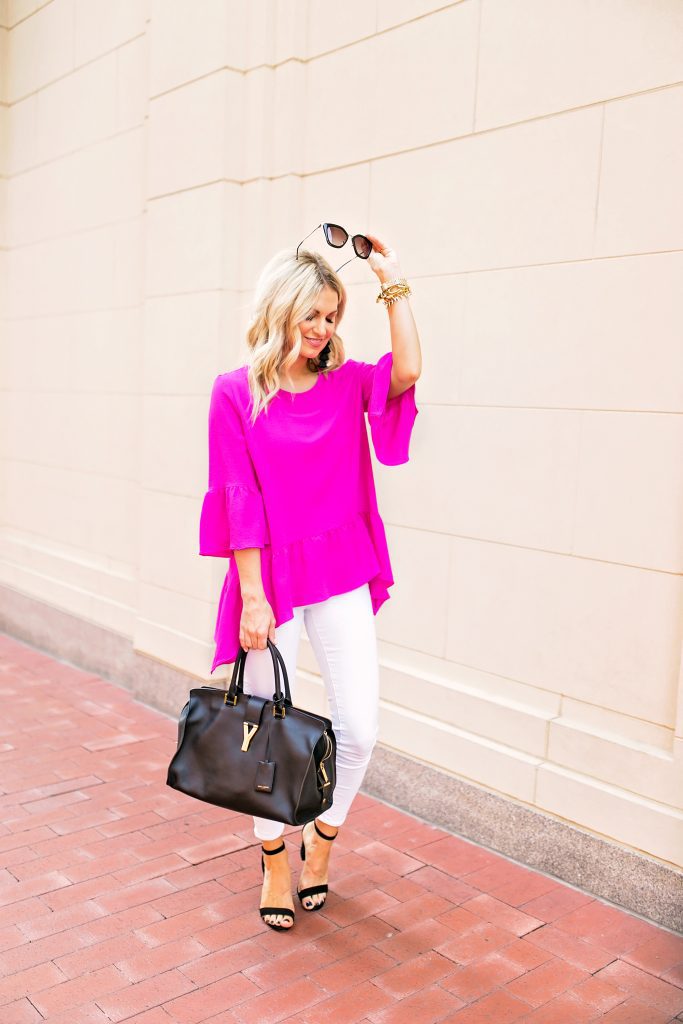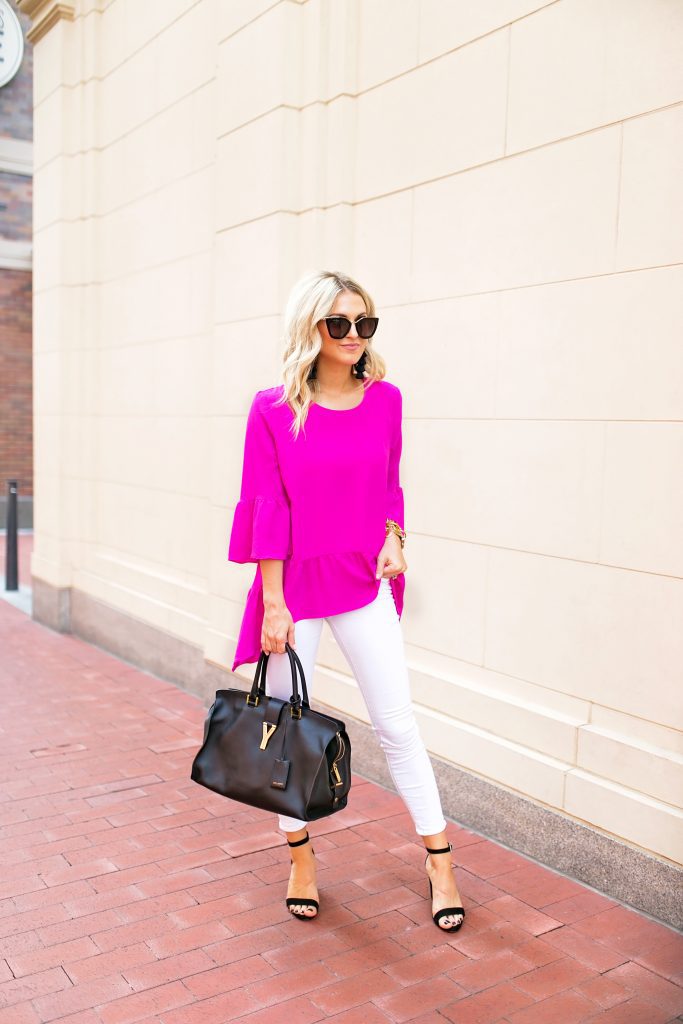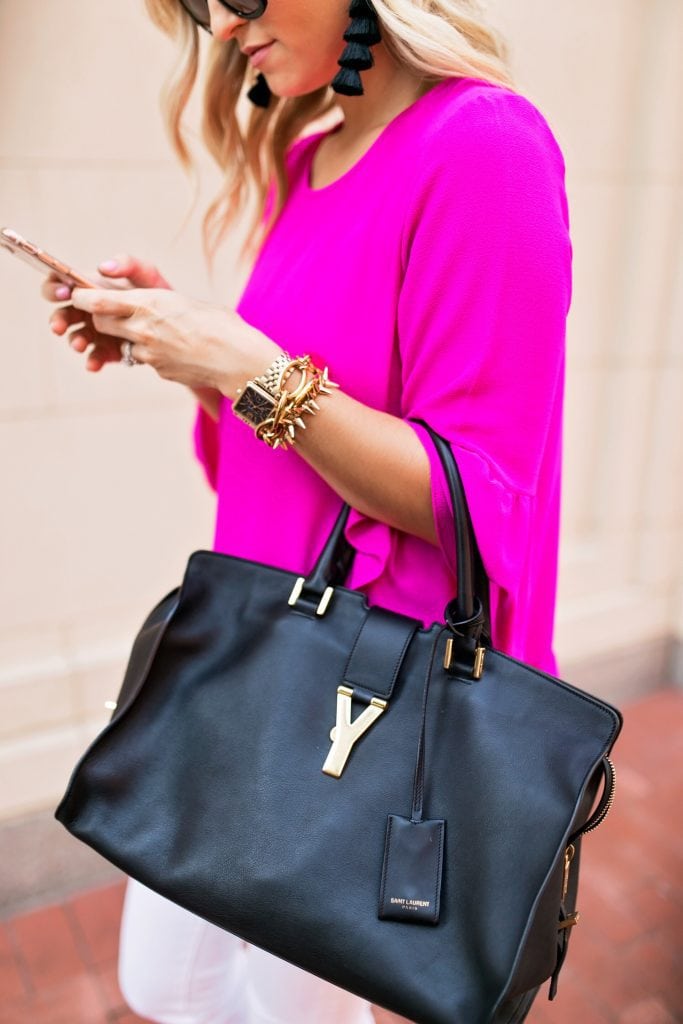 Top: Gibson [runs large, but in size S to show oversized fit] | Jeans: Frame | Shoes: Schutz, Similar | Earrings: Baublebar [c/o] | Bag: YSL Cabas Tote [no longer sold], Similar on Sale | Sunglasses: Prada, Dupe, Dupe | Watch: Available Here, Available Here, Similar  | Bracelets: Baublebar [c/o], Similar | Lipstick: Soar, Creme Cup
Photography by: Angie Garcia
---
When I love something, I'm very committed to it. If you've read COF for any amount of time you probably know I typically don't stray from things like my TULA Cleanser, foundation brands [favs are it Cosmetics CC Cream, Nars Sheer Glow or Estée Lauder Double Wear], nail polish colors and my Colleen Rothschild Cleansing Balm. But let's talk my loyalty with clothing! This top was originally styled in black back in this post. It was a great price, lightweight but didn't feel anything close to Forever 21. I told y'all I wanted it in multiple shades and so here I am styling it in pink today!
This top is a bit oversized and I'm wearing my regular size for this shoot. You could size down, but honestly I like the oversized feel with this top. Feels a bit Rachel Zoe in my book! I think fit is truly personal preference so you could stay your same size and be fine or go down 1 size. This brand, Gibson, also has a long-sleeve version very similar that is part of the Anniversary Sale if you wanted something for fall, too. But I live in Texas which means I'll be wearing this top all through Thanksgiving. Then we will get 2 weeks of cold in which everyone forgets how to drive or even think and then we will resume normal weather schedule.
Now let's chat this bag, YSL was not loyal to this bag and while there are a million other things in life to have an opinion on, I do have an opinion on this! When people ask me, "What's your favorite bag?" This bag is what first comes to mind. However, it's hard to track down as you normally have to get it resold, so I'll suggest an LV Neverfull. But this YSL Cabas Tote is truly my favorite and I'm quite livid they stopped making this exact one. You get the benefits of structure with your contents staying organized, but it also isn't firm on the sides so the bag looks like you've had it for ages. It fits everything without swallowing you- I'm 5'3″ for reference. Most importantly, this bag keeps its leather integrity. Since having Maxi, I've had a few bags damage their leather. *cough* Prada Cuir Bag *cough.* I'm sure it's because when I'm getting her in her car seat or carrying her I hit my bag against something. However, it definitely makes me more cautious to buy one of those bags in the future if Miss Type A over here can damage it. This YSL bag doesn't show any signs of wear! I did want to share all of this because I do get a lot of e-mails about it and I know some of you find it through ebay or other 3rd party sites!
I'd love to know, what are you loyal to?! Any specific products or bags?!