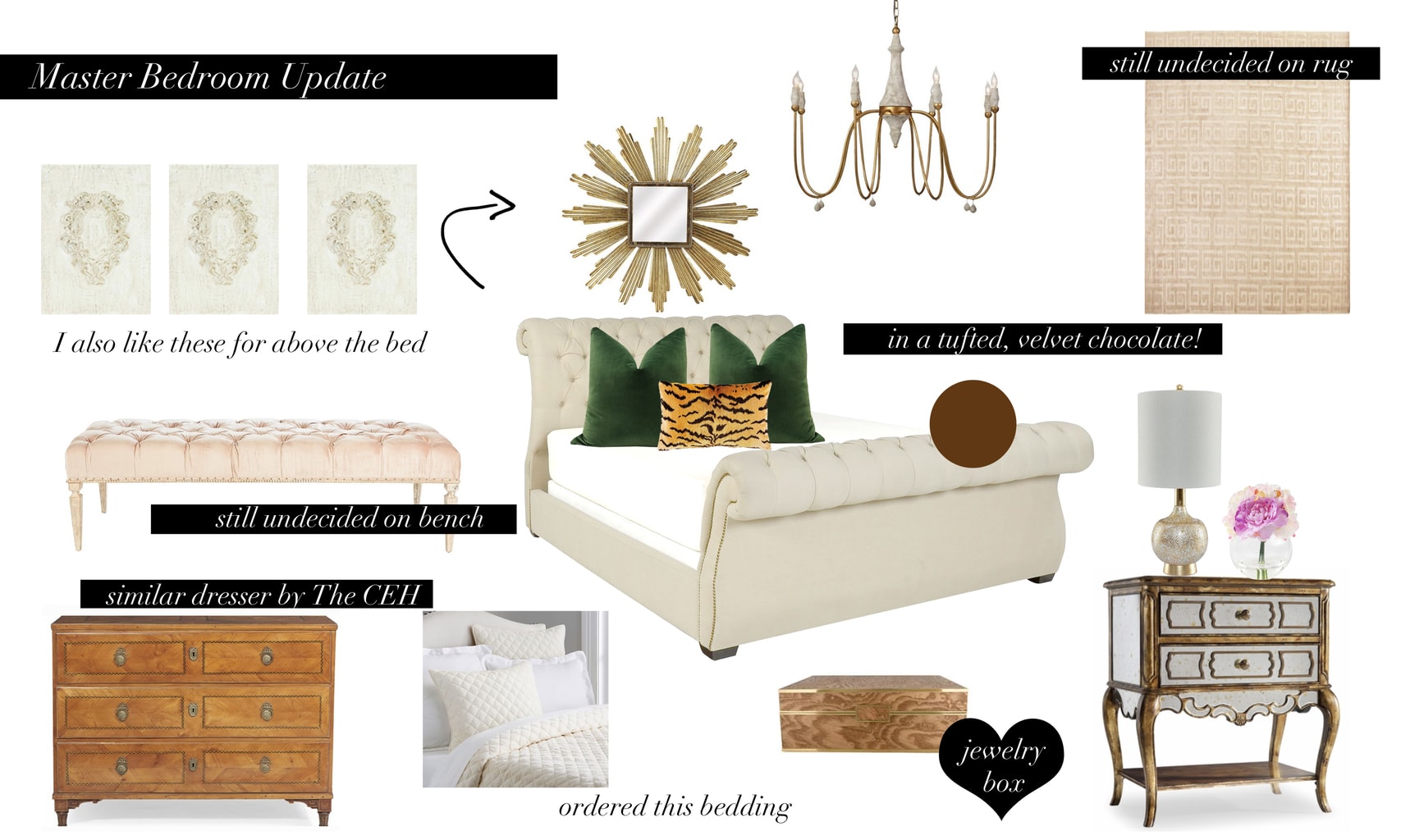 Bed: There's No Place Like Home, Similar | Nightstand: Joss & Main | Dresser: The CEH | Pillows: Little Design Co | Jewelry Box: Aerin | Lamps: One Kings Lane | Above Bed: Mirror, Art | Chandelier: One Kings Lane | Bedding: Pottery Barn | Rug: Horchow | Bench: Shop Candleabra | Flowers: QVC
---
We've been in the thick of decorating our space lately, so I thought I should do another home decor update for you all! Today we are talking the master bedroom.
When decorating this home my taste has ultimately fallen into three styles: traditional, glam and a tad bit European. Honestly, I'd love to live in an entire French Country home and yet when I shop I grab all the fun prints so that doesn't necessarily add up, now does it?! ha! But the master bedroom has been a room I truly am trying to incorporate each style in.
I had the hardest time deciding on our bed. I love tufted and I kept thinking I may go with something cream or white. However, I ultimately felt like it had been so overdone for me that I wanted to go in the opposite direction. We ended up getting a chocolate, tufted sleigh bed made and y'all, I love it! It adds a rich texture to the room and feels so different. That came in Wednesday, but we are still waiting on everything else. To hone in on my appreciation for traditional furniture, I purchased a dresser from The CEH very similar to the one in the graphic. And then we all know I went a bit glam with pillows! I purchased a tiger bolster from Little Design Co. and then we are going with an emerald hue for pillows. I do need to purchase a bench for the end of the bed, but I want to wait until the room is more together so I get the right color scheme.
I'm still undecided on the rug, window treatments and art above bed! I purchased both the sunburst and these wooden pieces from Ballard Designs. I really want to go with the Ballard Designs pieces as I think they will soften the glam look, but I'll wait until my bedding arrives from Pottery Barn to make sure it doesn't clash. I seriously spent a good hour one night this week holding both art pieces above the bed and I simply couldn't decide! The sunburst is honestly the "easy" decision to agree to because it easily blends. But what's the fun in making an easy decor decision? We've got to mix styles, soften looks, add a bold touch and make it 100% difficult. 😉
I've caved and I'm going with an interior decorate for window treatments. When I asked y'all months ago if I should, I got an overwhelming response of, "YES! ABSOLUTELY!" Honestly, after the post was published, I think I got 50 e-mails within 2 or 3 hours of y'all saying how much you are glad you hired interior decorators for window treatments. Many shared how they are really able to tie in your vision of mixing tastes. And since I want to mix three styles in this home, I know she can accomplish that! So thank you all for backing me up on that decision! I seriously love talking through all of these design choices with you all.
The Kisabeth chairs for our family room come today. I have decided to do a whole post on designing custom chairs, because I've received a lot of e-mails asking questions. Since we designed our bed and formal living sofa sans help and I got help designing these chairs, I feel like I know a lot more about the process. From fill formula to child-proof fabrics I feel like I've been eating, sleeping, breathing furniture. haha! Then our family room sofa comes in a few weeks. You all may flip in shock when you see what we went with. I even surprised myself. I sent a photo to one of my best friends when we purchased it and she was like, "Is this Katey?!" But we decided to do a cool masculine/feminine mix in the family room and I think you all will like it!
Lastly, the kitchen island update! You saw a bit of the island in this post and after going back and forth 500 times trying to decide what to do to change the island, I've decided to leave that an interior decorator as well. I want something that will "warm" the space up since we've got marble and gray in the kitchen already.
Sorry for such a "chatty" post, I feel like we just went to lunch on a Friday and I word vomited all of my thoughts on you all! Thank you so much for spending some time with me! Have a wonderful day!