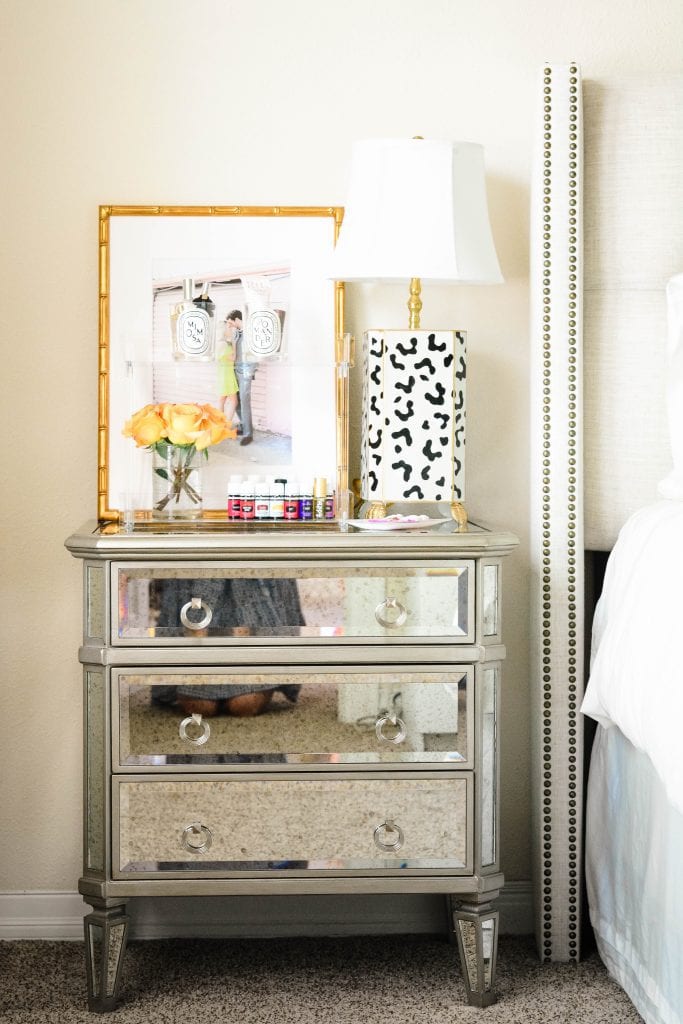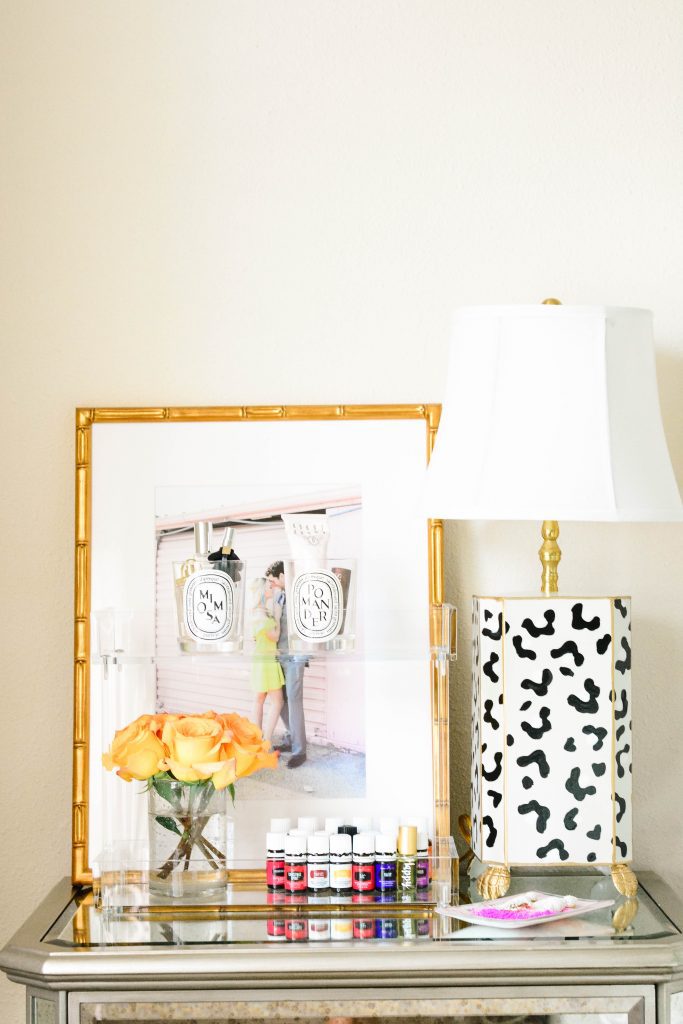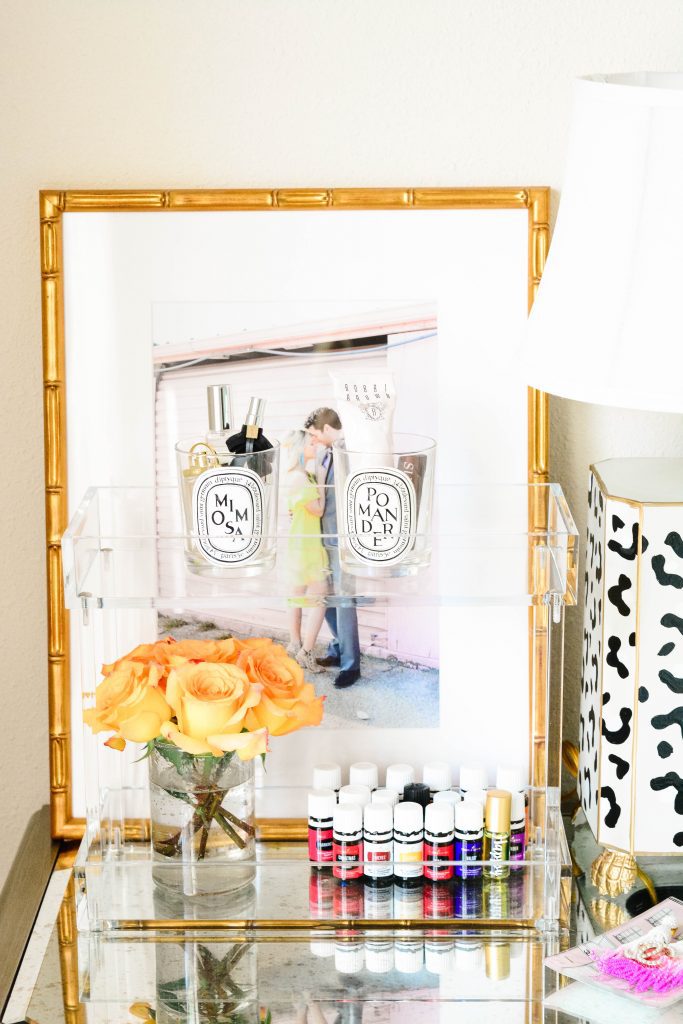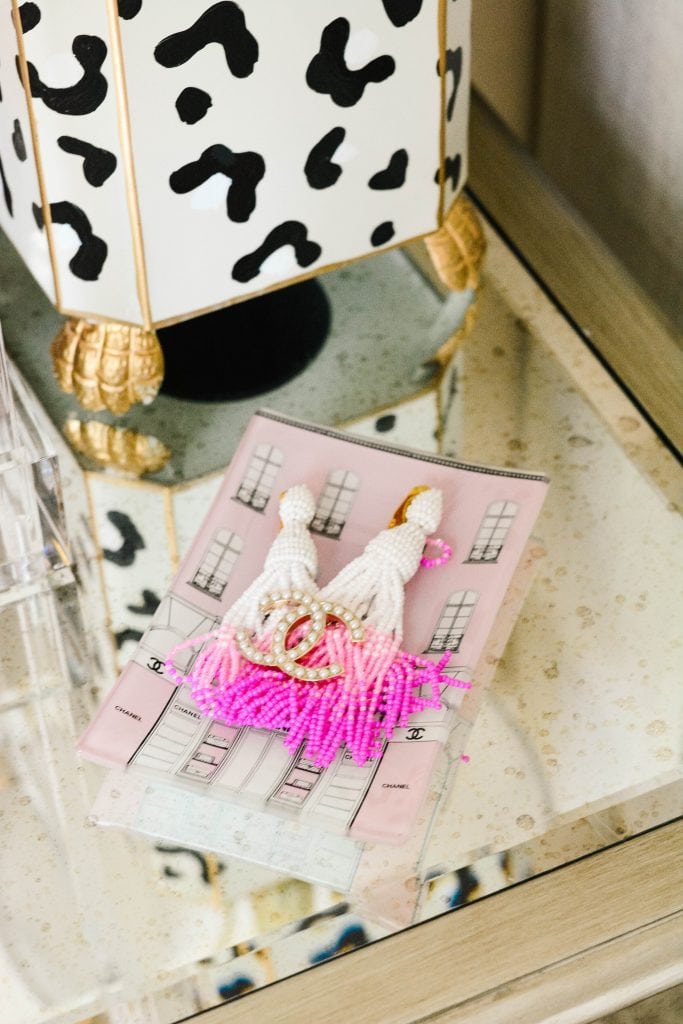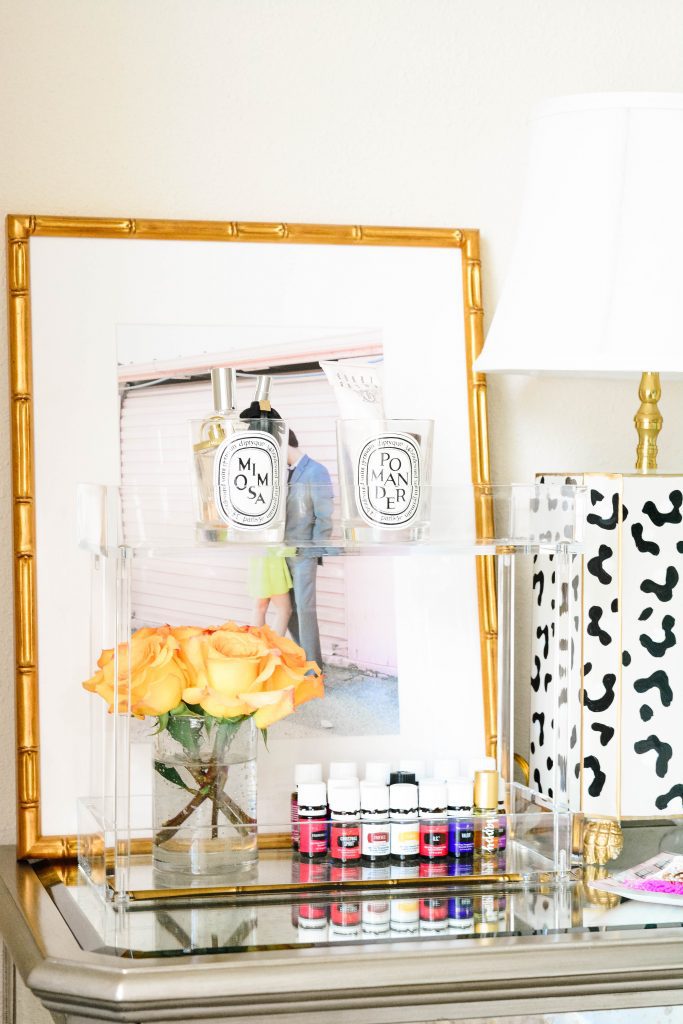 Nighstand: Ballard Designs, Similar On Sale | Frame: Framebridge | Tray: Container Store | Jars: Diptyque | Lamp: Dana Gibson | Chanel Pin: Vintage | Earrings: Goldenstrand [c/o] | Chanel Tray: Gift from Family
More about the oils I use: Here
---
We should be on a flight to Palm Beach right now, but we are not! With Tropical Depression Harvey hitting, the Palm Beach area is getting a bit of the remnants in terms of heavy rain and thunderstorms. Part of the reason we were going to Palm Beach was work related, and due to all the storms we had to postpone our campaigns and collaborations. We had to make a judgment call based on all of the underlying factors as well as having a baby. Just one of those things in life that happens! However, we are really hoping to squeeze in a trip to Palm Beach before the end of the year but we shall see with Paul's work schedule! Not that cancelling a trip matters at all, we just hope everyone on the coast of Texas and New Orleans stays safe this weekend!
Let's talk oils. Although these are photos of our hold home, this is still the exact same setup I have here! Now a Joanna Gaines I am not. I love her style and I'd gladly live in a home decorated like that, but it's just not what I naturally reach for. When I started to collect all my oils I really wanted a place to store them. You've got to see your oils, otherwise you don't use them! It's the same concept as my makeup organization. However, most oil organizers I was finding were pretty rustic and Fixer Upper-esque. I got into a black hole on Google and finally found this tier from The Container Store. I love it and honestly think it would be stunning if you have quite a large perfume collection to store! I keep it on my nightstand as I can put oils on the bottom and lotions as well as lip balms on the top. It's not necessarily minimalistic, but the acrylic tiers feel more modern and make it seem as if it has a cleaner look. The small oil jars also fit in lipstick containers if you were interested in that! Unfortunately, I have a few of the larger oil jars and those get stuck so I couldn't use it for all.
Overall, I ended up really pleased with how it set up! When you love to decorate I think it's so easy to struggle between functional and beautiful. Ideally, I'd love blank counters only filled with lamps and candles and frames. But a girl needs her things! I also hate putting every single product away because then I feel as if I don't properly use them. Oils just like skincare, must be used frequently to get the best benefits!
Now these beautiful nightstands actually got sold! They didn't fit in our new master bedroom and a girl I was friends with from college wanted to purchase them. We met and gave them to her and I'm so glad they worked out in her home! Last weekend I think we actually found the nightstands for our master. But remember the bedding I got?! The bedding I was SO thrilled met my husband's approval and requests? The bedding I stalked on Anthropologie for weeks waiting to on sale? Oh yes, that bedding. The bedding I'm not bitter about at all. 😉 Once we found the nightstands Paul looked at me and said, "But I don't think these look right with the bedding." He was right, but when your husband notices that you know it's bad! I could only laugh, but thankfully we have guest bedrooms to fill so that bedding can go in there. I've already called my friend Amy Beth telling her she has to come stay and enjoy this overpriced Anthropologie bedding because I don't get to! However, I'll glady swap bedding for these nightstands. These were so tricky to find as I needed them to be a certain length and have the right storage. I hope to do another home decor/furniture update soon and share our move in date! Paul has already swapped those 3 things he wanted! The other day he told me he wanted the print in his office at work, not at home. We already got the rounded burl wood coffee table for him and now the bedding is swapped. I guess this is why we blog it so we don't have to change it all once it is finished?! My next project is light fixtures. This will be a slow process of course, but we do have to pick out 2 light fixtures for the master before we move in. I need one for above the bed and one for my little office nook. I'm so lost on where to find cohesive chandeliers. I need a mama and a baby size- haha! We went to a lighting store last weekend but I got very overwhelmed and just looked at Paul and said, "This is why I shop online."
Sorry for such a ramble of a post! I feel like I had 15 things to say at once, like when you go to lunch with a girlfriend but you really needed enough time for dinner and dessert to fill her in on life! But I hope this gives you some inspiration for storing your essential oils! Do you have any unique ways you store yours?!