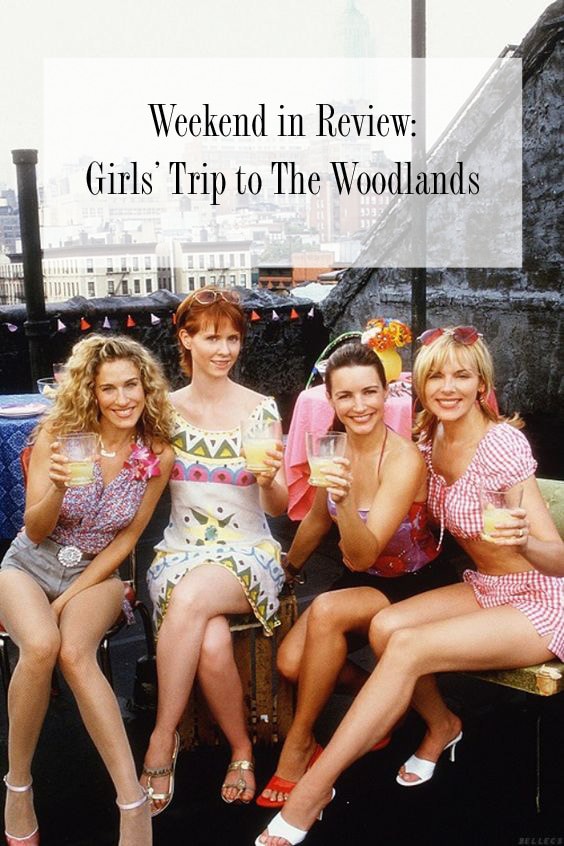 [image via: Cosmopolitan UK]
I will be the first to admit that there is such a fine line between creating great content and creating a great website.
For me, I think a great blog means I am able to cultivate that relationship with the writer, even though I'm just reading his or her words. Personally, I want to know the blogger and what they do in their time. It helps me to know, "Would that product work for my lifestyle as well?"
While thinking of how to bring more of that relationship into COF for 2016, I couldn't help but want to review my weekends. I'm just as curious about a person's weekend as I am about what is in their handbag. Which friends did they see? Did they try a new restaurant? Did they finish any laundry?! If so, can they come help me do my laundry?
Here we have our first Weekend in Review. I wanted my first one to be a girls' weekend with Taylor and Casey! A few months ago Taylor and I went to visit Casey in Austin and I over Snapchatted our weekend. I got so many e-mails from readers asking what we did, how I packed and any recommendations I might have for a weekend with the girls.
I'm a total girls' girl and need that time with my best friends to feel more myself. Friendship after college is hard. Some friends become wives. Some friends become mothers. Some friends move. Some friends become nocturnal with their work schedules. There is no secret recipe for staying in touch, but I do like to incorporate a few practices to let them know how much I love and need them in my life.
My favorite practice? A girls' weekend.
Taylor and I live in the same city, but Casey moved to Austin for work. We didn't want either girl to feel she had to host for the weekend and so we started to think of what city we wanted to stay in. The Woodlands is a pretty posh little playground and we knew we'd spend our time shopping, drinking Rosé and eating out. Taylor's family lives in Houston, right outside The Woodlands, and after hearing her rave brag about the shops there for months I decided we'd head there!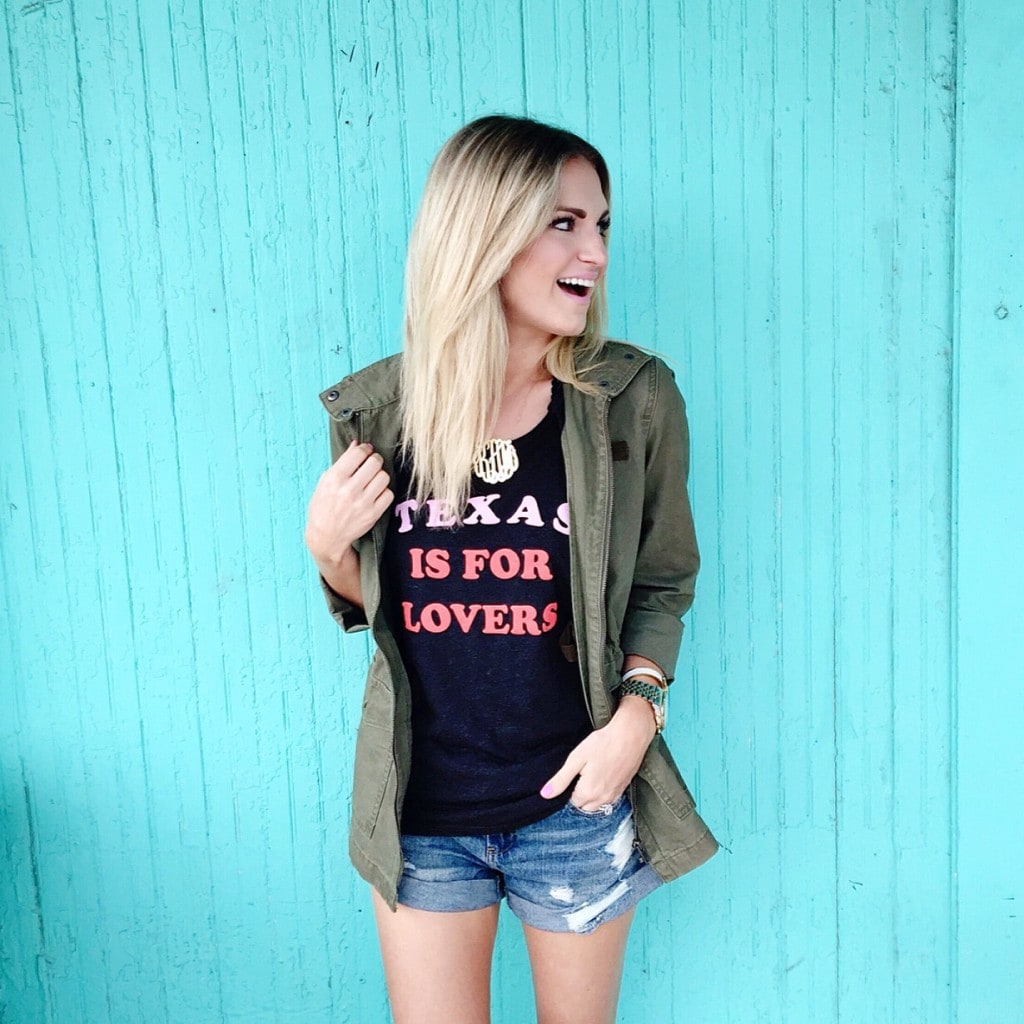 Jacket: Nordstrom | Shorts: Nordstrom | Top: Riffraff [c/o] | Watch: Nordstrom [on sale!] | Shoes: Tory Burch [go down a half size]
Taylor had a work meeting in Houston early Friday morning, so Paul decided to drive me down. He wanted to play golf at The Woodlands Country Club. Girlfriends. Wives. Help me out here. How do men love a hobby that takes 6 hours?! I mean if my barre class goes to 55 minutes I'm eying the clock like, "I've got places to be! I've got things to do!" He loves to golf, so while I was wondering why he was so eager to drive me down, it all made sense later on.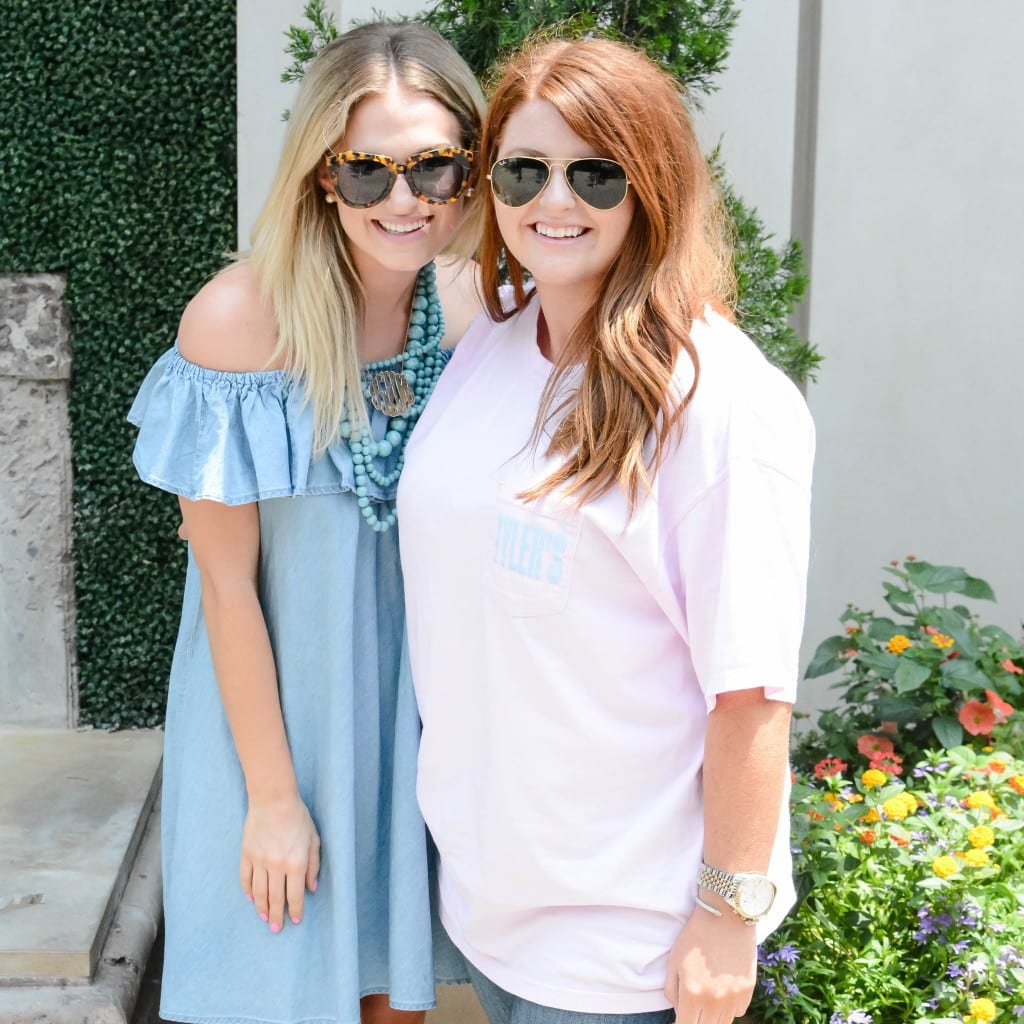 Sunglasses: Karen Walker | Dress: Chicwish | Necklace: Baublebar [c/o] | Earrings: Tory Burch
We stayed at the Hyatt Market Street which is in the middle of their Market Street shopping center. We walked around for a bit [AKA I went into Kate Spade and bought three of these bracelets] and I met so many readers! Had I known so many of y'all were located there I would have done a meet up! This is Kelsey, a reader, and she was such a doll! And look at those red locks! I would say I am envious, but the Lord says to not covet. 🙁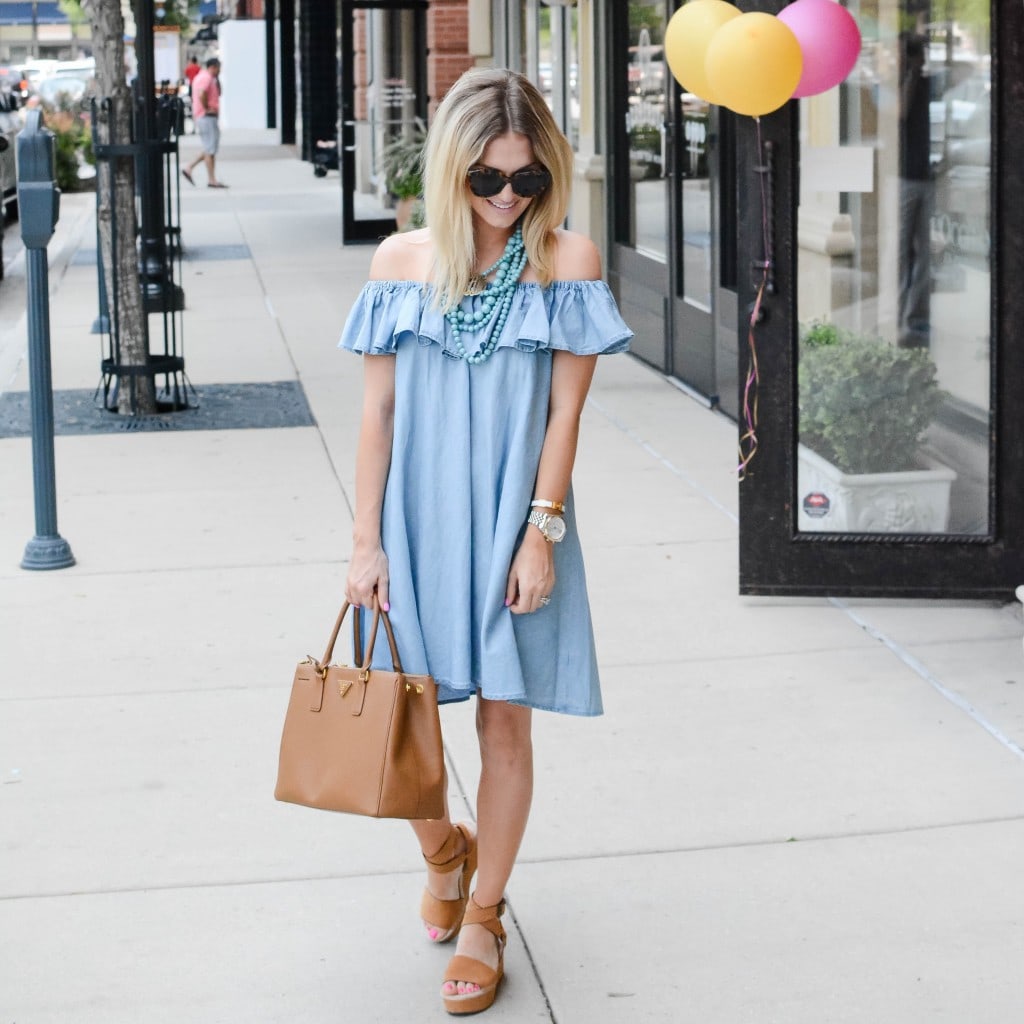 Shoes: Similar
Y'all may have remembered after I lost all self control in Sephora a few weeks ago, that I grounded myself from buying beauty products for a month. There is this one shop called, Cos Bar, which is a luxury beauty store. I went in FOUR times. FOUR. I think they thought I was shoplifting. I'd pick something up and think, "But if I purchased, no one would know?" Felt a surge of guilt enough to knock me over. Walked back out.
I'm sad proud to say I got a gift for Casey, and nothing for myself.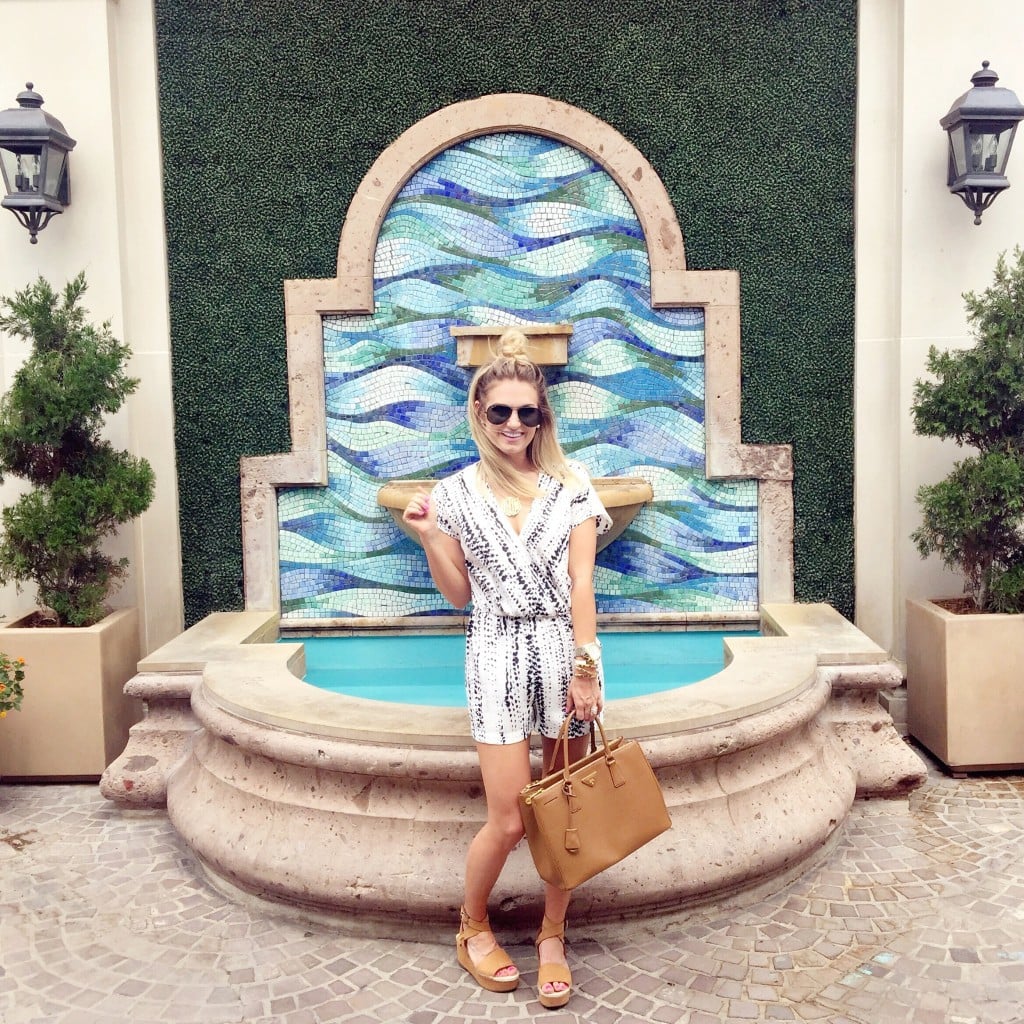 Romper: Cooper & Ella [c/o] | Bag: Prada, Similar
Casey and Taylor got there after work and we all headed to get blowouts at Blo. We taught Taylor what Rosé flights were at Crú and had dinner at Jasper's. Paul came along to dinner before heading back to Fort Worth. Get the salmon at Jasper's! Casey and I split it, but it felt more like you were eating 5,000 calories. And if we are being honest, that's the kind of salmon I like to eat.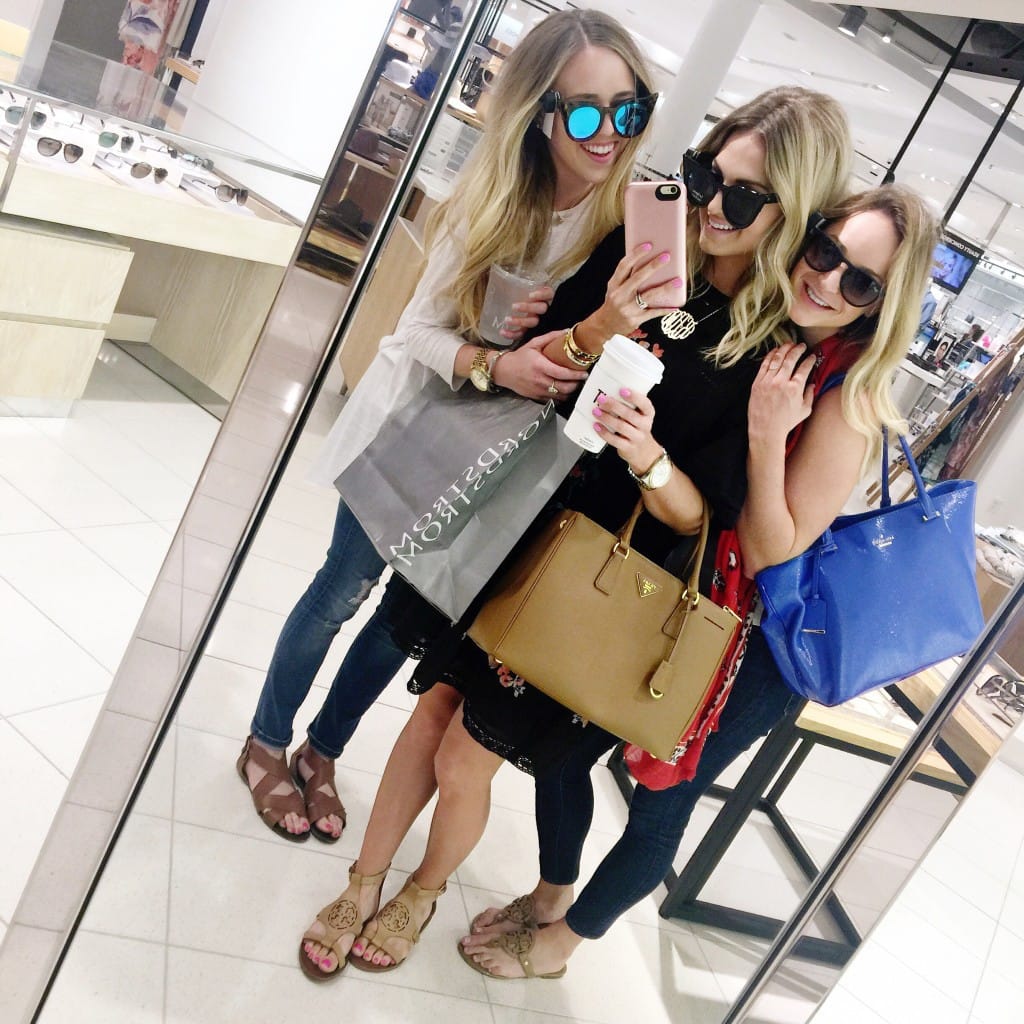 Dress: Free People | Sunglasses: Le Specs | Shoes: Tory Burch
Day 2 started bright and early with a trip to Nordstrom. Paul is in a wedding that is in Mexico in a few weeks so I needed to get my act together and actually own one swimsuit. I'm in denial about warm weather coming and might have donated all of my other ones…Casey wanted my favorite lash serum and Taylor needed rompers. Casey and Taylor both wear scrubs for work so it was fun watching them pick clothes for the weekend and play dress up.
I snapped my dressing room and got lots of questions about the looks I shared. I rounded up my shopping bag for you below so you could peek!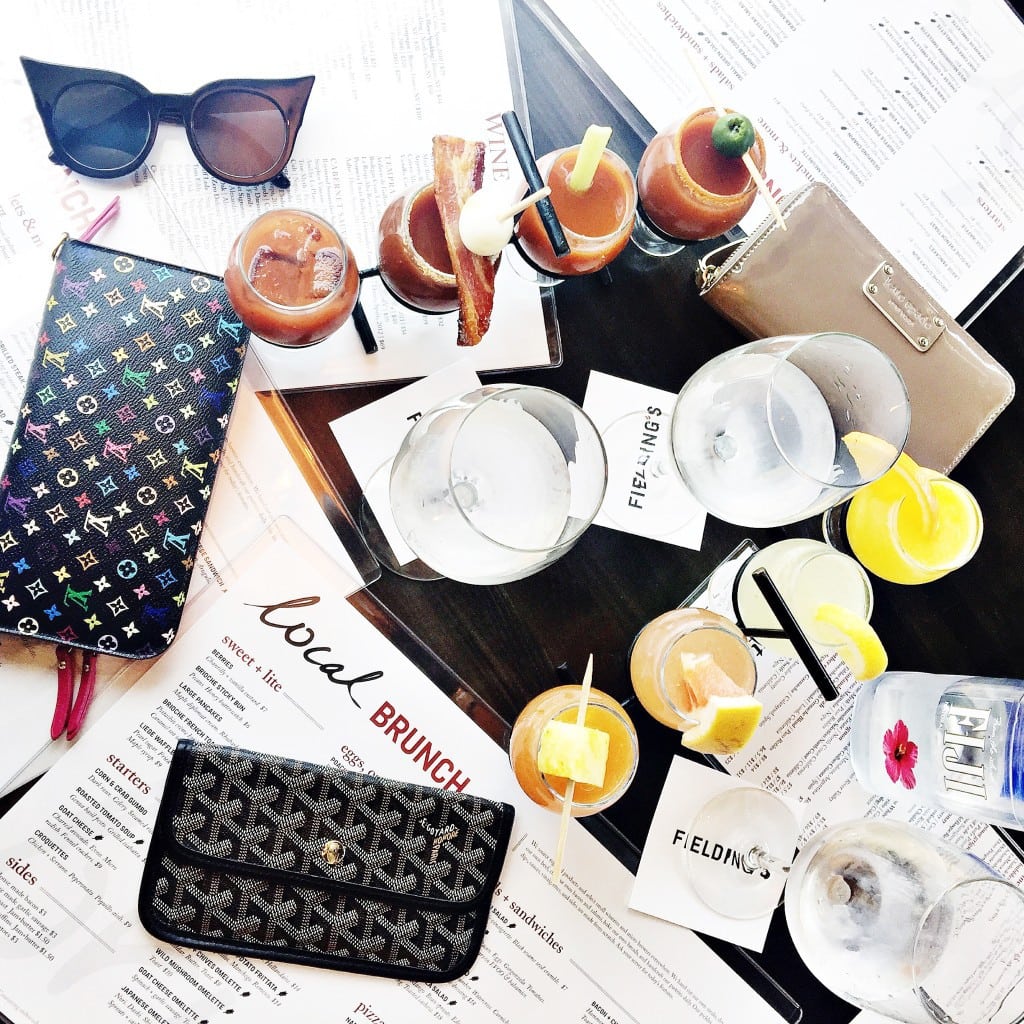 I begged for restaurant suggestions before our trip [sorry!] because I wanted to make sure nothing we did this weekend was #whole30approved. Everyone told me to go to Fielding's Local Kitchen + Bar so I obeyed.
Y'all. I do not like sweet brunch. In Katey's palette sweets are for dessert. I'm all about savory brunch. Not only did they have a ton of savory dishes [the Truffle Polenta was my absolute favorite] but we went out on a limb and tried the French Toast. Before it came out we each kept saying how we weren't French Toast fans, but y'all told me it was great so we were willing to be risky. 😉
Best. Thing. There.
It was gone and we were so embarrassed. I could have eaten 5 servings, but we left, ran to Target, got one pieces [props to all the girls who can rock a bikini after brunch, that is a talent I do not possess] and went out by the pool.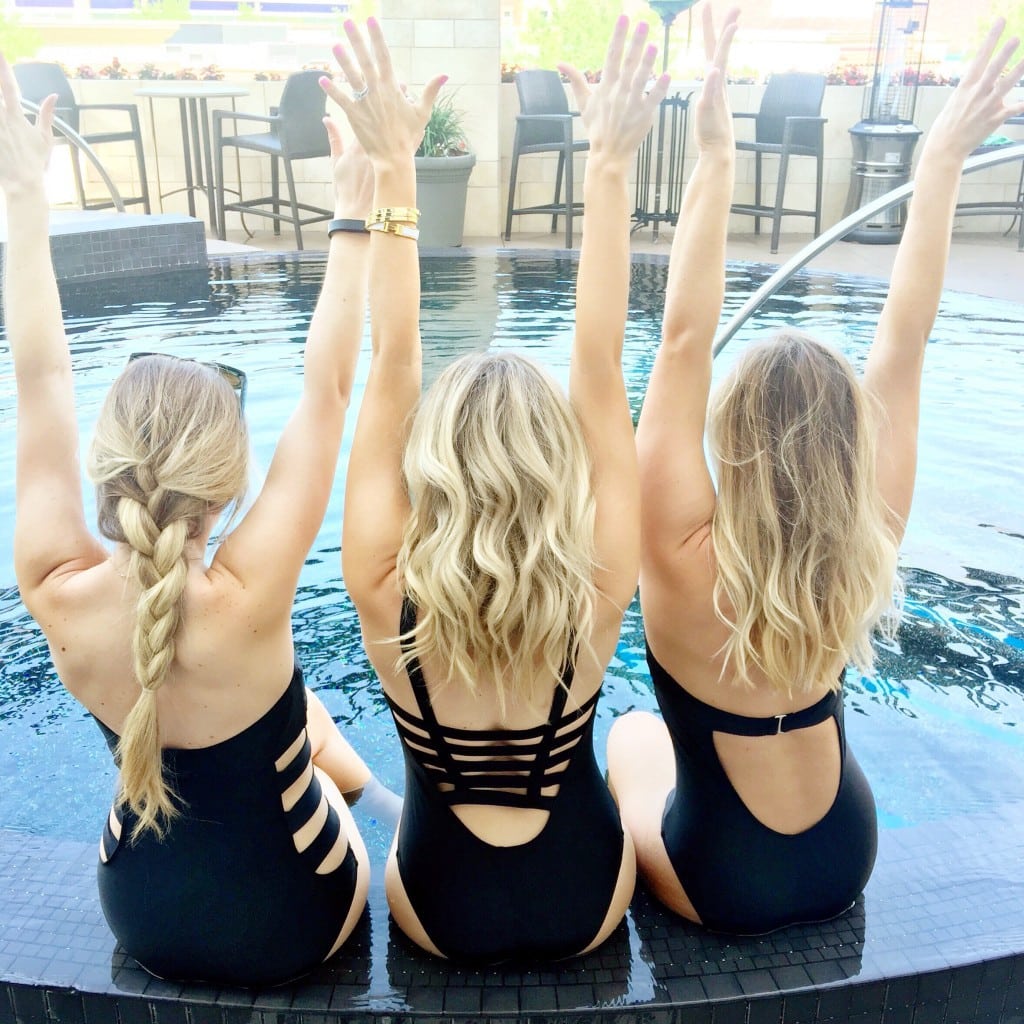 Cover Up: Nordstrom | Swimsuits: Target: Taylor's, Mine, Casey's, Similar | Sunglasses: Le Spec |
This was one of my favorite parts of the trip. Casey, Taylor and I lived together in college and when you are 18 you talk about the basics: boys, stress, boys and stress. We may be all grown up, but nothing ever changes. We sat by the pool for hours while they asked questions about marriage, I asked about their dates and we talked about work. We shared fears we have about the future, goals we have and how we pray we all live in the same city one day.
I always talk about Tim Keller and how much I love his books! He says that true friendship isn't based on the desire of having friends. It's based on the desire of common interests while caring for one another. So many times I worried while we were in college if our paths would break away and we wouldn't be best friends anymore. It's such a normal fear before you graduate, but I'm so thankful that we have become even closer. These girls don't live in the bedroom next to mine anymore, but they get my life now, maybe even more than they did before.
Casey is a nurse, Taylor works in sales and I work as a blogger. I know it can be hard to relate to my job because it's new and something people aren't really informed about yet. These girls honestly understand me and my life better than I sometimes do and it was just so great to lay out and know I've got these two backbones that always cheer for me, as I do for them.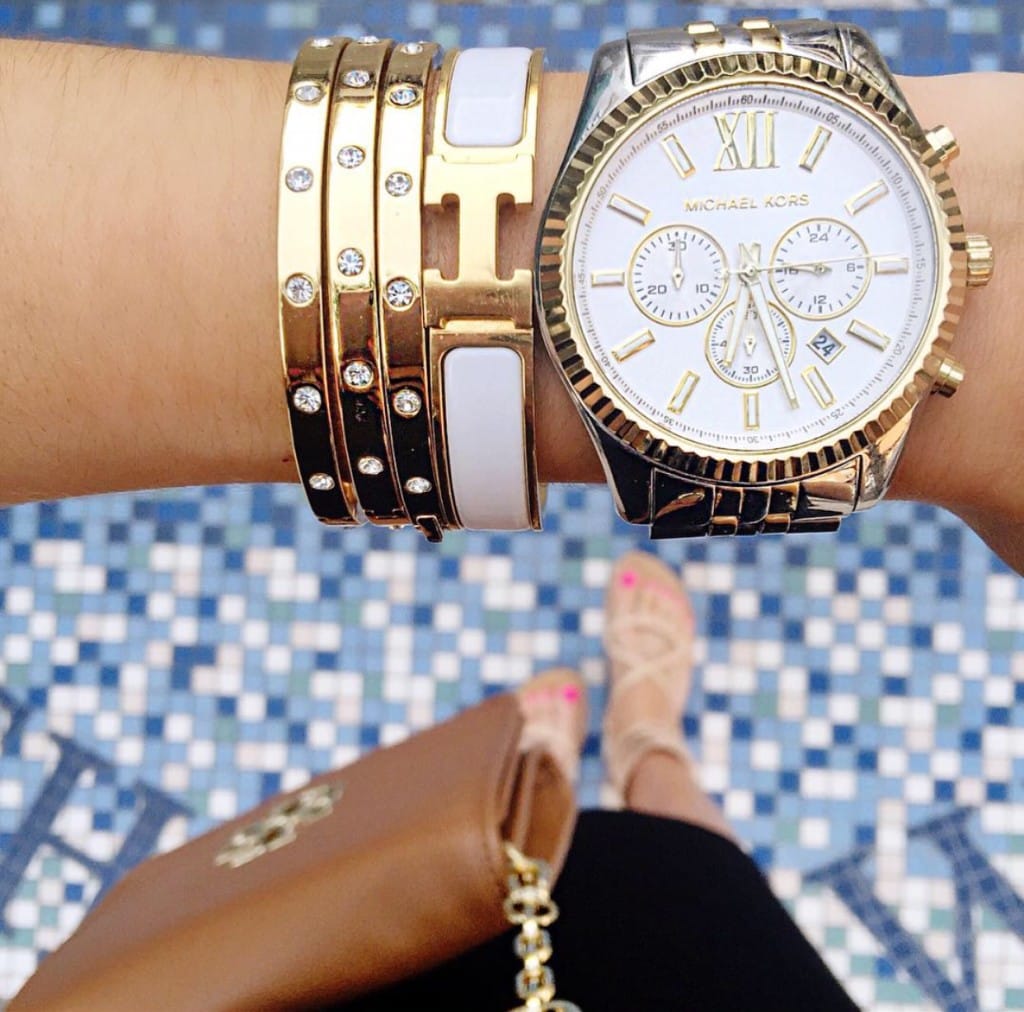 Dress: Leith | Bracelets: Kate Spade | Watch: Nordstrom | Shoes: Sam Edelman | Bag: Tory Burch
We got ready for dinner and went to Escalante's. After queso and margaritas we headed back to the pool to end our girls' trip with our 4th best friend: Rosé.
This weekend was what every girls' weekend should be filled with: heart-warming conversation, plenty of shopping, carbs and just enough bubbles to make you feel fancy. 😉
When people ask why I love Texas I never really know how to describe it. Is it the friendliness? Is it the beautiful back roads? Or is it the fact you can have incredible amenities while still living on land?
I think this weekend reminded me exactly how to explain my love. Texas is the most down-to-earth indulgence you can get. You can treat yourself to a splurge-worthy gift all while knowing the sales associate genuinely wants to know how your mother is doing. And what's honestly better for a girls' weekend than genuine conversation and knowing you have the right to spoil yourself?
Where is your favorite spot to have a girls' weekend?! Thank you so much for reading!

Thank you to The Woodlands CVB for making us feel so welcome! We loved visiting!