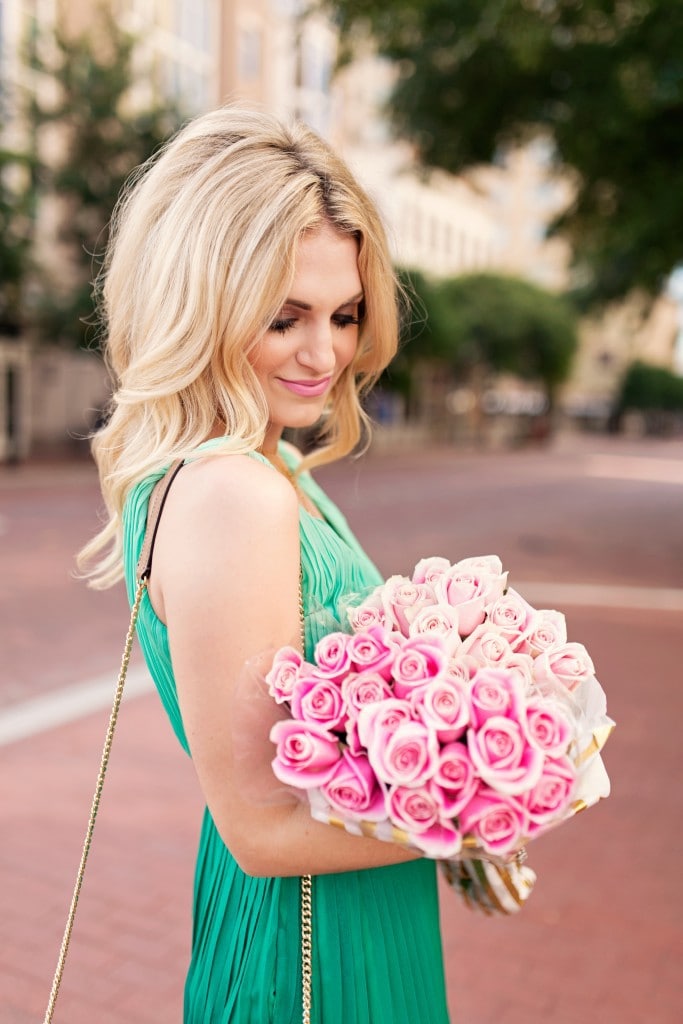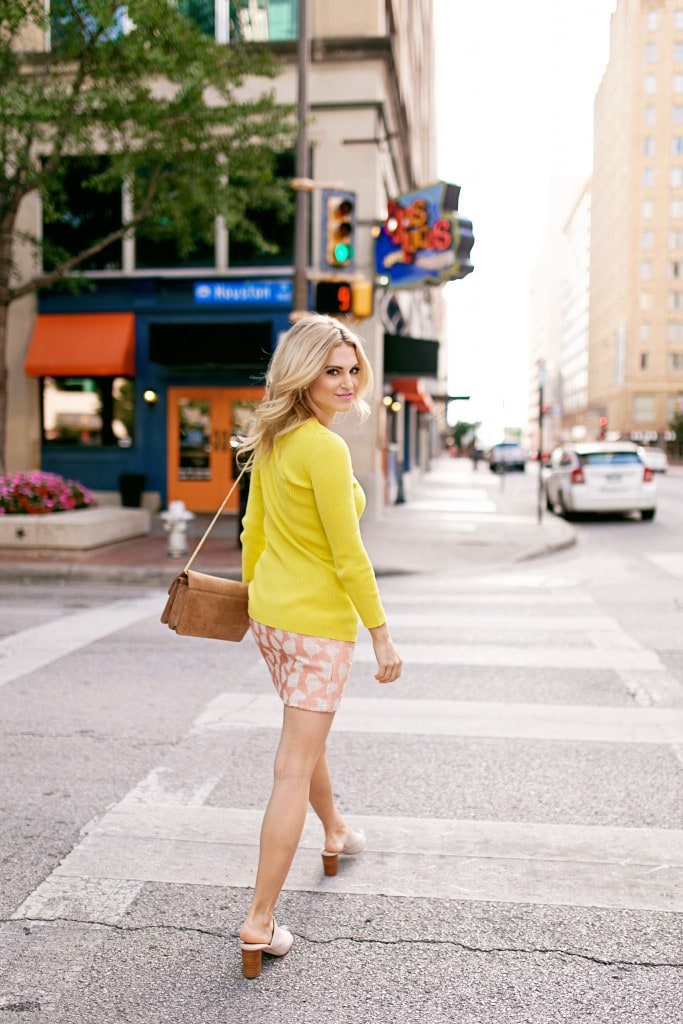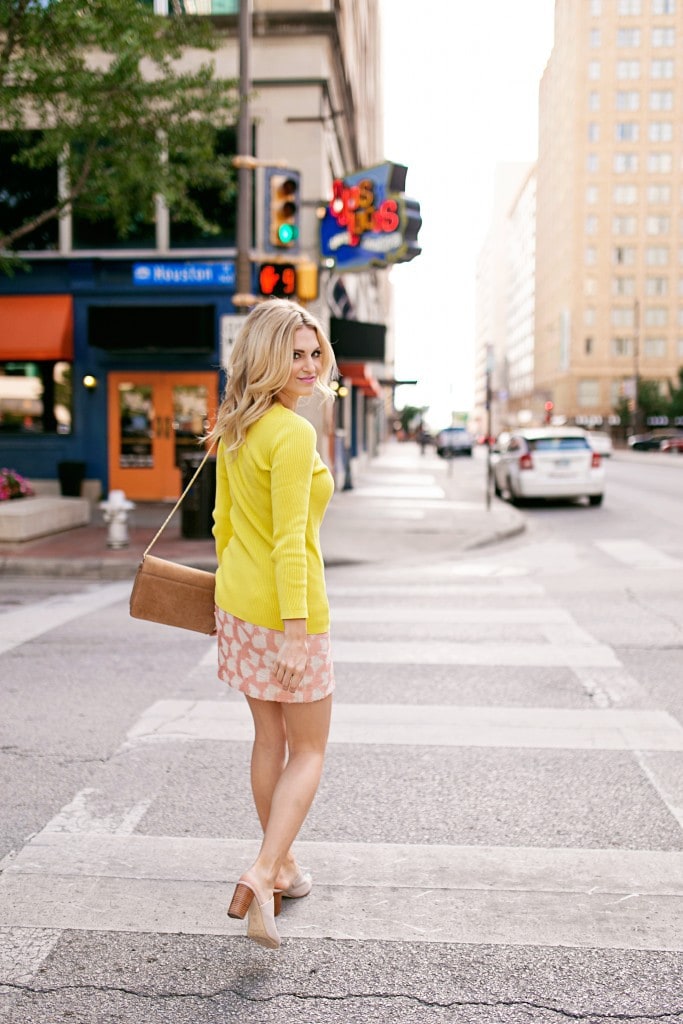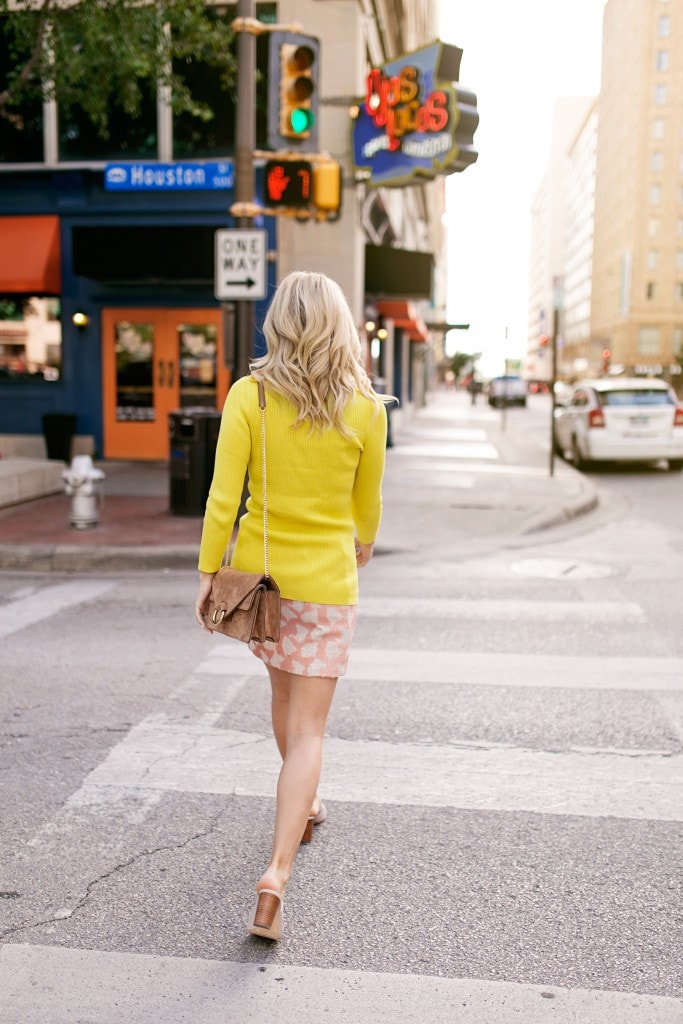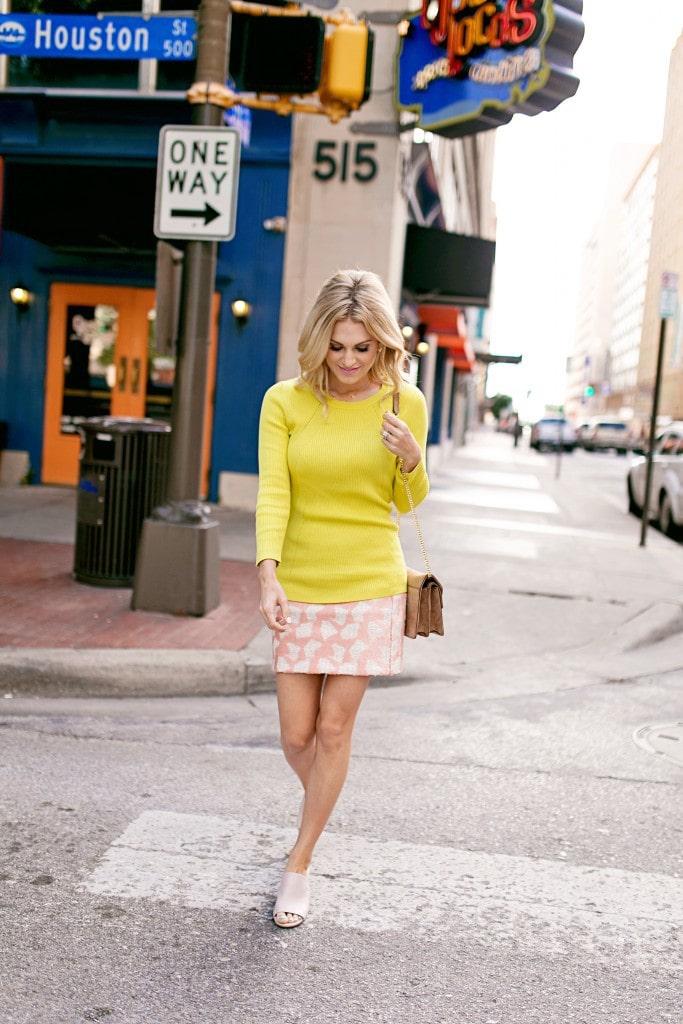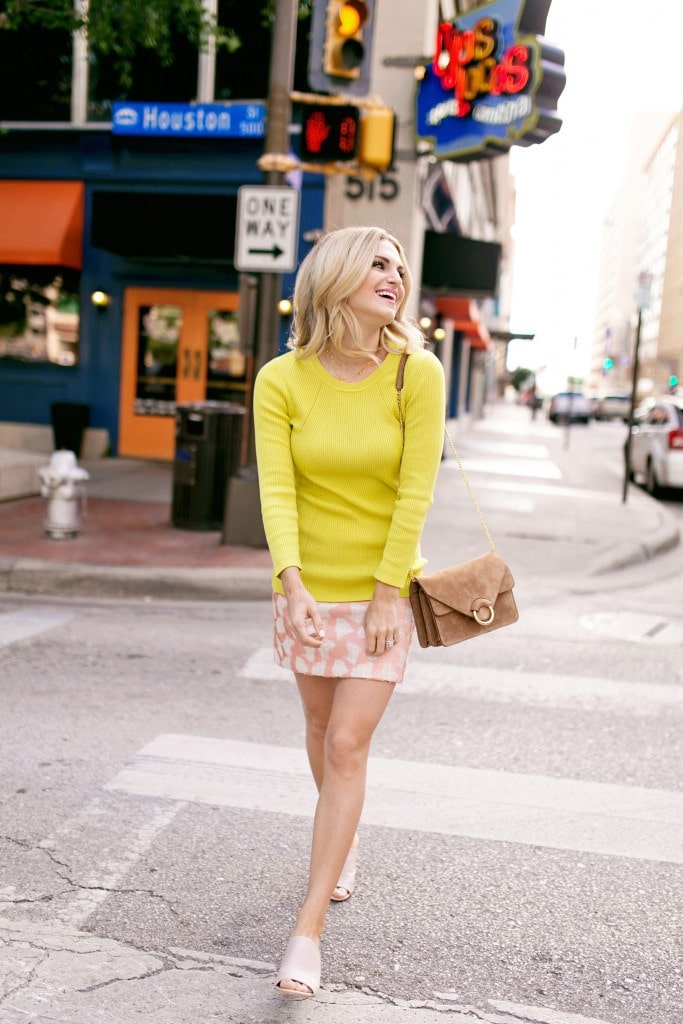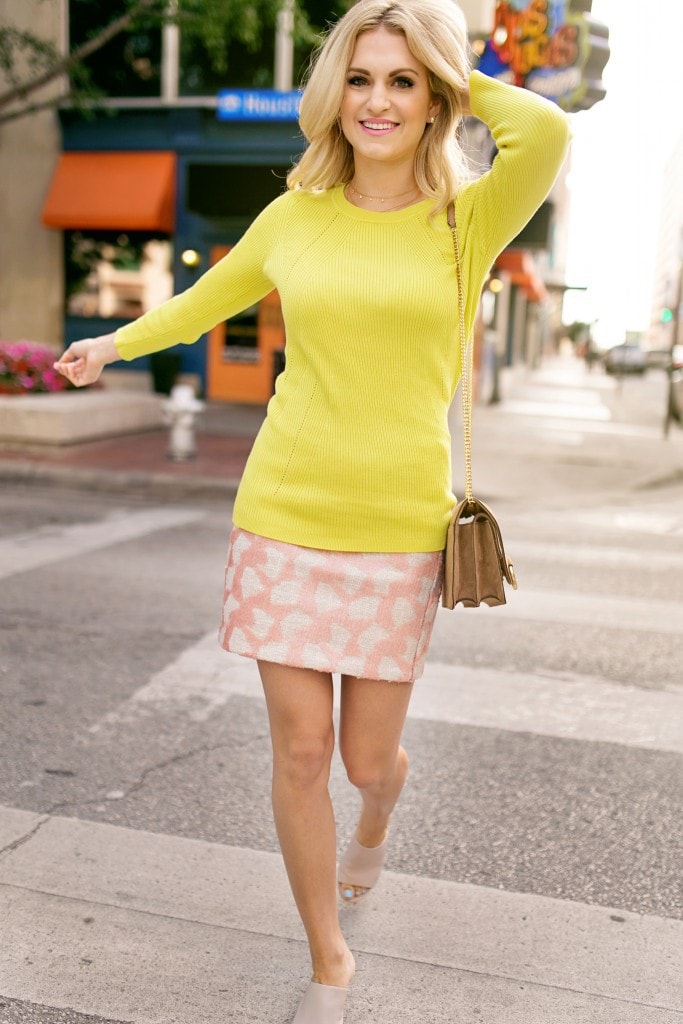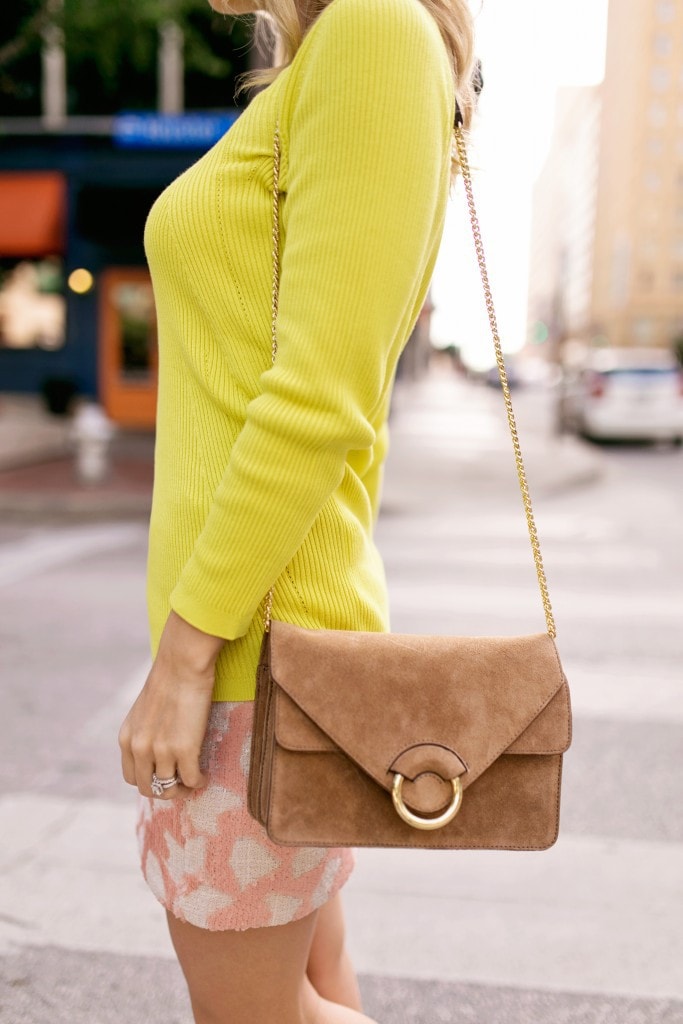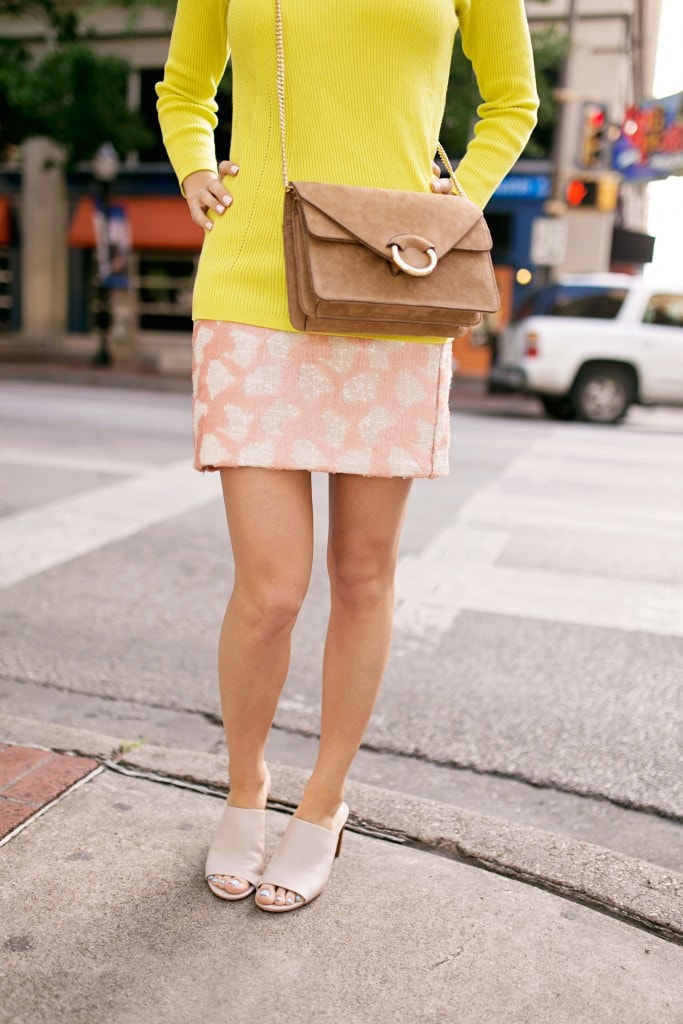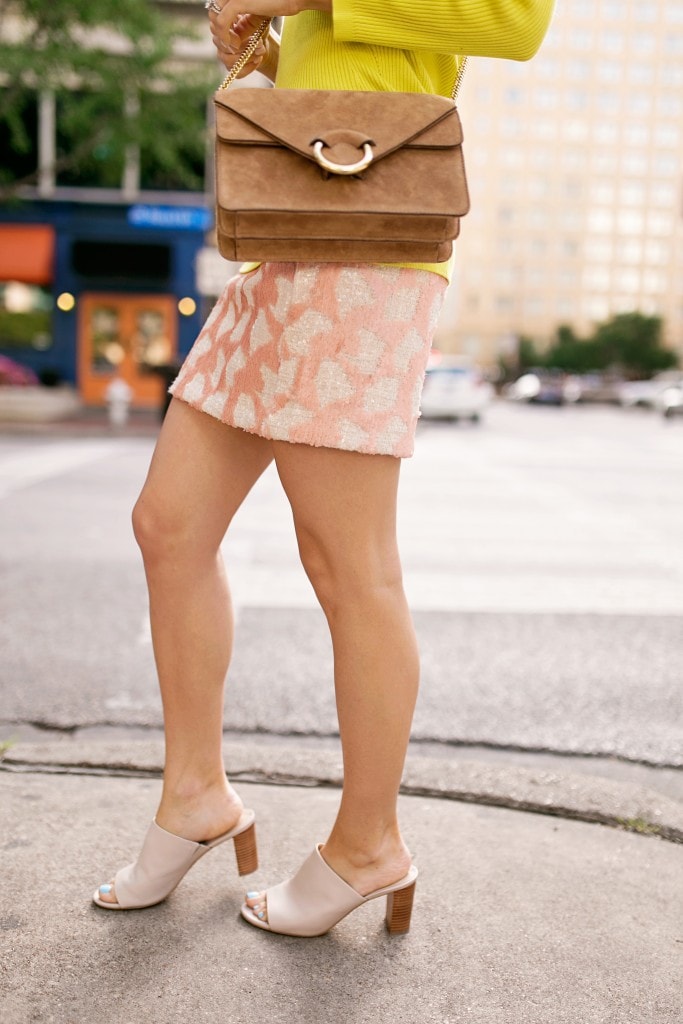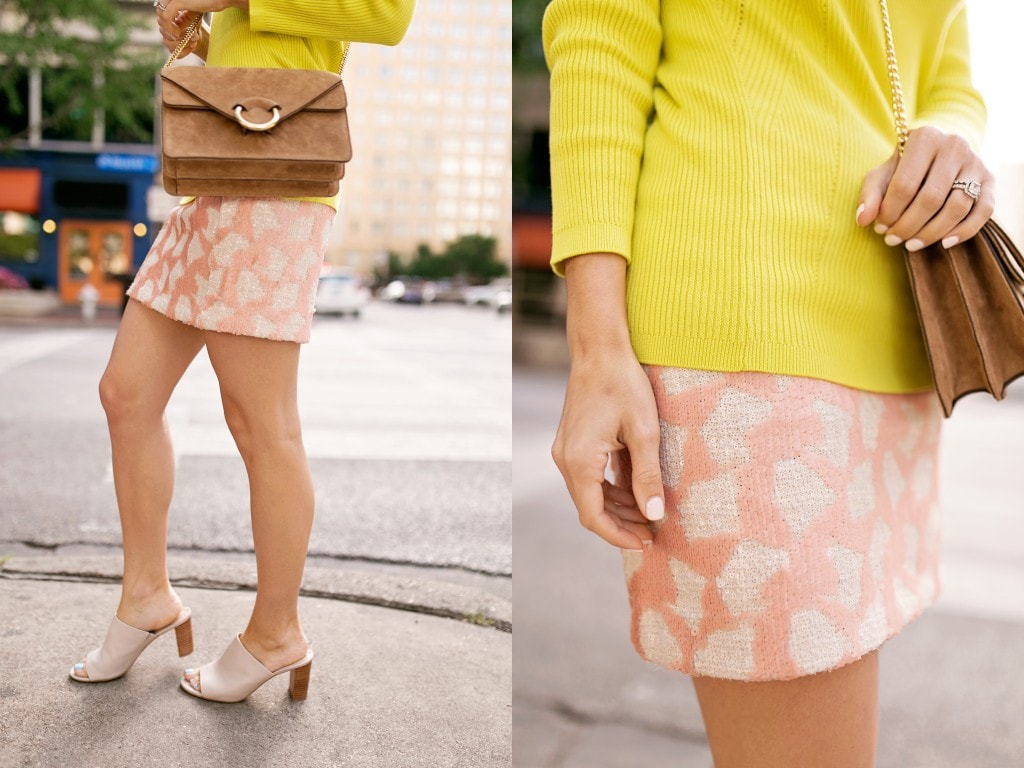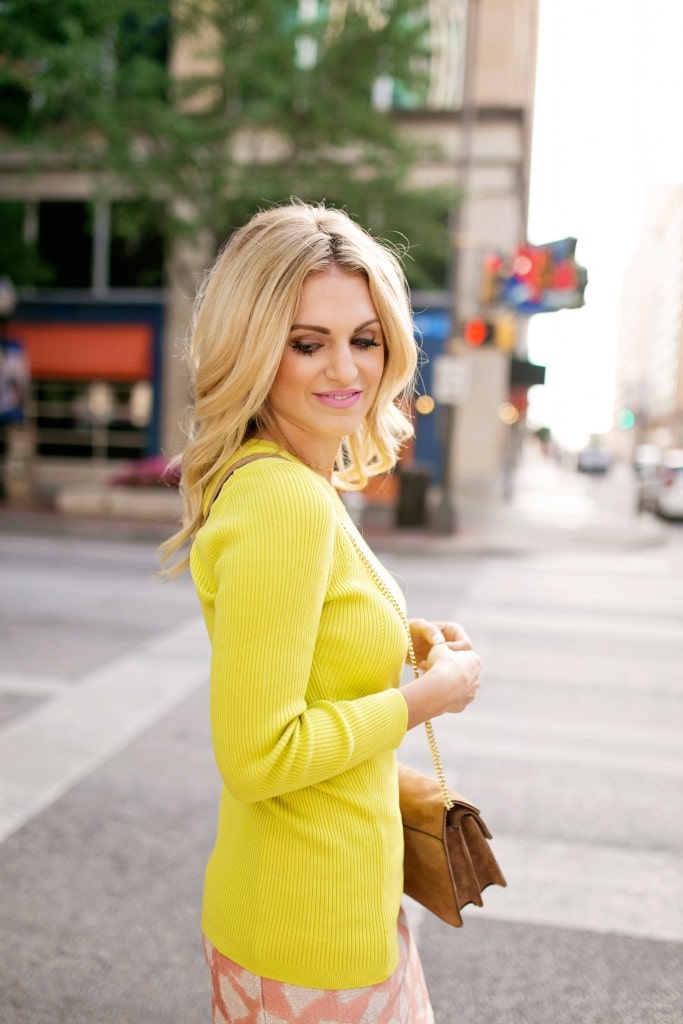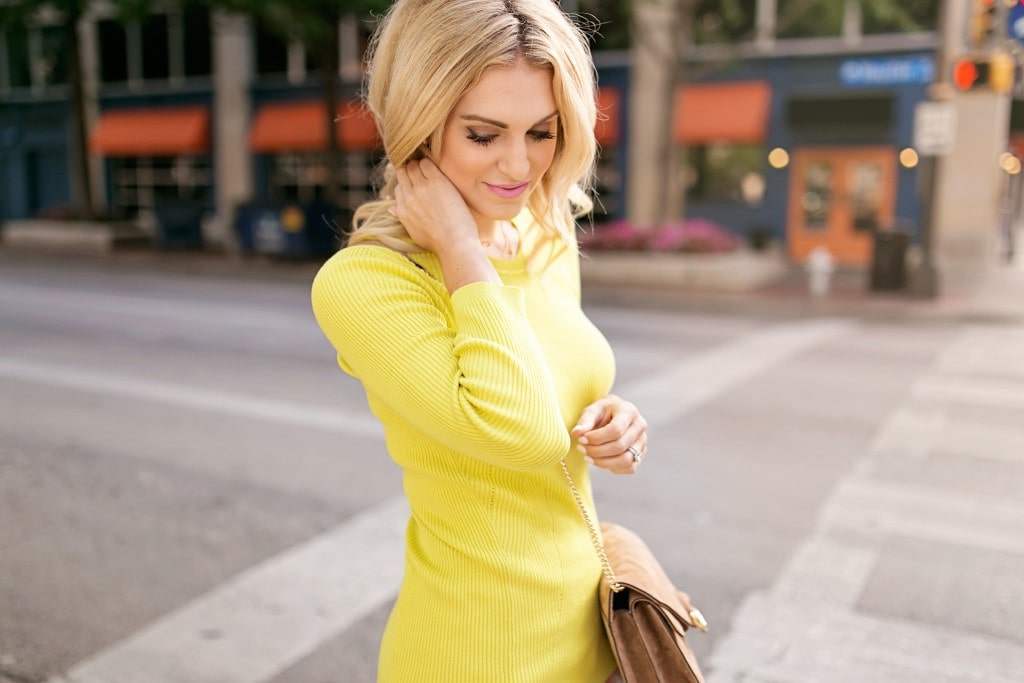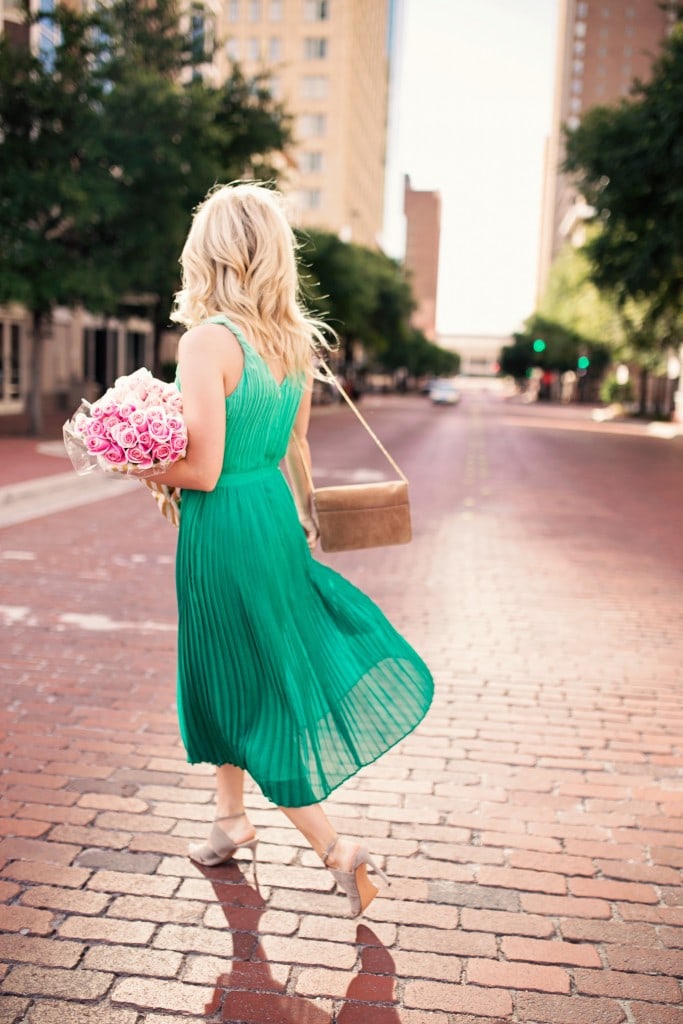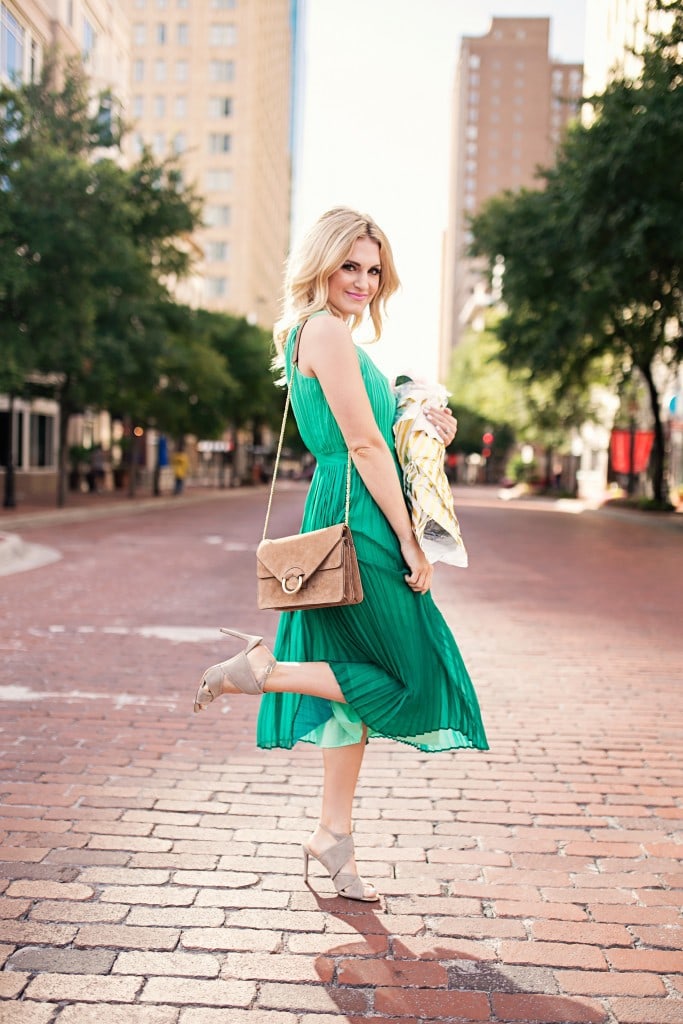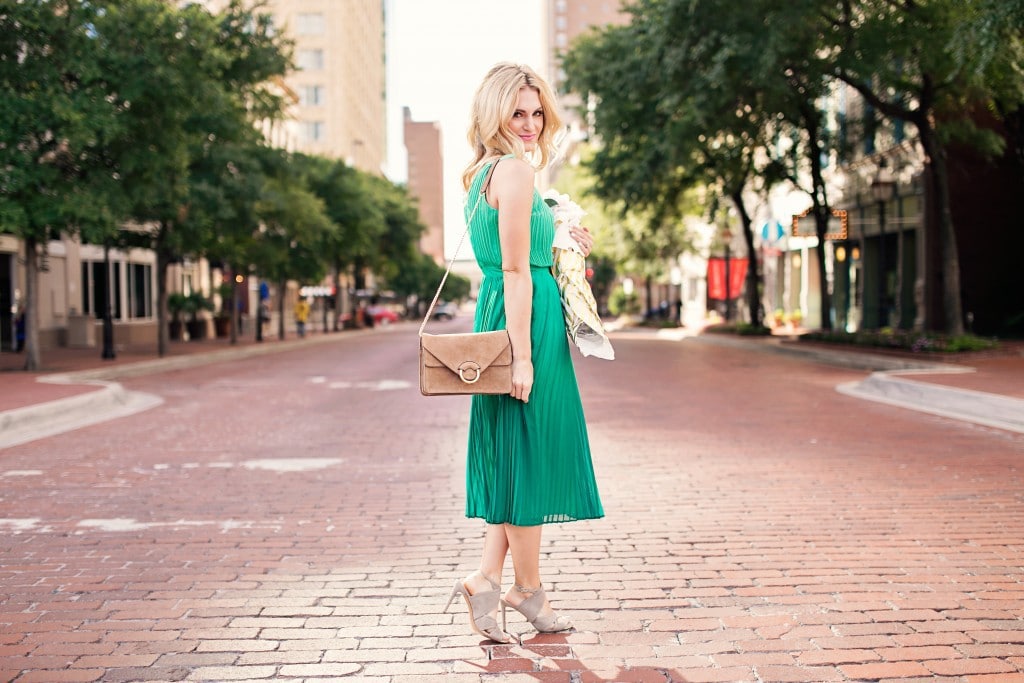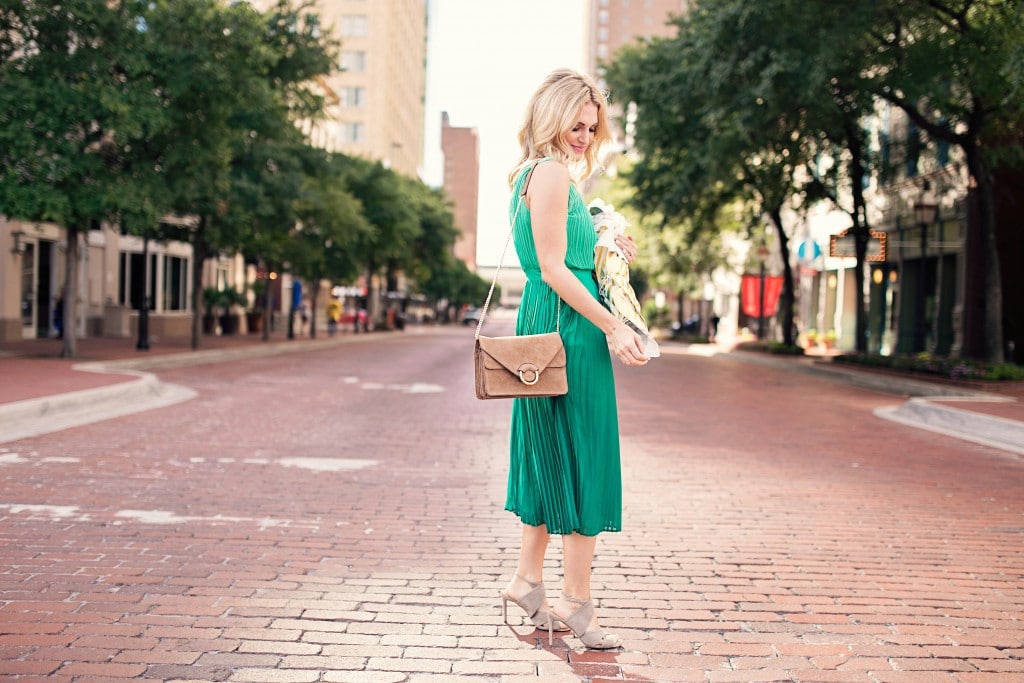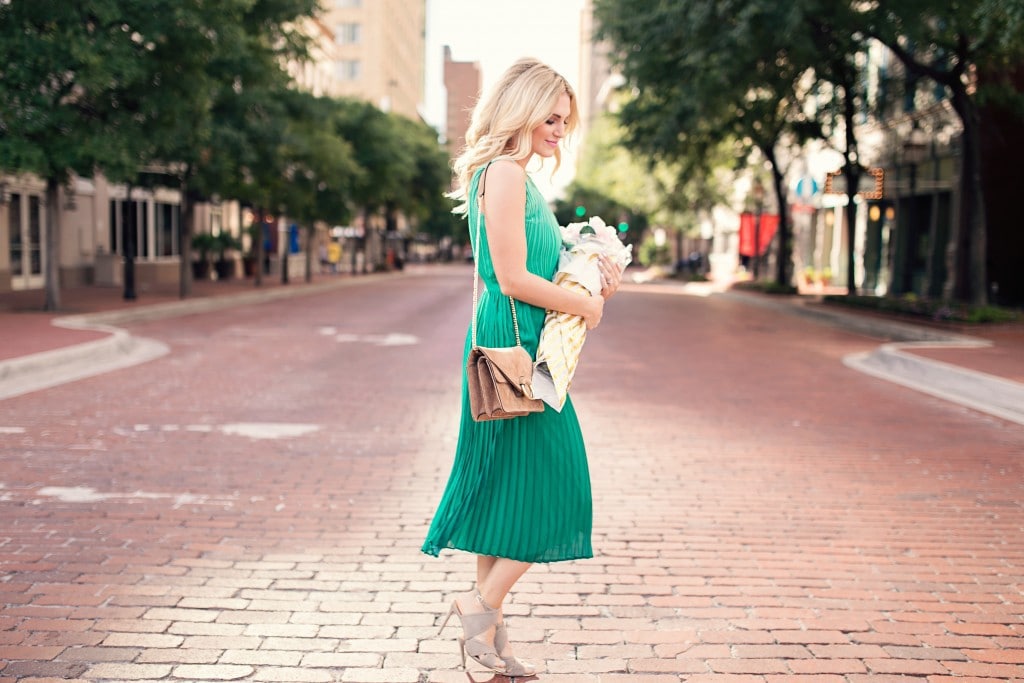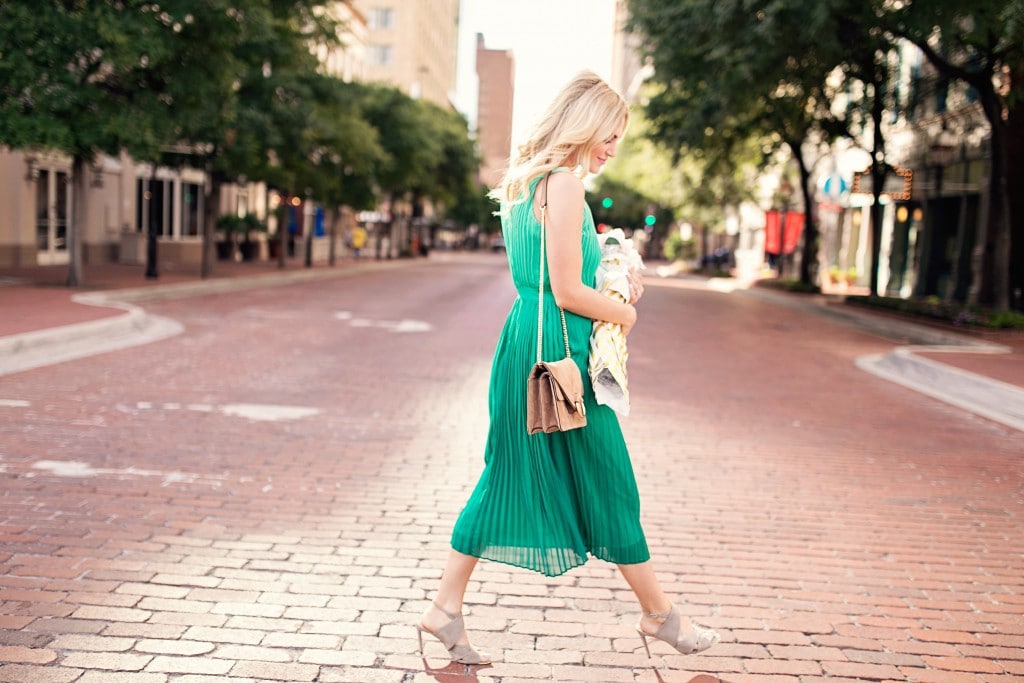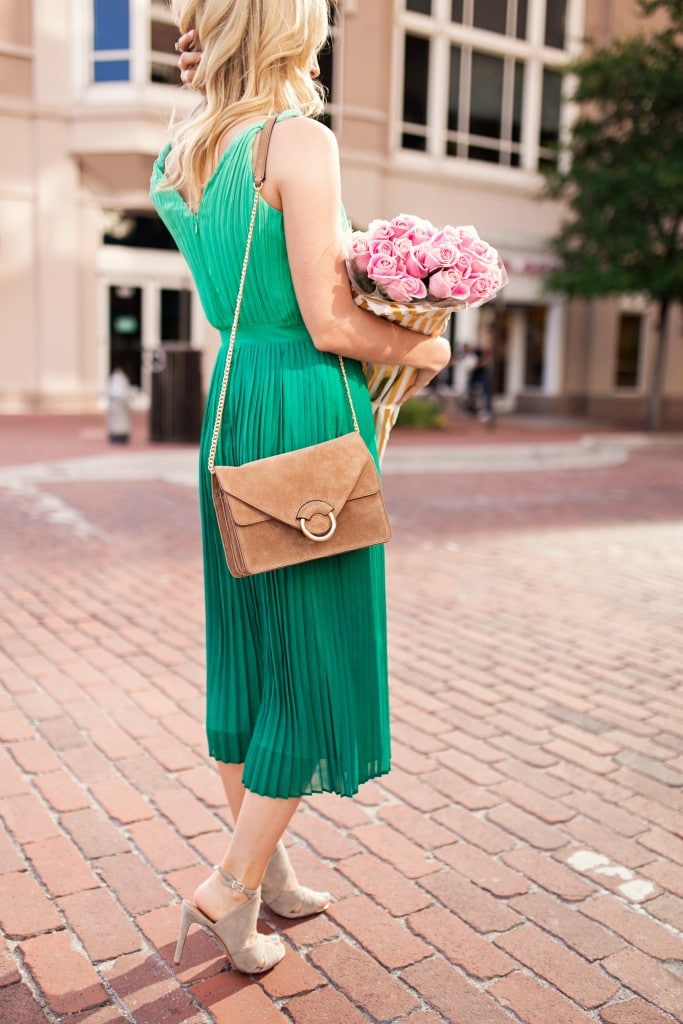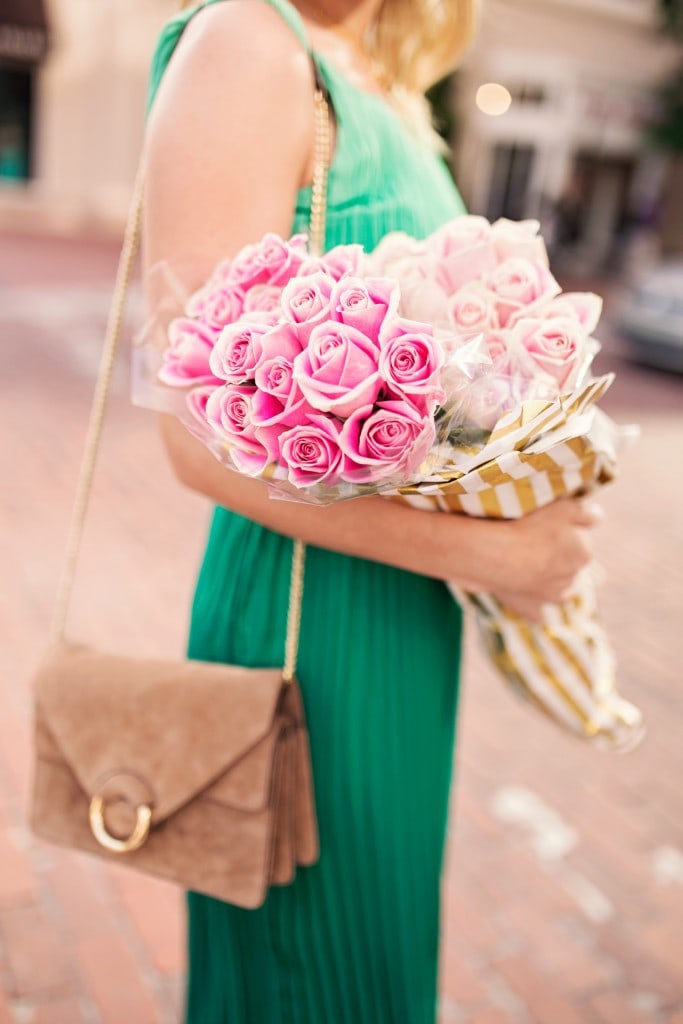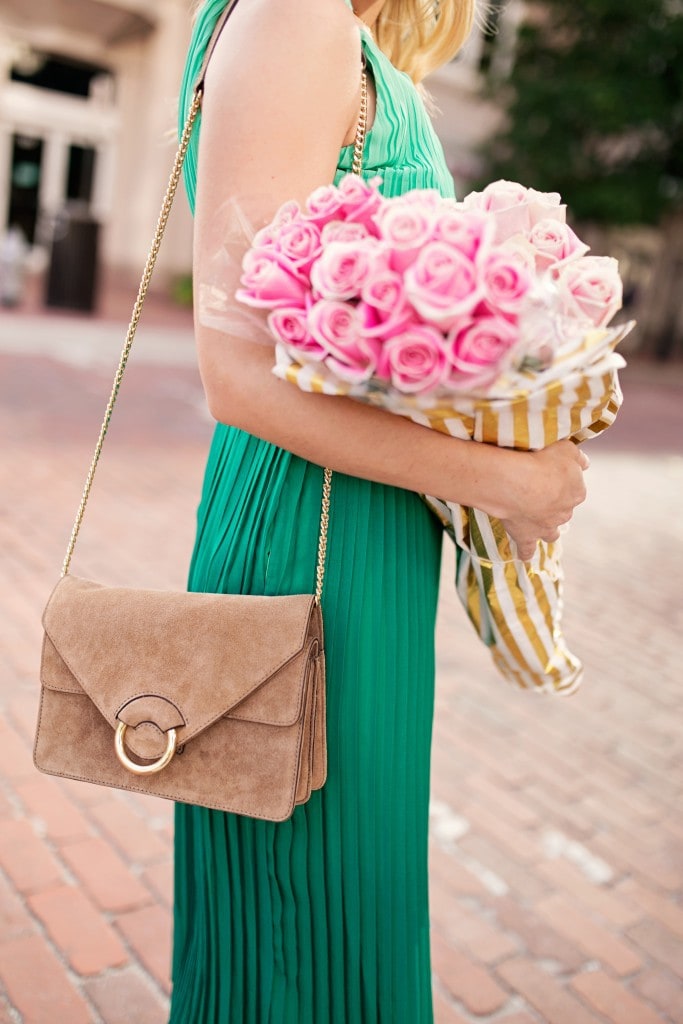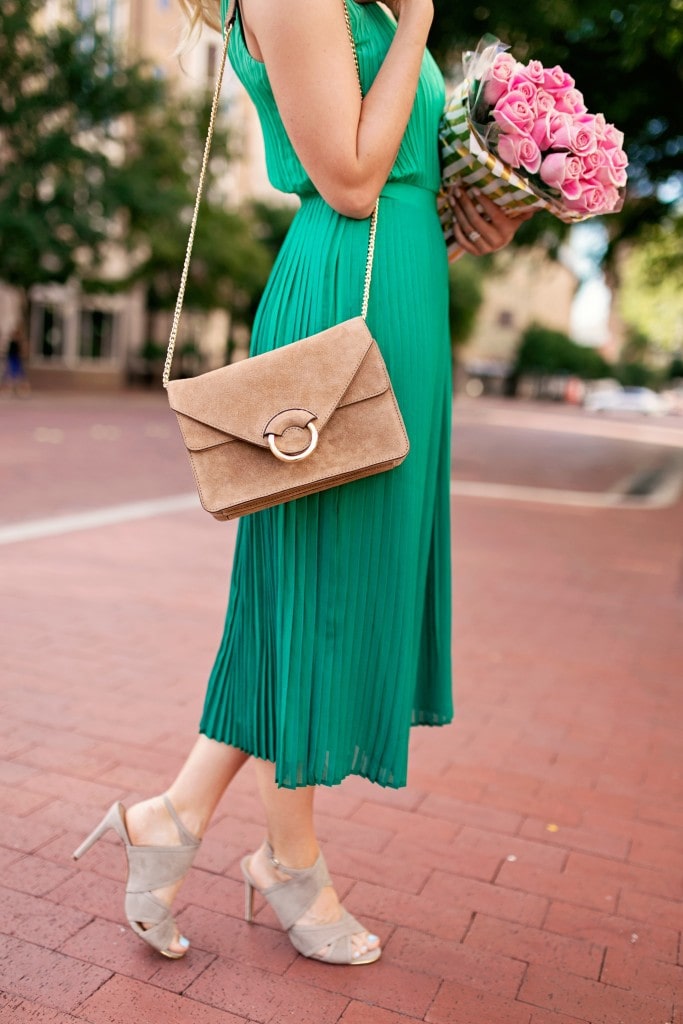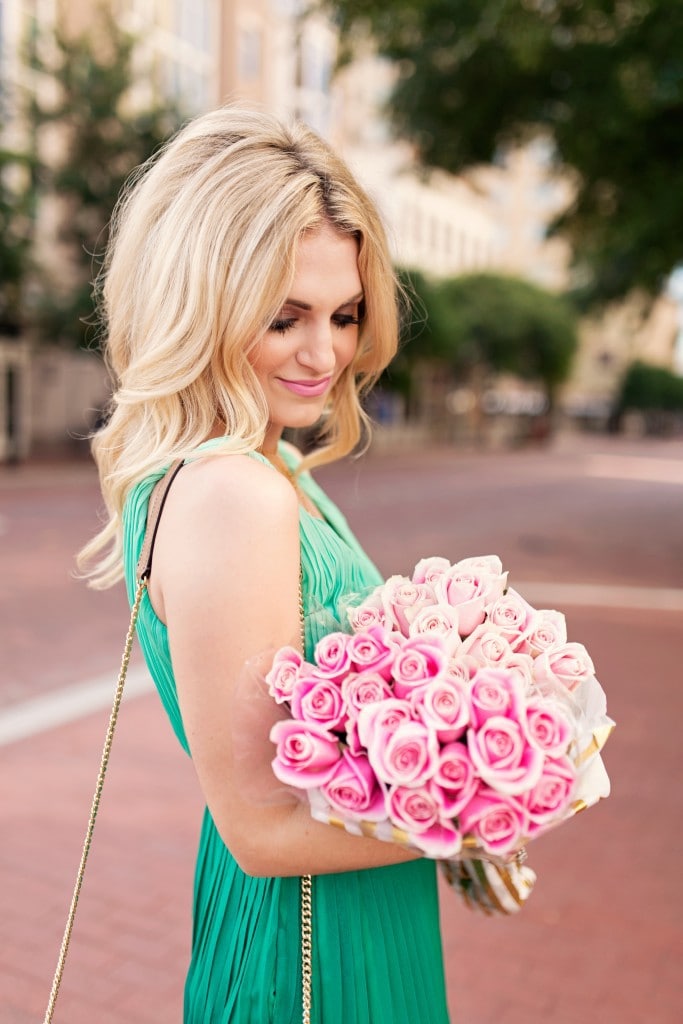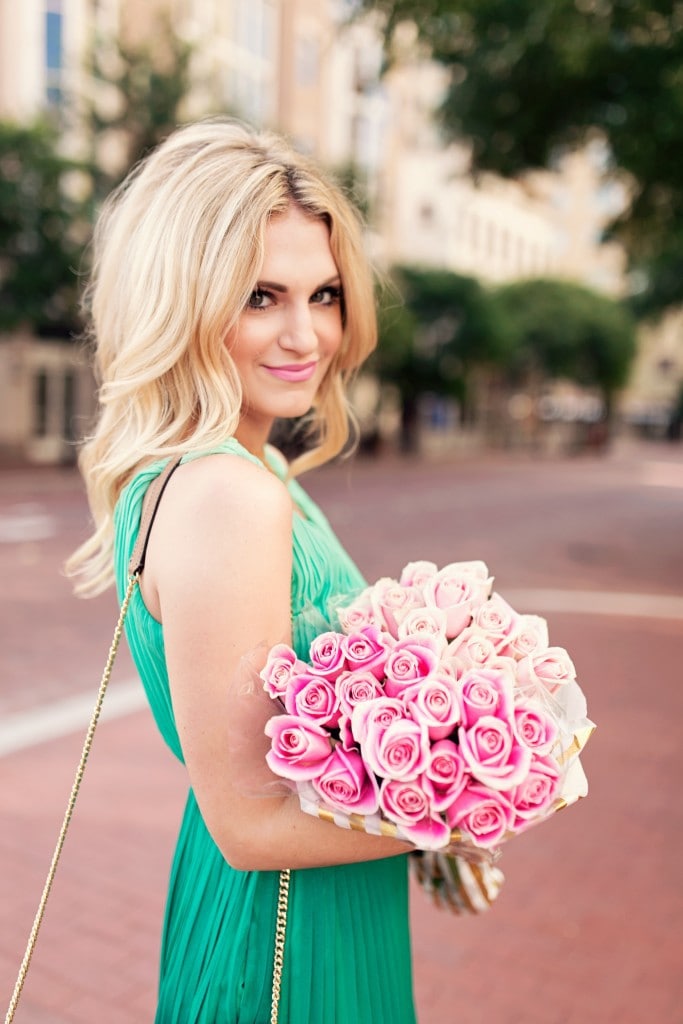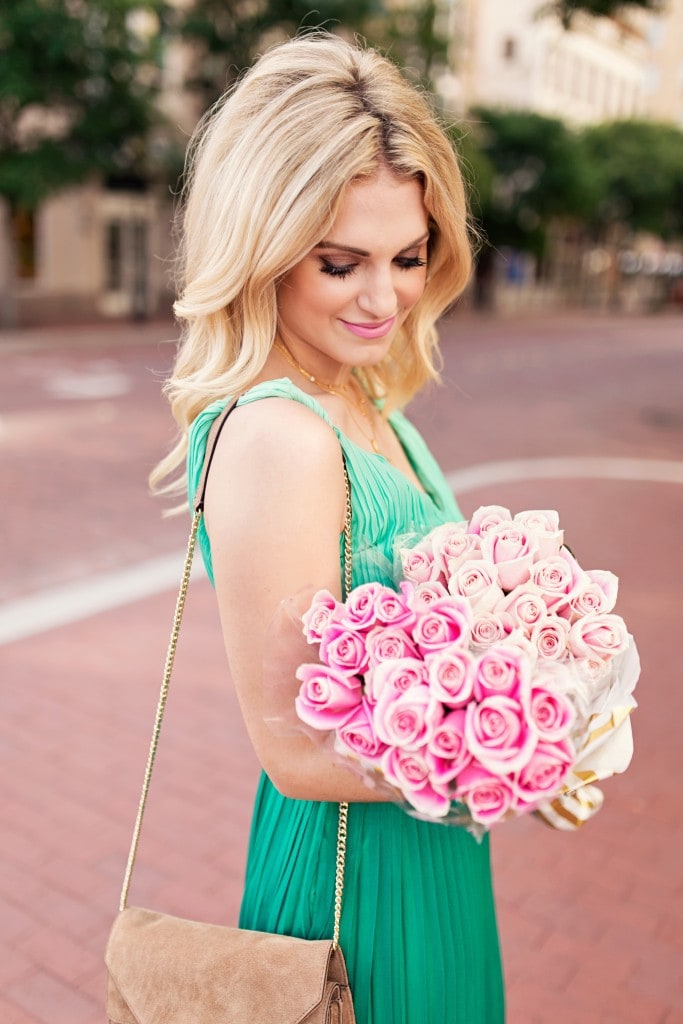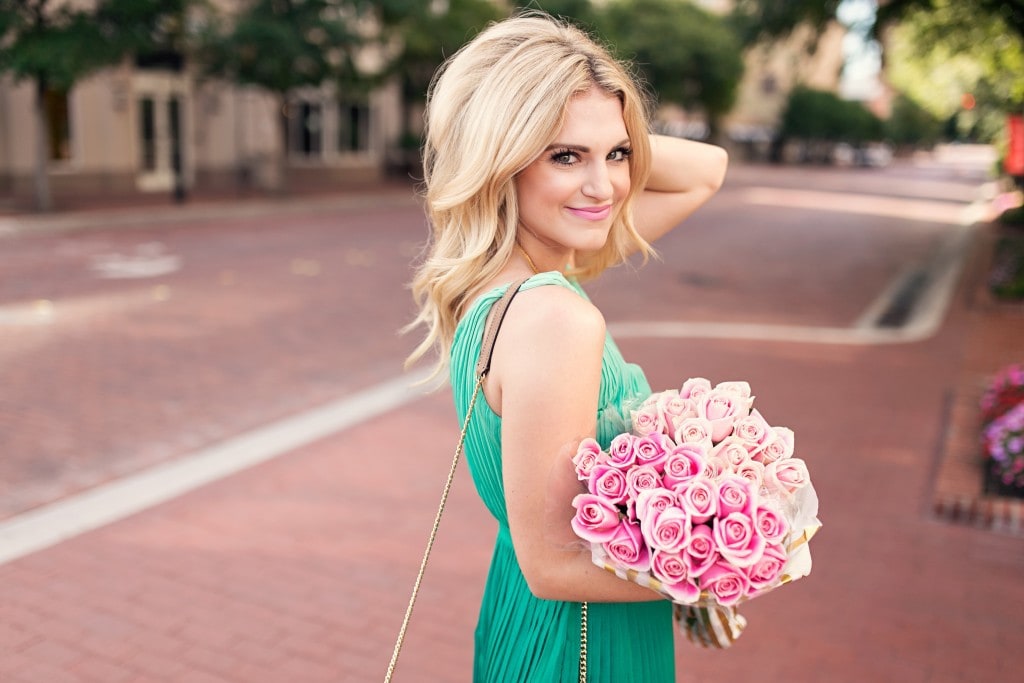 Dress: Banana Republic [c/o] | Bag: Banana Republic | Sweater: Banana Republic [c/o] runs small | Skirt: Banana Republic | Shoes: Banana Republic [c/o] | Mules: Nordstrom | Necklace: Baublebar [c/o] | Lipstick: Nymph | Earrings: Tory Burch
Photography by: Angie Garcia
---
The text all women bond over:
"What are you wearing?"
I send that text so often my girlfriends probably wonder, "Wait, is she the fashion blogger or am I?" I just like to know I'm on the same wavelength as my girlfriends, right?!
I started thinking the other day, what if we didn't pay attention to dress or attire codes and just wore what we felt best in? I mean can you imagine walking into your local grocery store in a full skirt with a crop top? And the same goes for my casual girls too! What if it wasn't a faux pax to wear workout leggings to a steak dinner?
Of course dress codes allow the ambience of a place to truly shine through. I can't really talk, I had a Black-Tie wedding, but I love when you find a piece of clothing that symbolizes your comfort zone that can be styled anywhere.
I'm a girly-girl through and through, but I'm also from Texas. So my version of polished means lots of jewels, a few seconds with my hairspray and sandals in summer heat. Your personal style is the most comfortable thing you'll wear, and comfort to me means sweet, feminine dresses with a touch of sass. Think sequined miniskirts and romantic sundresses.
One brand that I think provides personal style best is Banana Republic. We actually have a Banana Republic 2 minutes from our home, so it's my little lunch break pop in or, "I'm in between meetings so I might as well run in" spot! Whether it's a dress or a chunky-knit sweater I feel confident and like "Katey." If you're a tomboy they have basics, if you love feminine touches they have plenty of ruffles and if you're a business girl they have your board-room boss babe attire.
When I think of Banana Republic, I think of the one place that I can find my own personal style no matter the dress code. When they asked me to collaborate for their Your Life. Styled campaign, I was thrilled because of how natural of a fit this was.
I chose to style two looks because I'm a little eclectic and swear by my one part girly, one party edgy wardrobe equation. So let's chat about it!
Sassy 
I love sequins. I love chartreuse. I love bright pink lipstick. And I will always pile on the jewels. 
This sequin mini was actually a piece I picked up with Paul a few weeks ago and I knew it was true to my style because I would have worn it at 18 and I'll want to wear it at 28. Sometimes I can look back [thanks Facebook time hop] and think, "Ehhh…I can see what I was thinking, but that's a no from me now." But I feel confident finding a piece that is so "me" I'll never have those thoughts. And chartreuse. I've shared my love affair of this color for years and it can never go wrong in my book. This summer sweater pairs well for work, but was fun with this mini for a date night!
Sweet
I'm drawn to full dresses. I love volume and curls. And I always think it's better to be overdressed.
When I saw this dress online my first thoughts were, "I can wear this to a wedding, I can wear this to the beach, I can wear this to dinner, I can wear this to meetings." Versatility is key when making smart purchases, but sometimes that leads to straying from your true style. This dress proved it wrong. I felt like a princess, just a practical princess. One that can run in Target or to a date night and not feel silly either way. I paired it with these summer suede wrap heels and they are so comfortable! I wore them the entire baby shower I hosted last weekend and my feet had no complaints.
Lastly, I paired both looks with this bag. When I ran in and purchased the mini skirt, I saw this bag and honestly thought it was left by a customer. I thought, "Oh no! Someone left their designer handbag." I walked over, and then saw it was under $200. It fits so much but still kept me hands free with both looks.
So next time I send a text that says, "What are you wearing?" I think I'll change it to, "I'm wearing a green dress tonight, what are you wearing?!" Feel confident in what you're drawn to because it always looks best on you! I'd love to know more about your personal style! Are you a blend, a firm classic or do you keep things interesting with loud prints?!

In partnership with Banana Republic. All opinions are my own.