The Details
In partnership with Walmart. All purchases and opinions are my own!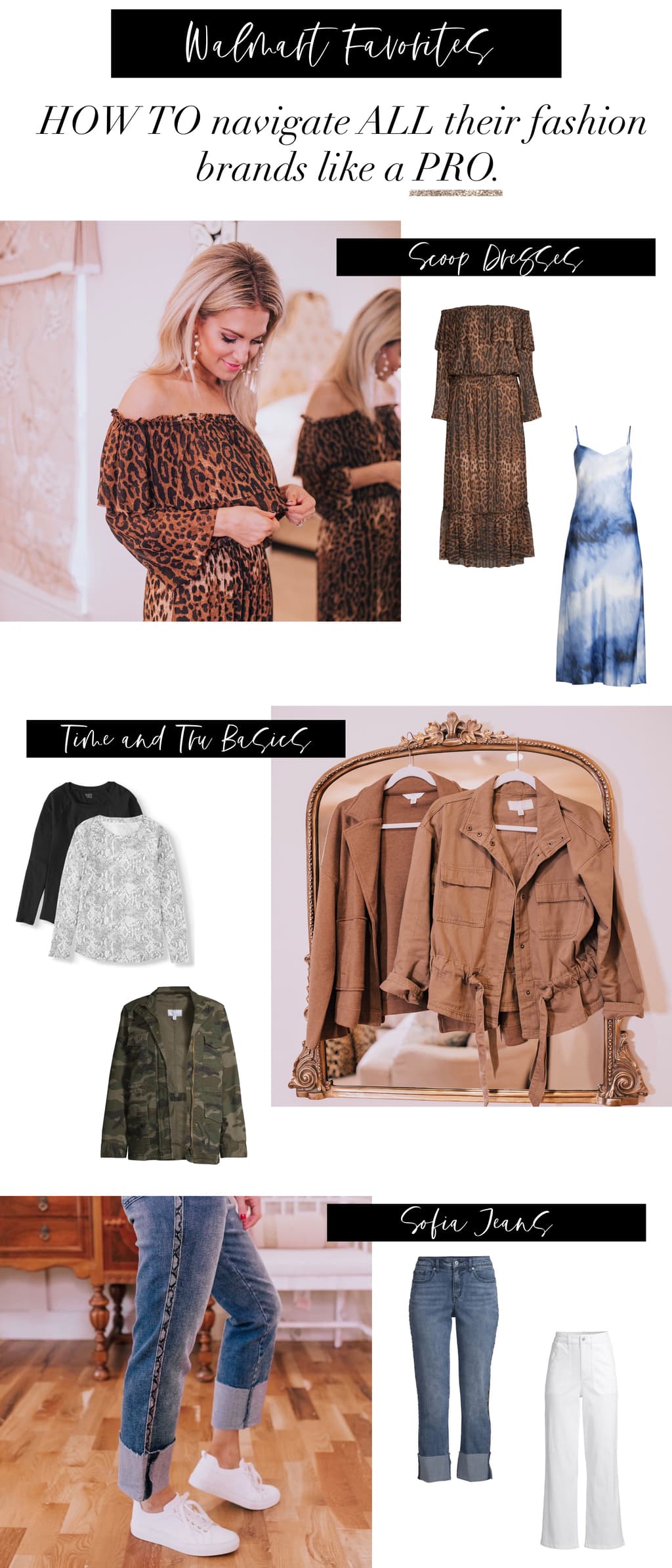 Yesterday, I did quite the roundup for expectant mamas and their wardrobes. Keeping in tune with attainable style, today's post shares options for every girl. I'm not here to talk about summer trends or accessories on end. Instead, I'm breaking down how I find my tried and true favorites from Walmart in their fashion department. Walmart.com, ever been there? 😉 I'm assuming we can all nod yes. I'm making a little cheat sheet for you on how I sift through to find my favorite tees, dresses, and sports bras. So no matter what life looks like right now for you and what you're preferred WFH look is, you can find something that makes you feel good. These are those basics in your closet that always work no matter what casual look you are piecing together.
DRESSES
One of my favorite brands for dresses from Walmart is Scoop. I remember a few months before Scoop launched at Walmart, a girlfriend in the fashion industry called me. She said, "Katey, Scoop is going to launch at Walmart. I've seen the line sheets. I want everything. EVERYTHING." In my industry, we see a LOT of line sheets, and so when a girlfriend is that adamant about something, you remember it. I waited patiently for Scoop to drop, and next to Time and Tru, it is probably the brand I've purchased the most from Walmart. From jean jackets to sweaters to dresses, I've always been pleased. If you're looking for a bohemian or printed dress, definitely narrow your search to "Scoop." In my experience, the brand runs TTS. Below are a few of my favorites.

TOPS
Time & Tru wins the award for the brand I have purchased the most from Walmart. They have basics, maternity, shoes, and dresses. If you are going to make your first Walmart fashion purchase and you feel overwhelmed, just narrow down to Time & Tru. In the fall, they've got great plaids, but year-round I can't get enough of to their tee packs. I think I have 10 or 12 pairs of Time and Tru tees in my closet. They fit perfectly and wash and dry even better. Time and Tru runs TTS or a hair large, so if you are in-between sizes you could size down. Below are my favorites.

JACKETS
From utility jackets to cardigans, I also have a lot of luck with Time and Tru in the jacket department. This Athletic Works jacket is also another great find and is perfect for morning walks or taking Maxi to the park. I'll link some I love below.

SPORTS BRAS
One thing I hardly mention on the blog is sports bras. It seems silly I don't mention them as I wear them ALL the time. Excercise not required- ha! No surprise to you, I'm very picky with sports bras. I want control, but major comfort. I don't want anything too fancy, you know how some sports bras have all these crazy lines on the back?! I want it to wash well without the inserts getting wadded up. And at the end of the day, as I climb into my pajamas, I want to almost fall asleep in it because it is so comfortable. Anyone else this idealistic with sports bras? Back to my point, No Boundaries at Walmart has THE best. As I'm nearing my due date and everything feels too tight or too uncomfortable, this is one of the one items of clothing in my dresser that doesn't irritate me. I wash these numerous times a week because I don't want to wear my other ones in my dresser. Shop them here.

DENIM
Two of my go-to brands when it comes to denim from Walmart is Sofia Jeans & EV1. I've had about 3 pairs from Sofia Jeans that have been amazing! I'd say both brands run a little large, so I typically go a boyfriend jean route. But the absolute BEST jeans I've ever bought from Walmart is by William Rast. The pair sold out, but they are amazing and if you are in the beginning stages of pregnancy, they were the ONLY thing I that stretched without feeling stretched out. I absolutely hate the feeling of a jean that stretches out and feels like it is going to fall off, and these never did. I almost sound like Maxi describing them, "They are stretchy but they aren't!" haha. I told all my girlfriends that were newly pregnant, "You must get these!"

MATERNITY
Many of these brands have maternity dresses, but my two favorite maternity dresses from Walmart have been by the Love Sadie brand and the Oh! Mamma brand. Your pre-pregnancy size will work great from first trimester to third and they are SO soft. If we were sitting over a cup of coffee right now and you were to ask me how I'm feeling, I may just get a little too honest and cry. I'm definitely in my, "I'm 5'3″ and he's killing my ribs and I'm miserable and still having morning sickness." phase of pregnancy. ha. A lot of clothing feels really uncomfortable because certain pieces will press on my ribs and I hate it. All of that to say, these two Walmart brands have been my saving grace. I've lived in this Oh! Mamma maternity dress and just thrown kimonos over it. They are so comfortable for being at home with Maxi, but a major step above pajamas. If you're pregnant, seriously, grab one!

SHOES
With shoes, I've had a lot of luck with Time and Tru, Melrose Ave, Brinley, and Circus by Sam Edelman. Out of all my shoes I've purchased from Walmart, this pair is my favorite! I'm a 7 or 7.5 and got a 7.5 in these. I've had them for a year and they always feel very Carrie Bradshaw to me! You can see me style them in a post here. I'll link some other ones I love below.

I hope this helps break down my favorite brands that fit my lifestyle to help your online shopping experience be even easier. If you have any questions on brands with sizing let me know in the comments below. Have fun recreating my favorite looks through the years!