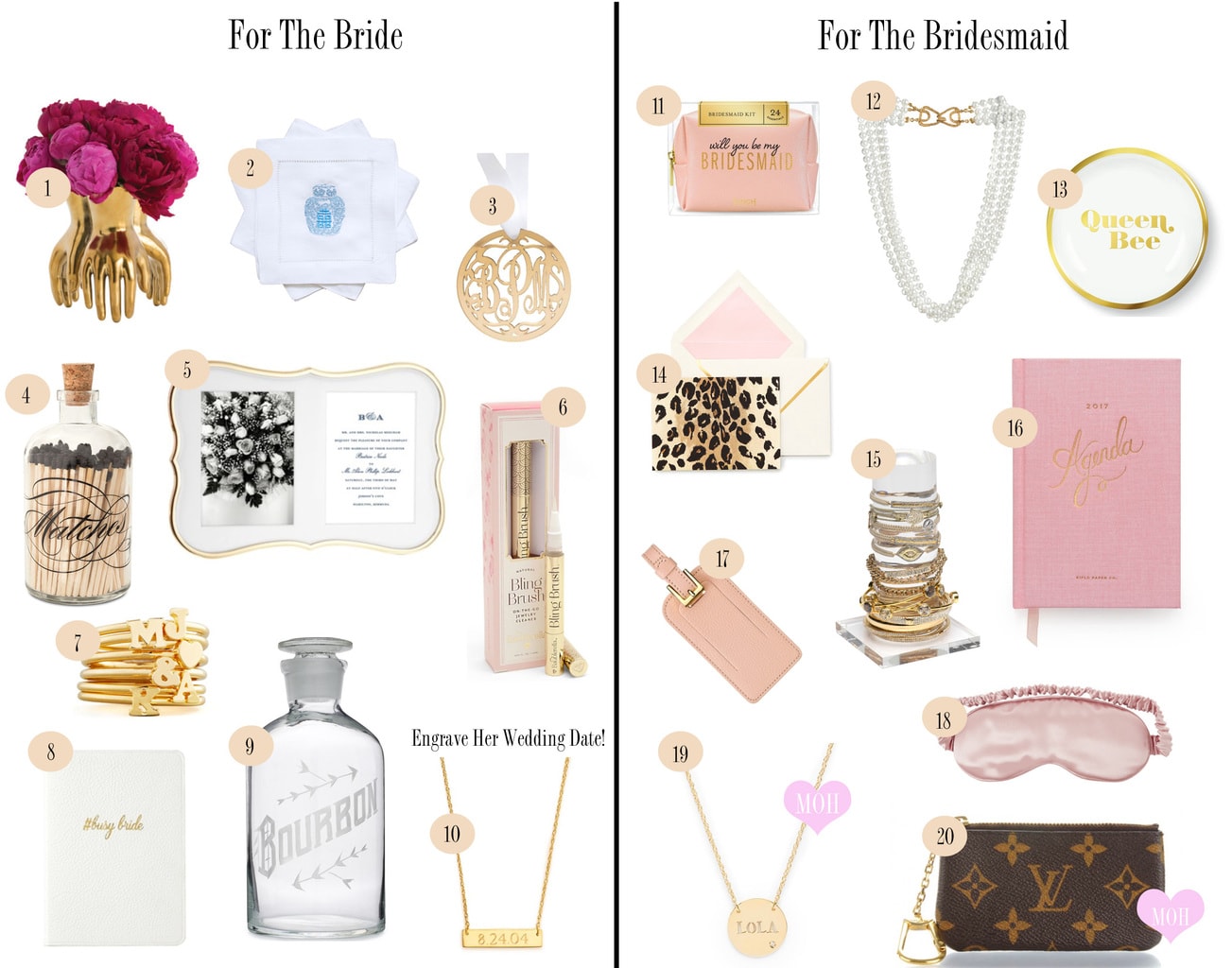 1 | 2 | 3 | 4 | 5 | 6 | 7 | 8 | 9 | 10 | 11 | 12 | 13 | 14 | 15 | 16 | 17 | 18 | 19 | 20
---
When a guy gets down on one knee I don't think he knows quite how many celebrations will happen in the aftermath! From bridesmaids luncheons to bridal showers the bride and her besties are constantly buying gifts. Paul and I were actually looking at our budget the other week and we kept laughing at our "gift" budget. I mean you would think we have a birthday every day of the month, but it honestly all chalks up to weddings!
So whether you are the one being celebrated as the bride or you are a bridesmaid celebrating your friend, I thought it would be fun to share my favorite gifts for the occasion! Now, before I share this post I do want to say that this is not a post to say ignore the registry. Any gift is unbelievably thoughtful and generous and following their registry is just one more sign of respect along the way! So I always follow a rule-of-thumb for close friends: one registry gift and one personal gift. This post definitely falls under personal gifts! A glamorous vase for her new master bedroom, their first Christmas ornament with the new couples' monogram, matches for her bar cart or a beautiful necklace with her wedding date engraved. These gifts are perfect to give at a lunch celebrating her new engagement or right before her wedding!
Now if you are a bride, you definitely don't want to forget your bridesmaids! I wrote each a personal thank you note sharing how much their friendship meant to me and made a gift box for them. For this post I made sure to include a wide-range of price points because you may want to splurge more on your maid or matron of honor! Options 19 & 20 are perfect MOH gifts and are luxe enough to last a lifetime.
But even if you aren't a bride or bridesmaid, I think any girl would love these girly little additions to their closet and home. Paul, if you are reading, I love everything. Absolutely everything [I really mean everything] I posted today… just FYI. 😉