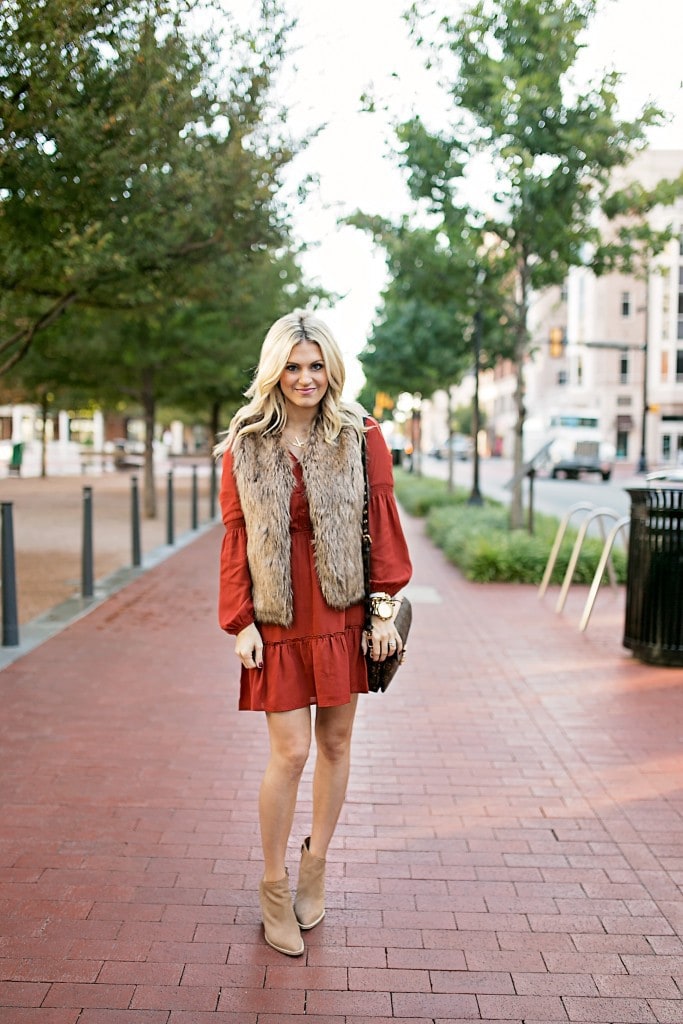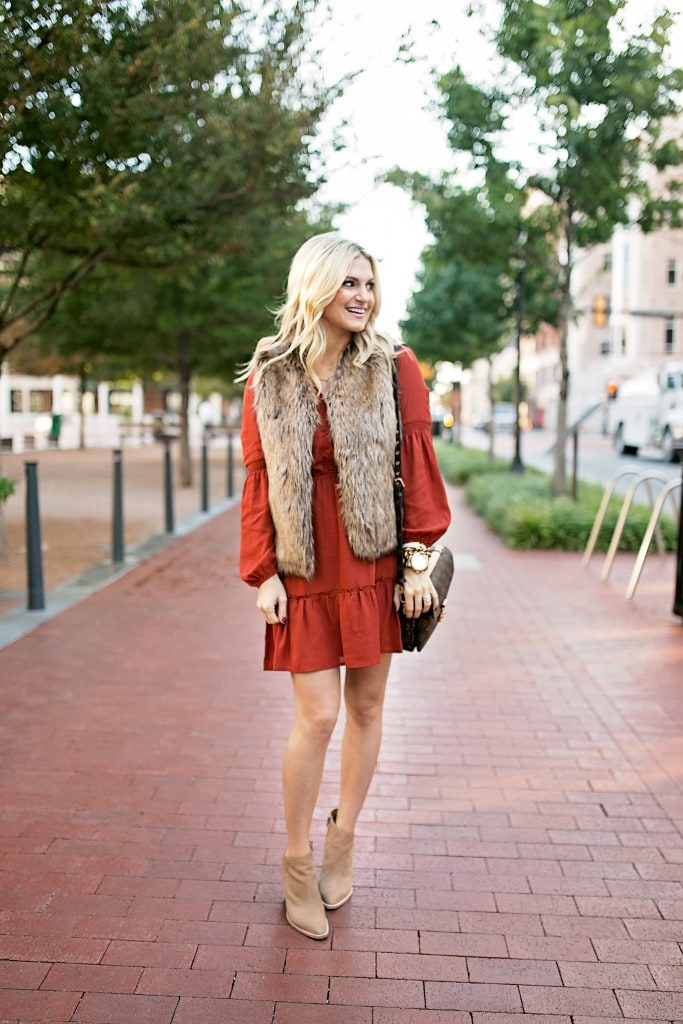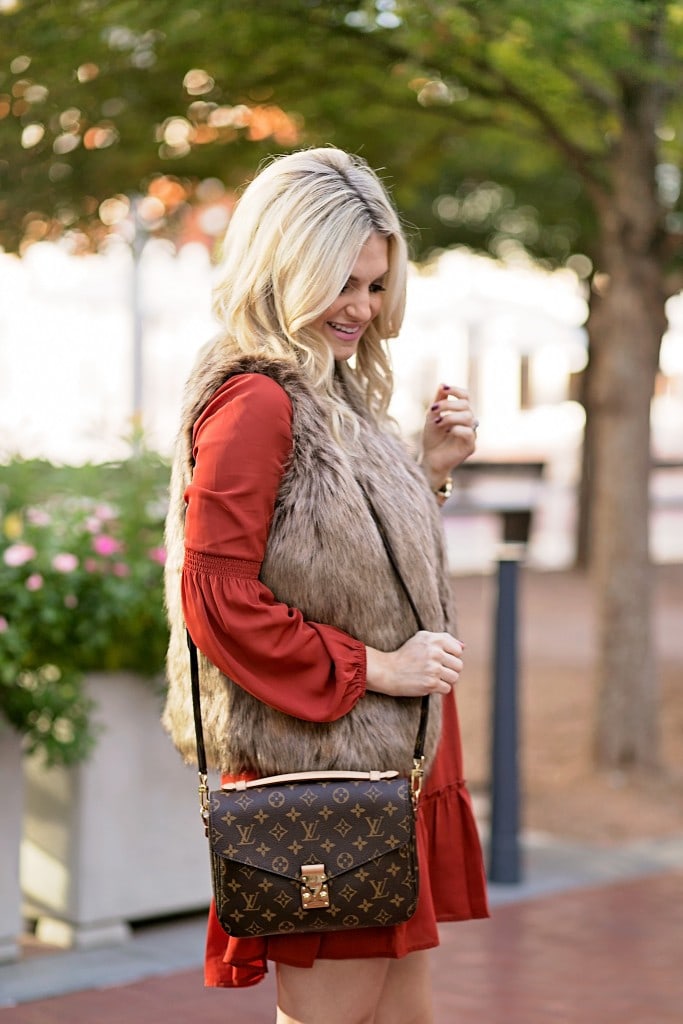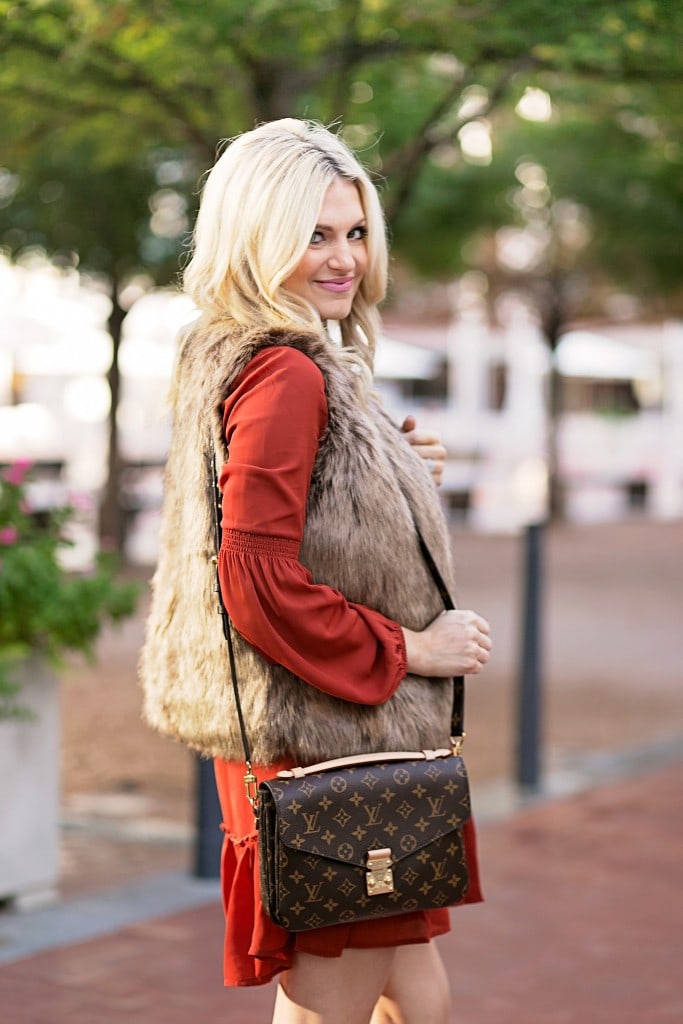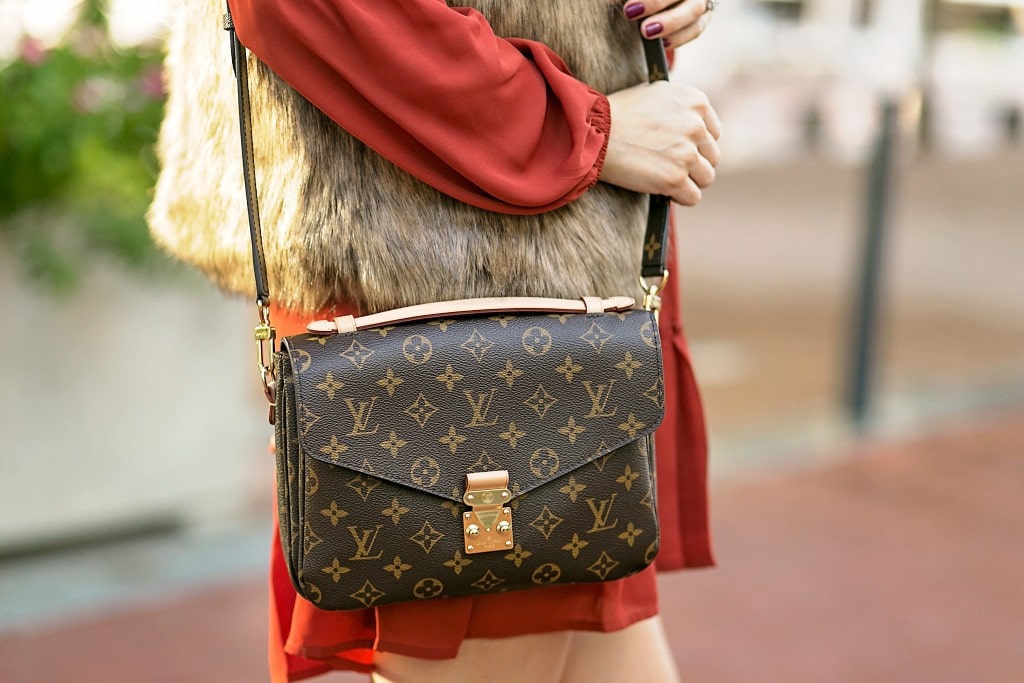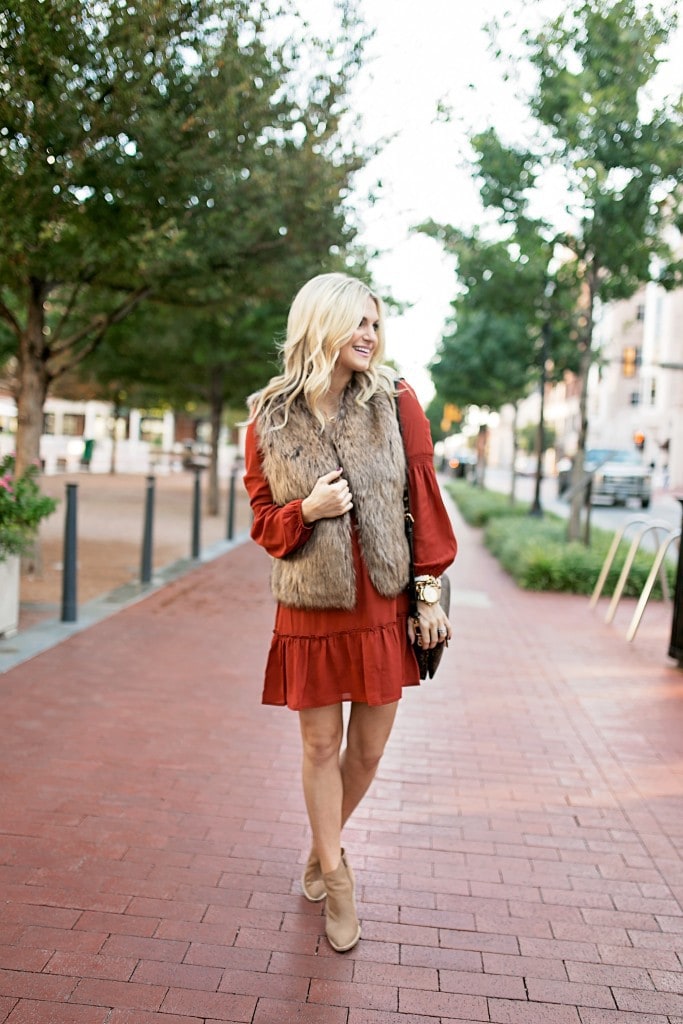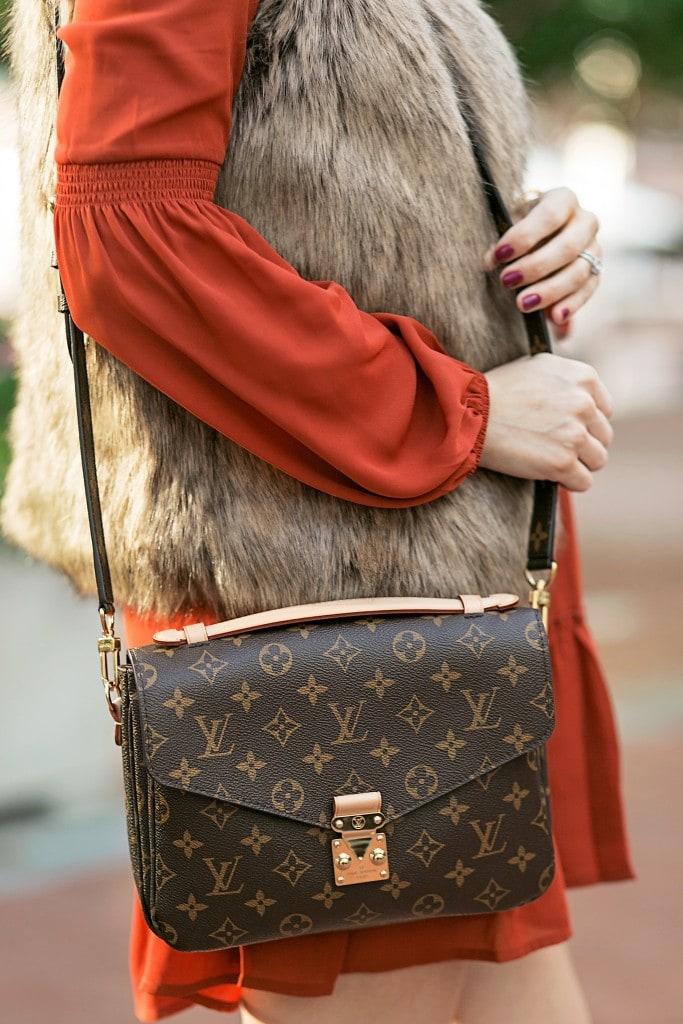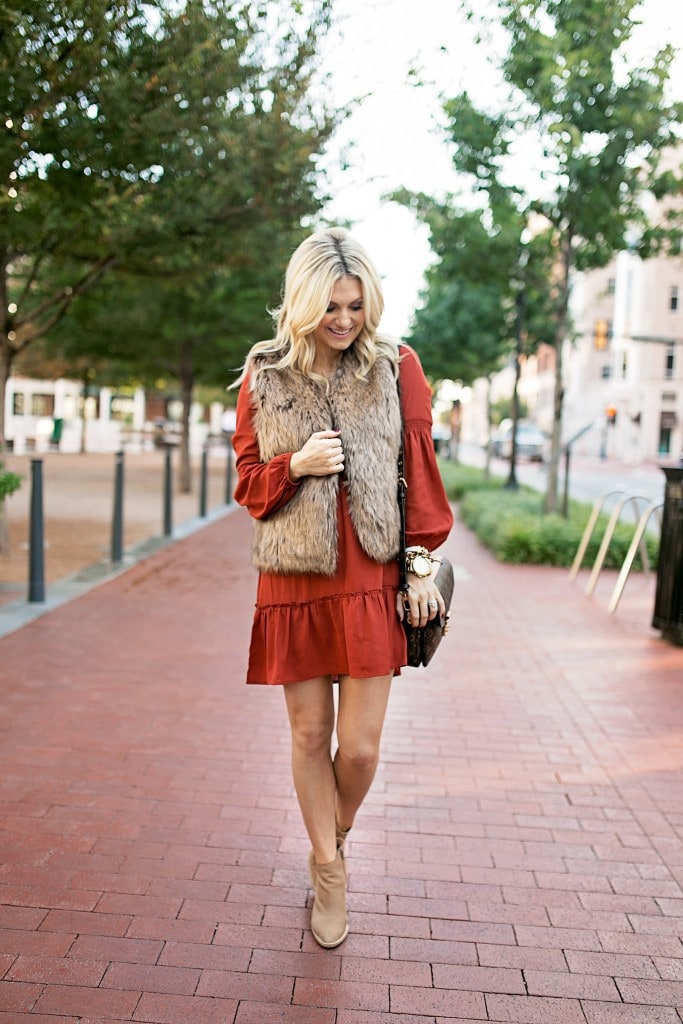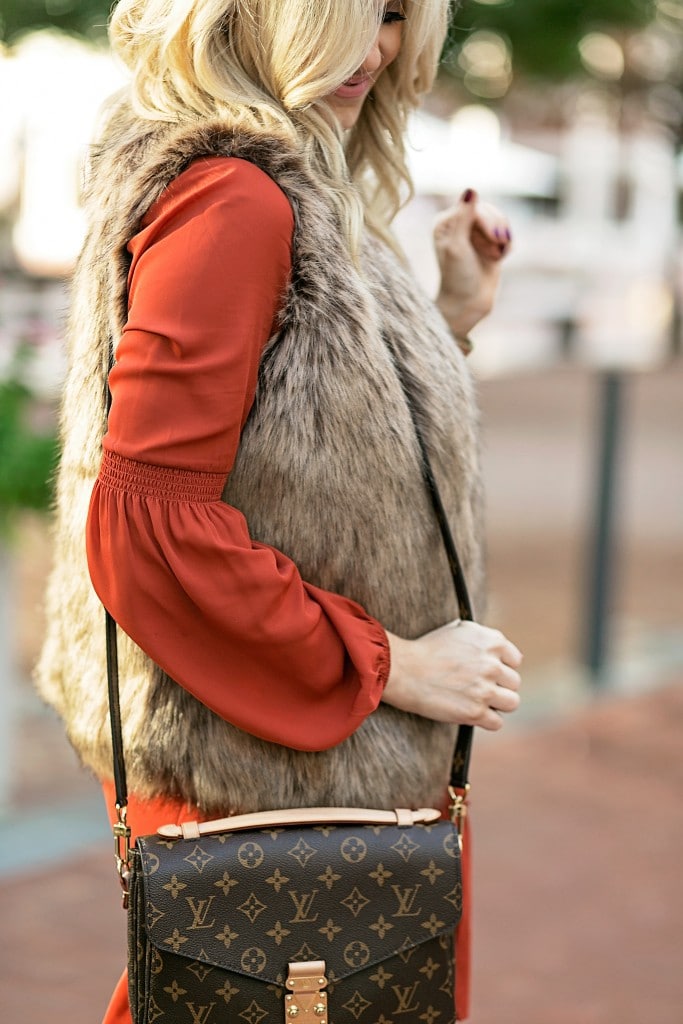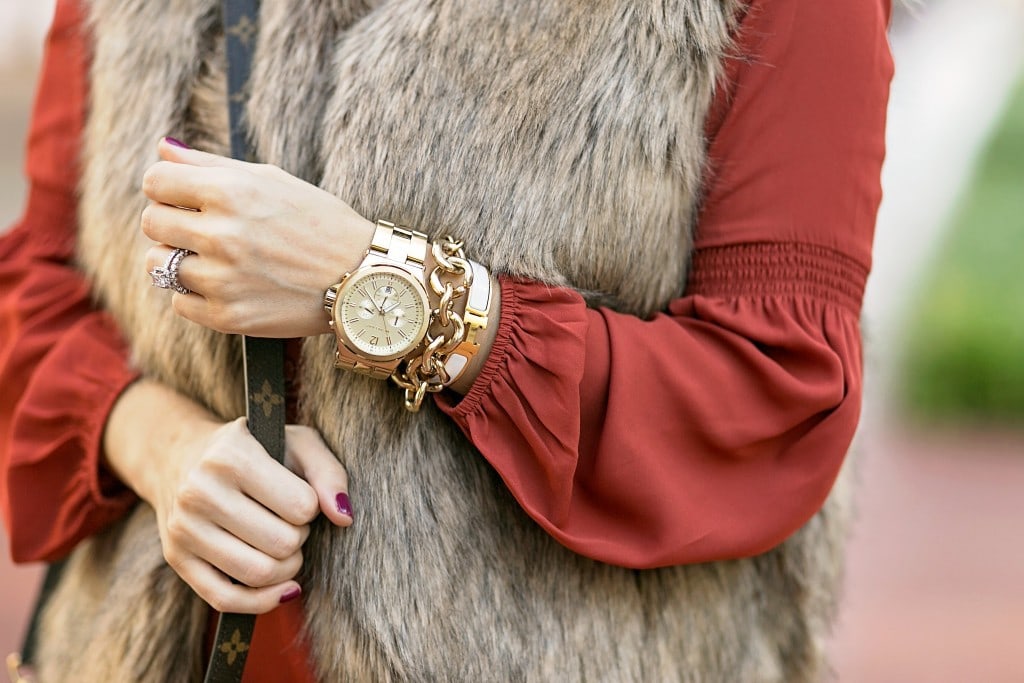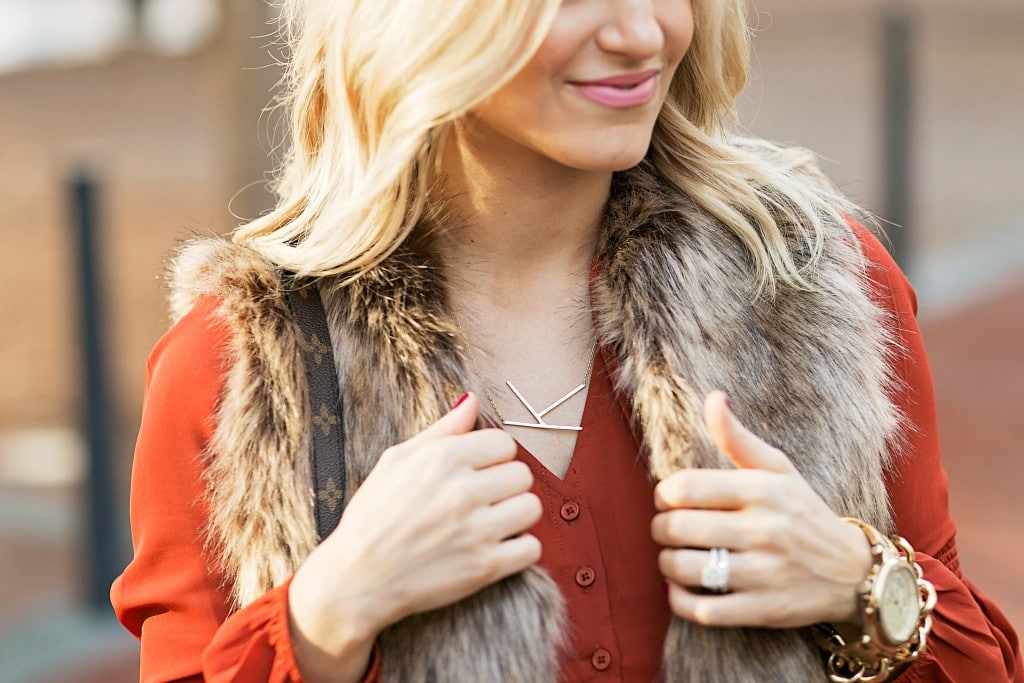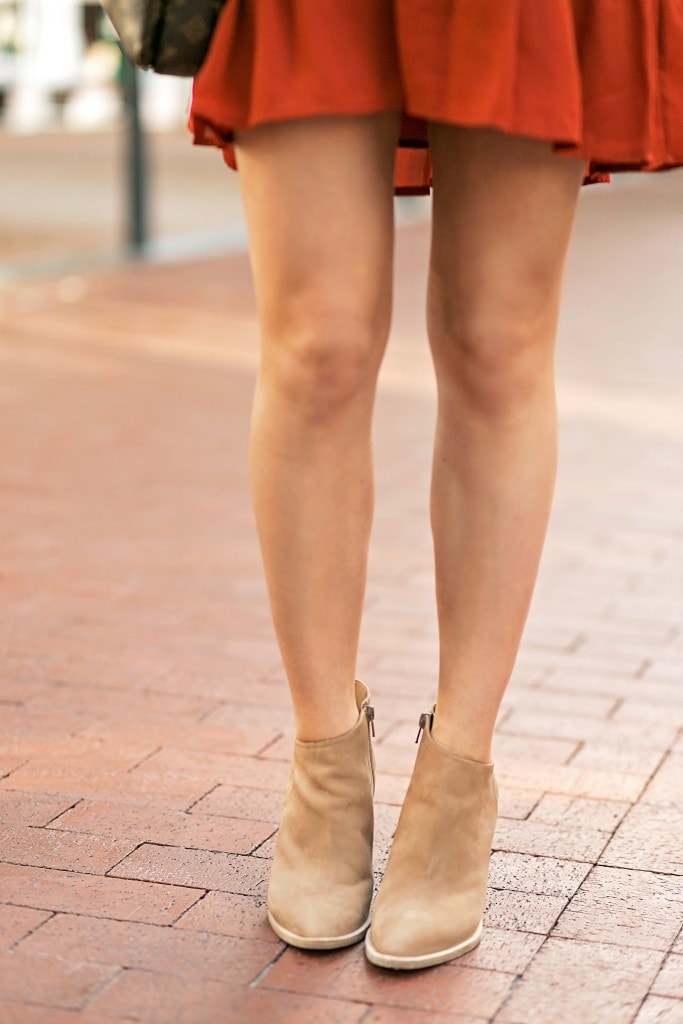 Dress: Shopbop, Revolve [fully stocked!], Here Too [wearing size S] | Booties: Vince [go down a half size!], Similar | Bag: LV, Dupe, Love This as Well! | Faux Fur: Sole Society | Necklace: Anthropologie | Lips: Soar Liner, Brave Lipstick | Watch: Michael Kors | Bracelet: Baublebar | Nail Polish: OPI Just Beclaus
Photography by: Angie Garcia
---
This weekend we have our traditional Friendsgiving with some of my friends from college and it always gets me so excited for the real thing! Our friends Meredith and Lindsey go all out with decor and the turkey, while all of the guests bring a side dish. So I thought it would be fitting to share my favorite look to wear for Thanksgiving this year!
There are so many different ways families celebrate Thanksgiving. From the tradition of putting your tree up before or after to whether you go out for a fancy lunch or eat at home, one thing is for certain is that you'll take a million family pictures. My family and I have done both options for Thanksgiving and each year I like to wear a dress with booties and a faux fur vest. If you live somewhere it is cooler I recommend adding these tights to it! This way you're comfortable at home so you can take a post-turkey nap but you still feel ready if your grandparents decide to take a last-minute Christmas card picture with all the cousins. I like the option of having a faux fur vest because I mean, this is just not the day of the year to wear a fitted dress, am I right or am I right?! 😉
These booties are SO buttery soft and I love that they can carry into spring with their color. However, I do want to share that they run really big! Be sure to go down a half size! I had to return 3 pairs before I finally got the right fit, so don't make my mistake.
We are also taking our Christmas card pictures this weekend and I definitely think I'll throw on this faux fur vest! But for the life of me, I can't decide where we should take them. I take photos 2-3x a week for a living and this completely stumps me. My husband is really keen on taking them in front of the tree. We wanted Peaches in the photos and I think he is convinced it will be easier that way.
Driving home from the grocery store Monday night I said, "But our tree is, I mean, kind of delicate? [my nice way of saying a little more ladylike! haha] Do you want to have our family photo in front of it?"
His response killed me.
"When I got married I signed up to have a girl decorate our Christmas Tree. No one would ever look at our Christmas Tree and say, 'Oh Paul totally decorated that. Looks great.'"
I couldn't stop laughing because I guess he does have a point.
So either my husband is about as "happy wife, happy life" as one can get or he just really wants these photos to be easy and take them at home! haha. We shall see what we come up with, I'll be sure to share on Snapchat!
Thank you so much for reading! What do you wear on Thanksgiving?