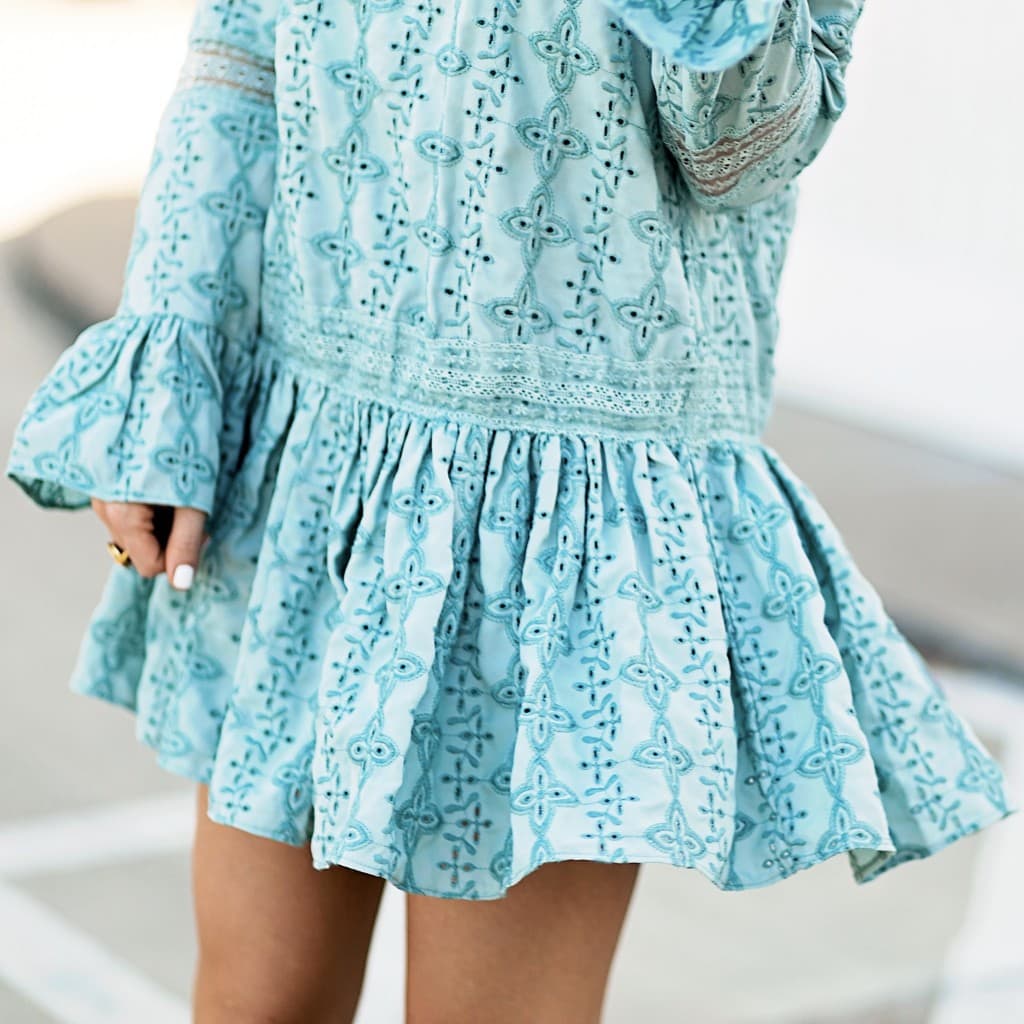 Dress: TULAROSA, Similar, Similar

I always like to start my month off by sharing an Instagram roundup for those that don't like to use like to know it! It's also a great way to answer any sizing questions and chat about what you'll be seeing on the blog in the upcoming weeks. This month? I'm clearly a week late to the party. I feel like it was just Christmas and now we are about to celebrate Valentine's Day. Can everything just slow down?! I was working on my editorial calendar for this year and had a mini panic as I realized I was already mapping out posts for August. Does anyone else feel the same way? I hope you enjoy this post and keep scrolling to see what will be on COF in the following weeks.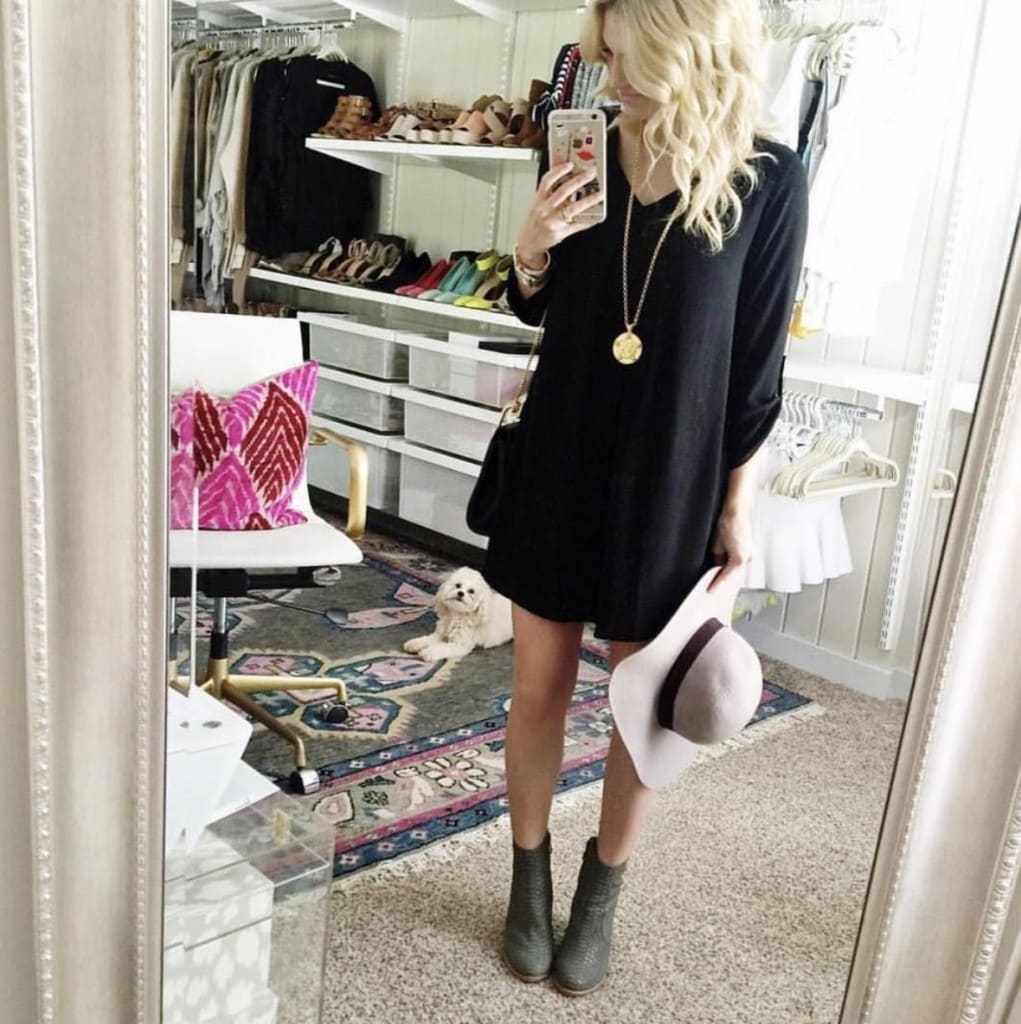 Dress: Nordstrom [sized up as it is junior sizing!] |Necklace: Julie Vos [c/o]

This dress was one of my favorite purchases over the summer! It's currently back in stock [all sizes!] for only $32! #SayWhat?! I sized up as it is junior sizing. 🙂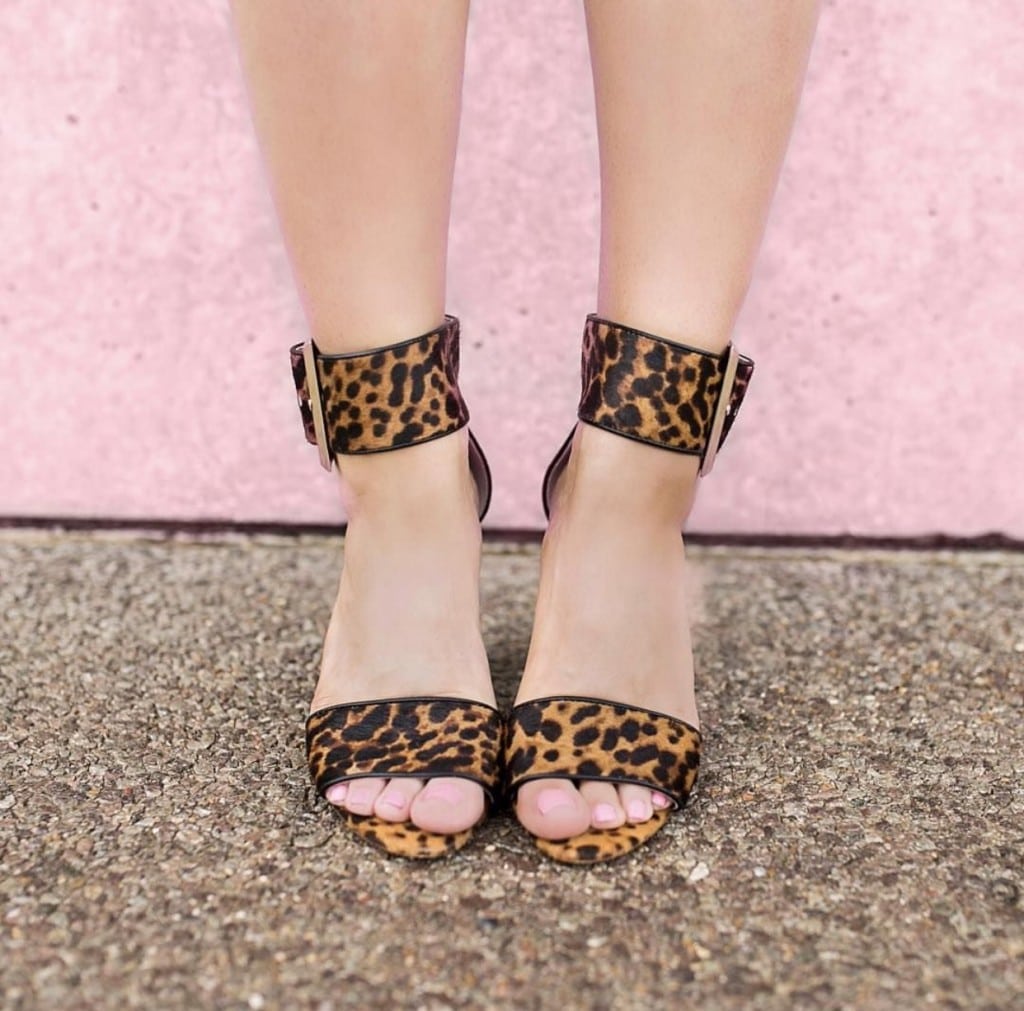 Shoes: Louise et Cie

I picked up these shoes back in November for a wedding weekend we had in Austin. I was so excited to see them on sale at Nordstrom Rack when I went to link them for you all!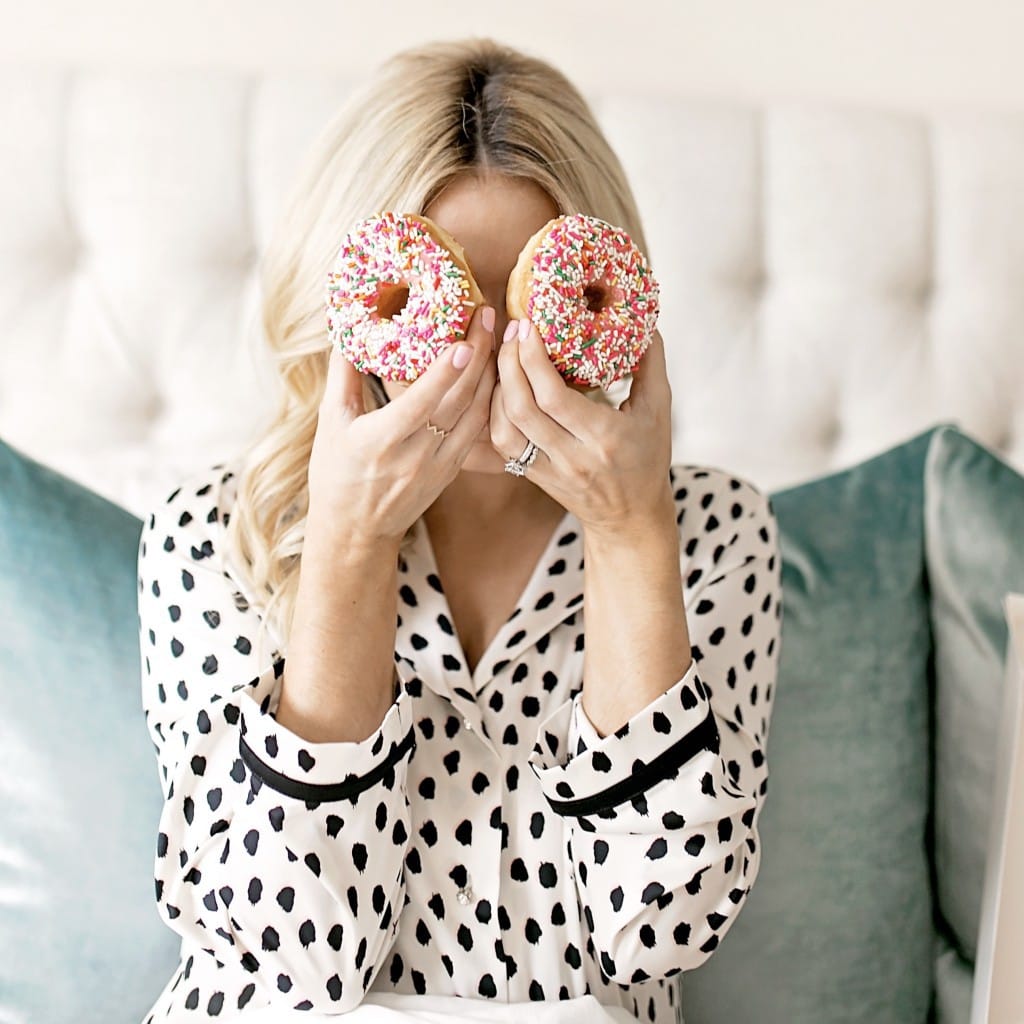 Pajamas: Kate Spade [TTS] | Bed: Wayfair | Pillows: Little Design Co [c/o] | Ring: Shopbop


I tried to resist donuts this pregnancy [my child had enough sweets, trust me!] but the last two weeks I caved. No regrets! My favorite is a blueberry cake, what is yours?!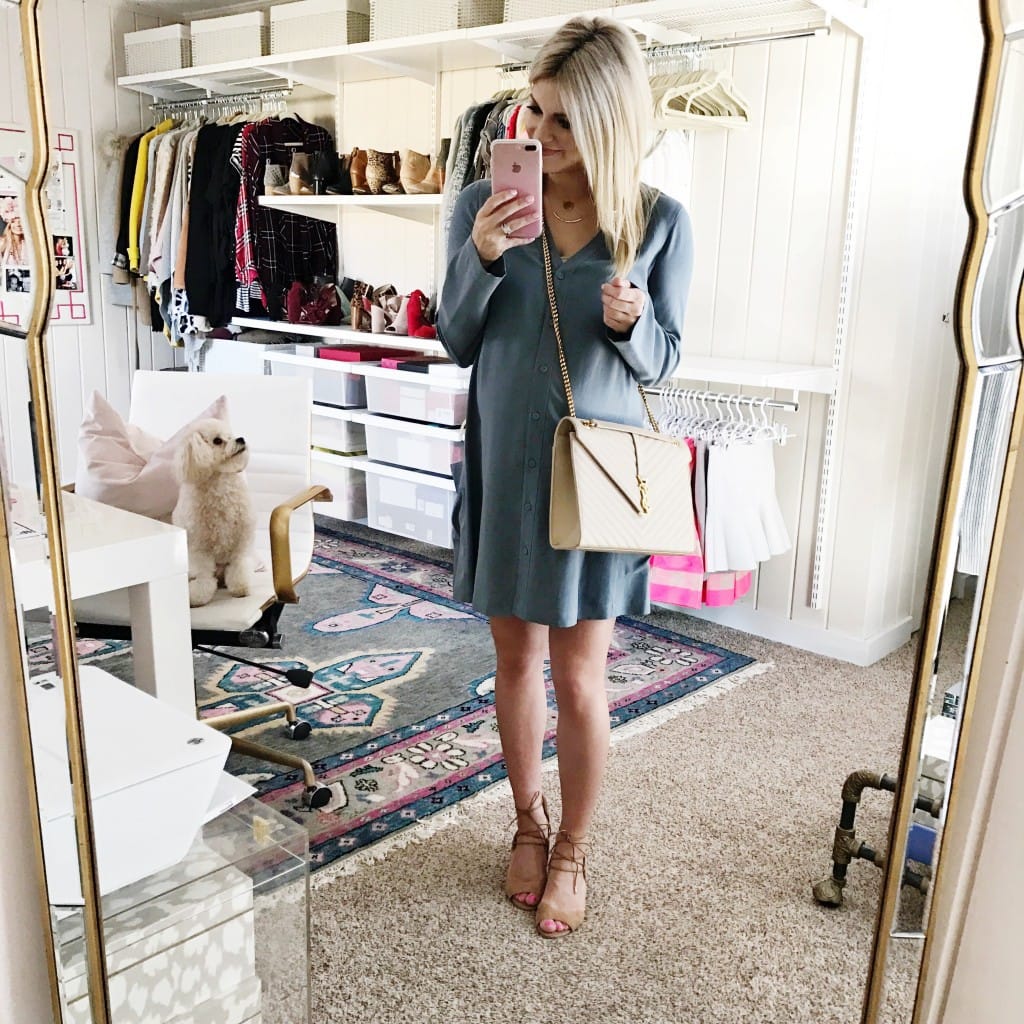 Dress: BCBG | Shoes: Sam Edelman | Bag: YSL, Similar | Necklace: Etsy, Etsy


I ordered this button-up swing dress for our newborn portraits! I know you still look about 6-months pregnant after you have your baby, so I had to try it on and make sure it would fit after birth. I think it will work perfectly and continue to be a staple I wear throughout the spring and summer.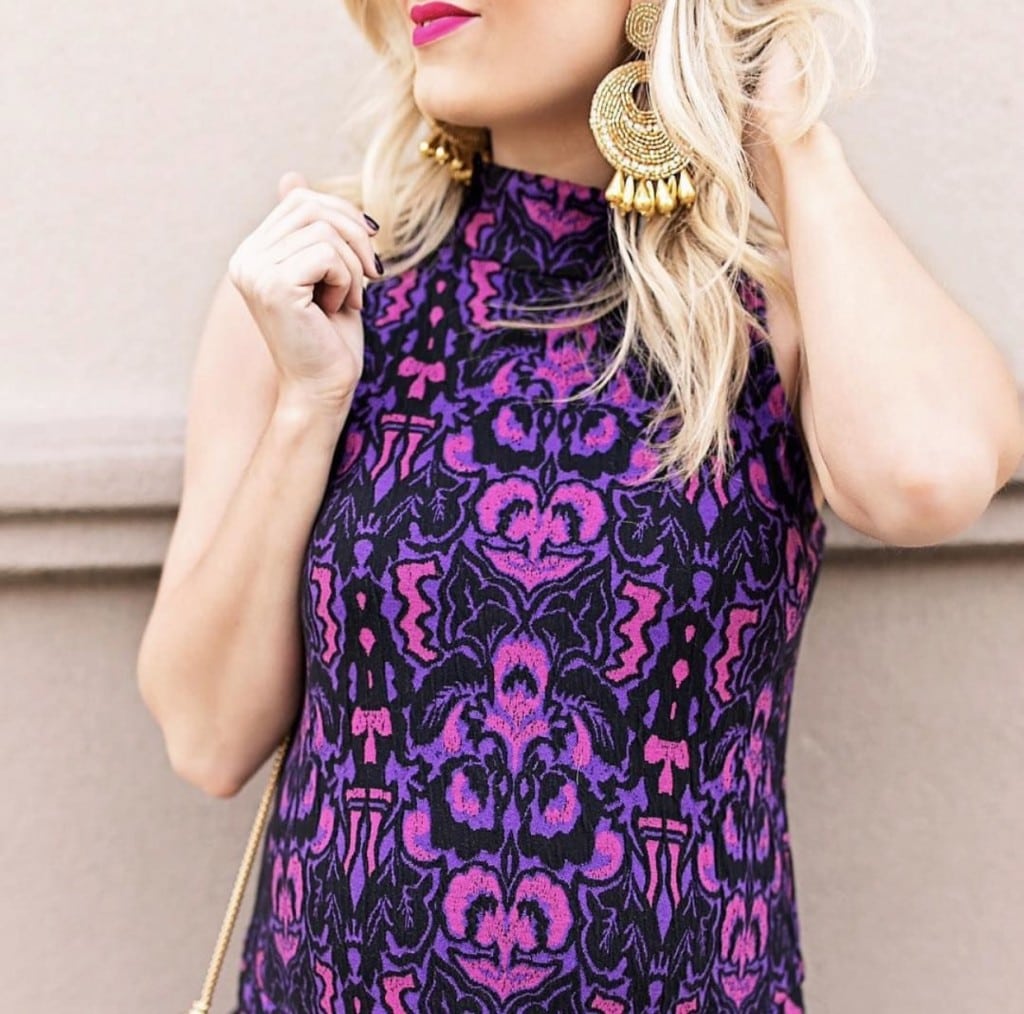 Dress: Free People | Earrings: Shopbop, Turquoise Option | Lipstick: Bella | Bag: Chloe


This was definitely one of my favorite looks styling the bump. Because I had a winter pregnancy I feel like I mostly wore neutrals, so when I spotted this bright dress I knew I had to wear it with a bump. This girl missed her loud prints!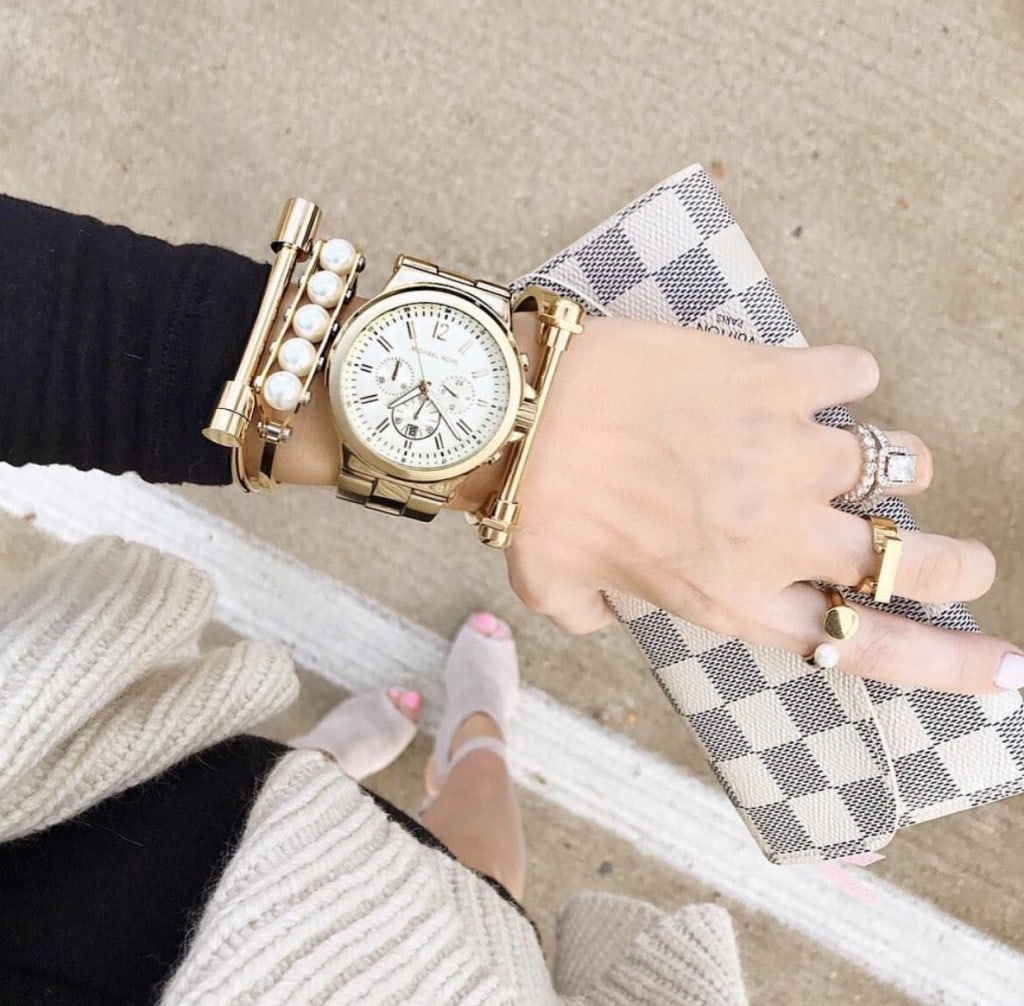 Dress: Michael Stars | Vest: Revolve| Watch: Michael Kors | Shoes: Nordstrom | Bracelets: The Styled Collection [c/o], The Styled Collection [c/o], The Styled Collection [c/o] |  Wallet: LV | Rings: The Styled Collection [c/o], The Styled Collection [c/o] | Nail Polish: OPI Chiffon My Mind


I love how affordable these bracelets are to stack! I piled them on in this photo but you can definitely just incorporate one of them with your normal wrist stack. Everyone always thinks these are designer and I'm proud to say they are a steal.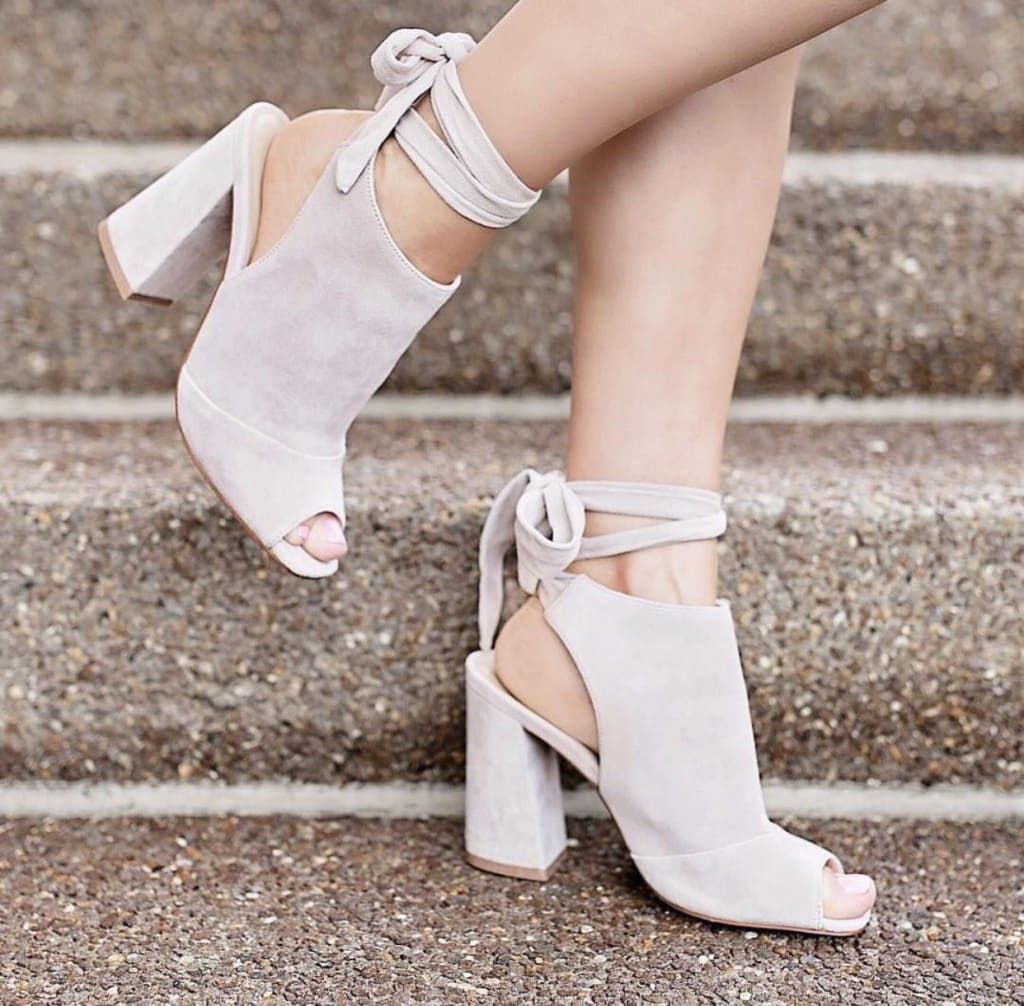 Shoes: Nordstrom


A chunky-heel is still a trend for 2017 #praisethelord and my feet are thanking designers! I could walk for miles in these booties.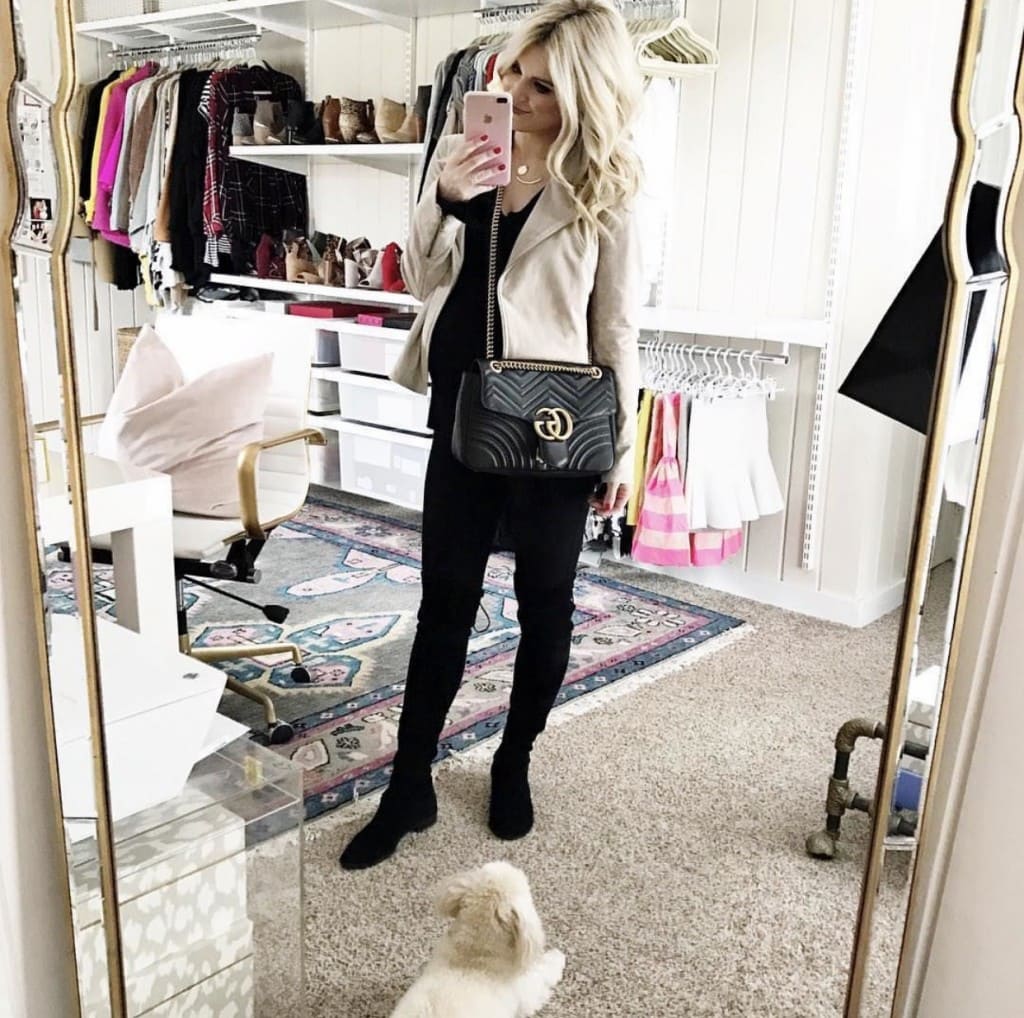 Top: Nordstrom | Pants: Nordstrom | Jacket: Revolve [size down!] | Boots: Stuart Weitzman, Similar| Bag: Gucci, Dupe | Necklace: Etsy | Lipstick: Baci

This past Saturday we tried to run all over Dallas to walk this baby out. It was a fail, but we at least had a lot of fun! We ran to some of our favorite spots that we know we won't go to for awhile.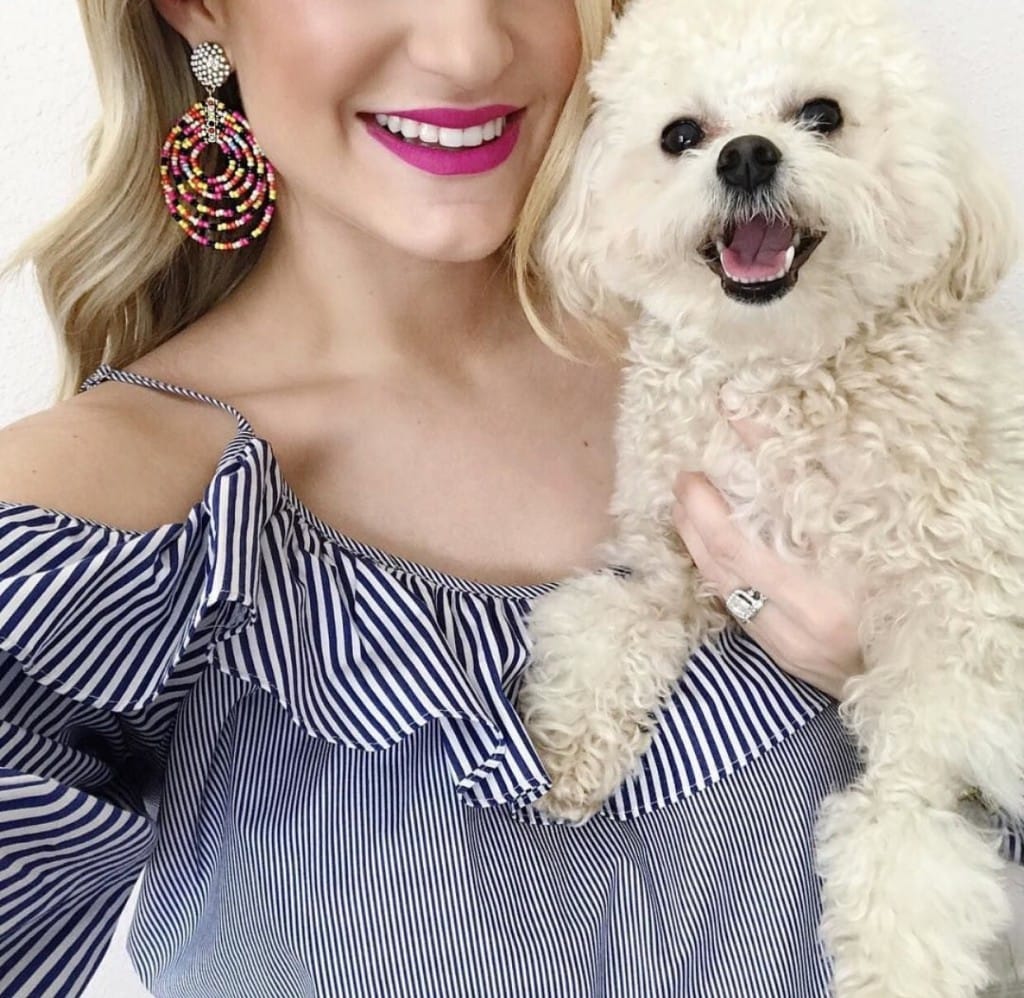 Top: Parker [TTS] | Earrings: Baublebar [c/o] | Lipstick: Bella | Dog: Not For Purchase 😉


Peaches approves of the earrings! It always cracks me up she knows when a camera is on her. She'll be sleeping soundly, I'll go to pull my phone out to snap her and her eyes open in .2 seconds!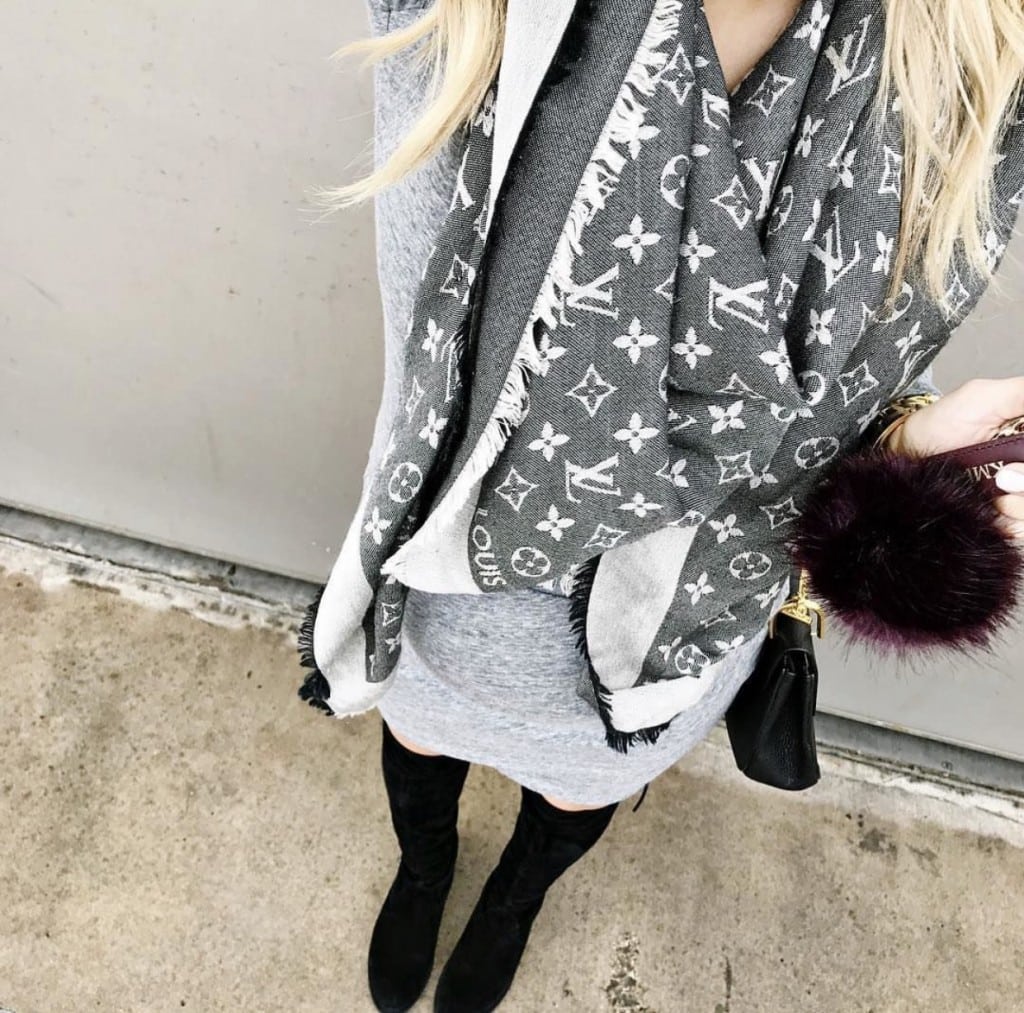 Dress: Nordstrom | Boots: Stuart Weitzman, Similar, Similar | Bag: Chloe, Similar | Keychain: Mark & Graham | Scarf: LV, Similar, Similar


Paul put this keychain in my stocking for Christmas and it was one of my favorite gifts. I love how it is personalized and I never lose it at the bottom of my bag. I'll soon be throwing everything in a diaper bag, so I definitely don't want to lose my keys among pacifiers and dirty diapers.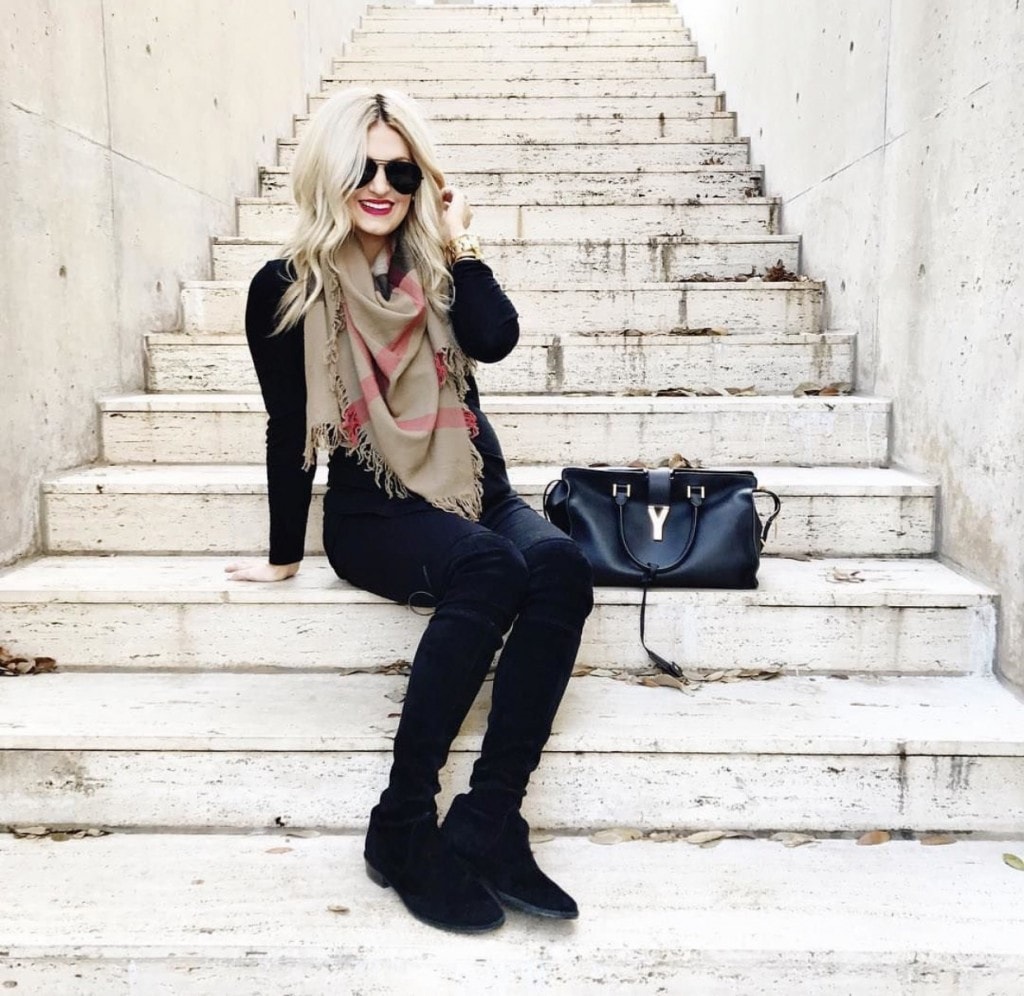 Top: Nordstrom [sized up] | Leggings: Nordstrom | Scarf: Burberry, Similar, Similar | Boots: Stuart Weitzman, Similar, Similar | Bag: YSL, Similar | Lipstick: Cherry Liner | Sunglasses: Ray Ban, Similar | Watch: Michael Kors


My secret to red lipstick is to use a lip liner all over. My favorite is MAC Cherry! I exfoliate my lips using a damp toothbrush, apply the liner, fill in my lips and just dab them with some lip balm. It lasts all day and looks more like a stain than a glossy, red lip. Kudos to women that can wear a red lip with some shine to it, I end up with red pigment all over my hair, hands and clothes.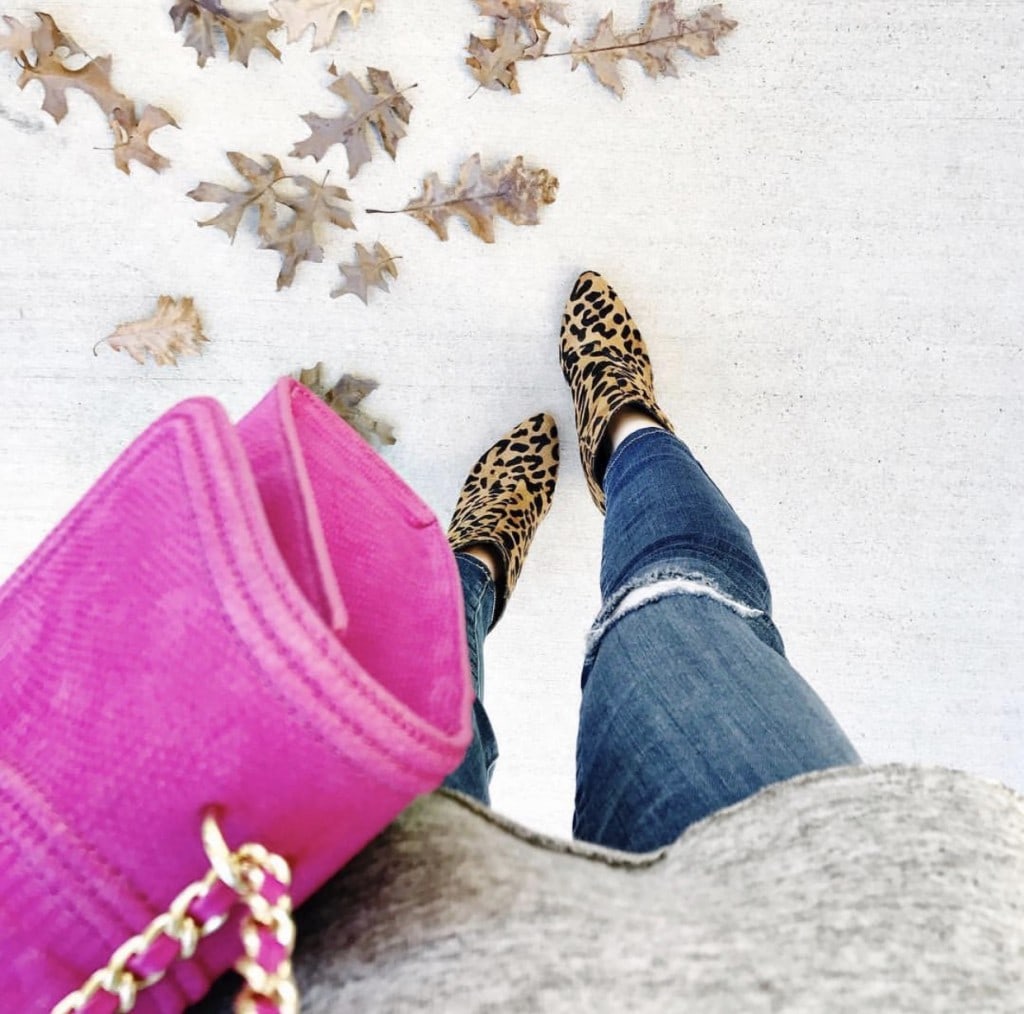 Top: Nordstrom | Jeans: Nordstrom [wearing maternity version] | Booties: Revolve, Similar, Similar | Bag: Tory Burch, Smaller Version


This top was another one of my favorite purchases this pregnancy. It runs pretty large so go down a  size if you aren't expecting. It's so cozy it feels like you are wearing your pajamas out in public, which is fine by me!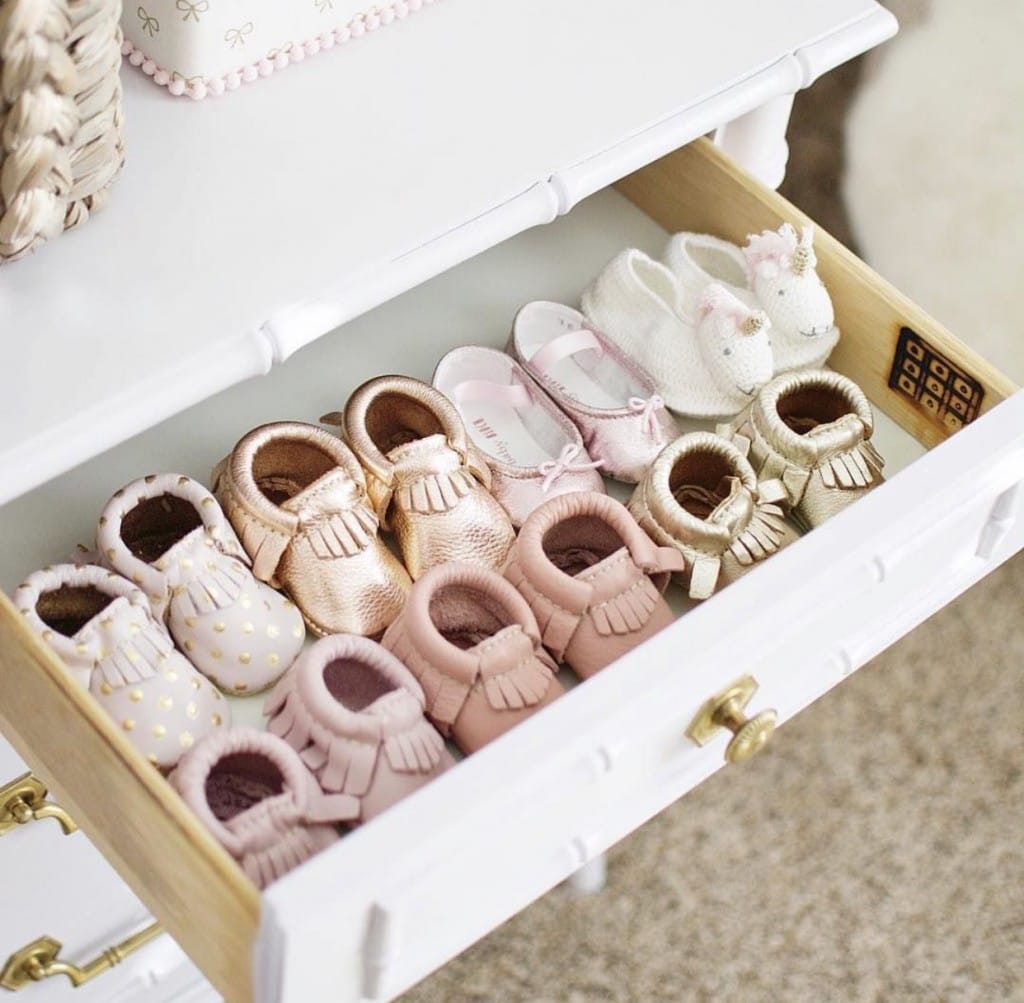 Moccasins: Freshly Picked, Freshly Picked, Freshly Picked [c/o], Freshly Picked | Unicorn Booties: Anthropologie | Ballet Shoes: Bloch

Little missy's shoe collection is a bit out of hand as I have an entire shoe organizer filled in her closet. I've found that baby shoes are definitely my weakness! I know she will hardly wear them or will kick them off, but I can't say no to something so mini.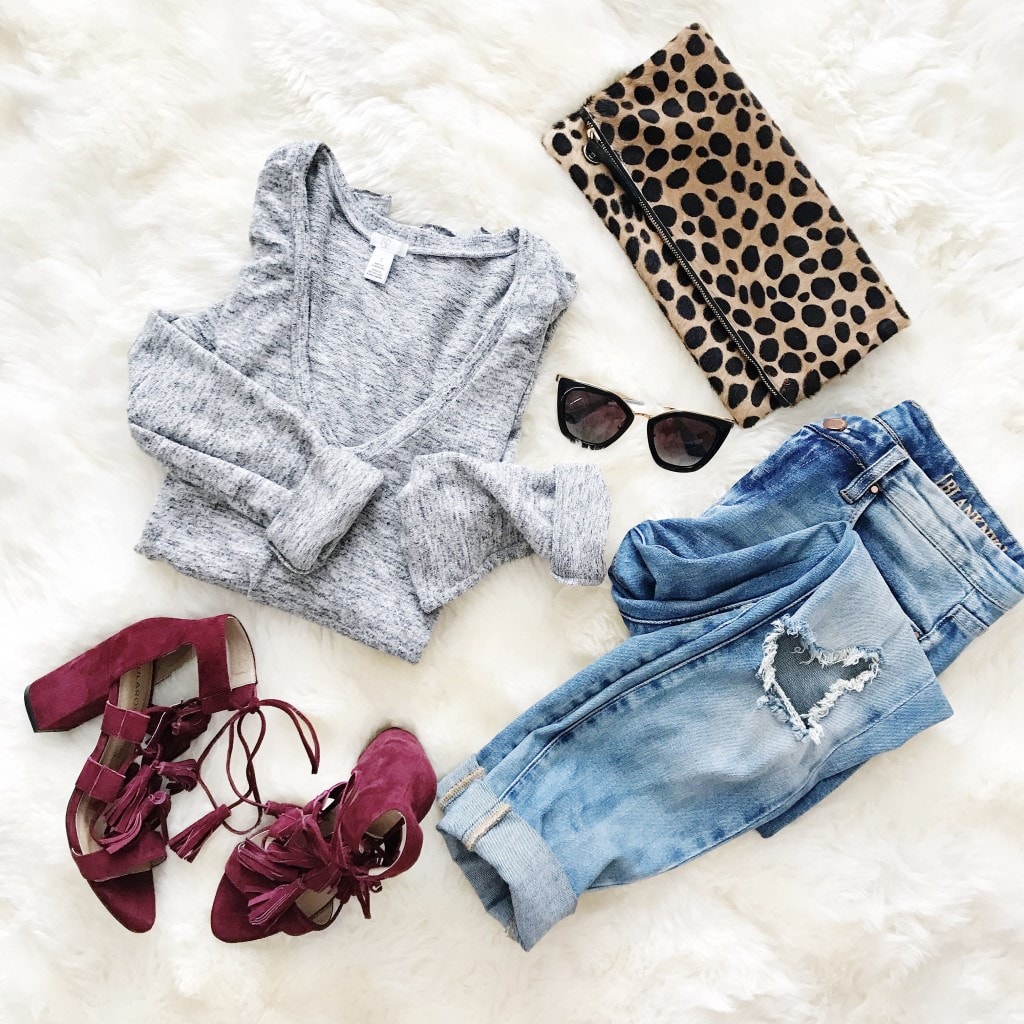 Top: Nordstrom [runs large, size down] | Jeans: Shopbop | Shoes: Revolve, Same Style, Same Style, Same Style | Sunglasses: Prada | Clutch: Clare V.

If I missed any jeans during pregnancy, it was definitely this pair! They can be styled like boyfriend jeans but you don't feel like you are wearing a diaper which can normally be the issue with this style. I pair these with anything from sneakers to heels.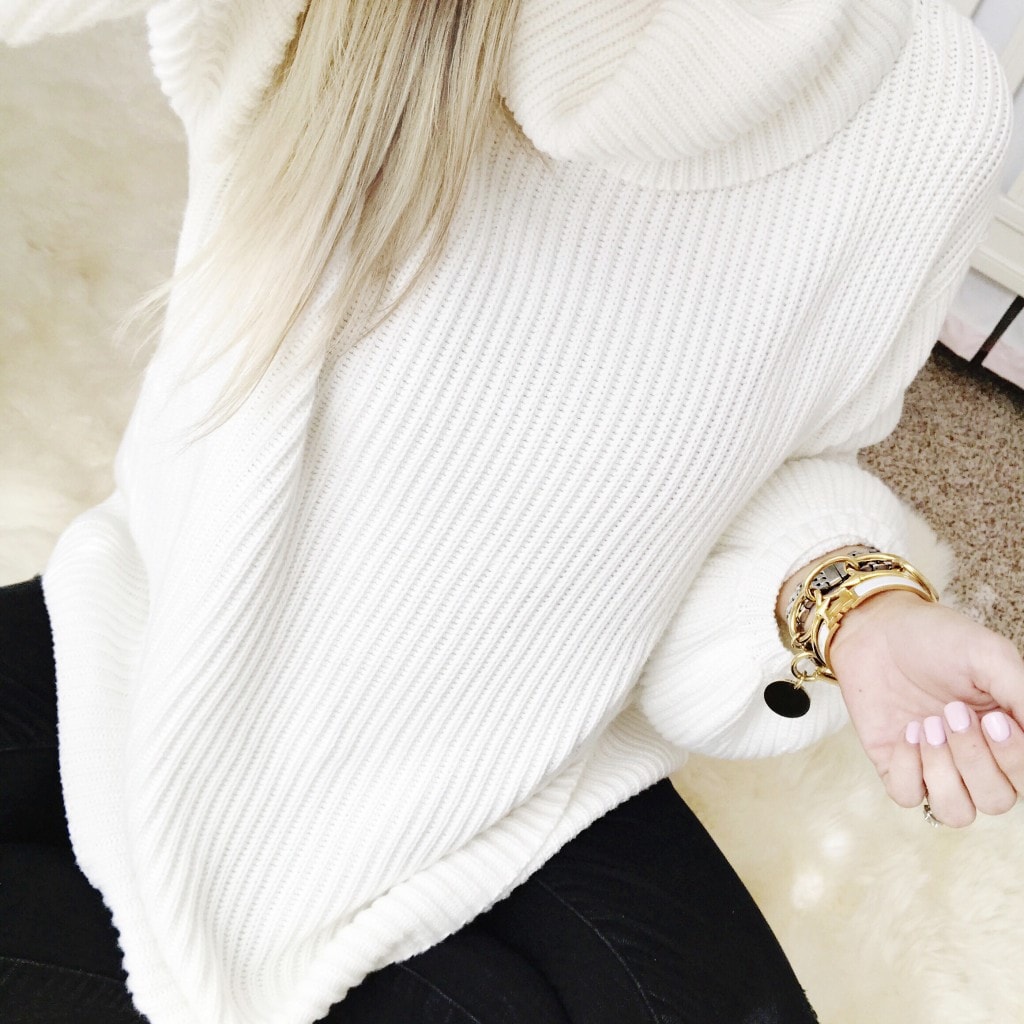 Sweater: Revolve [runs large!] | Jeans: Nordsrom | Bracelets: Shopbop, Shopbop

Lastly, this sweater has incredible sleeves that give off major Olivia Palermo vibes. Make sure to note this sweater does run a bit large!
Coming up on COF:
Tomorrow, I'm sharing a huge handbag review. I'll be rounding up my favorite designer bags, the one I don't recommend purchasing and handbags under $100!
Next week I'll have our nursery reveal up! Sharing my style at home is my favorite thing to post on  the blog, so getting the opportunity to reveal an entire new room has been something I have looked forward to for months. I hope you love this little space we have created for our girl.
I get a lot of questions about what books I'm reading and next week I'll have a roundup of my recent reads from inspirational books to thrillers.
In terms of baby posts, I'll be spilling out my diaper bag and the contents it carries as well as posting my ultimate pregnancy guide. This is definitely not a post in which I'm saying, "Hey, do this! It worked for me!" I'm more so just answering general questions, my timeline of planning for baby, symptoms and any mistakes I made. I'm definitely not a fan of unsolicited advice, so please just take this post with a grain of salt as I'm only sharing what worked for me. Each pregnancy is so different, and I would never want to give advice on what you should do or shouldn't do!
If you're making a trip to DFW soon, I'll have my favorite spots to sip coffee, grab a bite to eat, shop and stay up on the blog. I've divided it by Dallas and Fort Worth locations!
Lastly, I'm sharing my 25 wardrobe staples I think every girl needs. With spring cleaning on the horizon I hope this helps you narrow down exactly what to fill your wardrobe with.
Thank you so much for reading!