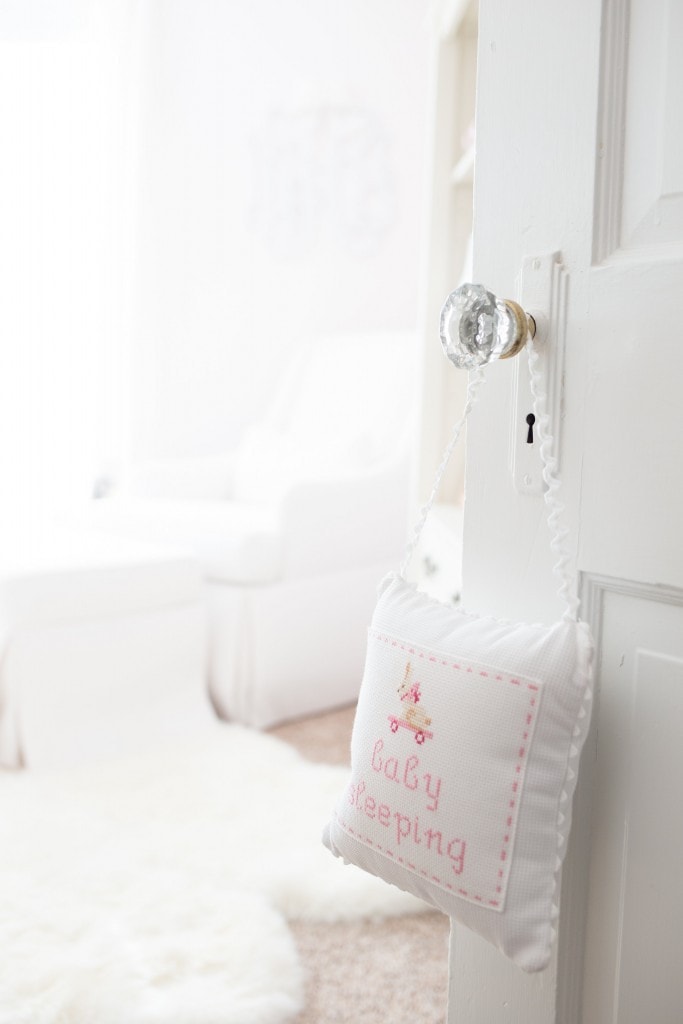 I am so excited to share our little one's nursery with you all today! This was truly such a fun project to work on the past few months. I have spent hours in this room just sitting in the glider, folding her clothes, praying over the little lady she will become and envisioning how blessed life will be with her.
I personally love to mix prints and add splashes of color, but when it came to our little girl I wanted her to have just a really soft and delicate look in her nursery. I also know this room will get cluttered easily [hello toys, messes and burp rags thrown everywhere] so because of the smaller size, I went with really light tones so it doesn't seem overwhelming. The paint color is Valspar Fair Madden and after a million different swatches, samples and pints of paint we purchased, I found this shade.
I think one of my favorite things about this room is how much my dad wanted to help with it! When I called him at work to tell him we were having a girl he cried and said he was thrilled because he raised girls so he knows how to be the perfect Papa to her! It was the sweetest thing in the world. He painted her nursery while we were away at fashion week. And when all the furniture came in he HAD to be the one to mount everything to the wall and hang everything. He went on a rant about he is an engineer and knows how to do everything extremely safe [code for better than Paul and I!]. 😉 But seriously, Paul and I joke that we hope the next people that buy our home have a little girl because this stuff is not coming down. haha.
It's the best feeling in the world to watch your dad and your husband work together to help prepare a nursery for your little babe, so that was truly a gift I'll always be thankful for.
Thank you all so much for your kind comments anytime I've snapped a little peek at her nursery, I hope you love it!

P.S. I want to also say, of course a pillow won't be in bed with her when she sleeps! It was just sweet to keep out until she does sleep in her crib.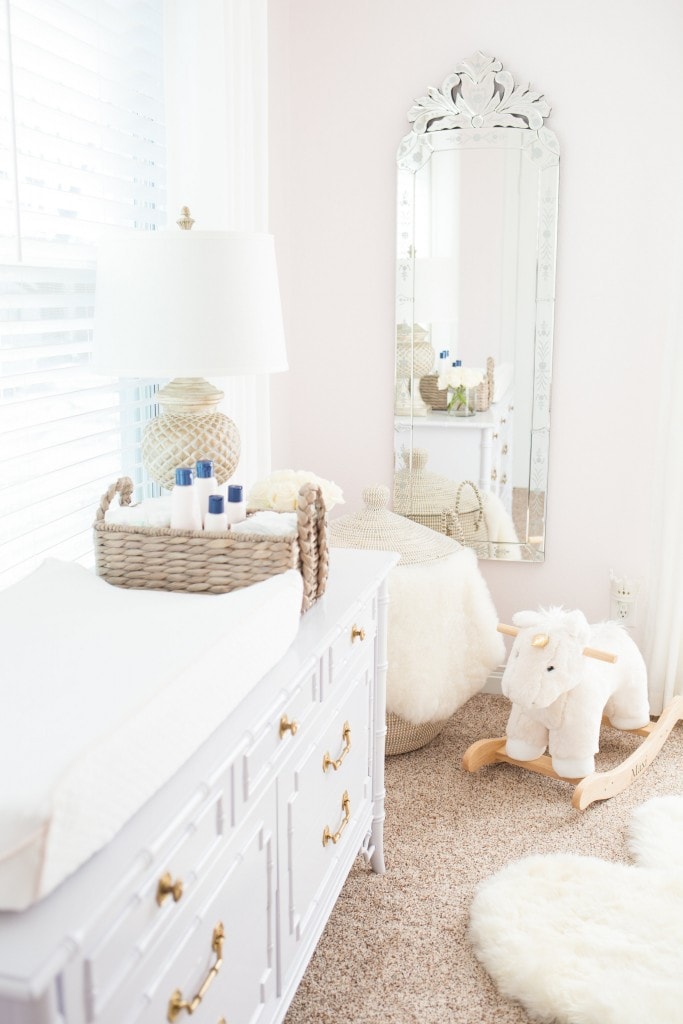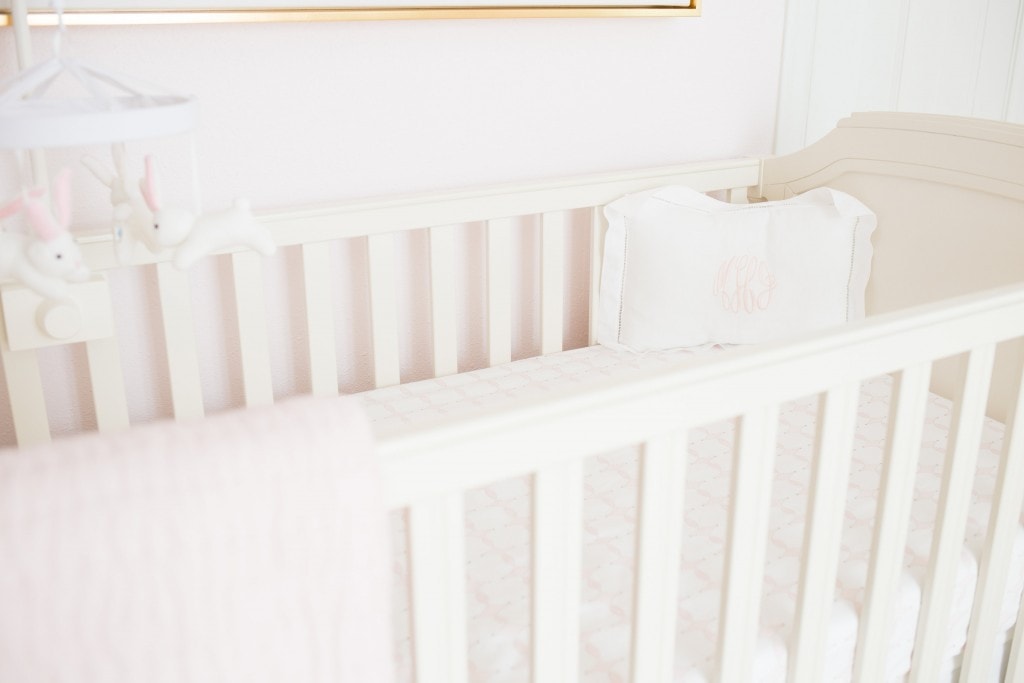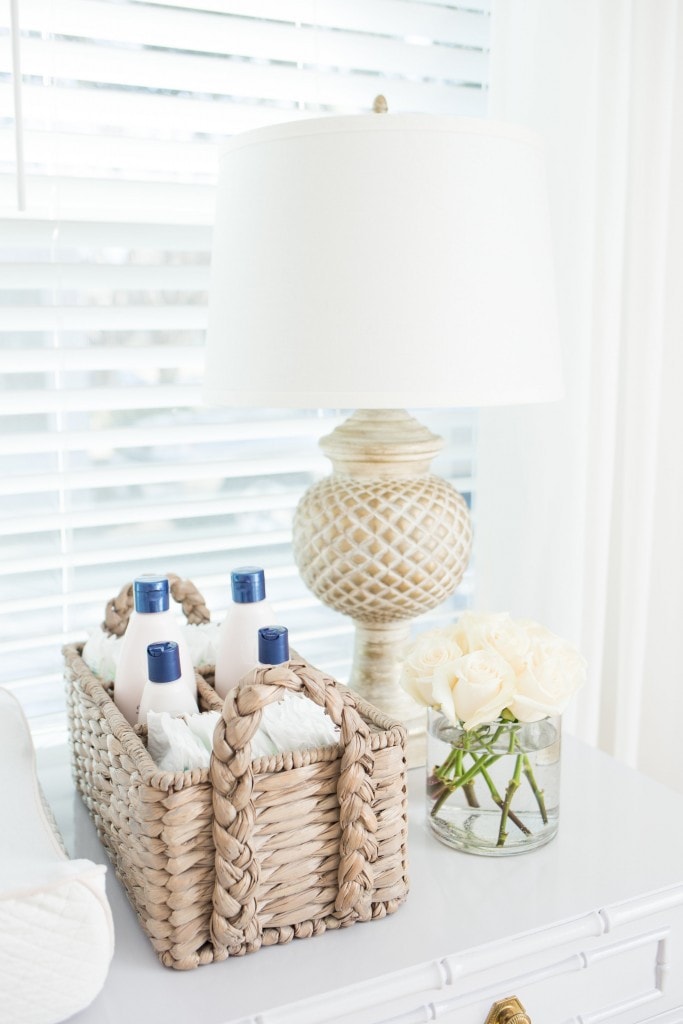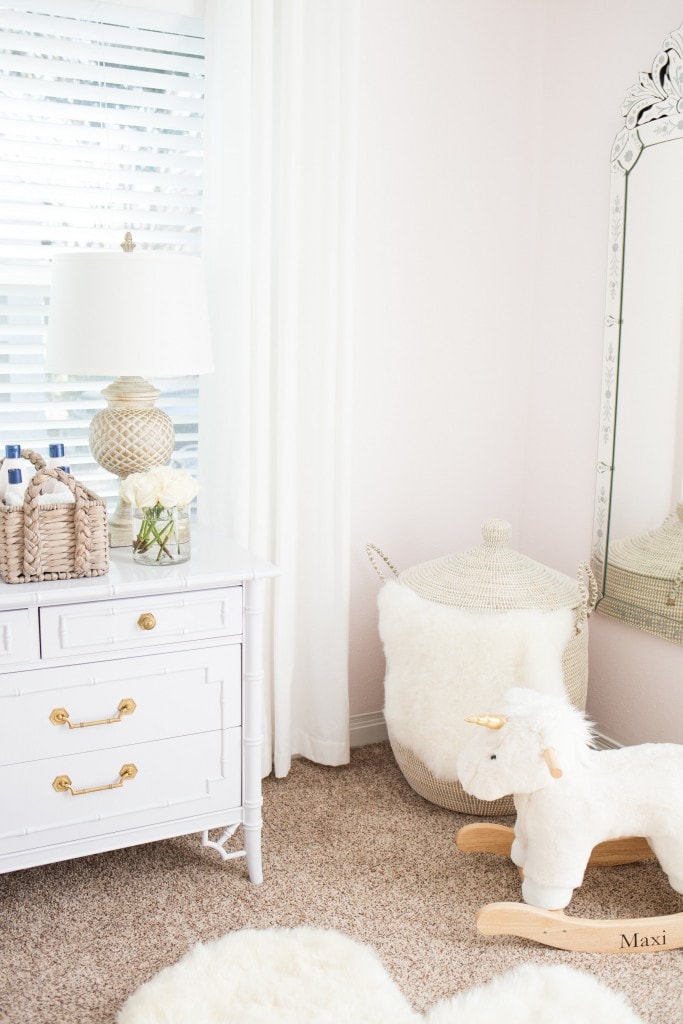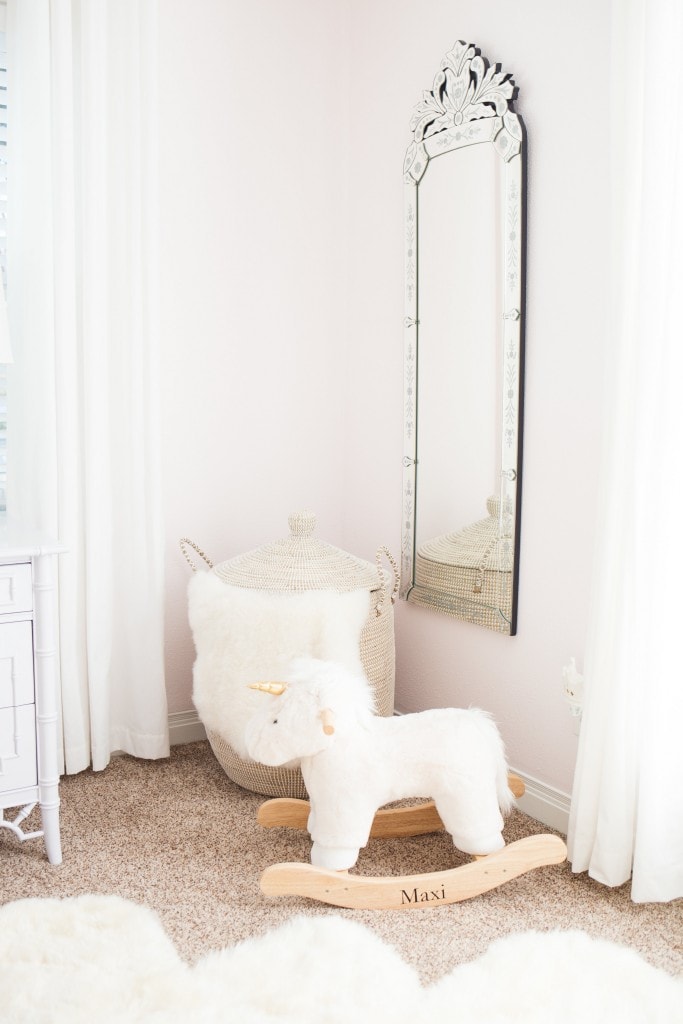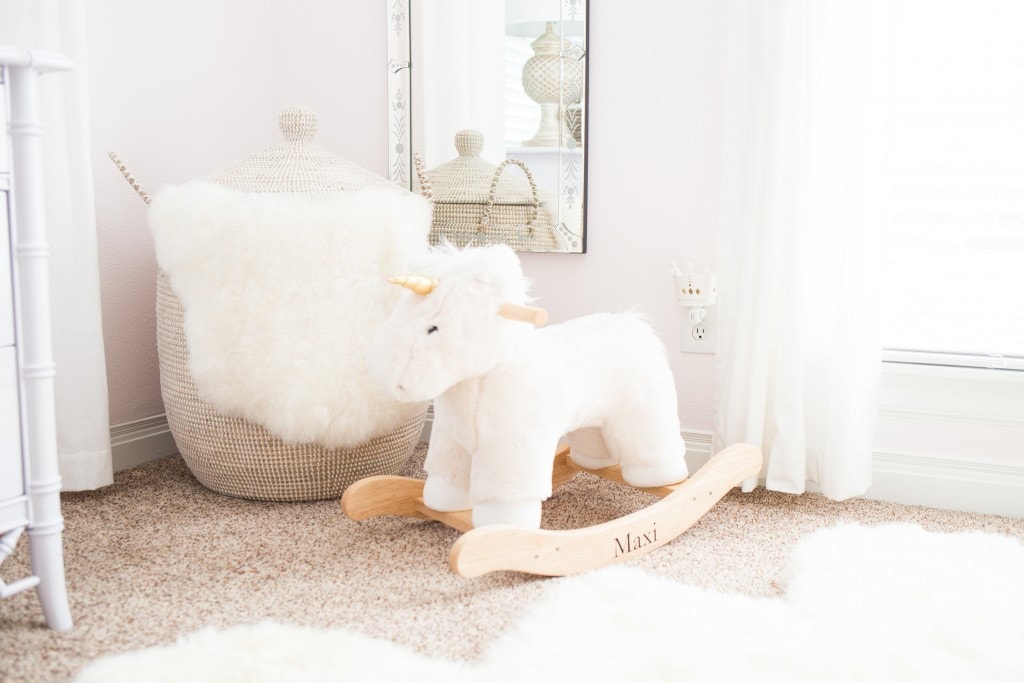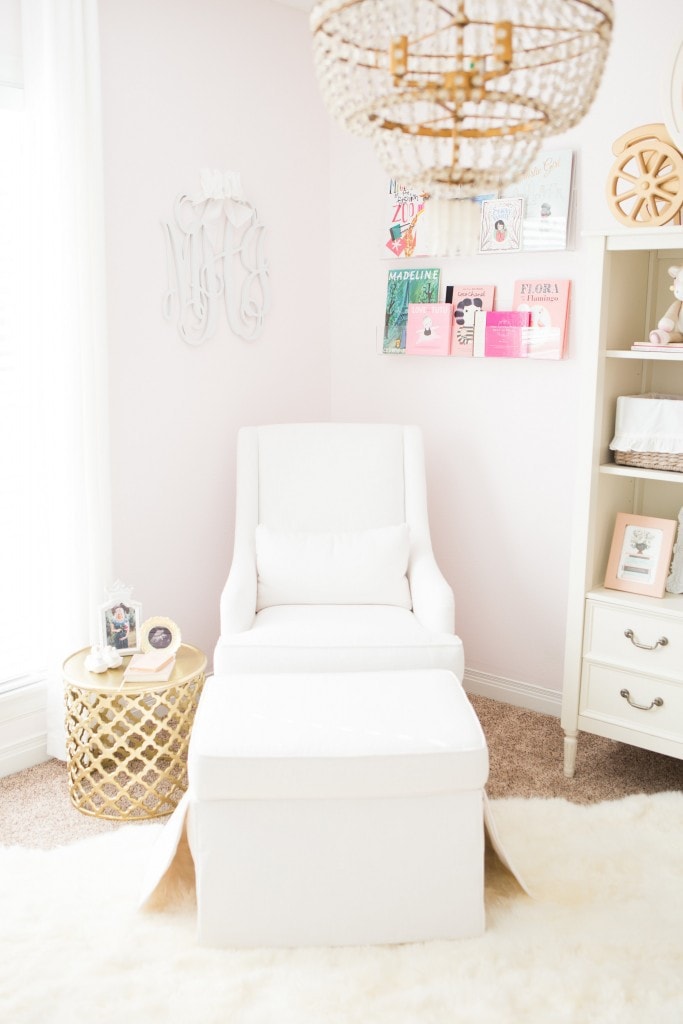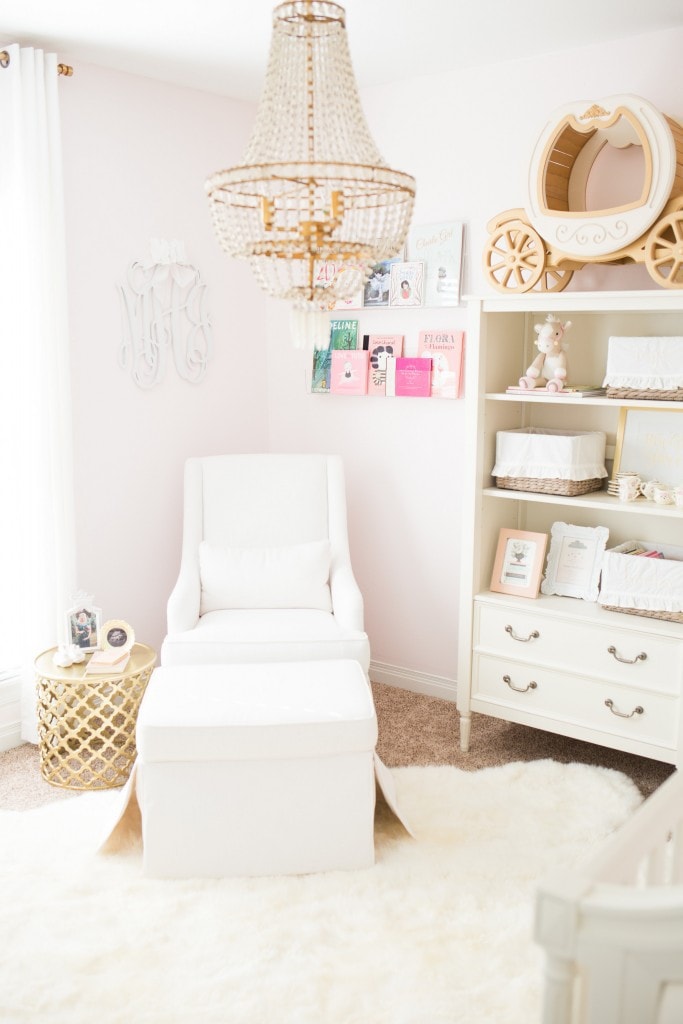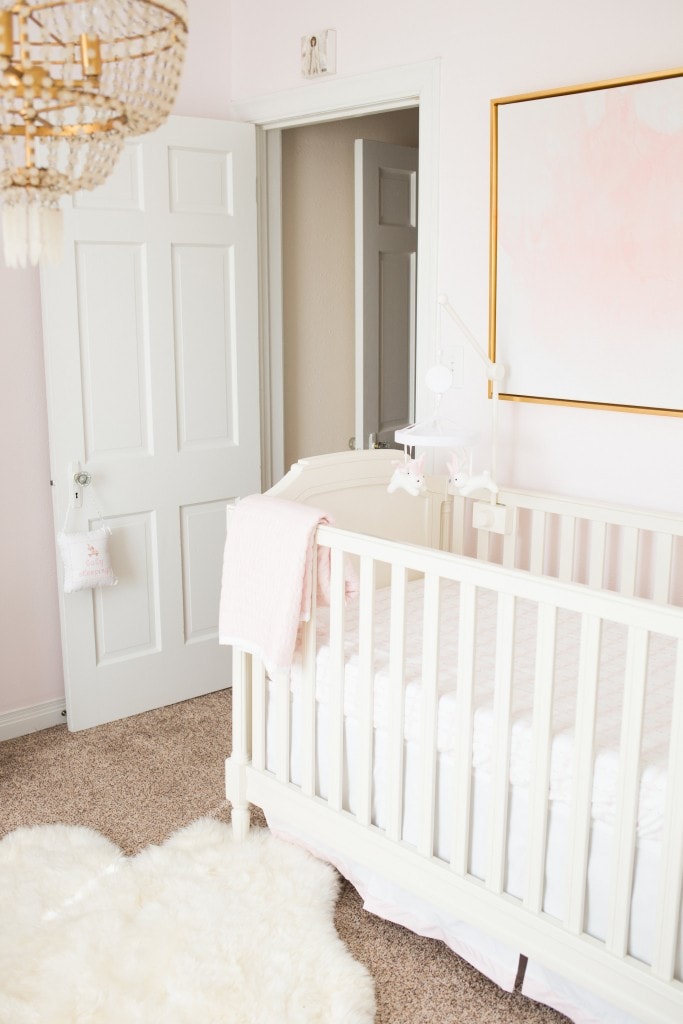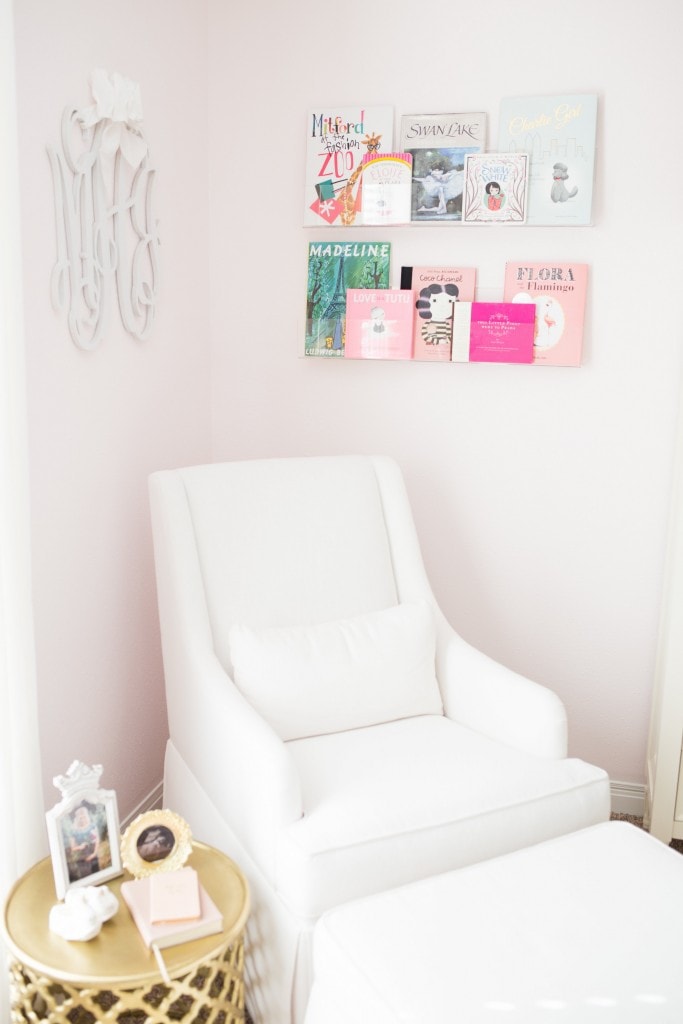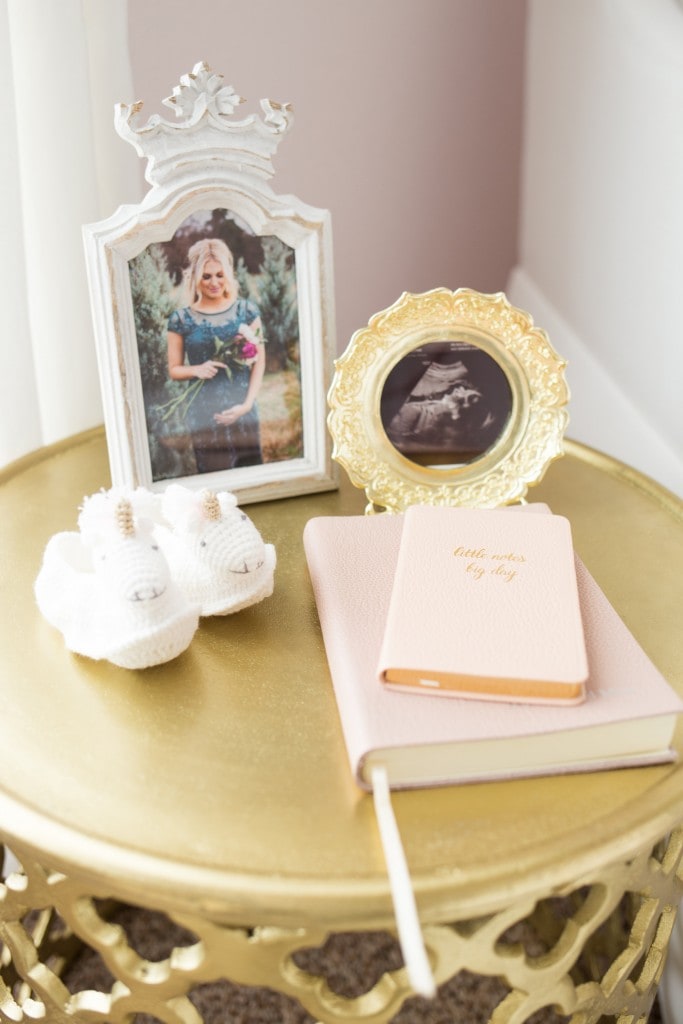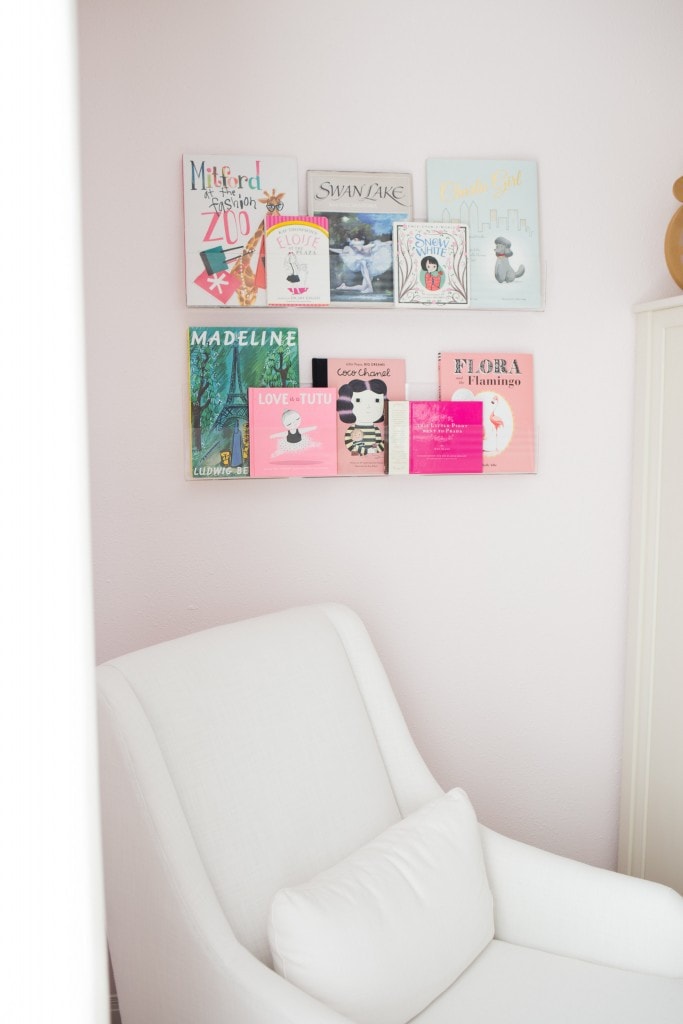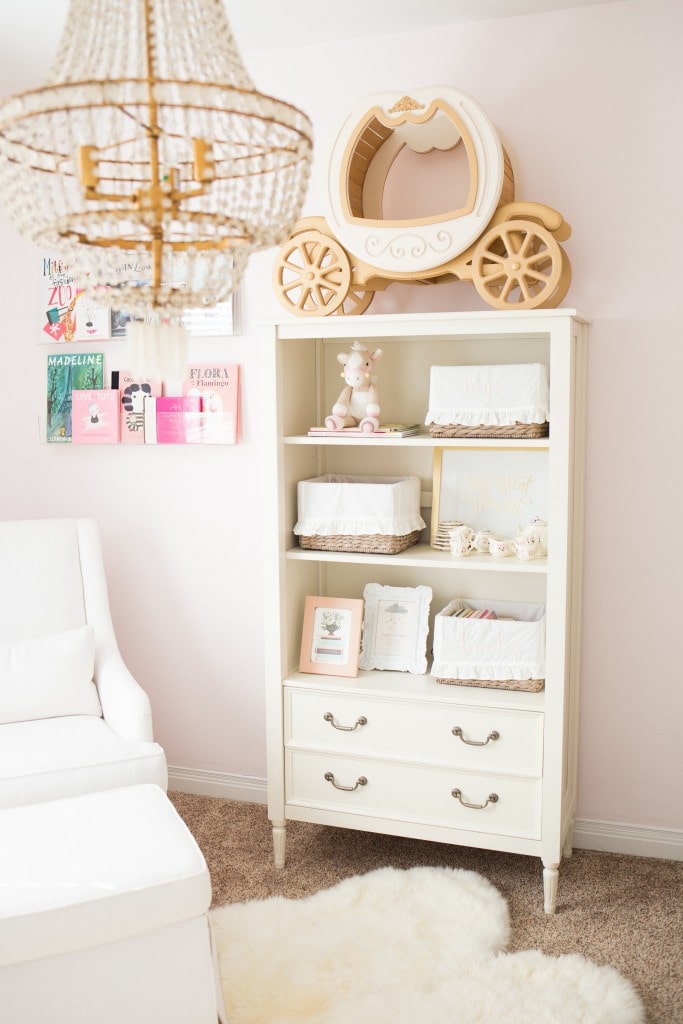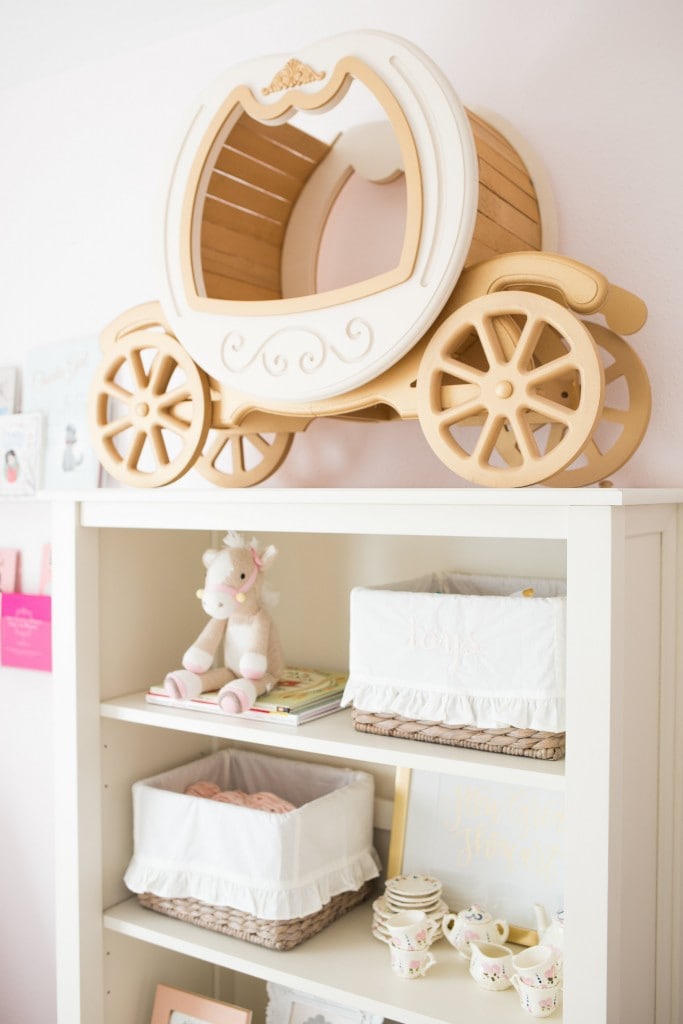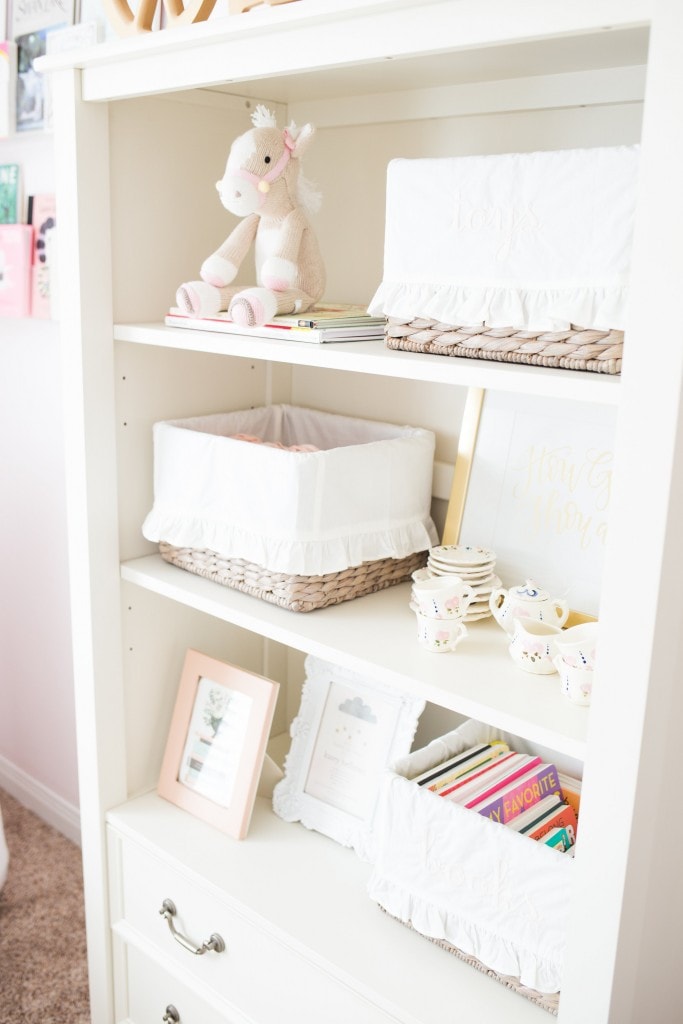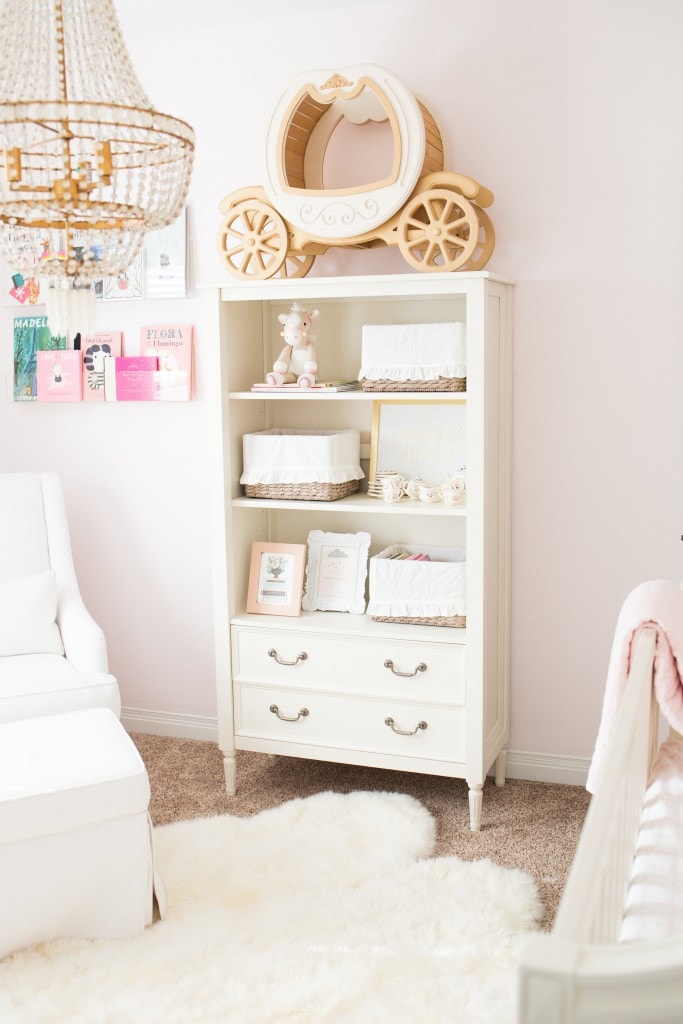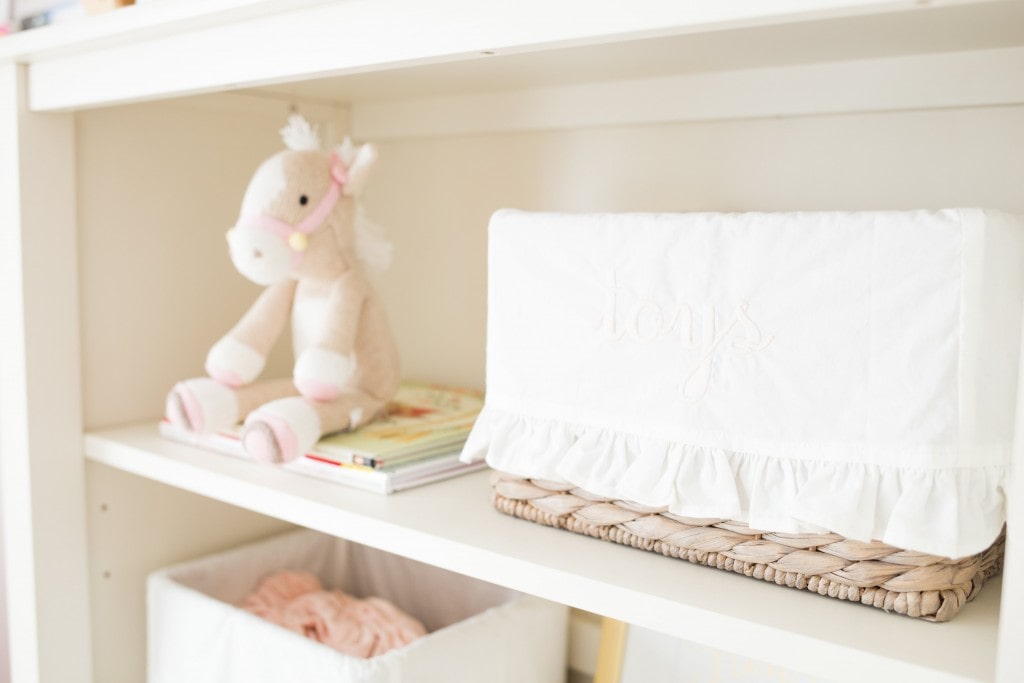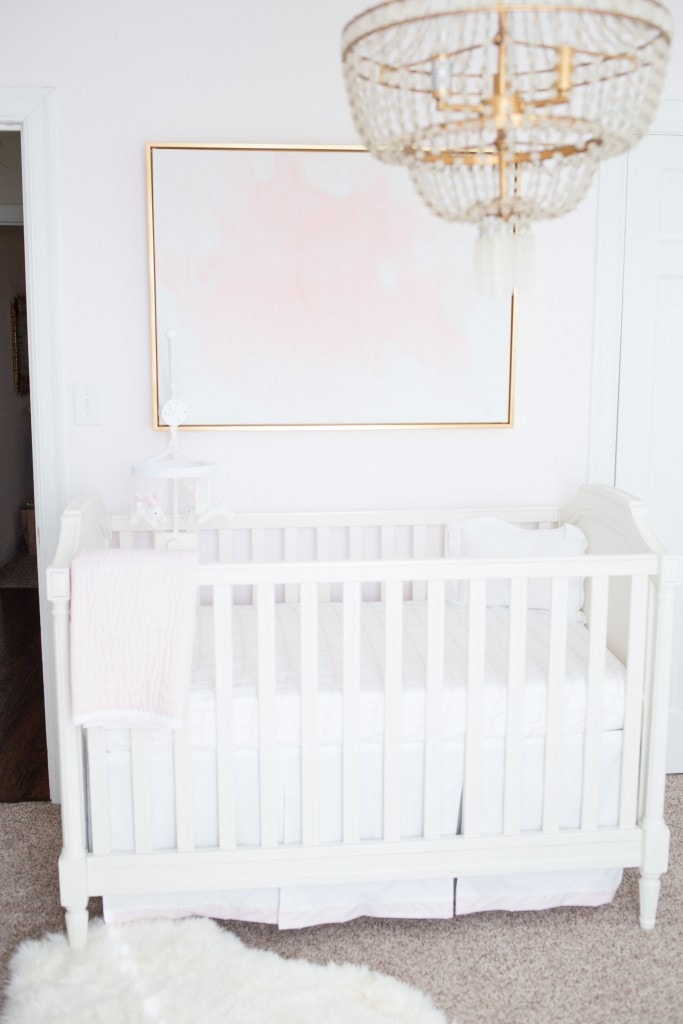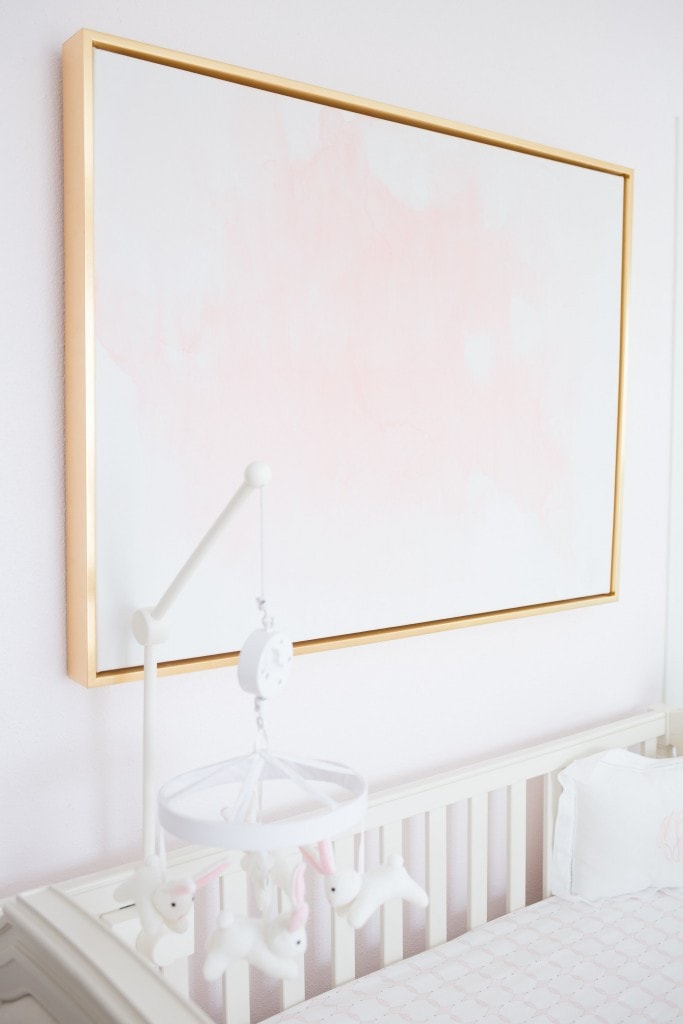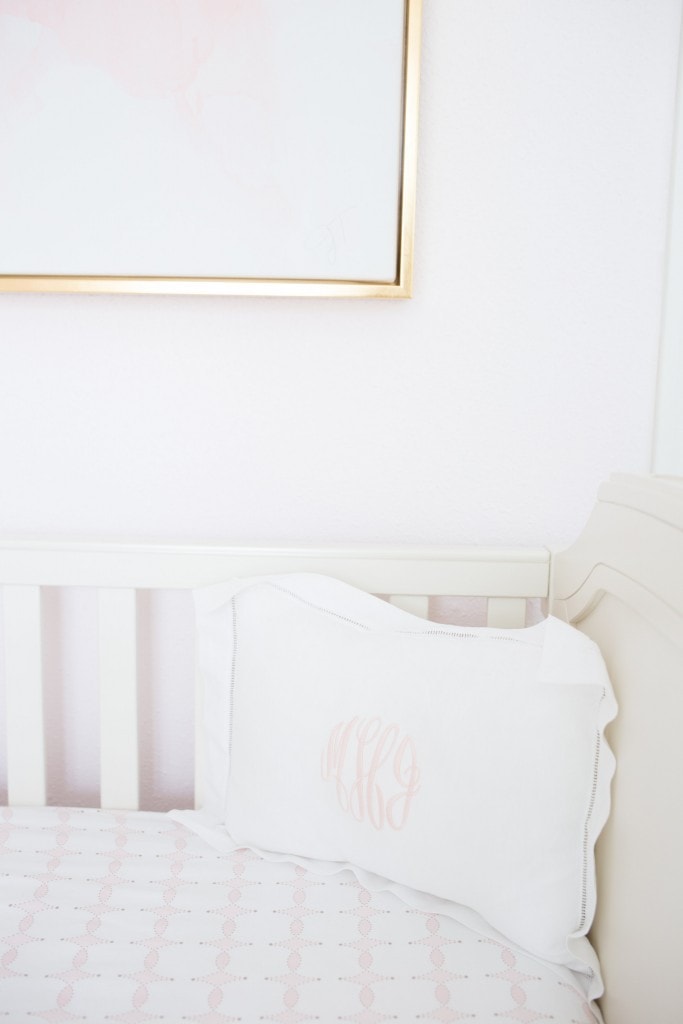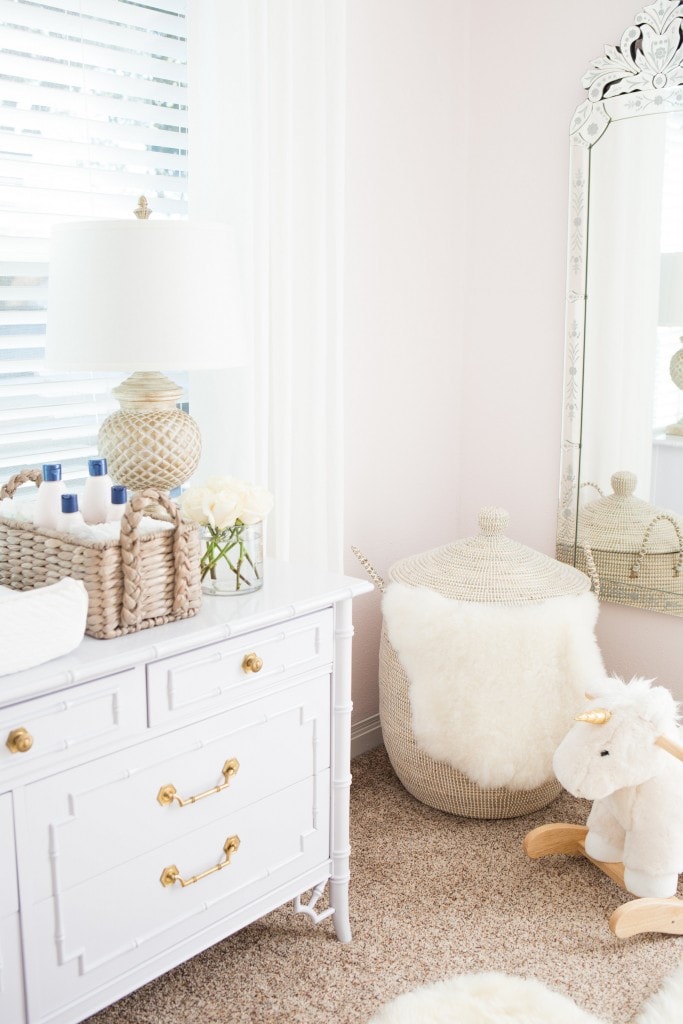 Crib: Pottery Barn Kids | Mobile: Pottery Barn Kids, Mobile Arm | Art: Jenn Thatcher Art [c/o] | Rug: Hayneedle | Glider: Pottery Barn Kids | Changing Table: The CEH | Changing Pad: Restoration Hardware | Baskets: Restoration Hardware | Lamp: Hobby Lobby, Similar | Unicorn Rocker: Pottery Barn Kids | Basket: Serena & Lily [size Large] [c/o] | Throw: Serena & Lily [c/o] | Sheets: Serena & Lily [c/o] | Quilt: Serena & Lily [c/o] | Bed Skirt: Serena & Lily [c/o] | Baby is Sleeping Sign: Babies on the Boulevard | Monogram Sign: Babies on the Boulevard, Similar | Acrylic Book Shelf: Pottery Barn | Bookshelf: Pottery Barn | Cinderella Carriage: Etsy | Chandelier: Pottery Barn | Little Notes Big Day: Graphic Image [c/o] | Unicorn Booties: Anthropologie | Pink Frame: Graphic Image [c/o] | How Great Thou Art Print: Hobby Lobby | Tea Set: Mine from when I was little | Other Bookshelf Accessories: Gifts from Shower | Angel Painting Above Door: Beau Home Interiors | Mirror: Horchow | Side Table: Homegoods, Similar | Drapes: West Elm | Rods: West Elm | Diaper Genie: Ubbi
Photography by: Madison Katlin Photography
More Nursery Photos: This Post