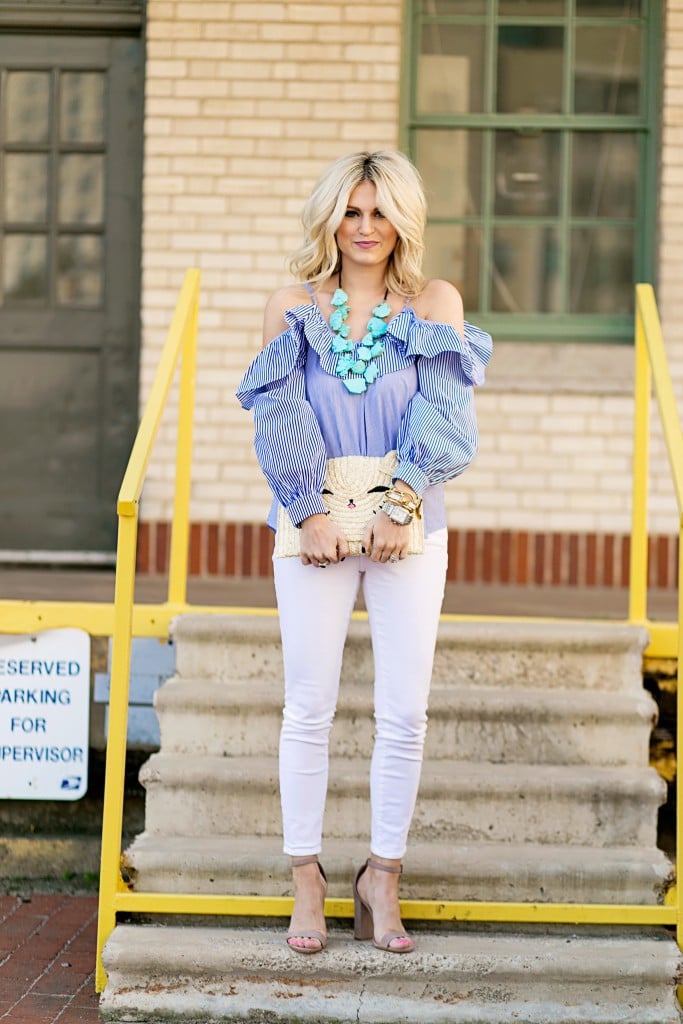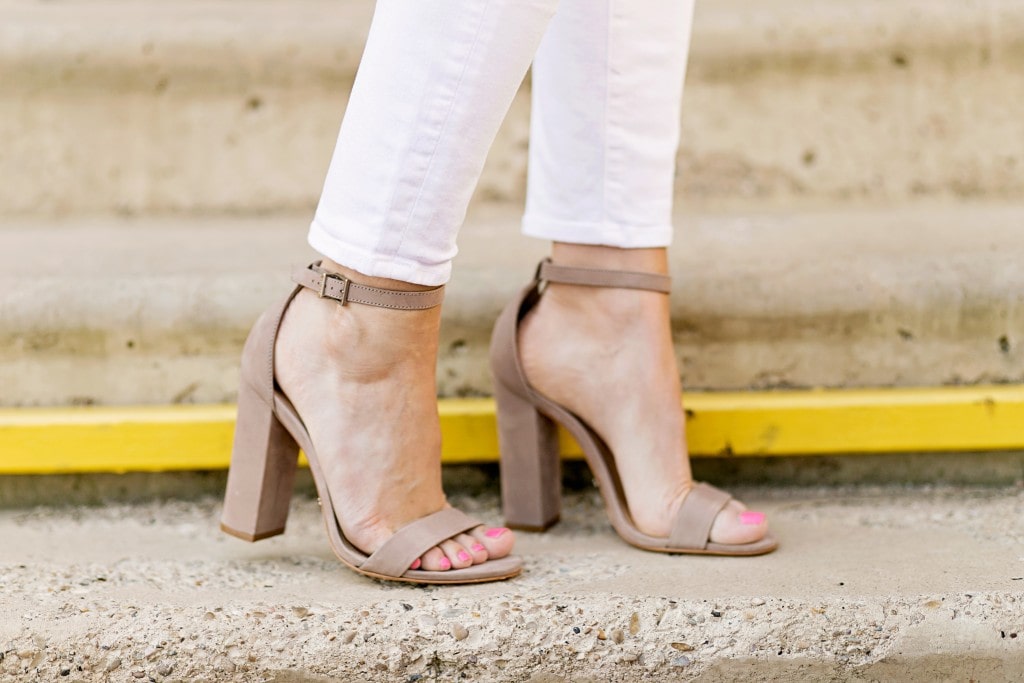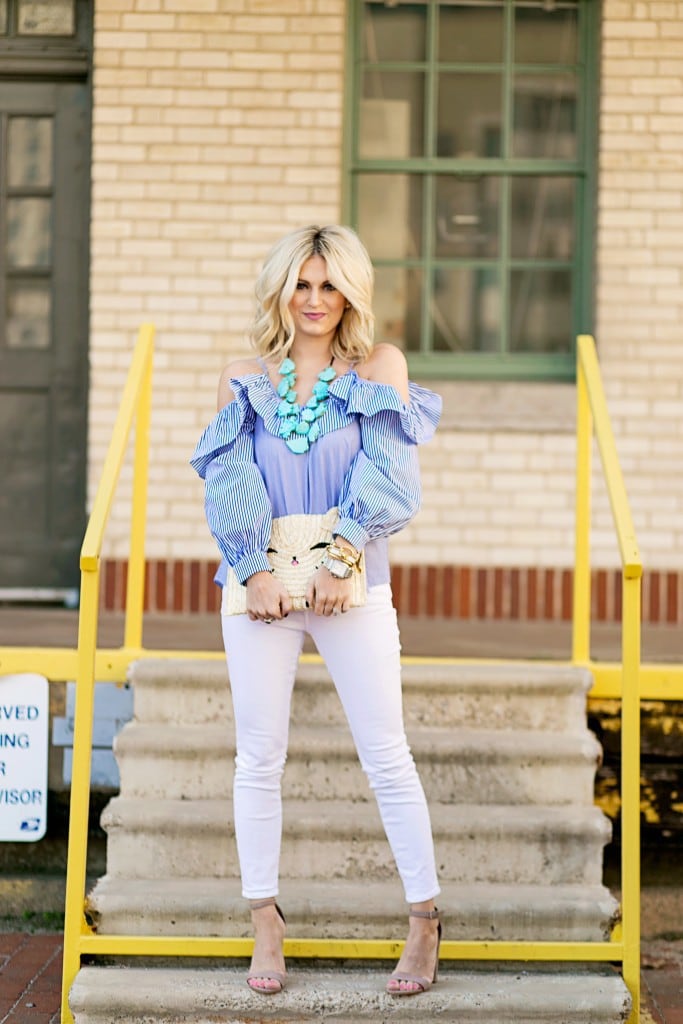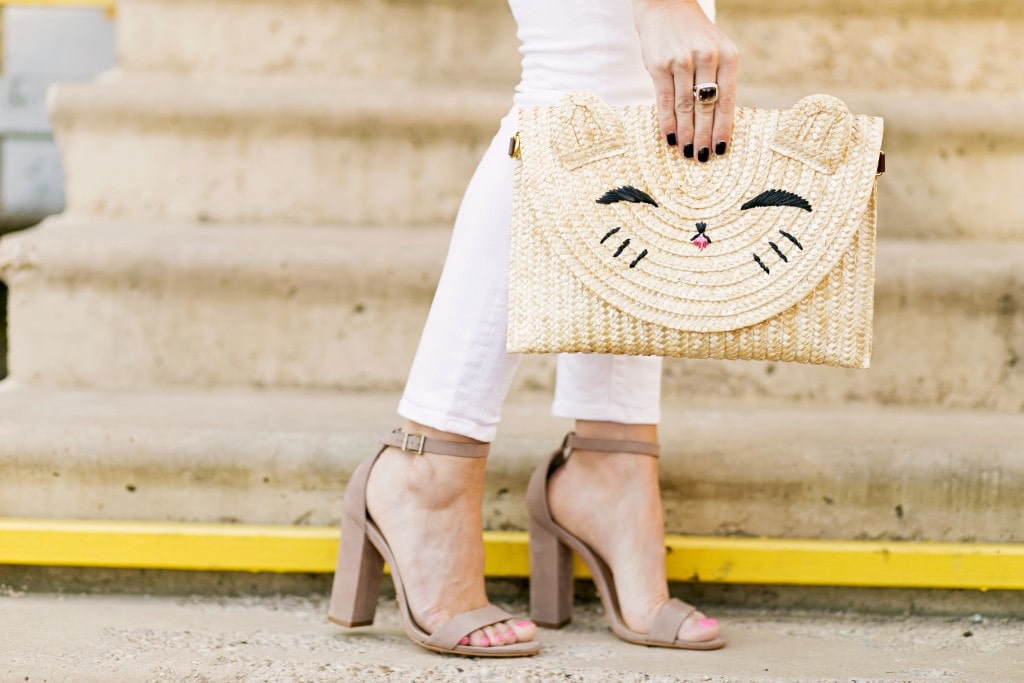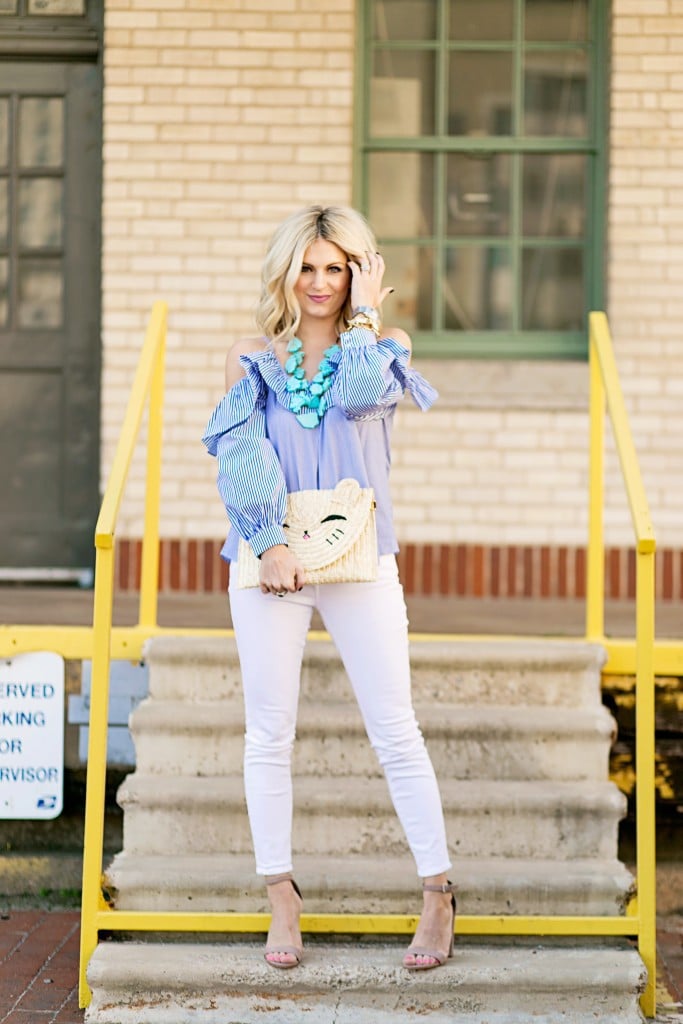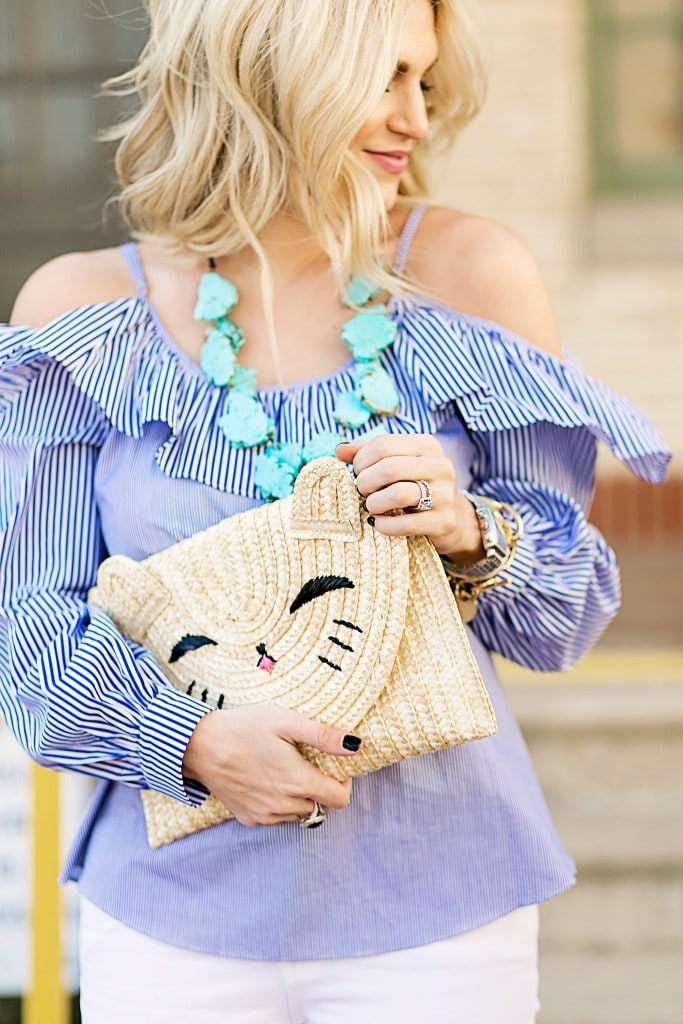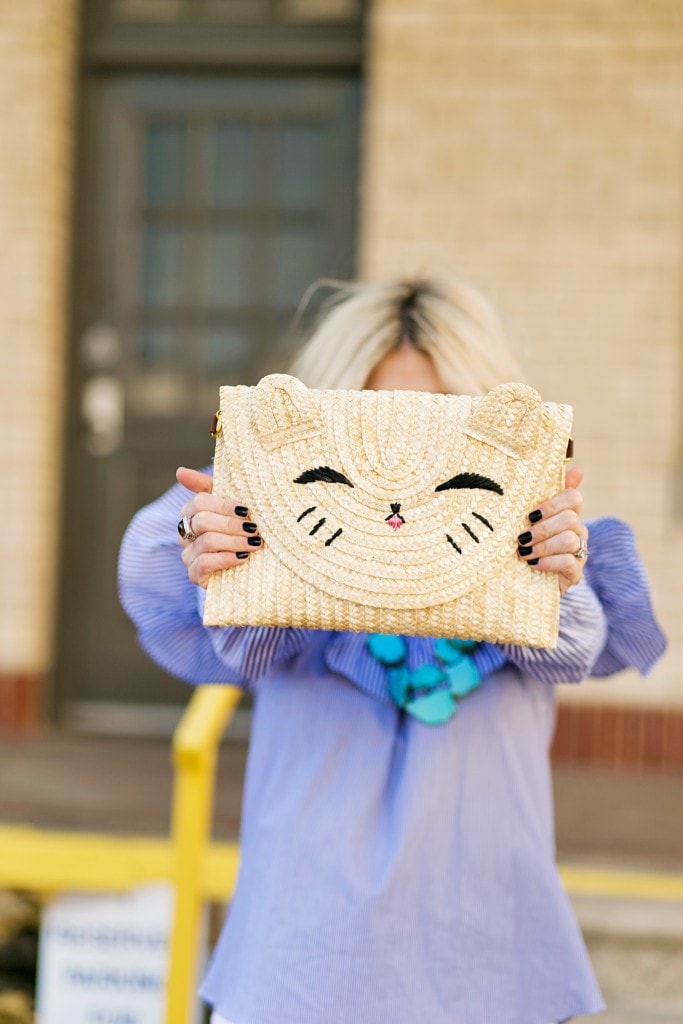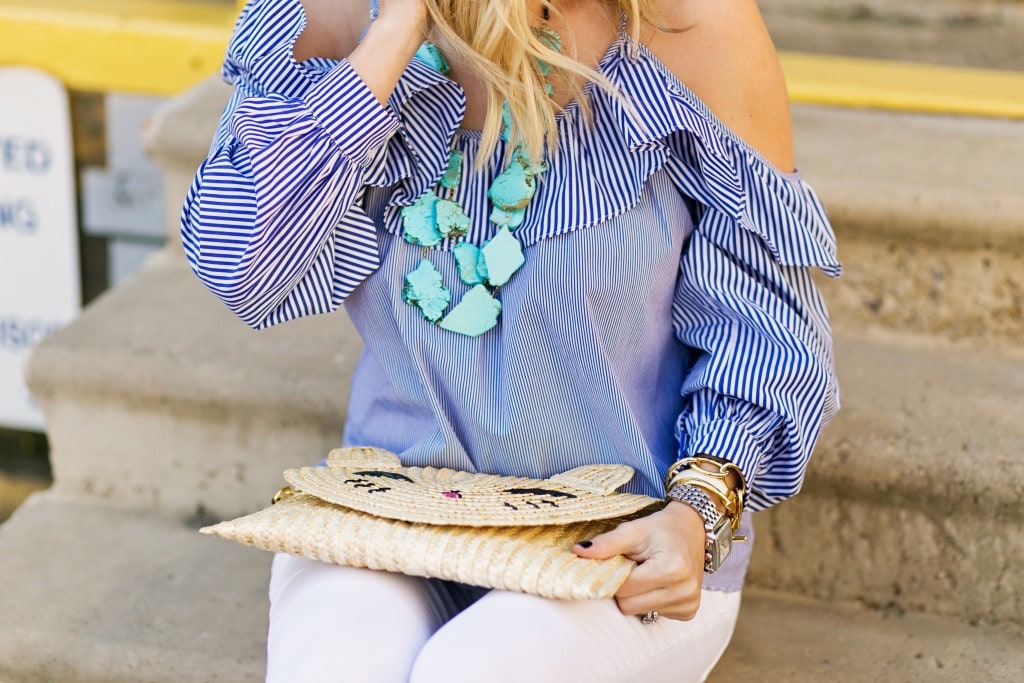 Jeans: Shopbop, Dupe | Top: Parker, Similar Less Expensive | Clutch: Beehive Boutique | Necklace: Nordstrom, Less Expensive Version, Similar | Shoes: Shopbop, Similar Less Expensive | Lipstick: Baci | Ring: David Yurman
Photography by: Angie Garcia
---
Happy Thursday! With the weekend approaching, I thought it would be fun to share a spring date night look! I think Paul and I are going to grab sushi tomorrow night while my mom watches Maxi and this is what I plan on wearing. I also found dupes for nearly everything I'm wearing so you can recreate this look for less if you want! 🙂
I love dresses, skirts and any feminine details, but I think it is a safe bet to say that most of us wear jeans and some form of a heel on a date night. If you wear business dress for work, you probably just want to feel relaxed comfortable on the weekends. Jeans? Most always comfortable. Heels? 9 times out of 10, no. However, I find that when I get one with a chunky-heel I can walk all night long with no problems. We typically head downtown for date nights and I refuse to navigate pavement in a skinny heel. I did that one night in New Orleans years ago going to dinner with a girlfriend and that was an experience. I had a pair of Jessica Simpson pumps I was SO excited to wear and they did not pair well with the New Orleans' streets. I. Cringe. Thinking. About. It. I tripped a million times, a stranger had to help me and I have a scar on my leg to prove it. Let's just say I left those in the hotel room and never missed them. So anyways, I try to stay married to a chunky heel to avoid those embarrassing scenarios. These sandals have the perfect heel and give just enough height you feel perfect for date night. I wore these in black at the end of my pregnancy with no issues, so I knew I wanted to grab them in a neutral hue for spring. Here is a similar pair that is a bit less expensive and comes in suede!
I picked up this top [love this too and half the price!] with my mom a few months ago while I was still pregnant. I caved and purchased it because of the ruffle detailing and told myself I'd wear it on my first date post baby. I'm a huge fan of blue and white because it's a classic and will always be in style, but sometimes it can veer a bit on the preppy side. If you aren't as preppy or classic in your personal style, I find that adding a pop of turquoise blends extremely well. I've worn this necklace into the ground, but if you are looking for a more affordable version here is one. Then I had to go one extra step and add a cute, kitten clutch. 😉
Also, these jeans…y'all! I'm obsessed. I officially only want to buy cropped denim from here on out. If you're more petite [I'm 5'3″!] it's nice because you can really show off your shoes, especially if they wrap around the ankle like these.
Do you have any fun date plans for this weekend?!
P.S. Tory Burch is having a private sale right now up to 70% off! It goes SO quickly! Shop it here and see my favorites below.