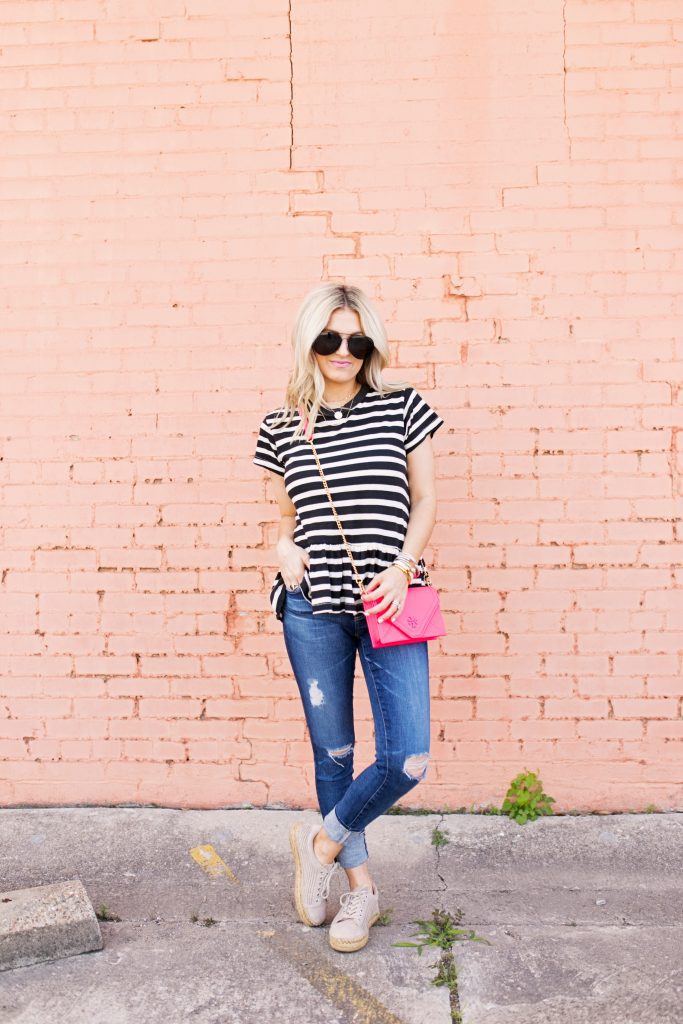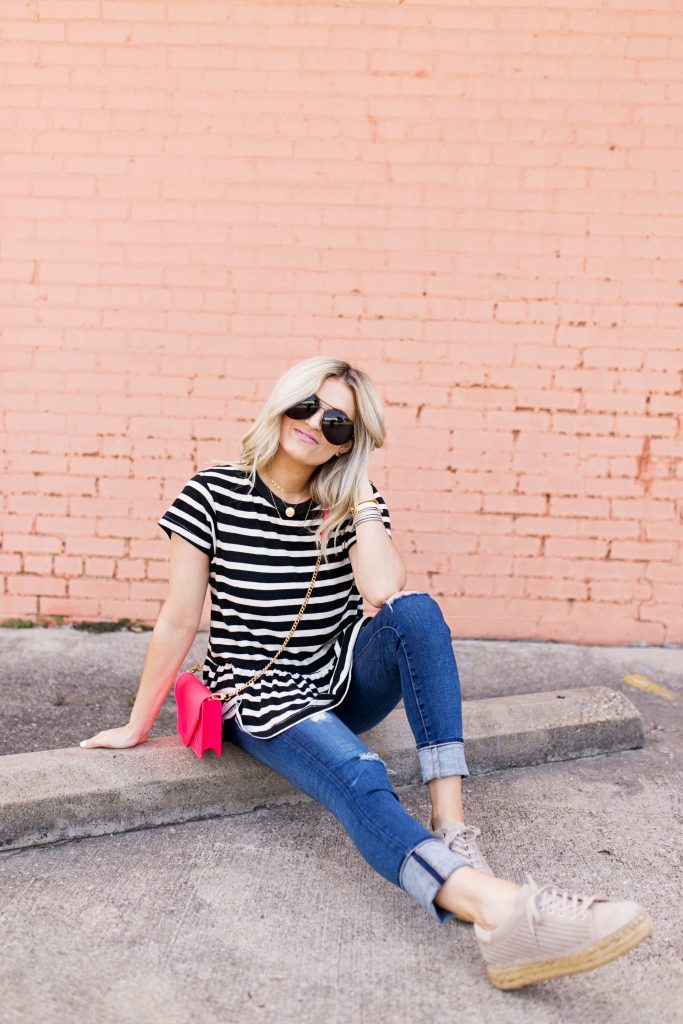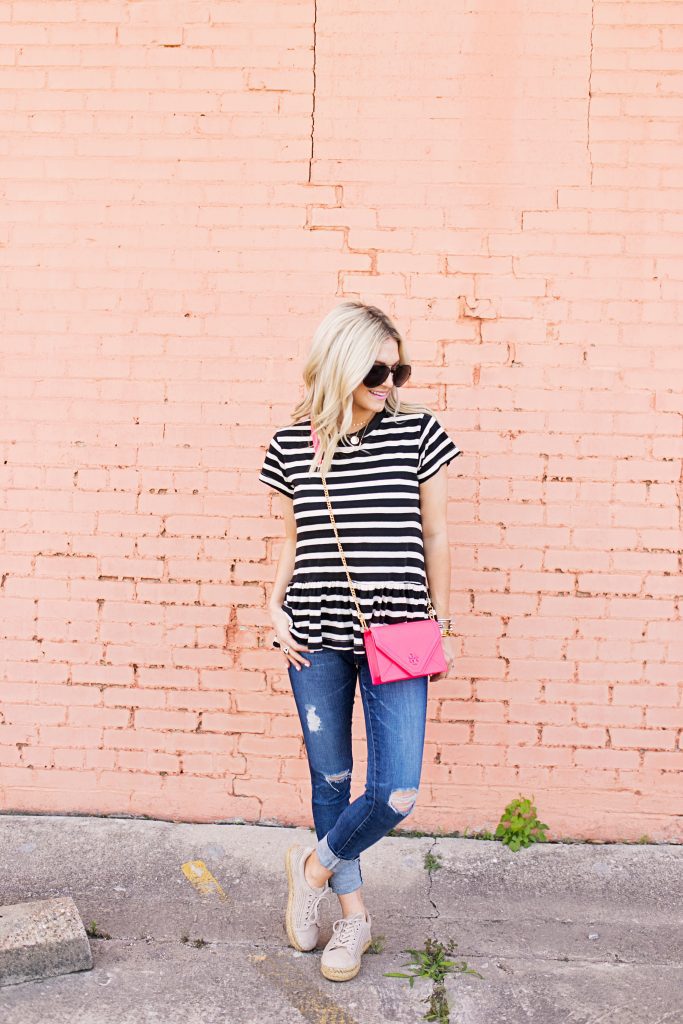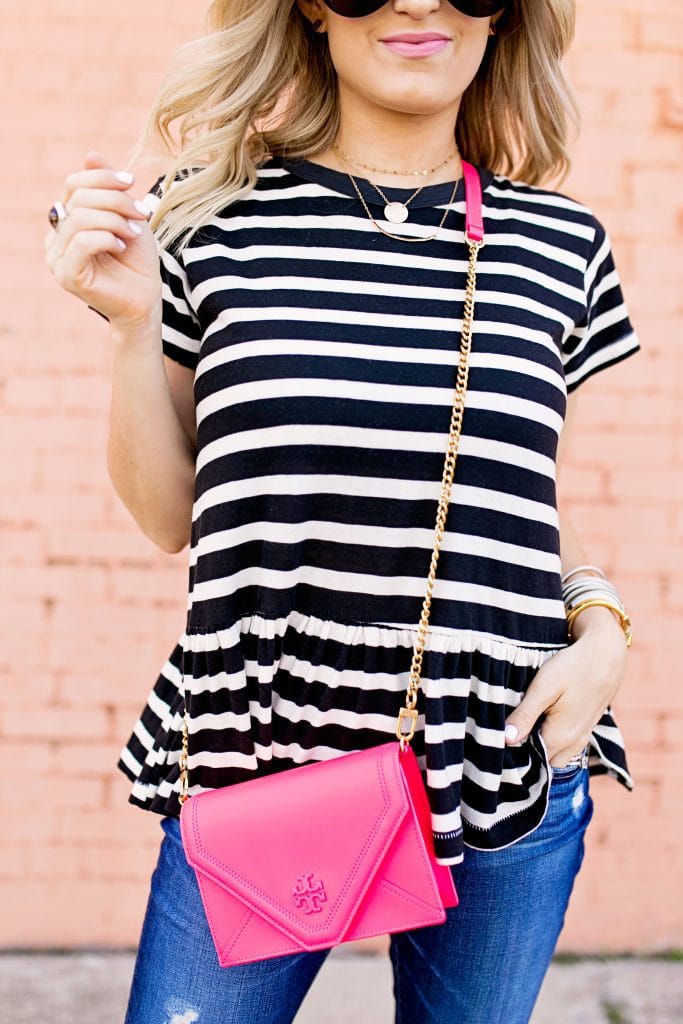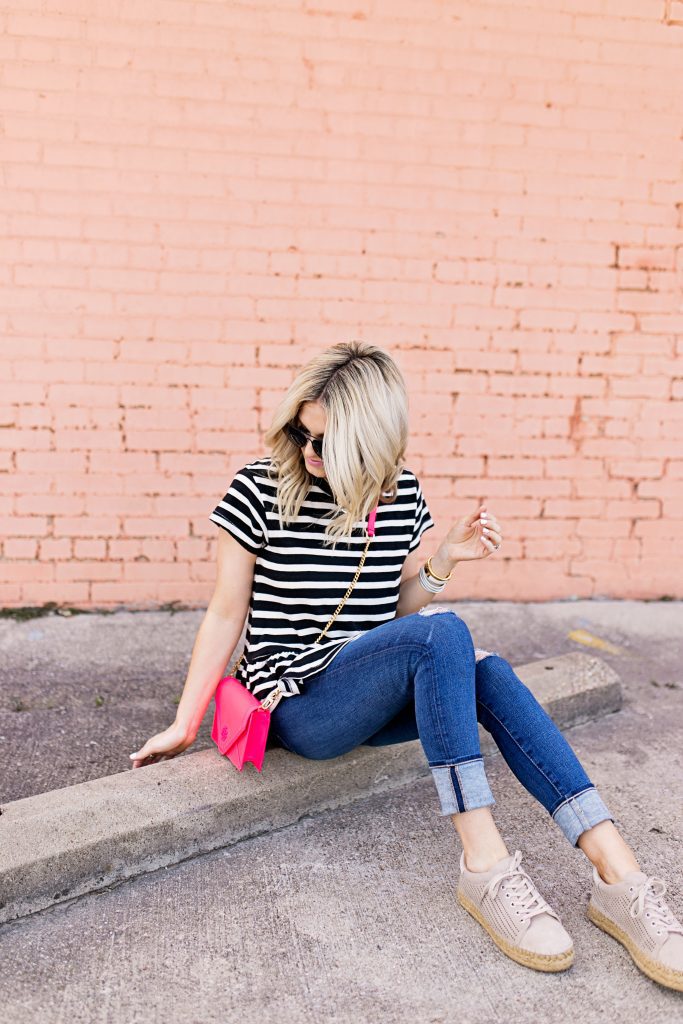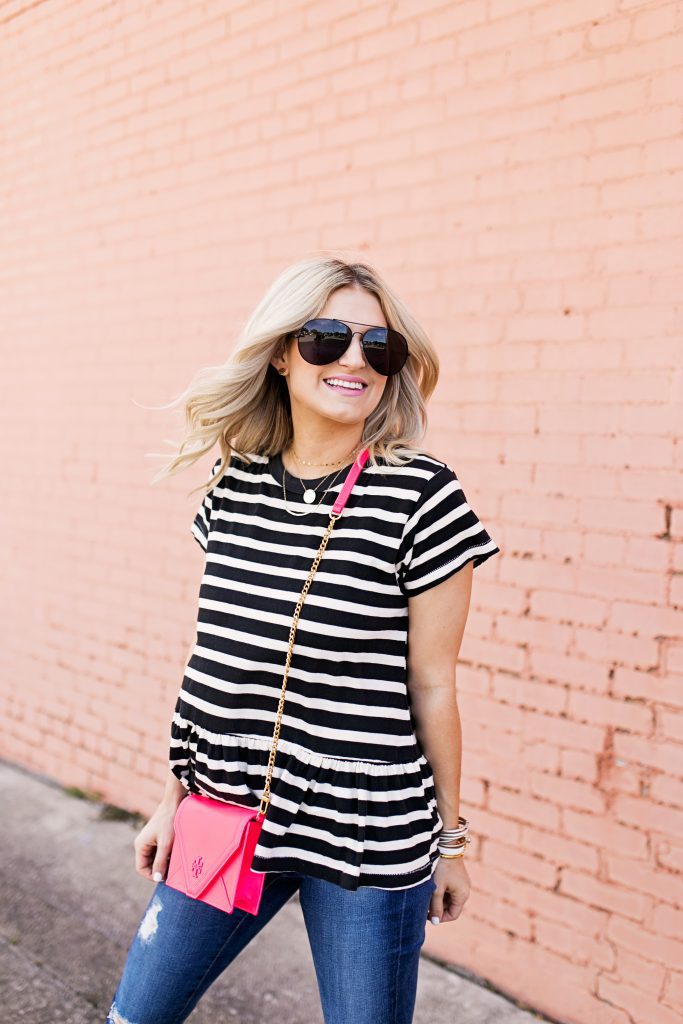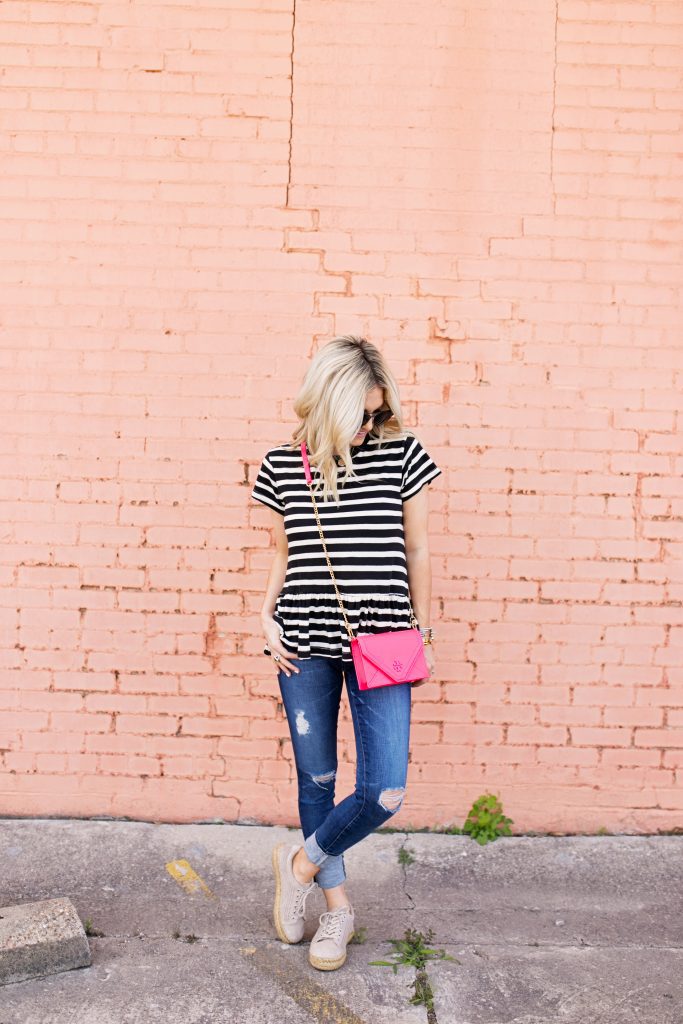 Tee: Shopbop [wearing size 1], Less Expensive | Jeans: AG | Espadrilles: March Fisher, Love These | Bag: Tory Burch | Necklaces: Etsy, Etsy | Sunglasses: Nordstrom | Bracelets: David Yurman | Lipstick: Snob
Photography by: Angie Garcia
---
 I could write an entire novel on things I wish I had known before I had a baby. Not necessarily advice about the baby, but more so things I needed to understand about myself. Here are a few said things:
1. Contrary to popular belief, you won't sleep when baby sleeps. You will want to spend time with Paul, you'll want to shower, you'll want to eat. [I legitimately thought I'd nap when she napped…LOL]
2. You'll miss your weekly OB visits. [Anyone else?! I seriously love my doctor and in a weird way miss checking on Maxi. That sounds so bizarre doesn't it?! I just would leave each appointment with Paul so giddy and excited to meet our girl. ]
3. You read all the wrong baby books. Jokes on you, Katey…because once you have Maxi you won't really follow any of those. [Y'all I seriously HIGHLIGHTED, post-it noted and underlined the mess out of all my baby books. Then I had her, laughed and thought, "I'm not using any of this!"]
Of course these don't apply to all mamas, I'm just speaking for myself, but I it's funny to acknowledge all the things I used to think I would do. It's not that the baby books were wrong or napping isn't possible, it's just that I've had to let go of certain expectations and ideas of what accomplishment means.  This weekend, I read a post on social media that said, "Motherhood is being okay with not accomplishing everything."But I haven't just let go, I've also held on to some things simply because they make me feel more me. And if I feel more myself, I know I'm a better mom.
One thing I have tried to hold onto is getting dressed. It doesn't happen every day, but I love when it does! Even if Maxi and I don't have plans for the day, I like being dressed as if I do. There are plenty of days I stay in my pajamas and don't shower until Paul gets home, but then if I want to take her to the park or stroll to a coffee shop I realize I can't! haha. While I love pajama days, I love finding simple looks I feel comfortable wearing while lying on the floor with her/wiping spit up off of as well.
Thankfully, striped tees are having a moment as of late because these are my go-to momiform. 😉 The stripes conceal stains AND they pair well with anything from a messy bun to full-out teased curls. I seriously have worn this outfit nearly 3 times a week while grabbing lunch with friends or taking Maxi to run errands so I thought I would share it with you all. It requires no fuss [or ironing!] and yet feels pulled together. Even if you aren't a mama, this is such a quick and easy #ootd for you to throw on before a busy day.
Striped tees have become such a necessity in my book it's like if I see one I immediately make a mad dash towards the check out….erm I mean online cart. Let's be honest, I do 99.9% of my shopping online.  So I've linked this look and below I'll also share a few more striped tops you may have seen on my Snapchat or Insta Stories.
If you're a mama, I'd love to know….what are some things you have held on to? Do you keep your hair appointment? Or do you never miss a morning run? What makes you feel more you, so you can be the best person to your little babe?!