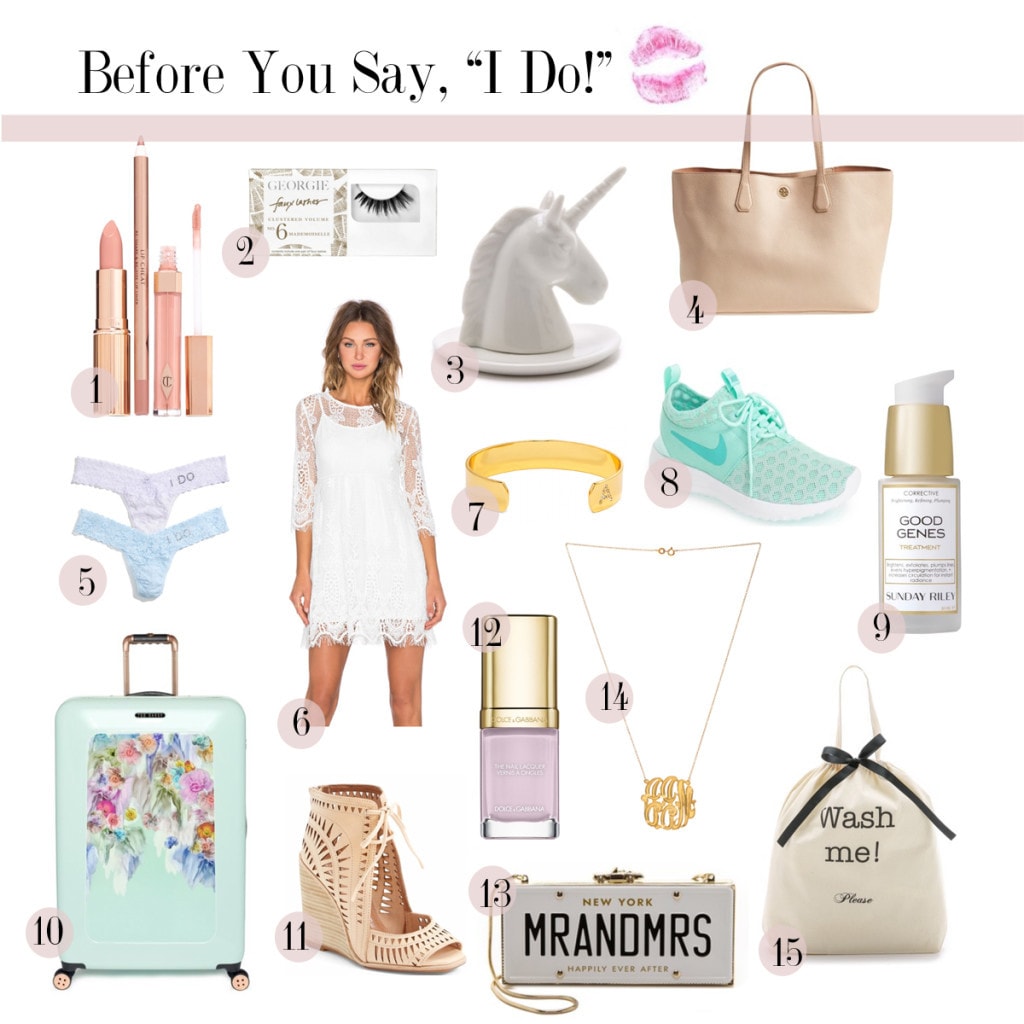 This week COF has a bridal theme in case you haven't noticed! 😉 From planning tips to workouts in your morning routine, I thought it wouldn't be complete if I didn't share the bridal buys that have been the most beneficial to me! When I got in engaged I didn't know what I needed to make this an easy process, and I thought I'd share the items that might not be on your mind at first, but will be a few months down the line! 🙂
1. The Perfect Nude Lip: We all look great with color on our lips! I know a berry lip helps me look alive, but your engagement parties/photos and wedding is not always the best time to try a statement lip. I know I'm wearing a neutral lip on my wedding day and have for all the parties I've had with Paul. You're too busy sipping champagne and kissing your groom to deal with reapplying a dark lip. The trick to making a nude help your teeth look whiter and your skin look bright is the perfect liner. This set is amazing and the liner/gloss/lipstick all works together to create dimension and not a "dead nude" look!
2. Lashes: I LOVE that Kate Middleton did her own makeup on her wedding day! I'm all for looking like yourself on the most special day of your life. One thing I think always enhances your natural look is a set of light lashes. This way you aren't worried about layering on mascara or clumps. These are beautiful and I ordered a pair for my last few bridal showers and rehearsal dinner!
3. Ring Dish: You will want as many ring dishes as your heart desires! Maybe even invest in one if you think he is going to ask you soon! 😉 This one is so cheeky and cute, but also looks great on your nightstand.  I try not to wear my ring while I clean/shower/do my makeup and so I always place my ring in a ring dish so I don't worry where it is!
4. Neutral Tote: I've used a tote almost every day of my engagement! I take my planner/laptop everywhere for meetings so I need the space. This one is the perfect nude but I'm also loving the baby blue option for your something blue! 😉
5. Lots and LOTS of neutral undies: This is my favorite brand for undergarments and I love these for your wedding day! I'd also stock up on lots of nude pairs because with all the white dresses you wear you need them! haha
6. White Dresses: Write down as many white dresses as you think you'll need then add 5 to that list. From bridal luncheons to showers his family will throw you, you'll need to stock up. I feel like all I've blogged is LWD and I'm always on the lookout for more. This one has a great price point and I'd actually wear it again with some gladiator sandals.
7. Monogrammed Goodies: This is a great gift for a bride if you aren't sure of what to get her! Get her two to stack: one with her new last name and one with her groom's first.
8. New Sneakers: The next few months will be filled with wedding planning and lots of workouts! It's a great stress reliever, so treat yourself to some new sneaks! I love these.
9. Skin Serum: I got this serum about two months ago to add into my bridal routine. I blogged about how Paul saw a difference. Seriously. A male noticed a change in my skin. That's enough for me to want to order 6 months in advance! haha.
10. Luggage: If you have always borrowed your parent's luggage [like me!] now is a great time to invest in your own. This is a fun print for a honeymoon and I've had this in my cart for a few days contemplating! haha. It's so easy to get caught up in what clothing you need for your honeymoon it is easy to forget you actually need luggage, too!
11. Neutral Wedges: You'll need lots of neutral heels for your white dresses, but let me tell you girl, get a wedge! I have made the mistake of neutral heels and after 4 hours on your feet at a shower it can kill you. You'll be carrying packages to your car after and wanting to help hostesses clean up, so these are the perfect mix of girly and functional.
12. Nail Polish: Bridesmaids gifts can be tough. Will your friends really wear bracelets that say, "Bridesmaid" forever? I got my girls a pretty pale nail polish and am treating them to manicures and pedicures the day before the wedding! This gives us time together and allows us to all look similar and chic the day of! 😉
13. Clutch: You'll want a wedding clutch. Granted, you won't touch it, but you'll want it! I think I'm getting this one for my sister to carry around that way it can hold lipstick, mints, eyelash glue and my phone! I know I won't be on my phone that day but my bridesmaids have all said they'd pass around my phone during down time and take random shots throughout the day. That way on our 8 hour flight to Maui, Paul and I can go through and see photos without having to creep on social media! This clutch is one I would always remember and love to carry out later one! I've also heard horror stories about brides leaving their phone at the church and having to have someone go get it during church service the next day! haha. This clutch would hopefully save that.
14. Monogram Necklace: If you love my monogram necklace this one is identical. Get size 3XL and use code: SPARKLE for 25% off! 🙂
15. Travel Bag: I love wash bags during travel! It allows me to throw my dirty clothes there and not worry about organizing my suitcase until I get home. This one is perfect for all your honeymoon bikinis!
AND when you are at Target always stock up on extra thank you notes! 😉 I hope this list helps make your planning a bit easier!