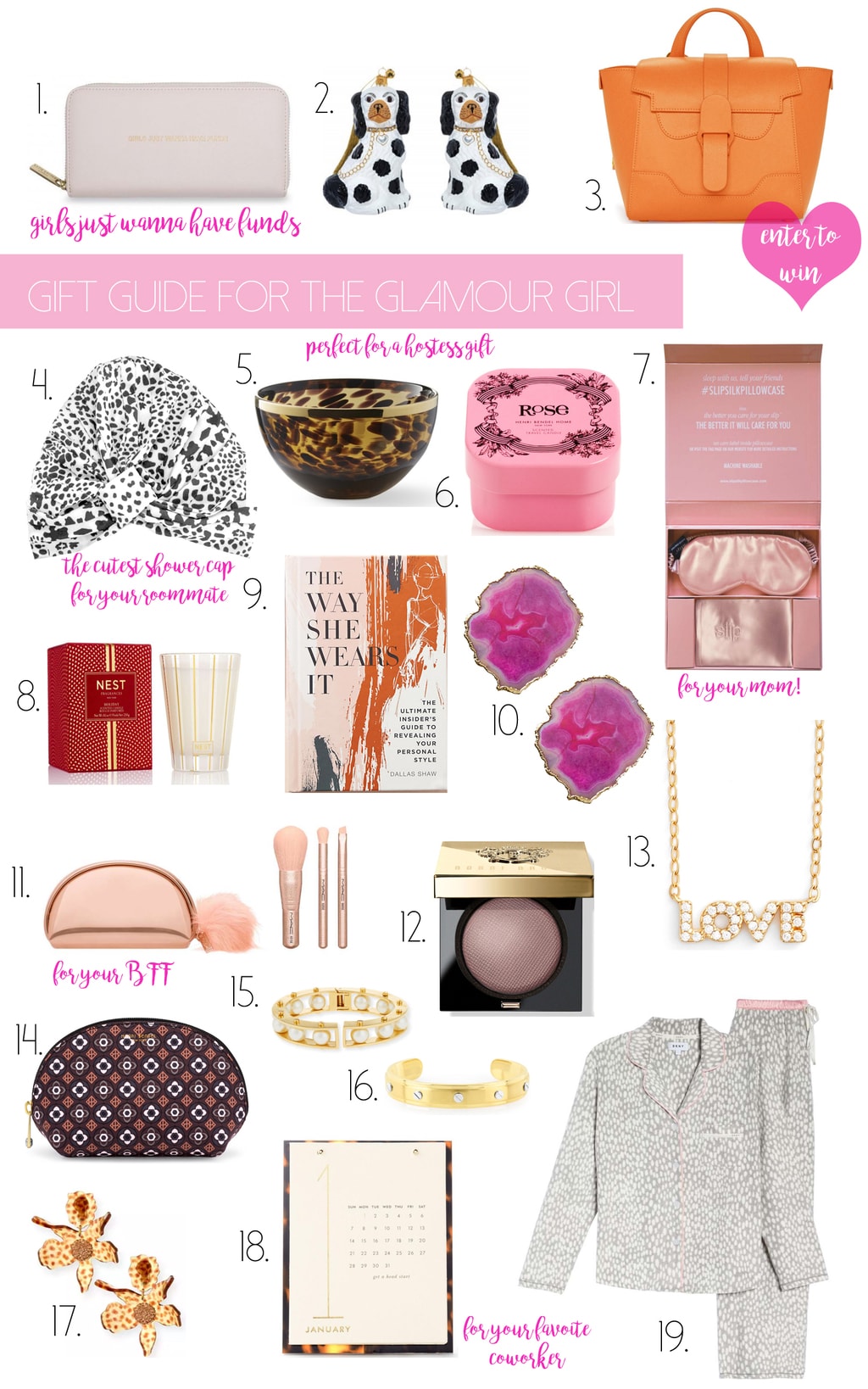 one | two | three | four | five | six | seven | eight | nine | ten | eleven | twelve | thirteen | fourteen | fifteen | sixteen | seventeen | eighteen | nineteen
notes: #13 {I'll be honest, online this doesn't look as luxe as it does in person! I actually wanted this for Christmas after seeing it in person this week! It looks incredible!} 
---
We all get stuck on one specific girl each season and we typically label her as, "The girl who has everything!" It's easy to get stuck on what to gift her simply because that girl is usually our "go-to" when it comes to borrowing a dress or serving dish for a party. Instead, I like to label her as the glamour girl. My girlfriend Ashley is this way to me! She is incredibly chic and in the beginning of our friendship I was always stumped as to what to bring her as a hostess gift for the holidays. However, after years of knowing her she is officially one of my favorite people to shop for. The thing we often forget is the glamour girl seems to have everything because she likes everything! They are always thrilled with anything you gift them from homemade cookies to new coasters for their coffee table.
Maybe your mom is the ultimate glamour girl with her silk pillowcase and gorgeous hair or you think your best friend is the hardest person to shop for. Either way, this gift guide should help you with unique and luxurious finds any glamour girl would love!
My ultimate glamour girl brand for 2017 has to be Senreve! Without fail, each time I carry a Senreve bag I'm stopped multiple times with girls asking, "What bag is that?" You can carry the Mini Maestra as a backpack or a cross-body option and today we are giving one away! Luxury designer handbags are incredibly difficult to find under $1,000. But these bags fit the bill and you can see my review for the full-size Maestra here. The nice part about the "Mini" is the fact that it fits quite a bit! I can fit wipes, diapers and even a bottle, without feeling weighed down.
To win a Mini Maestra, enter below!
a Rafflecopter giveaway

Winner will be announced next gift guide.
For the Vonjet Silhouette giveaway, congratulations to @_chelsea_carr you won a custom silhouette! Congratlations to @whithafner, @i_rhule, @23katester, @katiekreder!  You each won $50 gift cards to their shop. Please e-mail me for shipping. kateymcfarlan@gmail.com
In order to keep giveaways fair to all readers, these holiday gift guides will feature different ways to enter. Some will be on Instagram, others on Facebook, etc. I feel this is most fair as each platform is free to join and this gives girls more chances to win an item as I know all readers don't have each social media site! I hope this helps! xo