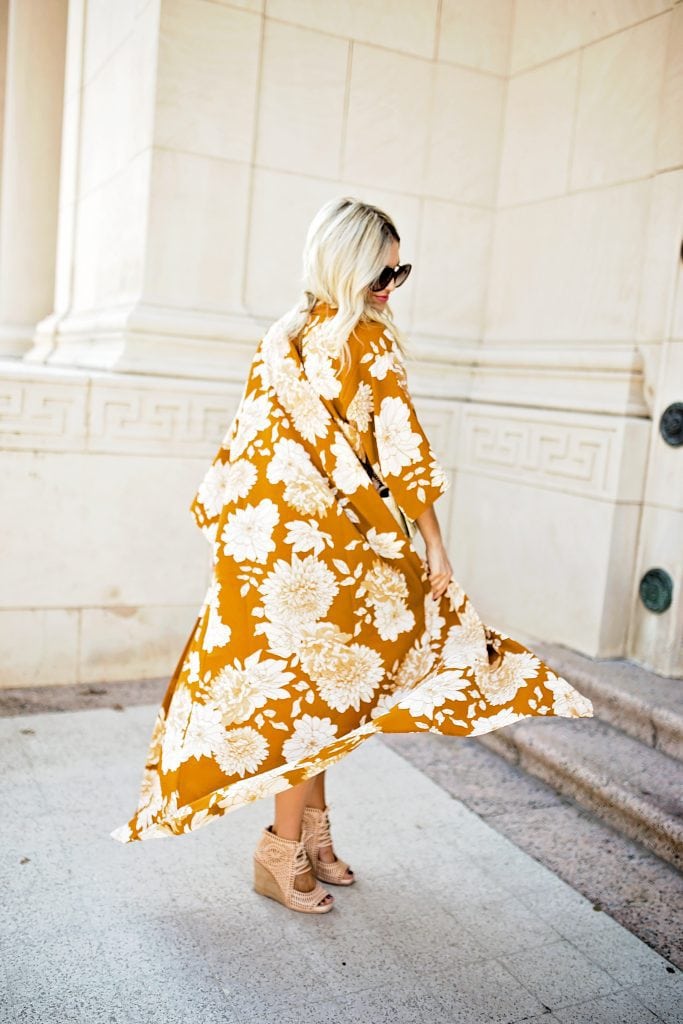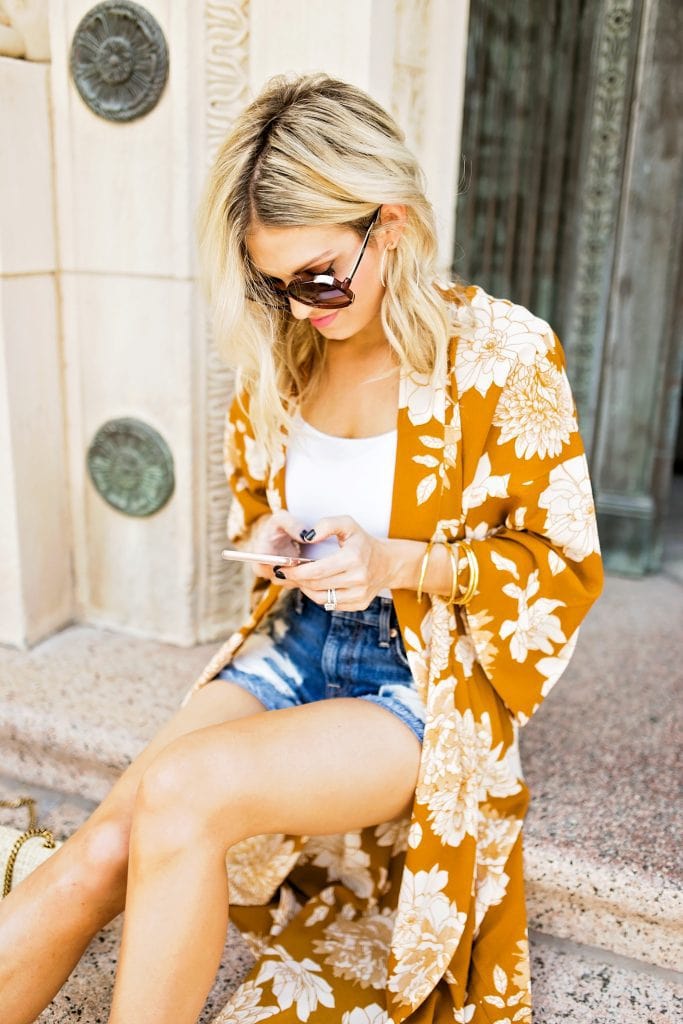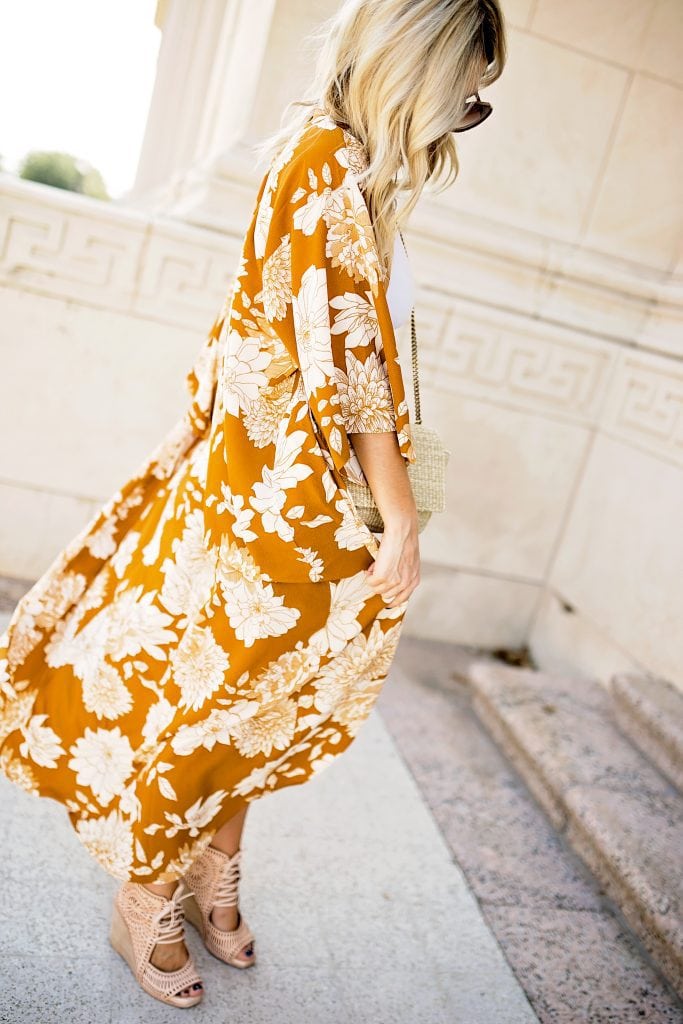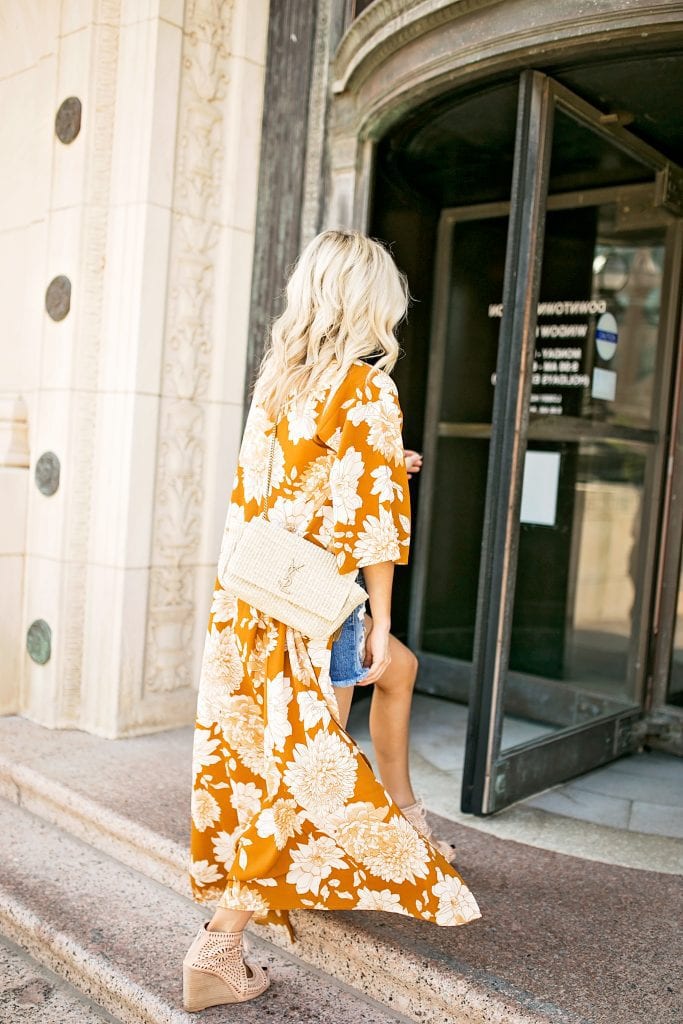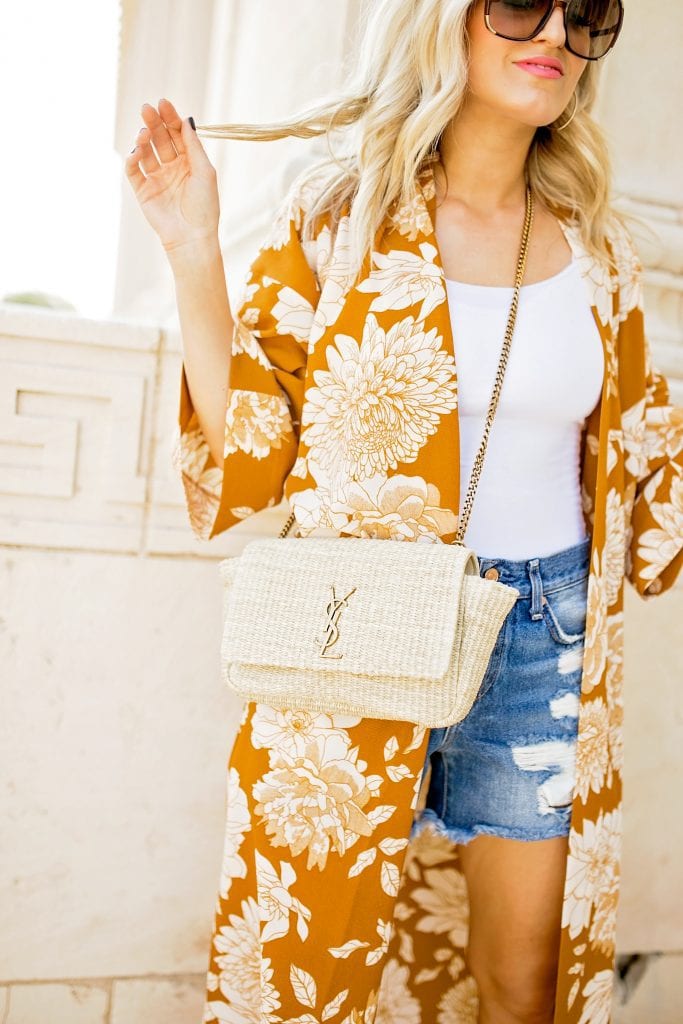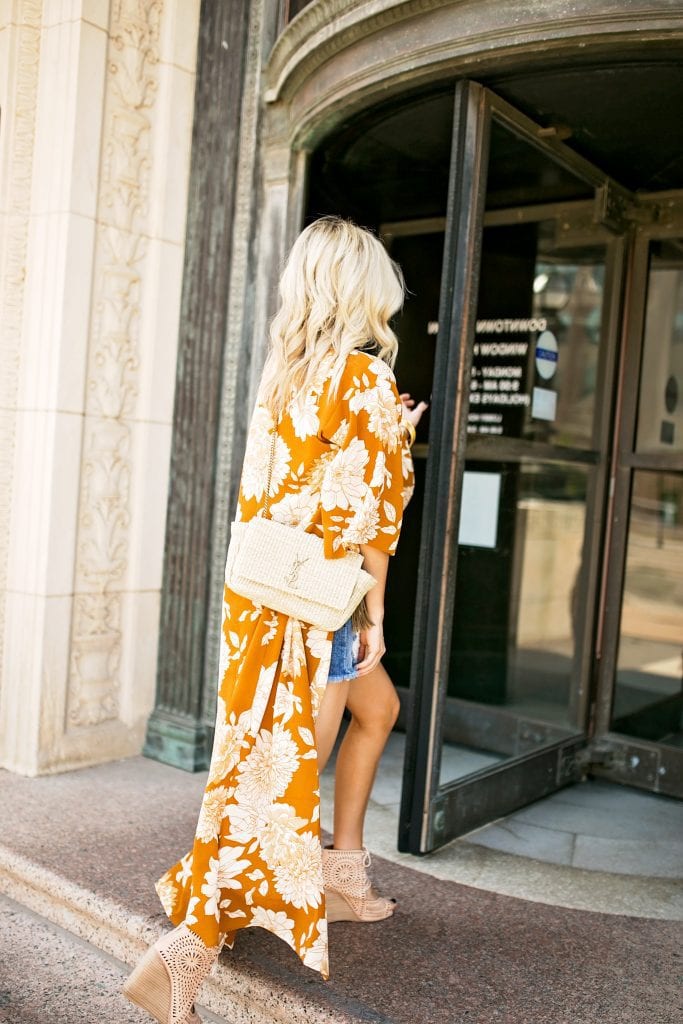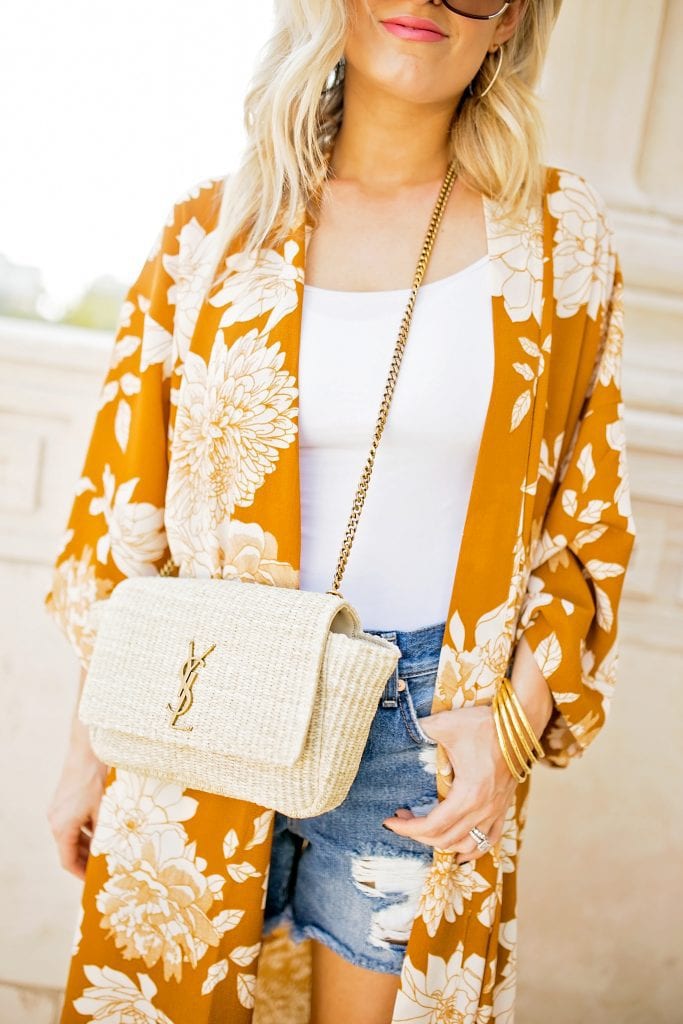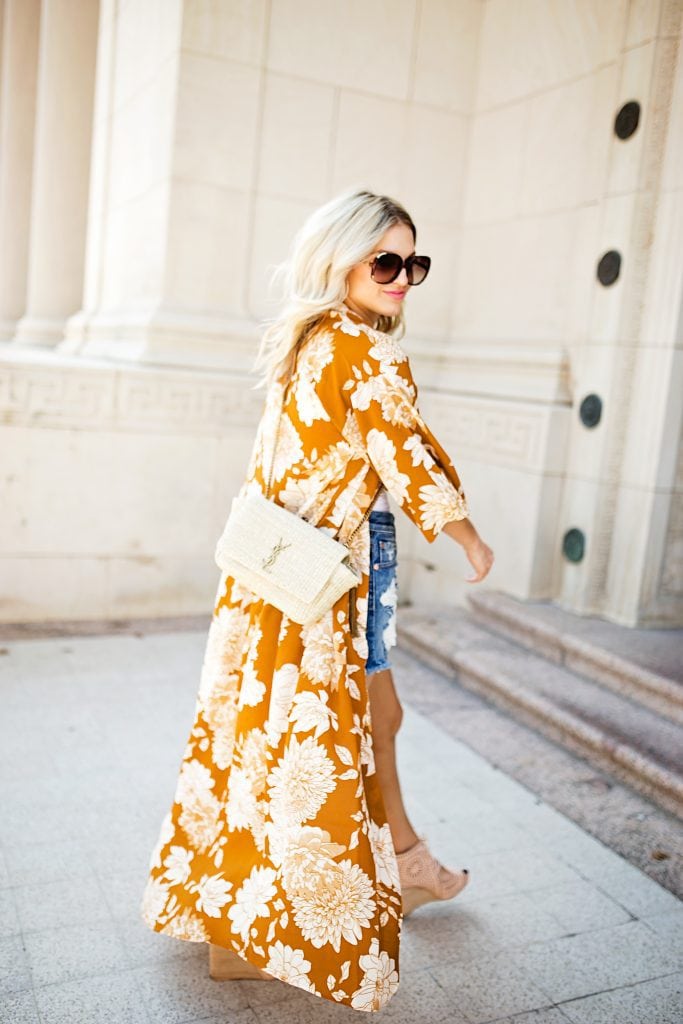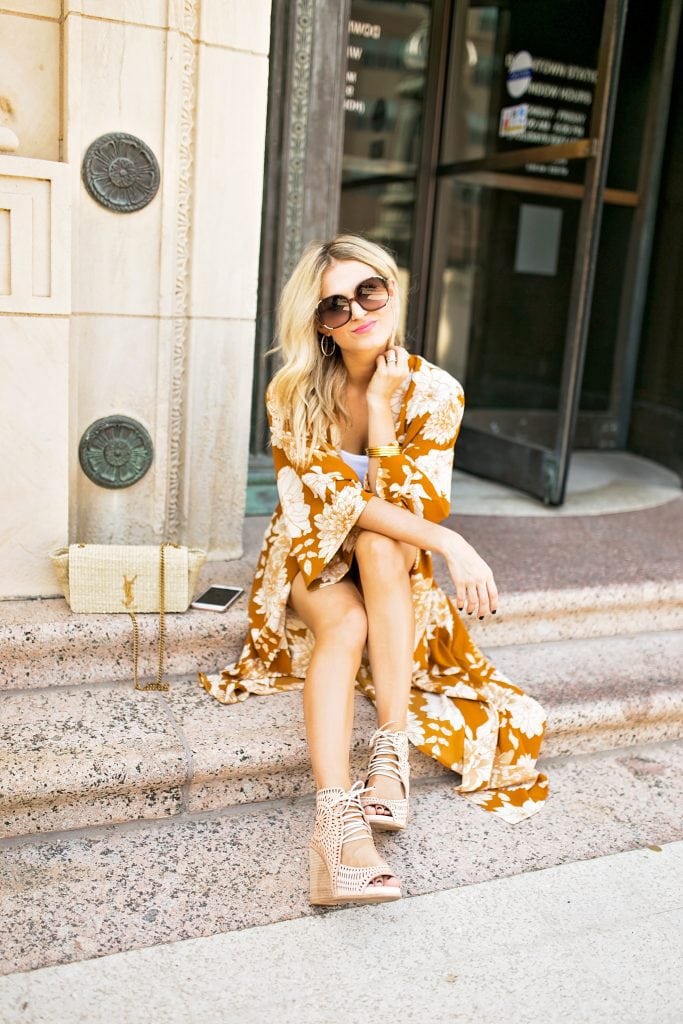 Kimono: Nordstrom [go down a size!] | Tank: BP | Shorts: Old, Similar, Similar | Sunglasses: Chloe [shade: brown] | Lipstick: Vegas Volt | Shoes: Jeffrey Campbell | Earrings: Here | Bangles: Old, Similar | Bag: YSL, Similar
Photography by: Angie Garcia
---
 A few weeks ago I had a meeting with some other bloggers for a brand project. One of the girls was pregnant and wearing the cutest kimono! I missed having a fuller bump in summer since I had a fall/winter pregnancy. I loved how she was styling a kimono with a fitted dress and it got me thinking of kimonos! I immediately went home and ordered this one [only $49!] and thought, "Okay, Katey! This is it! You've found THE piece that will change your life." Not sure why I think that with every single purchase I make, but it is what it is! I also think that with lipstick purchases-anyone else?! As if I need ANOTHER lipstick because the other 78 have changed my life so much. *Insert eye roll emoji* This kimono does run a little larger, so I would suggest sizing down!
This is also a great transitional piece as it's more of a fall hue and can be paired with a dress like this and booties when temperatures drop!
Now for a house update! Things have been delayed a bit with our home [in terms of inspections], so I think we move end of October now. Fingers crossed! I'll have a furniture update next month, but I did decide to relax a little bit with furniture shopping. There was a point we thought we would be in sooner so you know me [Type A Allison over here] thinking we needed to look at items every weekend until then. But our storage unit ran out of room and we officially can't ship anything there anymore. It feels nice to take a bit of a breather as our fall schedule will amp up with weddings and showers. AKA my husband is glad I won't be online furniture browsing at 3 a.m. However, here is where I need to talk to y'all! I've decided to raise the white flag when it comes to rugs and window treatments. I need a magic fairy godmother interior decorator for those roles. Can you even do that?! "Hi, I have everything else designed but can you pick the rugs and drapes because I don't like picking that out?!" I'm sure I could, no?! Has anyone experienced doing that? Pros? Cons? Spill the beans, sister! Tell me all! The reason I decided to go that route [or I'm 99% convinced I should!] is because my goal is to have the house semi-ready for her 1st birthday party. That was always my goal with our new home and while bedrooms don't need to be decorated [our bed will be on the floor for months, I'm sure!] I do want the living areas ready for her party. Did a fairy godmother decorator change your life?! Did you about cry for days from the cost? I need to know all! 😉
Have a great rest of your week!