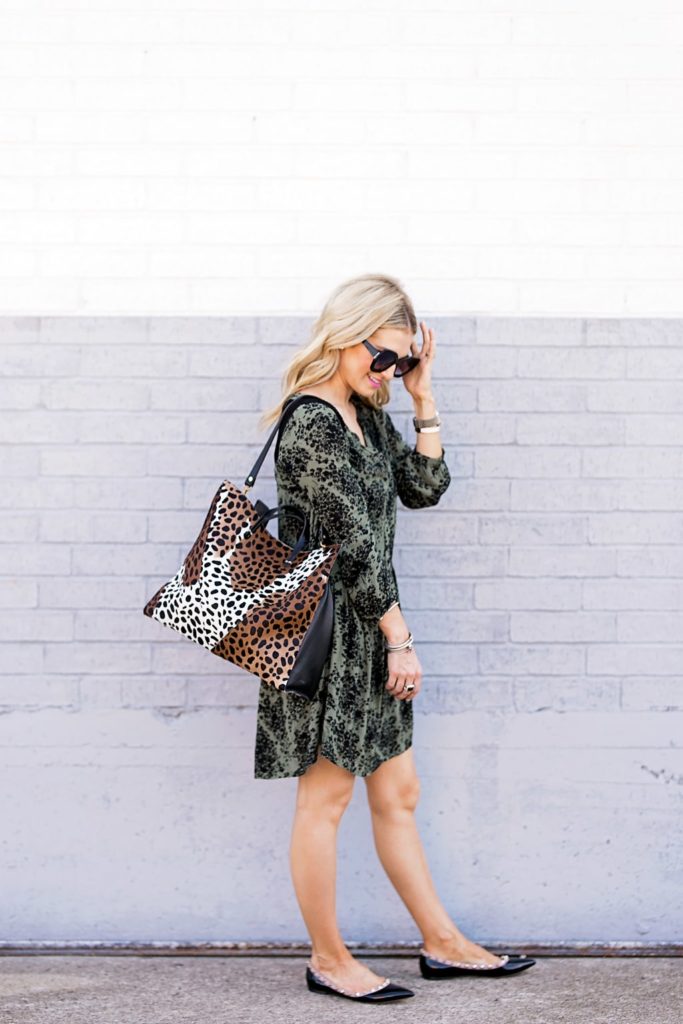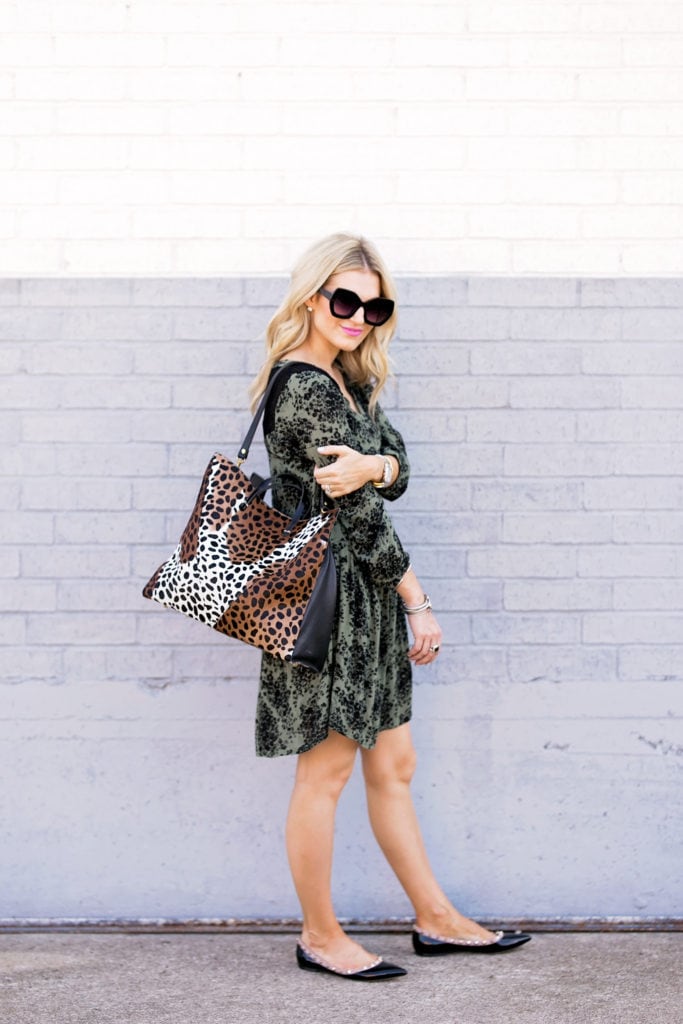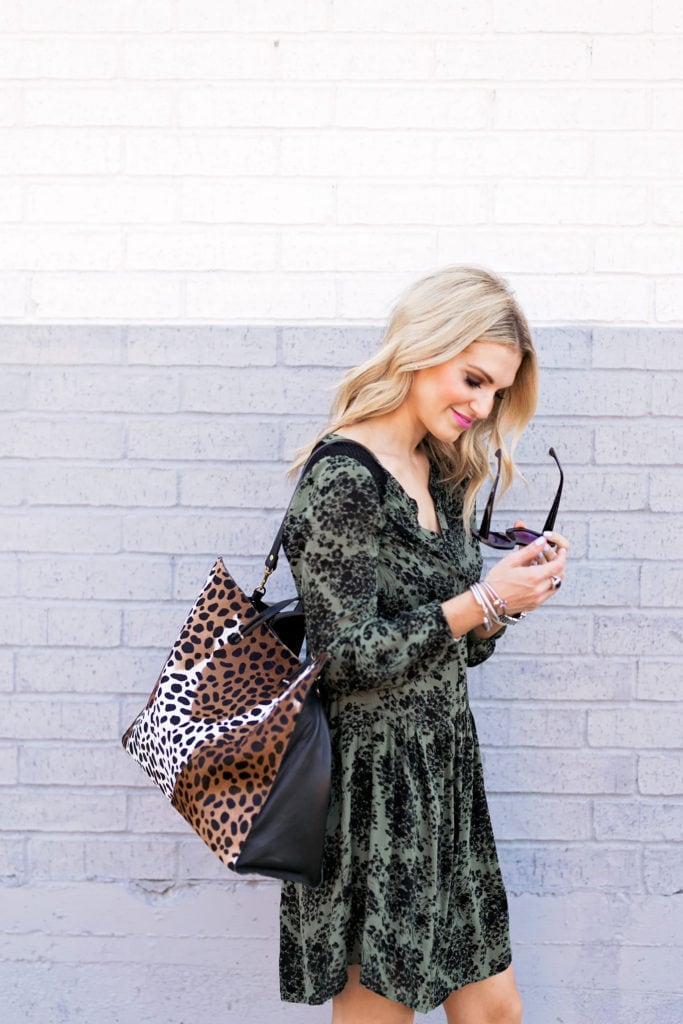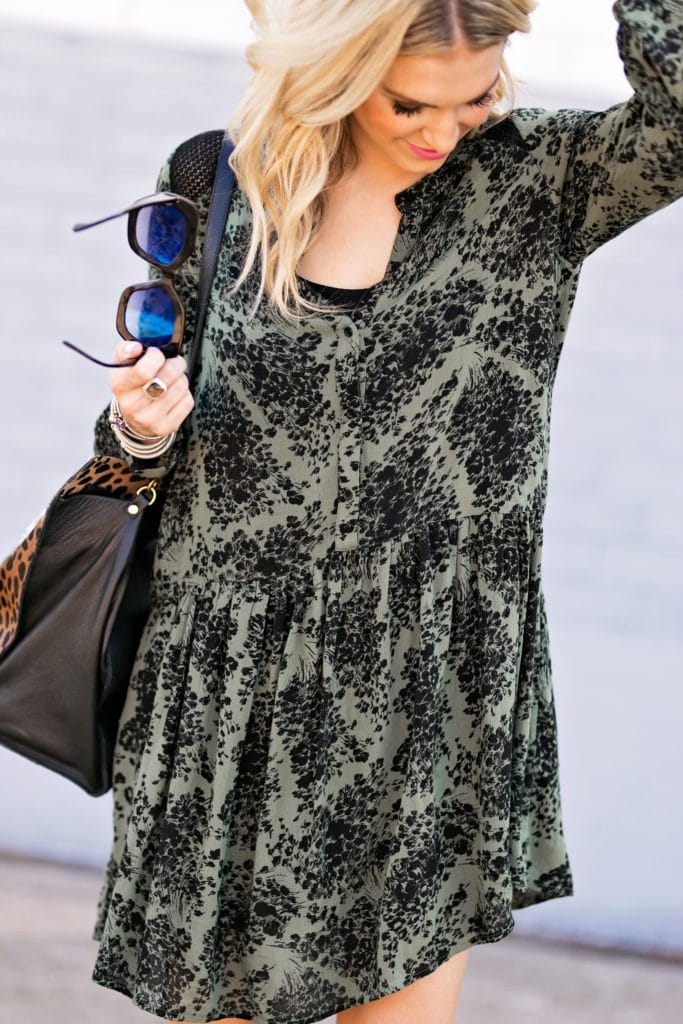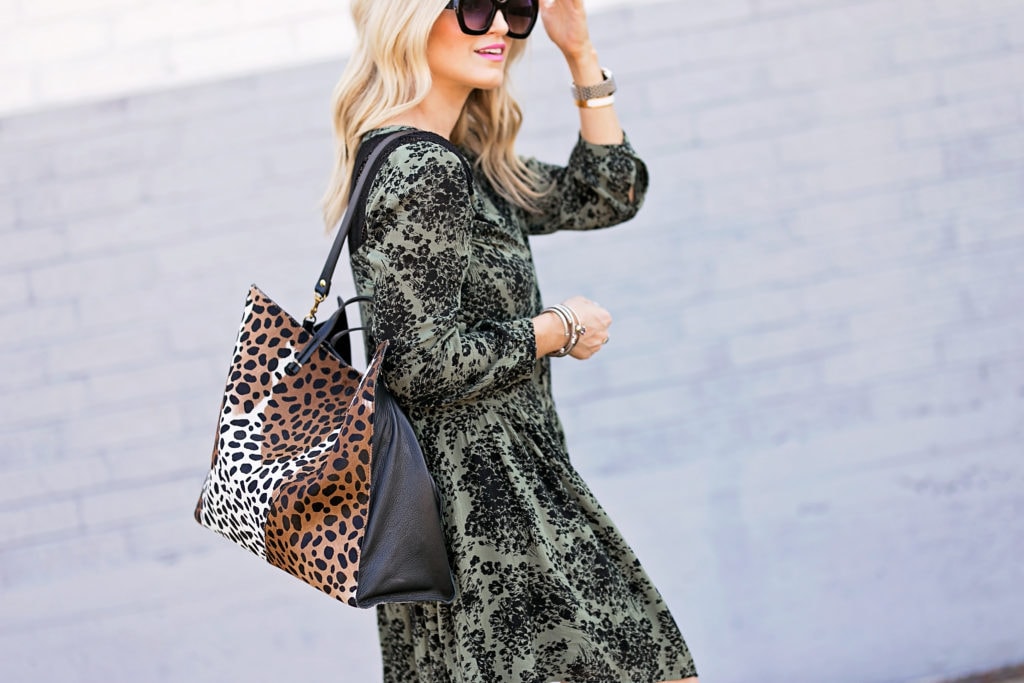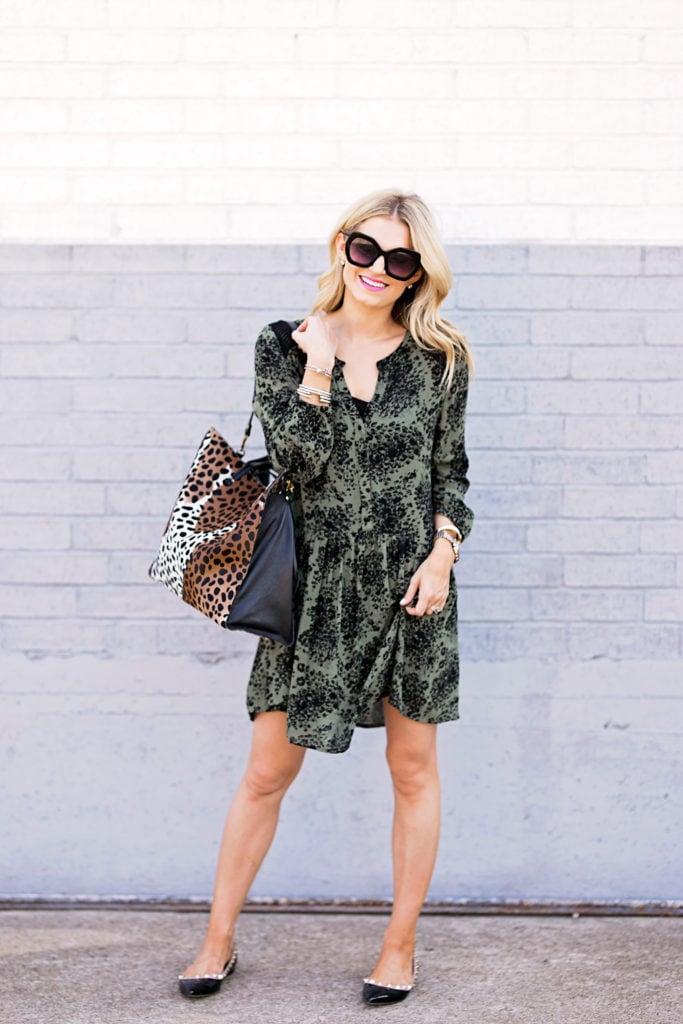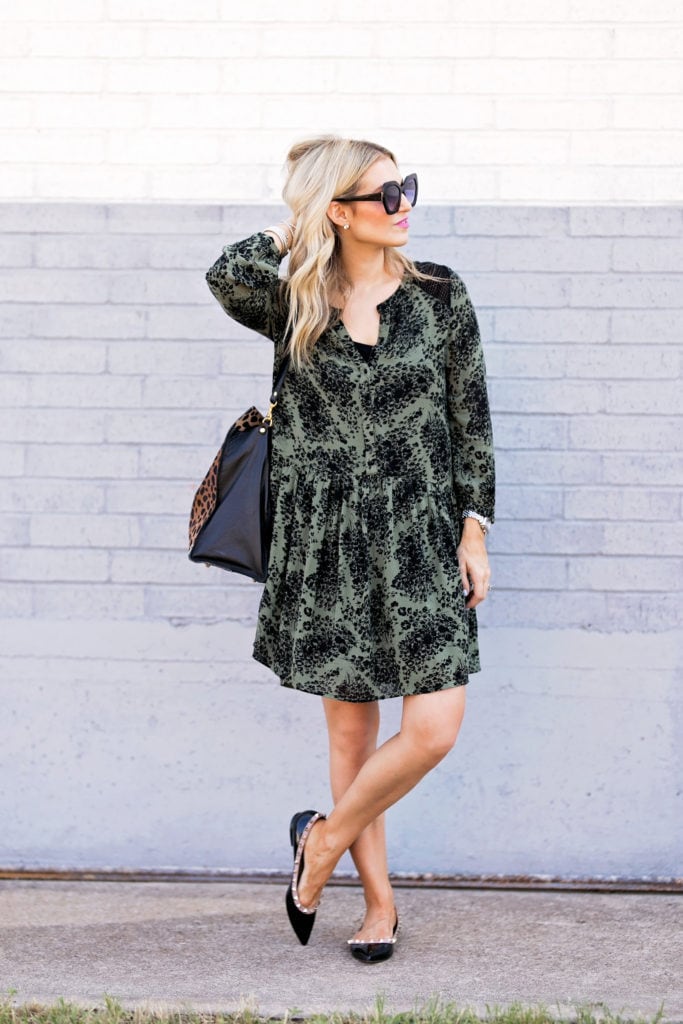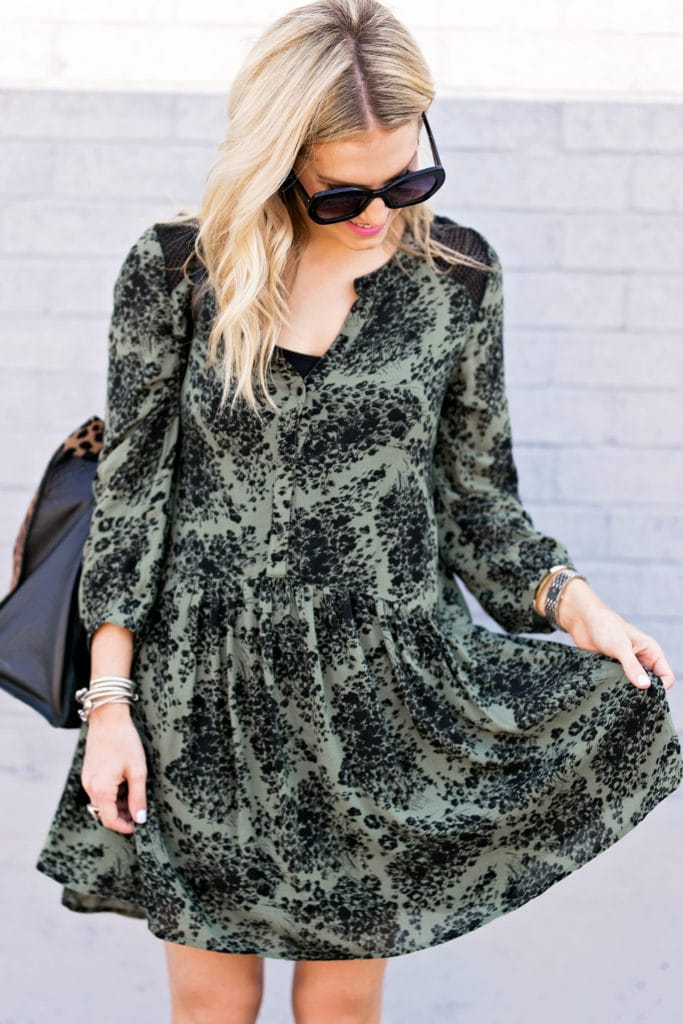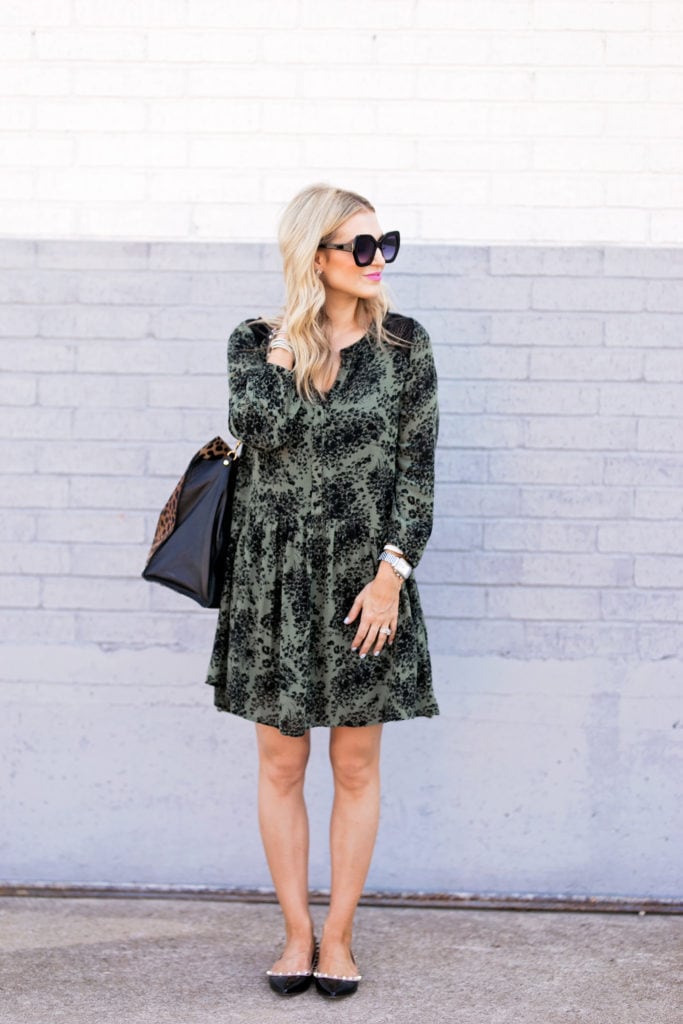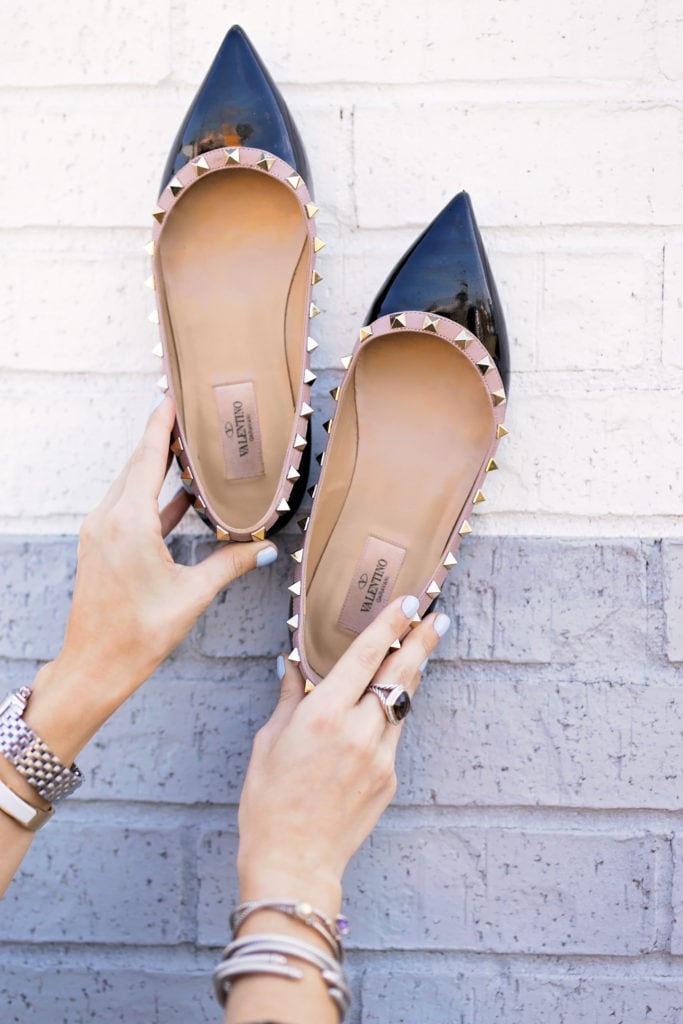 Dress: Nordstrom [wearing size S, does run larger but I think this dress can be worn more fitted or loose! Whatever your preference is 🙂 ] | Shoes: Valentino, Similar, Similar | Bracelets: David Yurman | Bag: Clare V. [larger size sold out], Similar | Sunglasses: Alice & Olivia [purchased from Nordstrom in store], Similar Style | Lipstick: Snob
Photography by: Angie Garcia
---
Let's do a little Nordstrom Anniversary recap, shall we? The Super Bowl of sales always leaves me with so many wardrobe and makeup bag favorites. With it being almost 2 months since my first order, I thought I could appropriately see what I've used most.
Was it this knotted dress? Or this dress with fall hues? Funny enough, my most used purchase has been this olive dress I didn't even purchase in-store during early access. I truly have worn this dress at least once a week for the past 2 months. You can see me style it here and here. I *almost* didn't blog it because I worried y'all would be sick of seeing it, but what better proof that I'm getting my money's worth?! I'm pretty positive I ordered this dress in the middle of the night after I had fed Maxi and was surfing my phone. Side note, it's a terrible habit I need to stop! I always feel like my mind is racing once I'm up at 1 a.m. and end up reaching for my RC essential oil to dab on the bottom of my feet. That stuff knocks you out, Paul tells me I have to keep it away from him or he won't wake up until 2018. He's not dramatic or anything.
So let's chat this beloved dress. It's under $100 [nursing friendly for mamas interested] and comes with a slip underneath. PLEASE use the slip. First time I wore this dress I forgot to step into the slip and I might have walked around for 8 hours with the slip inside my dress, but in front of my body. It was just this weird bulge of fabric between my stomach and dress. Why my mother didn't ask if I was pregnant is beyond me. Because let's be honest, once you have one baby people always ask you if you're pregnant. I was on the phone with my Aunt Kim last week and I mentioned I was nauseous [it was from our dinner] and her first go-to was, "Are you pregnant?!" Watch me tell someone no one day and 100% be pregnant. But alas, I was not. Even though I was walking around with a bulge of fabric the size of a 4-month bump.
I feel a little bit silly in sandals after Labor Day, so I've paired it with my Valentino Flats for September. But look how good this similar pair is by Topshop!
What I appreciate the most about this dress is how versatile it is. Even being a fashion blogger, I am not immune to feeling a bit nervous about the dress of specific events. Before work events I'm always second-guessing myself if girls will come effortlessly cool in denim and heels or a sundress. It's nice to have a dress like this in my arsenal because I never feel overdressed or underdressed. The print of this dress can be paired with something like my leopard bag and feel trendy or I can easily wear this with black ballet flats for church. This is a bit oversized, but I prefer that look! You can order one size down for a more natural fit.
Is there anything you've recently purchased for fall or you loved from the #NSale for fall?! What are you using most right now?!

In collaboration with Nordstrom. All purchases and opinions are my own!