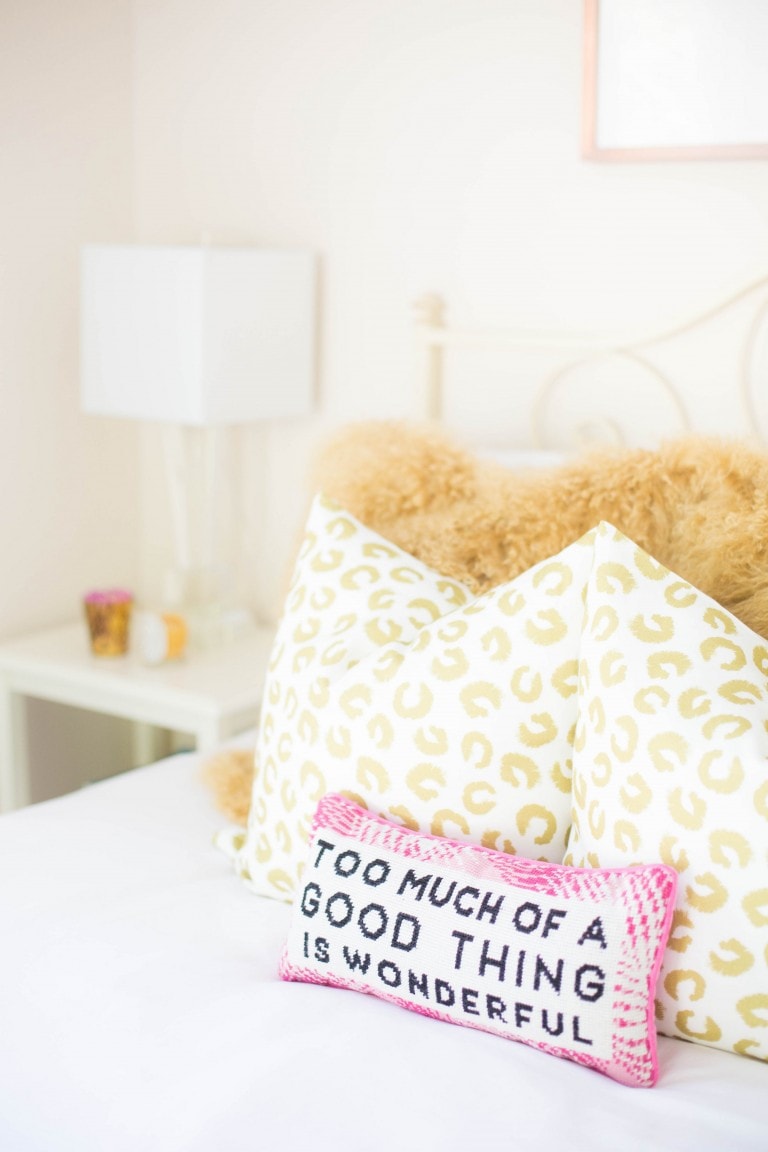 Original Post: Here | Photography by: Madison Katlin
---
As I sit at my desk typing this and breathing in all the essential oils [I've got a cold or I'm allergic to the holidays ending….] I'm trying to focus on products I may not have talked about too much. There's lots of obvious best buys of the year, like our home. 😉 But I wanted to dive into some pieces that I may not extensively review on the blog. A secret list of favorite purchases if you will?!
Beauty
Gelous Nail Polish: Y'all know from this post, that in 2017 I started to do some DIY manicures. Gelous polish is the trick to making them work and I can't live without it now.
Charlotte Tilbury Foundation: I'm going to do a best of beauty post this month, so I don't want to give away too many favorites in this post. However, this is the foundation I've worn for a solid 5-ish months now and I'll 100% repurchase. I'm shade #3 and it gives you airbrushed skin without being caked on. It's honestly a very buildable formula and starts with medium coverage.
Sisley Primer: I was able to test this primer last year and it was my favorite. One reason I rarely like makeup primers is because it oxidizes my makeup/makes me look way too dry. If you have normal to dry skin, this stuff makes you glow like a girl off her island honeymoon. It gives you the glow of a spray tan without the stench and color. Now it is a luxury beauty item, but a little goes a long ways. It's one of those products where you could ask for it for your birthday or use gift cards to treat yourself. I had to throw in a splurge product somewhere or this wouldn't be Chronicles of Frivolity, right?!
Relaxation
My favorite shows I binged-watched were definitely Suits & This Is Us. Suits is just one of those typical shows I normally fall for but This Is Us is something I never would have pegged myself for watching. In fact, when I saw the previews I didn't really understand it so I thought, "Why do people cry over this week after week?" It wasn't until a friend from church said we had to watch it so I did. YOU HAVE TO WATCH IT NOW. I'll get off my This Is Us soap box because I know America has one, but I watched 2 seasons in 2 days if that tells you anything…
These were my favorite pajamas of the year. I get a lot of questions about which pajamas I'm always [no seriously, I wear them all day] wearing on Insta Stories and Snapchat. These are it!
I love to skim through organizational books, but let's be honest I'm not their target market. Or am I? I'm obsessed with organization, maybe to a fault. I've got a husband and a baby, so nothing will ever be perfectly organized and in my quest to find our "happy medium" I read a million books on it. I will say, this book by Emily Ley has been my favorite. A Simplified Life doesn't just talk about why you don't need clutter. It talks about easy meal planning and just taking clutter out of your life. If you're a mom, I also recommend the Podcast, "Risen Motherhood."  Listen to their episode from December 6th on finding freedom as a working mother. I do want to preface by saying this is a religious podcast, but even if you aren't religious there are so many good things to take away from it. It's definitely not "preachy" by any means. It talks about how our callings look different than our neighbor's family. It touches on how in other countries no one really worries about if someone is a working mom or a stay-at-home mom or a work-from-home mom. They just know we all have to feed our family somehow. All of that to say, in America there is a lot more judgement and guilt. That puts clutter in your life and mind which gets put on your children. The guest on this podcast was saying that because she works, she really can't have her kids in a million after-school activities. She of course worries, "Am I going to ruin my kids?" And then she talks about how ridiculous that is. I really can't give this episode justice with description, but just try it! Even working from home, I worry if I do "enough" as a mother and wife because I have to spend a lot more time on work than I would if I wasn't working. But that's an outrageous notion. I didn't miss out on seeing a working mom when my mom was a stay-at-home mom and Maxi isn't missing out on anything either. If anything, this podcast talks about how we should see the benefits. Our kids follow examples and I think it's incredible my child gets to see [if even for a brief period of time] her mother balance two worlds at home. If you stay-at-home, I think it's wonderful your child gets to see you be devoted to their home and their health and happiness 24/7. If you work out of the home, it's a huge blessing your child gets to see you accomplish goals both in and out of the home. I'm rambling, but this totally changed my perspective and goes hand-in-hand with the book I'm reading!
Food
Mary's Crackers: I love these crackers for eating hummus or guacamole! I also try to make fresh salsa when I can and use these crackers instead of tortilla chips. They fill me up a lot faster so I'm not mindlessly snacking on salty chips.
GG Crackers: Okay, here me out on these crackers. If you eat them plain they taste like sawdust. Fiber is so important in our diets and women rarely get the amount they need. Fiber keeps you full and honestly who has a ton of time to snack all day?! I use these as a vehicle for things I eat like avocado, hummus, salsa, black bean dip, etc. The Skinny Confidential has a lot of recipes to use them like these pizzas. Now I'm not advocating using these for dieting, but they do help you snack a lot less. I LOVE chips and when I buy these I don't ever eat chips, so that's a big healthy swap.
Everything Bagel Seasoning: I use this for everything from eggs to avocado toast. Paul puts it on macaroni and cheese…you get where I'm going with this. If you don't have a ton of room for spices you basically just need this, salt and pepper and you're good. 😉
Home
Desk: This is the desk I went with! When picking my desk and our nightstands, I wanted to go with an option that wouldn't show imperfections. I had a lot of lacquered furniture in our last home, but lacquered furniture is kind of liked a manicure. Looks good in the beginning but one wrong move and you've got a chip in a day. I love that this desk can be made to look feminine or french country depending on how I redecorate in the future. Come on, y'all know me! I always swap things around!
Chairs: I hadn't ever had true custom furniture until this home. A few of y'all e-mailed me about Kisabeth Furniture and that is how our living room chairs came to be! I'm going to do an entire blog post on the process because I got a lot of e-mails from readers asking what to look for in fabrics, etc. when choosing furniture for longevity. These are so incredibly comfortable and everyone wants to sit in them when they come over.
Drapery Hardware: This is probably an odd favorite to include but Paul and I can't stand hanging drapes. I mean we avoid it at all costs. That's why I originally hired a decorator, we don't know what we are doing when picking drapery hardware, etc. In our last home we purchased some pricier hardware options and they were a nightmare to install. Then in this home I ordered some lucite hardware off etsy and I'm still nauseous from the cost. I ordered this hardware off Amazon for one of the guest bedrooms because it's not like it would be seen a lot. This was incredibly easy to install and looks great. I honestly think we should just get this for the rest of the home because it's a great price and caused no stress.
Style
Rocket Skinny Jeans: I really don't have that many pairs of denim. You probably can see the same three pairs recycled on the blog. I decided that it was time to get a few more pairs and I got these. I will say, because I'm 5'3″ denim rarely works for me. It's pricy enough that I don't want to pay to tailor them. I end up returning 80% of denim I purchase because they are too long. If you're petite, these are wonderful! They fit perfectly and hit at the right spot on the ankle.
Designer Dupe Sunglasses: Years ago I splurged on pair of Celine sunglasses. I may be wrong, but I think it was my first splurge after I graduated college. Where are they? Exactly. I lose sunglasses all the time. I always look at the Celine sunglasses at the mall but just don't want to spend that much. These are $9 on Amazon and look like the real deal. They are really sturdy for being under $10 and I keep a pair in my car and a pair in my diaper bag so I'm not without them.
Tassel Earrings: 2017 was the year of the massive earrings for me. 😉 I actually met this designer while speaking on a panel about blogging. This brand is extremely lightweight and I wear them with messy ponytails and buns weekly. You probably have seen that I have nearly every color from my Insta Stories and Snapchats. These make a great birthday gift for your bff!
What Do I Want to Try Next Year?
Glossier: I haven't tried anything by Glossier yet and I feel very behind. I went to our annual Christmas dinner last weekend with my best friends from elementary school [we all stayed best friends and were in each other's weddings!] and they all talked about Glossier products. I think I'm more interested in the makeup than the skincare just because I really like my routine, or should I try it out? I really want to try Cloud Paint.
Gilmore Girls: I'm basically not an American because I can't ever get into Gilmore Girls or Parenthood. But everyone says to keep trying with Gilmore Girls so this year I want to. How long do I need to suck it up? Through the first season?
White Shoes: White shoes have had their moment the past few seasons and I really want to try them for summer! I love these slides and these sandals.
What were your favorite buys of the year?!