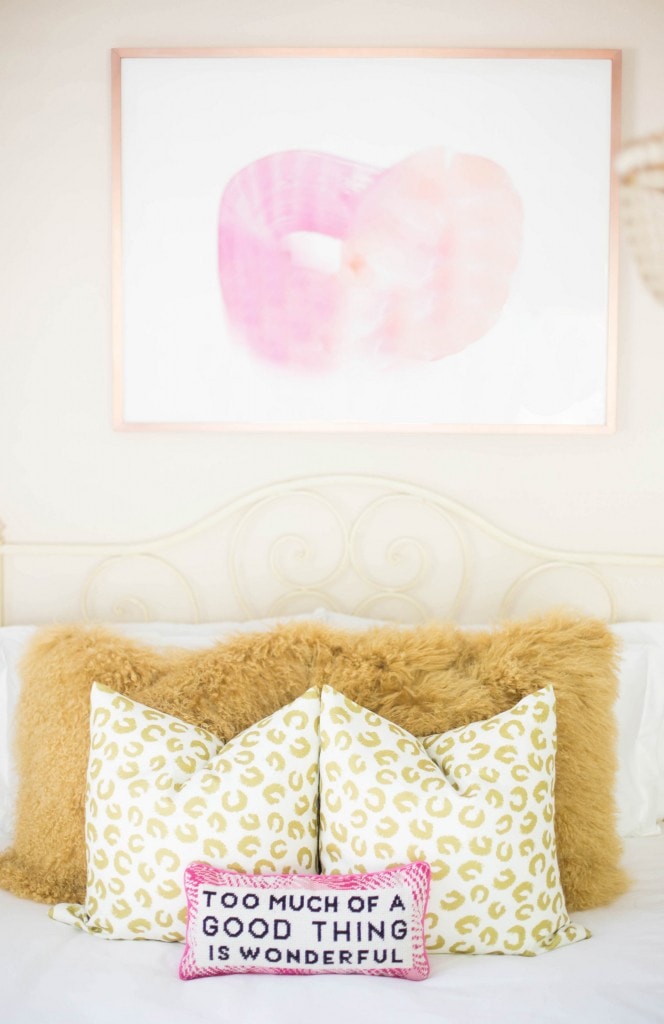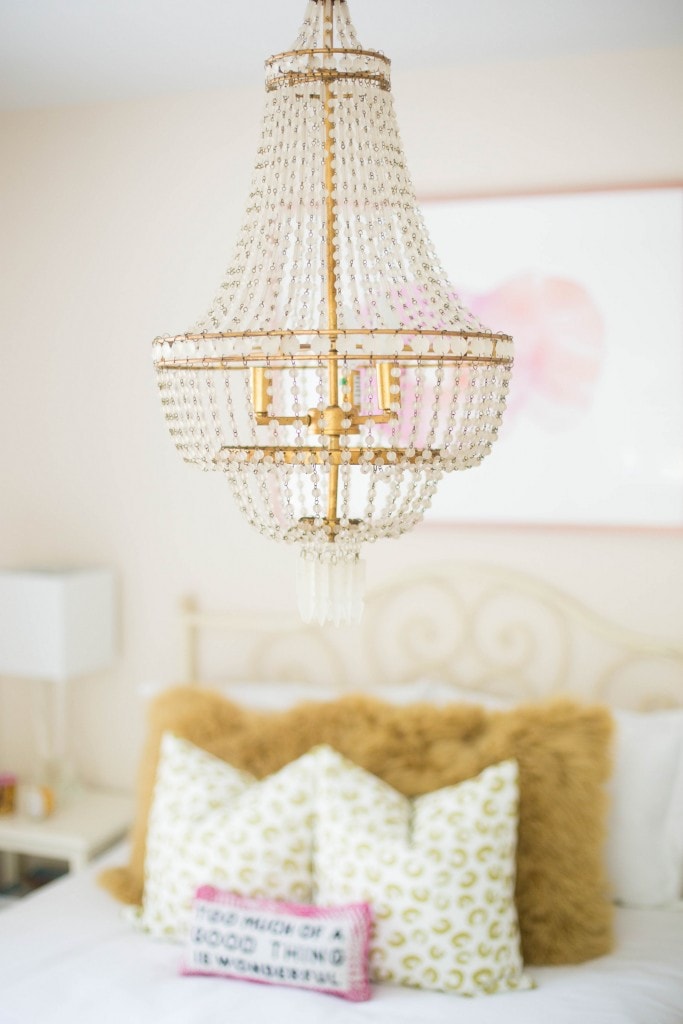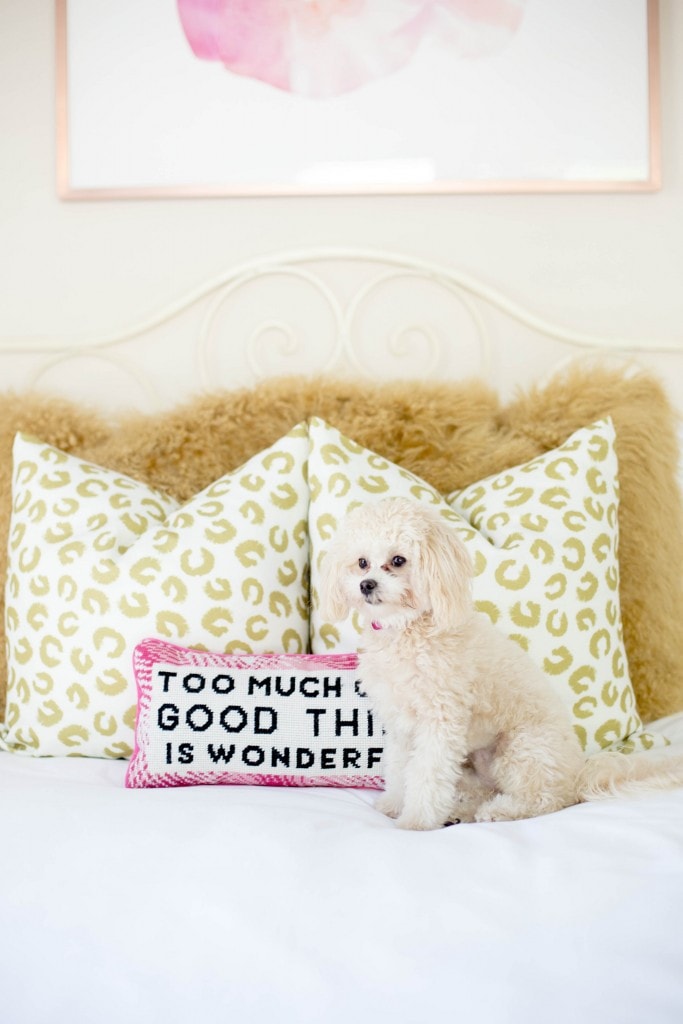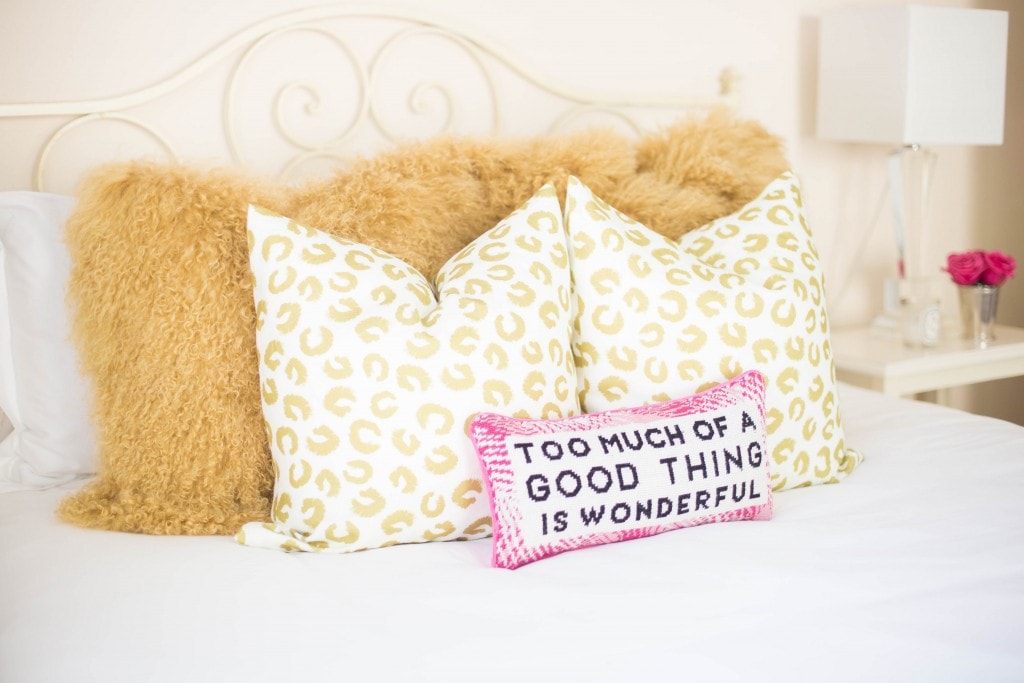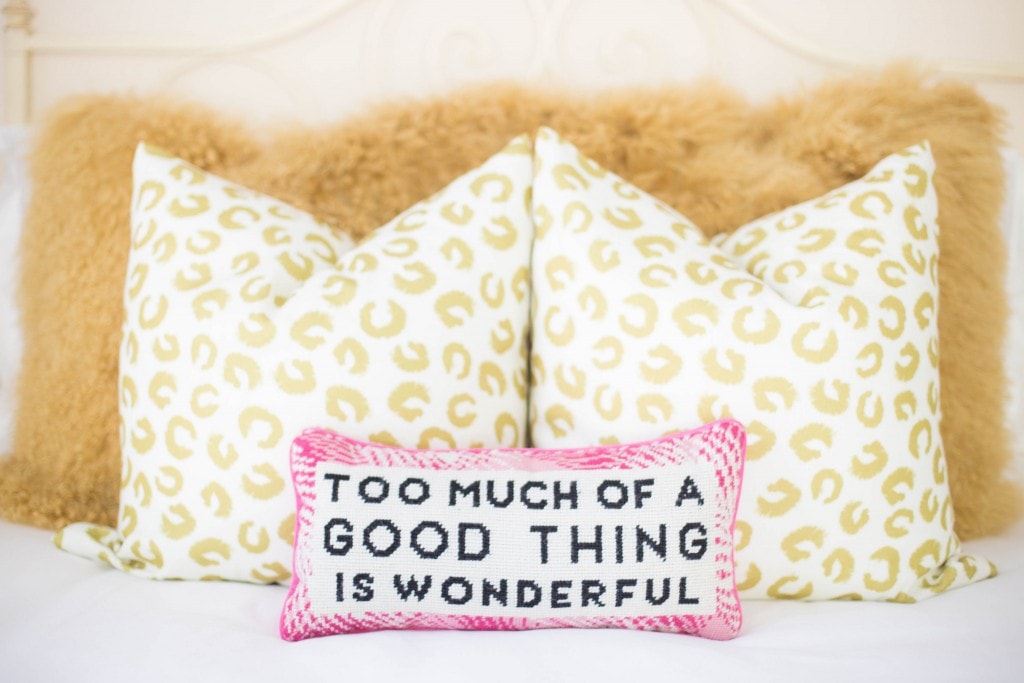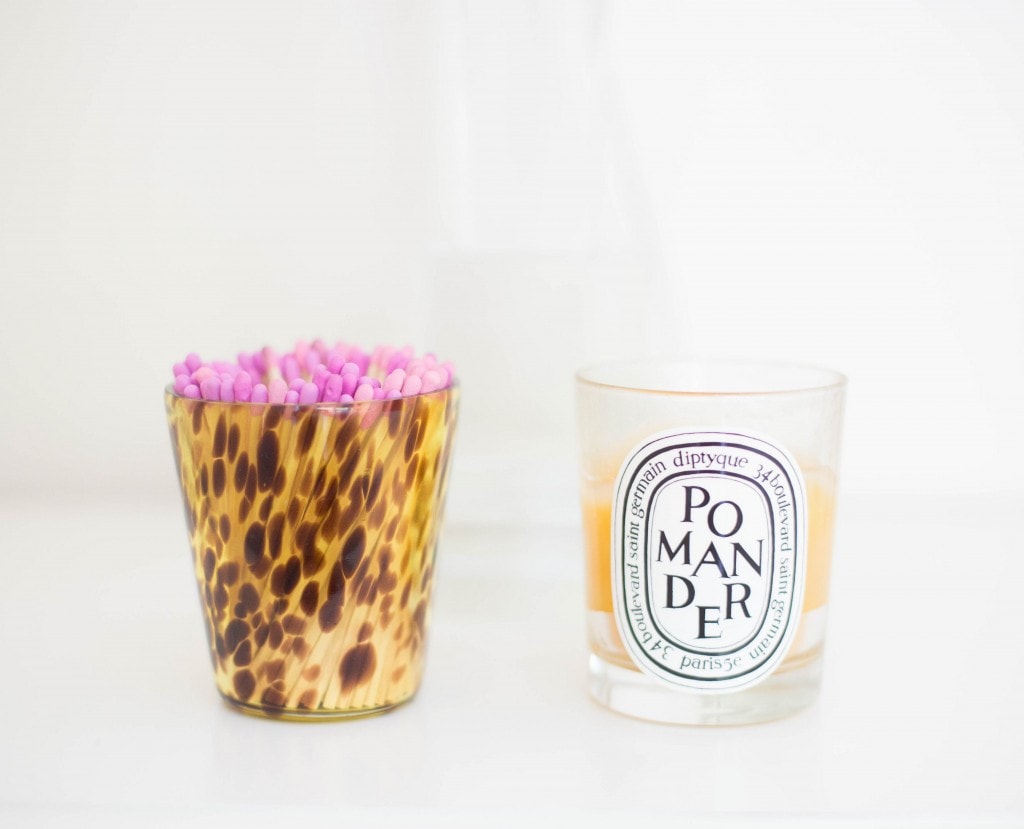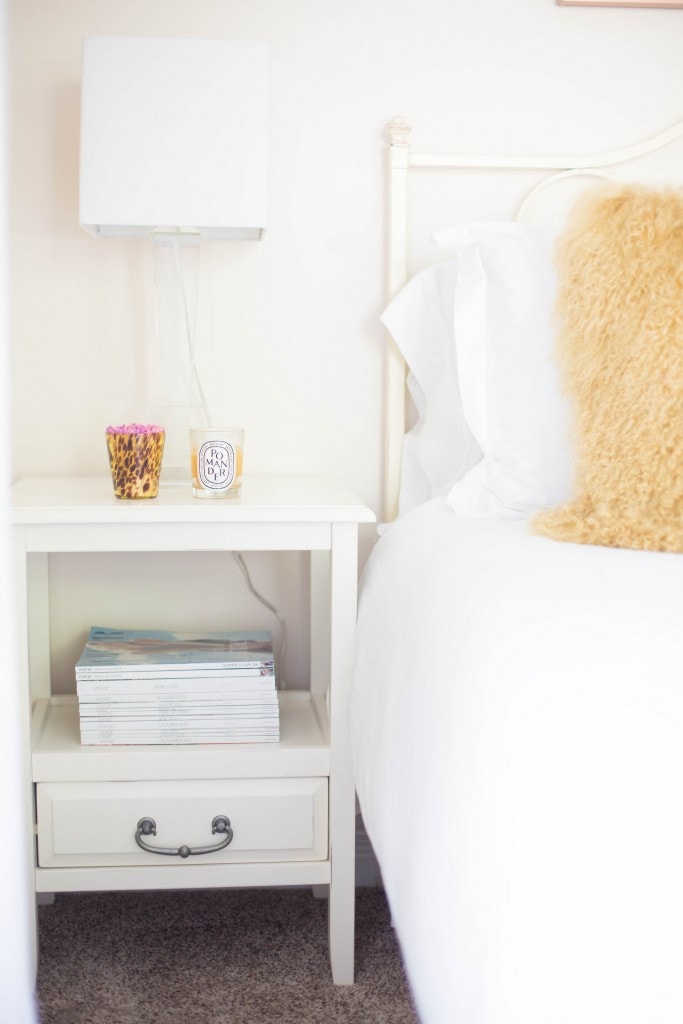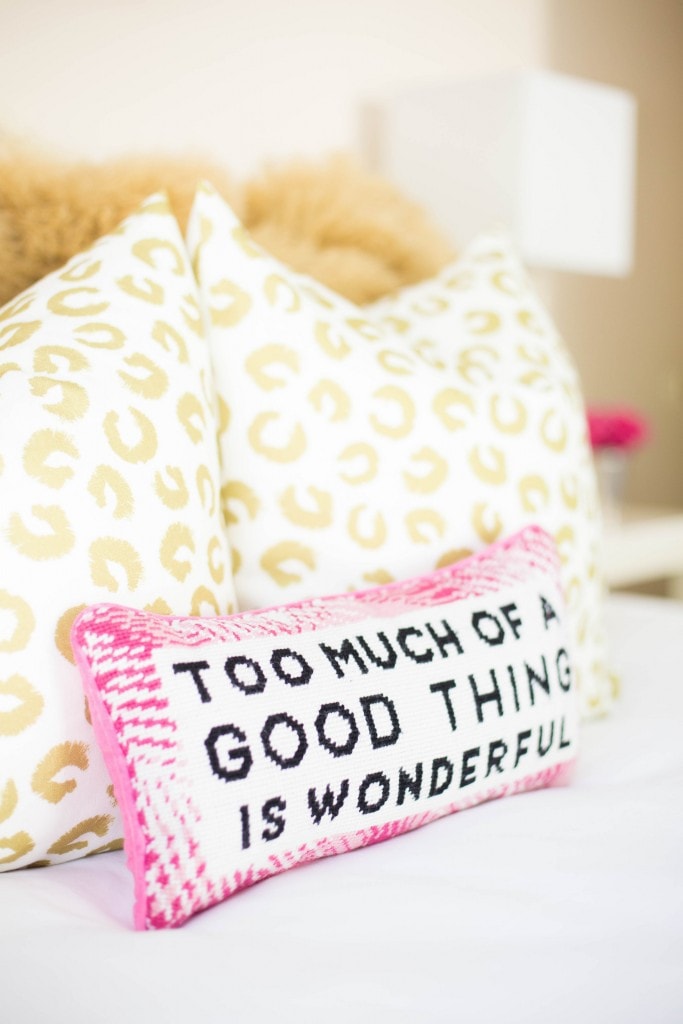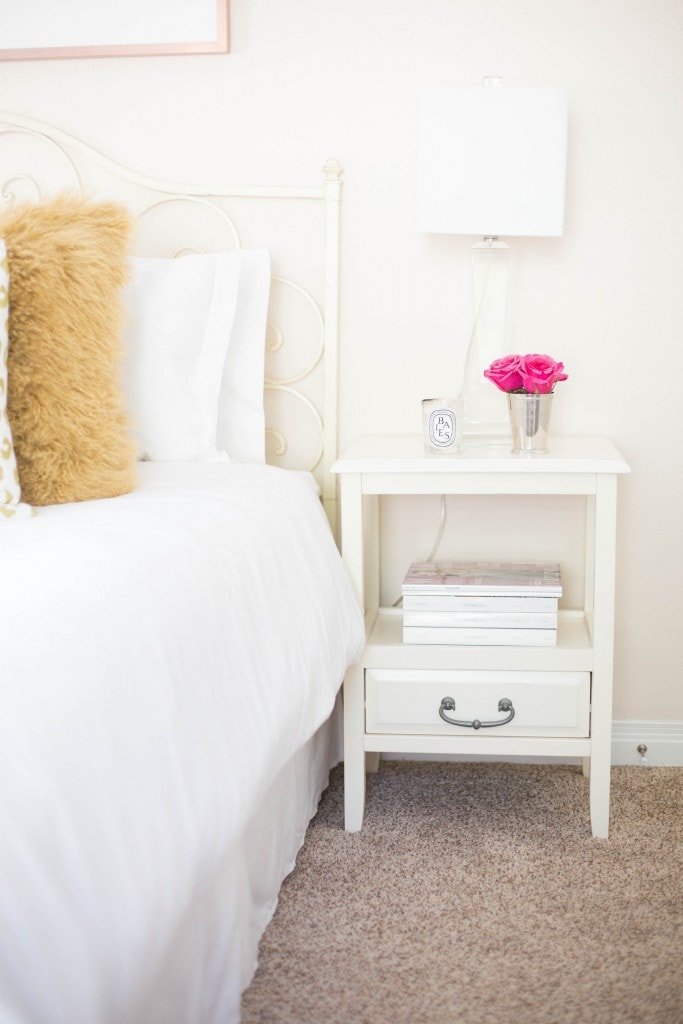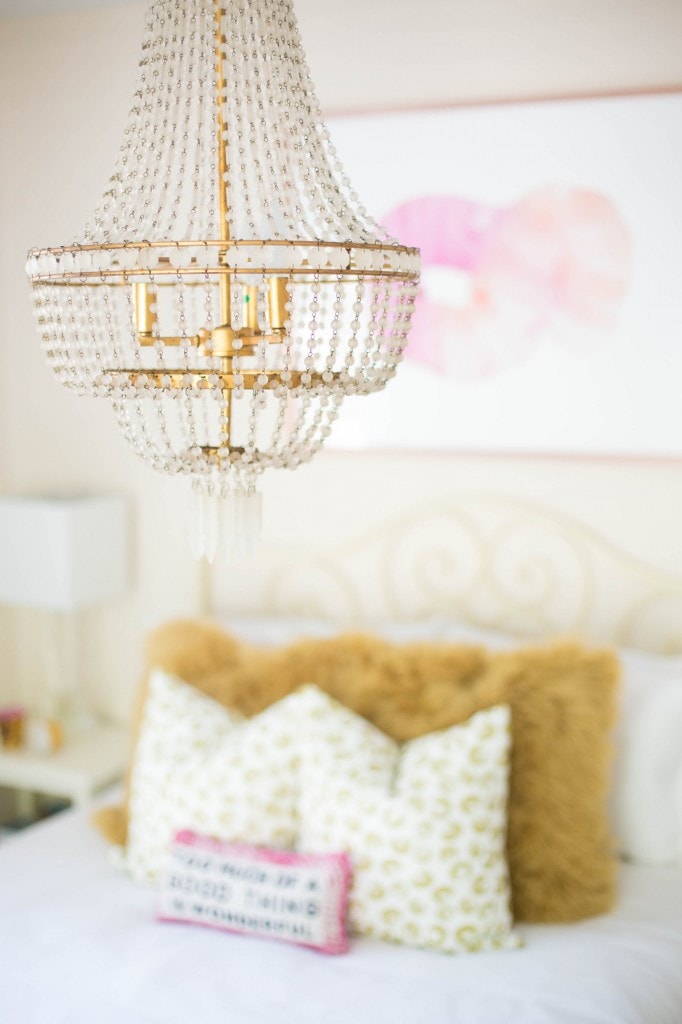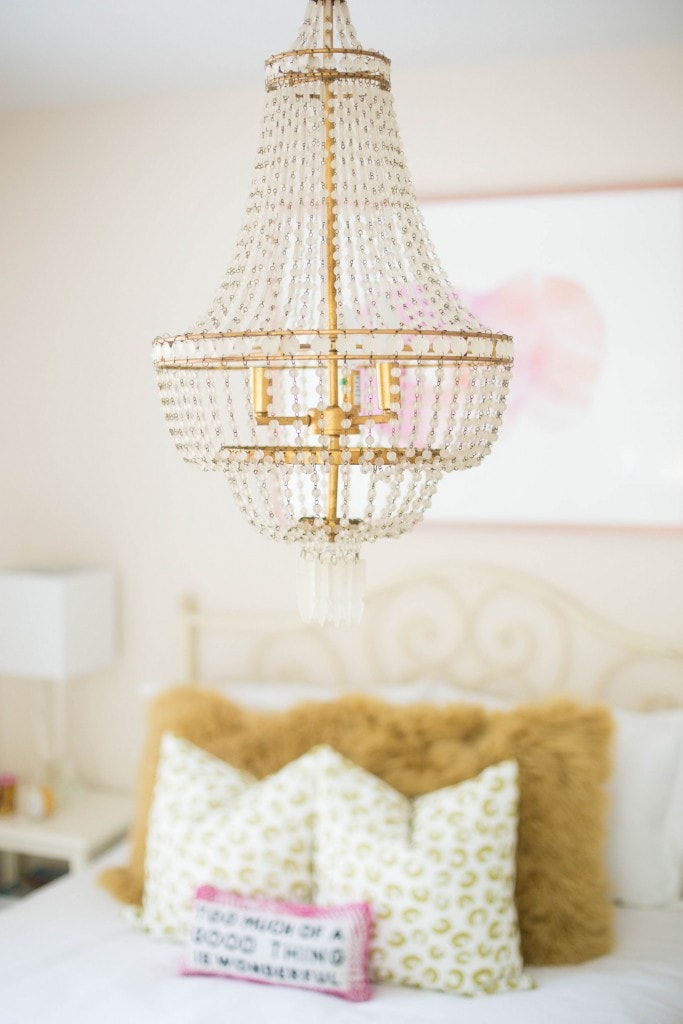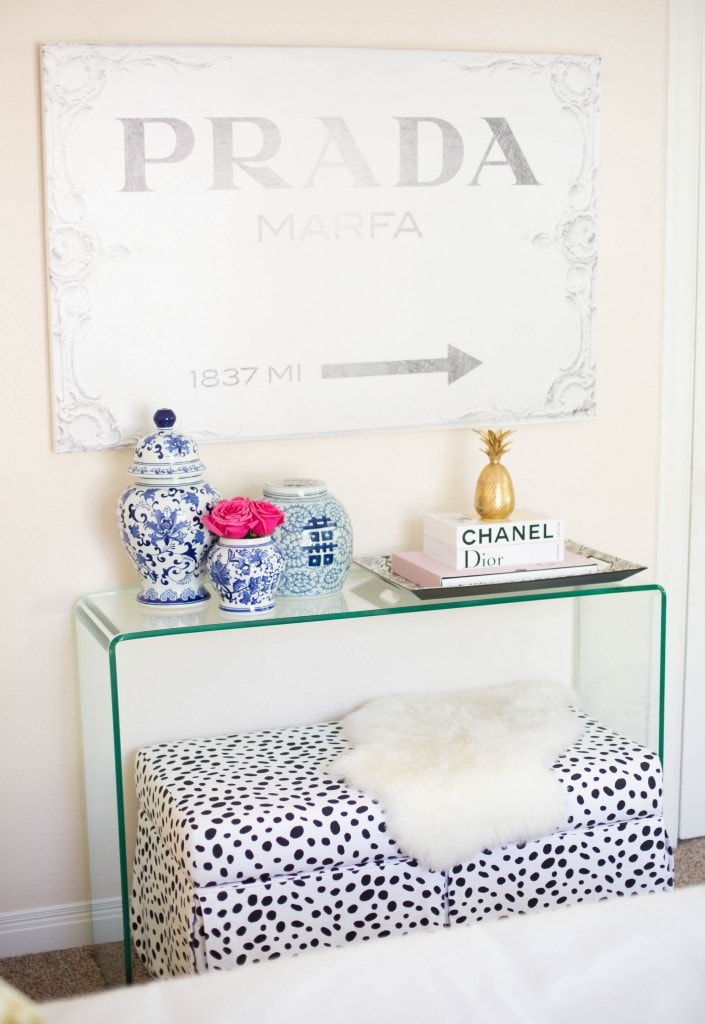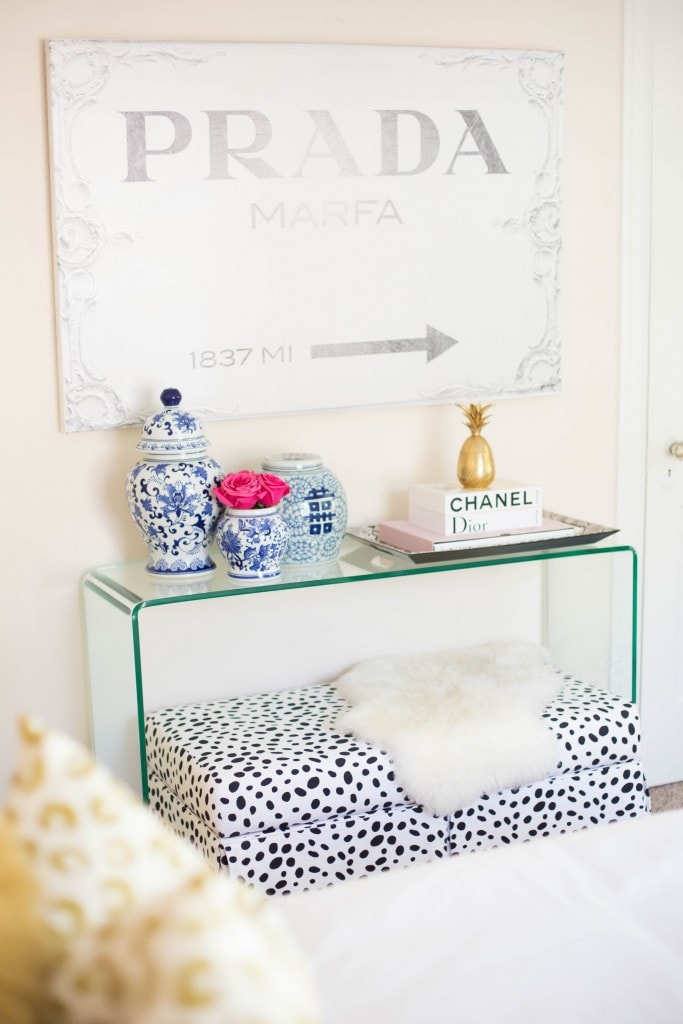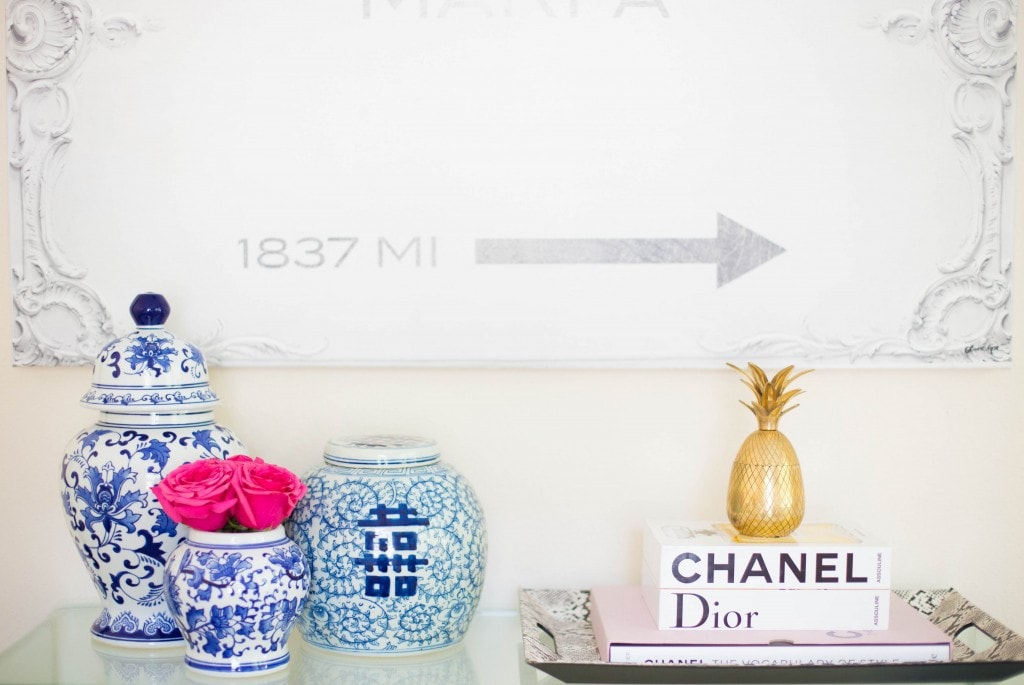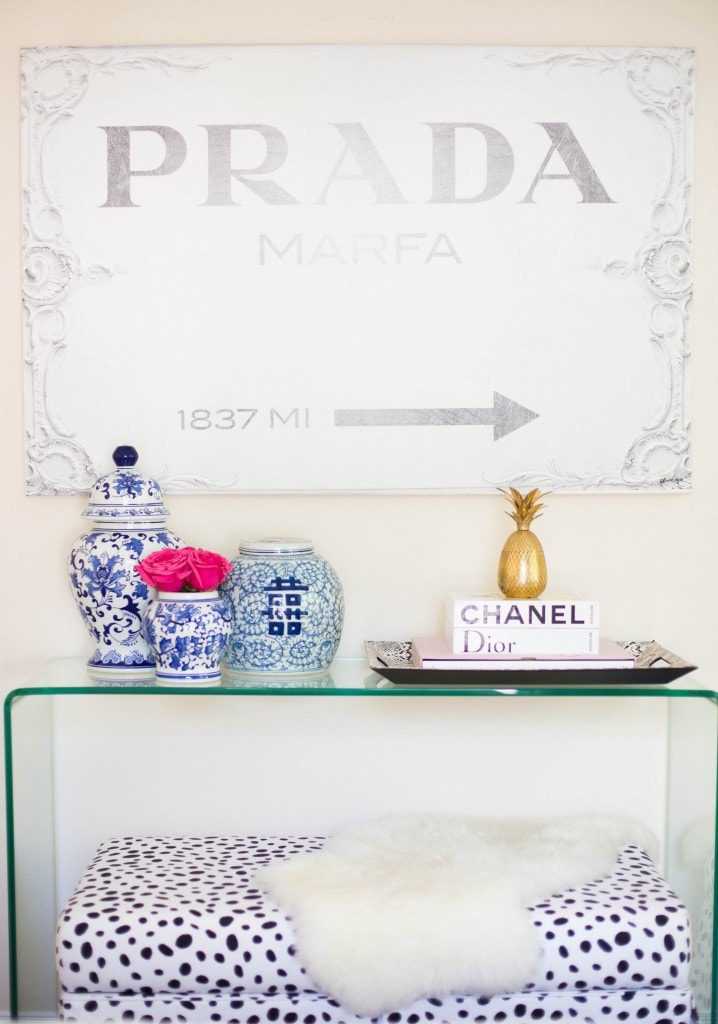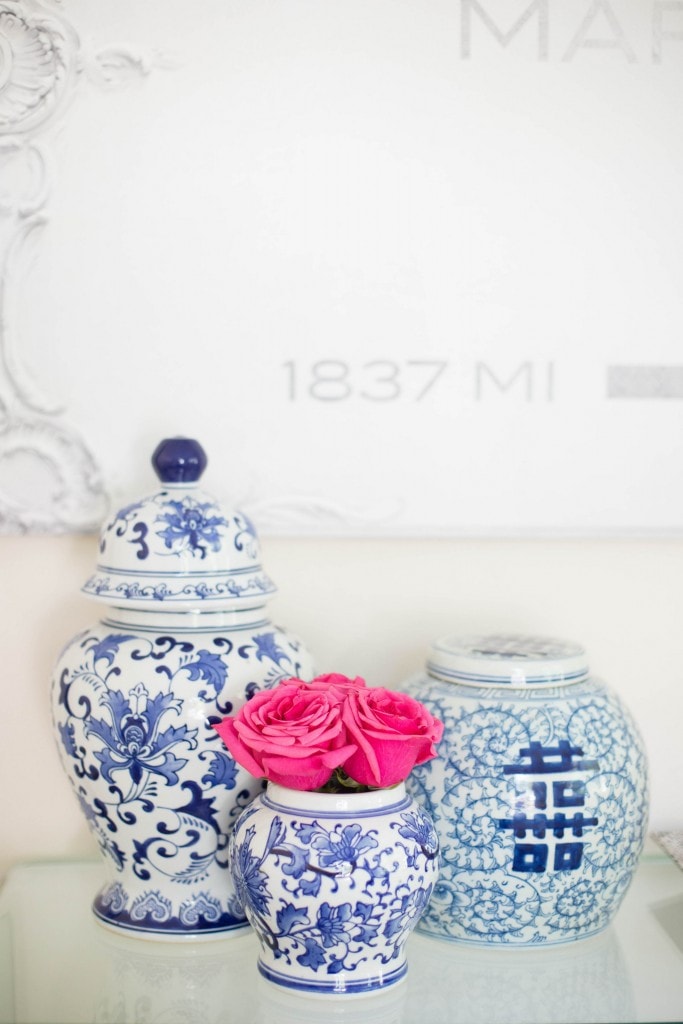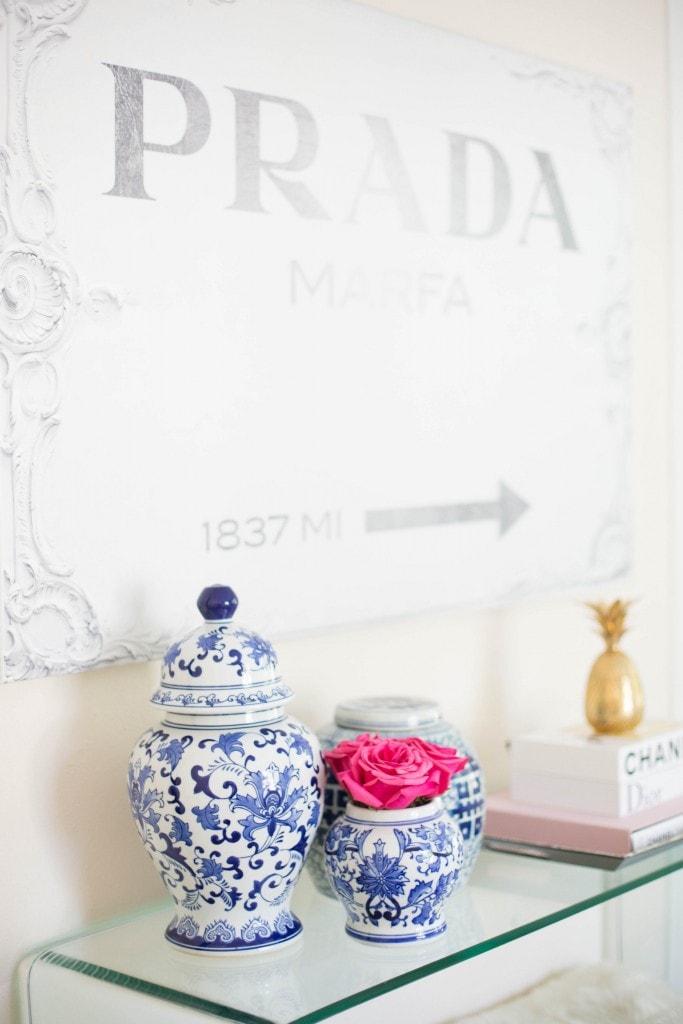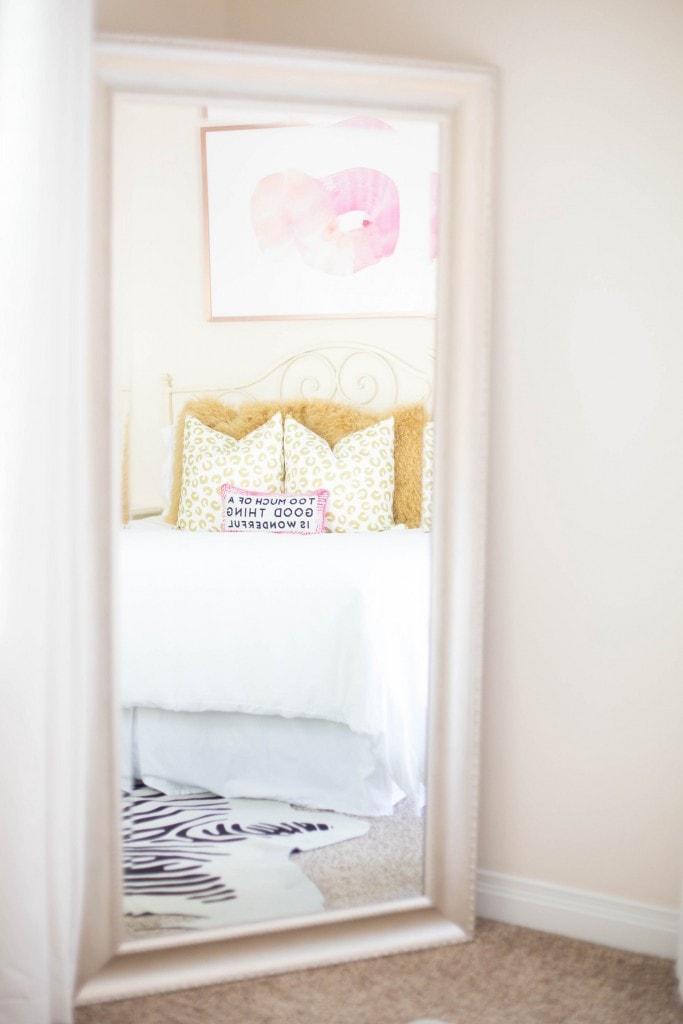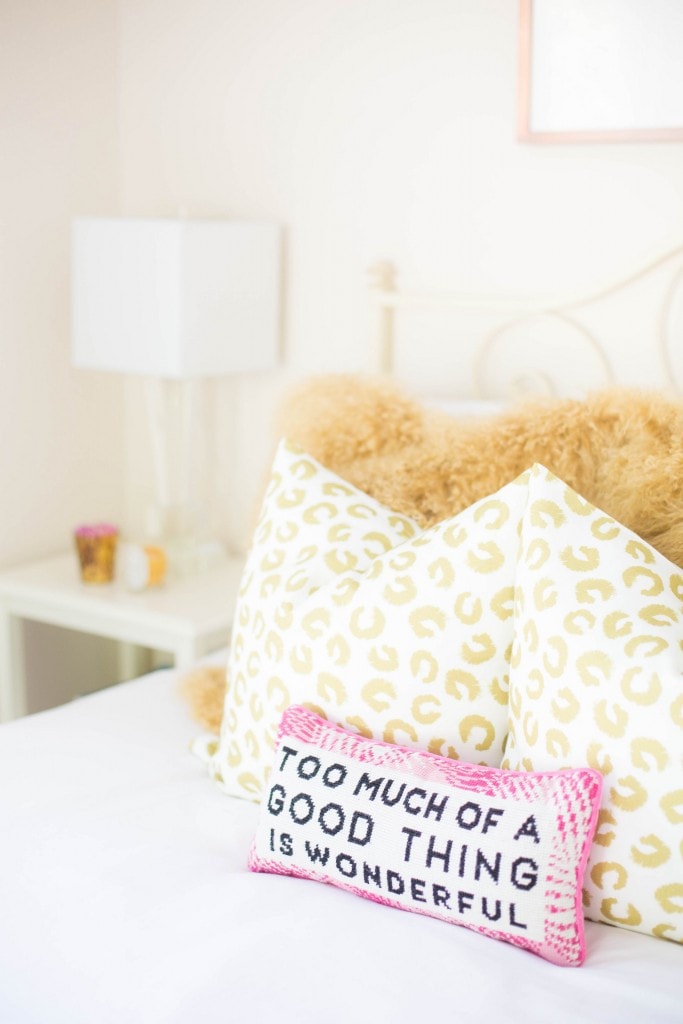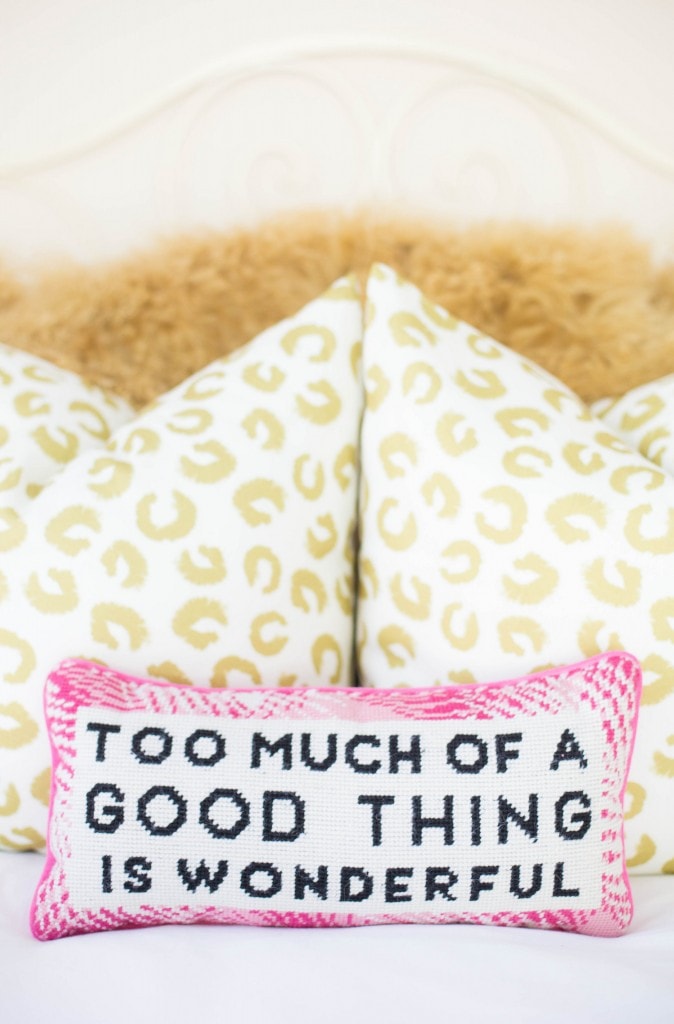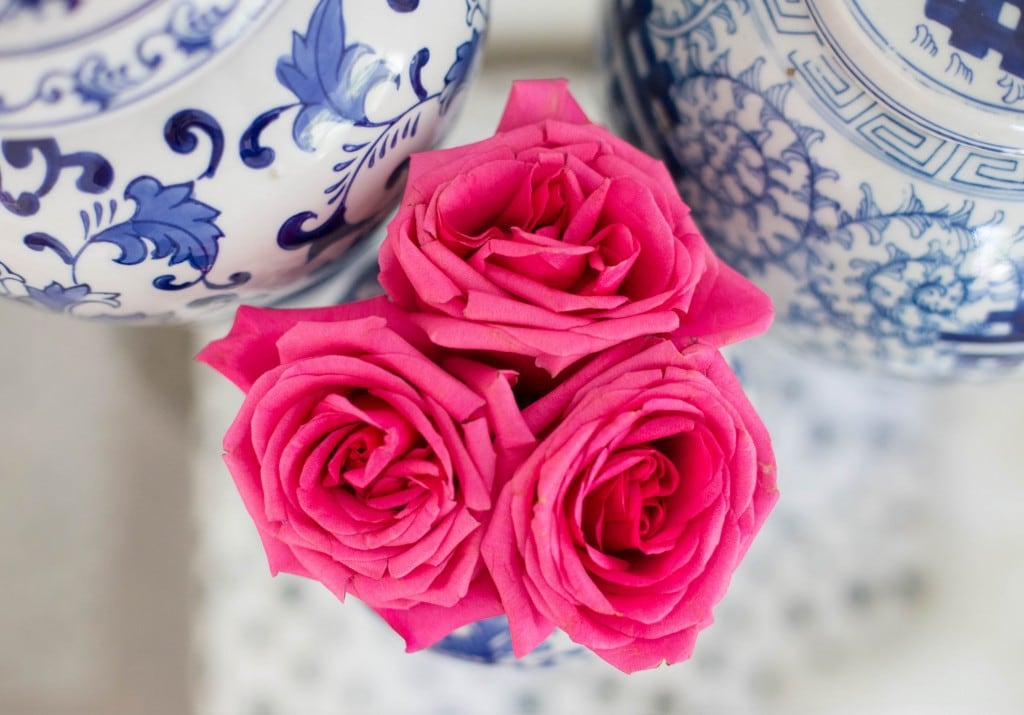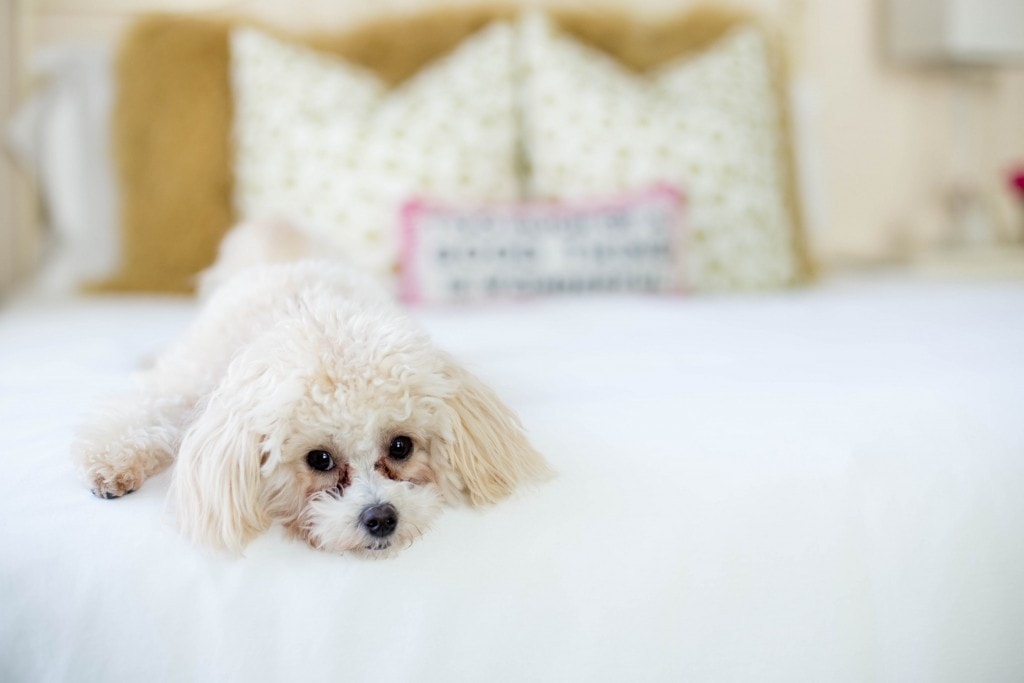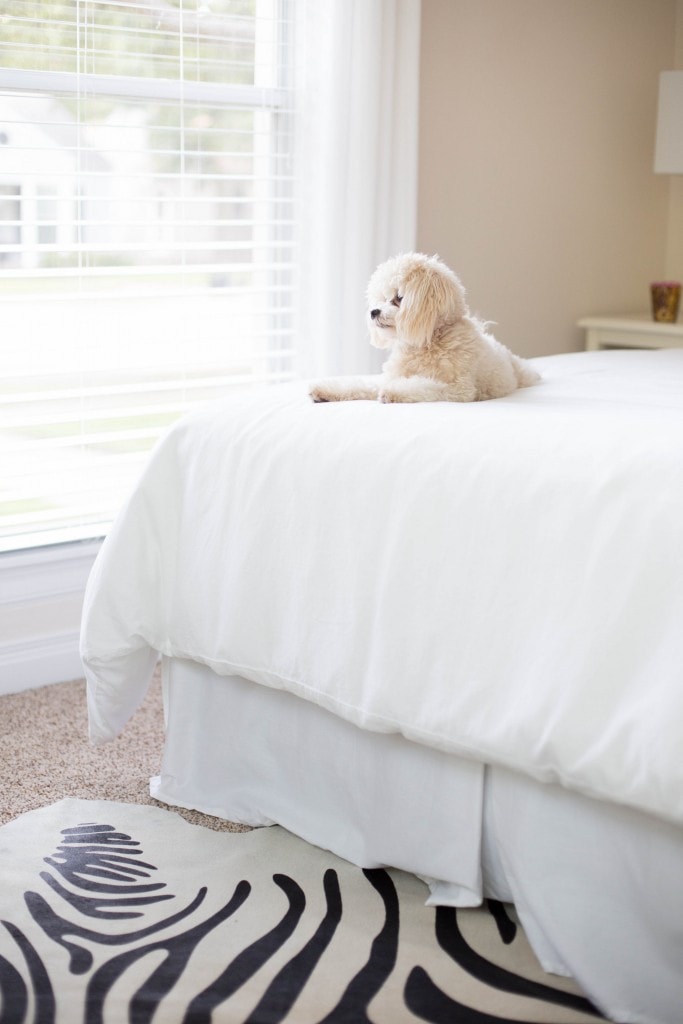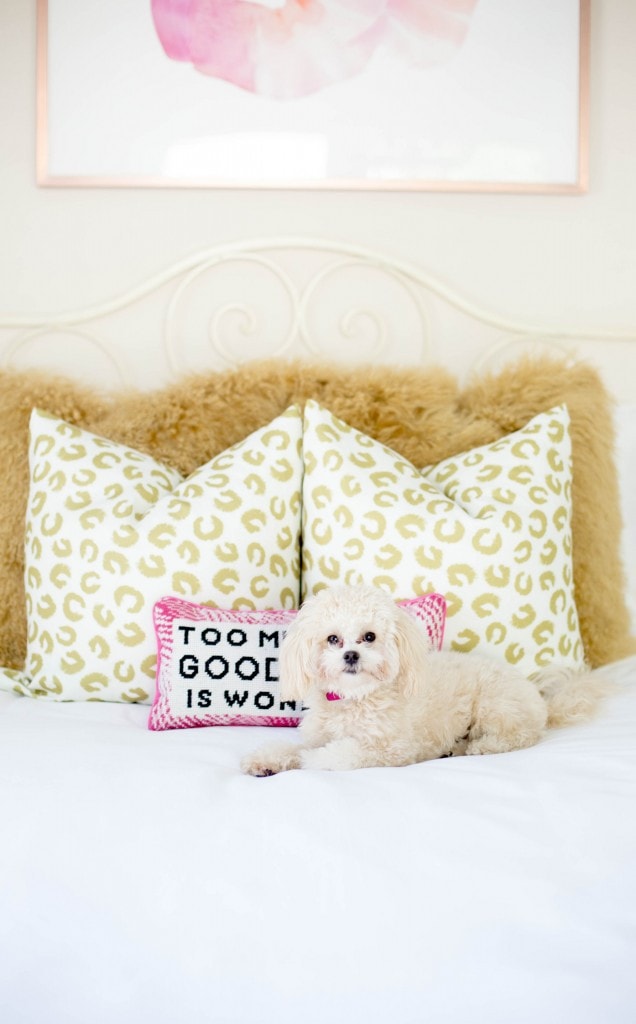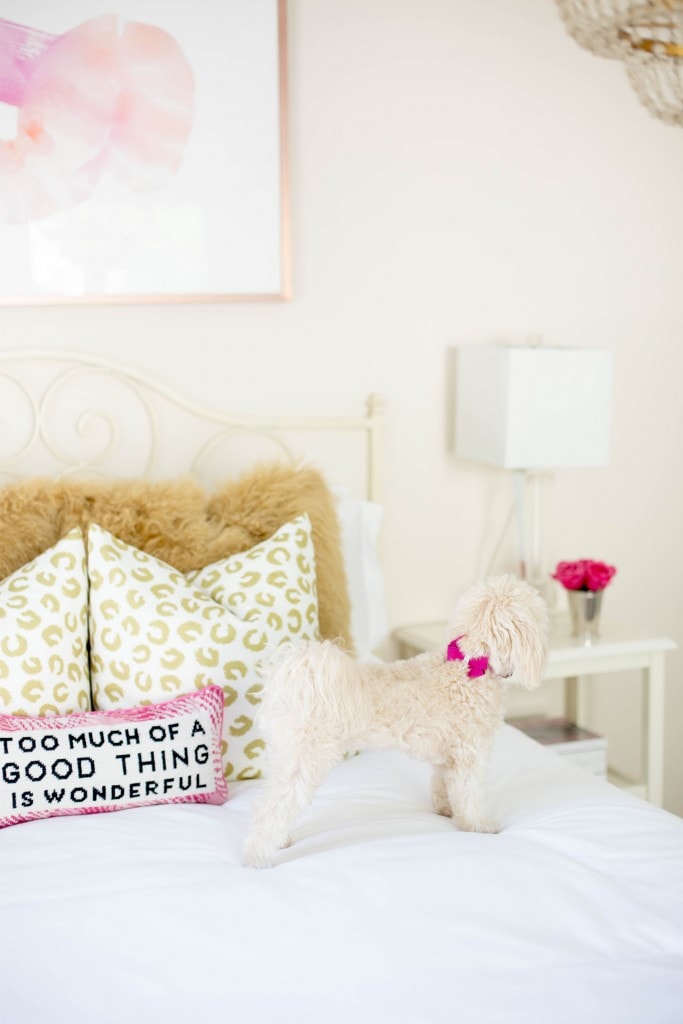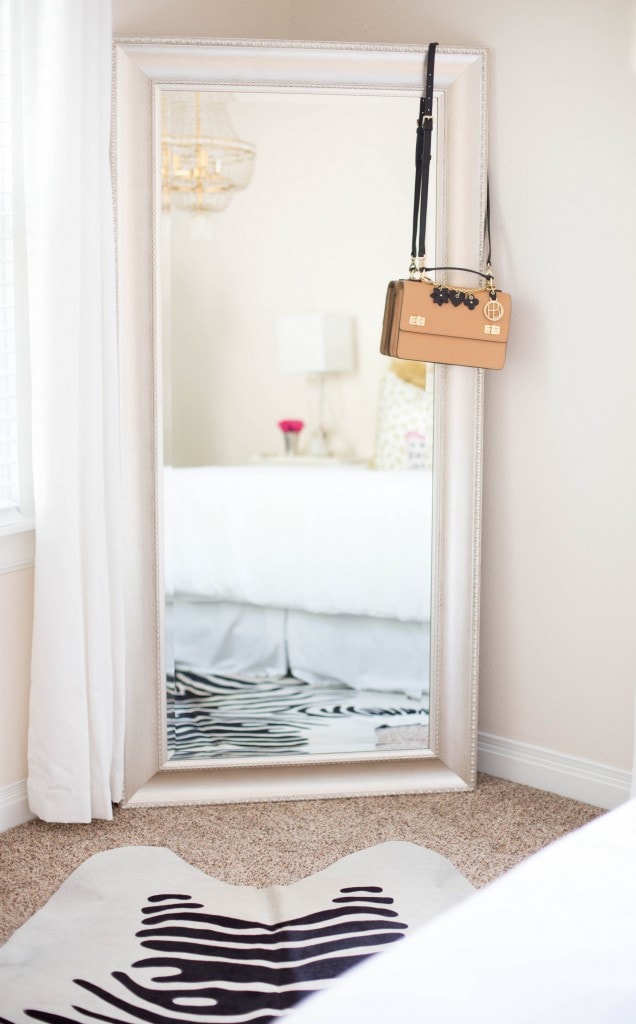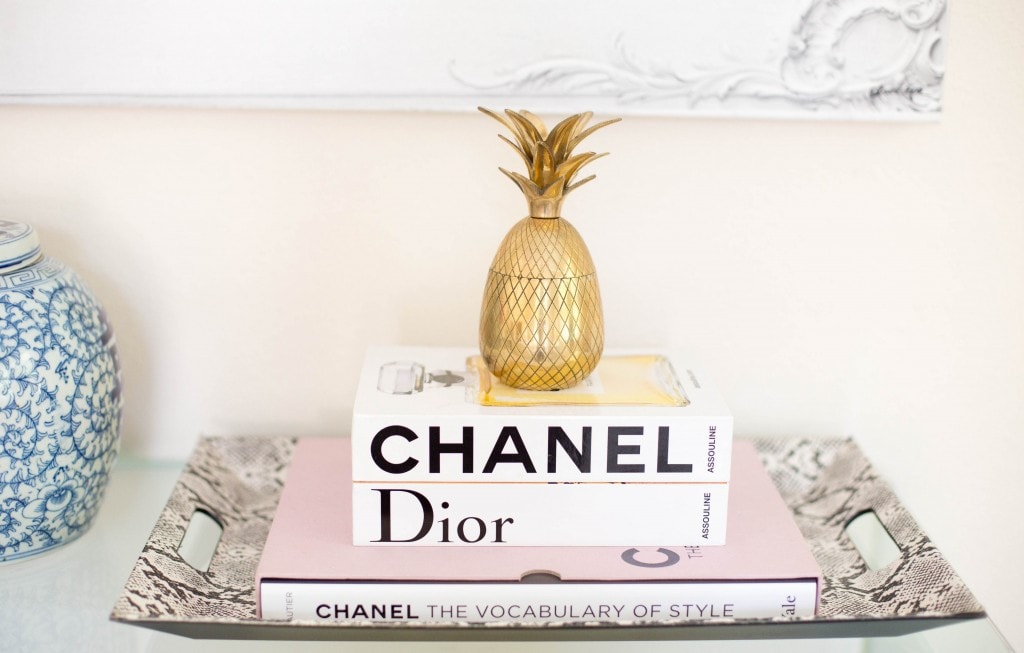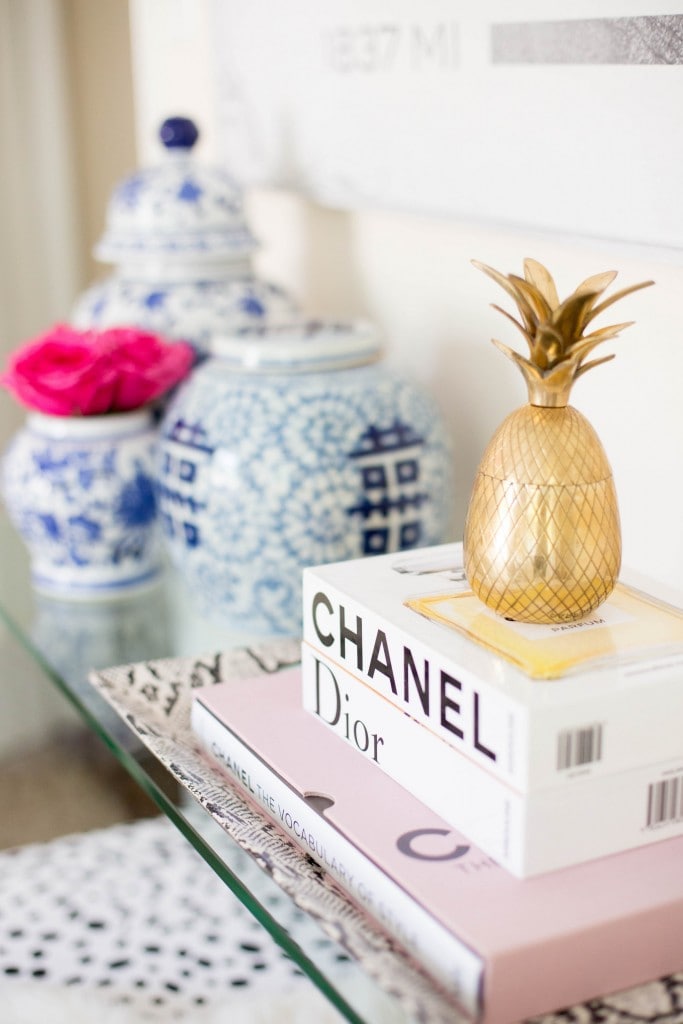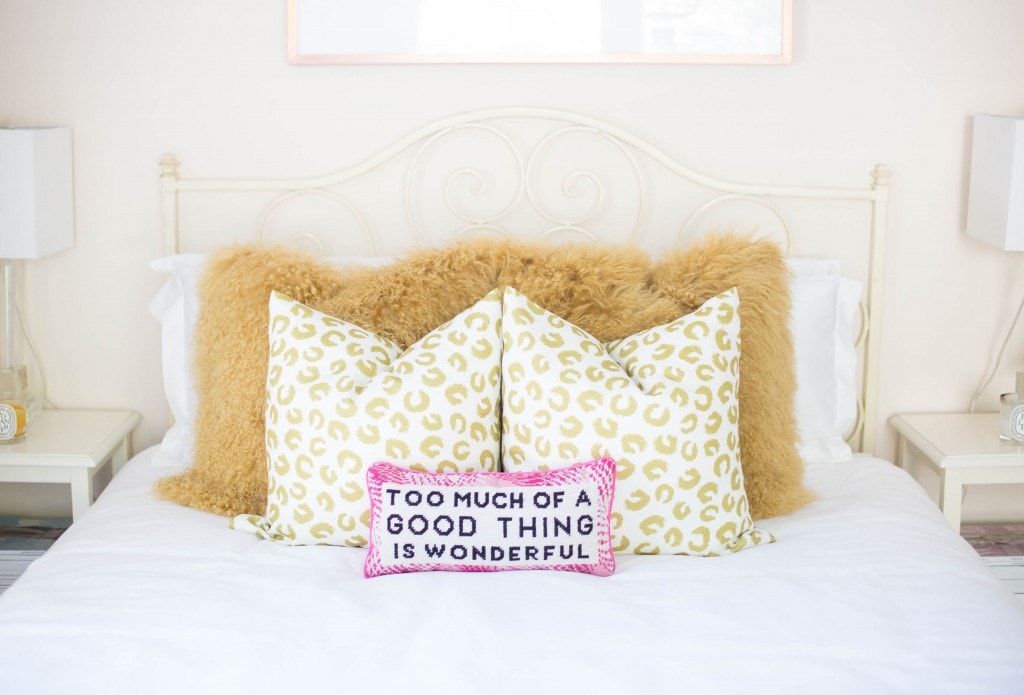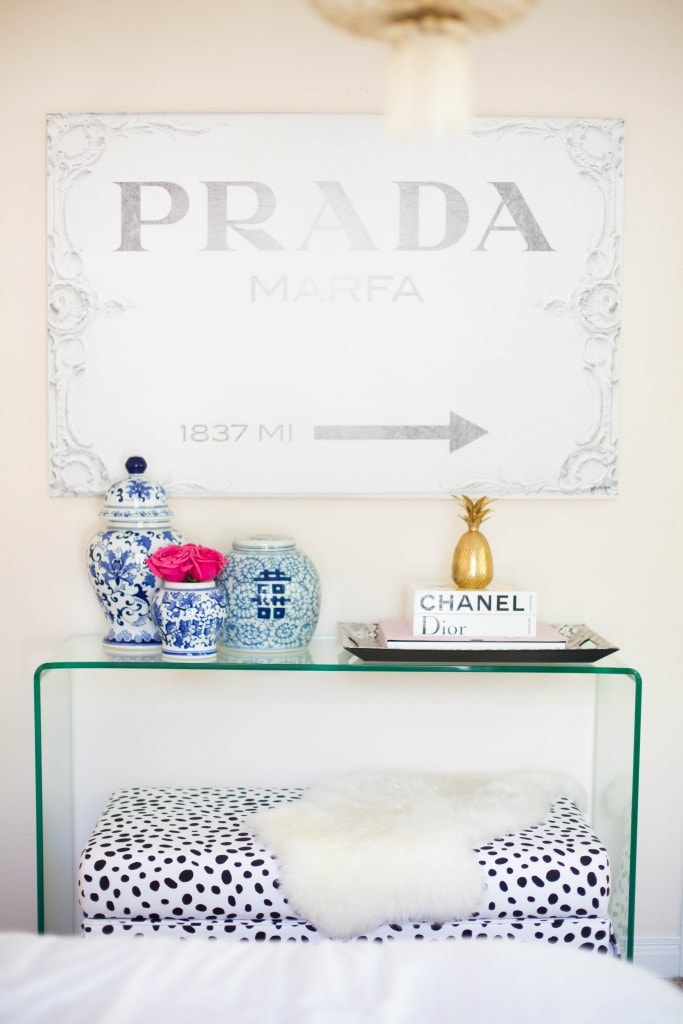 Pillows: Minted [c/o] | Pink Print: Minted [c/o] | Prada Print: Z Gallerie, Similar [same artist] | Headboard: Pier 1 | Nightstands: Old, Similar | Lamps: Homegoods, Similar | Console Table: CB2 [similar] | Ottoman: One Kings Lane | Ginger Jars: Furbish Studio | Pineapple: Similar | Snake Tray: Furbish Studio | Pink Chanel Book: Amazon | Dior Book: Amazon | Chanel Book: Amazon | Mirror: Similar | Bag: Henri Bendel [available in July! ] [c/o] | Zebra Rug: Wayfair | Duvet: Pottery Barn | Fuzzy Pillows: Z Gallerie| Too Much Of a Good Thing is Wonderful Pillow: Furbish | Pomander Candle: Dipqtyque | Baies Candle: Diptyque [c/o] | Chandelier: Pottery Barn
Photography by: Madison Katlin
---
The way our home is set up our guest bedroom is my favorite room in the home. It has so much natural light and always feels warm and inviting even if it is raining outside. Peaches loves to lay on the bed in the guest bedroom and just stare out the window at people coming by. When she is being naughty she barks at boys playing football in the street!
When we originally moved I shared that our guest bedroom was our homes "catchall." We put boxes of Paul's clothing, wedding gifts, mismatched bedding and extra mattresses in here. It was a nightmare! Then I wanted to get our home together quickly right after the wedding and it started to come together.
However, it always felt "off." I'd redecorate the table, I'd move the pillows around, but something about it just felt like it wasn't my style. Now that most of our home projects are finished, I decided I wanted to make the room light and airy, and let's face it, a bit more pink! The only guests that ever stay with us are my girlfriends [Paul's friends all live in the area] and my husband is as happy wife happy life as one can get, so I knew he wouldn't mind at all if I spiffed up the guest bedroom! Whatever keeps me busy and ESPN on the tv in the living room is fine by him! haha.
I started with my three favorite things: a good animal print, soft touches and ginger jars. Then I decided to tackle art. I became familiar with Minted when I first moved and started working on gallery walls! You can see my post with them here. Minted is a brand that takes independent artists [which I love to support!] and provides printing, framing, stationary and now home decor. My jaw about hit the floor when I learned you could get pillows, drapes and lamp shades with their new home decor line all designed after art.
I saw the Color Gloss by Kelli Hall art around Mother's Day as I was perusing for a Mother's Day Gift. Once I found it I knew this is what I wanted to focus our guest bedroom around. Minted frames your art with lots of different art options and I wanted to go outside my comfort zone with the matte copper frame and I'm so glad I did!
I didn't want to update furniture as that was just too pricey and I thought a bit silly considering this room isn't used religiously. I decided to add this chandelier to amplify the room without redoing the furniture! I am a firm believer in white linens and decided to take touches of camel to blend with the copper frame. I found these fuzzy pillows and knew I needed a strong animal print! I found these Hoof Prints by Lindsay Megahed pillows and got them in camel! I also got these in drapes for our living room which I'll be sharing very soon! And lastly I had to top our bed off with a cheeky saying!
I love to cluster ginger jars and coffee table books so I placed those on my acrylic table and kept the ottoman underneath for storage!
I hope you enjoyed this room redo as much as I did! I'm working on our master bedroom next, but oh my goodness is that a project! We may need to enclose a door and move all our furniture around but I think the new layout will be really worth it! Some of y'all may know that we went house hunting a bit ago because we had done so much to our home and were getting really good price offers from realtors. We went and looked in our neighborhood and I was heart broken! I love our neighborhood and location, but we would walk into homes and immediately they needed at least $80,000 worth of work! That price tag is nauseating and then when you think of painting the firecracker red walls a neutral color you just want to cry. Too. Much. Work. Too. Much. Money. haha! We saw one home that had EIGHT different floorings. EIGHT. And it wasn't tile in one room, carpet it another. Think 3 different woods in one hallway. It was exhausting. Then we found one home that needed no work and we went to go look at it and it had a contract in under 6 hours. Talk about exhausting. So for the time being we are staying and so we will be doing some kitchen projects and a few more renovations to make it seem a little bigger! I'll be sure to share!
Thanks so much for stopping by and I hope you have a wonderful weekend!