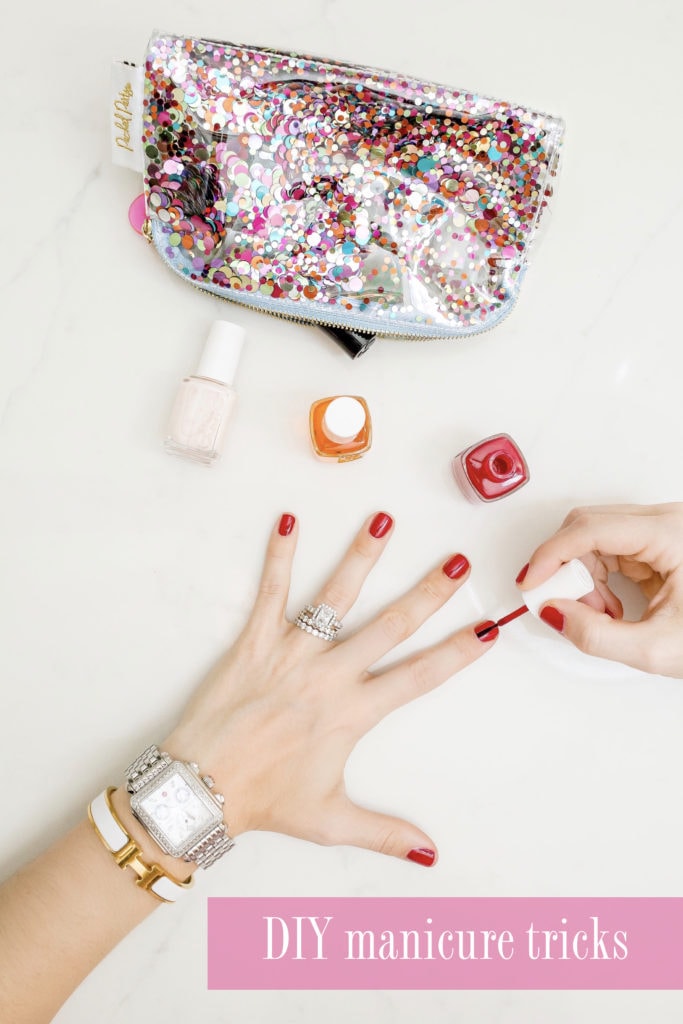 Is there anything better than a fresh manicure? Okay, don't answer that. PLENTY is better than perfectly polished nails, but I think most of us can agree that manicures bring joy. You've got 30-45 minutes of peace and quiet and 7+ days of great looking nails. I'm all about it.
Before Maxi I rarely did manicures at home. It was messy. I didn't like how they turned out. I had ample free time, so why not treat myself? And I was able to make it work a little bit after I had her as well. I'd pump just enough milk so I could go enjoy a manicure, rush back home and feel like a new mama. But life gets busy and that ritual rarely fit into our schedule after a few months. She also went from a sleepy little newborn to a girl who was playing all day, so I hated to be away from her to get a manicure. I also added up how much I spent on manicures in a year and I was mortified.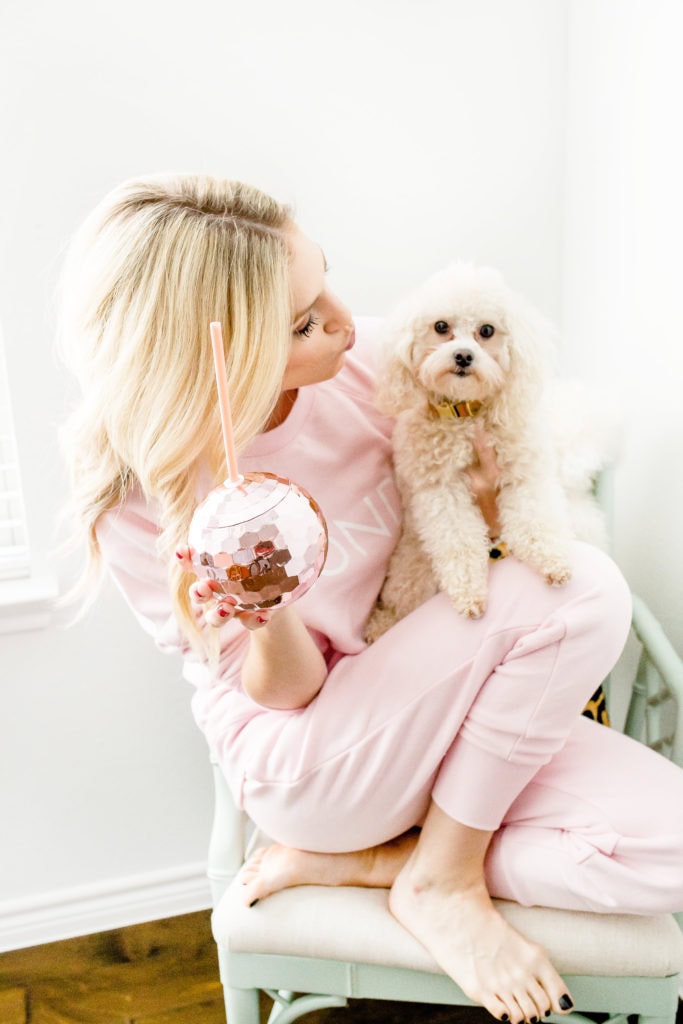 So I called my girlfriend Amy Beth because she knows the most random beauty tips and tricks. She is the one that got me hooked on natural deodorant and she always has a new product for me to try. She had been doing manicures that looked like gel manis for months, so I had her spill her secrets. She's also done a post like this, but she didn't care if I shared the knowledge, too!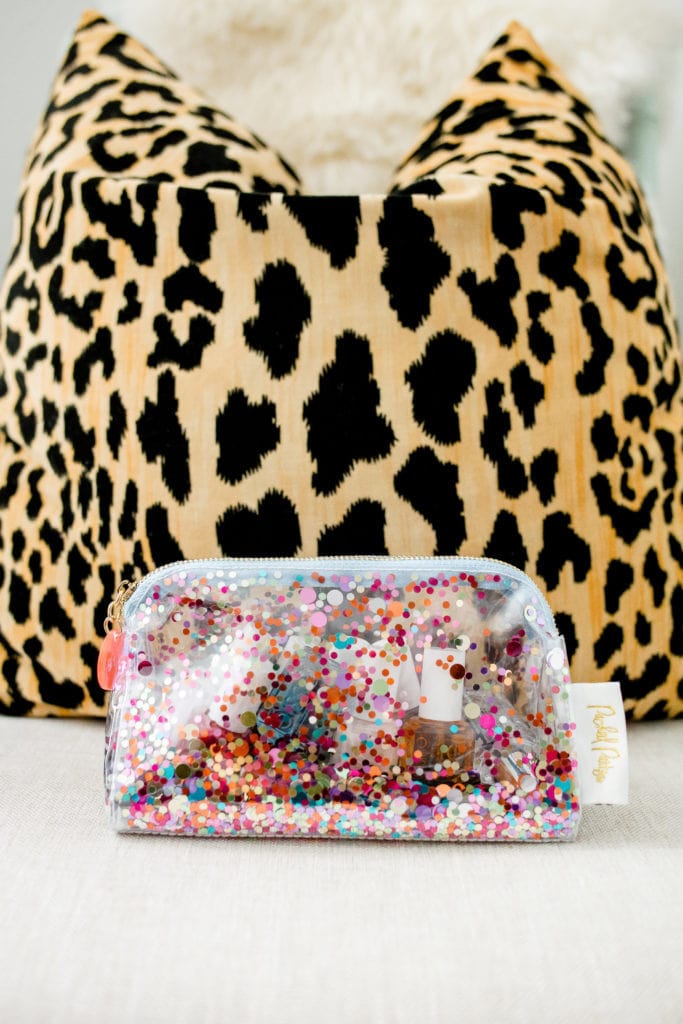 I went down to Ulta, came home, organized everything in this precious little Packed Party Confetti Bag and got to work. I would say it took me about two separate tries and I had it down. It lasted me a week with no chips and I'm changing diapers, washing dishes, messing with my DSLR camera 24/7. I'm not nice to my nails. But the best part was that it healed my nails. I'd been getting gel manicures religiously since college. Throw in a dip manicure or two and my poor nails were in awful shape. They honestly hurt when I didn't have gel on them and it freaked me out.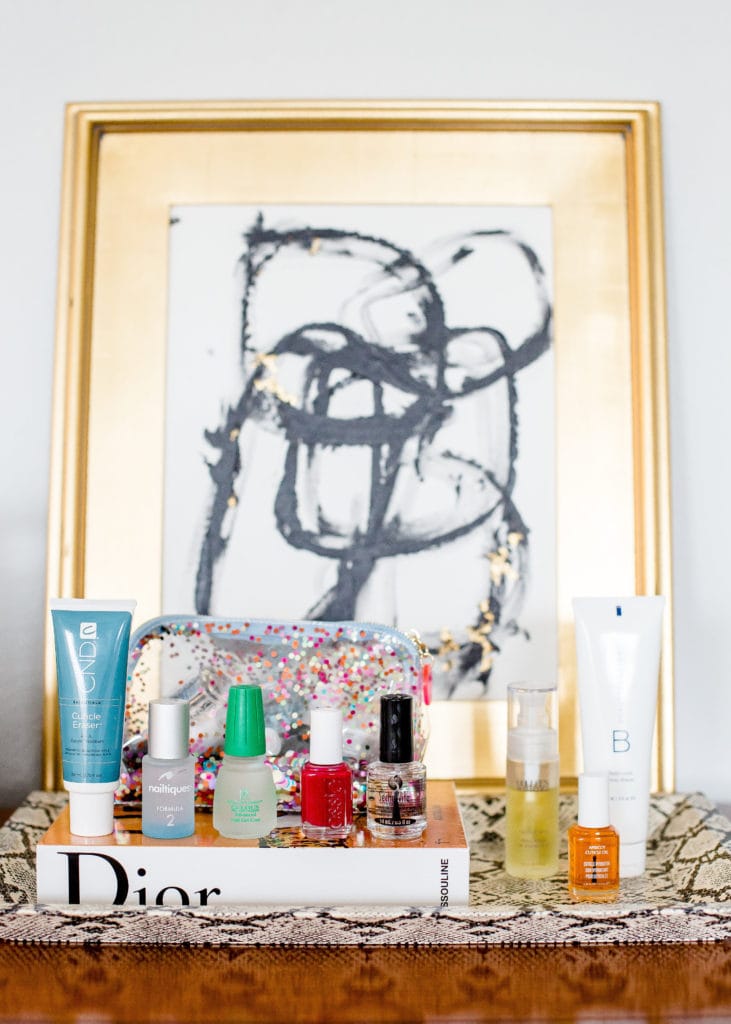 Products Needed: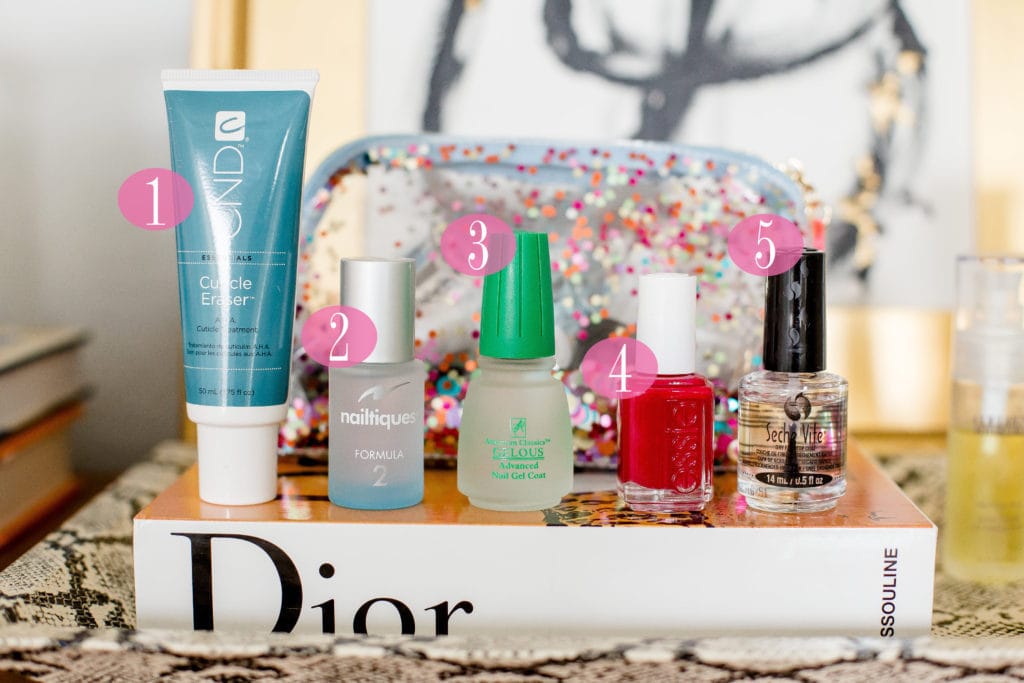 Manicure Steps
Remove polish as usual, trim & file nails to your preference.
Apply cuticle remover, let sit, push cuticles back with soft wooden stick, rinse off. I also take a cotton pad of nail polish remover and apply that to my nails to remove all residue.
Apply 1 coat of Nailtiques to help heal nails.
Apply 1 coat of Gelous to act as a bonder for polish.
Apply 2 coats of Essie A-list.
Apply 1 coat of Seche Vite.
Paint at night, wake up and apply lotion with skincare drop mixed in. If you have extra time, apply cuticle oil as well!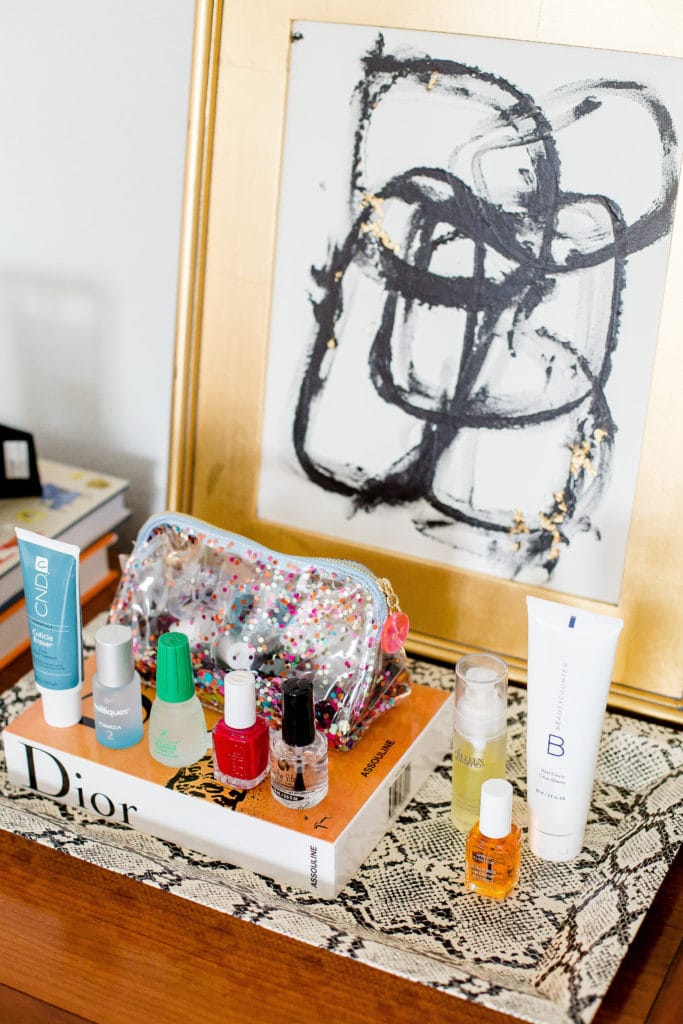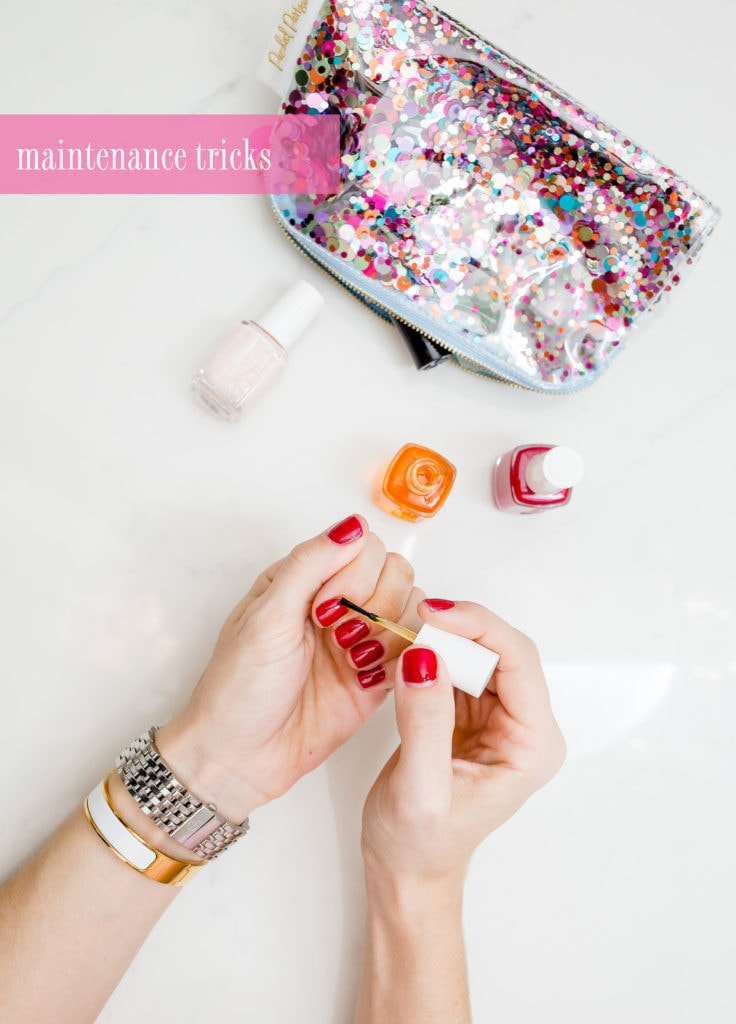 Maintaining Your Mani
I truly do love these products because it helps me last 7 days without having to redo the process. However, the one downside of regular polish is that chips do happen sometimes! Here is how I maintain my manicure so it can last long!
Every 2-3 days apply a top coat of Seche Vite regardless if you have chips or not!
Skip hand sanitizer! This breaks down polish causing it to chip more. Soap doesn't do that.
If you do have a chip, first apply a very thin coat on the chipped spot. Act as if you are concealing a blemish, and don't paint the entire nail just yet. Then, take another thin coat and paint the entire nail. This way you aren't adding too many layers to the entire nail.
I can't underestimate the power of cuticle oil! Apply it every other night!
Be careful where you get nail polish! If it gets on your cuticles it causes the polish to lift and can lead to chipping. In order to do this, take a small eyeliner brush or thin makeup brush and dip it into nail polish to touch up any areas where you may have gotten polish on your cuticles. I normally use the eyeshadow brushes that come in palettes for this!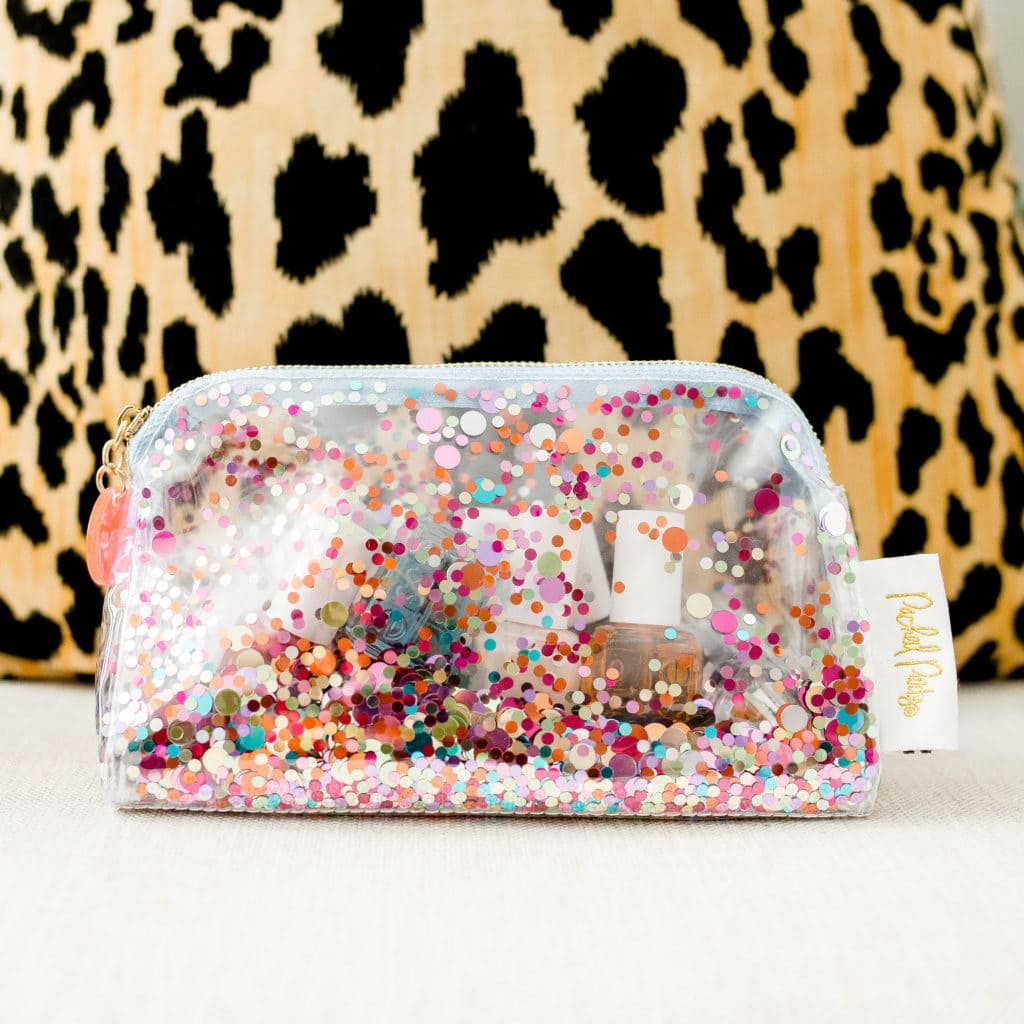 So grab a little confetti pouch, organize your nail polish and try these tips out next time you need a manicure! In the time it takes you to sip an iced coffee out of a disco cup [I couldn't not include these in the photos, isn't it so cute?!] your nails will be dry. I painted my nails during this shoot and then grabbed Peaches 3 minutes after! That's how fast my nails dry with this combination and I love it! I will say, I do still get a gel manicure every few months as a treat. But it's nice because I'm not piling gel polish on top of already damaged nails. Are you a manicure girl or do you just keep it polish free?!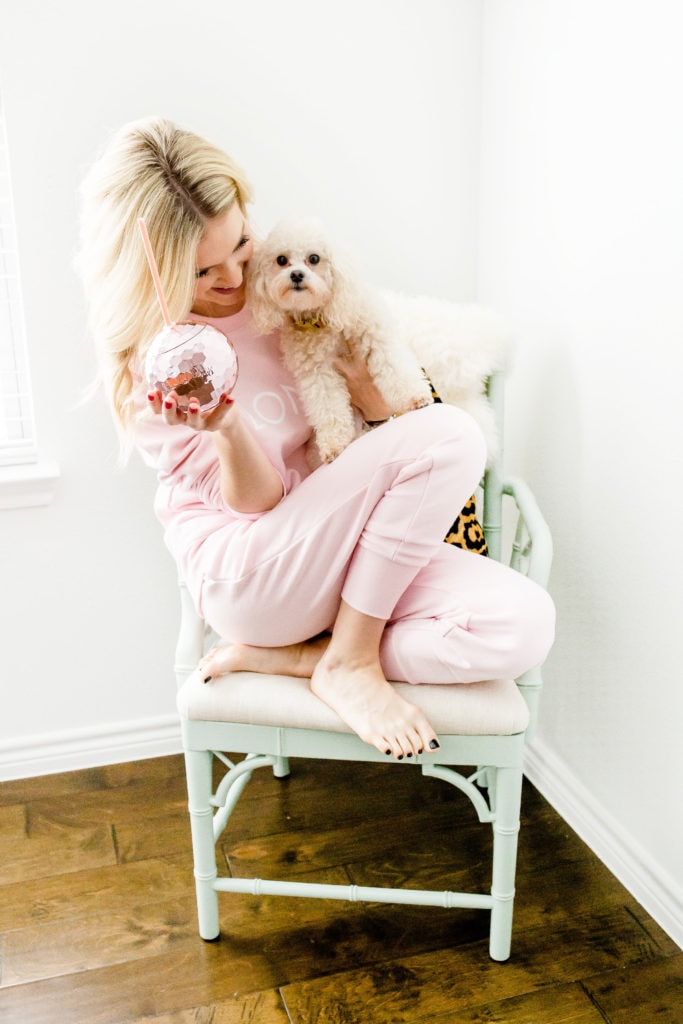 Blonde Sweatshirt: Nordstrom, Brunette Option | Blonde Sweatpants: Nordstrom [TTS], Brunette Option | Confetti Pouch: Packed Party [c/o] | Disco Cup: Packed Party [c/o] | Chair: Ballard Designs | Art: Jenn Thatcher Art [c/o]
Photography by: Madison Katlin