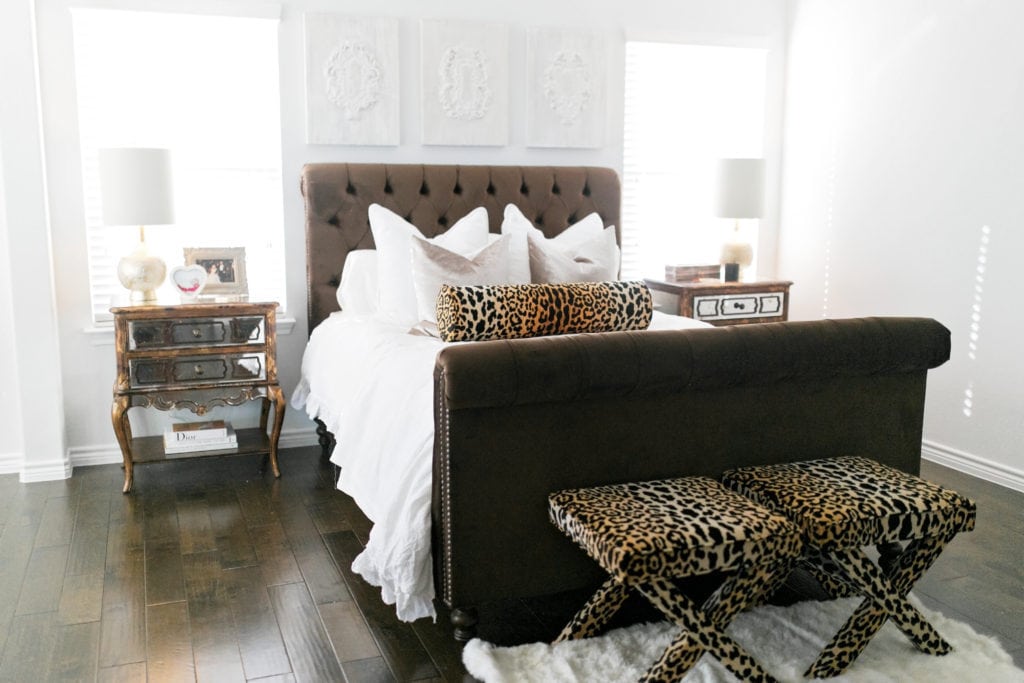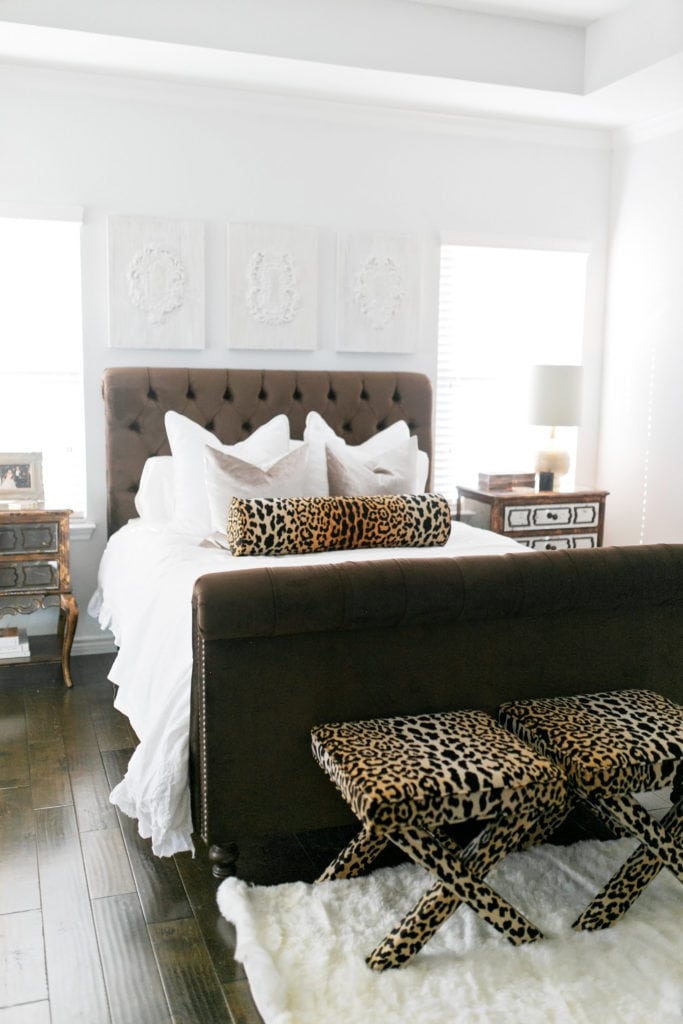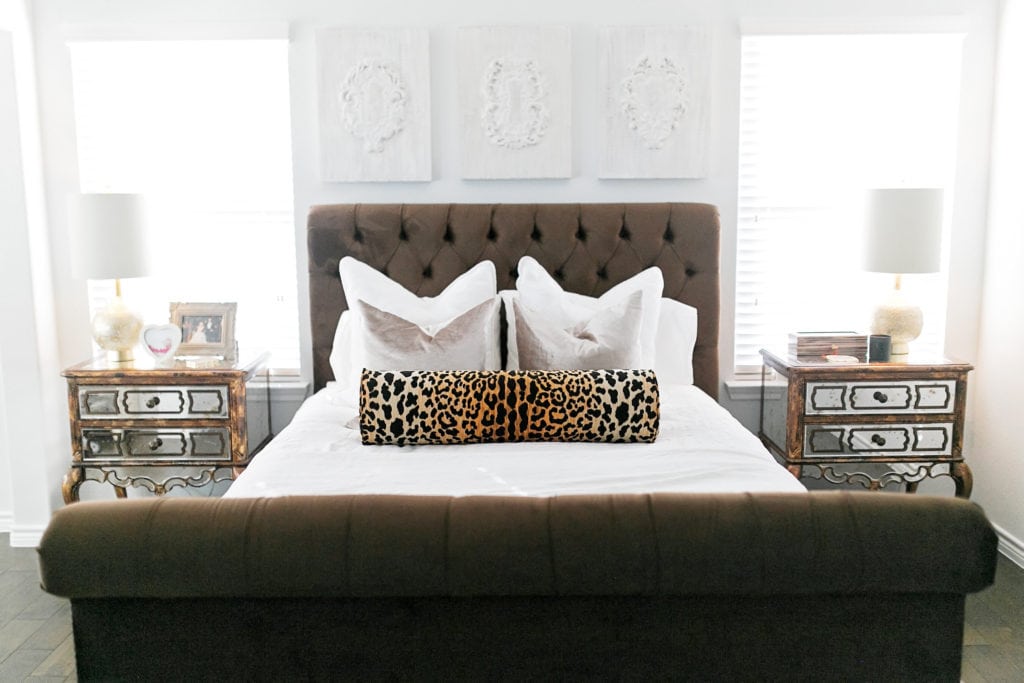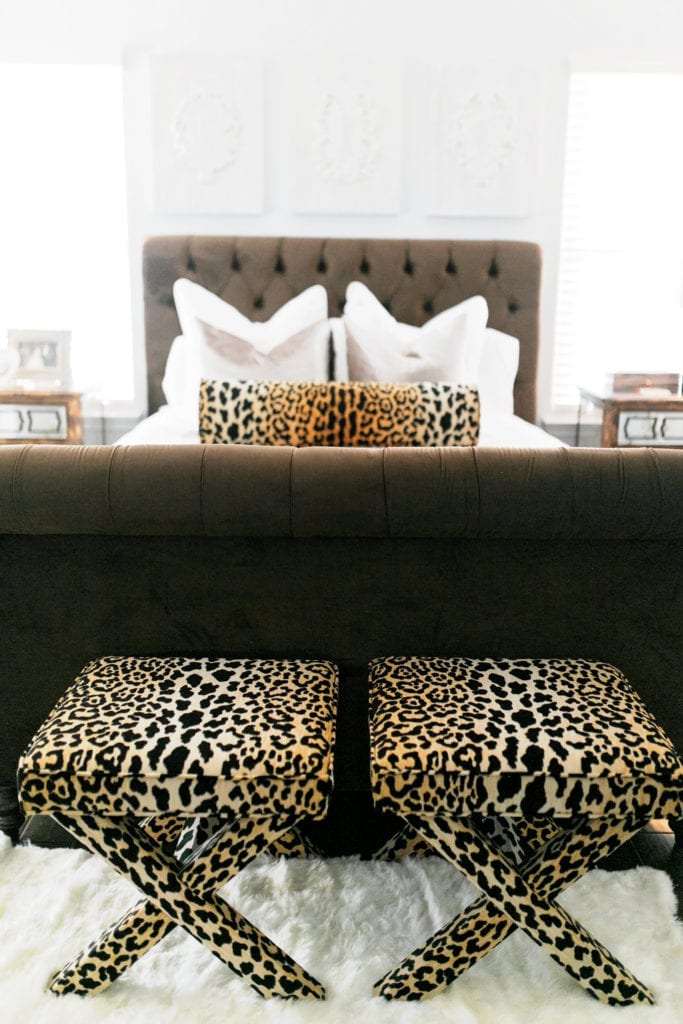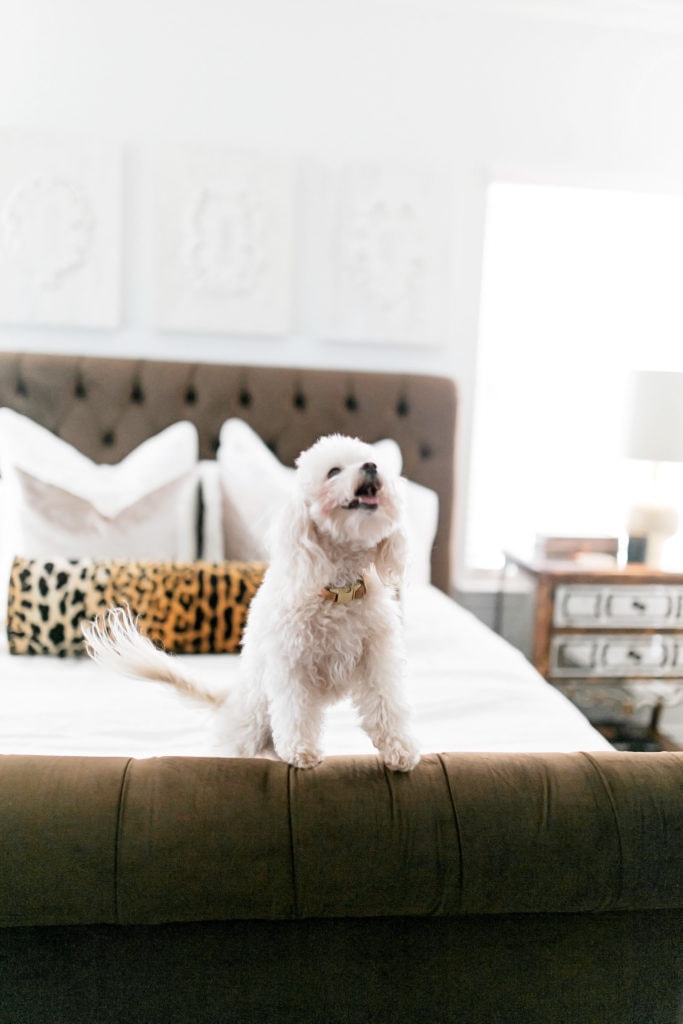 Bed: There's No Place Like Home, Similar | Bedding: Duvet, Simple Things | Bolster: Little Design Co | Blush Pillows: Little Design Co | X-Benches: LivenUP Design [c/o] | Prints Above Bed: Ballard Designs | Nightstands: Joss & Main | Lamps: One Kings Lane | Frame: Aerin | Candle: Colleen Rothschild [c/o] | Rug: Amazon
Photography by: Angie Garcia
---
 It's funny because when we started building our home, Paul only said, "I don't want white bedding." I was fine with that and ended up purchasing this quilt from Anthropologie. You may remember I was decorating the room around that quilt and went to Dallas for a day to search for a headboard, nightstands and dresser.
Then, while living with our parents after our home sold, we didn't have white bedding. Our bedding there was a bit tan and it drove Paul crazy. Having a dog and a baby, we need to be able to bleach our bedding because stains happen. If you say my Insta Story last night you know that's the truth. Ha! He started to see it wasn't working and a week before we moved he said, "You're right. Let's go with white bedding." I happily made that return and here is where we are at! 😉
To continue combining masculine and feminine accents I went with a chocolate, tufted bed and darker nightstands. Speaking of the nightstands, I can't get enough of them! They were on sale for a great price but most importantly, I love the finish. I've mentioned before our last home had a lot of lacquered furniture and it showed every single smudge, scuff and mark. My thought process with this home has been a complete and total 180. Give me everything low maintenance! The mirrored accents look very romantic and the antique look means if Maxi were to scrape the table or cause a mark no one will notice a thing. I have been such a fan I got my desk from the same line. My office nook is to the side of the master and is originally the master sitting area.
What's next?
That's not the rug we are using! I had it as a placeholder, but we actually moved the Antelope Rug from Ballard Design's in the master and I love how it warms up the space. I felt it was clashing with the chairs in our living room and I'm really happy we moved it.
My desk chair came in and I've received quite a few questions in it. It's from World Market. They always have the easiest shipping!
I got a little bench from Target for my office nook the other day. I like the added texture and I use it to perch the handbag I'm currently using. I can't find the stool online but it was faux fur and in their new decor section. It looks a bit like this but only $50!
The art for over my desk will be from Carmen Evans. I'm using one of her photography prints and can't wait to show you all when it arrives.
Our designer comes Monday! I am so excited to get the ball rolling with her because these windows need some treatments! We'll see what she does in this room. 🙂
I *do* need a chandelier for this space. This is the light fixture for my office nook so I can't decide if I should go with the larger option for the master or something like this. I'm terrible at light fixtures and will probably just refer to the designer or y'all.
I do want to get one of these little silhouettes of Maxi printed for my nightstand.
In the future I also want to use emerald pillows and move these blush ones into the playroom. Or I do love this plum option. What do you like?! This is why I always have to have white bedding, I swap out accent pillows too regularly!
We also have a pretty long wall when you walk in our master that is blank. I love the idea of a black and white collage with a bench, but three benches in a room may be a bit much! ha! Maybe chairs?! Or is that crowded?
I'll of course show everything when it was finished but like with the living room, I wanted to show a few mini progress pictures for you all! So far, I've been loving the blend of styles and the darker looks. We have a lot of windows in this house so everything still feels really light, but it also has a more romantic aspect as opposed to just bright and clean.
When my girlfriend was in town this past weekend she helped SO much with the house. She was an interior stylist [and she's done PR for Anthro/West Elm/Williams Sonoma] in California so she moved things around left and right. It was so nice to have an extra set of eyes that also knows our lifestyle pretty well. I mean, I love Pinterest like the next girl but Pinterest doesn't know that I can't keep things on my coffee table because of Maxi girl. haha! One night we just stayed in and ate a cheese board and moved furniture around- which is honestly my kind of night. So I'm feeling really good with the progress we made. We have Maxi's birthday party and a bridal shower coming up soon to host and before I was feeling a little anxious about wanting the house more "settled." But now I feel really good! Plus a few empty rooms always allow for extra chairs and tables to accommodate guests. 😉
I hope you're enjoying these updates! Thank you so much for reading!