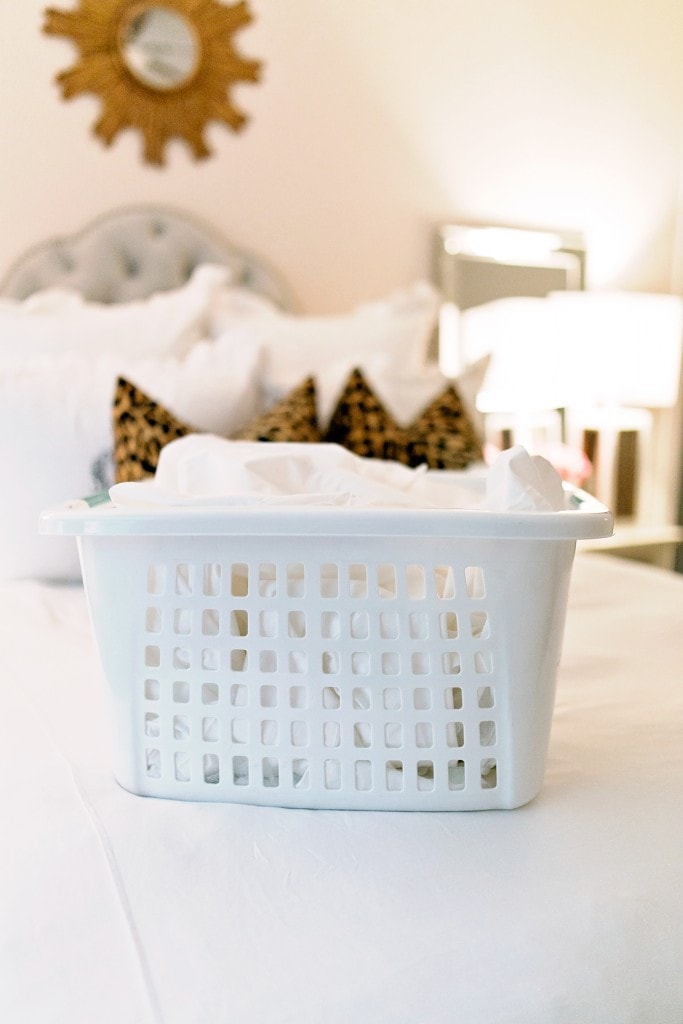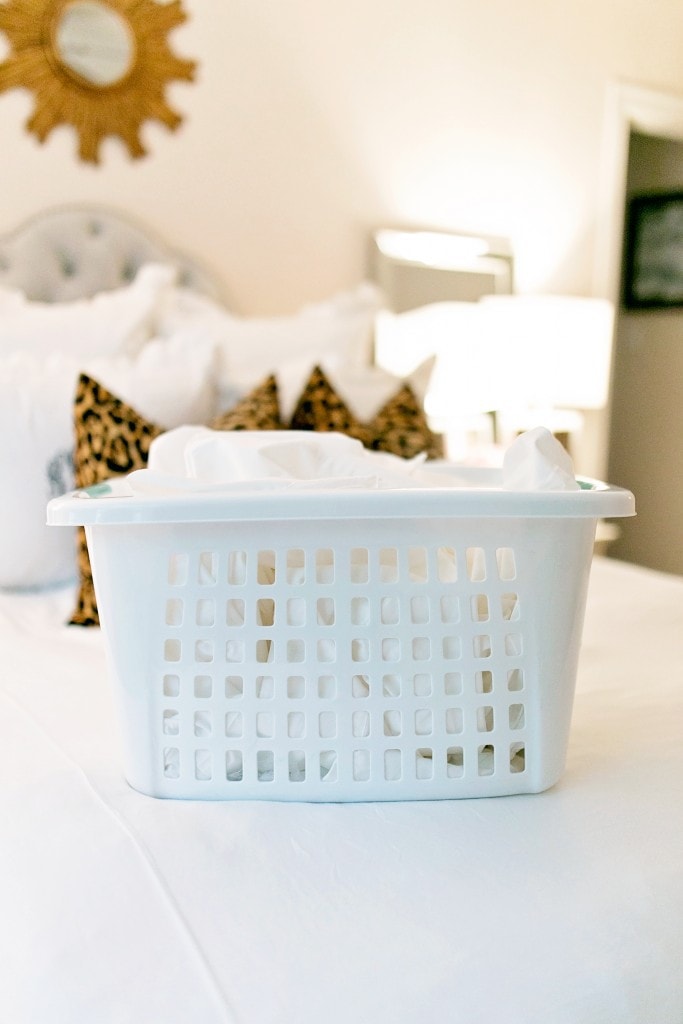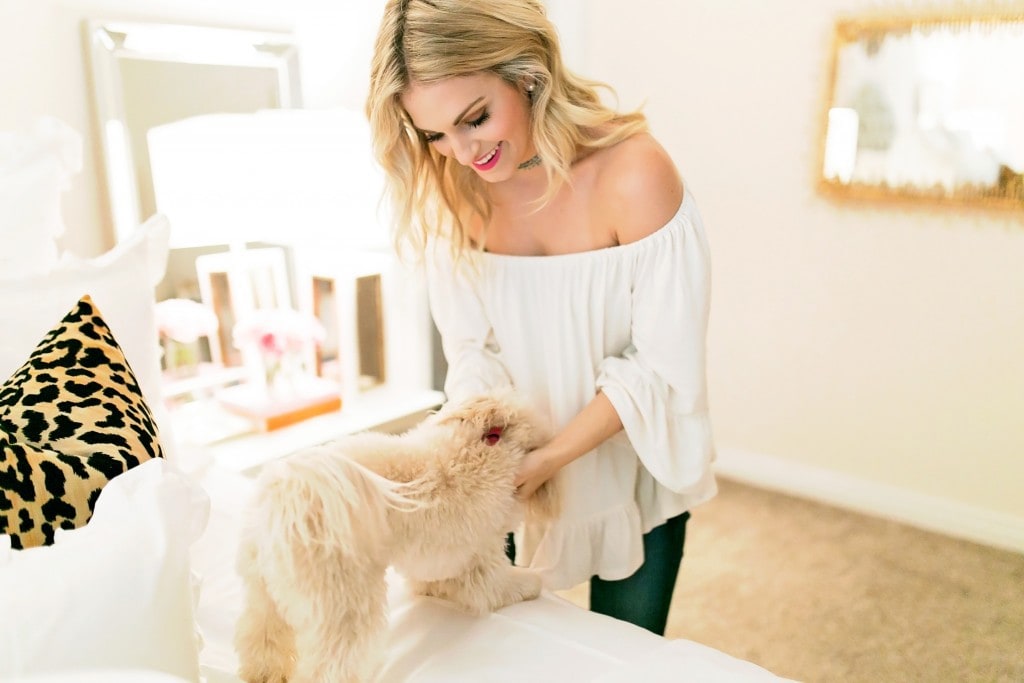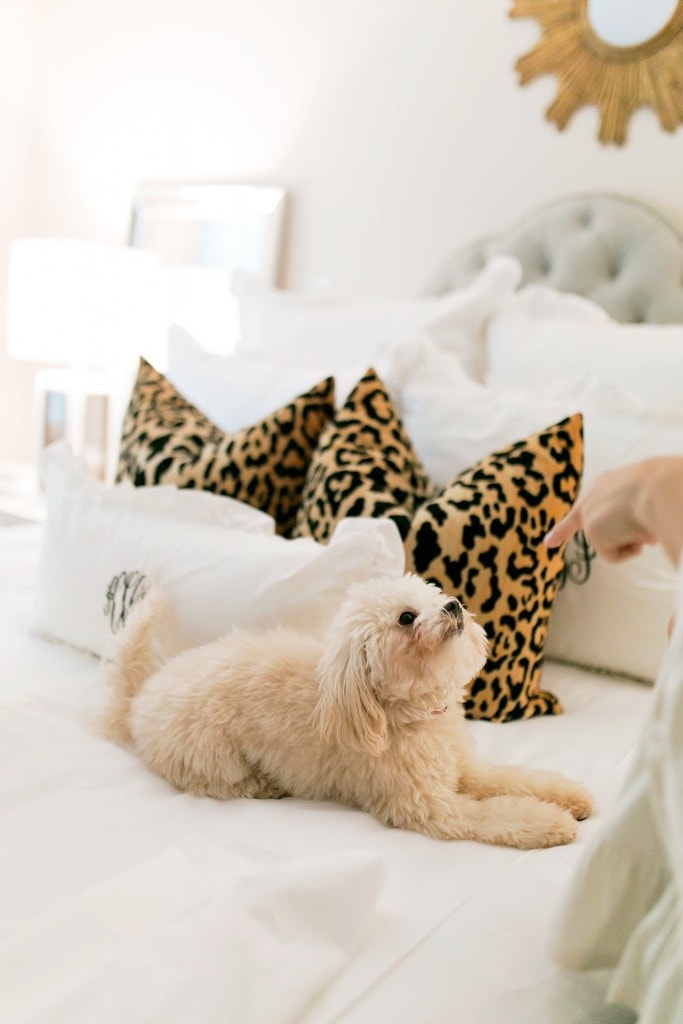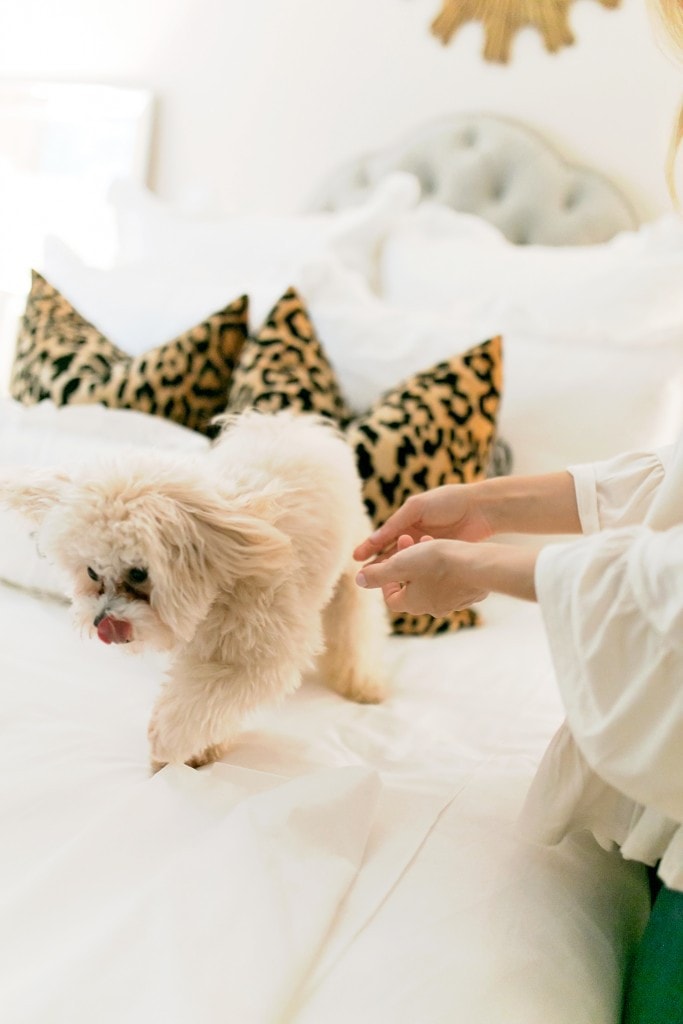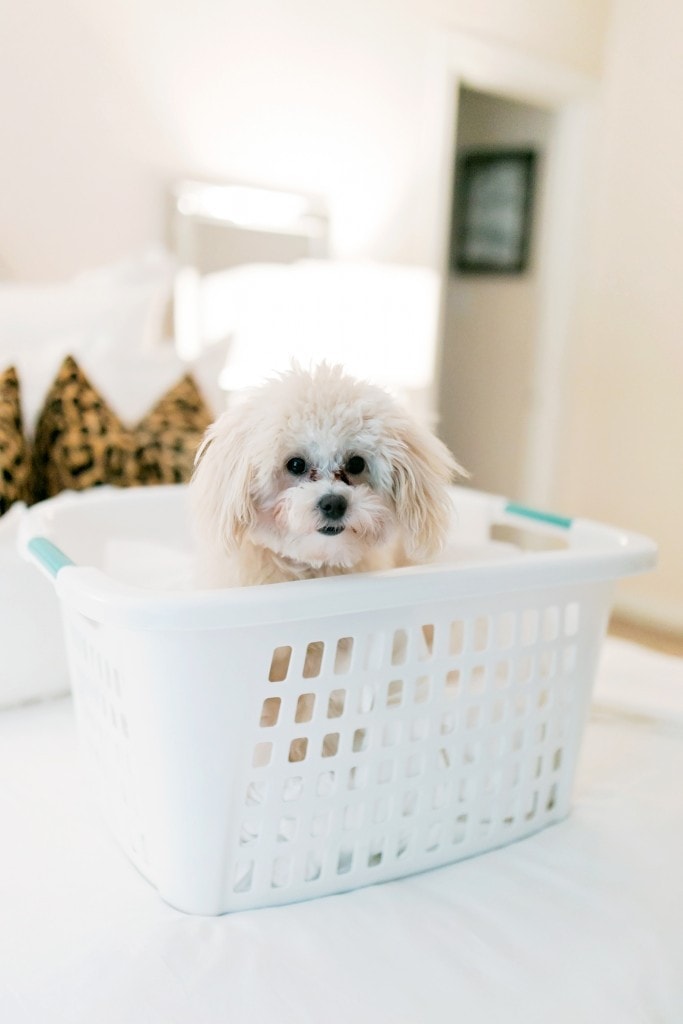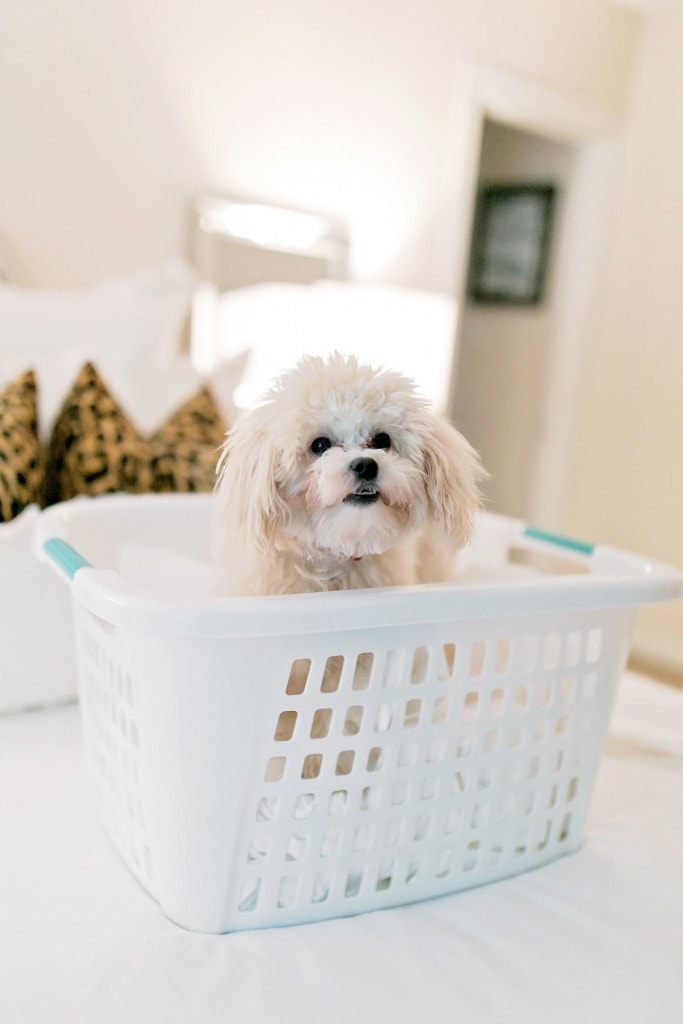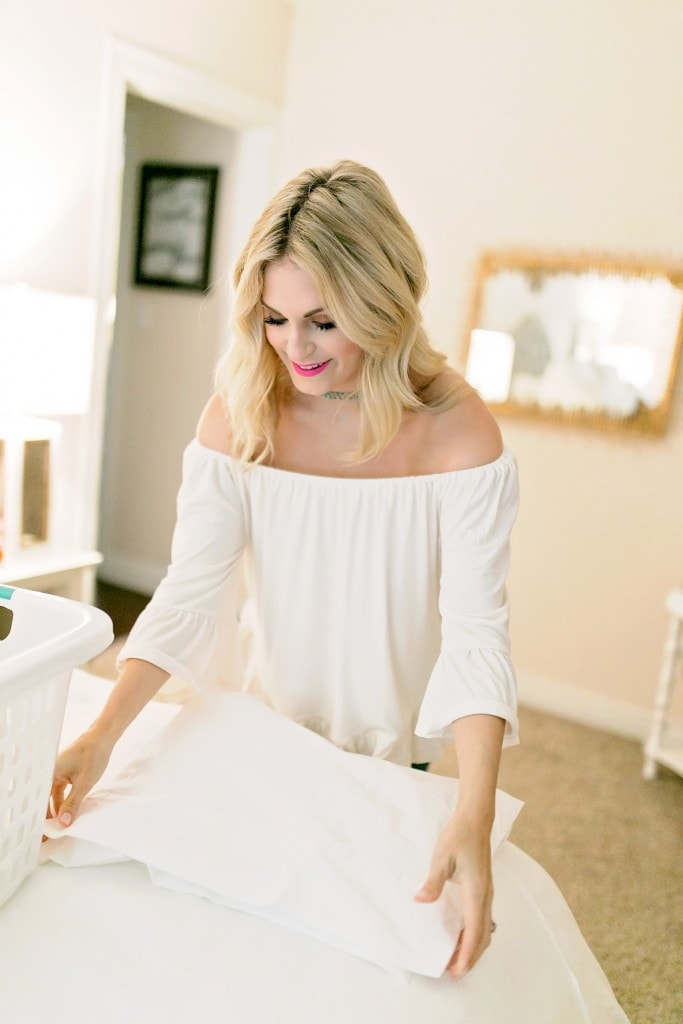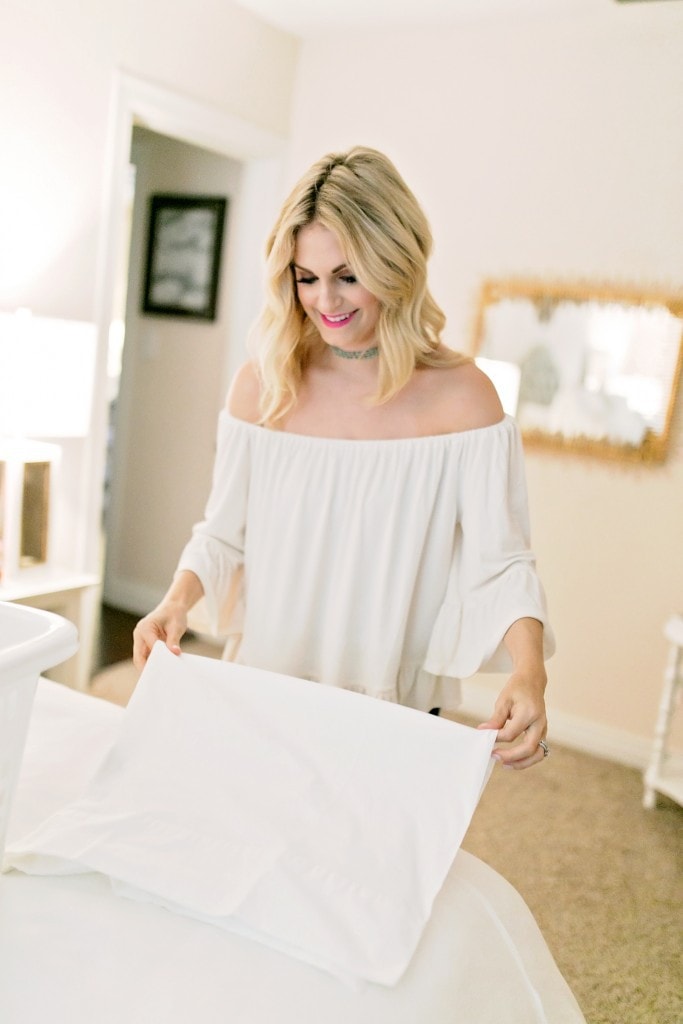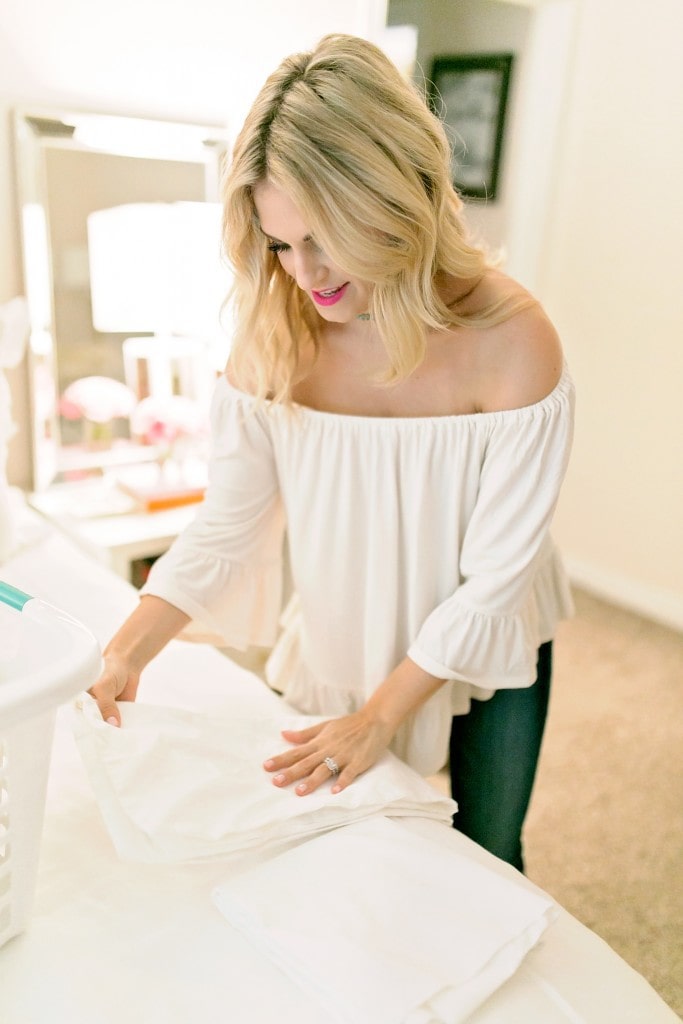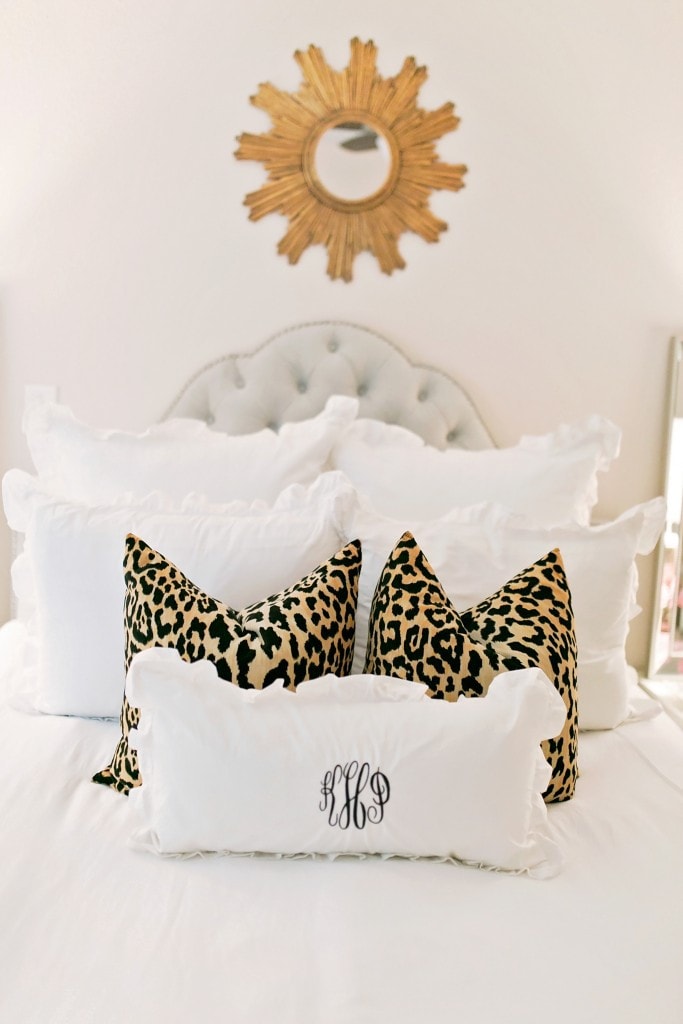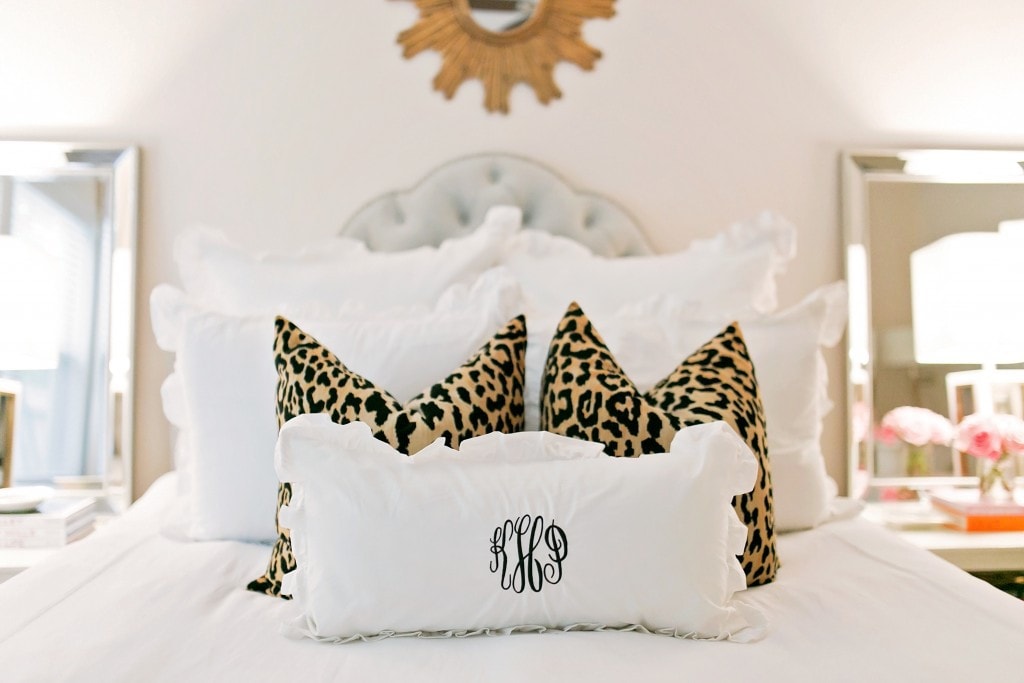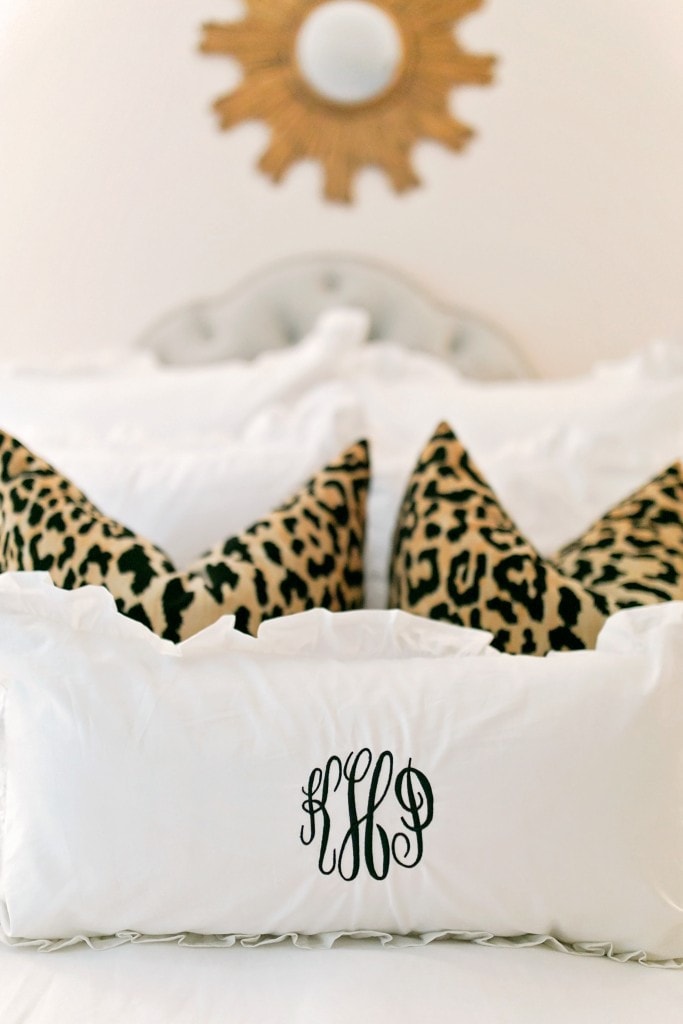 Shams: Crane & Canopy [c/o] | Duvet: Pottery Barn | Pillows: Little Design Co [c/o] | Headboard: One Kings Lane | Sunburst Mirror: Similar | Sheets: Pottery Barn | Jeans: AG | Top: Urban Outfitters [similar] | Choker: Baublebar [c/o] | Lipstick: Invite Intrigue
Photography by: Angie Garcia
---
One of my favorite things about traveling is climbing into a big, puffy, white bed. Something about the stuffed duvets and crisp, white sheets helps me forget all the germs lurking about the room! 😉 If you're seeking an upgrade to your sleep experience, it might be time to switch to luxury linen bedding from Bedtonic, providing a touch of sophistication and ultimate comfort to your nightly routine.
So if hotels use white bedding to make you feel more at home, why don't more of us? I think a big reason people steer clear of white are the stains. First, whites can yellow. Then there's the occasional evening you forget to take off your mascara. Or what about spilling a little ice cream on your duvet? And don't even get me started on dog stains from their little paws!
But over the years, I've learned many tricks to keeping my white sheets bright and crisp! Our home can be a wreck and if my bed is made with fresh sheets, I feel all is well. I thought it would be fun to share a few tricks and what I do to keep our sheets clean and white!
1.Treat Stains Immediately
I love white bedding because it's just a further push to wash my makeup off and not eat in bed! I used to have colorful bedding from Anthropologie in college and I think I might have skipped a few nights of washing my face and eating pretzels in bed because of it! However, I have many nights I get exhausted and just want to crawl in bed! When that happens I treat stains immediately. You may want to wait to wash your pillowcase until laundry day, but stains remove best while still wet or freshly made. Also, be sure to not dry your sheets or duvet until you can make sure that the stain is out! Dryers set in stains! I go by the old faithful of Oxiclean to get stains out!
2. Lemon Juice > Bleach
I love to clean and I love cleaning supplies. When I had babysitters over as a child I used to ask to play Cinderella and clean base boards. I mean, I was not a normal child…. #embarassedmonkeyemoji
However, as much as bleach can be a lifesaver, it can be a yellower. Using bleach over and over can lead to yellowing of your sheets. Try 1/4 cup of lemon juice mixed in with your regular detergent! I use a clear detergent without dyes or scents, so this makes it smell incredibly fresh! If your linens are already incredibly yellow and you aren't ready to buy new just yet, fill your tub with boiled lemon water. Let sit for a few hours then wash with detergent as usual! You can also do this with vinegar.
3. If Sheets Aren't Fresh
We have two pairs of sheets that I swap out. This way I'm able to immediately make our bed while I'm washing the other set. My favorite sheets are from Pottery Barn. If your sheets [or bath towels] aren't as fresh as you would like run a few pinches of baking soda in with your detergent, and halfway through the cycle add in a cup of vinegar. Vinegar also gets rid of the mildew towel smell we all abhor!
4. Baby Detergent
A few months ago I started to realize I was allergic to most detergents. I would get little itchy bumps where my clothing was and I FREAKED out. Having Discoid Lupus I'm very aware of what is normal on my skin vs. what isn't and this worried me. I went to my dermatologist and she told me it was just a simple reaction from detergent. I hadn't changed anything so she suggested I try baby detergent because it's so natural and simple. This cleans our sheets so incredibly well, without destroying the fibers of the bedding! If it's good enough for a baby, it has to be good enough for your bedding! You won't have a strong scent, but using lemon juice or nice dryer sheets makes them smell wonderful! This is the detergent I use on everything!
5. Steam Duvet
People always ask me how my duvet looks so neat and my trick is a steamer! I steam my duvet once I wash it! This also kills any germs that are there if your dog likes to get on your bed a lot! This portable steamer works great! I know this trick probably seems like, "Okay, Katey! Do you have a lot of time on your hands or what?!" But it honestly takes 5 minutes and makes a world of difference!
In terms of my washing schedule, I wash sheets once a week on Tuesday! I do my self tanner on Monday night so I make sure to schedule around that! Because we all know the first night we self tan leaves less than pretty marks on your sheets! I wash our duvet once a month or more often if we have any spills or stains! We are red wine drinkers at Hotel Hellman so sometimes it happens! haha!
Below I will share my favorite bedding and headboards! I hope you found this post helpful and I'd love to know any linen tips that you have!