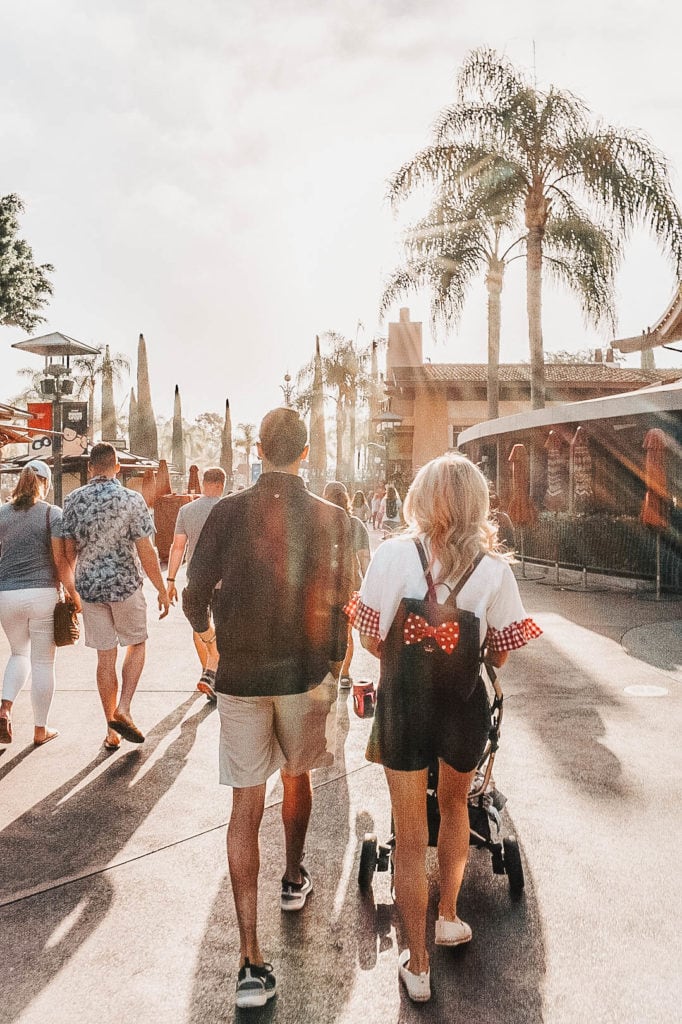 Happy Monday from Disneyland! Growing up we always went to Disney World, so this was our first time to Disneyland. We are absolutely loving every minute and I have officially eaten my way through the park. Churros, corndogs, ice cream- you name it! Funny enough, Maxi's favorite character was Cinderella's Fairy Godmother. I'm thinking it is the fact she is older and Maxi loves anyone that is a Gigi. She is obsessed with grandmothers! At one of my blog events, a reader came up with her mom and grandmother. Maxi automatically jumped into the grandmother's arms with no fear. haha. And then last night in Downtown Disney we were stopping to check a restaurant for reservations. There was a mom and grandmother waiting in line and Maxi started crying because she wanted the grandmother to hold her. I mean it's hilarious, and what on earth do you tell a stranger?!
Last week I took an afternoon to work on Father's Day plans, reservations, and gifts for Paul. I think we can all feel a little lost when shopping for our guy as they typically don't ask for too much. Paul is quite simple, so I try to just upgrade his basics! He would never want to upgrade tennis shoes, running jackets or travel kits so I like to do that for him. Whereas I'm over here picking up milk at Target staring longingly at makeup bags thinking, "Oh well I probably need a sixth makeup bag. Don't we all?"
Here are a few upgraded basics and splurges for the dads in your life!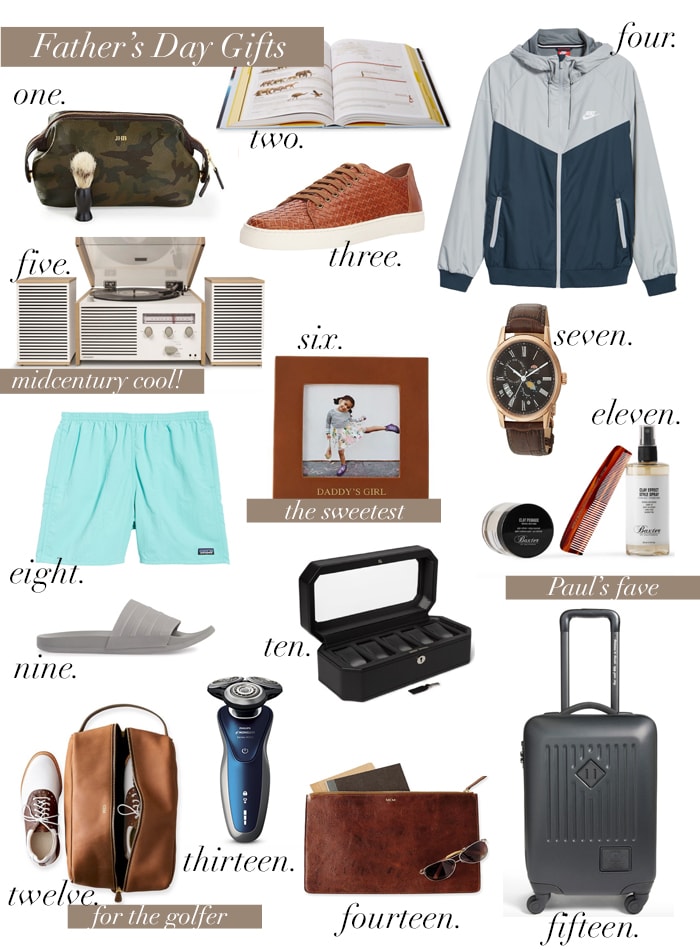 one | two | three | four | five | six | seven | eight | nine | ten | eleven | twelve | thirteen | fourteen | fifteen
---
one. I like this take on a travel kit for men as most as just the same ole' plain, brown leather.
two. This is a really cool book as it features National Geographic's best infographics from the past 128 years. I know my Poppop would love something like this, as would my dad!
three. These sneakers say, "I'm not a regular dad, I'm a cool dad." ha!
four. Six different colors in a light jacket to fit your guy's style.
five. What a gift! I was honestly surprised this was under $200. This is a gem as so many guys love the midcentury style. Plus, it is a gift the entire family can enjoy!
six. Paul's only request was an updated photo of Maxi for his office. What guy wouldn't love this frame?!
seven. Paul also loves watches. Watches to him are what handbags are to me. I always wonder, "How could you want another?!" But then again he doesn't ask why I want a black handbag when I already have three. It's only polite to not do the same with his watch obsession.
eight. These are Paul's favorite swim shorts and they come in a ton of different shades.
nine. Paul also ALWAYS never has sandals. Each beach trip we go on, he has to buy sandals at the hotel and then they cost 7x what they are worth. These are perfect for him at the pool.
ten. A home to house his watch fetish.
eleven. These are his favorite hair products. I put them in his stocking this year and he is obsessed!
twelve. Does your guy golf?! If so, grab him this personalized option.
thirteen. I want to get Paul this because around Christmas we found one in store. He wanted to get it and then we kept walking, came back 5 minutes later and someone had already taken it.
fourteen. This is a great option if your guy works from home or travels. It can store their paper/laptop and keep things organized. Kind of like a gift to yourself. 😉 Secretly, of course!
fifteen. I got Paul a suitcase because when we went to pack for Disneyland we realized he needed one. We usually just would share a large suitcase but I needed to do that with Maxi. Then, I ran to T J Maxx and got him a small one because in my mind I'm thinking, "Oh he's minimal, get him the smallest option." I'm pretty sure this was a child's suitcase because he couldn't fit more than a pair of shoes and his dop kit. ha! I had to return it and he was laughing. He was like, "Okay, I don't need much as a guy, but I can't even fit my shorts in this!"