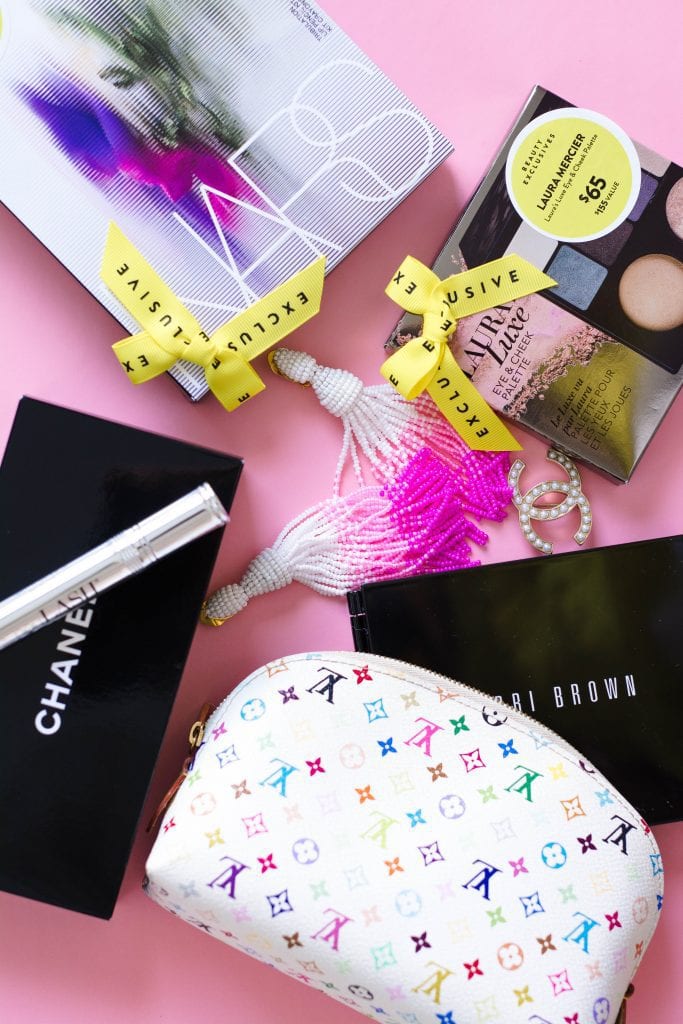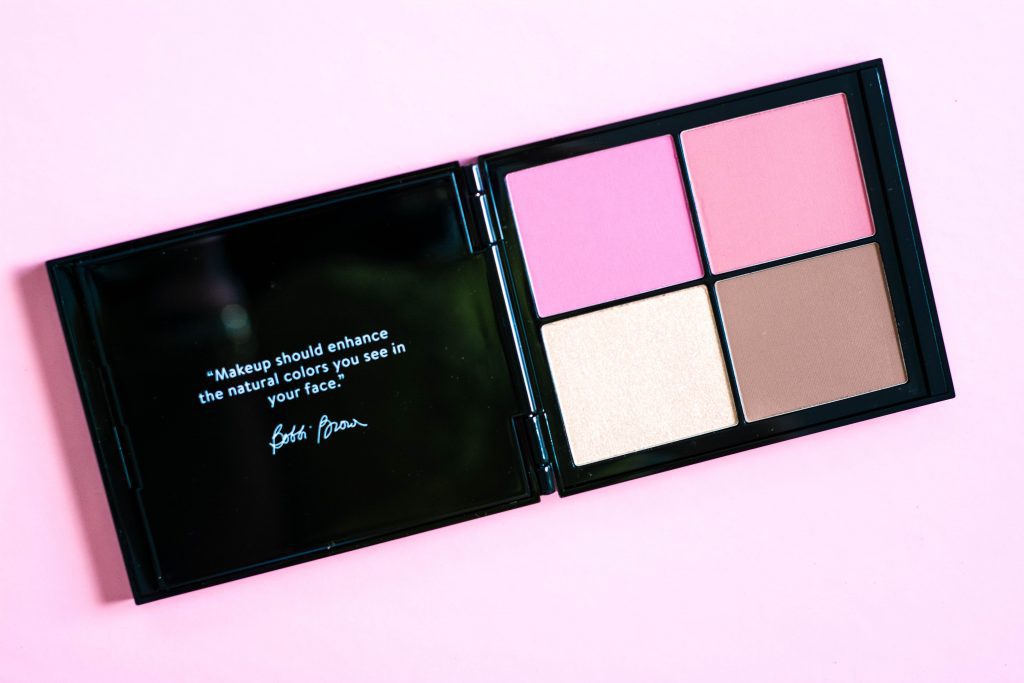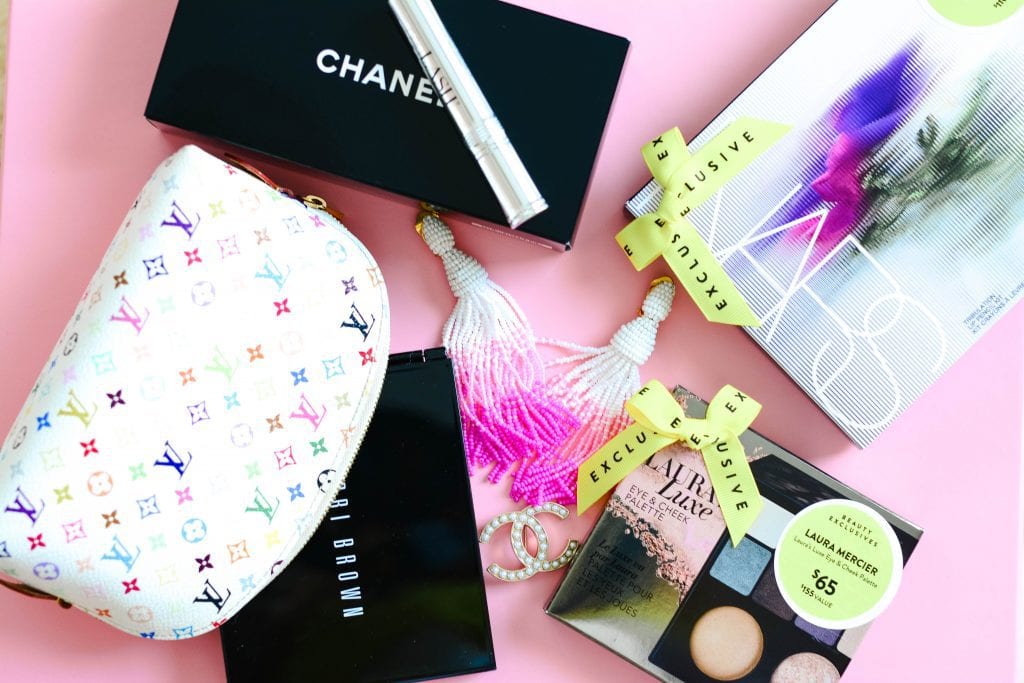 Earrings: Goldenstrand Jewelry [c/o] | Chanel Pin: Vintage | Makeup Bag: LV
---
When my mom had hand surgery a few weeks ago, I came over that week to help take care of her. Most people request ice cream or movies when they are recovering for a major surgery. My mom? She asked that I clean out all of her makeup for her. My mom can have the tendons cut in her hands and her mind is still on keeping a tidy home! And I wonder where I get it from?! So Maxi snuggled up with her Gigi and I got to work tossing expired makeup. While my mom has enough foundation and lipstick to makeover the entire Miss America organization, she has one eyeshadow. ONE. She also has two blushes. I'm convinced one is from 2010 and she needs to toss it, but she argued with me no.
With her birthday coming up I knew I needed to get her a palette so she could have a few more eyeshadows on hand. The first day of the Nordstrom Anniversary Sale I hit up the beauty counter and found her the perfect palette. Bobbi Brown is her favorite makeup brand, so I know this will be a hit!
I wanted to share the pieces I got from the sale in the beauty department as well along with my favorites you'll always see on COF. So many of the items from this sale are consistently on my blog and my trick is to get them each year from the sale. Below I'll share my picks and then the reviews on my blog.
Beauty Favorites

Reviews
T3 Dryer: How to Style Hair After Gym, Beachy Waves Tutorial
Neulash: Beauty Hacks, Get The Look of Lash Extensions [I don't recommend this while pregnant or nursing]
Anastasia Brow Gel: Brow Tutorial, Travel Beauty
Donna Karan Deodorant: What's in My Medicine Cabinet, Top 10 Beauty Products
Beauty Passes
La Mer Collection: From Gossip Girl to Vogue, La Mer is praised as the facial cream. However, EACH and every time I use a La Mer product I break out. I want it to work. I want to understand the obsession this industry has with it. I know girls that don't spend a dime on beauty all year and only buy La Mer moisturizer. However, each time this causes me to break out I'll speak with my friends that are beauty buyers for major retailers and they say this is extremely common. It's a product that can be extremely heavy on the skin and either acts as an angel caressing your skin or a nightmare. I'll keep trying La Mer samples because honestly, I just want to see this magic. And so if I ever blog a La Mer product one day, you know it is good. But if you aren't a fan favorite I wouldn't splurge on this set. It seems like an incredible deal [which is it] but you could end up with a break out.
Jouer Melon & Citronade: Unless you have extremely olive skin [think Jessica Alba] I don't know who these colors would work on. Online it looks innocent, a little warm-toned but very workable. In person I was shocked. It's the type of lip product I know I would put on and my teeth would look extremely yellow. Always be careful with overly-warm lip products. If you have cool undertones it can make teeth look darker than they are.
Benefit Sizzlin' Six Mini Best Sellers: I love Benefit products, but these are essentially just small samples. You could just luck out and get these at Sephora with your points or Ulta with their coupons and e-mails. I say keep your $29! 😉
I hope you have a wonderful Sunday! I had planned on sharing some home decor choices this weekend, but I'll be honest I'm still completely stuck! haha. Maybe I'll have better luck sharing next weekend. Thank you all for your well wishes with our move yesterday. I have a hilarious story about our move that I'll share tomorrow. But all went well and we are just settling in at my parents' home. Peaches loves it here so much more [probably because Gigi feeds her too many treats!] and it's so nice to enjoy coffee on my parents' back porch.