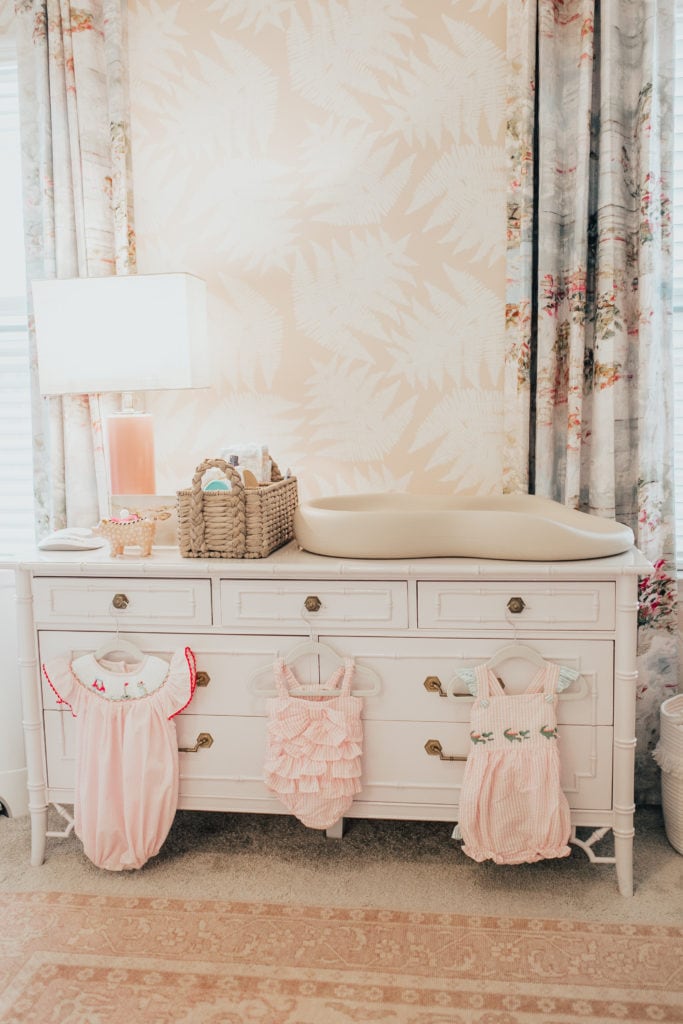 Seersucker Swimsuit | Gator Bubble | Nursery Tour | Photography by: Angie Garcia
---
This weekend we did the dreaded task of going through all of Maxi's clothing. I find I do it about every 4 months or so, and each time I get so sad to see how big she has gotten. Truthfully, I'm saving most everything. Is that what y'all do?! I've donated a few things, but watch me be the mom with 40 Container Store tubs in her attic one day. I'm a purger in everything other area in life, just not my baby's clothing. I guess that's how it starts for most women, right?! ha. Don't Konmari me when it comes to my baby.
We ran to the mall to get her some new pajamas and I realized that I do buy most of her clothing online. Of course, I love a good Target or Old Navy run for sweet onesies, pajamas and play clothing. However, I thought it would be fun to make a post with a few of my favorite resources to get her more dressy pieces. I'm all for a smocked outfit, so a lot of these shops have smocked and monogrammed bubbles galore. They also carry sweet little boy clothing, of course, I just pulled the pieces I've purchased for Maxi as an example.
If you're just browsing for a baby shower gift idea, don't miss this post!
Dresses and Smocked Clothing
Smocked Auctions is a precious online shop and I get a lot of her bubbles from there! Right now they have a beach sale going on until June 18th.

Maxi lived in Beaufort Bonnet as a newborn, they have the sweetest little newborn gowns. I love their pieces for holidays or church. They also have great newborn gifts and I love to get their cardigans for Maxi in the fall. P.S. I find their pajamas and dresses run a little bit small!

Another must-follow smocked company! Make note a lot of their items are pre-order, so just check for that with shipping and sizing.

Lots of classic children's clothing that make a wonderful baby shower gift.
---
Play Clothing
I love all the options for leggings and casual outfits for babies! The only comment I would make is that I find their children's clothing to sell out really fast, so if you want to order I wouldn't wait.

---
Pajamas
They make such soft pajamas that are extremely durable! I've noticed that the knees don't fade even with a little one crawling all day long in them.
Every mama loves a good pair of Kickee Pants! Maxi lived in Kickee Pants until she was 3 months.

---
Shoes
Freshly Picked is one of the only brands that really fits her foot, she still doesn't size too well with buckled shoes. I love that these mocassins can be dressed up or down!

---
Bows
As her hair has grown, we've gone through different bow brands that will work for her. Here's a mix of what we have used throughout the past 16 months!

---
Boutiques
If you find yourself in Fort Worth or Dallas for a day, be sure to check out some of my favorites!
This boutique is on Camp Bowie and next to a few other favorites like Beehive and Kay's Hallmark. I make every excuse to go to Baby by Design. Birthday party gift? Need to go. Pajamas? Need to go. Driving down Camp Bowie to pick up dry cleaning? Need to go. They have the best selection of Kickee Pants, too! They also have a gorgeous selection of nursery furnishings. After you shop here, be sure to drive down to Blue Bonnet Bakery and grab a donut or cookie!
Babies on the Boulevard is the baby gifting boutique of FW. They monogram, carry Beaufort Bonnet and have all the collegiate smocked looks you could ever want to gift. Right when I found out I was pregnant I would go weekly until I knew the gender!
If you're in Dallas, head to Lovers Lane and pop in Jojo Mommy. It's carried at Madre Dallas so you will have plenty to browse.
I always pop in their Highland Park Village location for gifts. If you are unsure if a mom would want something monogrammed or smocked, you can guarantee she'll love anything from The Tot. They have a lot of non-toxic toys as well that you'll want to check out.
Truthfully, as I type this all out I'm sure I'm missing a few shops here or there. Can I blame toddler brain or is that not allowed? If I remember or find some more I'll be sure to go back and add! Where are your favorite spots to get items for your children? I'd love to look!