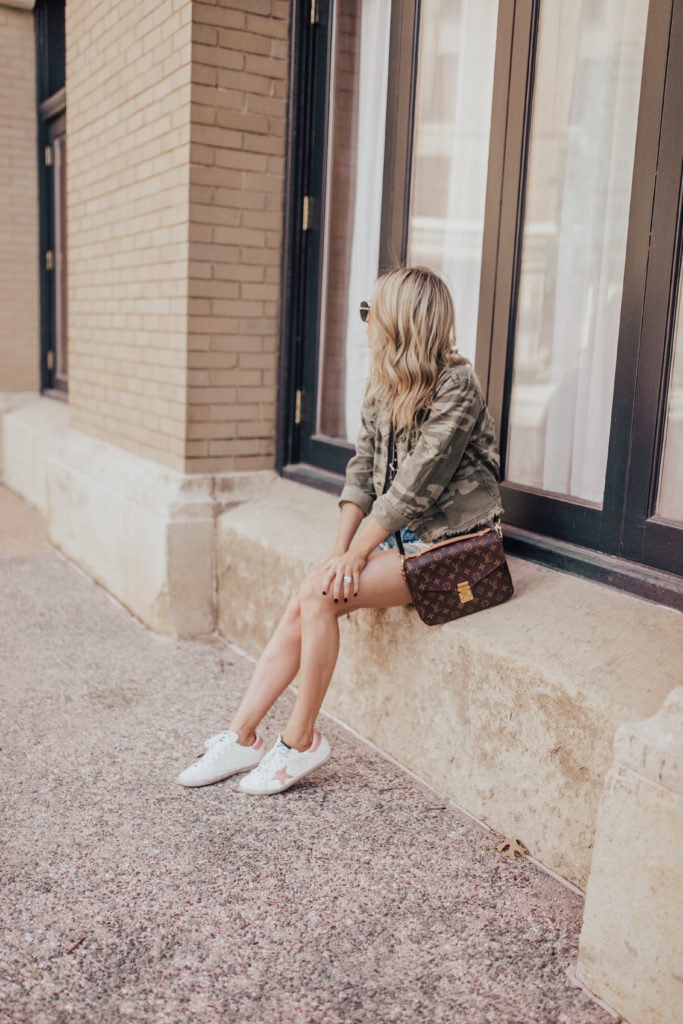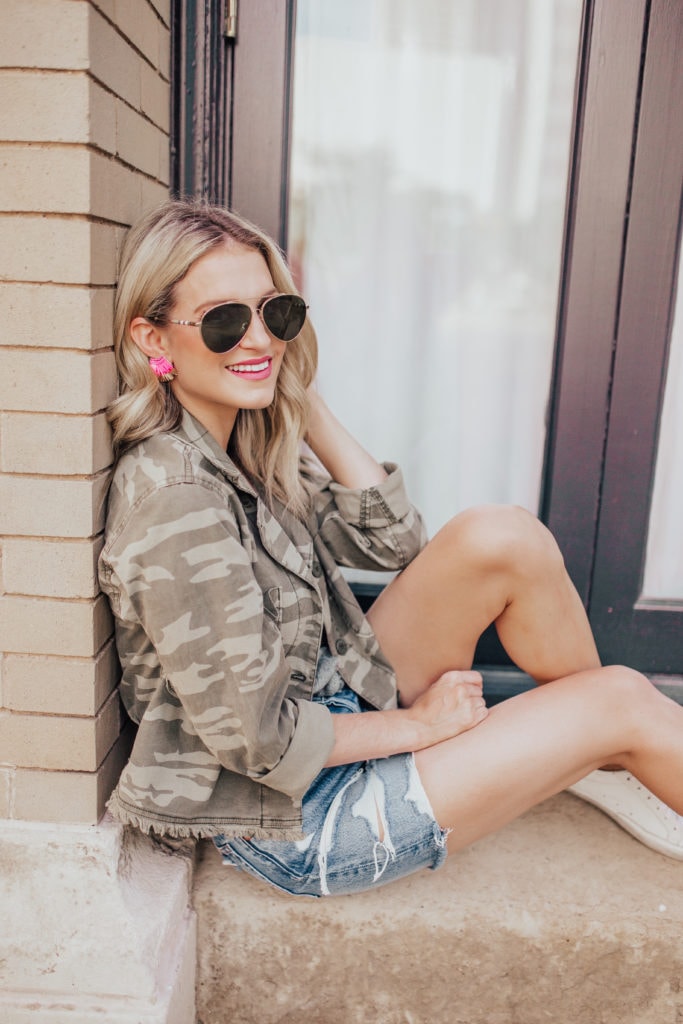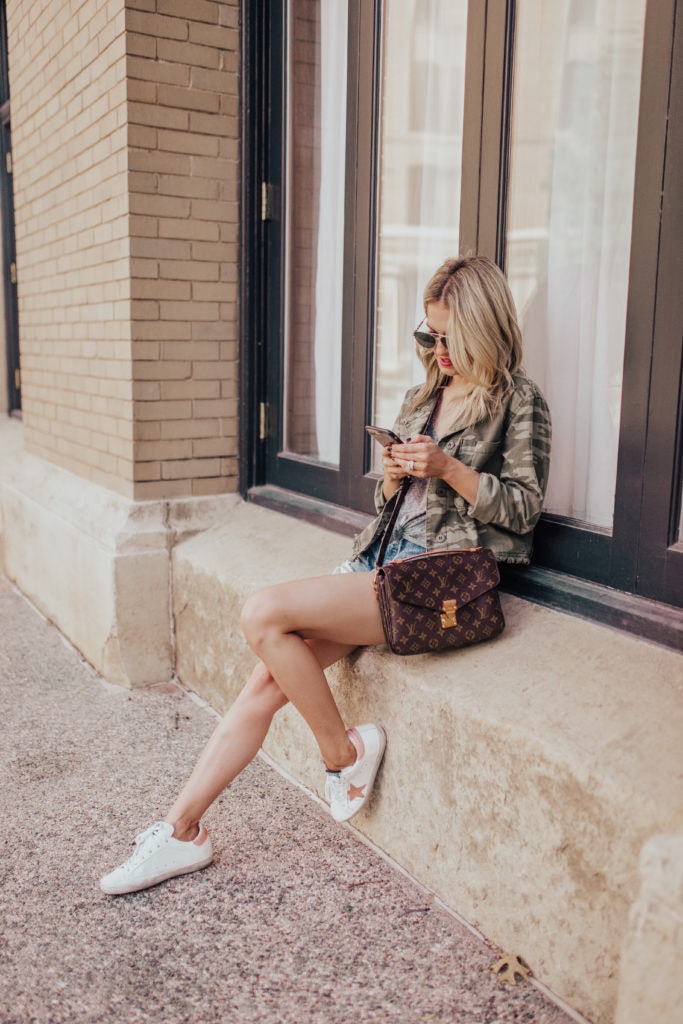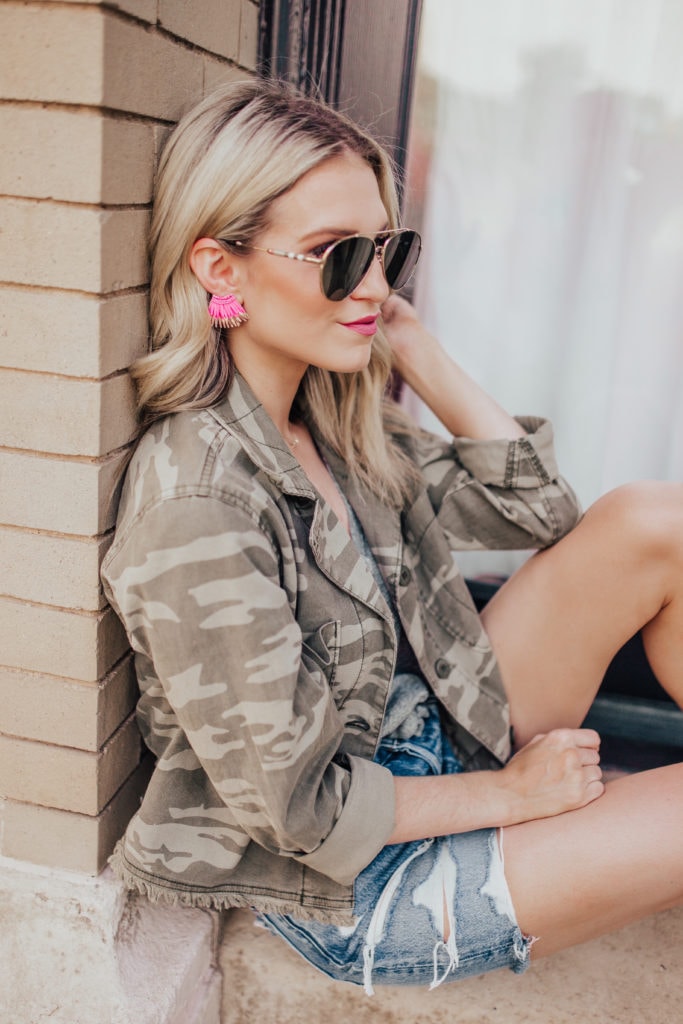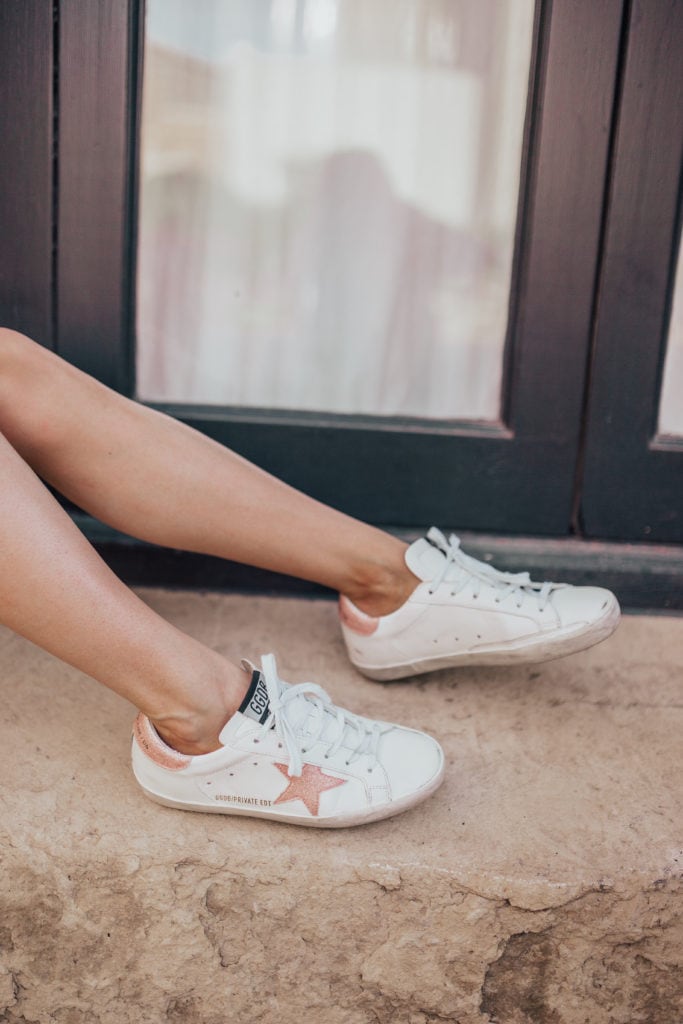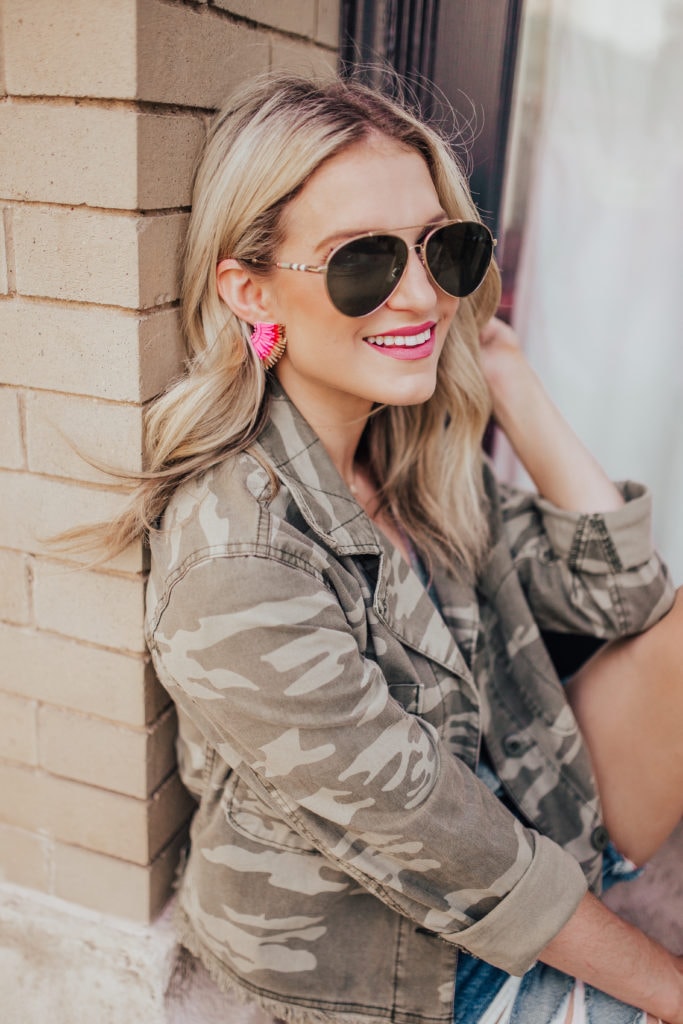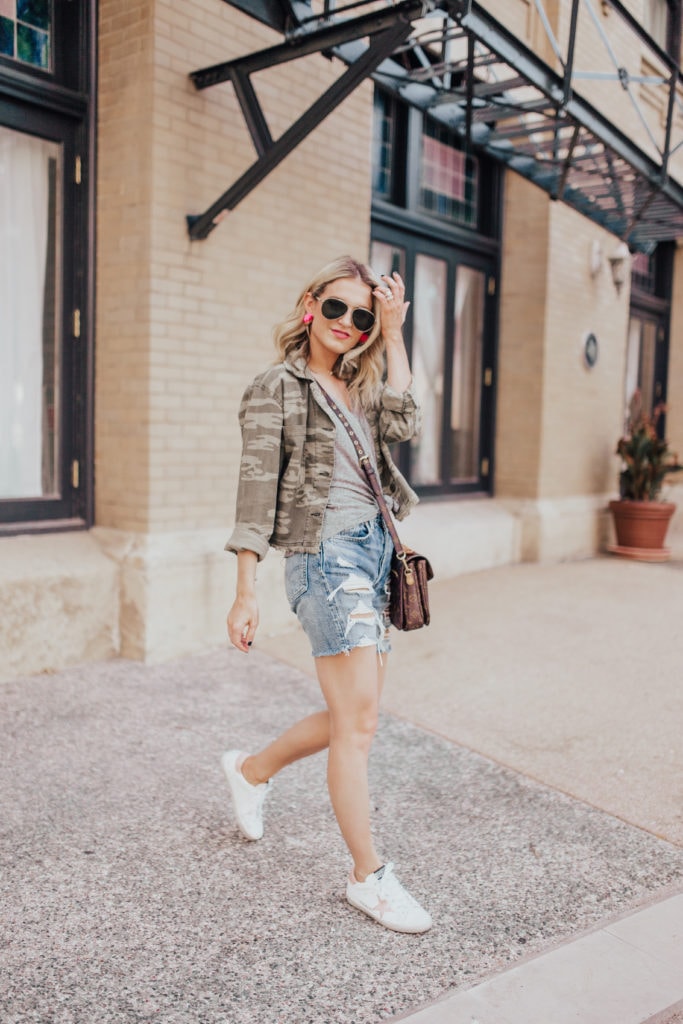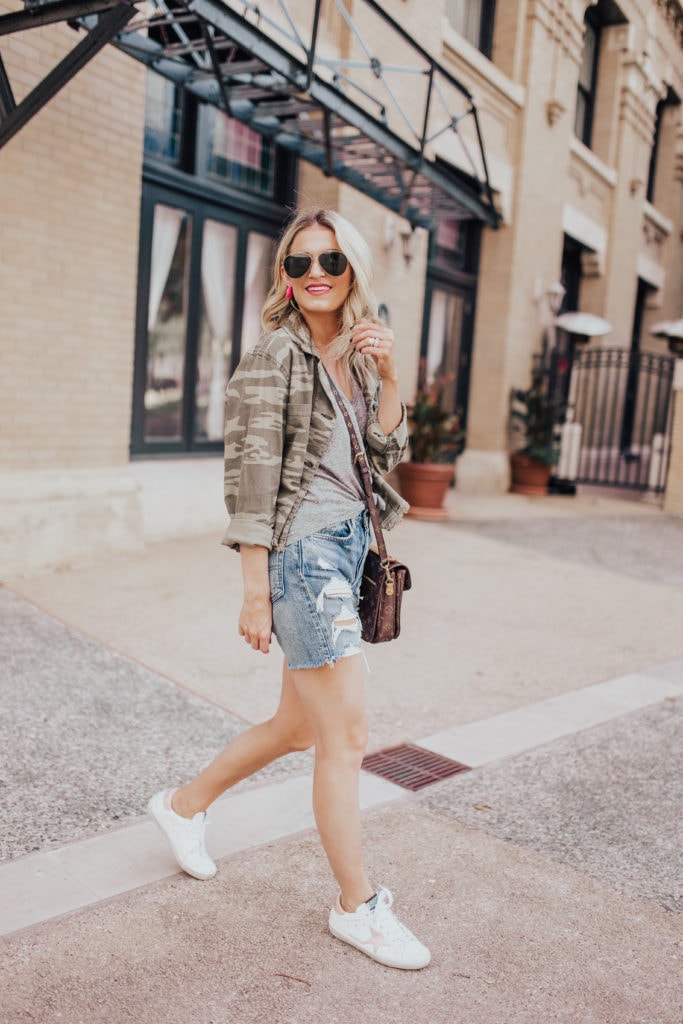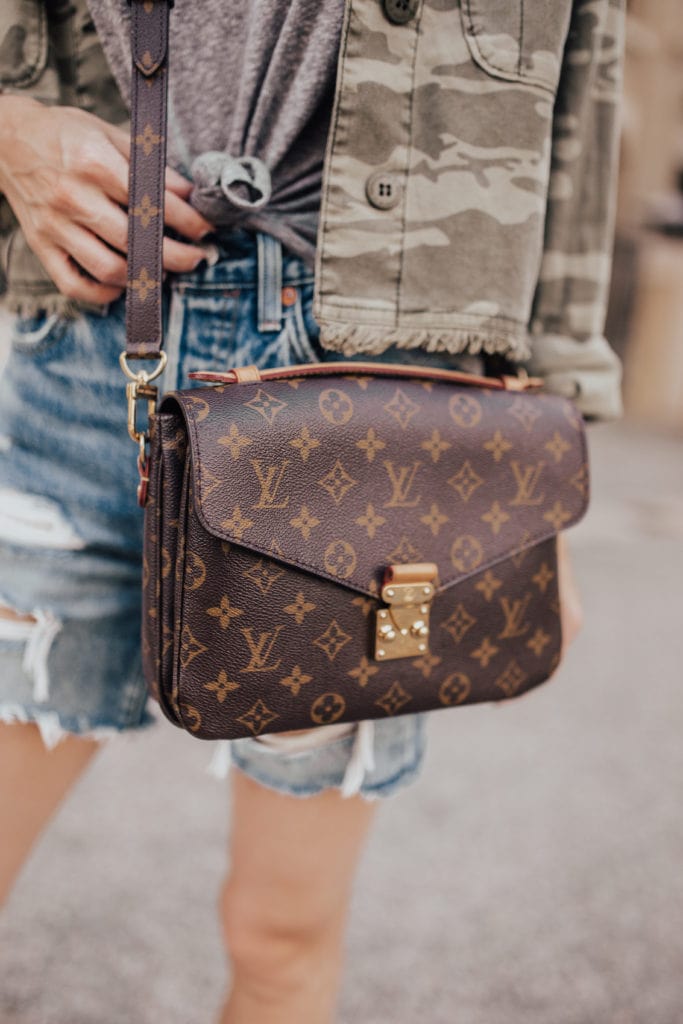 I get it, the title sounds dramatic. But sometimes you just need some little hacks to make your life a lot easier. Like this tie-up t-shirt look?! Automatically makes me feel like I'm wearing something other than a t-shirt and shorts. It feels very model off duty, minus the fact I'm not model. 😉 I think the cropped camo jacket is what makes this work so well. Most camo jackets are longer and can swallow you. By wearing one that crops at the waist it not only draws your attention there and breaks up your look, but it feels lighter for this transitional period of dressing. Along with an easy look you can throw on and feel confident, I wanted to share three hacks this week that made my life feel a whole lot more simple.
To-Go Cheese Boards
Paul had something huge to celebrate yesterday, but we didn't have a sitter. I asked, "Why don't you call this restaurant and get a cheese board to go?" I hadn't ever done that before so not sure why I was so confident that that could be done. It was a GAME CHANGER. We had the best date night at home, well technically we had a third wheeler because my sister spent the night last night, but I loved it! Get a cheese board to go, enjoy a bottle of wine you already have, and relax in your pajamas! I mean, quite frankly, it felt so luxurious. Sure, I could have made a cheese board, but sometimes you just want all the fancy cheeses you won't find at your local market. Treat yourself, ladies!
Jazz Station
With a busy toddler and a business, my home can sometimes feel the opposite of zen. Okay, it never feels zen. I was on the phone with my girlfriend this week and I said, "Why on earth does your home sound so peaceful in the background?" She said, "Oh! I just have Alexa play jazz music all day." I mean why did I not think of that?! I did it yesterday and I don't think I'll ever not do that. I felt like I was sitting in a fancy hotel lobby all day long, but instead, I was just in my own home changing diapers and doing what I do. It was glorious. I'm sure it was some placebo effect of thinking jazz music would calm me, but I got a lot done yesterday and never really felt flustered. Try it!
Miracle Hair Product
Lately, my hair has started to feel so weighed down if I put leave-in conditioners or spray products in before I blow dry. That's not typically like my hair and it was driving me crazy! I felt like I had to wash my hair way sooner than I typically would. I also changed my hair last week to more of a blonde melt for fall, and we pulled bleach through the ends so I wanted something to protect it. I searched Amazon for at least 45 minutes and found this to have great reviews! This is a sulfate-free, paraben-free, vegan formula that is specifically designed to protect color treated/bleached hair by doing 18 things to "beautify" your hair. I hate to hype a product up so soon, but I gave my sister HALF of my leave-in sprays by Tuesday because I thought, "Well this product is my new go-to." I spray it in while wet, brush it through, and my hair air dries so much more manageable. You can't even tell I had bleach on my hair last week! My hair felt like silk and I also feel like it made my blowouts last longer because I didn't have that sticky product feeling or residue.  If a product gives me happy hair days 6 days in a row, it is a miracle product and should be praised.
Did you have any hacks this week we should try?!