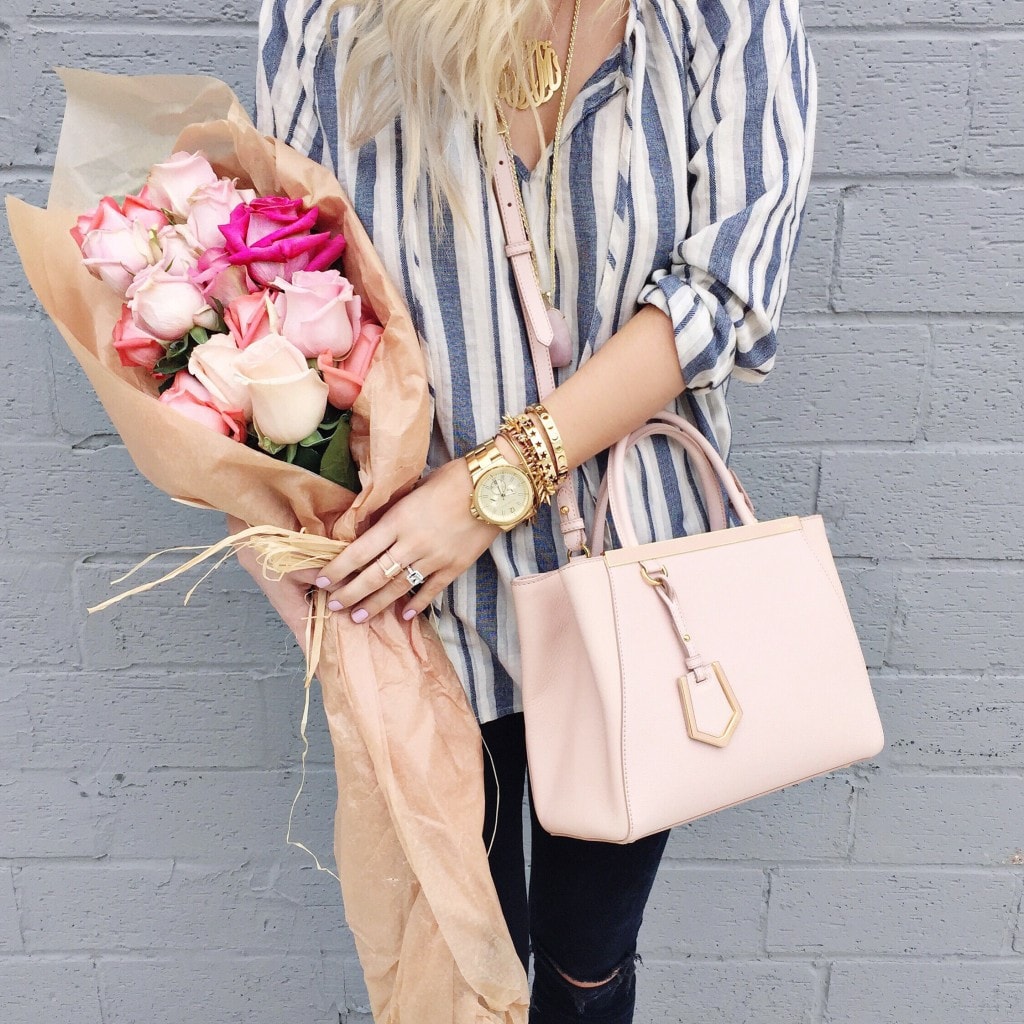 I always get requests to review my handbags when I add a new one to the family, and to be honest I just haven't had a bag in a while that I thought warranted a review. I'm fairly picky the pickiest with bags and nothing has really wowed me lately…
…until Pinkalicious came into my life. [We can call her that because when I watch my flower girls we always read Pinkalicious and somehow that is engrained in my brain]. I love to carry smaller bags in the summer so I'm not weighed down and this little tiny pink number just wanted me to be her mom.
I figured the easiest way to get to business was to share my pros & cons, but for the next review [whenever that may be!] let me know if there are other questions you want answered!
Sidenote: I totally realize this was a splurge. I'd saved for months and so I will include similar bags at a more inexpensive price point! 
Pros:
I loathe lambskin leather. I mean seriously detest it. I just don't understand it, whatsoever. I like my leather textured and a little bit more rough so that it won't show marks. Who wants to spend $2,000 on a bag to have it scuffed or scratched the next week? Life happens and so do marks. This leather is textured so marks don't show. If you get a smudge or anything a baby wipe takes it right off! I love that it allows the bag to age well throughout the years.
I love the structure. I prefer boxy bags so that I can keep my contents organized and have them stay put. I hate when I reach in my bag and can't find a specific item, so this structure keeps everything in place.
It's considered a mini bag but I didn't really have to downsize. I mean I'm not toting around 50 lip glosses per usual [but that's absurd and I should be slapped], but my makeup bag, wallet, keys, etc. all fit!
She is girly and edgy all at the same time. I love that Fendi bags are so easy to add little charms and eclectic touches like this pouf, but have a classic structure that pair well with any dress you may wear.
Cons:
Of course the price point is a factor, but I really find that when I buy lots of inexpensive bags I keep buying new ones to solve the problems of the old. I prefer to invest, but we all have our favorite things to splurge on, so it's definitely a varying factor.
If you like to hold you bags in the crook of your arm, you can with this but it's just awkward with the size! Just something to think about!
You can see the bag here, and the shade is pink plaster!