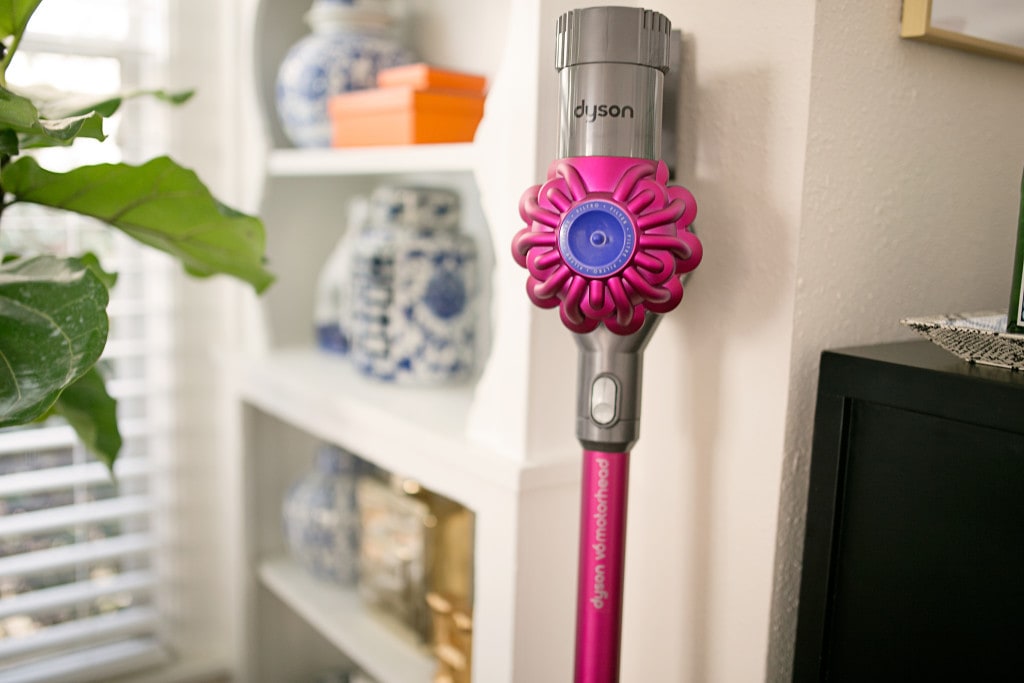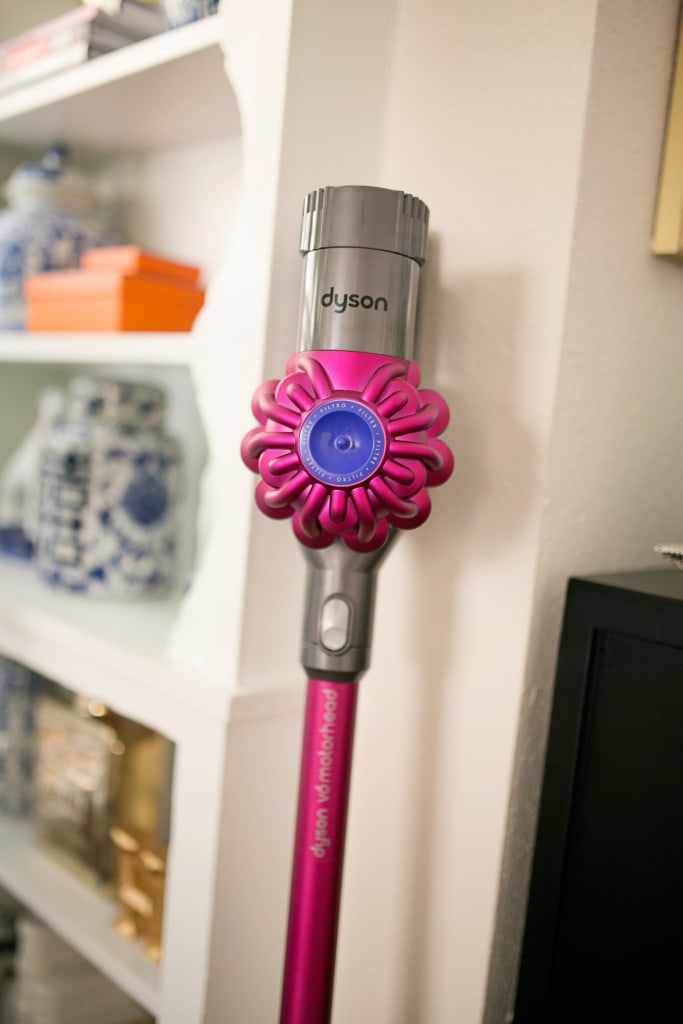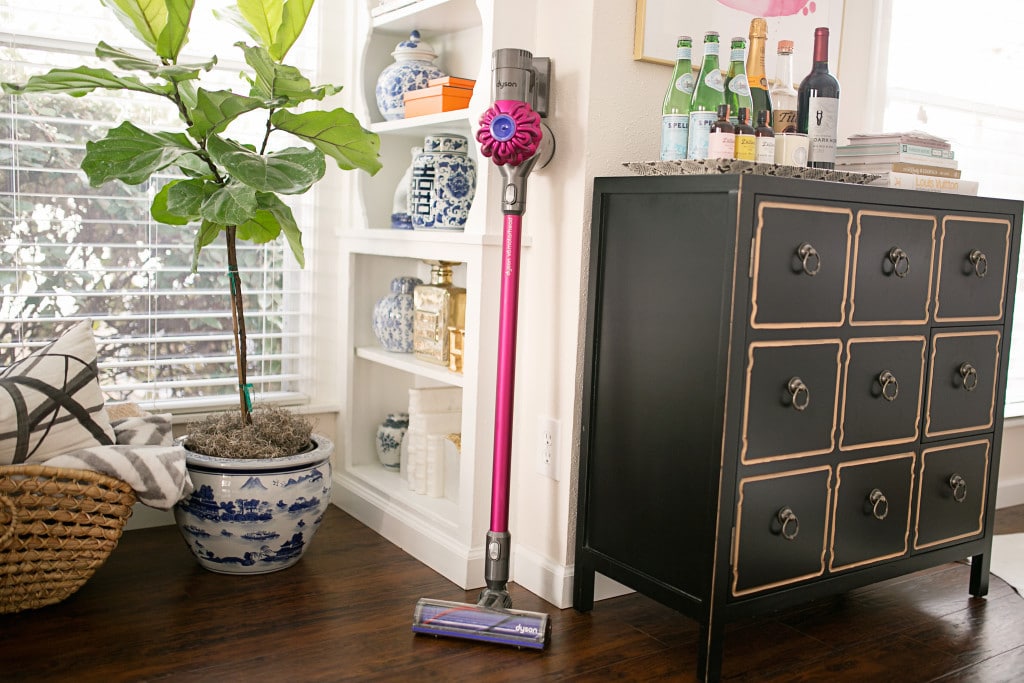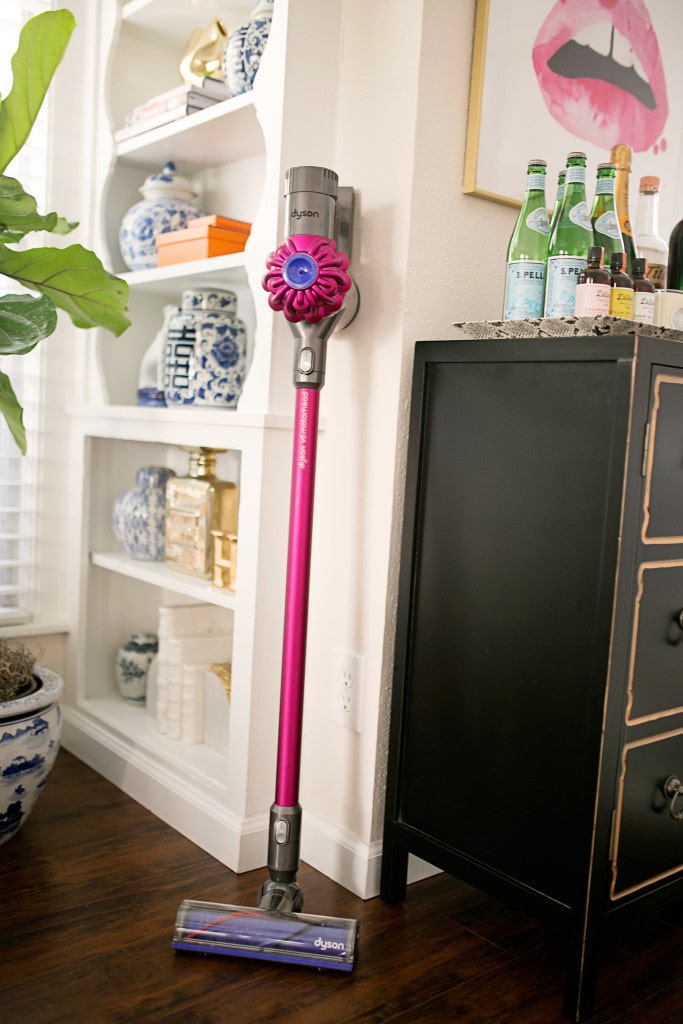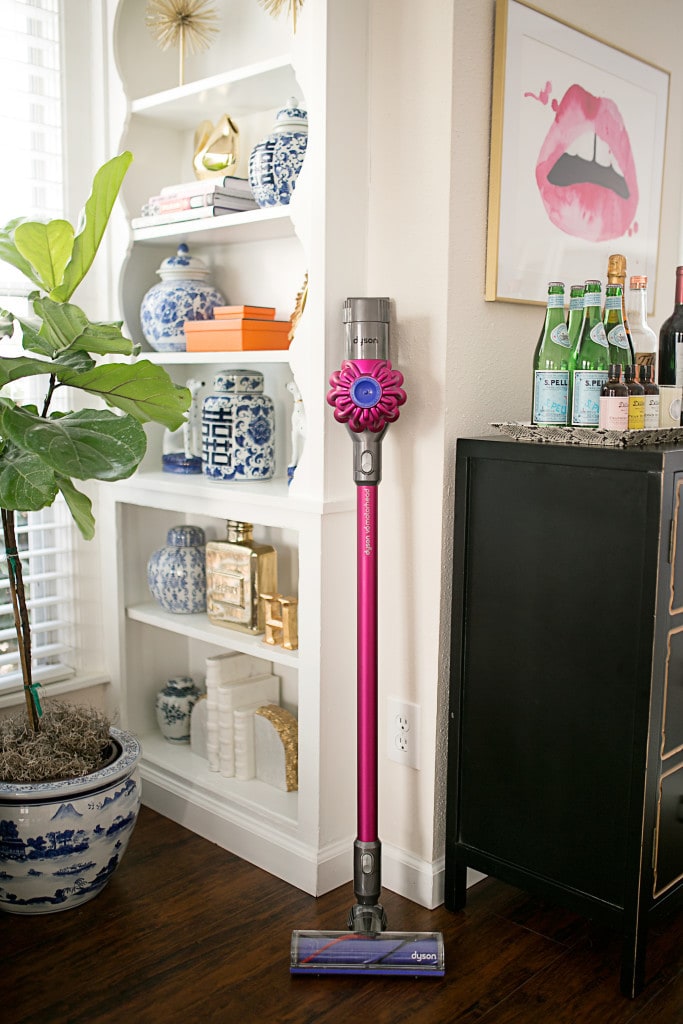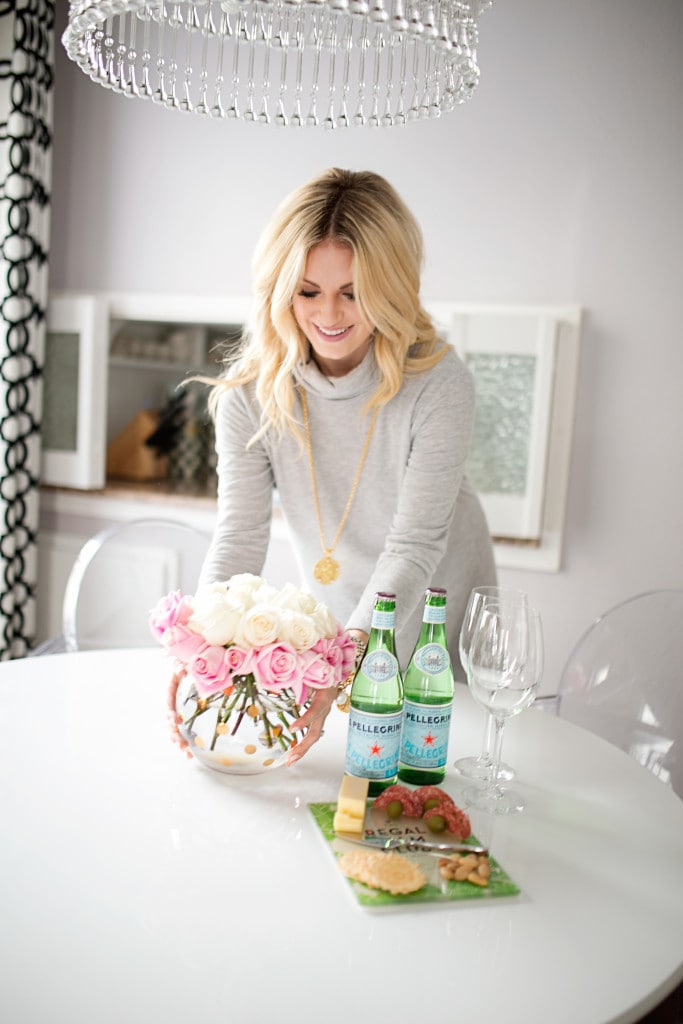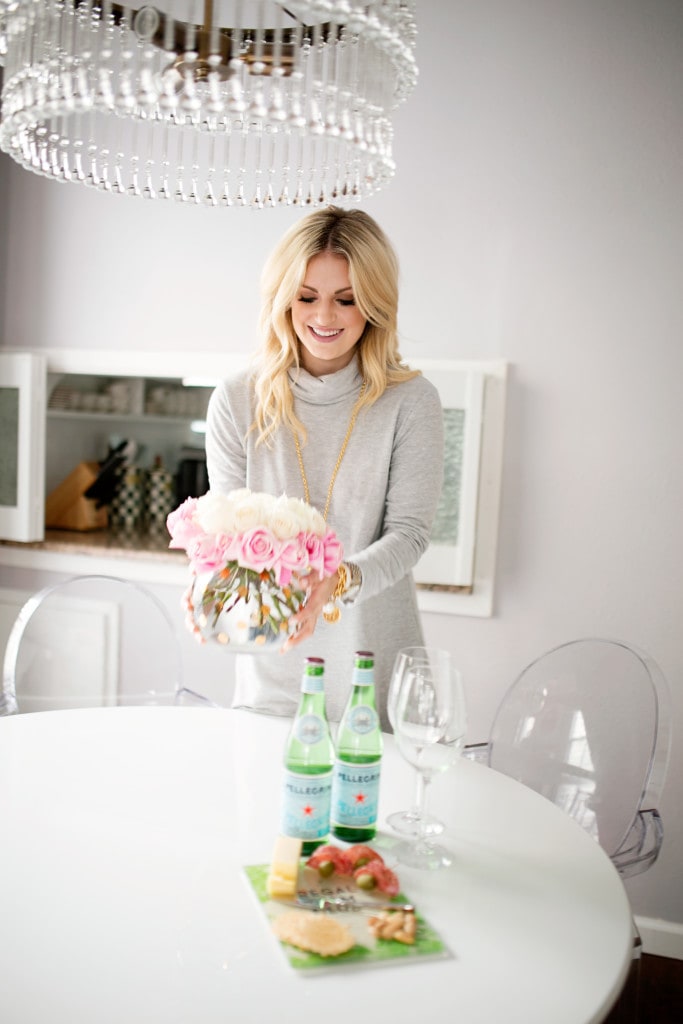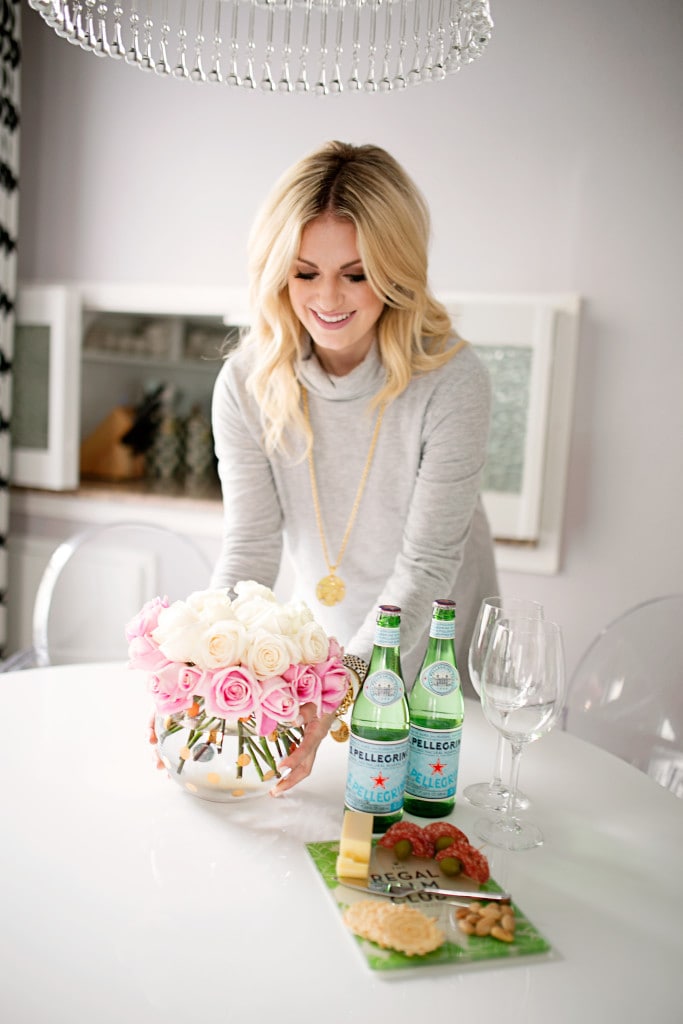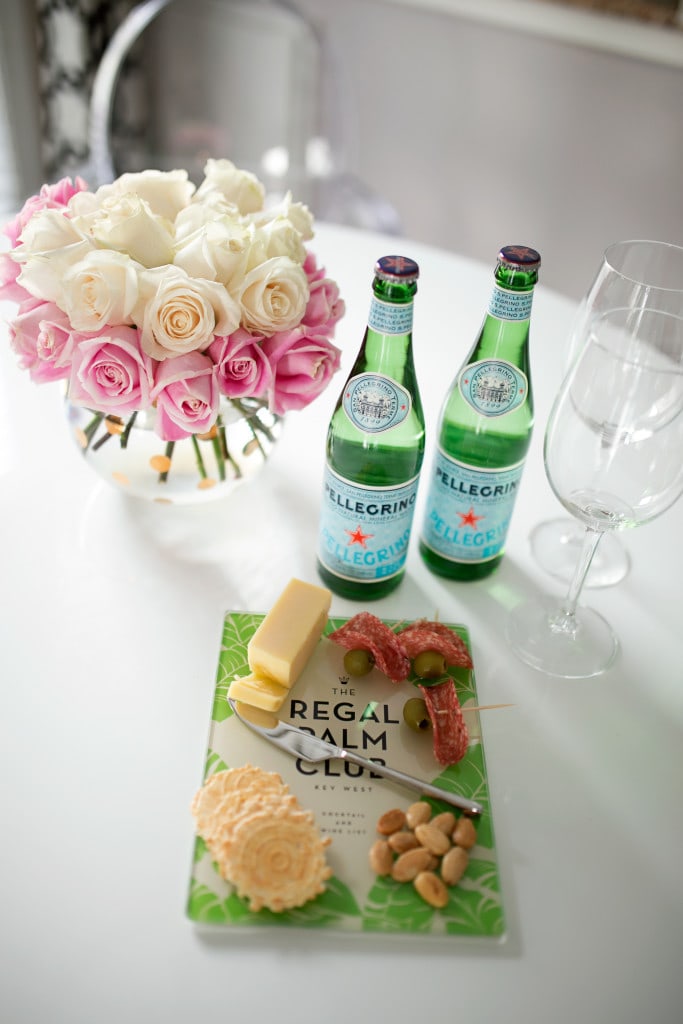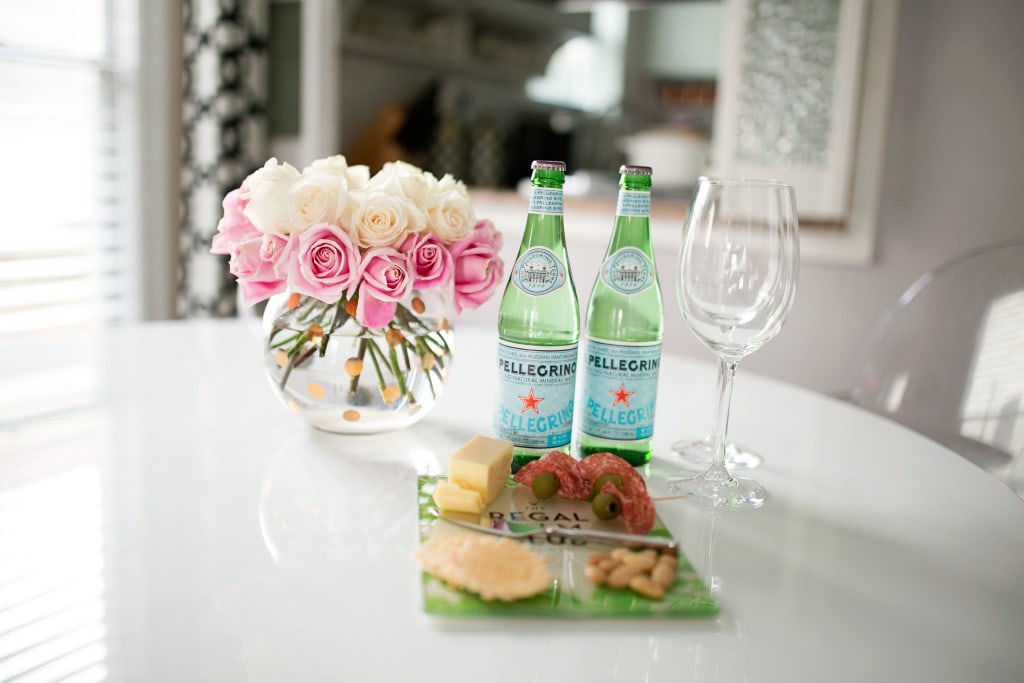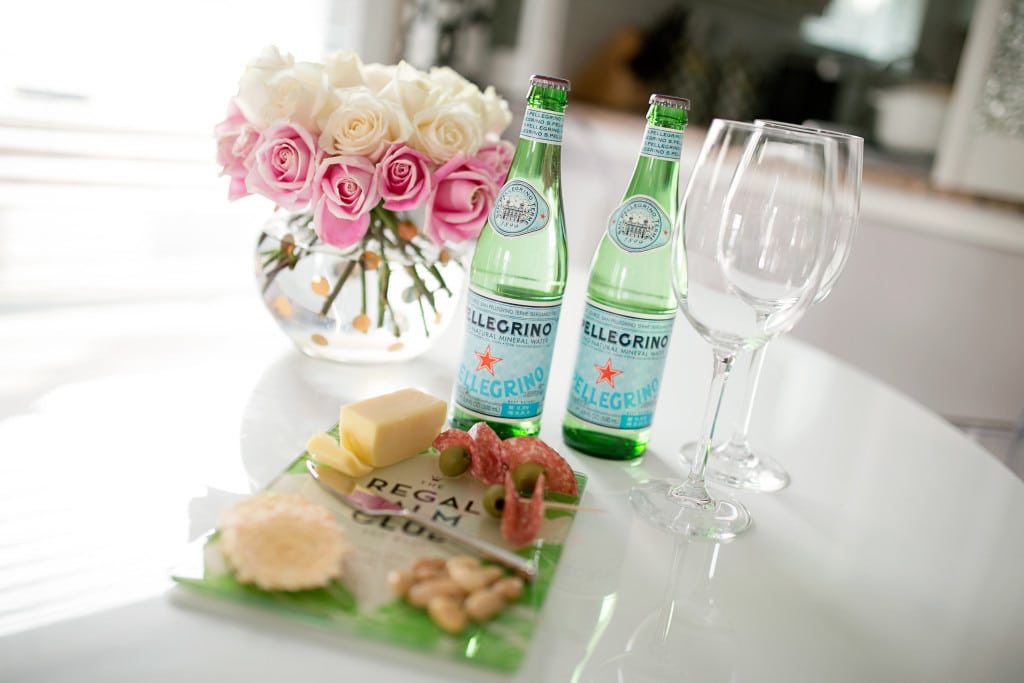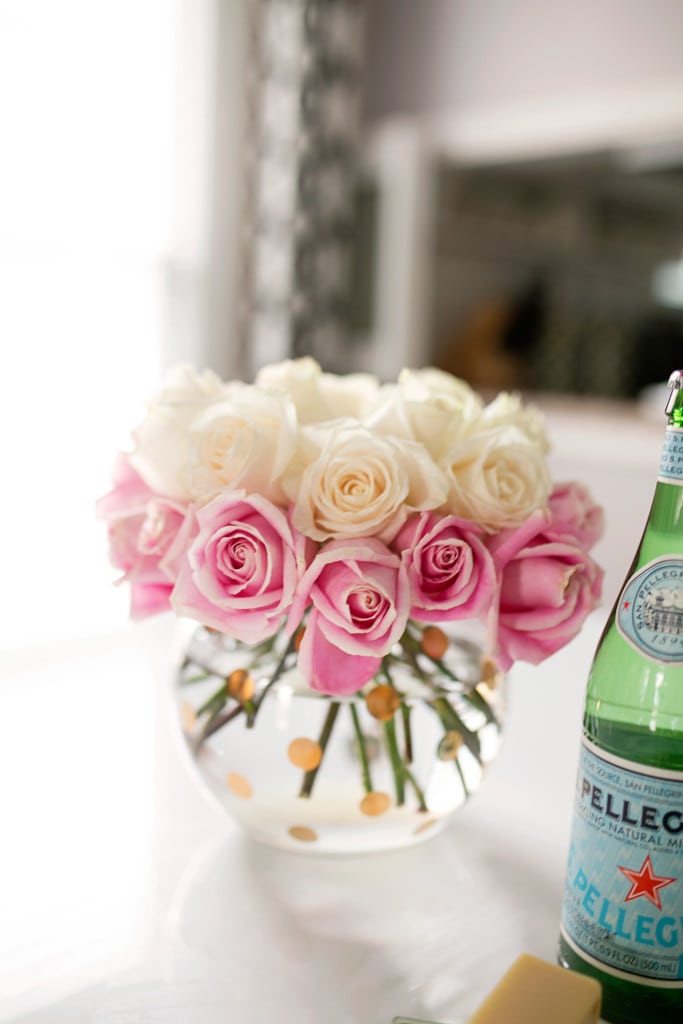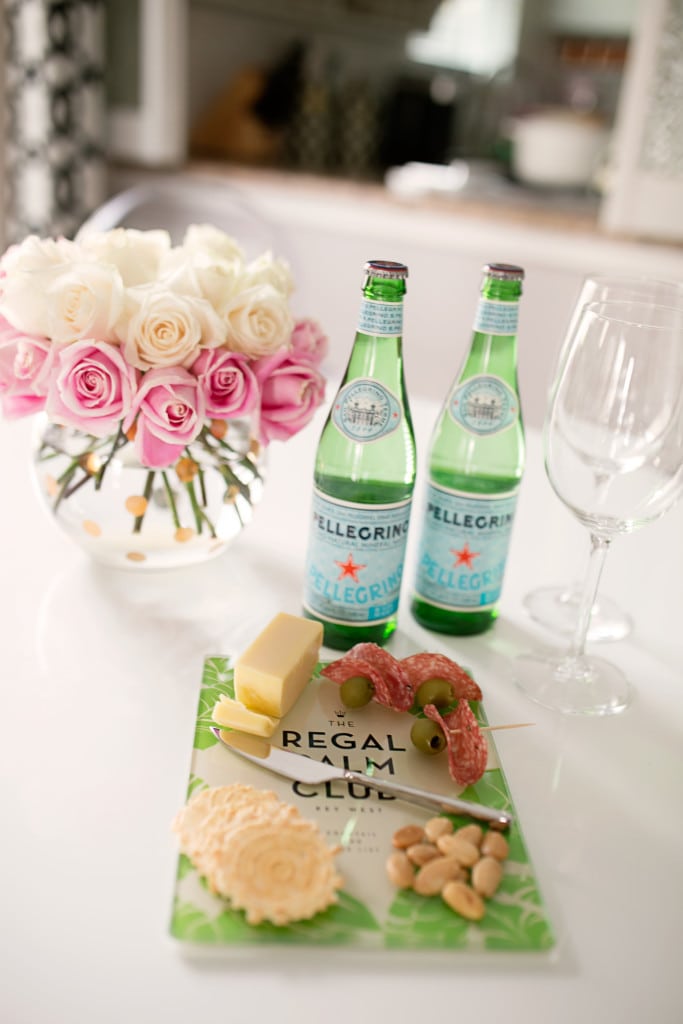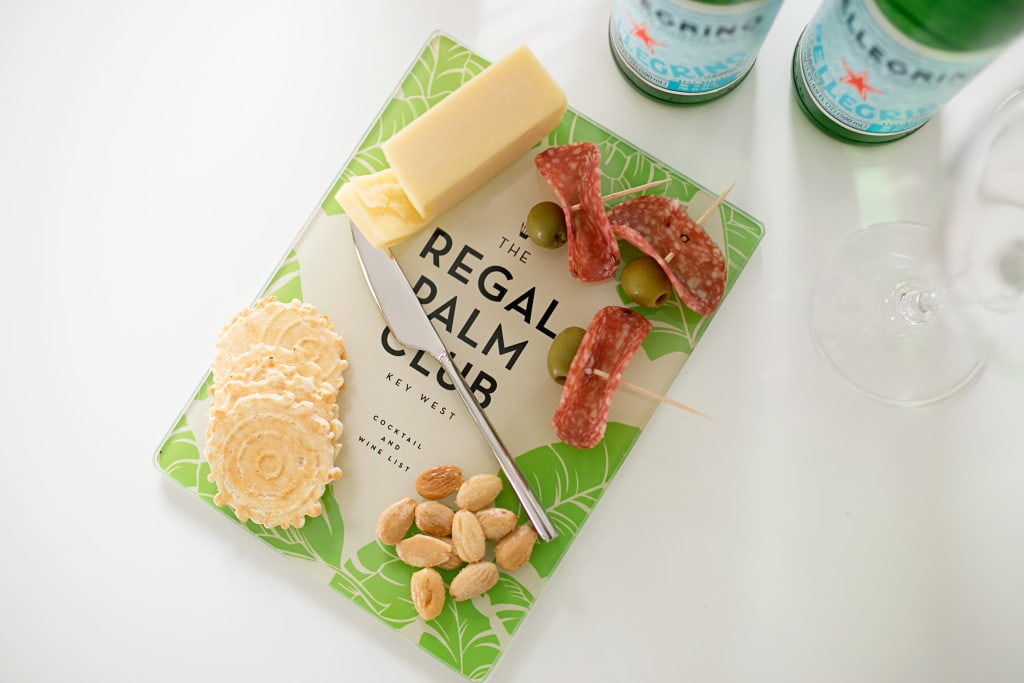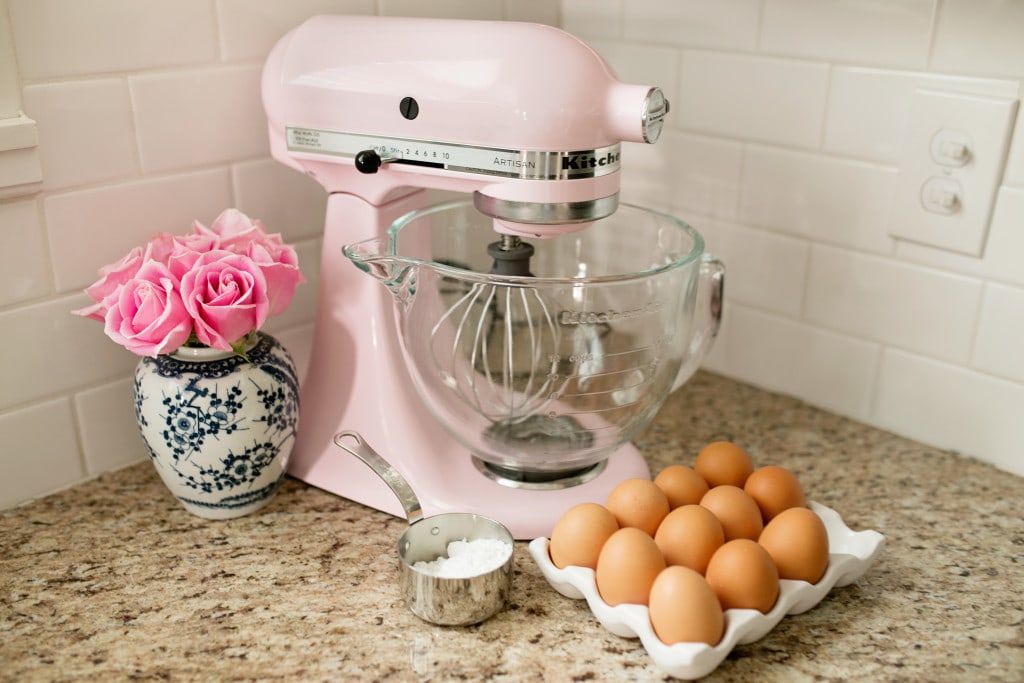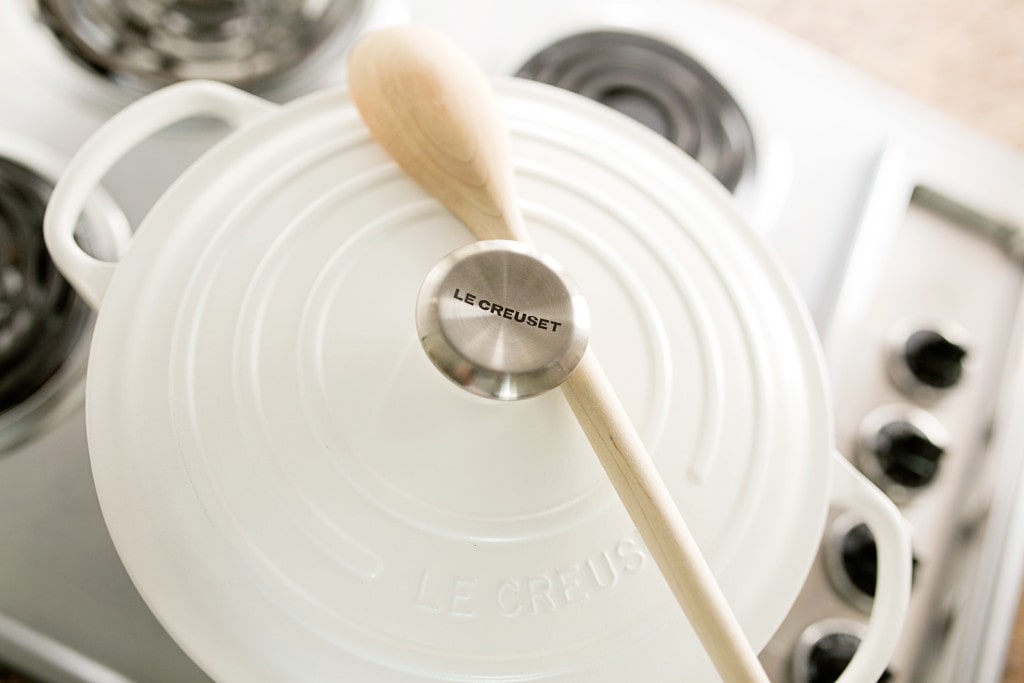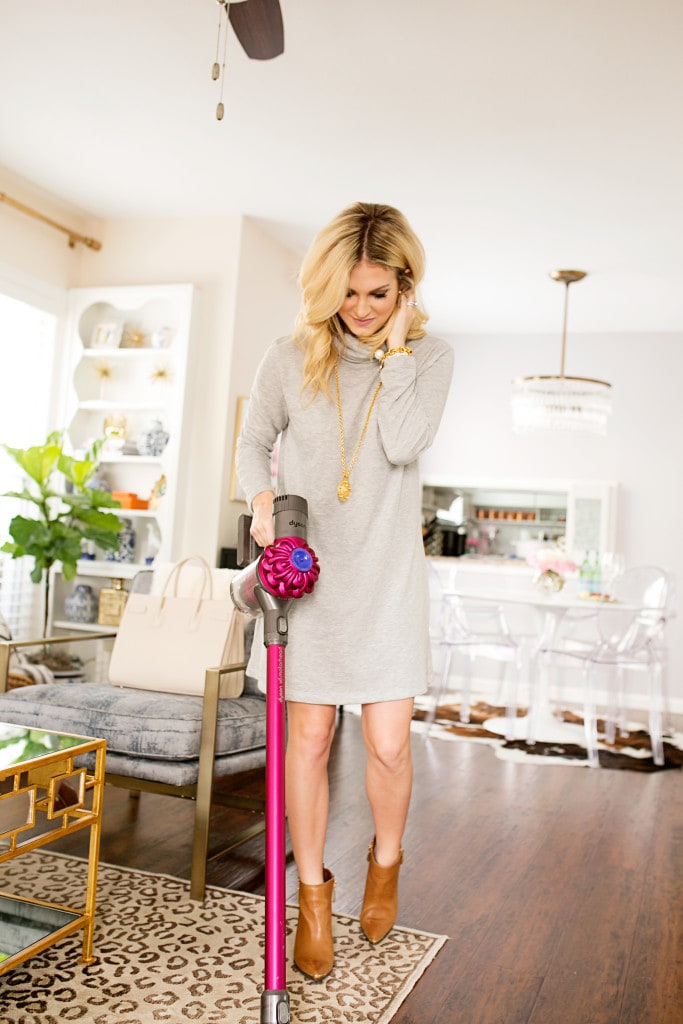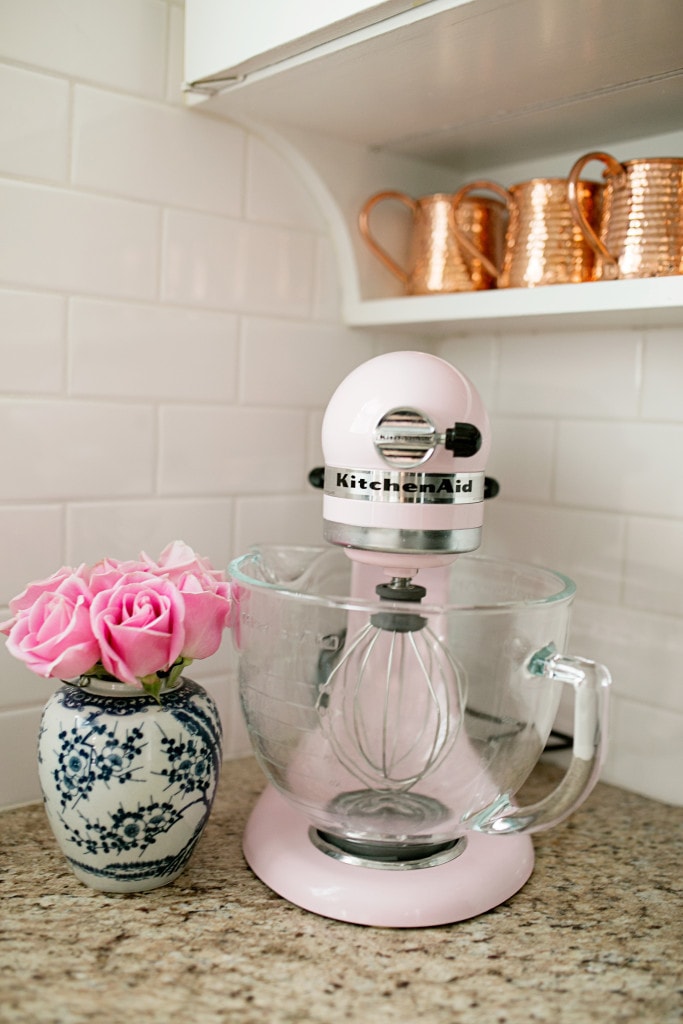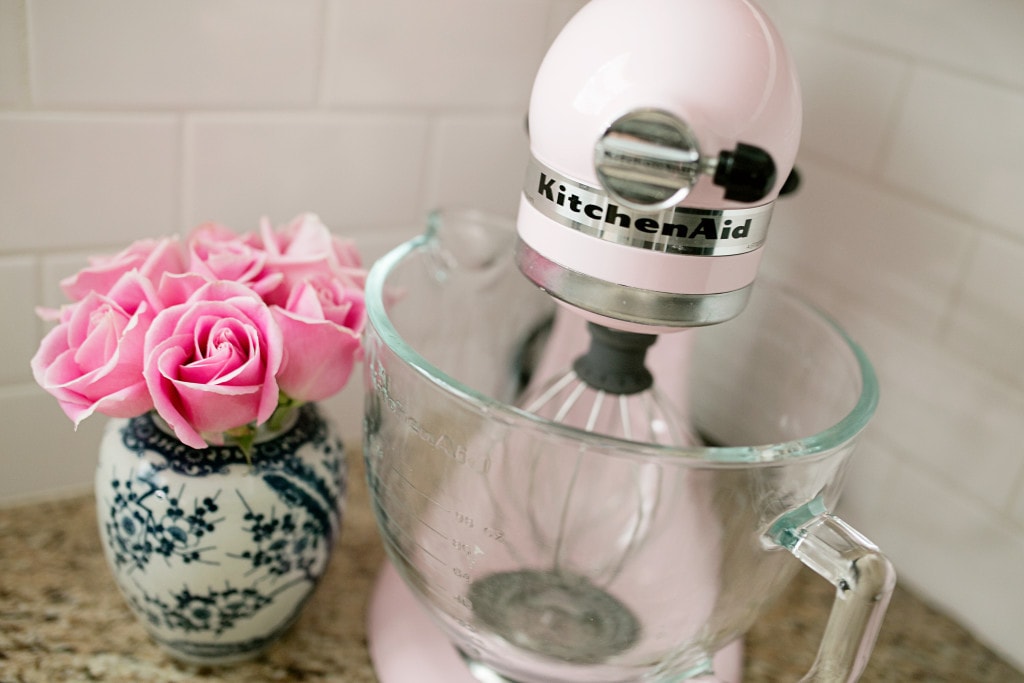 Dress: Link | Mixer: Macy's | Vaccuum: Macy's | Vase: Macy's | Cheese Platter: Macy's | Le Creuset Dutch Oven: Macy's
Photography by: Angie Garcia
---
This might be one of my favorite blog posts I have ever shared, because it is a "do as I say, not as I do" moment if I have ever seen one.
When Macy's asked me to partner with them and share registry tips I almost thought, "They know. HOW DO THEY KNOW?!"
I had registered at a few stores that were specific to only Fort Worth, which caused some problems inviting 600 guests to our wedding. I have family in Australia. Sorority sisters in California. Blog friends in Florida. Friends that live in Manhattan.
They probably got my Save The Date and thought, "Umm, what is this place?"
So at all of my showers, I opened up a ton of Macy's boxes. I was confused at first, but then it made complete sense when I opened my gifts to see they were registered for. Macy's carries every designer I registered for and it's a staple in any state. My guests just had to gently let me know I had done something incorrectly. 😉
The other thing to keep in mind with registering is life of inventory. Even some home stores will tell you, "You can register for this duvet, but it won't be here in 6 months, especially not 15." So if you have a longer engagement I really encourage you to register somewhere that has a lot of inventory so you will always get your exact pieces. You can register for Macy's here.
But enough about how I registered incorrectly, here are my top 10 pieces of advice for registering, along with my favorite pieces we recieved!
1. Don't Feel Guilty
The biggest mistake I made while registering was feeling guilty. I tried to register for more inexpensive items, because I felt so badly registering for expensive pots and pans, even China. At first I didn't register for China and Crystal because I felt THAT guilty. But after a few phone calls from my mom's friends they convinced me to go ahead and register. I truly wish I had registered for more expensive items.
What ended up happening, is people go in on gifts together, especially families! So people had wanted to spend a few hundred dollars on a gift since they were joint, and they had no other option than to purchase me an excess of more inexpensive gifts. Like this girl got 24 boxes of Pyrex. I didn't have the room for that, so I ended up having to return a lot and use the gift cards for pricier items.
You also want to think, "If I need an extra cutting board, I can go buy that whenever. If I need Crystal, I can't."
So while you need to register for a mix of price points, don't feel guilty! People love doing joint gifts and want to get you something you'll always treasure. So register for the dream mixer or a Dyson vacuum. Because if you don't you'll get 50 cake stands and have to use your return credits to get them later.
2.Bring A Wife Along
My husband is down for anything, he'll wait in a fitting room while I try on 14 dresses. He'll go see a chick flick. And he will never complain when I try to make "Meatless Monday Meals." But to be 100% honest, he didn't love registering. He didn't really care what we got, except he DID register for How To Train Your Dragon II. haha! If anything, registering really overwhelmed him and within 20 minutes he had asked if he could go next door and grab a sandwich. He doesn't know the difference between a serving tray and cake stand, so he just didn't care. The first round we just went the two of us, and I was left to kind of decide what we needed and I ended up having to call my mom/aunts/mom's friends for advice. The next few times I made sure my mom came along, so I could get her advice!
Whether your fiancé wants to come or not, I would really recommend bringing along a wife you trust and admire. Maybe it's your mom, future mother in law or aunt, but they will be able to help you think of items for now and further down the line! They'll know what you really use cooking for a family of 4 and how many cake stands you actually need. Your fiancé on the other hand, doesn't always know! Make sure your husband to be is well fed and if you bring a wife along the process should go quickly and y'all can enjoy it!
3. Two Inserts Per Duvet
Ever wonder how showroom beds look so amazing?! The duvets have two inserts! While registering we were told that secret and I love using that to make a bed look like a fluffy cloud! Register for two inserts per duvet in your home, and you're master and guest rooms will look like a magazine!
4. Have People Over for Dinner before You Register
Have a couple over for dinner or host a holiday at your home! I hosted Father's Day brunch after church for my family before we registered and that was a huge factor in helping me decide what we needed. I learned that I really needed more flatware and glasses. This way you can assess what you have vs. what you need. It doesn't even have to be a holiday, but just by inviting a few couples to y'alls home and serving them you know what makes the process easier or more difficult!
 5. Toss The College Crud
You know what I'm talking about. The plastic to-go cups from your favorite restaurant and the mismatched plates from multiple roommates. Before you register toss that stuff! After showers you'll want to come home and organize all your gifts and the excess just makes you feel overwhelmed. For starters, most married couples start out in a smaller home [hello, we live in 1100 sq. feet!] and you don't have the cabinet space to store both high and low end. Secondly, if you don't toss those cups you'll never use what you are gifted! You want to enjoy your wedding presents, so out with the old and in with the new!
6. Register at a Major Retailer
I chose to register at smaller stores, even stores that were only located in Fort Worth. [Big mistake. Huge.]  We invited 600 people to our wedding, with family in Australia to friends in California. It wasn't my finer moment. #BecuaseThatTotallyMakesSense
My first wedding gift from my aunt was actually from Macy's [it was the Kate Spade vase pictured]! Then at each shower I got so many gifts from Macy's and I hadn't registered there! Macy's is an American staple and because they carry so many different designer brands, as well as affordable pieces, all your guests can shop there! Thankfully the Crystal and other items I registered for were available at Macy's, so my out-of-town guests and family were able to just ship me my items from there.
So when I would open my shower gifts and see the Macy's box I was always like, "Wait, did Paul secretly register there?!" But what I learned was I had to keep location and inventory in mind for my guests, and Macy's has both. So while local shops can be tempting [the Kate Spade pieces are so cute!], keep in mind that a major retailer like Macy's has the same brands and a whole lot more inventory.
7. Get Cleaning Supplies for your Husband.
I don't necessarily see the benefit of a dust buster. I just pull the vacuum out or sweep up a mess! But men? It's an easy way to clean, so it was Paul's favorite gift we received! If you want your husband to help out around the house more, try to keep that in mind while registering! Get the items that make pick up a breeze so he will be able to do it quickly. I had to remember Paul had been living in a Bachelor Pad for years and they weren't constantly wiping down the coffee table. Cleaning wipes, dust busters, and a drying rack for dishes can help your husband when he helps you, and it makes the transiting of living together a lot easier! 🙂
8. Keep Dry Cleaning in Mind.
Girlfriend, go ahead and register for extra hampers. I only registered for one at first but had to go back and register for three more. I had no clue how much dry cleaning we'd go through living with a boy, so we have three hampers: Lights, Darks, Dry Cleaning. If you want four, I'd even suggest doing one for work out clothes because we go through those like crazy. A hamper like this divides it easily!
9. Don't Forget Baskets!
For me, putting things back in their place is really simple. For Paul, not so much. Register for lots of wicker baskets to store around the home and in closets. Your husband can toss his shoes in at the front door or his excess stuff. It keeps everything organized and out of the way, and doesn't take a lot of time out of his schedule to do!
10. Remember the Silly Gifts.
Paul registered for How To Train Your Dragon II and everyone at our showers talked about it and thought it was so funny! This is a fun time, and I think as long as you aren't going overboard [something funny under $20] your groom can grab something that lets his inner kid out! I went to a shower and the groom registered for a basketball and candy. So he got a huge sports basket with all the candy he could want. This also helps get him to put up all the gifts after the shower, which is a HUGE task! I also think it allows him to feel included because most guys don't think, "Wow! A cutting board. How thoughtful." Ladies do, but this helps your guy enjoy the showers just as much as you. 🙂
And lastly, our favorite gifts. I'm sure you could see from the photos, but these are what I use the most and are all available at Macy's.
1.Dyson Vaccum:
This thing is so lightweight so Paul never minds vacuuming and I don't either! It charges instead of having a cord so the whole annoying chore of getting a vacuum out to clean isn't an issue.
This was my first Macy's gift from my Aunt Jacque, and I love the fish bowl style! Be sure to use about 2 dozen roses when filling it, or about 3 hydrangeas! The flowers last for weeks and it's a statement centerpiece for your table.
3.Dutch Oven:
I wanted a Le Creuset SO badly!! I just remember growing up watching my mom make potato soup in the winter in her orange one and I thought it was a wife and mom "staple." I registered for one, not thinking I would get it. And when I did I may have gotten all emotional. The Le Creuset just reminds me of afternoons with my mom while she cooked and I sat at the kitchen table doing my homework, so I was so excited to use this with our future kids and our family now. They also last for years. My mom has hers passed down from her grandmother. So they truly become family moments.
4.KitchenAid:
I have to preface this by saying, my mom actually got me this from Macy's but it wasn't for my wedding! She got it for me on Black Friday the year I graduated from college because she loves to bake. She will make homemade cookies, cakes and pies all day long and my dad loves to cook. My mom also is gluten free for her RA, so she likes to be in control of her white KitchenAid just so that she knows everything that goes into it. She got me one so I could bake as well, and it's one of my favorites in our kitchen!"
5. Cheese Tray:
If you follow me on snapchat you know Paul and I have a Sunday tradition. We head to church, go to brunch, take a nap, clean and whip out a cheese board. We love to cook together on Sunday evenings, but with two of us in our tiny kitchen it takes a bit longer. So we love snacking on cheese and crackers while we wait. I loved how this one looked like Palm Springs and it's a fun pop of green on our table.
I hope this helps you and your husband-to-be if you have any registry concerns!

In partnership with Macy's. All opinions are my own. These products were not gifted. Thank you for supporting the brands that allow COF to operate full time!