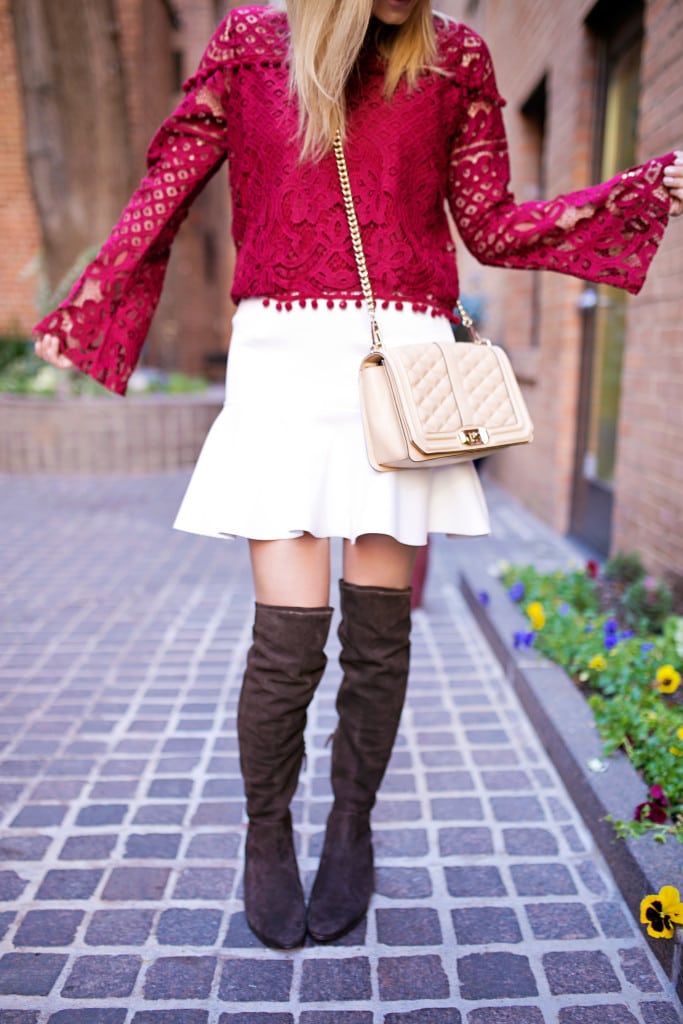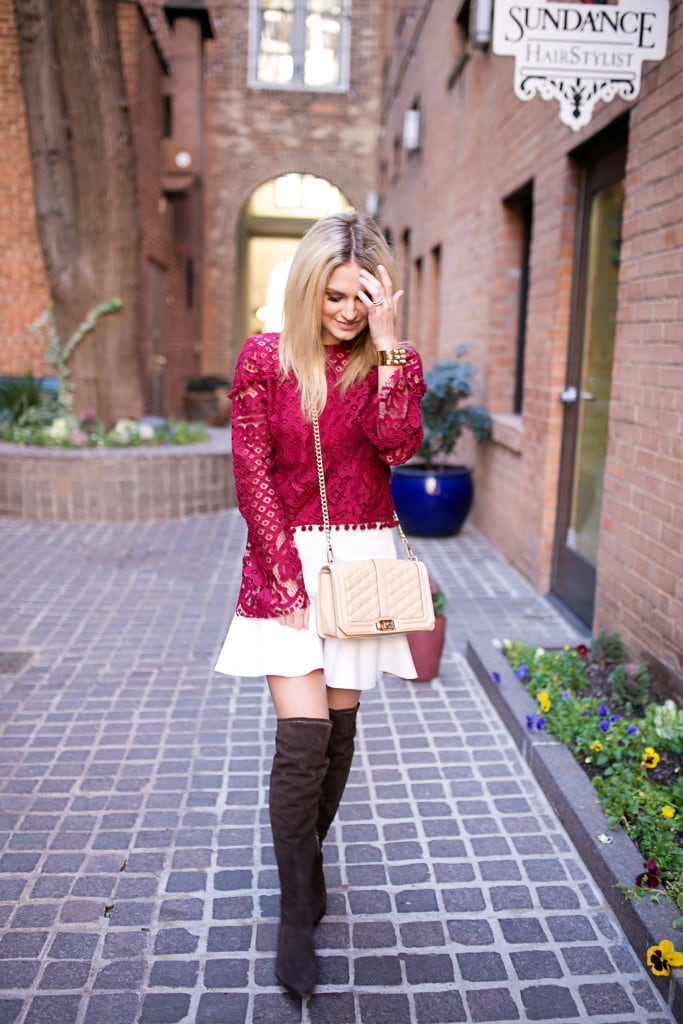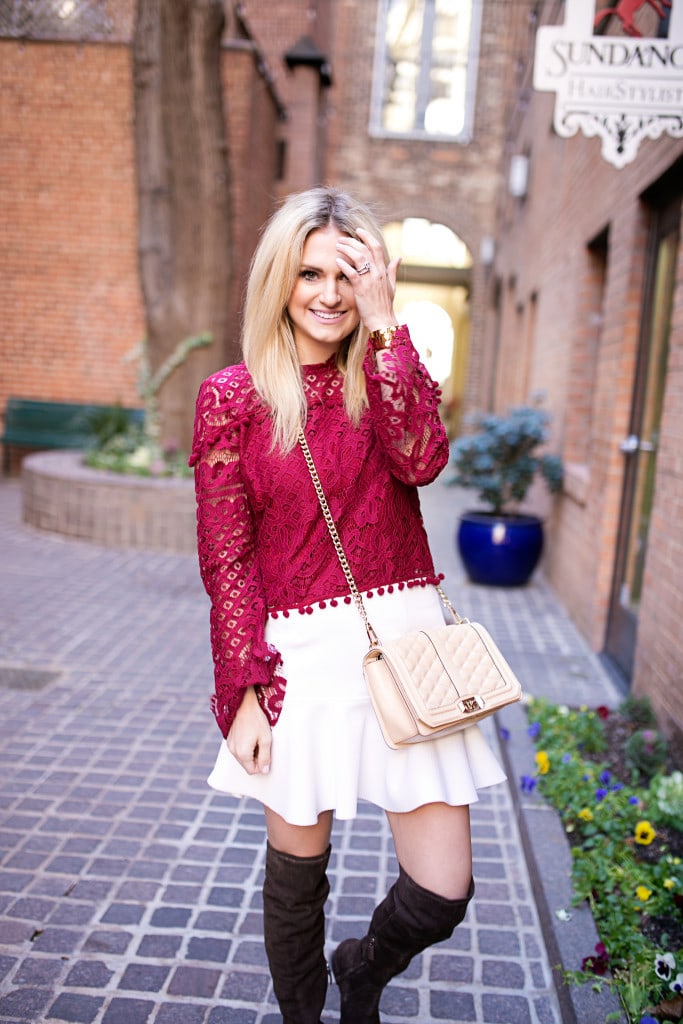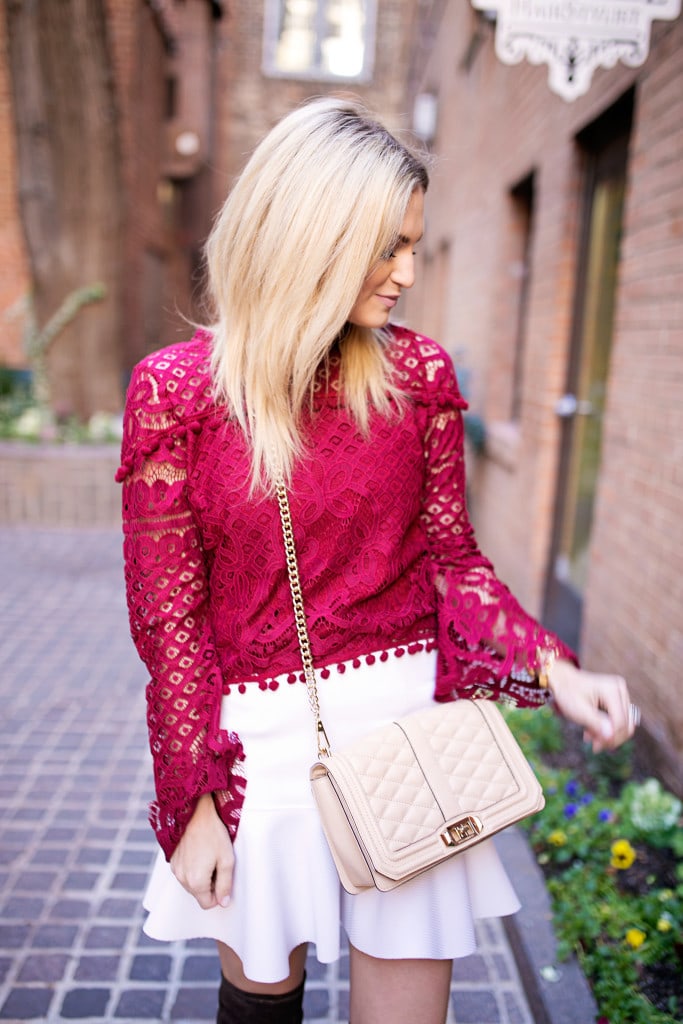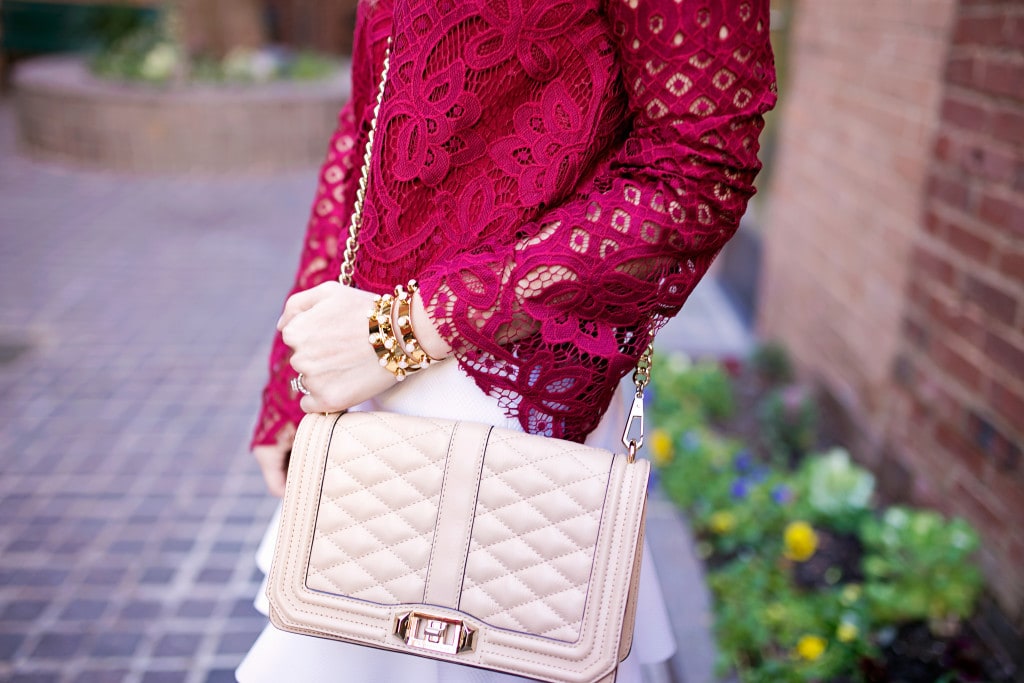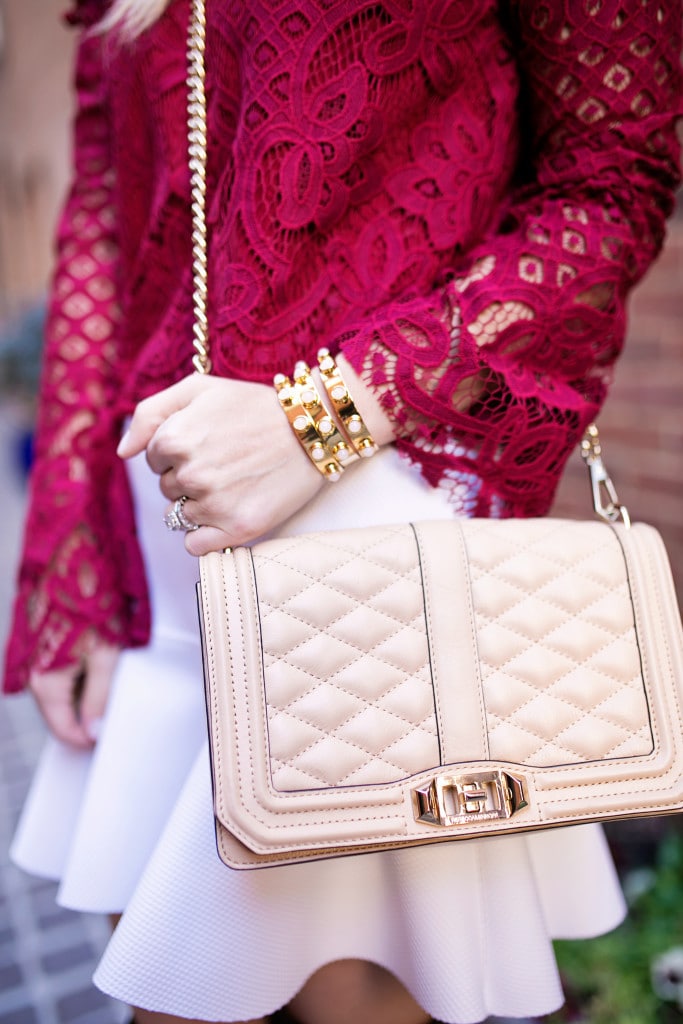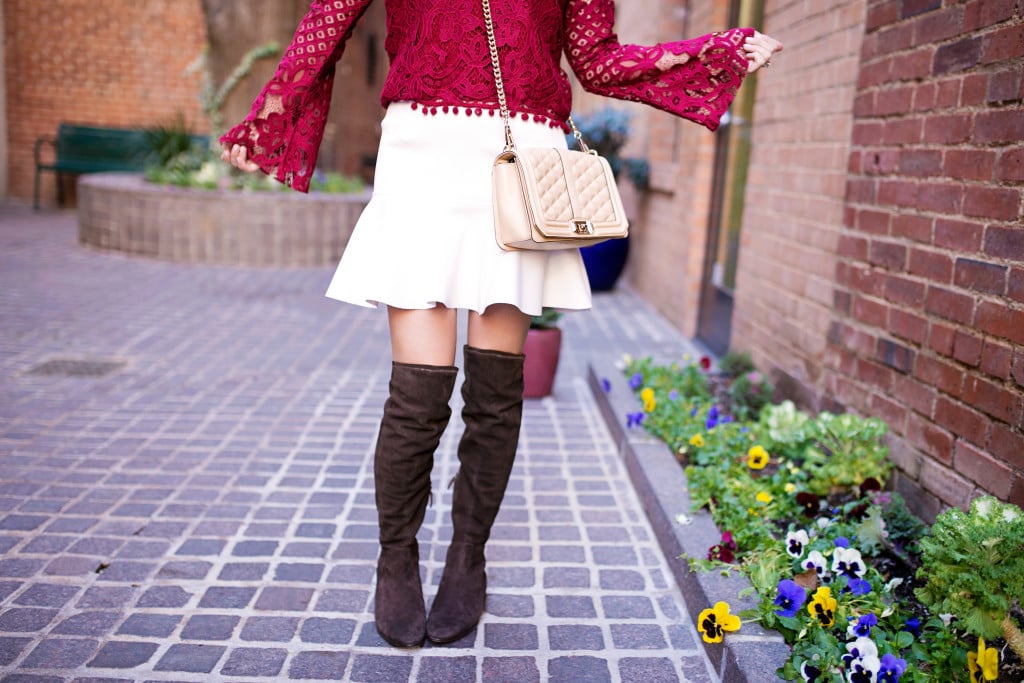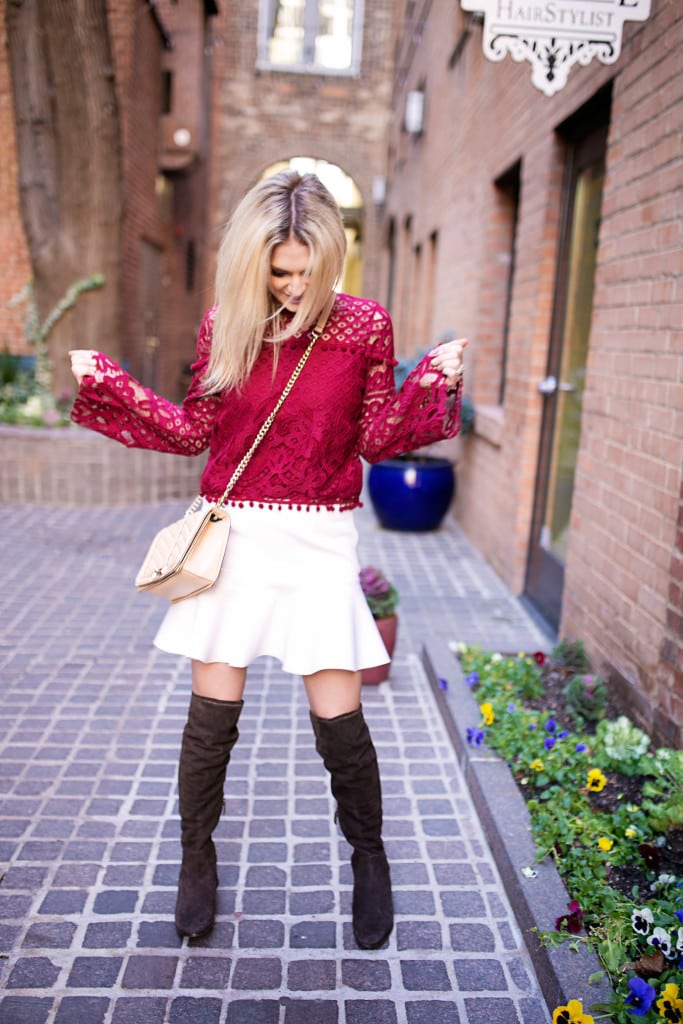 Top: Revolve, Blue Version | Skirt: Similar, Similar | Boots: Klub Nico, Similar [c/o] | Bag: Rebecca Minkoff, Similar [under $40!] | Bracelets: Baublebar [c/o]
Photography by: Angie Garcia
---
It's my last week of Whole 30! Kind of. Sort of. I mean technically, I have two more days next week, but I just can't rain on my parade. In some ways this was the longest month of my life and in other ways it flew by. I'll go into more detail for my conclusion post, but the biggest "con" of Whole 30 has been weekends. I can't really go out to eat and I can't go grab a glass of wine with Paul anywhere. With all of our family here and us growing up in this area, our weekends revolve around catching up with the people we love and typically at a restaurant. We had a difficult time telling family and friends, "Um, sorry. We can't really go to dinner. There isn't anything for Katey to eat." Fridays would come and we just thought, "Well, this is fun. More cooking. And I guess we will watch more Netflix?" It's crazy how much life revolves around restaurants, celebrations, birthday dinners, etc. So while I'm excited to keep a lot of this eating style Monday-Friday, this girlfriend will never turn down some sushi on a Saturday with friends!
Here's a few thing we've spent our weekends doing other than Saturday brunch. 😉
1. We've had beautiful weather and once that comes out, I never want to have a perfectly styled look with my hair. I have naturally wavy hair, but the top layer dries limp and straight. It's so bizarre! I've used these two products to let it air dry: this & this. Then I've tousled some of my favorite serum in it and just used a curling wand to wand two pieces framing my face.
2. I have deep cleaned our closets and drawers. I love to purge and edit our closets, so I've taken full advantage of the energy I've had to do that! Here is my blog post on spring cleaning and in case you missed it, last week I shared how I organize my closet. Paul hates Law & Order SVU [I love shows like that!] so I would play it for hours while I cleaned his closet. He couldn't really complain because I was doing his work for him. haha!
3. We've gone on so many walks! If you cross a main street about a mile from our home you walk over by this country club, and boy are the homes incredible. I tell Paul it's like looking at Pinterest, just with exercise! haha. We've been teaching Peaches how to walk on a leash, and I've been drooling over the beautiful architecture and landscaping. I never understood why my parents used to love doing this on Sunday afternoons and I have now become my mother. I'm probably worse than her because if it wasn't rude, I'd go knock on doors and ask to see people's home decor, too!
4. I've taken one too many naps. We got so many blankets for our wedding, and this one is life changing! Peaches is crate trained and for the longest time never wanted to nap in bed with me because she only associated sleep with her crate. But now that she is potty trained and loves her crate, she has started to realize she can nap in our bed. I've loved it! She just gets right up by our headboard and puts her head on my head and snoozes. It is the sweetest thing.
5. We are headed to New York in March [I didn't go to fashion week because I didn't want to leave him our first Valentine's Day #sucker, so we are headed there for meetings in a few weeks!]. I love NYC mid March because you still get to wear sweaters, but you can bust out cute shoes and you aren't miserable. I love these dupes for a much more expensive option! I think they are the perfect date night shoe.
6. I got Paul this for Valentine's Day, so I'm rethinking some spaces and we are going to invest in a shelving system to store it with a few of his books. I love this bookcase and the storage it would provide.
7. I've also had my eyes peeled for some spring pillow for our couch. I love this paired with this velvet option.
8. I started to watch Damages! My mom and I both love these kind of shoes and she told me for weeks I needed to start. Do any of you all watch it?!
9. I've been wearing these OTK boots non stop! I love how the coffee color makes it an easy transition for spring.
10. Because we haven't been going anywhere, I've done a lot of masks and treatments on my face. I just got this and could bathe in this stuff. It would be the most expensive bath I'd ever take, but I'd look like a baby angel.
How did you spend your weekend?!