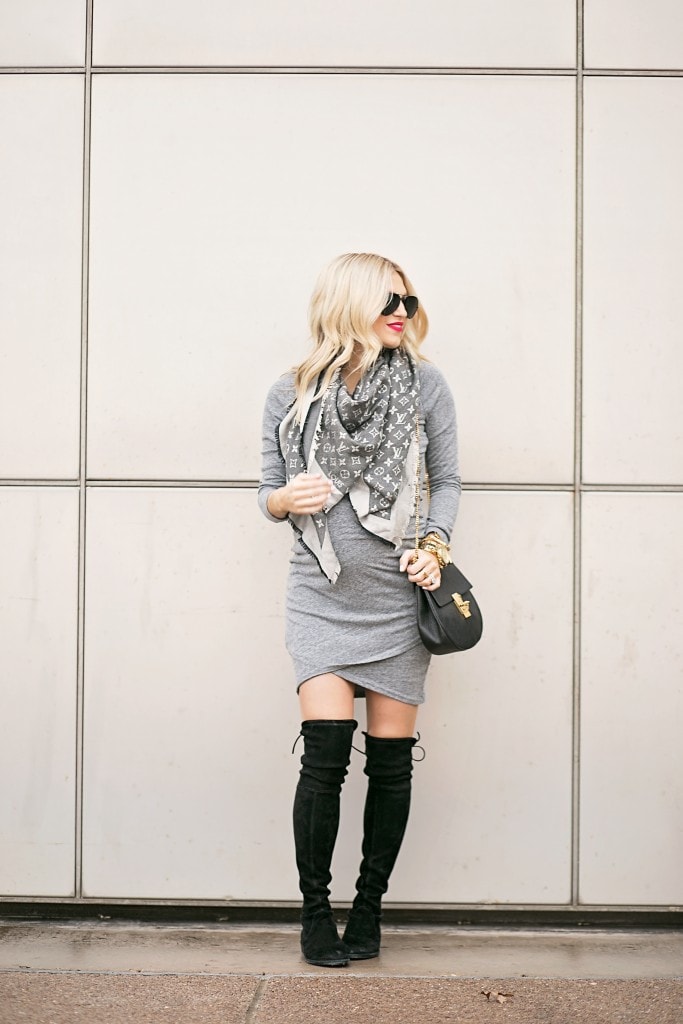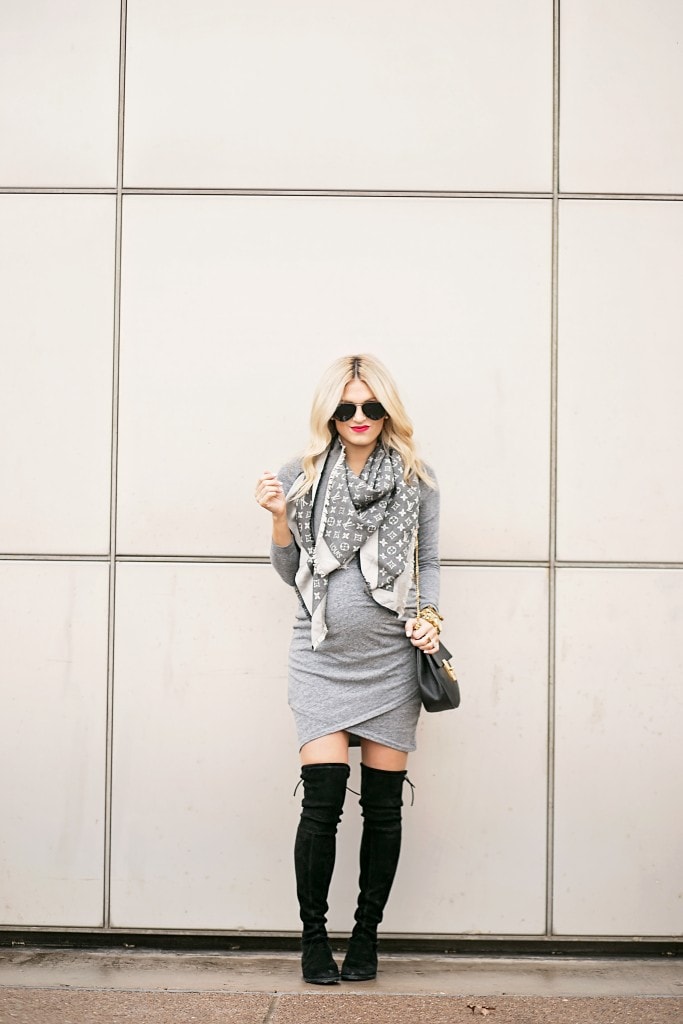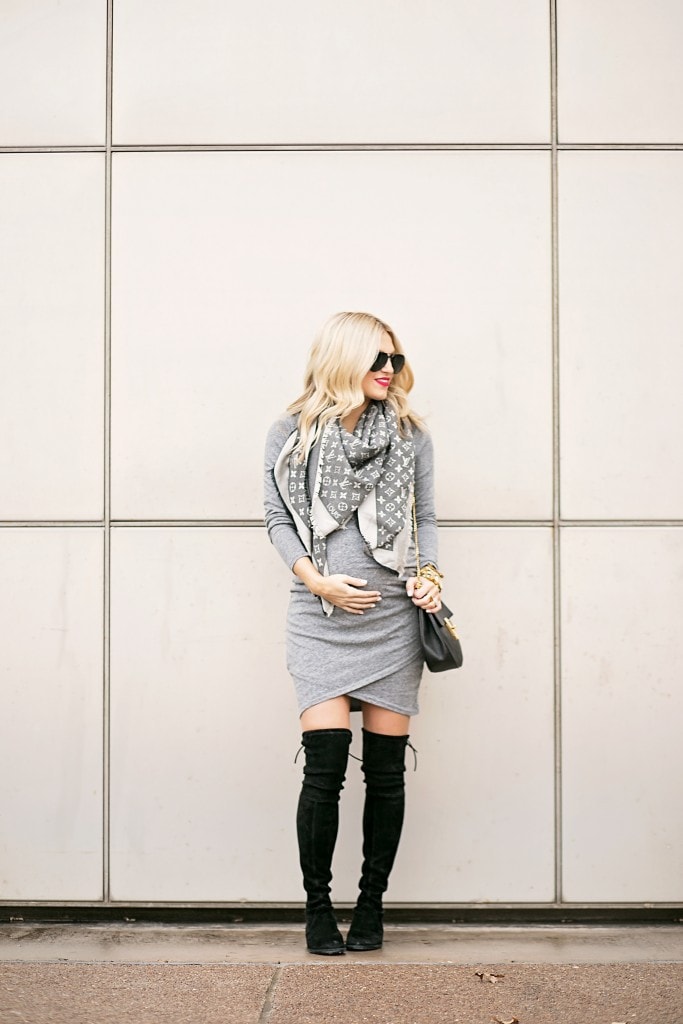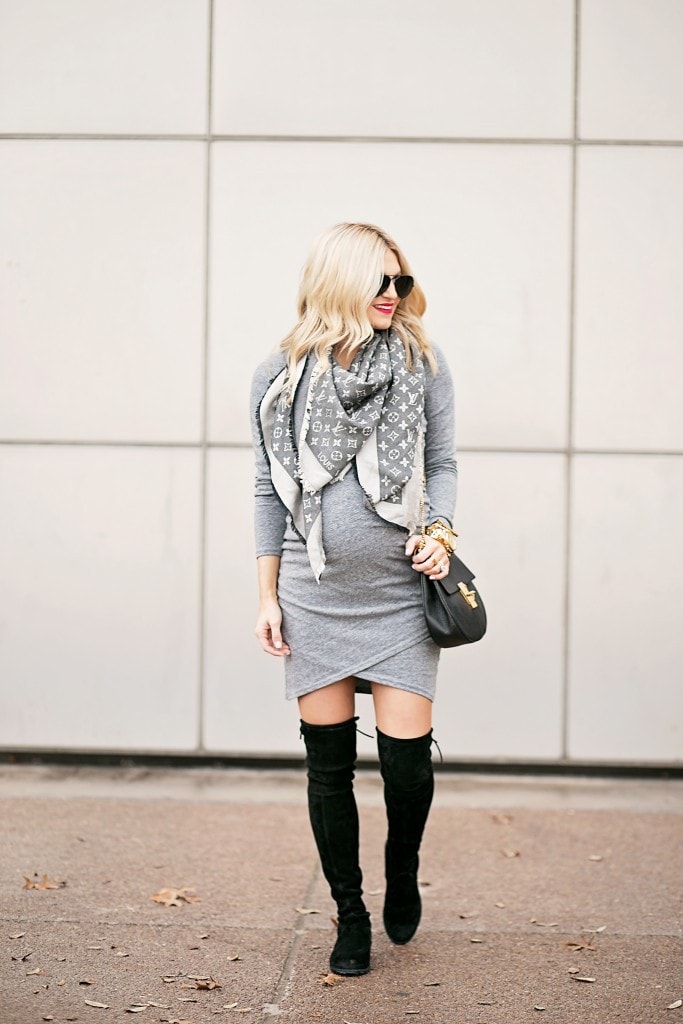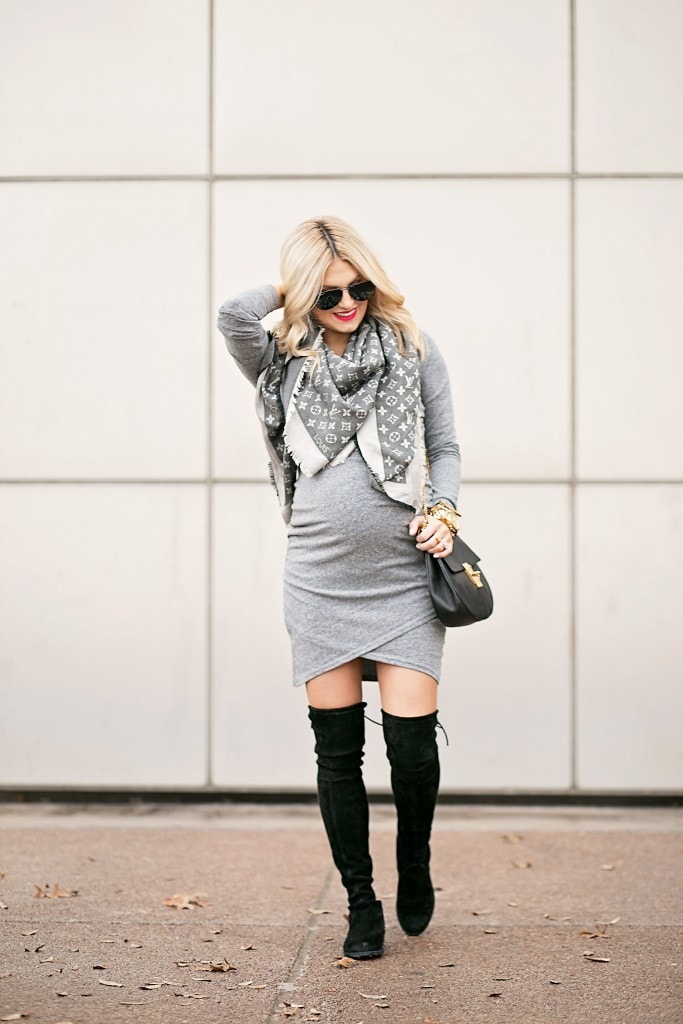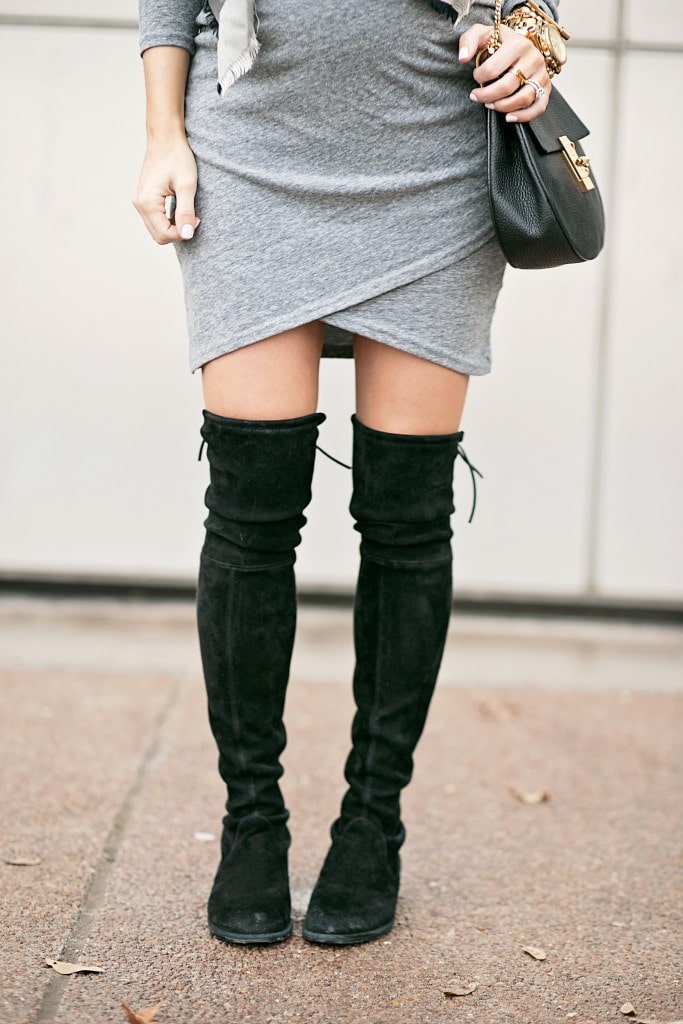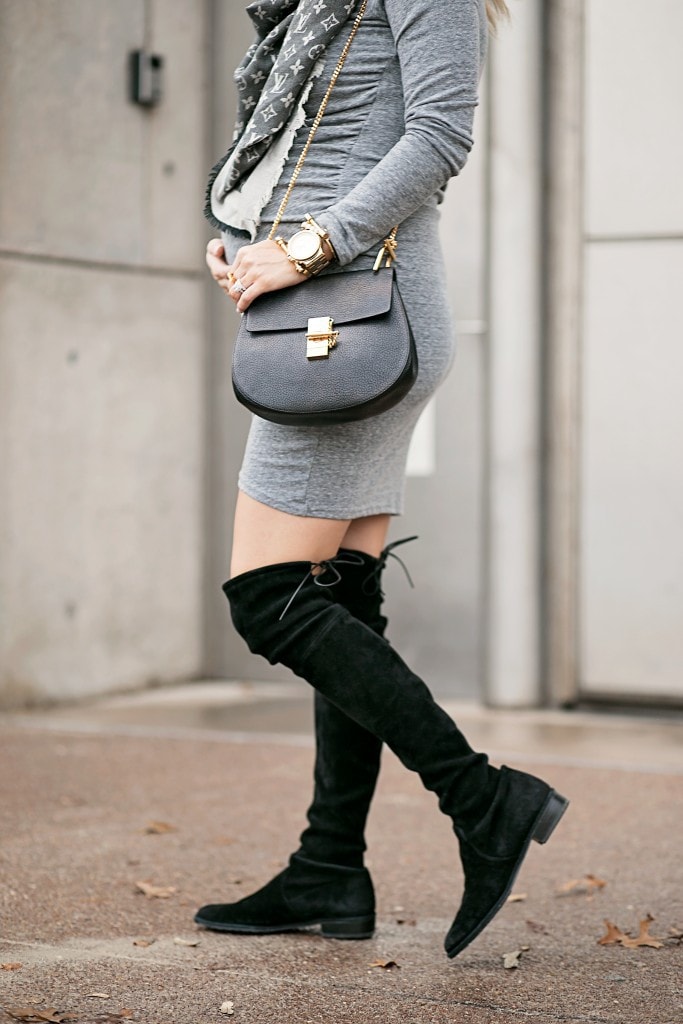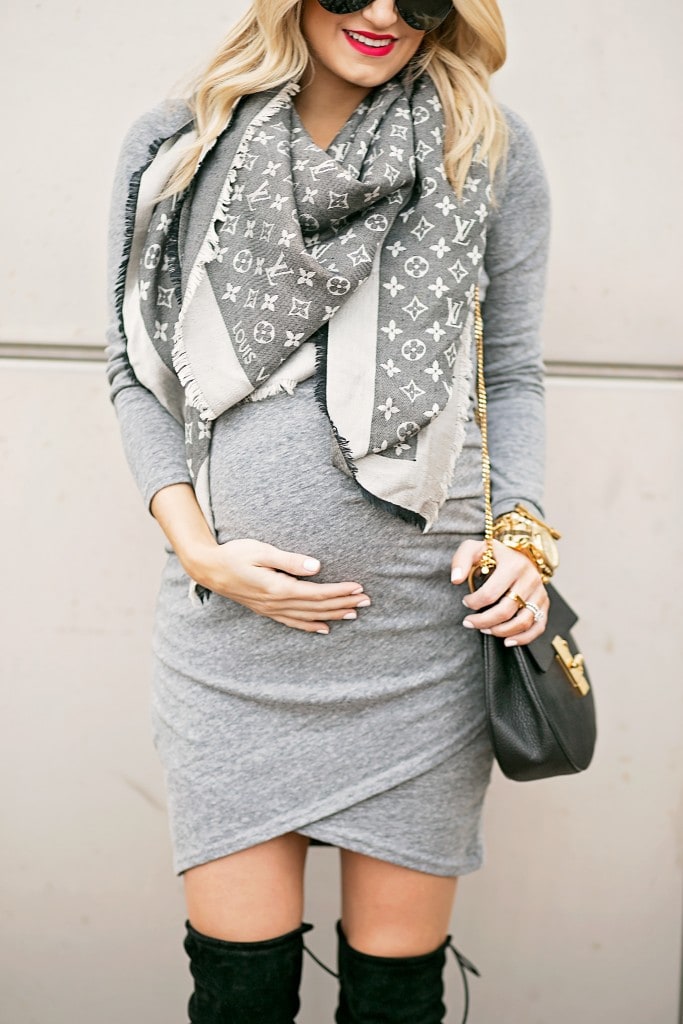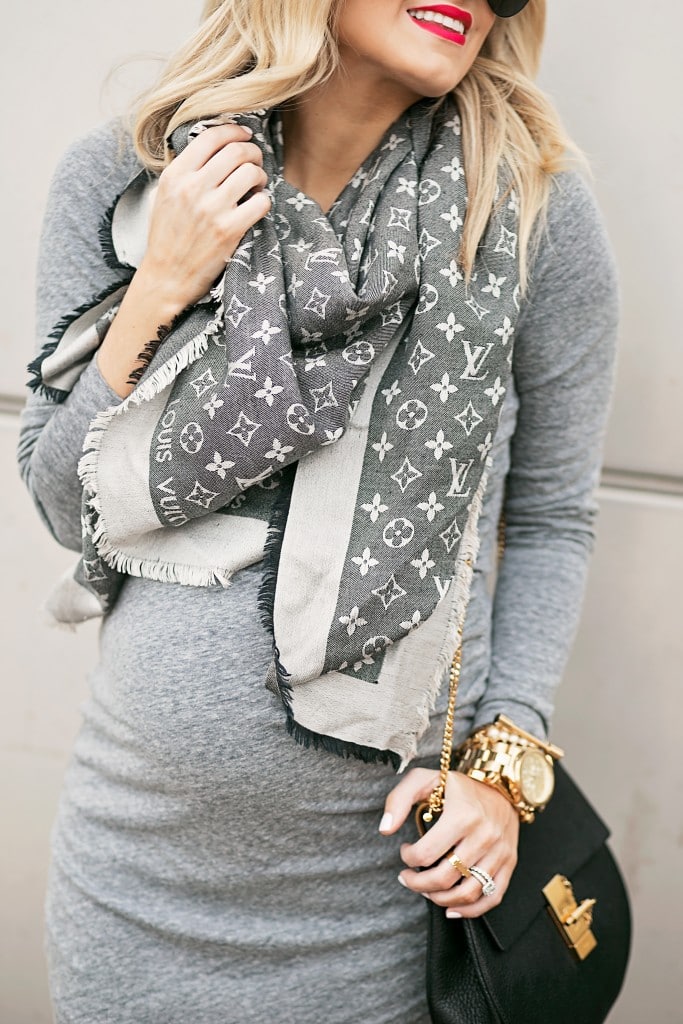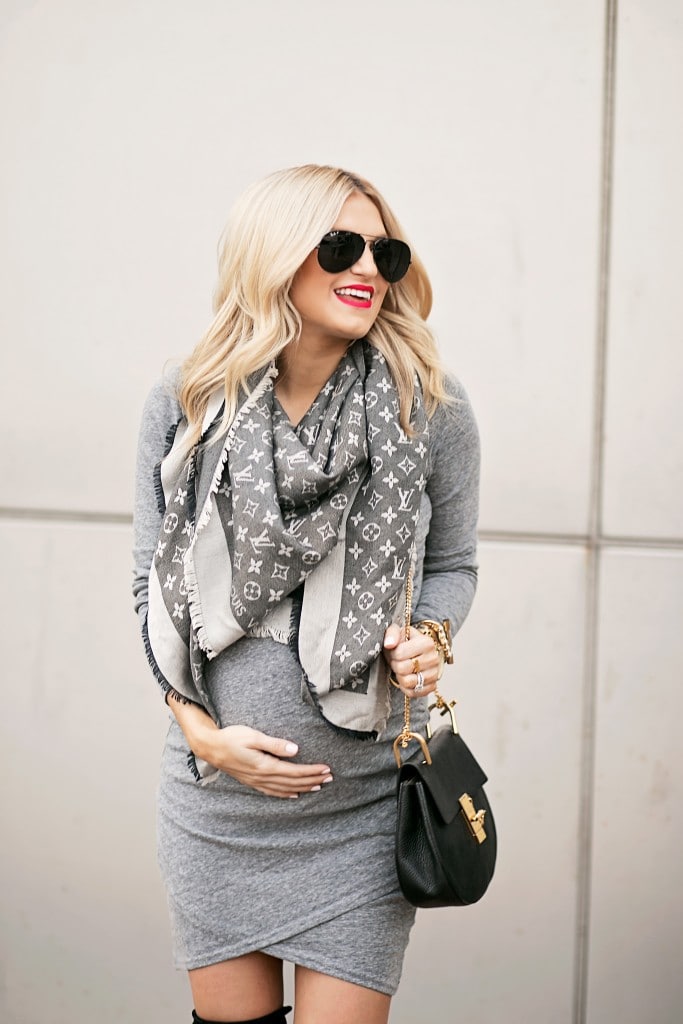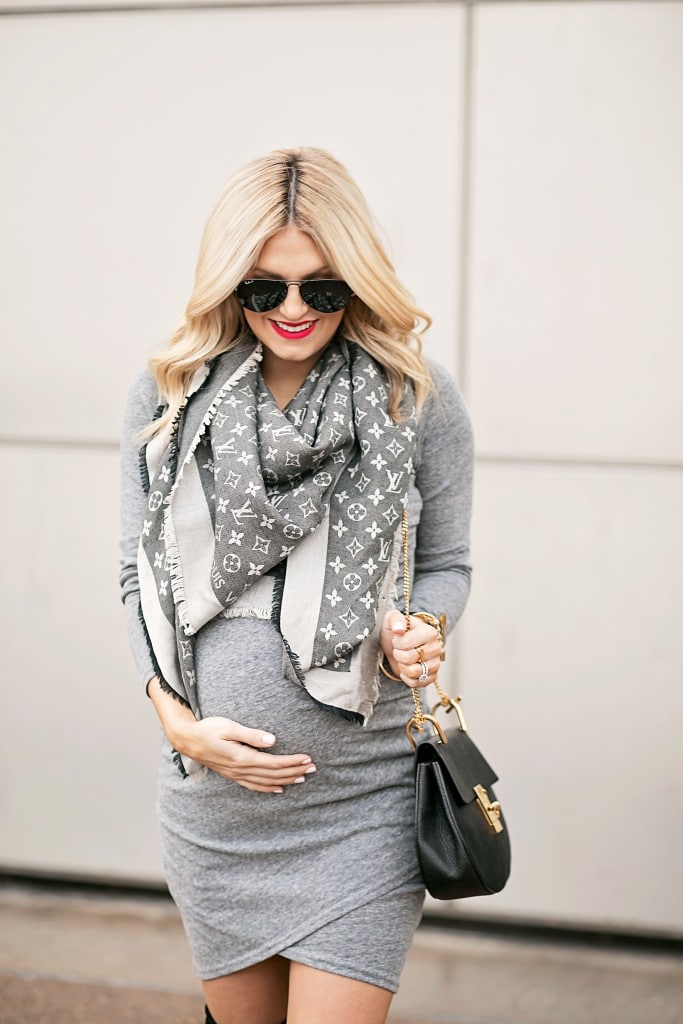 Dress: Nordstrom [sized up for bump] | Boots: Stuart Weitzman, Similar, Similar | Scarf: LV, Similar, Similar | Bag: Chloe, Similar | Sunglasses: Ray Ban, Similar Size | Lipstick: Cherry Liner | Bracelets: The Styled Collection [c/o], The Styled Collection [c/o], The Styled Collection [c/o]
Photography by: Angie Garcia
---
How far along: 39 weeks this week! I can't believe it is almost go-time! I'm writing out all my blog posts a few days in advance just in case I do go into labor and it's so funny. I feel like I should be saying, "Well currently I'm not in labor. But I might be when you read this post? So if you're confused because you know I already had my baby, just go with it!" haha.
What are we most excited about next: Meeting her! You become so attached to this little person over the course of 9 months and there is just so much anticipation about holding her for the first time.
What are we least excited about: The waiting game! I know in two weeks I'll look back and laugh at how anxious I was, but I just wish I knew when she was coming. Patience is a virtue and it is one that I do not possess at this very moment. 😉
Movement: Last bumpdate I was sharing she just wiggled a lot! This time around I'm pretty sure her foot is going to come through my stomach. haha. She will kick my side and I'm like, "Woah! That is your heel! I see your heel!"
How I'm Feeling: I shared last bumpdate about my subluxating rib. The past few weeks that's been pretty intense. She's started to drop but we found out at last week's appointment the rib affected my right lung so there really won't be much change until I deliver. If you are reading this thinking, "Does this happen to all pregnant women?" The answer is not at all! So if you're early on in your pregnancy definitely don't worry. The rib issue typically just affects shorter pregnant women and then the lung issue is even more rare than that, so I definitely don't want to worry people at all. But overall, that's just the most obvious symptom for now. Morning sickness came back a few weeks ago, which oddly enough got me excited because I'd heard that's normal as your body prepares to go into labor! I've had contractions since about 33 weeks and I get more now, but they are extremely irregular.
Cravings: I've loved breakfast food this pregnancy. I was so keen on cereal and fruit the entire time! But lately, I love biscuits?! So weird. I've never really eaten them before I was pregnant and now I'm always making them.
Weight gain: 25 pounds.
Things I'm Loving: I love how well she responds right now! If Paul talks to my bump or if I gently nudge her she moves and kicks back. I also love the connection you get with your friends that are pregnant or your friends that recently had a baby. We are always asking questions, asking how dilated the other person is, checking in on symptoms, etc. I feel like I have about 4 girls that I'm constantly calling/texting and checking in on and I know it will be fun to do the same when our babies make their arrival. You always feel a little less crazy texting a friend at 3 a.m. when you're up with pregnancy insomnia and knowing they are too.
What I've Been Doing: Because of the rib issue, I had to slow down my workouts. At about 35/36 weeks I stopped working out as much throughout the week and would do longer workouts less days a week. At this point Paul and I have been going on really long walks to help kickstart this labor! Besides staying active, I've just been trying to get everything finished around the home. I feel as if I'll always have a to-do list based on my personality. I decided last week to make a list of 10 things I wanted to accomplish and that was that! I wasn't going to do more or less. Pinterest guilt is real. It tells you that you need 50 freezer meals made before baby comes home and every baseboard should be bleached and your thank you notes should be pre-written. It's so unrealistic especially with trying to tie up loose work ends before you take time off. So I broke up with the Pinterest guilt, broke out my notepad and am sticking to my list of 10 things. We accomplished most of them this weekend so I feel really content with that!
What We've Purchased: I haven't purchased too much these last few weeks but I will share a few of her favorite things I've stocked up on!
I can't believe that this is most likely my last bumpdate. Thank you so much for all your kind words, support and just encouragement about our pregnancy. I have no expectations with labor, I just am praying for a healthy baby so I truly hope all goes well. I've gotten a few questions on my pregnancy guide. I promise it will be up very soon! It will be up once she is a few weeks old simply because I want to make sure everything I recommend worked for me throughout.