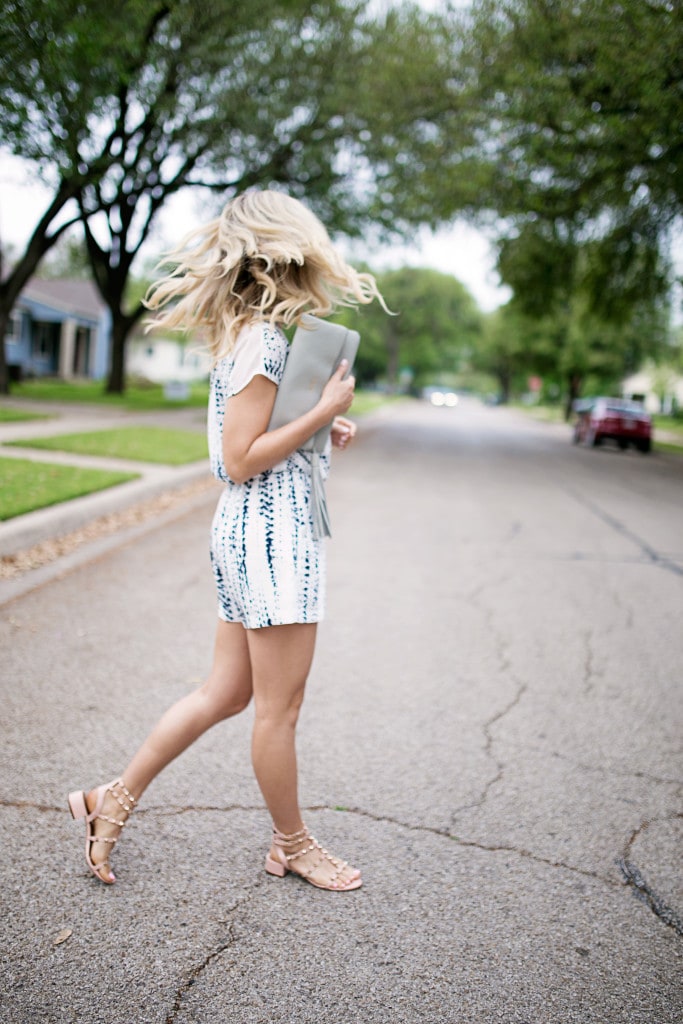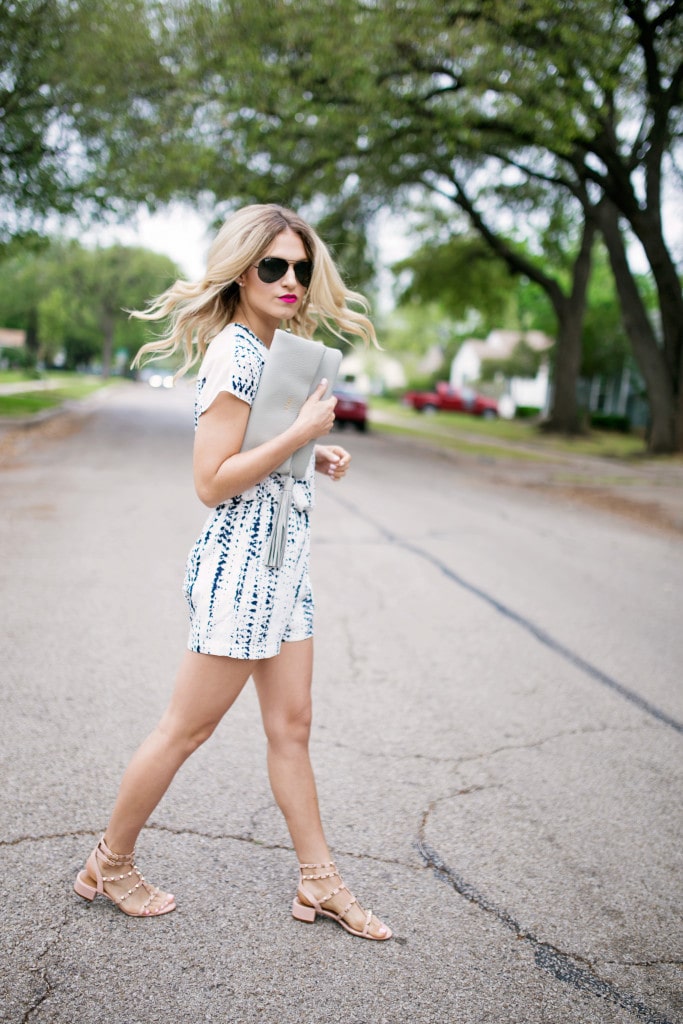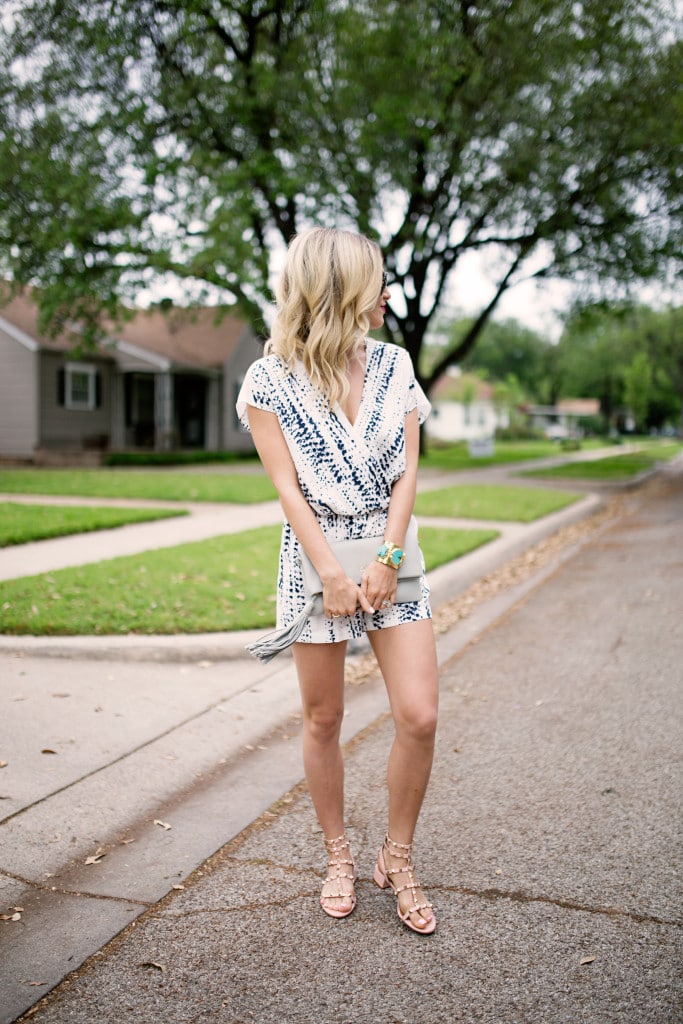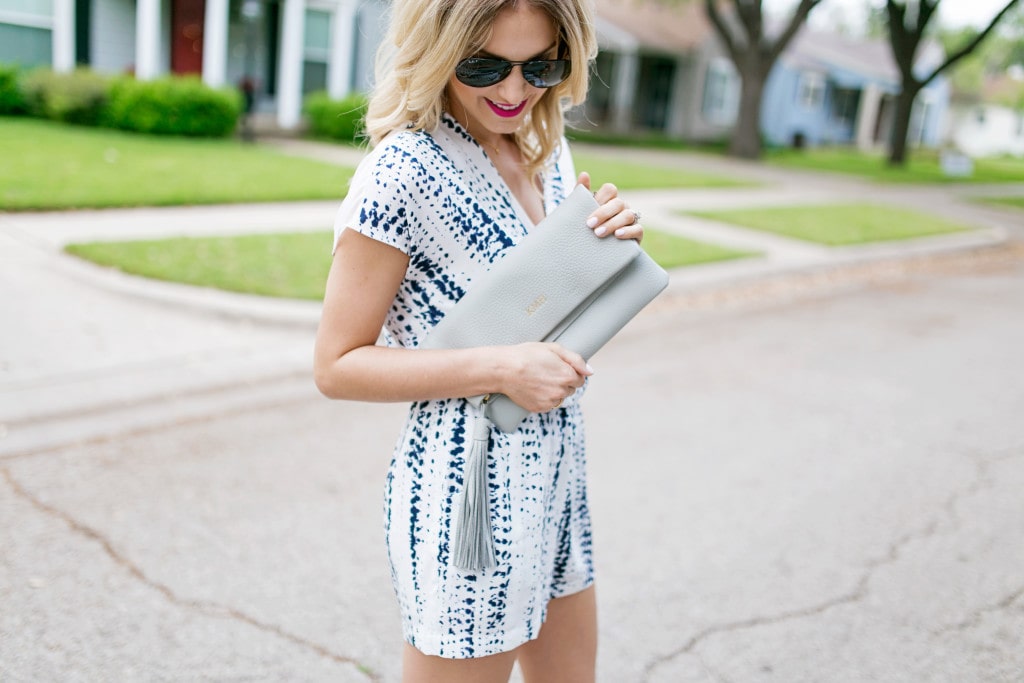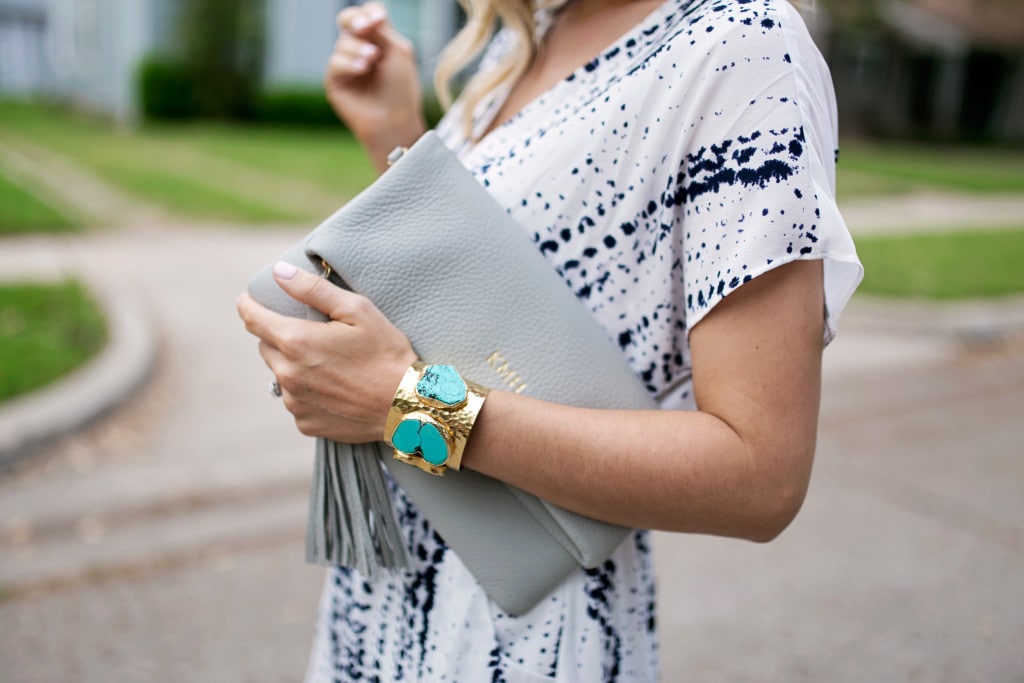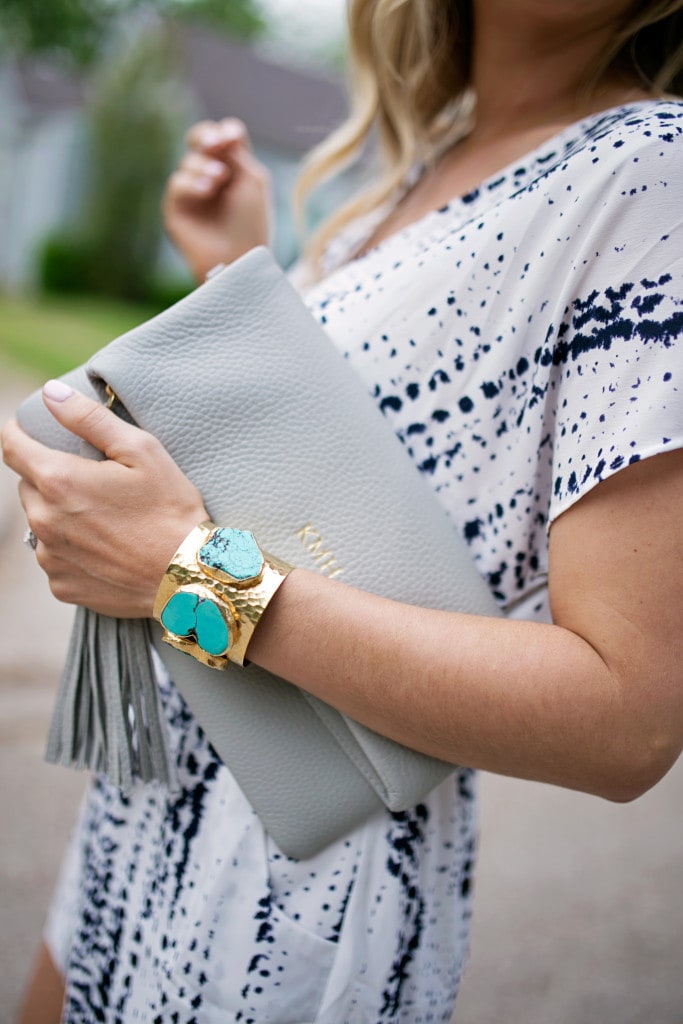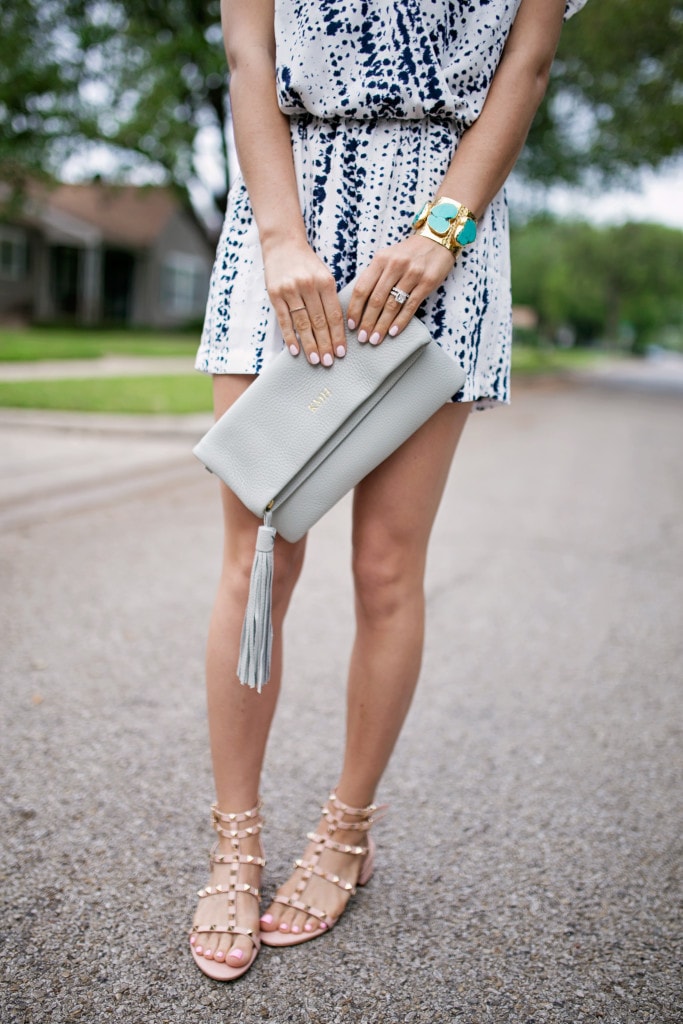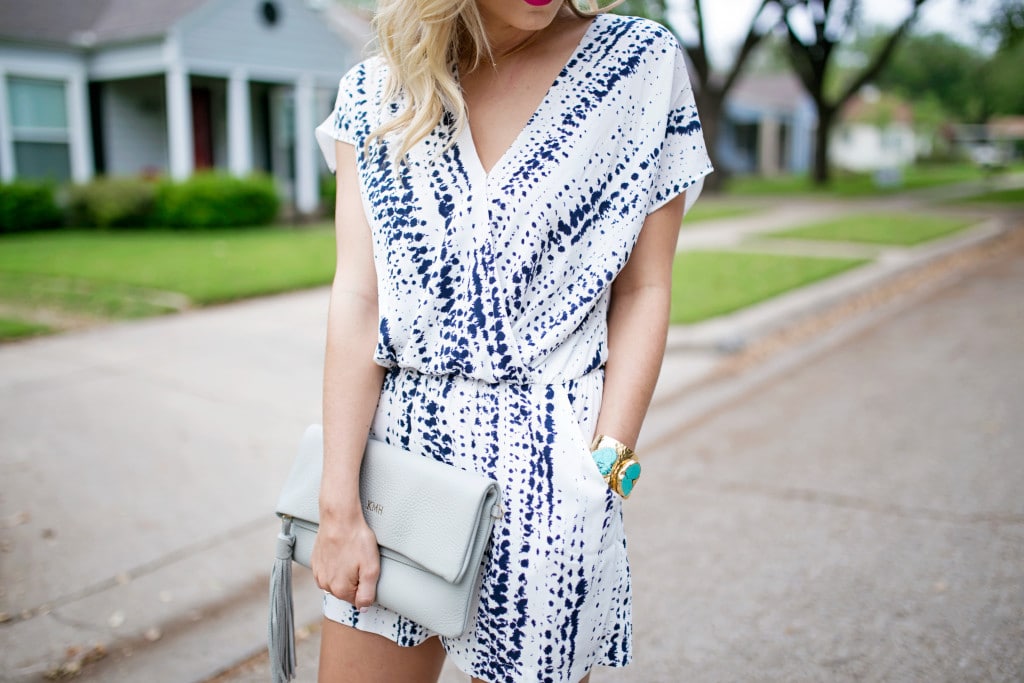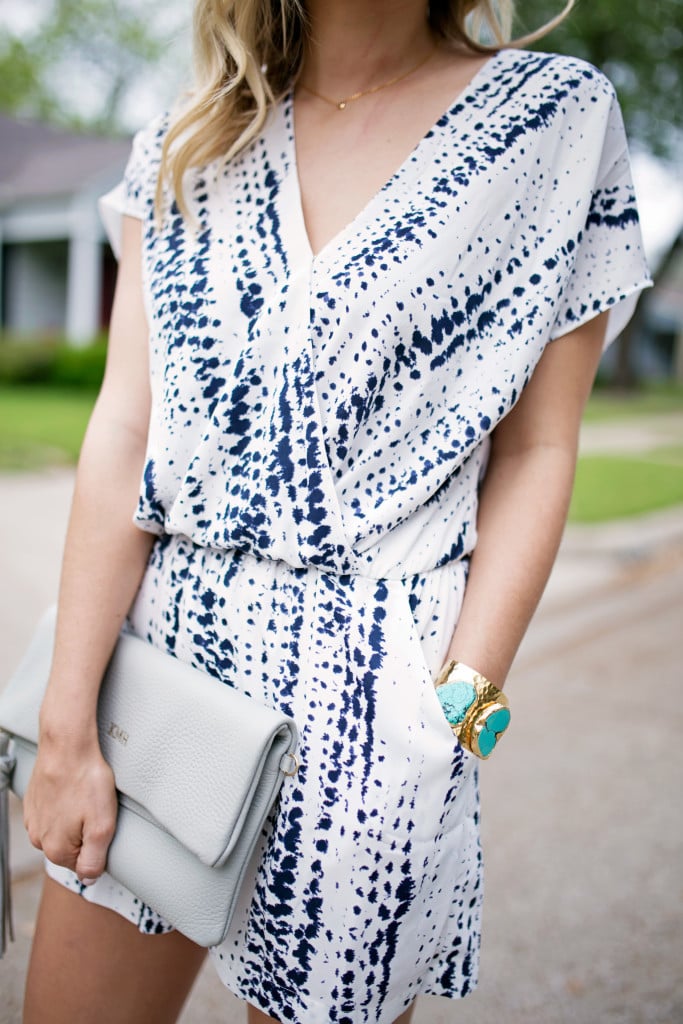 Check out those scratches from Peaches! #dogmomproblems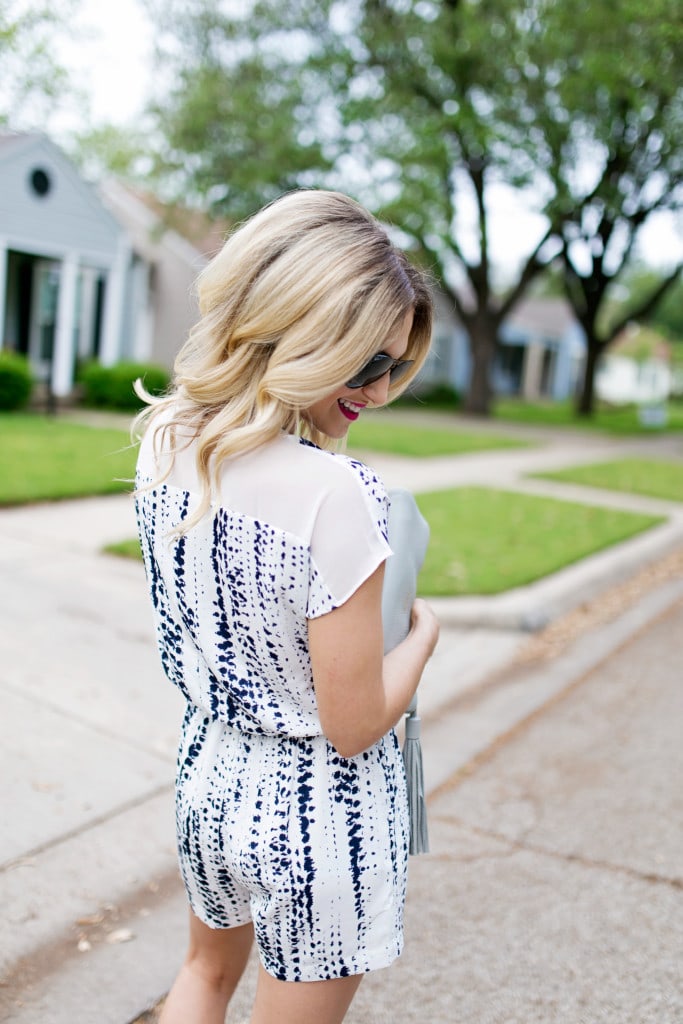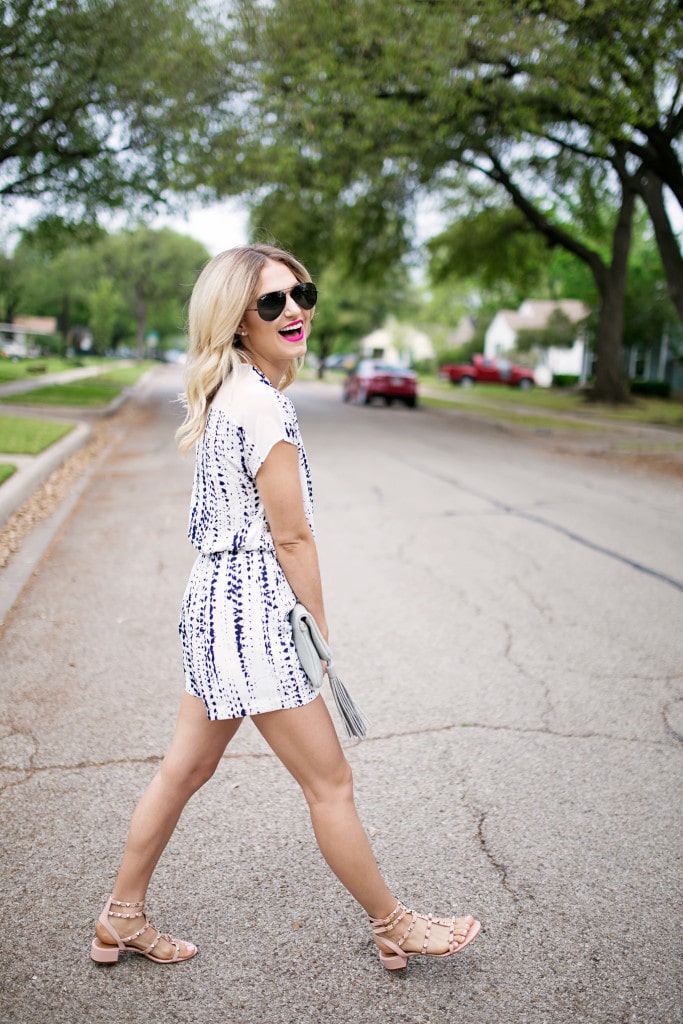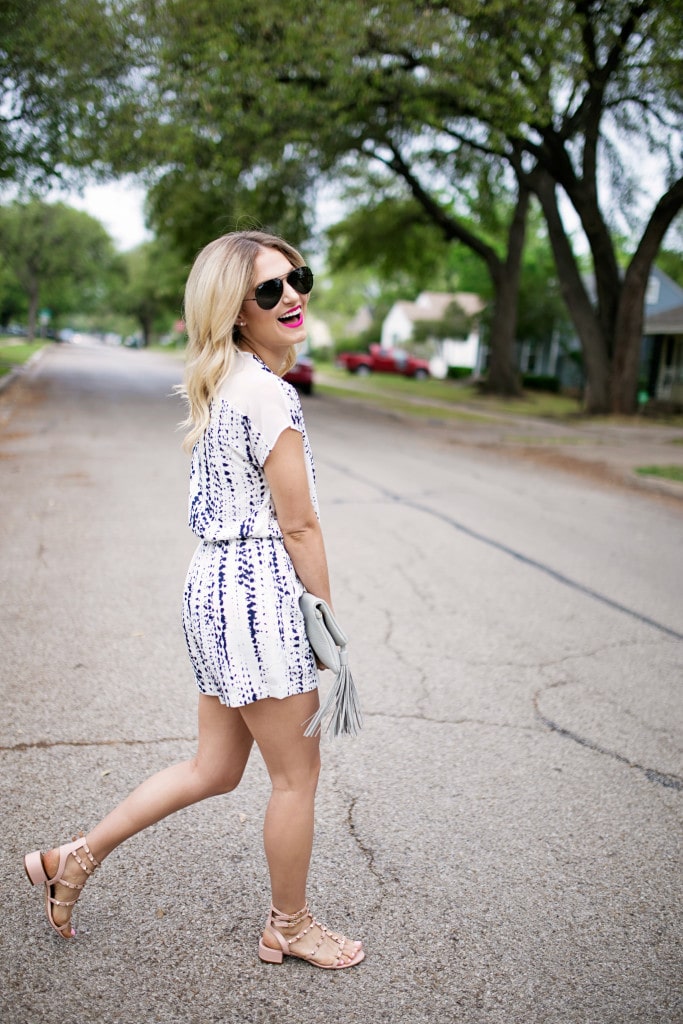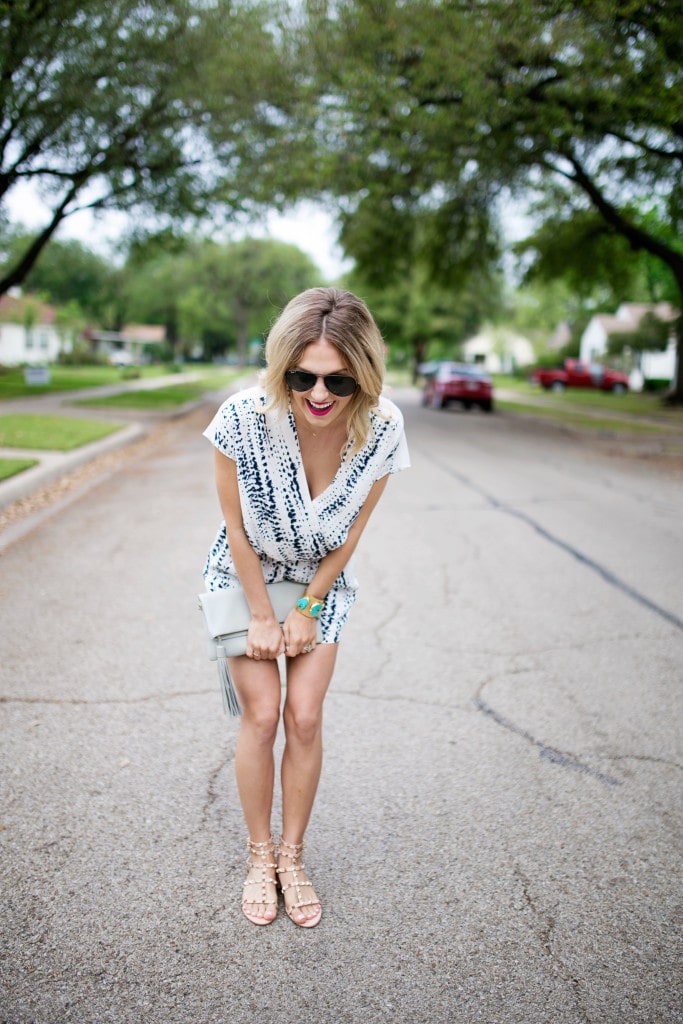 Romper: Cooper & Ella [c/o] | Shoes: Dillard's, Nordstrom | Bag: GiGi NY [c/o] | Lipstick: Sorbet | Bracelet: Goldenstrand Jewelry [c/o] | Self Tanner: Vita Liberata
Photography by: Angie Garcia
---
How is it already Friday?! HOW!!
This week absolutely flew by and today I'm prepping for a baby shower for my friend, Britany, tomorrow. Here's a few weekend links for your reading! P.S. this romper is a date night dream. I'm wearing a size S, but I will say if you're in between sizes go up! Normally rompers swallow me #5foot3issues and this fits like a glove.
1.Wedding Traditions
I remember being a bride and being so stressed about people pleasing and which traditions to follow. But then I went with a lavender dress, was in bed by 11 at my Bachelorette party and wished I had seen my groom before we said, "I do." So I guess I wasn't THAT traditional. Traditions are fun, but following your style is even more important. This article shares 5 traditions to ignore and how you can go around them.
I'm so happy we went with a black tie wedding and incorporated family traditions, but I've said before, I do wish I would have seen Paul. I guess I just wanted to see "the look." Well y'all, I didn't even see it. We got married in a really formal church and the aisle was so long! I couldn't even see his face and I have 20/20. haha!
Everyone said he cried as well as his brother, but I couldn't see and my photographer couldn't photograph as photographers aren't allowed in the bottom floor of most formal sanctuaries. The irony of it all! haha. Of course I don't care now, it was such a special moment with my dad. I was so nervous I'd fall and cried profusely before I walked down the aisle because I just wanted Paul to come get me and everyone to shut their eyes. #introvert
My dad kept squeezing my arm and said, "Slow. Slow. You've got this. You won't fall. You look beautiful."
But if I could change a tradition we followed, I would have had coffee with him in the morning. That's my favorite part of our day and he actually got me hooked on coffee! I wouldn't touch coffee OR breakfast food when we first met. It's his favorite meal and he always said he was going to get me to learn to like it. He made blueberry pancakes for months every Saturday when I'd come over [I was still in college when we met so I drove to Dallas to see him!] and he was right. I learned to love breakfast and coffee and it's my favorite meal. I would have loved to have had coffee with him and pancakes and done a devotional together that morning.
However, that isn't important to every bride! Maybe you want to have both your father and mother walk you down the aisle. Maybe you don't want to have a bridal party so that you don't hurt feelings. Or maybe you want a private ceremony with a large reception. Do what fits you and your groom and you will never regret it!
2. Tory Burch Sale
Tory Burch is having a great sale this weekend. Up to 30% off with free shipping. Use code BLOOM at checkout! My favorites are below! I also did a full post rounding up my picks and sharing what I bought here.

3. Giveaway
As a thank you to my readers and a fun way to kick off spring styles, I will be doing a giveaway of a designer bag on Facebook! It should be up in about two weeks but be sure to like COF on Facebook so you don't miss how to enter!
4. Platform Espadrilles
I. Need. THESE. That is all.
5. Warmer Weather
I had a few readers tweet me and say they don't think they could live in Texas because of all the storms! haha. Our weather here is nuts! So many people think, "Big hair, riding horses and heat" when they think of my state. But instead, we just have really aggressive weather. It hails for 2 hours, it's hot and sunny the next hour and then by dinner you're hiding in the closet because of a tornado warning. Naturally, April is one of the worst months. We have had so much hail this April! I told Paul that we need a little getaway to escape! We have a few Mexico trips planned for some weddings, but I am wishing we were there this weekend to enjoy the sunshine. We ALMOST booked a trip to go there next week. But instead I've just been reading up on the best vacation spots for our next getaway there. This article is so helpful!