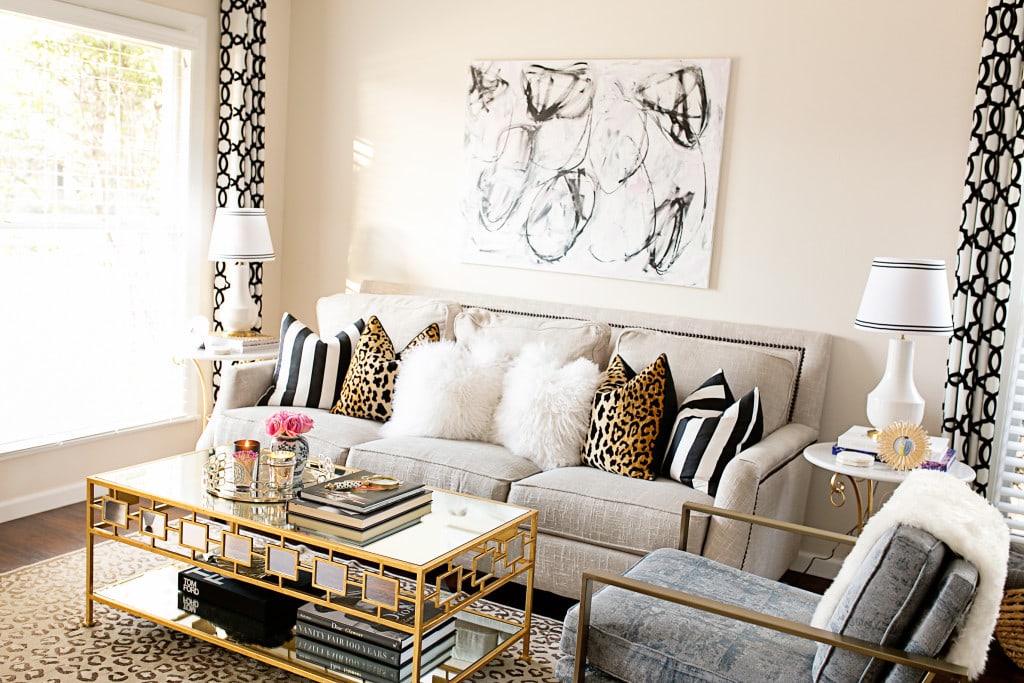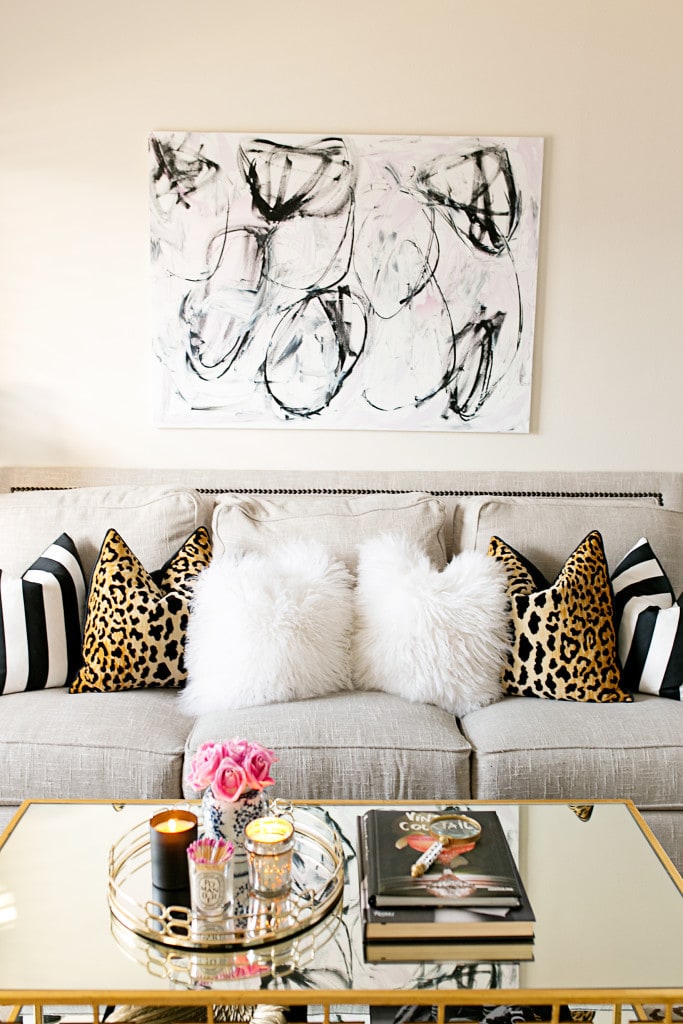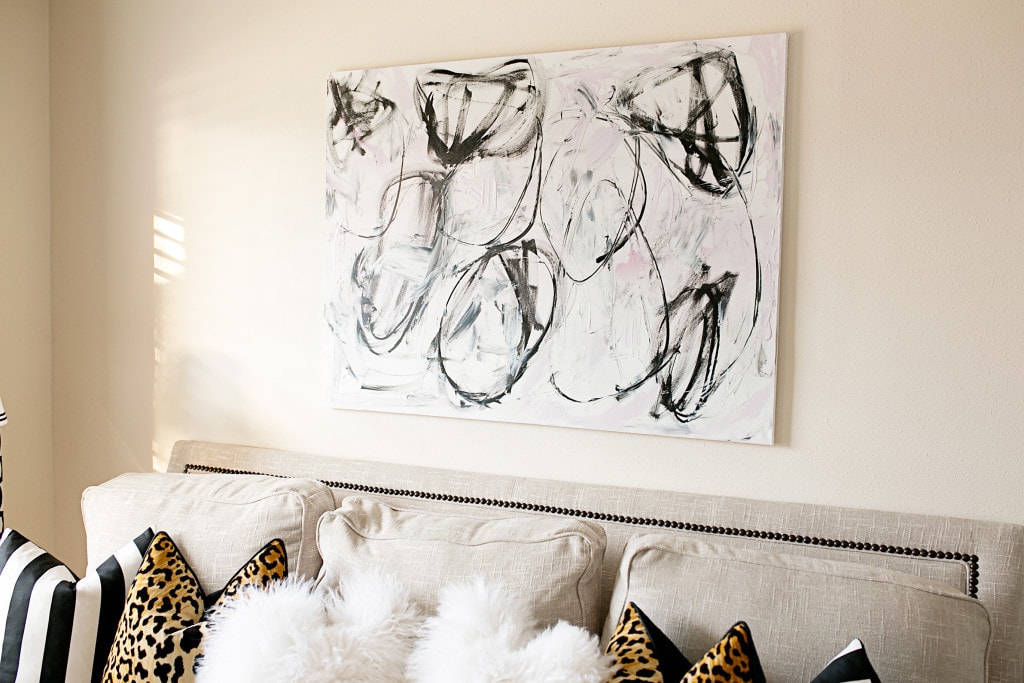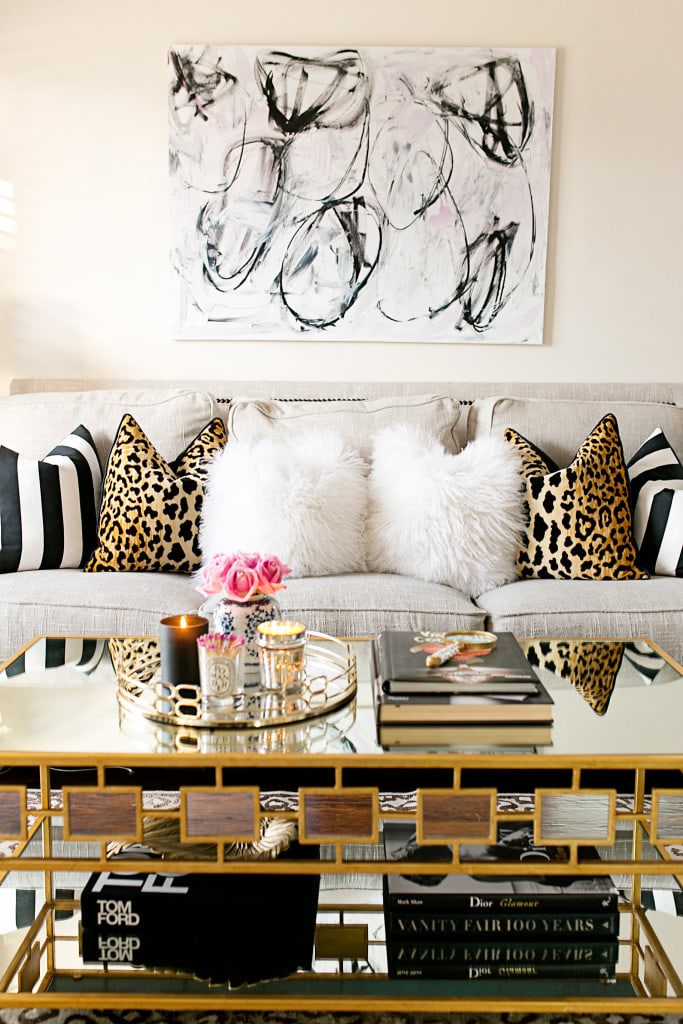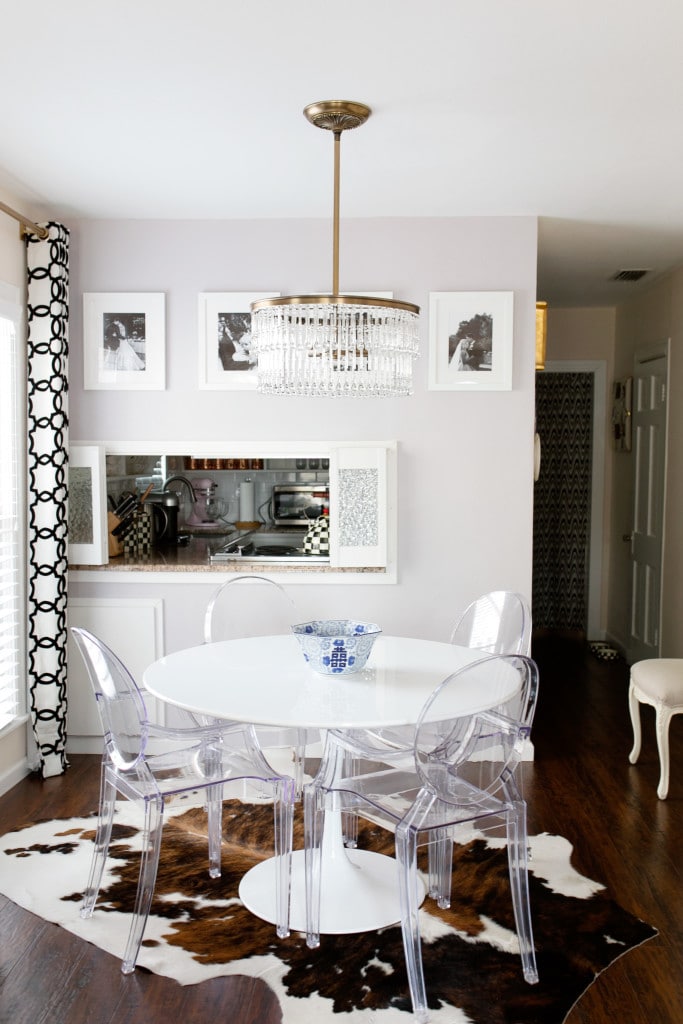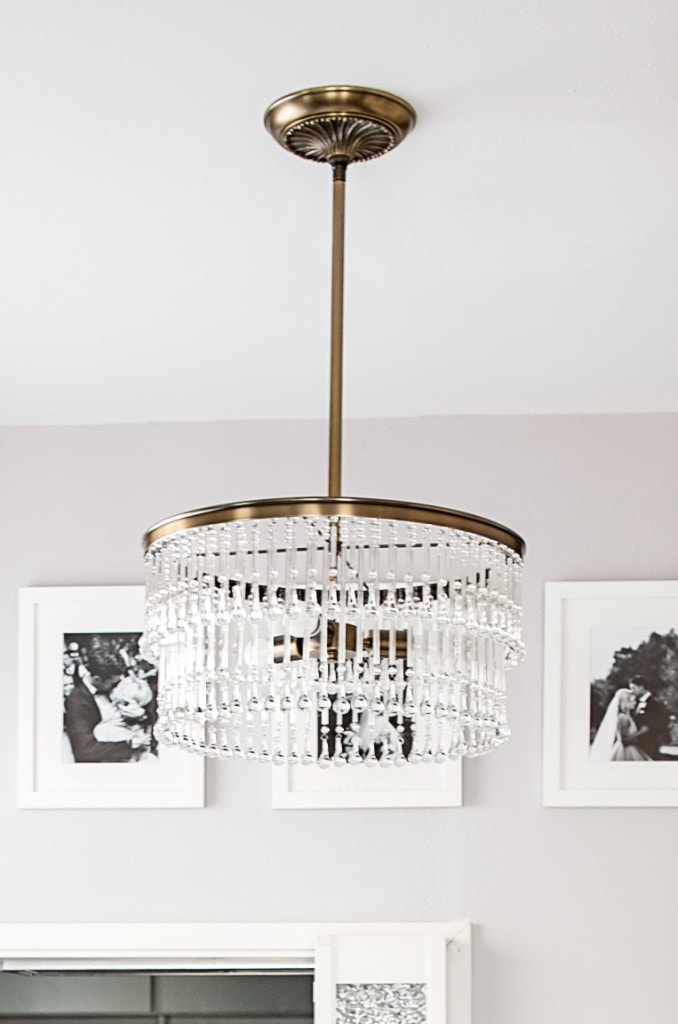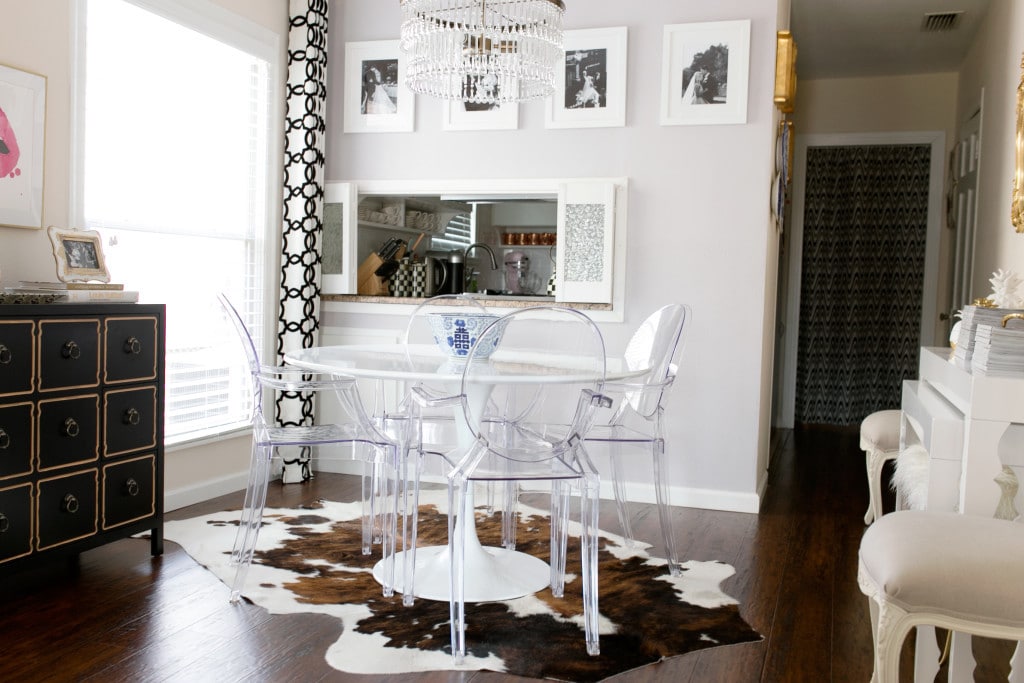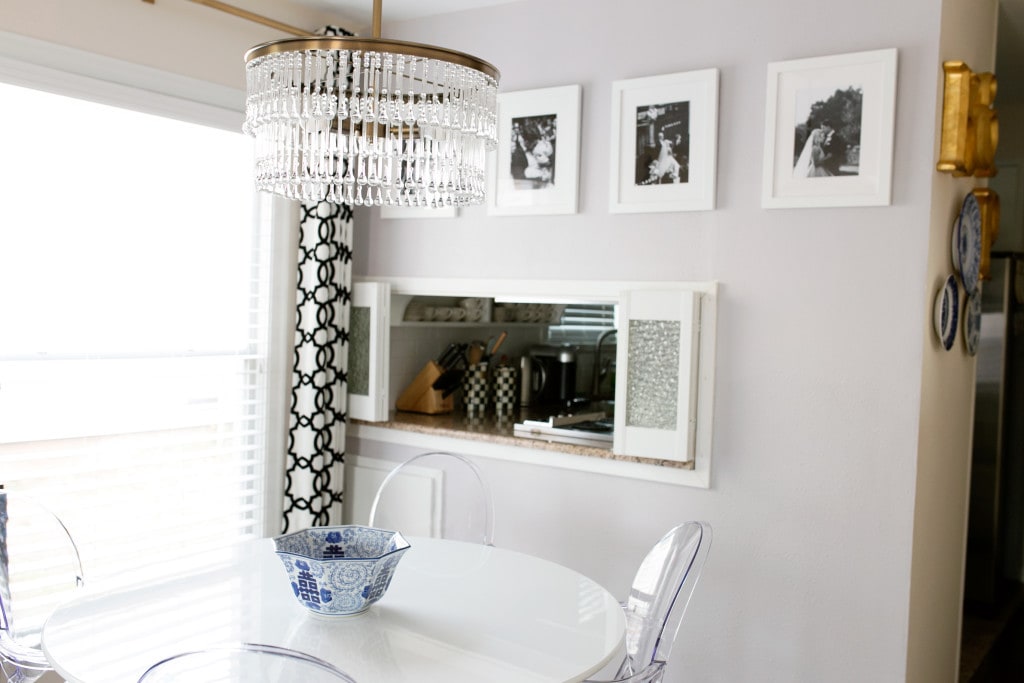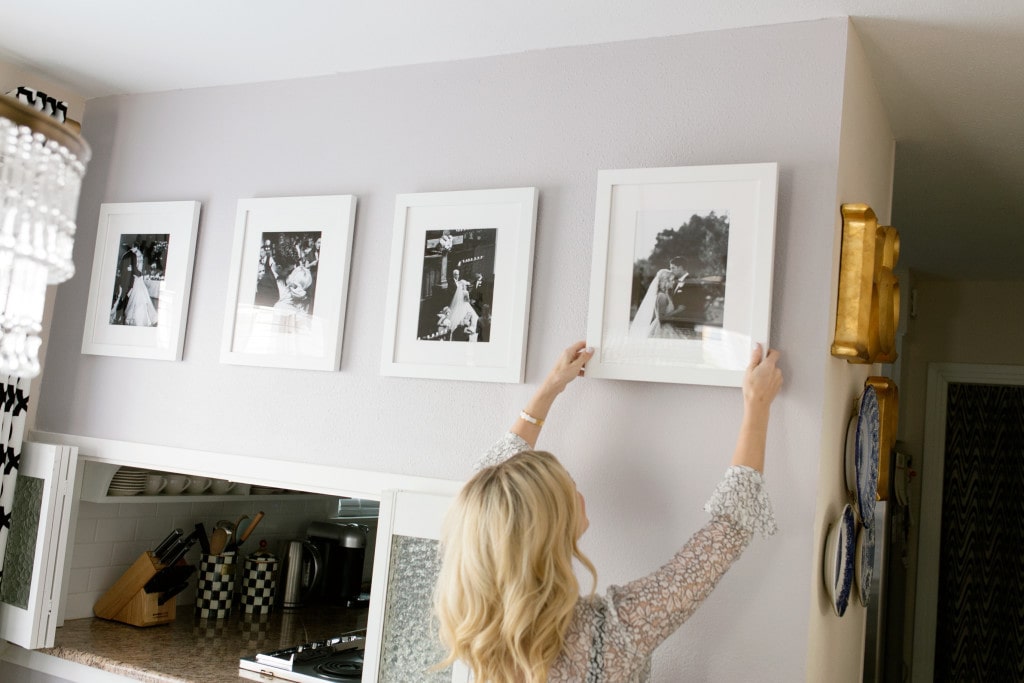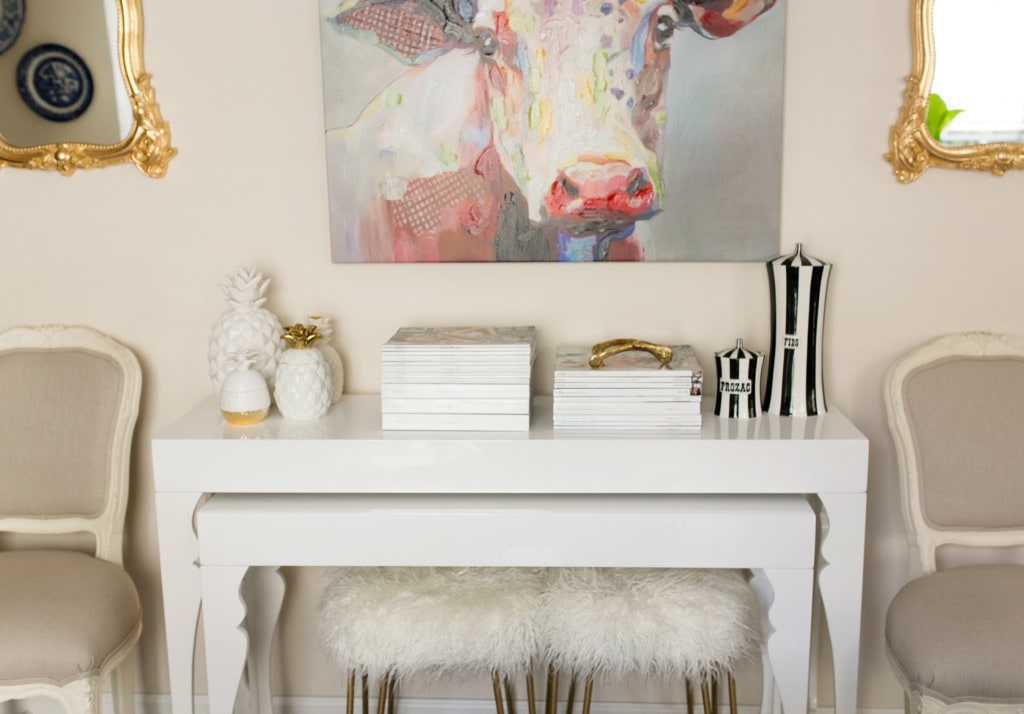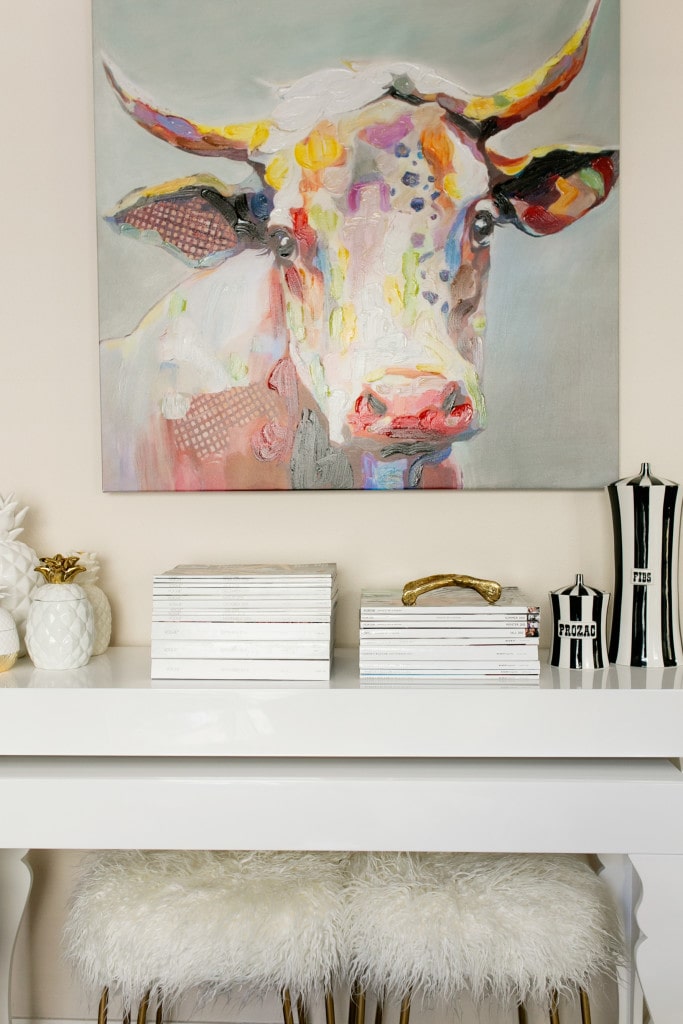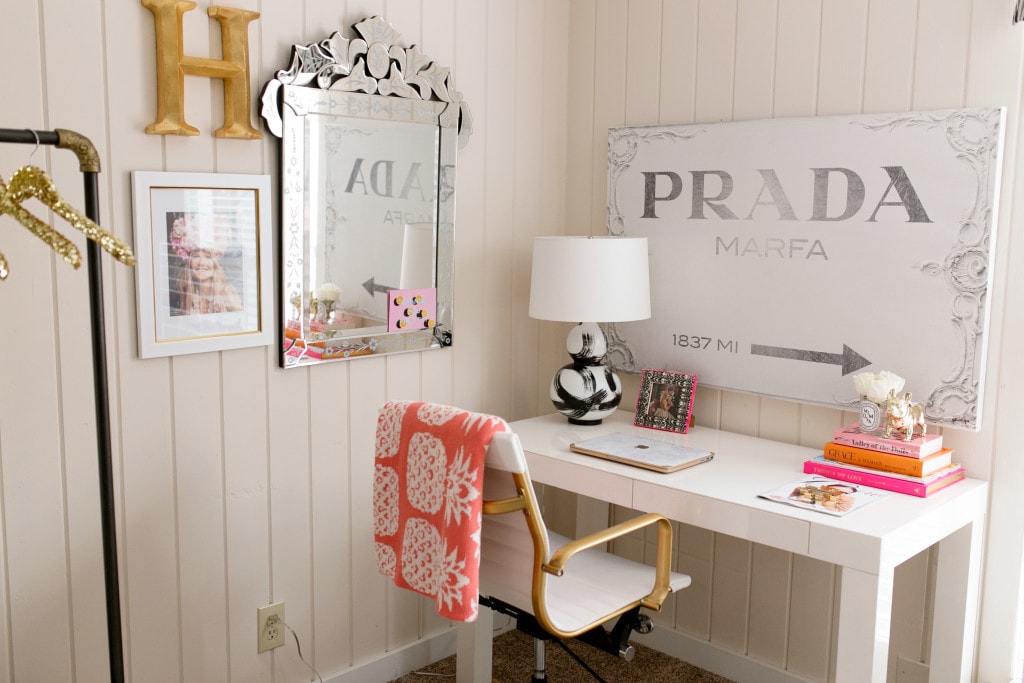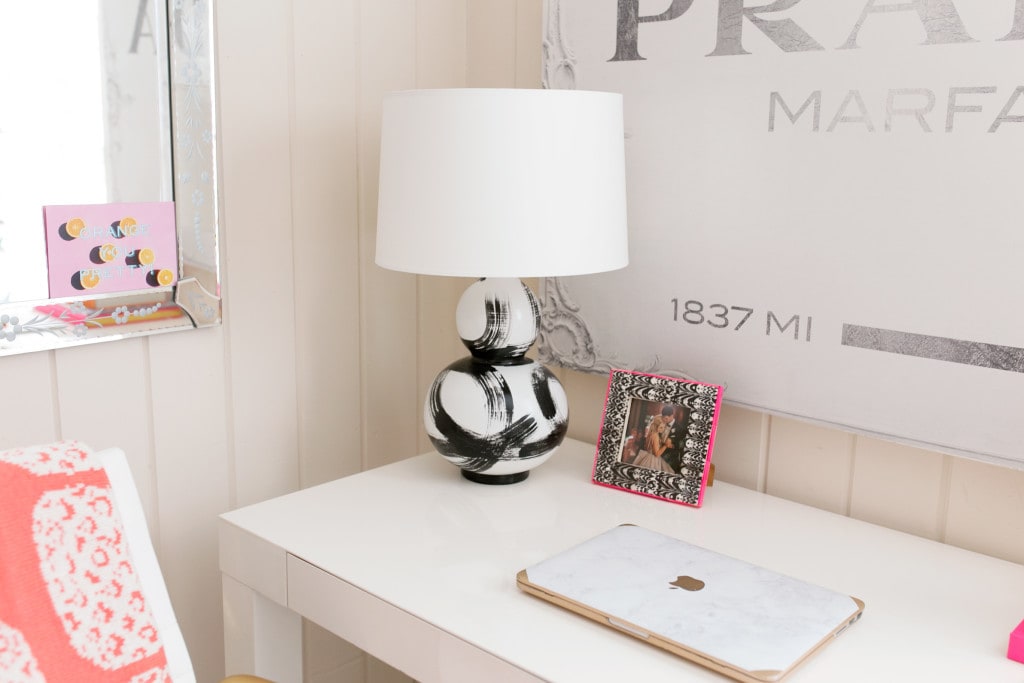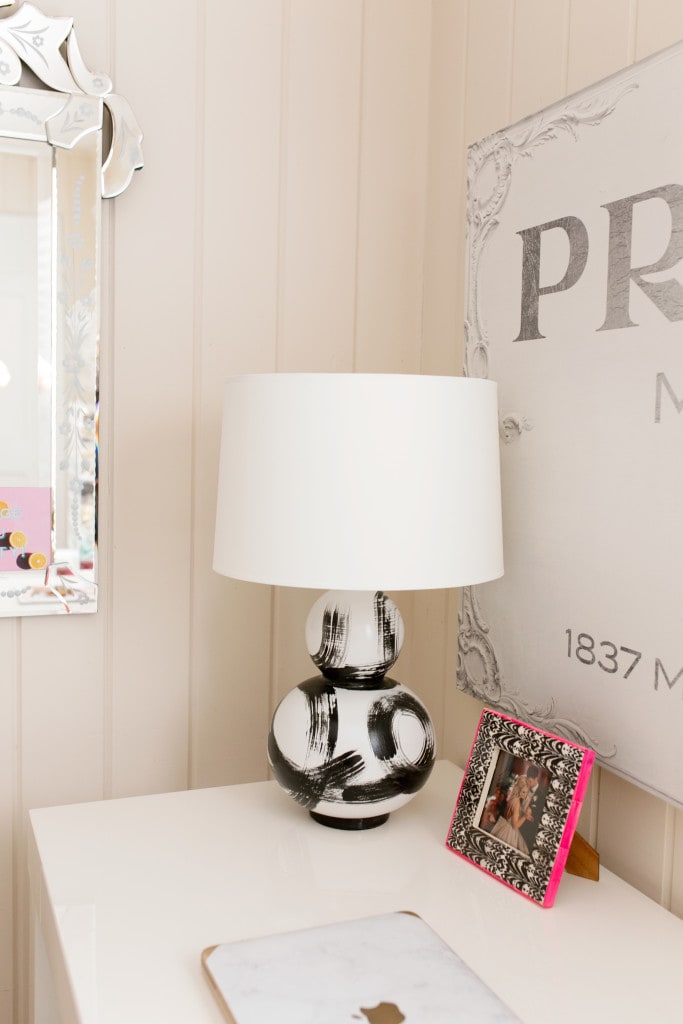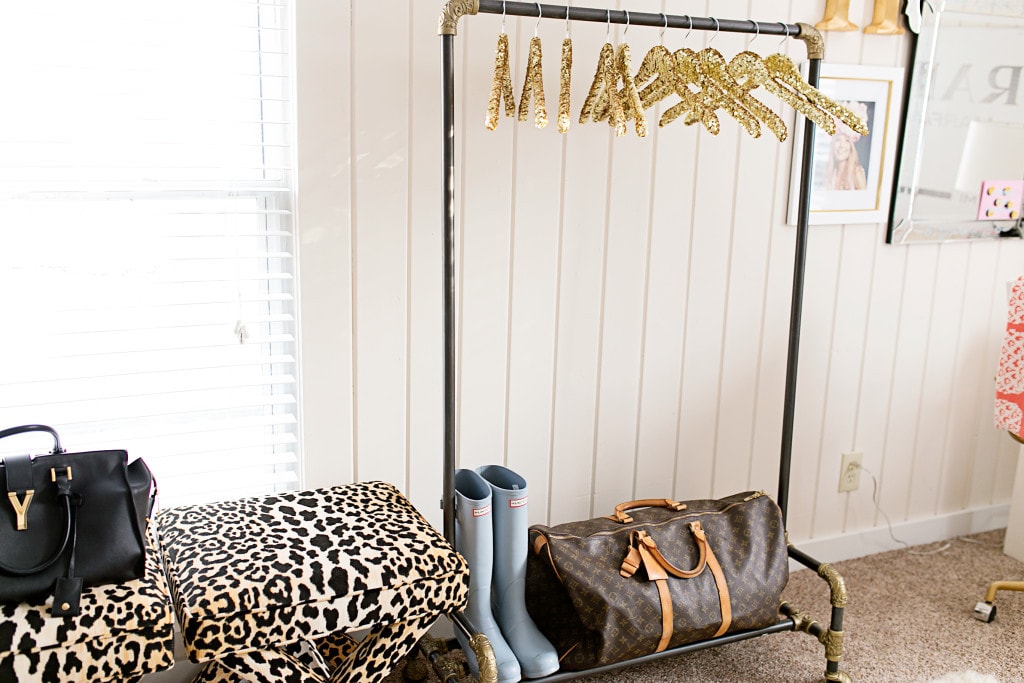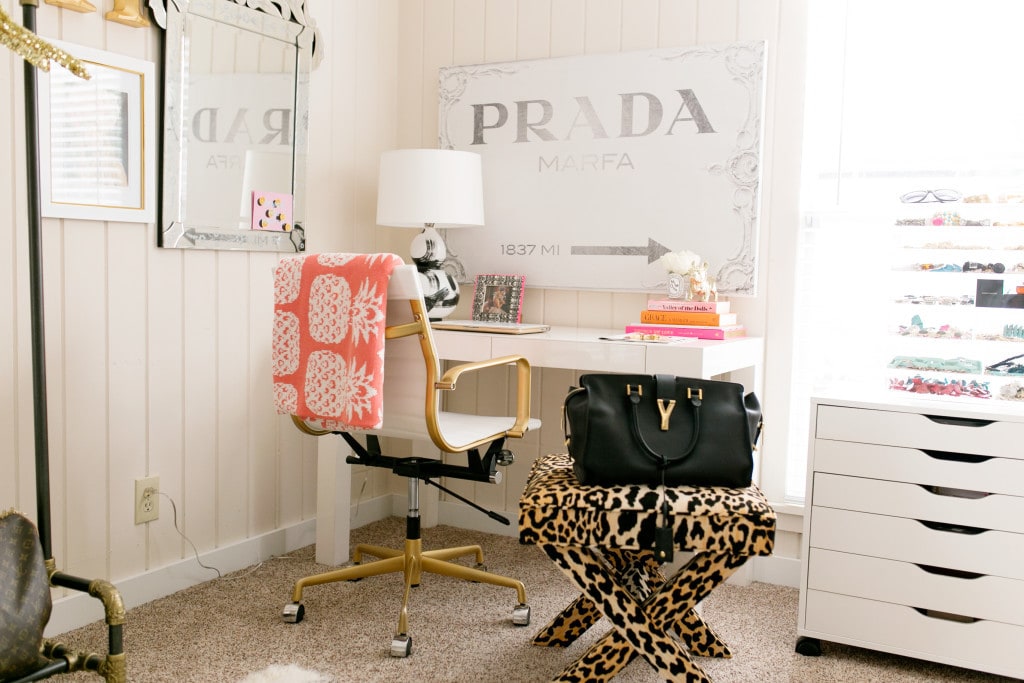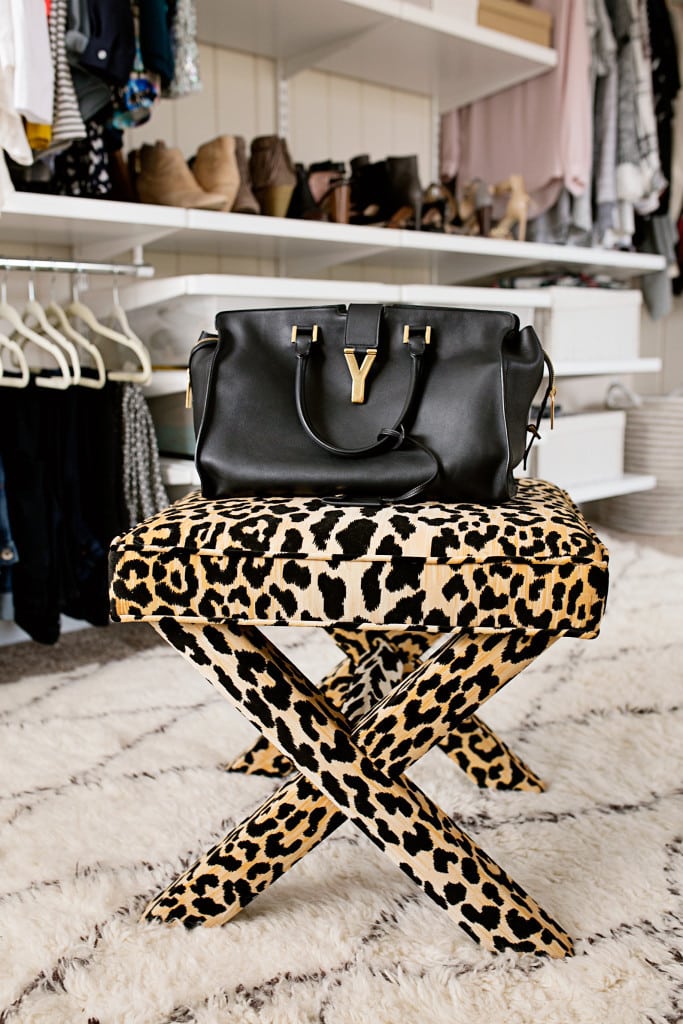 Couch: Similar | Flowers: OKL [I have these and love!] | Side Tables: Overstock, Similar | Pillows: Furbish, West Elm | Art: Jenn Thatcher Art [c/o] | Table Lamps: Pottery Barn | Chair: West Elm | Rug: OKL  | Tray: World Market | Ginger Jar: Furbish Studio | Coffee Table: Similar, Similar  | Gallery Wall: Framebridge [c/o] | Table: Similar | Casper Chairs: Amazon | Chandelier: Pottery Barn Teen | Cowhide Rug: Wayfair  | Lamp: Jana Bek [c/o] | Leopard Benches: LivenUp Design [c/o] | Desk: West Elm | Clothing Rack: Pottery Barn
Photography by: Angie Garcia
---
I wasn't bit by the Chef bug. I could eat the same meal every single night and be happy. I wasn't bit by the adventure bug. I could do the same thing every weekend with Paul and be the most content girl. I wasn't even bit by the real estate bug.. I tear up thinking that ONE DAY we will have a family and clearly not fit in our 1100 sq. feet and need to move. But I was bit by the decorating bug.
I'm always wanting to move things around or start with a new slate. Some days I wake up and want my whole house to look like Restoration Hardware and then some days I want to mix prints and have flowers everywhere. Thankfully, my husband is really supportive of my passion [as long as I stay within my budget 😉 #thankyouHomegoods ] and I've learned a few weekend tricks to making your home have a fresh and updated feel!
I want to share lots of different options for you all, as I know we all have different home budgets which is one of the reasons we recommend checking the options listed in the Indianapolis turnkey investment real estate market! Some are moving and have a larger budget and some might just only want to spend $40 on a weekend. I really just wanted to show you can do quick and easy fixes on any budget without spending a month deciding how to update a space!
1. New Art
This of course is a pretty obvious option, but it's one that sometimes we don't always think of! If you are sick of a piece of art and your girlfriend is too, swap! My best friend, Taylor, and I are always swapping picture frames, pillows and candles. But if you haven't updated something in ages, try new art. This is a great way to not have to paint walls, get new furniture and yet you still get a new theme for the space.
I love painting [some of y'all know I used to paint and sell! Now I just do it for friends] and I always was getting e-mails asking about an artist who had a similar style to me! I never knew who to lead y'all too and felt terrible because I love supporting artists, but a few months ago I was introduced to that girl! Jenn Thatcher Art [here is her instagram] is a girl who used to work on Wall Street and is now a mom using her creative gifts to make homes a little brighter. I had the Prada print moved to my office and wanted something neutral with blue undertones for our living room. I told her I needed it modern but flexible [we won't always have a modern style] and she did a tremendous job!
2. Gallery Wall
A gallery wall is something we all have a love/hate relationship with. We love the look [it makes rooms like cozy] and yet hate the process. I don't want to print, mat, wire and hang a photo. That takes 4 hours on a Sunday and I'd rather spend 14 minutes. We used Framebridge for our master bedroom gallery wall and so we decided to use them again for our dining room. We wanted black and white wedding photos and this took me 20 minutes! All I needed was a ladder and hammer, they wire the prints and give you the exact nails you need. I was joking with Paul that before you have a home your house looks so vain! It's like, "Hey, come over. You can stare at all our wedding photos!" But we all have to go through that phase right?! 😉 You can choose for them to print your images, or they can send you the frame and hanging tools!
3. Accent Wall
We had to re-drywall that wall [if you follow me on snapchat you knew it was a nightmare] because our home needs foundation repair and concrete leveling services with the help of an expert foundation repair contractor. After the contractor was finished, we went and picked a gray, and when we painted the wall it dried more the tone of my wedding dress. I was worried and asked Paul if he wanted to change it and he laughed and said no. He liked that the color made our house a little warmer and I agree. I think had it dried truly gray it would have looked a bit cold. Painting a small accent wall or even hallway of your home can take an hour and a quart of paint! [Get the Behr 1 coat paint and prime!] Or, if you have a bigger budget try wallpaper! My friend wallpapered here powder room and it was the nicest little update that didn't take too long! Our paint is Behr Rock Crystal.
4. New Lighting
A new lamp or a new light fixture can change an entire room. In our dining room we had the worst mounted light. It. Was. Heinous. But I didn't want to update it yet because it wasn't centered over the table. We actually had to find someone to move it and repair the ceiling and with our home being so old, NO ONE wanted to go through the attic to do it. I think we called 8 different contractors and finally someone agreed. I got the living room light fixture from Pottery Barn Teen, and it's such an easy way to update something on a budget! PB Teen or PB Kid has trendy lighting that isn't a fortune. They also do a 10% off coupon if you sign up for e-mails
My office/closet was the one room I couldn't figure out how to navigate. We installed the closet [I'll share soon!] right when I moved in, but organizing my desk and making it functional, yet inspiring was a tough one! I had my eye on this lamp from Jana Bek since I lived in Dallas. I kept telling Paul I wanted it so badly, I just wasn't sure where to place it. I was actually able to work with Jana [she is so sweet!] and this was added to my office. I chose the black and white option [she has lots of colors to pick from] so it would always be a classic no matter the style of our home, but the brush strokes were the perfect touch of inspiration I needed for my desk. She has lavender as well which I think would be the sweetest addition to a nursery or powder room! Or, if your husband likes something more masculine, I think her navy option adds a really nice preppy touch to a room. Makes me think of the Hamptons. And lobster rolls. And the show Revenge. [Who watches that?! It's SO good.]
5. Organized Magazines
This is another favorite tip, and honestly takes 15 minutes! You can do it after church before a nap! 😉 Stack magazines on top of each other for the look and feel of coffee table books. Coffee table books are one of my favorite things to collect, but if your budget doesn't fit that at the time stack magazines! Go to Half Priced Books and stock up on old Vogue issues and you can spend $10 as opposed to $100. I made two stacks for our white floating tables.
6. A Touch of Leopard
Not sure if it is the Texas in me, but this girl loves a good dash of leopard in home decor. It has to be a specific pattern of leopard, though. We all have our favorites: palm print, polka dots, greek key. I've known I wanted a pair of x benches for my office for almost a year! Each time I envisioned having a "cloffice" I knew I'd want them for seating, stacking and as a foot rest. Because I bring my laundry in my office, I didn't want to place it on the floor if I wasn't ready to put it up and I couldn't really just put it on my desk. I had e-mailed LivenUP Design right when we put an offer our home [back in March!] but knew I needed to wait to see how the room would come together. Almost a year later these bad boys made their way into my cloffice.
I love how I can pull these out for extra seating, but most importantly they are a really nice touch of glam to an otherwise aged room. I mean we have shiplap on the walls! Joanna Gaines would love it in there. You can get them made in whatever pattern you want, my friend Brighton has them in palm print and they are to die for!
I also think a nice print is a great compromise. I get lots of e-mails from girls that are married to men that love to decorate with a rustic vibe. These blend pretty seamlessly into a more muted color scheme and you can tell him they are just black and brown. 😉
If you see something I didn't link and want to know details be sure to head to my home tour here! If I gave a similar option to something it is because that item is sold out or no longer made! xo

P.S. I do want to mention, that I really felt comfortable sharing these artists' pieces and the prices because these people are true artists. They are small business owners [the HEART of America] and work so incredibly hard to bring us pieces that they think we will love. They aren't pieces of furniture that are mass produced. If you ever know of an artist or mom and pop shop that make incredible items like this tag me in their instagram, I'd love to see!! I want to support them and share because I think their items are what turn houses into homes by giving us handmade pieces we will love and treasure forever.