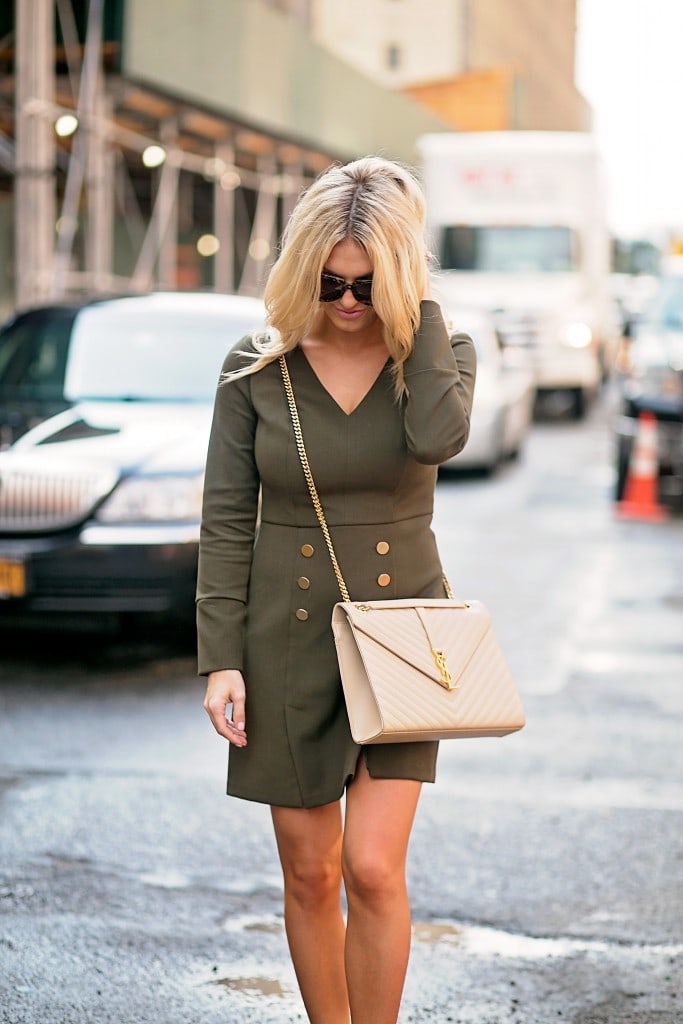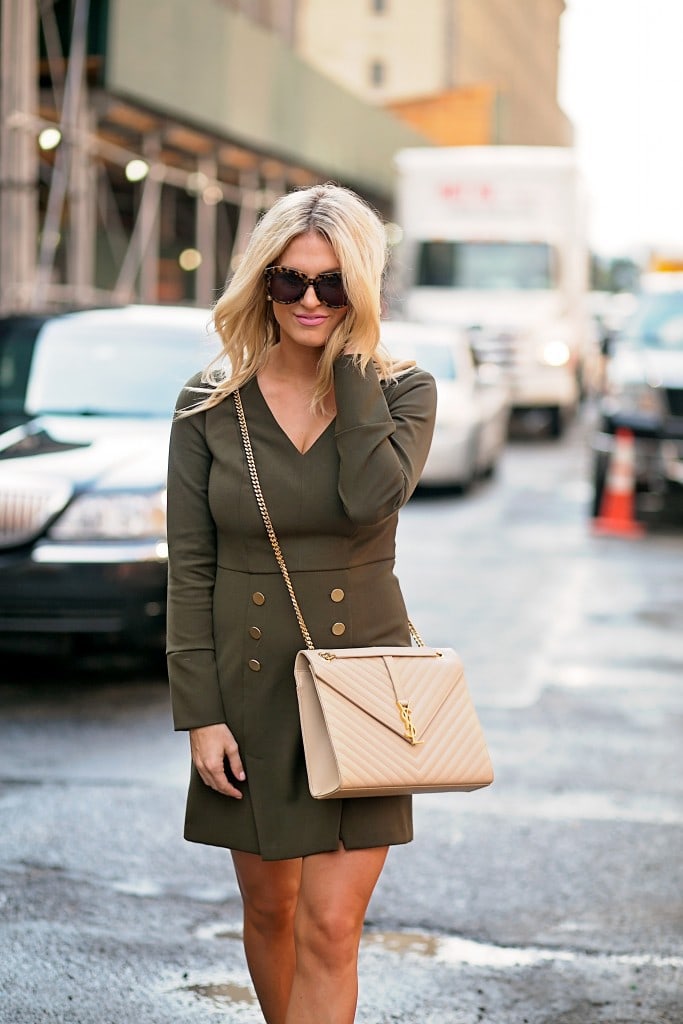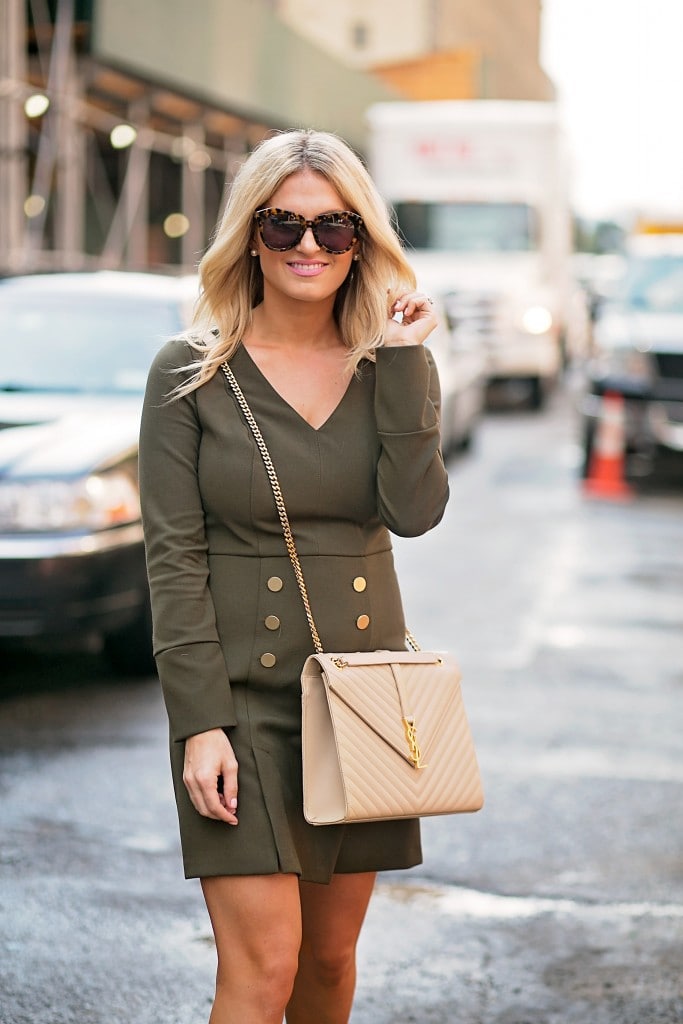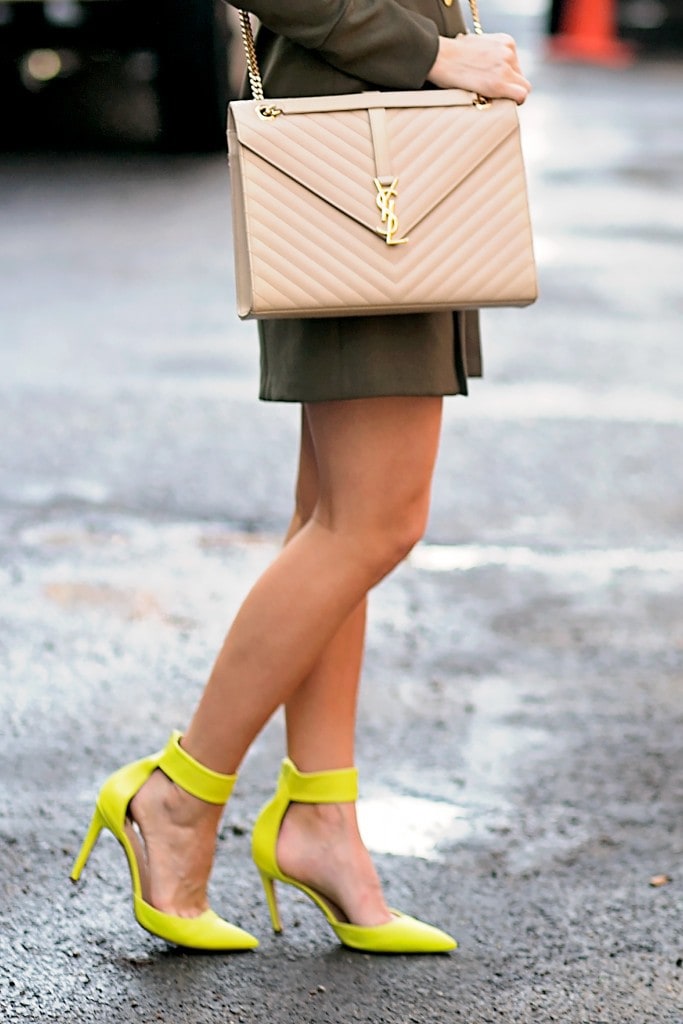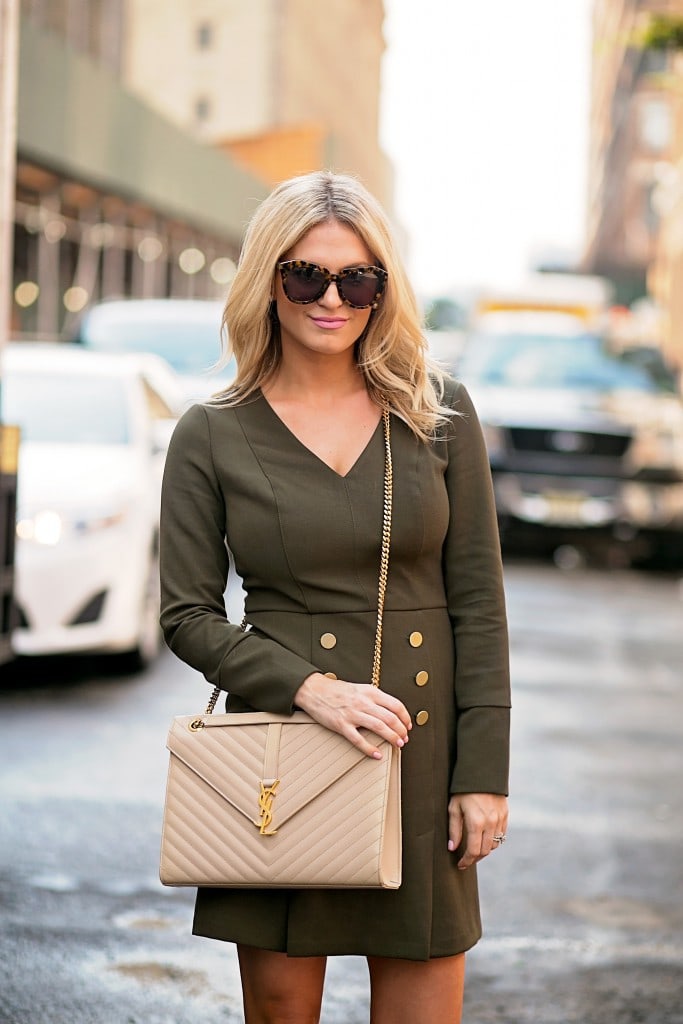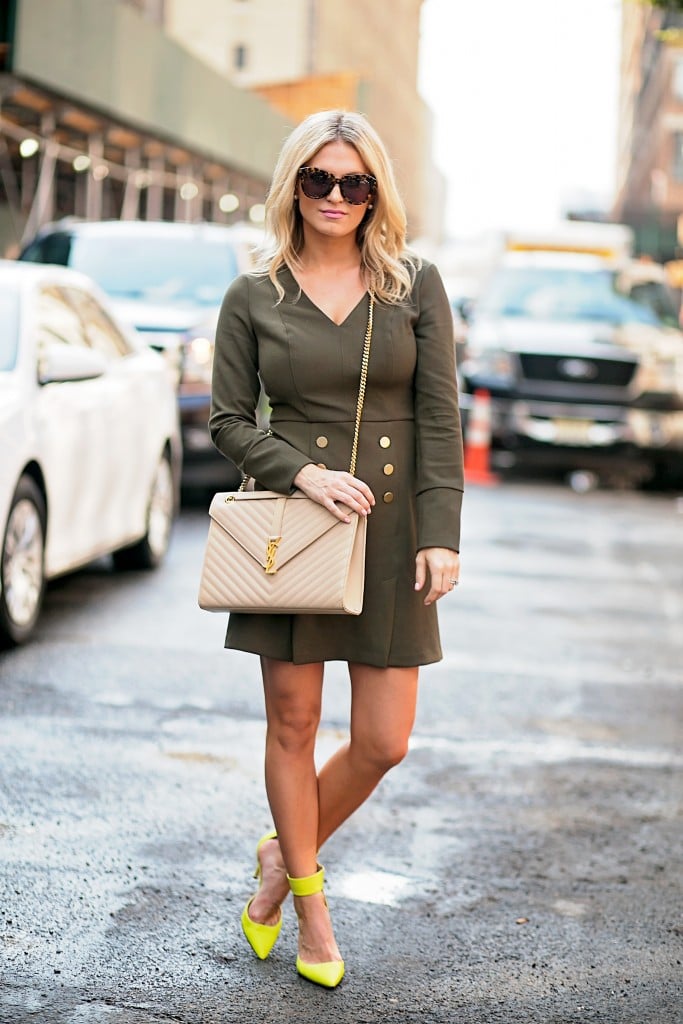 Dress: Shoshanna [c/o] | Shoes: J.Crew [old!], Similar | Bag: YSL, Dupe | Sunglasses: Karen Walker | Lipstick: Bite The Bullet | Earrings: Tory Burch
Photography by: Angie Garcia
---
This was my absolute favorite look from NYFW so I had to share it on the blog! These photos were really quick as I was walking out of the Banana Republic Presentation waiting on my uber and Angie was able to snap a few. 🙂
This dress is from one of my favorite designers, Shoshanna, and it's one of my favorites because of the fit. I have on a size 4 and it's really forgiving if your chest is bigger or if you have curves, which is perfect for me with pregnancy right now! But now that I'm so obsessed with this dress [be warned, you will see this on my Sunday morning #ootds until it doesn't fit me anymore] I keep looking at more Shoshanna dresses online. Like I'm trying to justify how I could wear this to my baby shower. Too much, no? Never. 😉
I thought I'd share a few things I got to do during fashion week in this post and you can let me know if you want another post on any of these topics! I started fashion week with a few meetings with brands and seeing what collections they will be sharing for spring. This was so helpful because I'm able to see what trends will go from fall into spring so you won't be wasting your money on items that will feel awkward come March. Big hint: off-the-shoulder is here to stay! Off-the-shoulder sweaters are huge for fall and not only did I see them in collections with brand meetings but I saw them in a lot of shows as well. I got to go backstage with MAC cosmetics to some shows and see what makeup trends would be big for spring. Think strobed cheeks, nude lips and a fuss-free look. This isn't to say contouring is going away, but every makeup artist I spoke with said that they really wanted the models to look like they did their own makeup, but they didn't. So don't worry about perfection with lip liner and lashes come spring.
One of my favorite shows was Self Portrait. I wanted to wear everything I saw, especially this pink off-the-shoulder dress! I keep envisioning how I will wear everything while breastfeeding which is so funny, as a blogger, but hey, it's realistic! I also loved the Banana Republic Presentation. Lots of pinks and checkered patterns which gets me excited for crisp March afternoons.
A few places I have to add to my NYC guide that we got to try this time around:
ABC Kitchen for dinner
Order the broccoli. It sounds ridiculous to order steamed broccoli in NYC, but I could have eaten bowls of that for dinner and been the happiest girl in all of Manhattan. Also, the waiters and waitresses are so incredibly sweet! Our waitress asked why I didn't order a cocktail, so I pointed to my baby bump and she asked if I was craving anything. I told her I LOVED apple juice right now, so she had the bartender make some sparkling apple juice drink and it was amazing. How nice is that?!
The Butcher's Daughter for brunch
Because I'm in NYC so much for work, I have my favorite little streets and this is one of them. We go to the one in West Village [our favorite spot] and we get there as early as we can. It's so fun to watch all the little kids walk to school while you eat avocado toast. There is a really cute children's book store right next door. My mom was a teacher while I was growing up and was actually a reading specialist. So as you can imagine, our baby has so many books and it's the one thing I do not care how many I buy! 😉 My best friend, Taylor, knows I'm this way so she is actually throwing me a story book shower, is that not the sweetest thing?! Anyways, it's about two stores down from The Butcher's Daughter in West Village and it has the cutest books I haven't seen at any other shops before.
The Pink Olive for gift shopping
Thankfully, you can shop this store online as well! 😉 I stocked up on so many birthday gifts for friends and cards. Their soy candles are amazing [the banana bread was my favorite] and the girl that was at the check out is from Texas and such a doll. She kept talking to us about different spots in our area that we lived in and it felt like home.
Bergdorf's for lunch
I've actually never been able to eat here for lunch, and I have no clue why! I think I've just always popped in to look at something, left and never gone to the 7th floor to eat. Get the ravioli! I promise you. My friend, Ashley, ate there the day before and she said, "I regret what I got. Get the ravioli." Paul and I both got it and it was by far our favorite lunch while we were there. I felt bad taking Paul to such a girly lunch spot, but it ended up being fine. After he heard Ashley rave about the ravioli he didn't even care what kind of restaurant it was haha.  We ate at noon on Friday, so it was actually a bunch of husbands taking their lunch break meeting their wives for lunch. So if you do go with your boyfriend or spouse, it really isn't a big deal if it is on a work day! Plus, the people watching is incredible. The couple next to us just got back from 3 months in the Hamptons and we heard them talk about that and the other couple next to us was breaking up because she is taking 6 months to travel Europe with her family. Her final sentence and I quote was, "I mean, I'm going to see the world with or without you, so you probably need to just accept that." As unrelatable as it was, I wanted to clap my hands of her. haha. #getitgirl
We stayed at Hotel Chandler because it was in the middle of where all my shows/meetings were, and I HATE to be negative on my blog, but y'all it's not worth it. It is rated so high online and listed by Forbes as one of the best places to stay in NYC for work, and come to find out some workers from Expedia were at the hotel while we were there. They were telling Paul at the hotel bar that the hotel pays them a ton of money for great reviews. There wasn't anything terrible about it. I've been at hotels where they forgot or messed up my reservation. I've been at hotels where people are loud and partying. I've even been at hotels that the rooms were so disgusting before. However, the thing that makes hotels incredible is their service. Once you acknowledge an issue they always go above and beyond to repair whatever is wrong. This hotel, had such a lacksadasical vibe and I could tell from the moment we walked in. During fashion week brands will send press passes and looks for you to wear to your hotel. Hotels know this. Hotel Chandler sent all of my press packets back and gifts, so I couldn't get any of my information ahead of time. When I asked when they were sent [so I could get an idea of who to contact to get my packets back because I completely understand that they were confused as I hadn't checked in yet/brands call me by two different last names "McFarlan" and "Hellman"] the man checking us in kept interrupting me to the point I couldn't even finish talking. He was honestly so rude that at the point we finally got our room keys and got to our rooms Paul said, "Let's switch hotels." It was 11 p.m. at night, we'd been traveling and I was so tired I told him we could just stay and it would turn up for the better. When your husband who isn't picky at all wants to switch hotels, I guess you should listen! haha. They also have no air in the hallway, which I get for NYC! It happens. But I also go to NYC for work up to 4 times a year, and I stay at a different hotel each time and I've never even seen that. Not for a hotel ranked 4-stars. So needless to say, with the humidity and heat the hotel smelled like a mixture of sweat and marijuana. Yep, you read that right. The hotel smelled like a Courtney Love concert.
It was just so many little things that made you think, "Why did we even stay here?" From the fact that they don't give you water when you order room service to the man that restocks your bar cart and literally comes in your room without knocking. Can you imagine the look on my face when I was napping and saw a man entering our room? I think even the baby got scared! haha. On our last day I went to shoot with our photographer and I was ironing my clothes but the iron was broken. So I called down and asked for another. They sent one up and that one was broken as well. I called and asked if they might have a steamer [most 4-star hotels do, right?] they said they didn't have one and just hung up. It was so odd to me!
One of the best pieces of advice I've ever received from a professor in college was: "If a client or your boss asks for an orange and no supermarket in the country is selling one, you buy an apple, you paint it orange and you make that person think it's better than an orange." All of that to say, I really strive to treat work with that aspect. And hotels of all places are where I truly see that piece of advice in action. It doesn't matter where you stay, hotel employees are always so incredible at making you feel like the Kate Middleton of all guests! It is what makes hotels feel so special! So it was odd to me that after two broken irons, I asked for a steamer and they didn't even offer a solution. How easy would it have been to say, "I'm so sorry Mrs. Hellman, we don't have a steamer at our hotel, but I could send someone to get one and charge it to your room." That would have been so kind and been fitting with the reviews they get online.
So it wasn't a terrible hotel by any means. I had a safe place to lay my head at night. It was fashion week, I'm sure they had an off week. Heck, I know I have off weeks! Sometimes Paul is married to an angel and sometimes Paul is married to a hormonal, cry baby! And that hormonal cry baby even scares me. 😉 However, I just wanted to be honest with my experience because if anything I felt like a nuisance each time I talked to them. I literally wanted to cry asking the man at check in if they had my press packets and I couldn't even tell him my full name because he wouldn't stop interrupting me. Maybe he had a bad day and maybe the other employees did as well, but after you spend a lot of money on a hotel it's really sad to leave frustrated and unimpressed. It's not like a $40 bottle of shampoo that just doesn't work for my hair type. 5 days in NYC during fashion week is more like 70 bottles of expensive shampoo that wouldn't even wash your hair. haha. While I HATE more than anything to be a #NegativeNancy on this blog, I want to be honest because I had a lot of readers ask questions about where we stayed and I would never want you to spend money on something that I had, if I can warn you!
But enough negativity,  was there anything you saw on my snapchat that excites you for spring?!