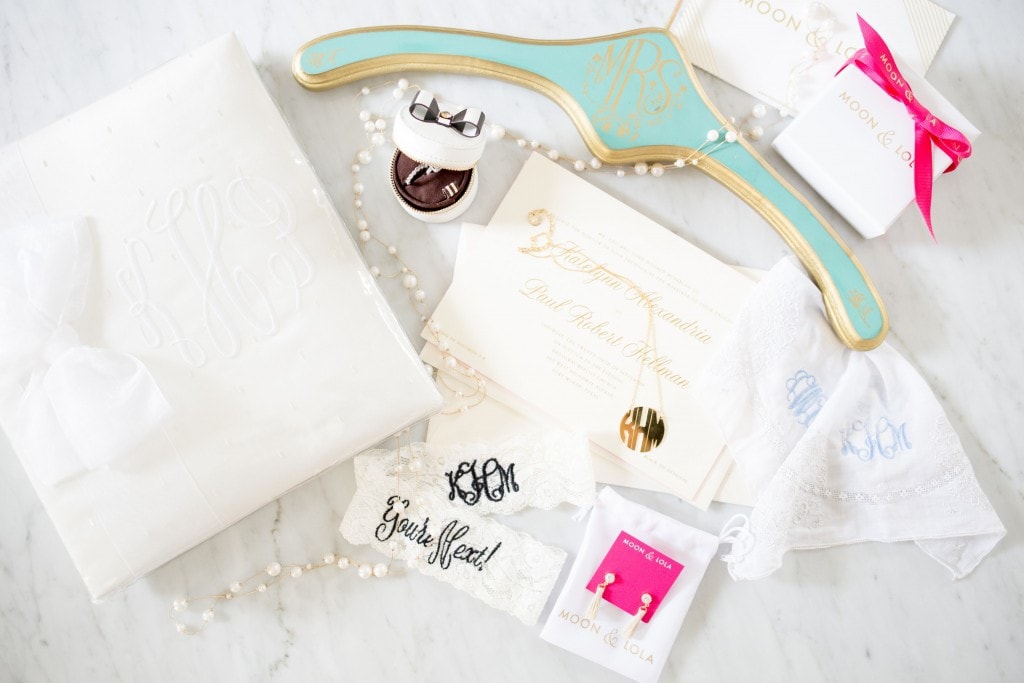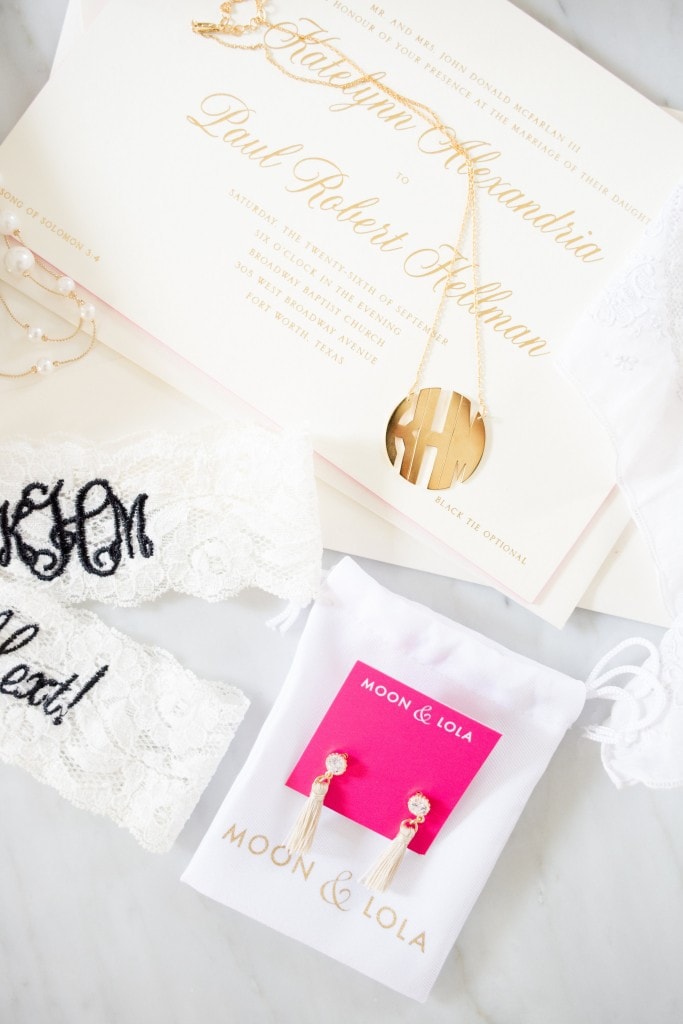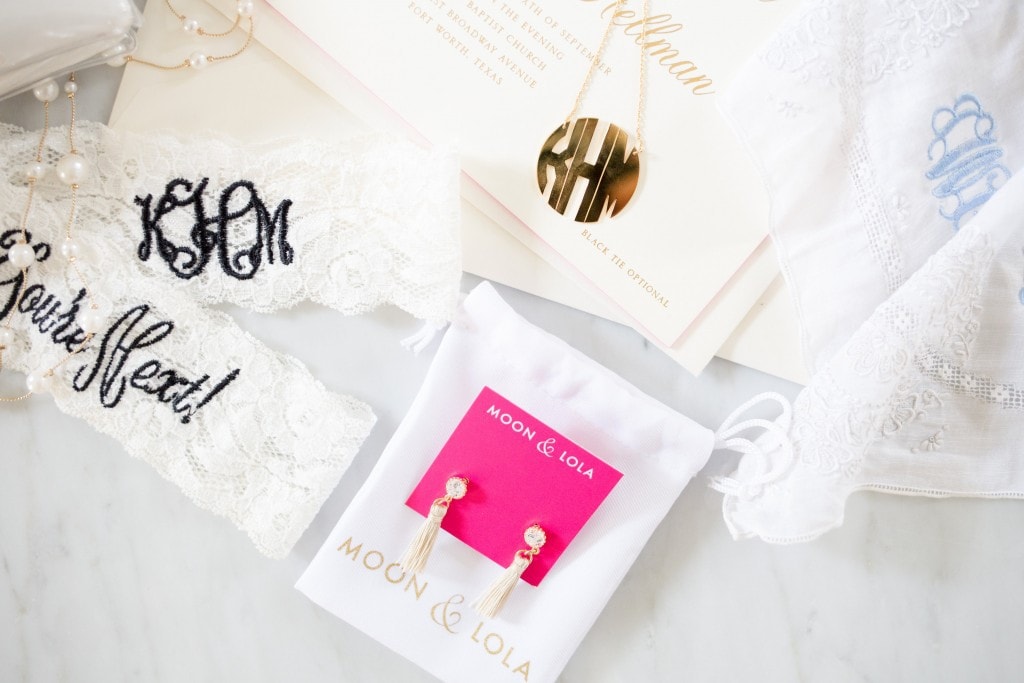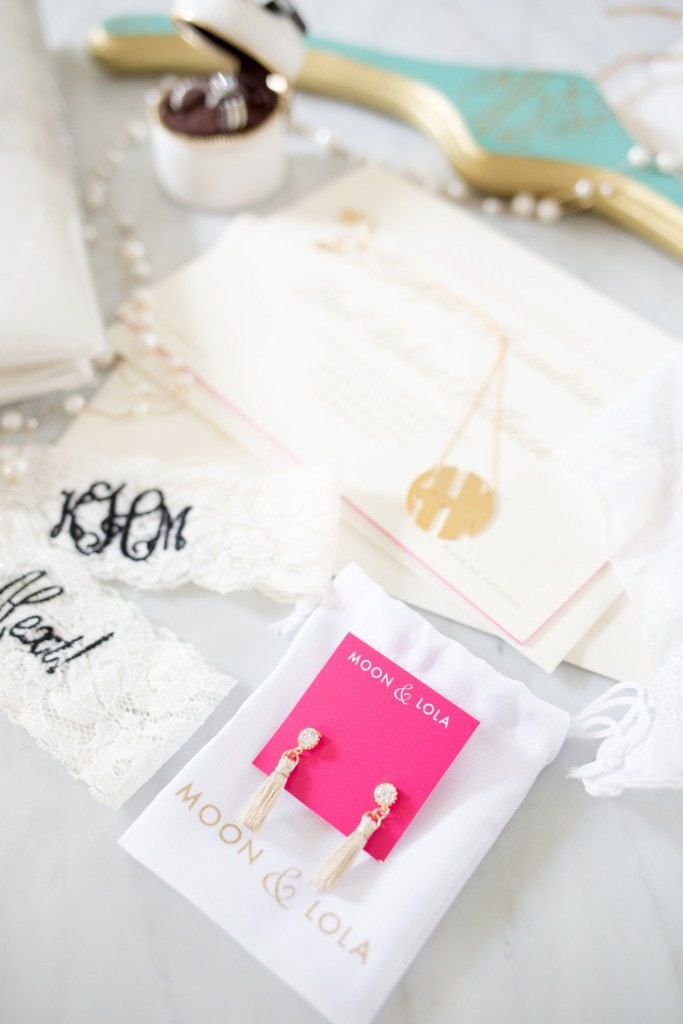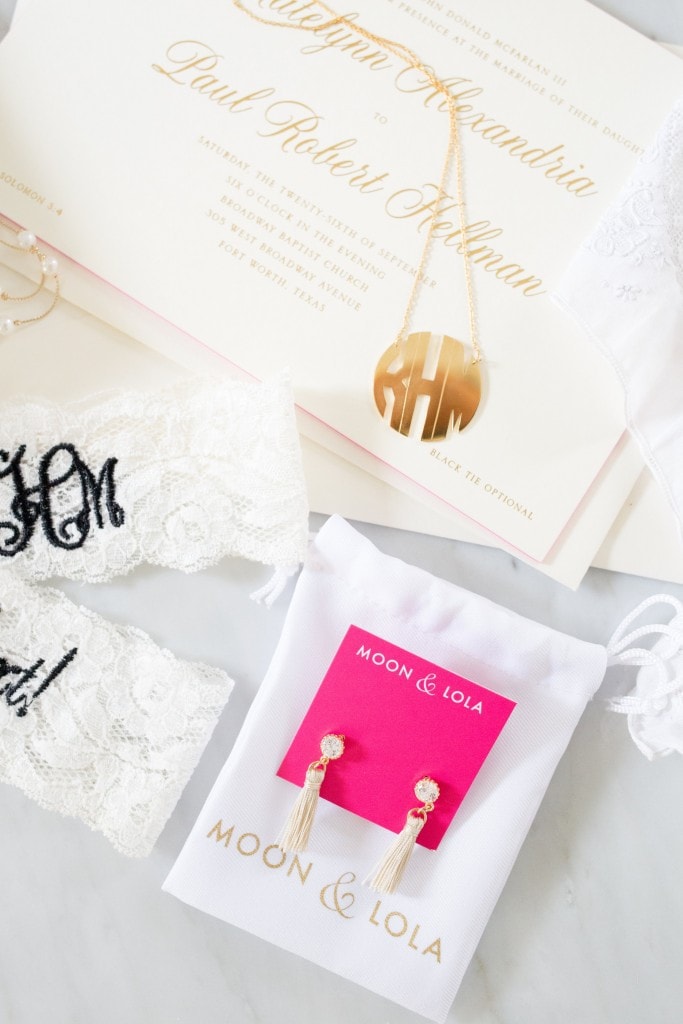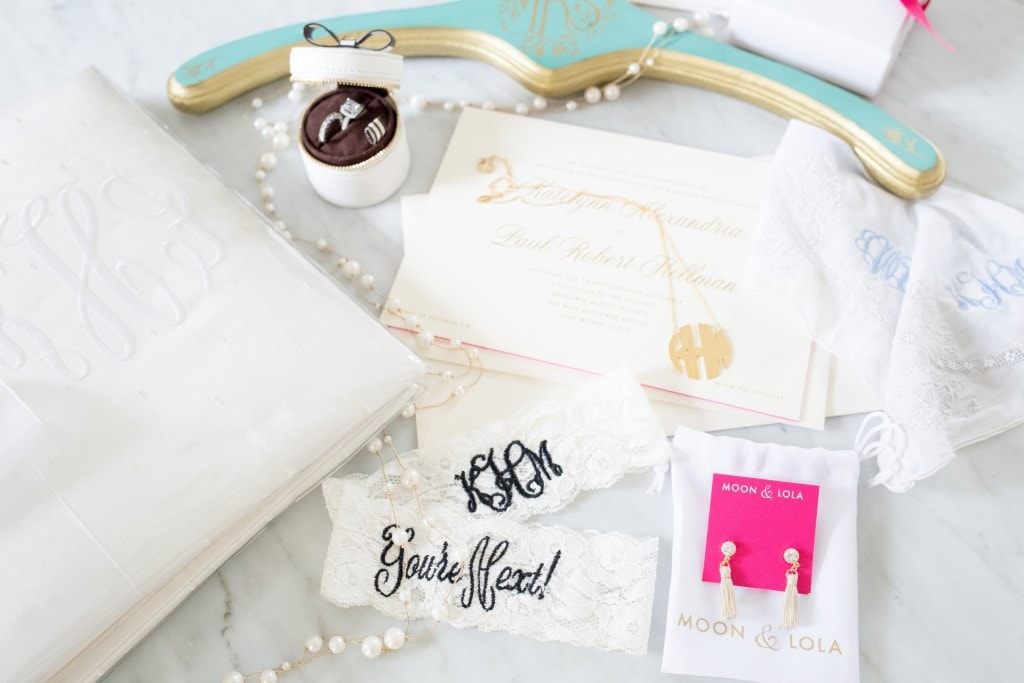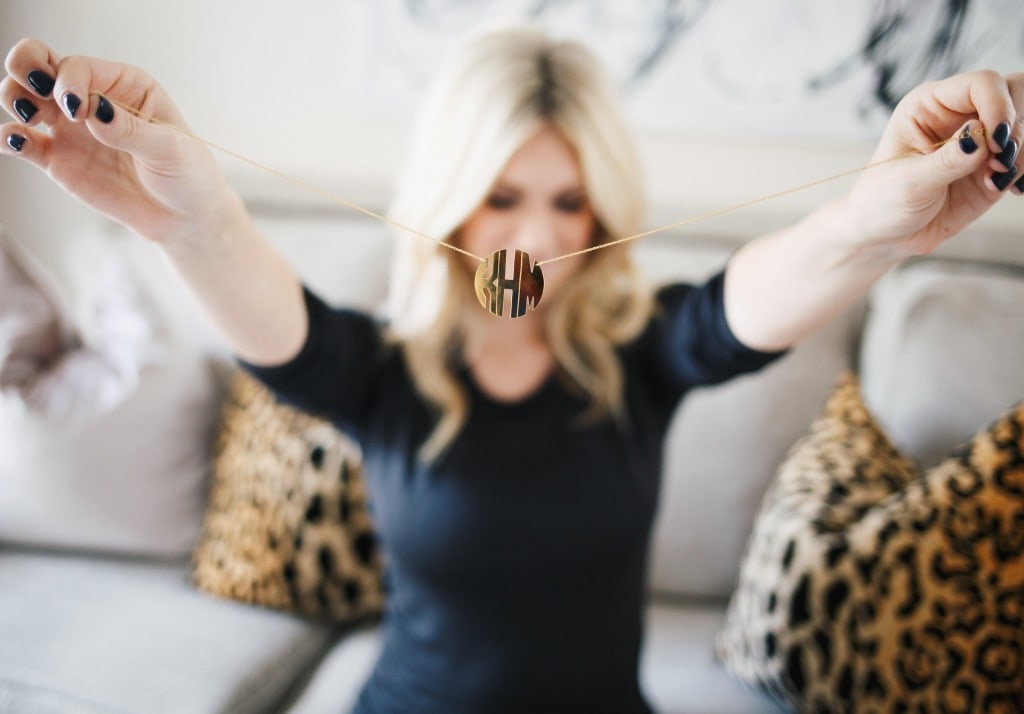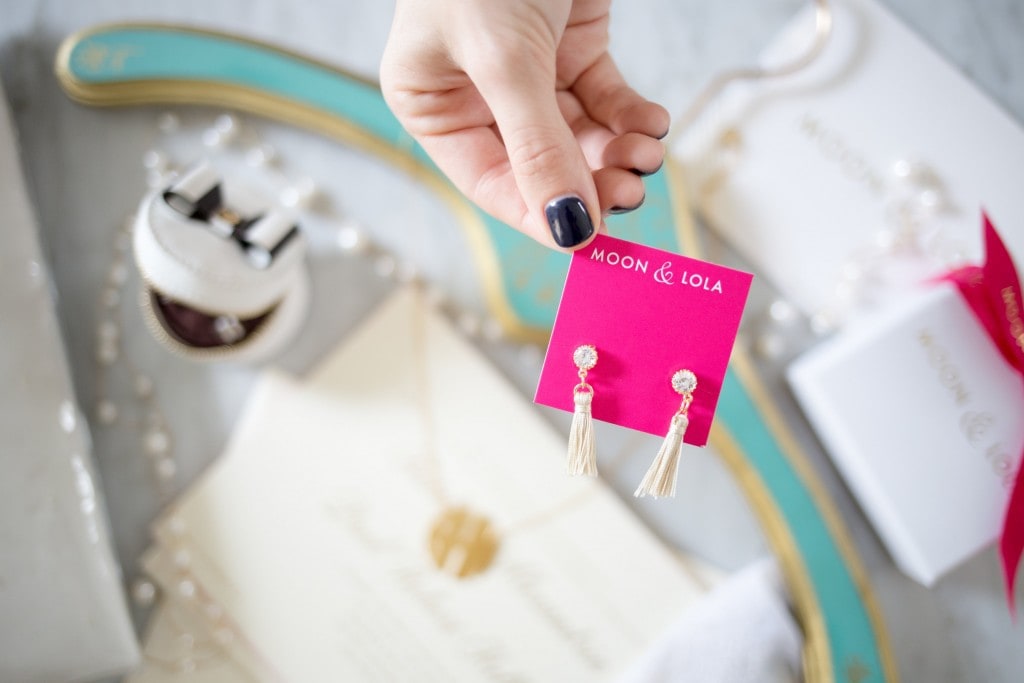 Monogram Necklace: Moon & Lola [c/o] | Earrings: Moon & Lola [c/o] | Mrs. Hanger: BHLDN | Pearls: Moon & Lola [c/o]
Photography by: Madison Katlin
---
When one of your favorite girls gets engaged it can be a little difficult to think of something sentimental to gift her to help her celebrate. The first reason that always comes to my mind is because as women, a lot of us are getting married later on. So when it comes to registering, we already have a toaster and chances are your significant other does as well. I know when Paul and I registered we felt terrible because we had both lived on our own for years and honestly only needed more pricey items like a dutch oven, etc. The other reason is that even if your bestie needs a toaster, it just doesn't quite seem to say, "I love you so much and after being best friends for 10 years I have never seen you so happy! Enjoy your avocado toast on me!"
I've shared before that my best tip to combat this dilemma is to do one personal and one registry gift. If you are a bridesmaid, go in with other bridesmaids and you can get the couple a larger gift, and usually spend less money than you normally would! Then go for one personal gift that helps celebrate this new chapter in her life. You're giving her something useful [I mean we all do really need toasters 😉 ] and something she will always cherish.
So during a time of sentimental moments and celebrations left and right, how do you gift her something that stands out?! Maybe it's the southern girl in me, but I always recommend a monogram necklace. If you are her best friend, what better person than to gift her her new initials! If you are a bridesmaid, go in together with the other girls and she will think of you all each time she wears it. I also think this would be the sweetest gift if you are the mother or sister of the groom. What a sweet way to welcome her into the family! My in-laws always get me monogrammed items and it makes me feel part of the family, even to this day!
I've worn monogram necklaces since I was in high school and not every style is every girl's cup of tea. All brides are different and that is quite apparent in all of the different wedding dresses. My little trick is to go to Moon & Lola. Moon & Lola has so many personalized options of monogram necklaces. I went with the Hampton Block Monogram for this post as I think it's a more modern approach to a really traditional piece of jewelry. This is in the size small, but if she is a bit sassier you can get an extra large, or if she is really classic I recommend the script monogram in extra small! Or if your girlfriend is more of a Carrie Bradshaw, this name script option is perfect.
The reason I always recommend this piece of jewelry is because it's my second-skin necklace I've worn for years. I don't take it off to sleep. I don't take it off to shower. I rarely change up my necklaces with it. My mom always gifts me my monogram necklaces and so while it represents who I am with my name, I always think of my mom whenever I see it. Your bride-to-be bestie can layer this piece with her statement jewelry or wear it daily to work if it's a smaller piece.
Another option is to gift her something for her rehearsal dinner! By the time our rehearsal dinner rolled around I had to run up to the mall the day before to grab a dress. I was so scatter brained and my wardrobe for that was the last thing on my mind. I thought these Moon & Lola Manki Earrings were the perfect mix of flirty and bridal.
So wrap the toaster up in something special, gift her a monogram and know that above all your support is the best bridal gift you can give her! Let her vent about people not RSVP-ing. Let her stress about bridesmaids dresses. And remind her how much your friendship will never change even though she is getting a new monogram! 😉

In collaboration with Moon & Lola. All opinions are my own!