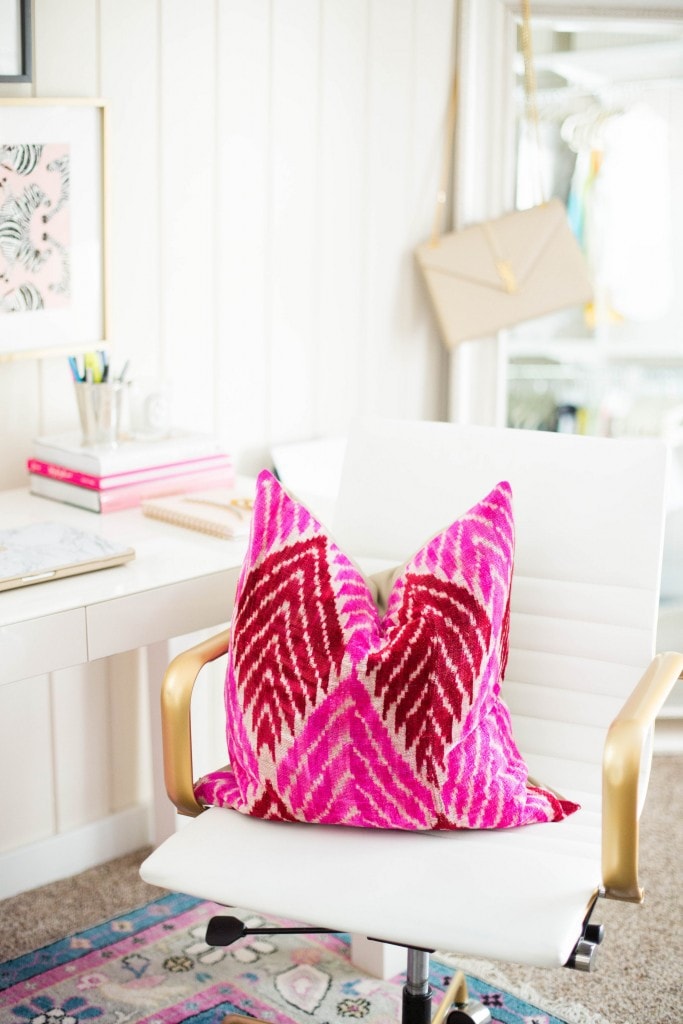 Image via office tour here.
Photography by: Madison Katlin
---
I like to do 2-3 Snapchat Q&A's per year to make sure I'm answering all your questions and that I don't miss anything. Sometimes I hate Instagram or Snapchat because they don't allow comments to stay. With Snapchat messages will expire and with Instagram you can't always see all your notifications if you keep scrolling. So this really allows me to make sure I don't miss anything and keeps my Type A tendencies calm, cool and collected.
However, about 15 minutes in I'm always mortified I've been talking for so long. And then the embarrassment gets even more severe when my friends respond to a comment I make. I'm like, "Why are you watching this?! Stop watching!" haha! Shyness can definitely get the best of me!
But in case you don't have Snapchat or you missed a few of the questions, I like to recap on my blog so you can get all the product information and jot it down yourself. 🙂
Q. What lipstick are you wearing?
MAC Cherry Lipliner as seen in this post!
Q. What is your natural hair color and what do you ask for when you get your hair done?
I am blond, however, thanks to hormones and age it's definitely become more of a dish water or "dirty" blonde and pulls warm tones. If you're blonde, you definitely know what I mean! :/ #ThankYouHormones I always joke with my hair dresser and I just say, "It's too much work! Just dye my hair brown." Then she scrunches her nose and is like, "No, you aren't brunette. Your hair will turn green because it's blonde underneath. You would hate me and be back in my chair by Friday." haha. I feel like every girl that is blonde knows this struggle all too well!
Whenever I get my hair colored I just ask for highlights! Because my hair pulls warm tones breaking the base doesn't work that well and honestly makes it appear "brassy" in a week or two. Because of this I use purple shampoo quite frequently. But highlights never turn warm so I just get that done. Once or twice a year I do a full highlight. And every 6-8 weeks I do a partial highlight. I didn't color my hair my first trimester and waited a bit to do it into my second and my doctor said it was completely fine. If I ever want to put off highlights a bit longer, I just go in for a "tone." I also always ask for Olaplex as that is the least damaging in terms of bleach! I like highlights because I also think if you have any new growth it looks a bit more natural than breaking your base, but it truly all depends on what tones your hair pulls.
Lastly, when it comes to a haircut my hair dresser is my friend so I don't ever really tell her what to do. But feel free to message her on instagram and ask what kind of cut she does! Her instagram is @britanymarshallbeauty.
Q. What car seat did you get?
We originally registered for the nuns PIPA but unfortunately, with the way our car is made, it didn't fit correctly. This happens a lot with car seats so I definitely should have tested at Buy Buy Baby first! We exchanged it for the Maxi Cosi and it is a perfect fit!
Q. Will you share your daughter on the blog?
I definitely want to share her with my readers, I just am not sure in what capacity that will entail. Paul and I really don't want to "play God" and make specific rules like, "Oh she can be on Instagram and not on Snapchat." I have so many conflicting feelings about it because at the end of the day she is a child. A child doesn't ask to be on the internet, and I'm responsible for that. However, the blog is such a huge component of our life and motherhood definitely will be part of it. With that being said, I just think we will know how we want to do it once she is here because there definitely isn't a right or wrong way, but there is a fine line. I view each and every reader as a personal friend and of course I want to let them in on that part of our life with her, so in that aspect we haven't worried. What we are more concerned about is collaborations with her. Naturally, when you get pregnant and have a baby, brands do ask to collaborate with you as a blogger. So far, I've turned down collaborations for her because she isn't even here yet and that's so silly for me to agree to something before. Paul and I both agree if there is a product I love or she loves and a brand wants to collaborate later on, great! That's what I do as a blogger, I share the brands I genuinely love. But in no way would we profit off of her. We opened up a bank account that if we were to ever profit off a collaboration with a product geared "towards her" that money goes directly in that account. When she is 18 [or whenever I stop blogging and she is old enough to handle money] that money belongs to her. It isn't ours and we would never take a collaboration for her because it benefits us.
Q. What do you do for teeth whitening?
Being pregnant I can't do anything for teeth whitening and I'll be honest and say, my gums are too stinkin' sensitive! I didn't use products before for whitening because it's just not pleasant! haha. My trick is to definitely use blue-based lipsticks as they make your teeth appear whiter. For example MAC Ruby Woo is blue-based so it allows your teeth to look whiter, whereas Nars Heat Wave is warm-toned and if you don't have the right skin tone it can make teeth appear more yellow. Another blue-based lipstick I love is Stila Bella.
Q. How do you get ready everyday?
I definitely don't get ready everyday- oops! But I really follow the saying "dress well, test well." I work a lot better from home if I'm ready. A lot of times I also have to get ready because even if I'm not shooting for the day I can have Skype meetings with brands. It's also a bit for my sanity. 😉 If you work from home you definitely know that there are long days where you won't have talked to another person and you can also get stuck at home days in a row. So getting ready just provides some routine and helps me feel better.
Q. How often do you wash your hair/wear makeup?
I was my hair about once a week while pregnant. My hair is so dry and I feel like I don't produce any oil with pregnancy! haha. But before pregnancy I washed my hair about twice a week. I have pretty textured hair so it really doesn't get oily. I probably skip out on wearing makeup 3 days a week.
Q. What are your tips for being a pregnant bridesmaid?
My biggest tip for being a pregnant bridesmaid is to find ways you can be there for the bride since you won't be able to do everything. For example, I was just in my friend Lindsey's wedding and I helped throw her bridal shower [see it here] but yet I wasn't able to stay out all night with the girls at her Bachelorette party and Paul picked me up after dinner. Everyone's pregnancy is so different. Some people feel completely fine. Some girls throw up until 40 weeks. Some girls are really miserable their last trimester, some girls are glowing just feeling a little pressure here or there! The most important thing is that you just listen to your body and of course your bride will understand. For example, if you are exhausted and don't want to dance, don't feel guilty. But then you can also go help pack her bag while the other bridesmaids dance so she doesn't have to worry about getting everything together in the bridal suite. For Lindsey's wedding the bridal brunch was at a winery with a wine tasting. Of course I couldn't drink, but I was able to drive everyone to and from safely. 🙂 There won't be much of a difference being a pregnant bridesmaid, just don't feel guilty about taking a nap if it's a destination wedding and you need to!
Q. What jeans are best for petite girls?
I definitely understand this! I'm 5'3″ and feel like most jeans can swallow my ankles. I love AG, BLANK Denim and J.Crew. J.Crew toothpick jeans never need to be hemmed on me so it's wonderful and you spend less money having to mess with it. [AG have also been my favorite maternity jeans!]

Q. How did you and Paul meet and how did you know he was the one?
I think I've shared this story on the blog before, so I apologize if you are rereading it! But we essentially met through mutual friends. I was headed to dinner with girlfriends and one of my friends was dating one of Paul's friends.
But my friend wanted to stop by her boyfriend's house before we headed to dinner to say hi. And I was really cranky about it. I was not interested in dating at the time or even really meeting another human being that was male. It was my senior year of college and I was just focused on my internship and school. So when we got to her boyfriend's house I just said, "But can you just run in?" My friend Hannah had a "come to Jesus meeting" with me. [Please tell me one of y'all uses that phrase too! My mom always does! haha]. She was like, "Alright, Katey. You're going to go in and say hi and be nice and then we can head to where we are going. But it won't kill you for 5 minutes."
We went in the house and I met Paul and then I never wanted to leave. haha. Then we were both just really inseparable after that. I knew he was the one because he pursued me so incredibly well, I was so obsessed with him [in a good way! haha] and he always put my feelings above his pride.
I had dated other guys in college of course and my mom used to always say, "I'll know you've found the one when they make you consistently happy and you don't make excuses for them." Your mom always knows when you're happy and I'd come home in college to see my parents and I'd just be so moody! She'd ask what was wrong and I'd say, "Oh XYZ is just doing this and that." She'd say, "So why on earth are you dating him?" Then I'd immediately make an excuse for his behavior because I just thought all men were like that.
Granted, I can't compare Paul to college boyfriends. When I had met Paul he was years out of grad school and had already been working for a few years, so it's unfair to compare a guy like that to a guy in college. Which I'm definitely not doing! We all have a certain time in life to grow up and mature. But what I am saying is that when we did have an argument or I was upset, he always immediately wanted to resolve the situation and never made me feel like something was wrong with me. It was such a fresh perspective to loving someone and putting them above your own feelings.
Overall, this isn't to say you'll find someone perfect. Dating is two imperfect people caring about one another. But it is to say you can find someone that cares more about your feelings than their pride and vice versa!
Q. What do you recommend to get rid of acne scarring and what are the best teasing combs?
For acne scaring I just refer to what my dermatologist always recommends which is Mederma at the drug store. I think it's the best! Having Discoid Lupus I've tried so much for scaring from expensive department store items to serums and honesty, Mederma is the only thing that has worked for me. And for teasing combs, I always get the inexpensive long-tailed ones from Target or Sally's Beauty. Nothing beats them!
Q. How do you care for your wedding band?
I have a few "no-no's" with my ring which include sleeping, showering and cleaning. I always take it off when I'm doing those things. However, I do wear it to work out. I clean it with warm water, dawn dish soap and a soft toothbrush. I'll fill a tea cup up with warm water and a few drops of dawn and let it sit there while I do something for 10 minutes. Then I take a soft toothbrush and gently wash the ring in the soapy water, let dry and it looks brand new!
Q. Favorite baby shops?
Zara baby, Babies on the Boulevard, Baby by Design, Smocked Auctions, H&M, Baby Gap, Nordstrom

Q. Favorite Instagram accounts to follow?
@designsbyceres, @mixandmatchmama, @katie_kime, @jshomedesign
Three of those accounts are interior design accounts which is what I always am drawn to on Instagram! We don't have a ton of square footage to play with, so Instagram is kind of an escape for me to look at beautiful homes and interior design in that aspect. Then I absolutely love @mixandmatchmama. She is Sean Lowe's sister and has 4 kids and is the cutest mom! Two of her children are adopted from China and 3 of my cousins are adopted so I always have such a soft spot in my heart for that. Birth mothers give such a gift with adoption and I love following her family and how they all blend together perfectly. I firmly believe family grows in the heart, not just a mother's womb and her instagram and blog is a huge testimony to that. PLUS, she is such a mom boss! She runs a blog, has numerous cook books, is always cooking on morning shows in NYC and is such a devoted mother and wife. Granted, I think she gets up every day at 3:45 a.m. [no joke she says that on her blog!] but it's a reminder that life is all about balance and you just have to find your own.
Q. Favorite inexpensive home decor items?
I always head to Homegoods for inexpensive home decor and my favorite things to get there are ginger jars. You have to be careful at Homegoods because some things are treasures and some end up in the trash a week later due to quality. But I find their ginger jars are always incredible. Another trick is antique malls! They have the best Chinoiserie accents like blue and white plates to pick up. I also got the antlers above our TV at an antique mall for a steal!
Q. What eyeshadows do you use the most?
Viseart Minx Palette, Anastasia Palette, MAC Sable, Soft Brown, Cranberry

Q. How do you cut complaining in reference to your 2017 resolutions post?
I shared back in this post that I didn't allow myself to complain about a few things in 2016 and so in 2017 I wanted to apply that to more areas of my life. When you verbalize something, you truly stop thinking it. However, I want to preface this by saying my goal is to not not talk about physical or emotional hurt. That isn't healthy and that should always be discusses. I mean imagine if I went to my OB appointments and was like, "Oh everything is fine!" And I never once mentioned a physical pain that could be a sign to something. Or if someone is continually hurting you, that needs to be discussed. I just mean complaining about little silly things here and there like traffic or work or even annoying stressors.
The way I cut that is that I give myself a 3 person test. If I can list 3 people that would kill to be in my shoes over what I'm complaining about I can't complain. If I can't list 3 people, complain all day. So for example, if I'm complaining about traffic the 3 people I can list are:
1. Someone that wishes they had a work meeting to get to because they wish they had a job
2. Someone that wishes they could put gas in their car to go somewhere
3. Someone that wishes they were healthy enough to drive a car
Once I list those three people it's an automatic perspective shift and I'm not bothered anymore!
And here are a few more common questions that got asked and I just didn't want the Snapchat to be too long. Bless you if you watched the entire thing. I don't even think my husband did…
Q. What are your best recommendations for growth for new bloggers?
Here is a big post I did on blogging tips for bloggers and I include my tips for growth! 🙂
Q. What are recommendations/tips to keep under eyeliner from smudging/making raccoon eyes?
Eyeliner smudges because of natural oils underneath our eyes. Heavy powder can emphasize fine lines that hide out under our eyes, but that's why I love the Laura Mercier Translucent Powder. I always keep this stuff on hand. I apply my under eye concealer and then a thin layer of this powder with a beauty blender. I press into the skin and my liner never smudges! 🙂
Q. Any suggestions for downsizing on what makeup to bring to school? I don't really have space for it in my dorm!
First off, go through your makeup and see what is expired! I share expiration dates in this post. Next, do your makeup 3 different ways 3 days in a row. One day do a natural look. One day do a smokey eye. And one day do a bright lip. Put the products you used for those three looks in a bag aside from your makeup collection. Then at the end of 3 days you've found what you need to get through a few months! Save or donate the rest, but you don't have to take it all to school.
Q. Any good couples bible studies you would recommend?
 I will be honest and say Paul and I don't really do bible studies together because we both need different things. We both have different hurts and hang ups so it's hard to find a similar study we can relate too. What we do love to do is read Christian marriage books together. The one I really recommend is The Meaning of Marriage. If you're dating and not married, don't worry! This book is seriously for anyone, even someone not in a relationship. Don't let the title freak you out, please! And if your boyfriend is like, "Why on earth would I read that?!" just have him e-mail me! haha. That book completely changes your perspective on relationships in general, even non-romantic ones. If I could buy that book for every person I know and they not stare at the title wide-eyed I would.
Q. What's your favorite beauty product?
That's like asking a mom of 6 to name her favorite child! haha. So difficult! But I'd have to say if I could only ever have one beauty product it would be my TULA cleanser. Skincare is so important to me and that's the product I go through the most.
Q. What books do you recommend for a good read?
I'm working on a blog post with a huge list of books I love but right now to tide you over I recommend The Hopefuls, The Widower's Wife and Big Little Lies.
Q. What advice would you give brides?
I wrote a post here on wedding planning tips and included my practical advice for brides in terms of budgets, themes and planning.
Q. How do you get your curls to stay all day?
I'm really convinced my T3 curling iron is what keeps them all day- I use this clip. I used a cheapie curling iron last week to test it out and my curls fell by 10 a.m.! The T3 also provides less damage, so while it is a splurge it's one of the best ones I've ever made. I also love this hair spray combined with this spray for thickness.
Q. What's your favorite everyday lipstick?
If I want a mauve look I love Milani Matte Blissful and if I want a neutral lipstick either Too Faced Child Star or MAC Blankety!
Q. How did you start to work and collaborate with brands? How do you find ideas for content?
Those questions are also answered in my blogging tips post. The reason I reference it is just because it's a lot longer than this post so I hope the thoroughness would explain any questions you might have or that might come up! 🙂
In terms of ideas for content, I run my blog like a magazine editorial. Of course specific times of the year y'all are looking for specific things. When I worked in PR I had to know all of that for pitching publications, so I just apply that to my blog to make sure your concerns and wants come up at the right time of year. I also just like to ask readers! I do random focus groups and surveys throughout the year to get ideas on content you all want to see. Lastly, I always take time to clear my head and go for walks, exercise or even just browse the mall. It might sound silly, but some days I'll just go browse stores and not buy anything just to get some inspiration. Seeing street style to new trends always encourages me to cover new topics.
Q. What items have you stopped using while pregnant?
This is hard to say because I definitely don't want to forget anything! But in terms of food I cut caffeine, fish [I can't stomach it while pregnant], lunch meat and eggs that aren't scrambled. For beauty products, I just kept it simple. Right when I got pregnant I immediately went to my Dermatologist and OB asking all these questions. People on the internet scare you! I mean I was thinking I couldn't step foot in a nail salon or ever use a drop of hair spray on my head. My Dermatologist was so nice and just like, "Look, just keep it simple. You can use self-tanner, but don't get a spray tan. You can use skincare, but don't use products that say they are made for diminishing wrinkles. You can get your nails painted, just go to a well-ventilated salon." So I tossed strong retinol products, I don't use Neulash, no acne creams and I don't use anything really strong. I use St. Tropez Gradual Tanning Lotion but I'm not over here using some self tanner that swears to stay on you for 4 weeks because that's just aggressive in my book. After that it's truly a personal preference! I was talking to a girlfriend at my baby shower and she was like, "With my first baby I only ate organic food and only used natural skin products. My second baby I ate whatever and used whatever. Both are healthy and happy boys." So it's really whatever you most feel comfortable with when you get into specifics of makeup brands, etc. because you know your body best and how it reacts! But of course there are the big no's like a strong retinol cream, benzoyl peroxide, etc.
Q. How do you avoid static hair in the winter?
A few ways to fight winter static and frizz are to use a deep conditioning mask once a week, dry hair with a microfiber towel, run a dryer sheet over your hair and if you have fine hair use this static spray!
Q. Any tips on teasing your hair?
After I curl my hair, I take two velcro rollers at the crown of my head. I roll the hair that you would typically tease if that makes sense! I put those rollers in and allow my hair to curl and apply lipstick, get dressed. Then after about 5-10 minutes I take the rollers out. Then I take a long-tailed comb and backcomb layers of hair. The first layer I lay forward so that it still is smooth. The next layer I spray with this hairspray then backcomb twice. Then I do the same to the next layer. I do that around my face to layer my face. Then I spray this Drybar spray. If this doesn't make sense, don't worry! I'll be doing a teasing hair post on the blog! 🙂
Thank you all so much for all your questions! I hope I was able to answer one of yours but if not always feel free to comment/tweet me or message me!