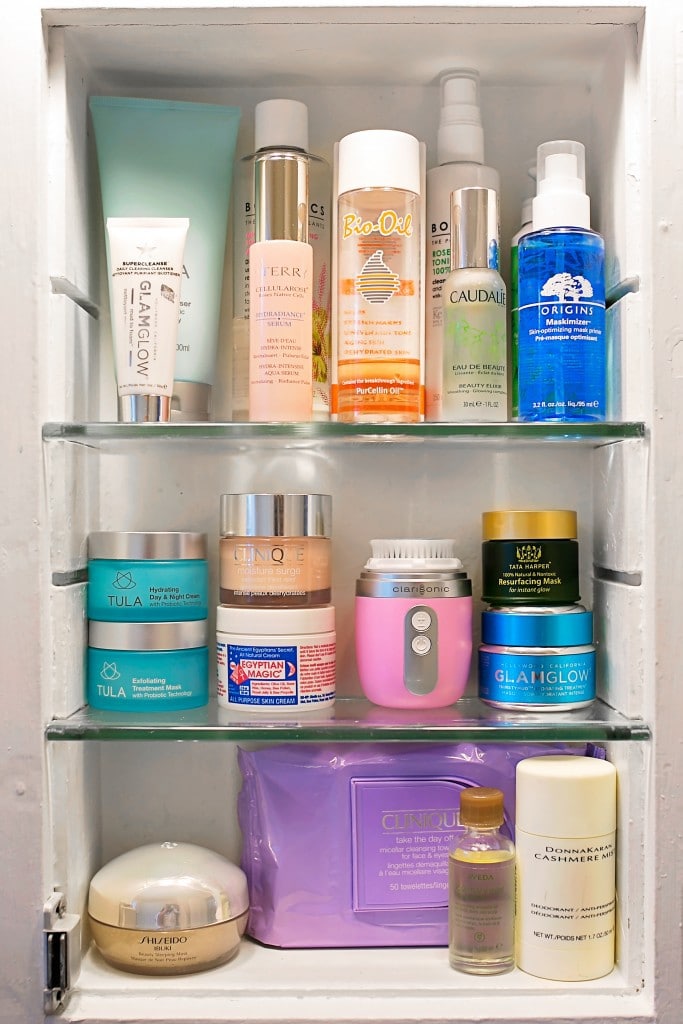 I'm a total snoop in the sense that I'm always curious what girls keep in their bags, their makeup bags and their medicine cabinets. Anytime I'm at my parent's house I have to rummage through my mom's GLAMboxes to see what new products she has purchased or is using up! I thought I'd show you a peek at my medicine cabinet so you could see all the products I use for my morning/night routine.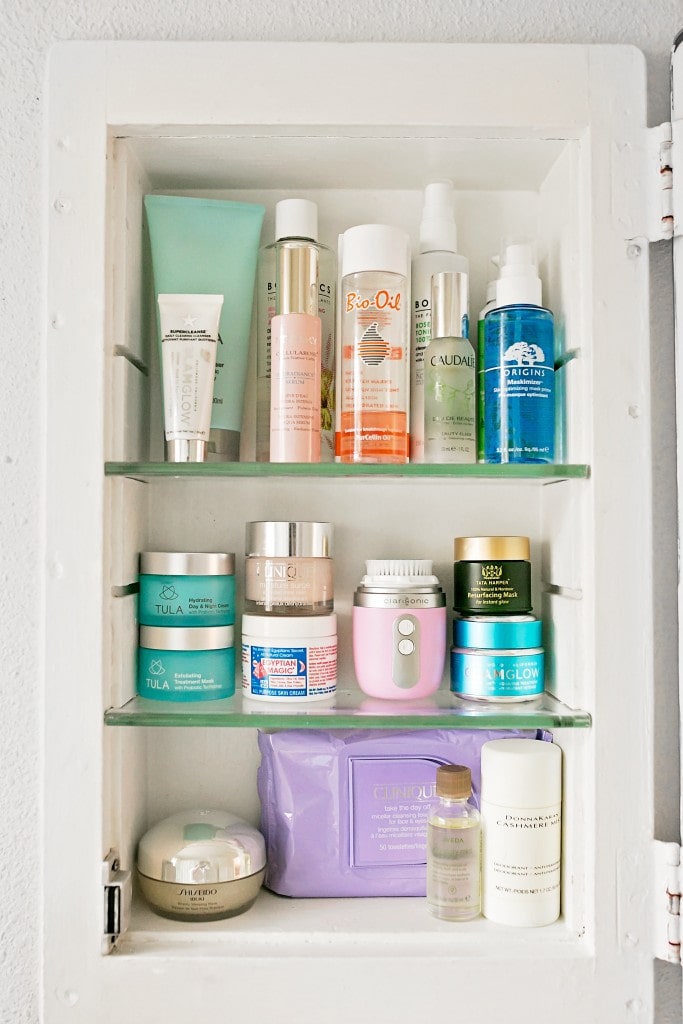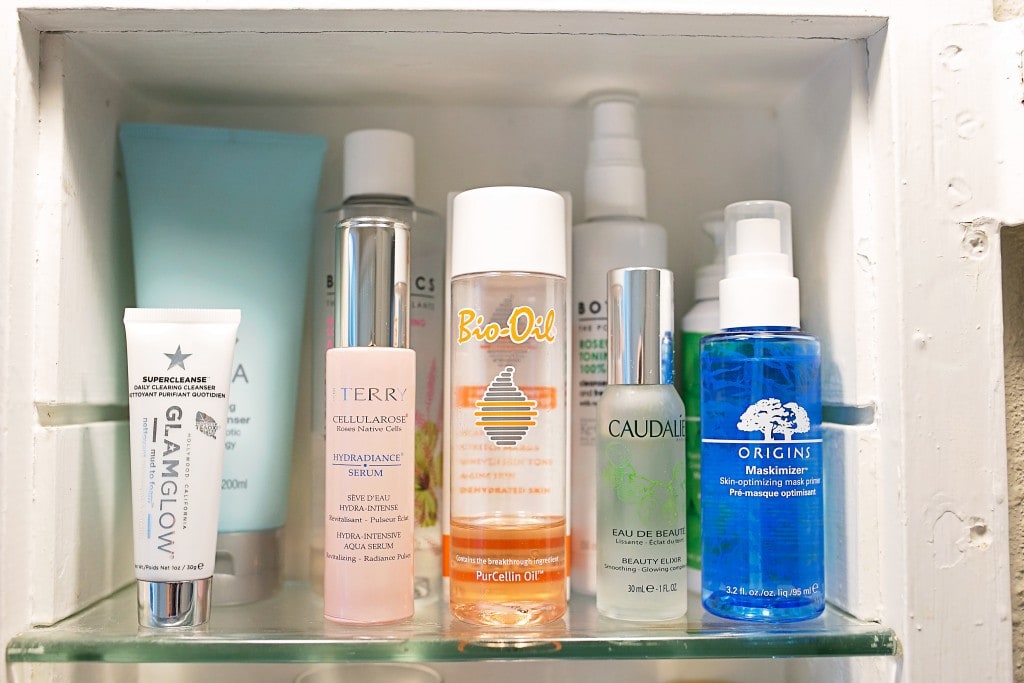 Top Shelf:
GLAMGLOW Supercleanse Cleanser
This is a product I got as a Sephora sample but it's honestly lasted a month or longer! I use it about once a week to deep cleanse and remove any build up that could cause clogged pores. I typically use it on days I do a hair mask because you apply to dry skin then you add water to start the foaming effect. I'll just throw it on my face and hop in the shower!
No surprise here, y'all know I use this stuff up like water! It's my favorite daily cleanser and I use it morning and night.
By Terry Cellurose Hydraradiance Serum
This is a newer item to my medicine cabinet and it is pricey, but it's 100% worth it! This serum gives your skin such a healthy glow and you see an immediate difference from the moment you put it on. It smells like roses but isn't overpowering [in my opinion] and I use it every night after I wash my face! I also use it in the morning if I'm not rushing to put my makeup on. It promises you'll see clear and radiant skin, but I would say it over delivers on that. I find it makes my skin tone much more even.
I always keep micellar water on hand so that I can do a quick cleanse if I'm exhausted or didn't wear makeup for the day. You just put a bit on a cotton pad and wipe it all over like a toner. Micellar water is huge in the UK so I'm glad the states has finally caught on the past year because it truly gives you no excuse to not remove your makeup before bed. No rinsing is required so it only takes 10 seconds.
This is what I've used my second and third trimester for stretch mark prevention and I didn't get any stretch marks. I certainly wouldn't have cared either way, but I did want my skin to stay moisturized so it wasn't constantly itching while it was stretching. Granted, I really believe you can't control if you get stretch marks that much! A lot of that is genetics and just depends on how your body is, but what I loved about Bio Oil is that if you do get stretch marks it helps remove them, not just prevent them. So I'll probably continue to use this after pregnancy as my skin is healing and changing after baby. I tried a million different creams and oils before I committed to one daily while pregnant and this was my favorite. Some people love it. Some people hate it. Some people believe in only using natural products for stretch marks, so just make sure you find the one you love best. 🙂
I spray this on a cotton pad immediately after I wash my face and it acts as a toner to exfoliate. This exact one helps reduce the look of poor size, fixes skin texture and dullness.
This is just a natural version of a beauty elixir and I use this one, too! This helps tighten pores and remove the last traces of makeup.
This preps your skin for a face mask which I love. It opens your pores and allows your skin to absorb the product even more. My favorite thing about this maskimizer is that it also allows your masks to wash off easier! I hate using a mud mask or something thick and then feeling like I'm ripping my face off trying to remove it. This makes removal super easy.
Origins By All Greens Foaming Face Mask
I don't typically use foaming face products as they are known to dry skin out, but this one is an exception! It's a deep-cleansing mask that doesn't strip your natural oils and helps prevent blemishes and build up.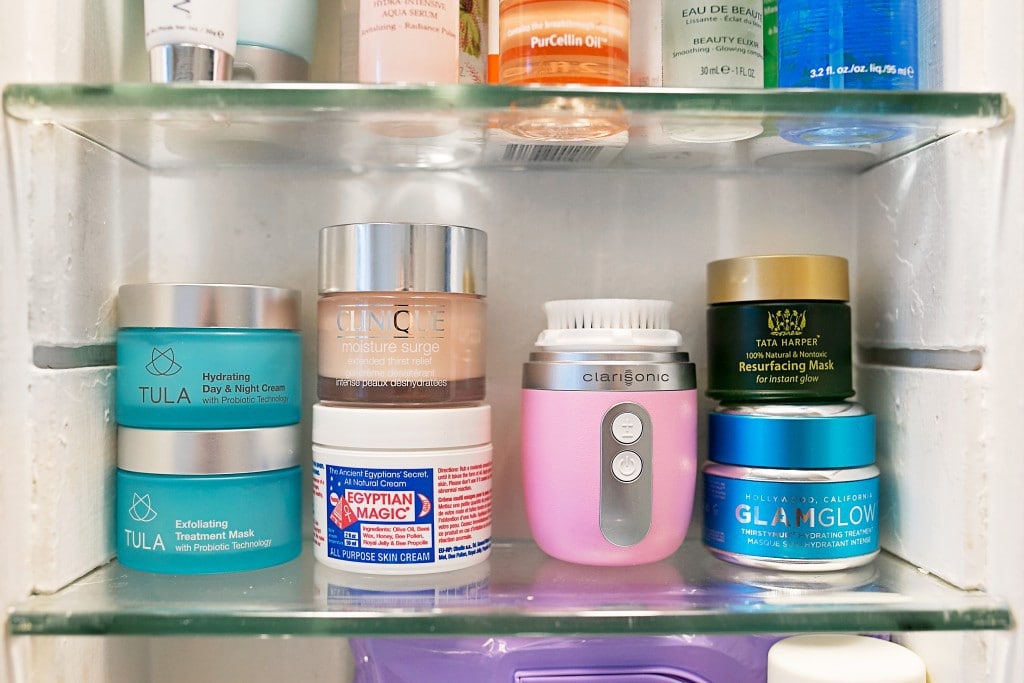 Second Shelf:
This is my daily moisturizer for day and night. I've used it going on 2 years and I don't feel like my skin has reached a plateau of being accustom to it at all. I think the reason for that is because this is filled with probiotics to balance your skin. My skin is always changing [I might break out, I might be normal one day and the next week I could have rough patches] and this balances whatever issue I'm having. The moisturizer isn't set on doing one specific thing [prevent blemishes, fix dry patches, brighten scars] like most beauty products are.
TULA Exfoliating Treatment Mask
I use this mask whenever I have a blemish [see how I use it here] and I'll use it as an all-over face mask about once a week!
This is a heavy-duty moisturizer that I use about once a week at night if I feel my skin is dryer or just needs some extra TLC. It's thicker so I consider it more of an overnight mask! I love how plump my skin looks when I wake up.
This stuff is incredible and getting rid of mascara and eyeliner while being really gentle on your eyes. I always double cleanse [remove makeup first with a cleanser, then cleanse again to remove impurities]. This can count as my first cleanse. I apply on my lids then massage all over my face and makeup is removed so quickly.
Exfoliating is the #1 key to preventing breakouts and aging skin. So I make sure to use this each night before bed.
This was my first "big girl" skincare purchase right after I graduated college. I remember I was so nervous to spend that much on a face mask but I researched for weeks and found every beauty editor keeps this in their arsenal. The verdict? It's so good I've kept it in my medicine cabinet ever since! I've of course repurchased a few jars since then, but it works like a peel without downtime. You apply, leave on for 15-30 minutes and you have glowing skin. In the beginning of using it, apply it for 1-2 days in a row then reduce to just once a week to keep up your results. However, if you have rosacea this isn't recommended for you! I also don't use this while pregnant because of the stronger acids in it.
I do a treatment mask about once a week [TULA, Origins, or Tata Harper] and will apply my TULA moisturizer after. Then I use a sleep mask 2-3 nights a week and on those nights I skip the TULA moisturizer. My sleep masks count as the Clinique, this GLAMGLOW and the Shisiedo one I'll share next. I used this ThirstyMud mask religiously before my wedding and it gives you baby soft skin.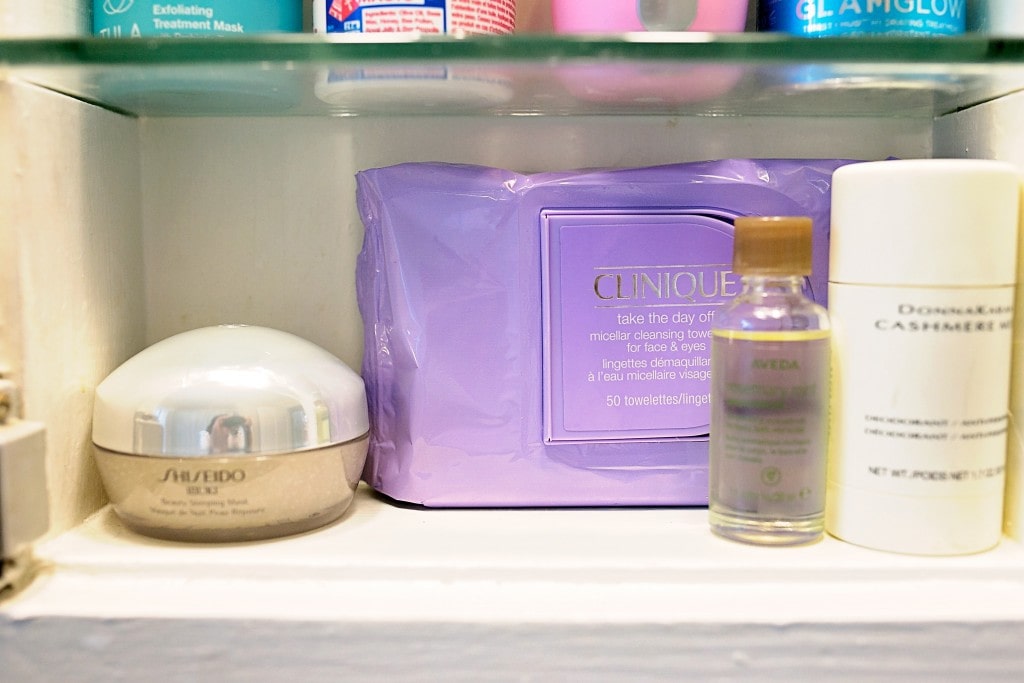 Bottom Shelf:
This is another overnight mask I use! Last year it won Allure's "Best of Beauty" for overnight sleep mask. Now I will say I only use this on my cheeks. It does an incredible job on smoothing the texture of my cheeks but it's a little heavy for my T-Zone where I am prone to breaking out. So if you have textural issues I can't recommend this enough, but I would avoid putting it in areas that you commonly get blemishes.
These are my favorite makeup removing wipes. Not all makeup wipes are equal and half the time I end up using two because I think they don't work that well. These get everything off in one swipe.
I always keep Aveda oils on hand to throw in the bath, on my skin after a shower or even in my hair to give myself a scalp massage. It's overall just a great multi-purpose oil and the rosemary mint scent reminds me of my childhood because my mom only used Aveda products while I was growing up.
Nothing new here. I've ranted and raved about this for years and as you can see I clearly can't use anything else! 😉
What do you keep in your medicine cabinet?!

Photography by: Angie Garcia