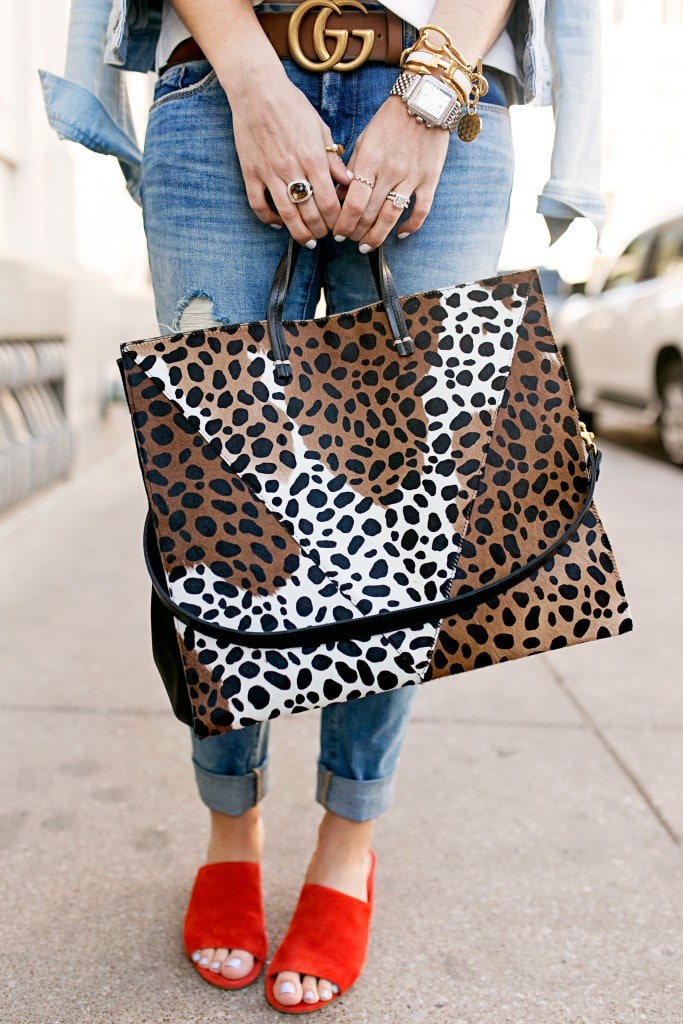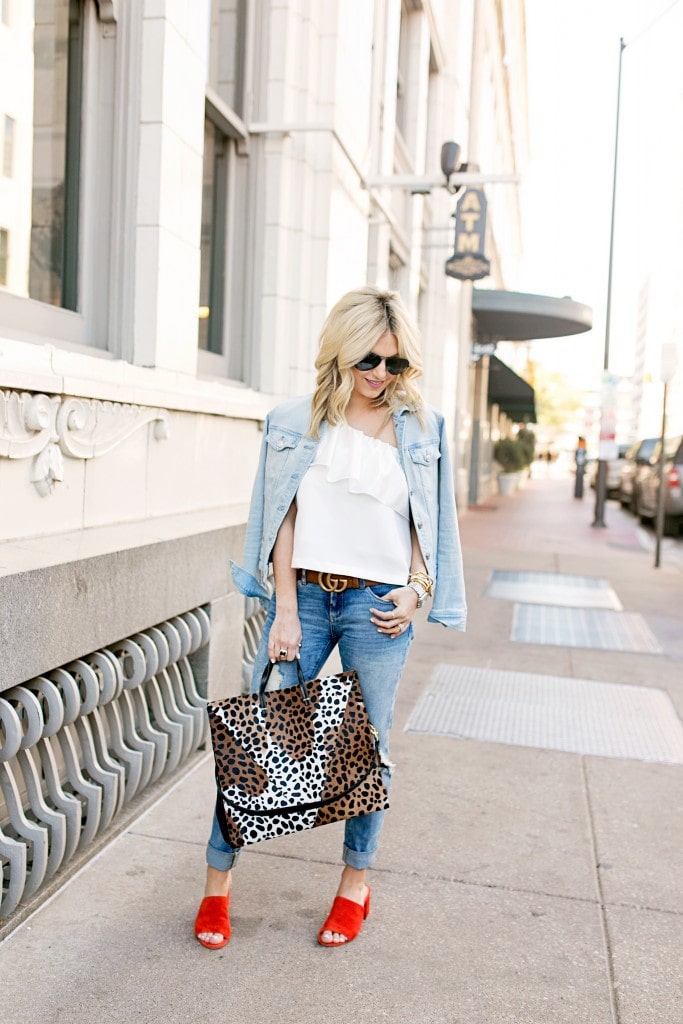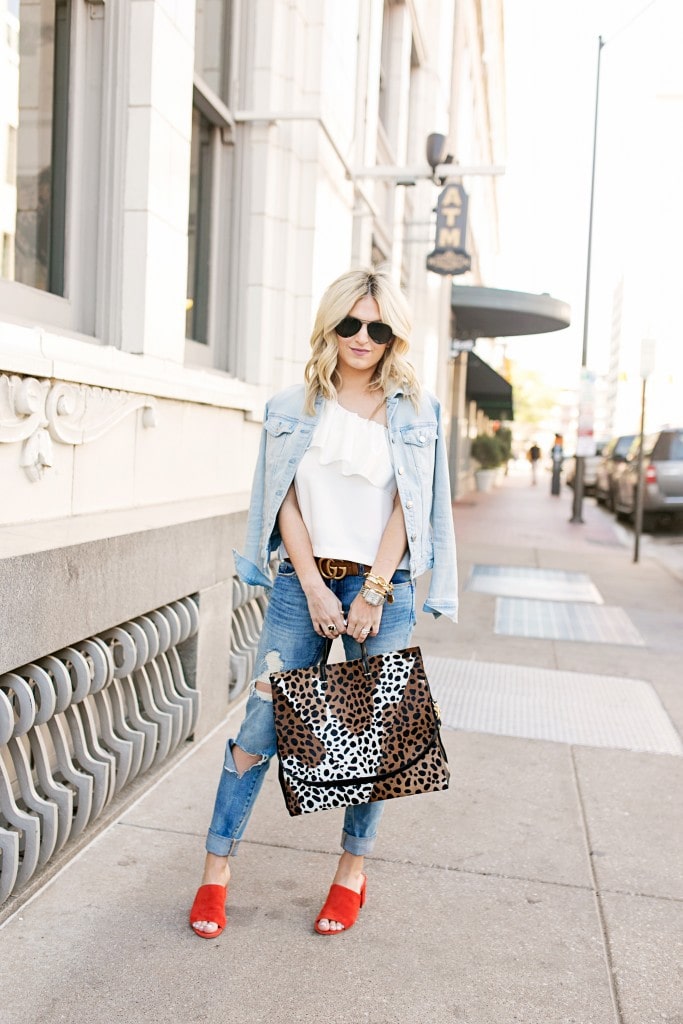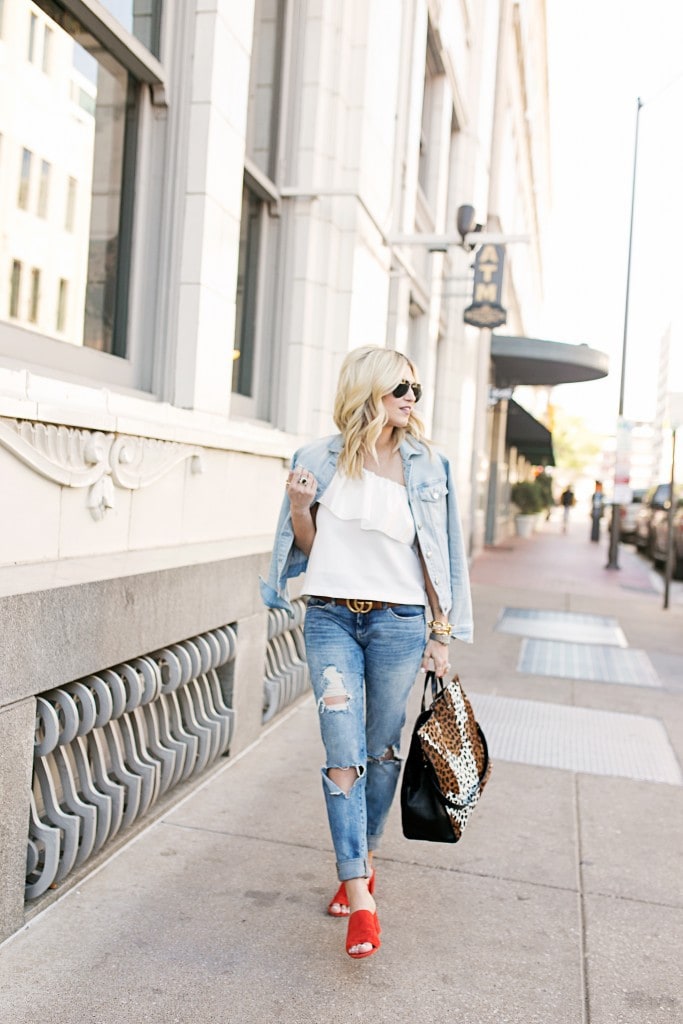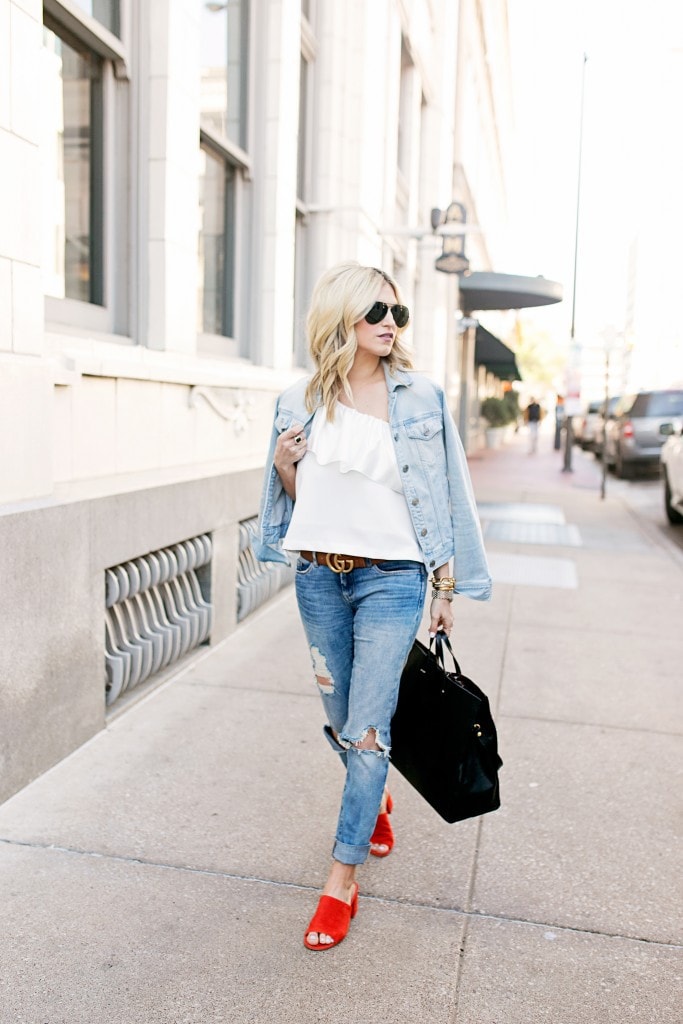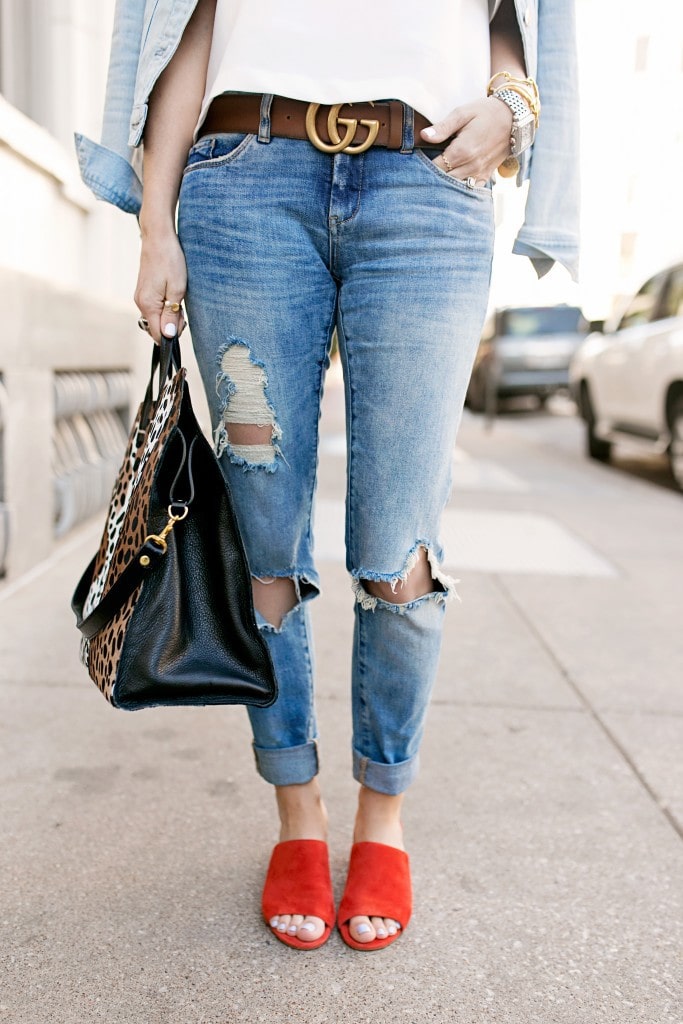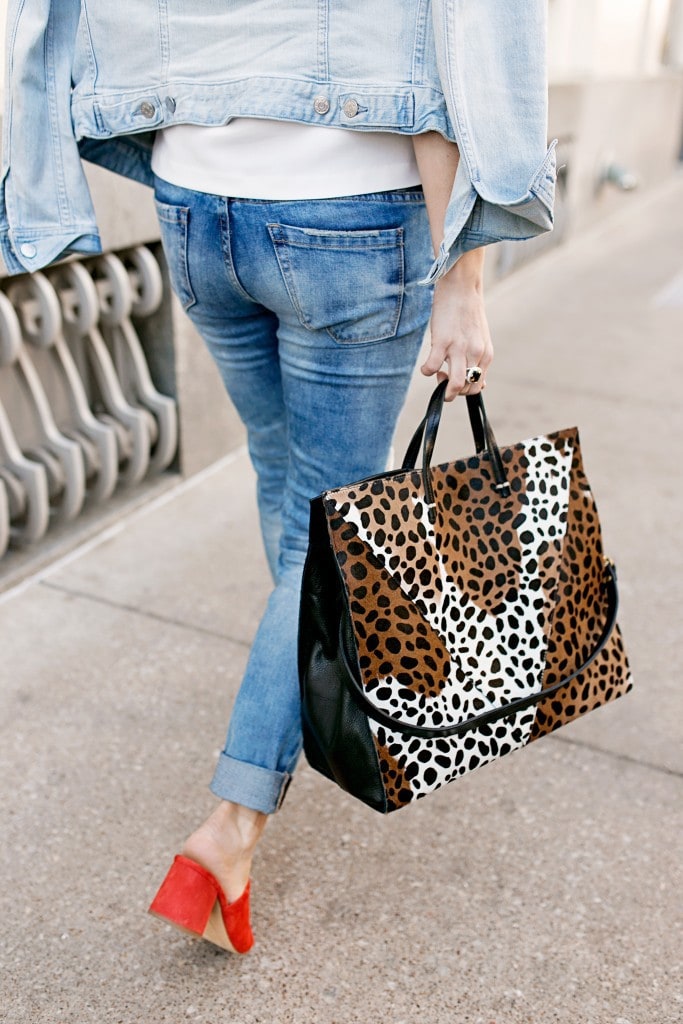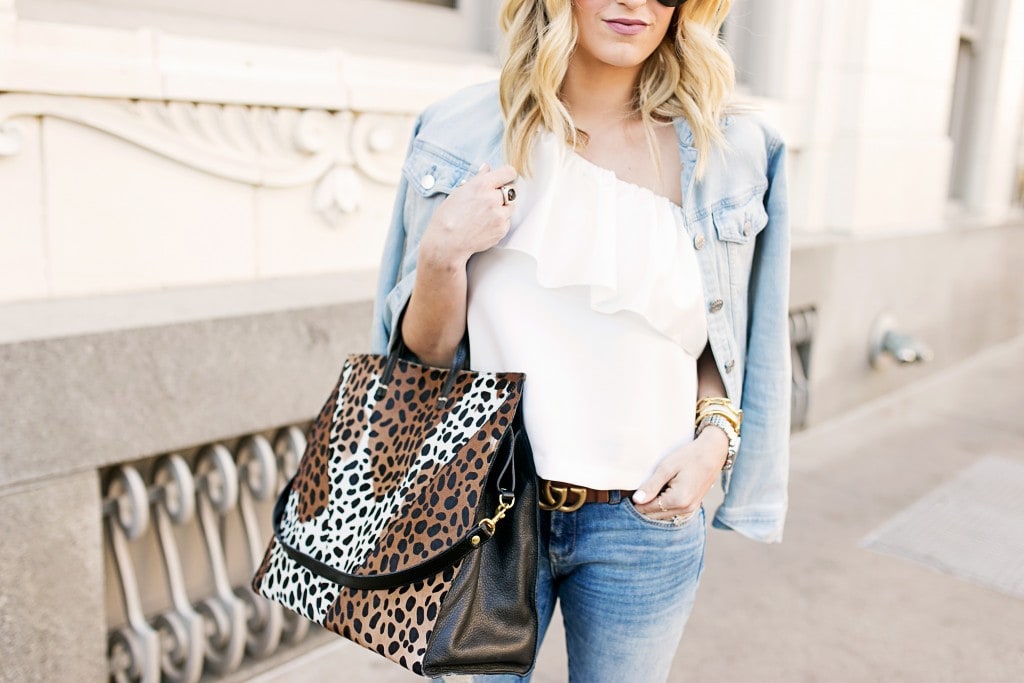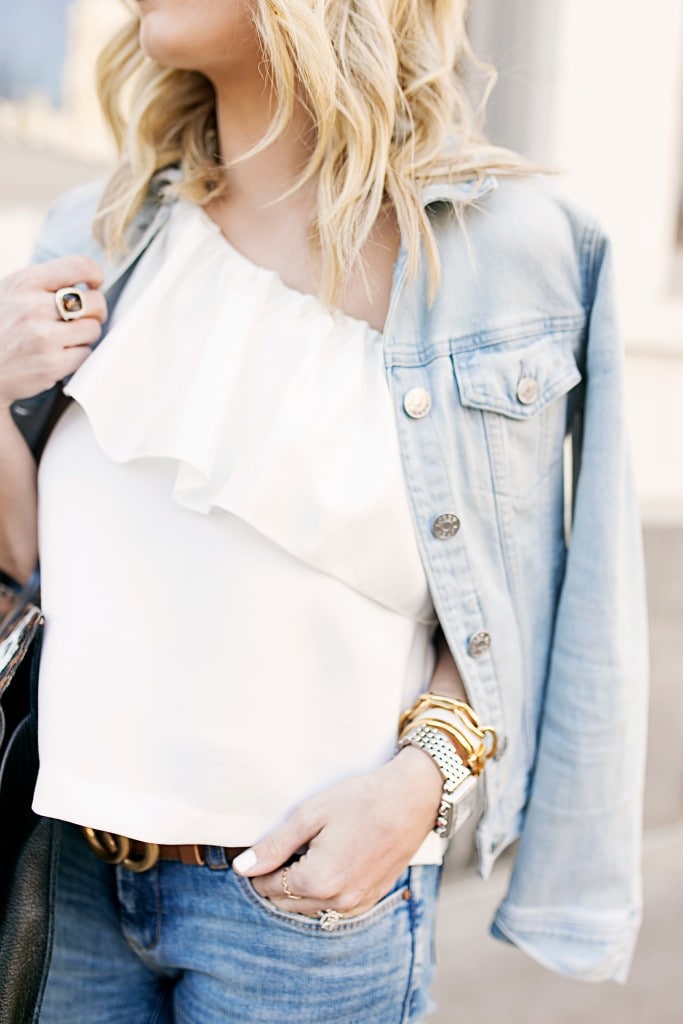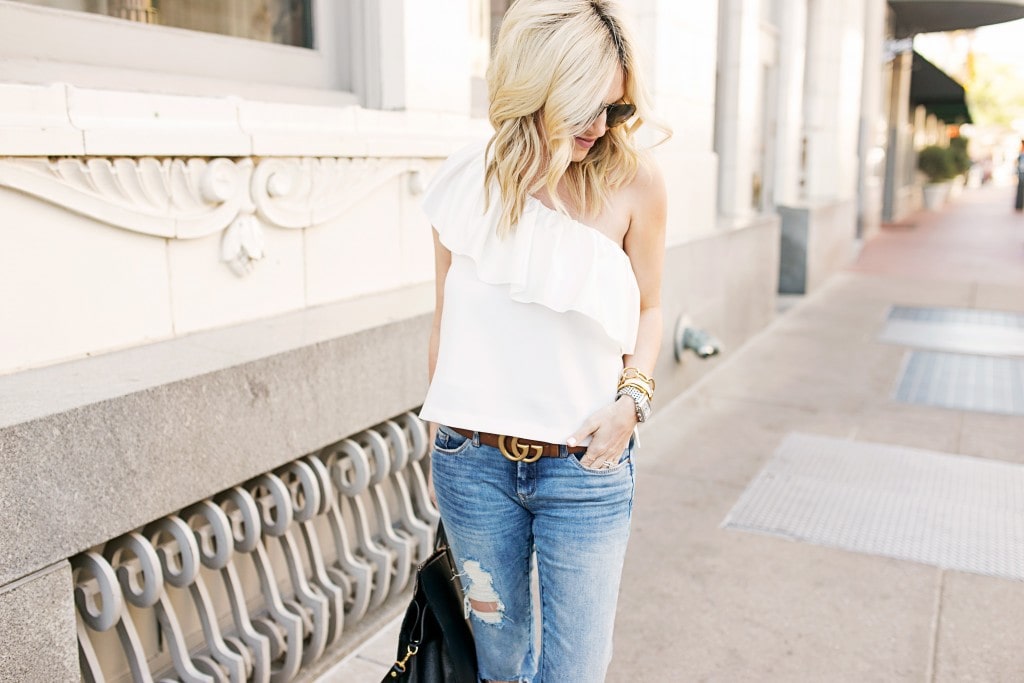 Top: Old, Similar, Similar| Denim: Nordstrom [just lighter wash], Love These! | Bag: Clare V., Smaller Version | Lipstick: Baci | Sunglasses: Old, Similar | Shoes: Nordstrom [TTS] | Jacket: Similar
Photography by: Angie Garcia
---
Texas has extreme weather, but we do not have extreme seasons. In any given month we could experience a pool day, a tornado, hail and sleet. I'm not even being dramatic. My 16th birthday had snow and my parentals had me postpone driving that day. A week later and what was I doing? Driving my Xterra [and playing B.Spears a bit too loud] to my friend Kristin's house for a pool day. But if you have ever visited Texas you know we typically have two seasons: summer and not summer. Not summer can mean an array of things as shown by my previous little story, but most of the time it's just warm and humid around here.
Because we don't really experience "true" seasons, I hate to spend a lot of money on my spring and fall wardrobe. I thought I'd share the one item I'm picking up to make my old pieces work for spring this year: the mule. Mules are HUGE for spring and what makes them perfect for your budget is the fact that you can buy them at nearly any price point and they pair well with nearly any piece in your wardrobe. Paul was helping me pick up my closet yesterday morning before I went to shoot. I asked him to hand me the mules and he said, "What is a mule?!" I laughed and basically told him all the shoes I have in my closet right now.  I can't stop buying them because honestly, they help extent my wardrobe by giving it an updated look. A.K.A, they make me feel chic even when I've been up all night with my baby. I don't know if I'm so keen on mules because they remind me of the stretchy, black Steve Madden mules that I haddddd to have back in 2002, but either way I'm a fan. Please tell me you owned those too?! Brownie points if you paired them with your butterfly clips as well. 😉
But back to mules helping with my spring wardrobe budget! My case in point is this look. These jeans are old, the top is last season and this denim jacket has been in my closet for ages. The top is something I classify for summer and I wear these jeans year-round, but to make the look pop for spring I paired these poppy mules under $90 from Nordstrom! These Halogen Freda Mules come in 5 different shades and the block heel means they are appropriate with anything from shorts to a skirt and you won't be in pain. Don't worry about the suede for spring or summer, either. Suede is now considered the "leather" of warm weather, so you can safely style these whether spring in your area means 65 degrees or 90.
Want some more mule inspiration for spring?
Do you have a spring shoe that pairs well with anything in your wardrobe? I'd love to know!

In collaboration with Nordstrom. All opinions are my own!