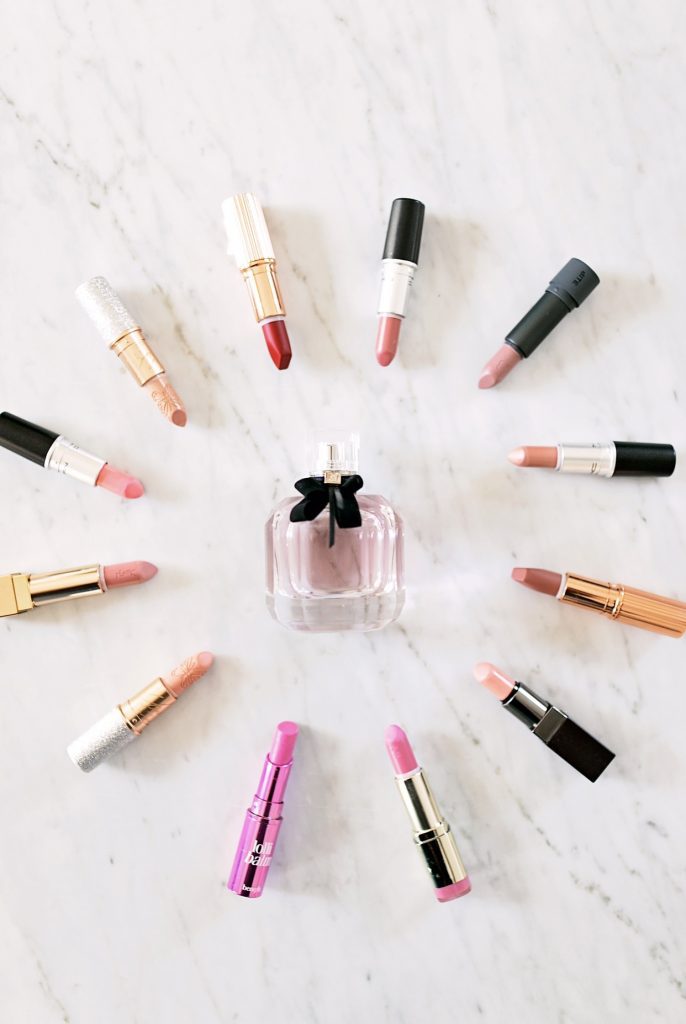 Beauty blogs and vlogs can seem redundant because honestly, how many eyeshadow palettes can one girl have?! I know good and well a new lipstick isn't going to change my life, and here I am each week in Sephora saying, "But this mauve is 10000x different than my other 14 mauves." Despite the silly redundancies beauty reviews are my favorite blog posts and YouTube videos to watch! Doing my makeup each morning is honestly therapeutic for me and I love hearing about little tricks and tips I can test out. Sharing is caring, so today I thought I'd share my 10 favorite beauty hacks! I'd love to hear yours below!
1. Exfoliate
We spend so much time researching specific serums and treatments, but you always want to be proactive in your skincare routine as opposed to reactive. Exfoliation is the most proactive thing you can do. Lack of exfoliation is what leads to blemishes, wrinkles, dry skin and dullness. If you are in your 20s you should be exfoliating twice a week and if you are in your 30s you should be exfoliating three times a week.
My favorite exfoliators:
Tula Exfoliating Mask [not a traditional exfoliator but works as one through a mask! Great if you hate the beads.] Use code: KATEYKIT20 at checkout for 20% off!
If you have more mature skin, I recommend this!
2. Acne Fix
If you've tried everything for your acne and you are at your wit's end, cut dairy and sugar from your diet. This is a recommendation many Dermatologists will make before a patient makes a more serious medical commitment like Accutane. Of course speak with your doctor if they think this would help you and they can help you get calcium through other supplements! Try Whole 30 and see if you like it! Worst thing that happens is you cleanse your body of toxins and get a little healthier. So many people swear this is what fixes their cystic acne.
3. Losing Hair
If you are losing hair, try cedarwood oil! Many people who experience postpartum hair loss apply a few drops to their fingertips and massage their scalp with them after. If you want something a little more intense, try Neuhair! It is from the makers of Neulash and I have loved using it in the past. I've seen an inch of growth in a month of using! In general, they say results take about 12 weeks but most see results sooner.
4. Get The Lash Extension Look
Your eyelashes are hair just like the any other part of your body. Chances are you use more than one product on your hair to achieve a certain look and your lashes are no exception. It may seem a little silly to layer mascaras, but it's the best way to apply mascara! The traction of different brushes and application of different formulas is what is going to get you long, separated, voluminous lashes. I love to do two swipes of this mascara, let it dry for 30 seconds and then apply two coats of this mascara.
5. Whiter Teeth
Oil pulling is a great natural way to get white teeth and detox your body! It sounds gross and it may take a few days to get used to the texture, but it is great for you. Right when you wake up take a tablespoon of coconut oil and swish it around in your mouth for 20 minutes. Don't swallow it and then spit it out! It improves oral health, whitens teeth and removes impurities from your body. Some people say this helps their metabolism as well. If your gums bleed when you floss this is also a great way to help heal your gums. Plus, it makes your breath fresh all day!
6. Fix Brassy Blonde
I've tried every purple shampoo under the sun and this is by far the best treatment to fight brassy tones in your blonde. Be careful! It is so pigmented if you leave it on too long you'll end up with lavender locks. I use it twice a week and leave on for about 30 seconds to a minute.
7. Switch Shampoo
Speaking of shampoo, you should switch your shampoo each season. Your hair acclimates to products more quickly than your skin does. Certain shampoos will just continue to build up and not do their job at a certain point, so try to change up your routine every season. This is the shampoo I currently use.
8. Dry Shampoo Before Bed
If you hate the texture of dry shampoo [raises hand high!] apply it at night before bed. The dry shampoo will absorb the oils throughout the night and you'll wake up in the morning with clean-feeling hair filled with volume. The best part is that it won't feel like you have a chalky buildup in your scalp! This is my favorite dry shampoo [ever!], and this one is great if you workout a lot and need your hair to actually be clean as it is the only one on the market that does so!
9. Polish in Ice
Right after you paint your nails, dunk them into a bowl filled with ice water. Leave them in for about 20 seconds and your polish will be dry.
10. Layer Polishes
I love to wear white nail polish or light pastels and one question I always get is how to avoid your polish cracking or dirty looking. Gel polish is very porous, so your cleaning products and skincare to break it down and open it up to cracks and dirt. Be careful when using your acidic skincare to not allow it to touch your finger nails. Another trick for keeping white and light polish looking bright is to layer your colors. A little texture and transition in color will help be a buffer for lighter shades. For example, mix OPI Funny Bunny with OPI Chiffon My Mind. Both are whites but one has a teeny tiny bit of shimmer in it, so it won't be as stark white. You still get the color effect, but don't have to deal with the effects. I also like to layer Essie Fiji with OPI Mod about You if I'm wanting a pink. I also layer my gel polishes at the salon, so just pick two that are similar and apply.
I hope you learned a new trick or two to try! Have a happy Wednesday!