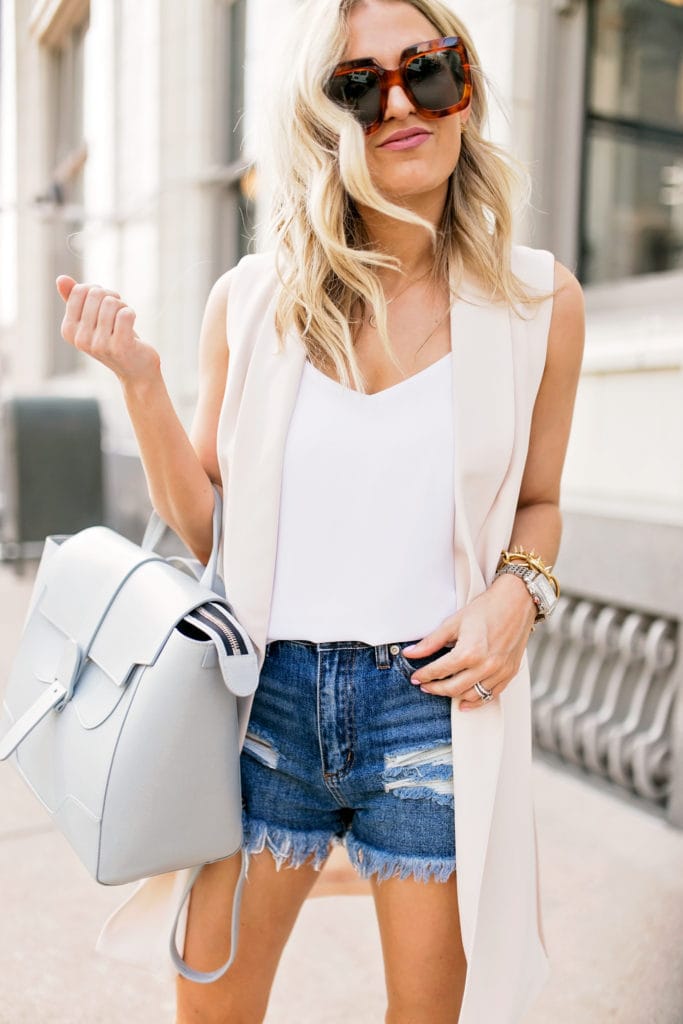 Vest: Club Monaco | Tank: Similar | Shorts: Similar | Shoes: Nordstrom | Sunglasses: Gucci | Bag: Senreve [c/o] | Necklace: Similar
Photography by: Angie Garcia
---
Currently writing this post with a hair mask on [I use coconut oil!] and a charcoal face mask. It's quite a sight to see. I went downstairs and my dad said, "Well, you look beautiful!" Oh how humbling it is to live with your parents as an adult. 😉
I'm thrilled for a long weekend as I'm sure you are, too! I think it's so funny how at a younger age you categorize your weekends as fun if you go non-stop with plans. Now I live for Saturday mornings when Maxi is in bed with us and we just cuddle with no plans to get up and get ready. But, we do have some plans I'm very excited for this weekend! Saturday evening we have a wedding and of course I'm stumped on what to wear. Which look do y'all prefer, this look or this?
But before the weekend, I wanted to share lessons I took away from this week.
Phone Calls. I'm terrible at texting. Absolutely terrible. My friends know it just takes 3-5 business days for a response. I have to give myself a lot of grace in this area of life. Being a stay-at-home mama and full-time blogger means I definitely don't have a lot of down time to sit and text. But I want to have those conversations! I have gone quite old school this week and just called a friend, put it on speaker phone and cranked out some work. It reminds me of middle school days doing homework on the phone with your bestie. And while it probably took longer to accomplish tasks and finish conversations, it was so nice to be intentional with those friendships and just be there for one another.
Date Night. Since Maxi, our date nights are usually 45 minutes tops. We truly miss her so much while we are out and we feel guilty having my parents watch her. I don't know why, but we do! They got mad at us saying we leave and come right back home and they want us to go out more. So we listened and decided to do a longer date this week. We did appetizers at one spot and headed to dinner at another. I felt this surge of guilt knowing my mom and dad were putting her to bed, but you know what? I was a MUCH better mother the next day. Little things didn't get me worked up [i.e. when Peaches had an accident on the floor!] and I had so much patience when Maxi fought her naps all afternoon. I didn't chastise myself when I forgot to respond to an e-mail and I just felt more relaxed throughout the day. Dating your spouse is so worth it and I'm glad my parents forced us to stay out longer than an hour!
Products That Work. I think one struggle in blogging is knowing the balance of staying true to yourself while accommodating your readers. Sometimes it's tricky to navigate when someone is drawn to your site, but you aren't fulfilling their need. Or it can always be difficult when someone wants to see something from you that really isn't true to yourself. For example, sometimes I get requests to review hair extensions. At this time in my life, I just don't have the time [or know how] to fuss with them. If I started to review them it wouldn't be 100% genuine as they aren't for me at this point. Yet, I feel guilty when I can't accommodate those requests! And what is worse: a reader being upset that you aren't true to yourself or a reader being upset they aren't getting what they want from your site?! All of that to say, over the years I've gotten requests to review some natural beauty products. Now I'll be honest, I like to live a life of balance. I don't know if that's good or bad, but it's just my personal motto. I use essential oils, but I also use bleach. I love to eat a paleo diet at home, but you better believe I don't turn down a chocolate chip cookie…or Diet Coke…or BBQ. You get the idea. But I've really never looked at natural beauty products, so I hadn't reviewed any. I've kind of just been under the assumption of, "But how would those work? You need more than coconut oil to make a blemish go away." My curiosity has been sparked as I use natural products on Maxi. I started to think, "Well if I really research products I use on her, why don't I do that for myself?" One thing led to another and I started to look into more natural products where I saw fit. And don't keel over ladies just yet, but I've tossed the Donna Karan Deodorant. Well, I didn't toss it…more like I put it on a bottom shelf because I'll still use it for special occasions. It's a blessed product let me tell you. But I figured, I probably needed to hop on board the natural deodorant train. I've tried before and failed miserable. Most Youtubers swear by The Healthy Deodorant and it just wasn't for me. It only took me 6 different brands to find one I love, so I'll share more on that later. I've basically just swapped out a few go-to products for natural alternatives and it's been a fun process this week to test out. It's also been a nice balance. In the process of researching, I've found that many of my favorite Sephora-ridden beauty brands are honestly made really well with good ingredients. It made me love old favorite brands more and new brands as well. So don't worry, I didn't toss my entire beauty cabinet. In fact, most of what I was using was pretty good! But I did say my goodbyes to the good old DK deo and while I'm still mourning that breakup I know that she'll still be waiting for me when I need her. I'm not switching to all natural products, but I've enjoyed researching and finding a few new favs. If you are that all-natural gal, I welcome you with open arms but you may not want to hug me back because I've got on YSL Black Opium Perfume 24/7. But like a well balanced diet, it's nice to mix in the organic with the guilty treats. 😉
Now onto the sales for the weekend!
Labor Day Sales
ANTHROPOLOGIE: Additional 30% off Sale
Top Picks: navy swing top, white blouse, shadowbox
BAUBLEBAR: Extra 20% off sale items [AKA up to 80% off!]
Top Picks: turquoise strands, drop earrings, statement earrings
BLOOMINGDALES: 40-60% off almost all sale items
Top Picks: skinny jeans, blush mules, tory burch bag
GLAMBOXES: 20% off all products with code LABORDAY17 at checkout!
Top Picks: GLAMbox, GLAMboard, bracelet display
NORDSTROM: Select Styles
Top Picks: my watch, nike shorts, always stock up on these!
ONE KINGS LANE: 20% off sitewide
Top Picks: peony arrangement, wedding gift, ottoman 
SHOPBOP: new additions to sale
Top Picks: white blouse, marble phone case, bow mules
Mini Product Review & Sale
TULA Kefir Line
TULA recently launched their Kefir line and I tested it for about a month before I shared my thoughts with you all! I shared my review on my Insta Stories [I like the hands-free feature!] but haven't shared them on the blog just yet. September I have a TON of beauty content coming up and wanted to weave it in there in some capacity. However, I have a sale for you if you're shopping for Labor Day and thought I could share my mini review here.
The two newest additions to the TULA line are the Kefir serum + moisturizer combo and the cleansing oil. Kefir is a fermented milk drink rich in probiotics, vitamins and minerals. For those not new to COF, I've loved the TULA line for nearly 3 years never wavering from the cleanser. TULA means "balance" and is a skincare line made from probiotics. Why probiotics? Your skin is an organ that naturally detoxifies itself and in that process is where you see problems. Acne. Cystic acne. Dry skin. Redness. Irritation. Probiotics are given internally to balance your gut and they help fix an array of issues. If you've got a little one that may have a sensitive stomach, your pediatrician probably recommends probiotics as a way to balance a multitude of issues  so your sweet one doesn't have symptoms. Same goes for your skin! TULA is made to balance whatever skin issues you have [from acne to dry] so that you can have your best version of your skin. I also really like the line because with the balancing act I can easily add in other things [like Rosehip oil] and it's going to let those products shine even more because instead of drying the heck out of my face to fix a blemish, it's just balancing it. Therefore my other products have a chance to really work and aren't counteracting another problem. Am I rambling? Is this hard to follow? Skincare junkie over here party of 1.
So what about these new products? I preach cleansing oils or cleansing balms [love this one by CR, too! Get it for 20% off with code LABORDAY at checkout.] and double cleansing. Your first cleanse should be an oil-based one and sadly, makeup wipes don't necessarily count! You want to break down your makeup and remove all the dirt/grime that builds up before you actually cleanse your pores- not push it around with wipes. Their Kefir Cleansing Oil is key for this step. Then you use your purifying cleanser as a second cleanser and really massage your pores. This gets your circulation going and what is the number one healer? Circulation! Now, you don't have to double cleanse. This is a personal preference of mine and I insist I see a huge difference in my skin. But if you're a nurse and just came back from a 12-hour shift the only thing you need to do is rest, and I won't try to convince you to double cleanse! In this instance if you have very dry skin and just want one cleanser, I recommend the Kefir Cleansing Oil. If you have more oily skin, I think you'd prefer my ride-or-die original TULA Purifying Cleanser.
I really like the cleansing oil….but my favorite product out of the two is the serum + moisturizer combo. Let me break down why I enjoy this so much!
Skincare steps can be very overwhelming. Once we are in our new home and I can shoot our bathroom, I plan to do the entire schedule in a post from how often you mask to when you tone. However, most nights I can't do my entire routine out of pure exhaustion. This is a serum + moisturizer in one so you just simply have to cleanse, tone and then moisturize. It's easy and doesn't get confusing with steps.
This texture is like butter! Technically online it is listed as a velvety texture, but I'm a Texas girl and I relate products to things like butter and BBQ baked beans. I don't know what it is, but once you apply this product and allow it to melt into your skin it feels very healing. I may be the only one, but if I have a blemish or dry skin and I do my skincare routine sometimes it burns or feels even more irritated. You know when you go for a long run and then get a huge swish of cool water and you immediately feel cured from your fatigue? That's how the moisturizer feels on my skin.
Now it does have a scent! If you are sensitive to scents keep that in mind. It's not an artificial fragrance, it's just the probiotics. It's not a dairy scent imo, it's a bit lemon-y? That may not be the right word. I'll just admit I can't describe it, but it's not overpowering. I just do want to note that if you are sensitive.
You wake up with an incredible glow. I'm not sure what this texture does to your skin, but it reminds me of how a primer blurs everything! My imperfections feel blurred and my skin ultimately glows.
It's healing like all other TULA products. Testing products as a blogger is fun, but it also leads to lots of skin issues. About two weeks ago I started to test a few spot treatments from different lines and one burnt my skin. It straight up burnt my skin as if I had fried it in the sun. It was awful! I was in so much pain and just shocked that such a popular skincare line I see on FB 24/7 could do such a thing. I dramatically texted my girlfriends pictures of my irritated forehead [TMI, sorry] and a few told me the line did that to them as well. I took all my makeup off right after I got home from lunch and just sat with a dollop of this serum + moisturizer on the irritated skin. The improvement was remarkable making this my favorite product from the new line.
How do I know which products are right for me? All TULA products are designed to work for all types of skin. However, if you are extremely dry I think you'll prefer the Kefir line to the original line. If you're extremely oily, I think you'll prefer the original line to the ultra-moisturizing Kefir line.
Where's my discount?!
Here you go girl! Type KATEY at checkout for 20% off and free shipping on orders over $30!