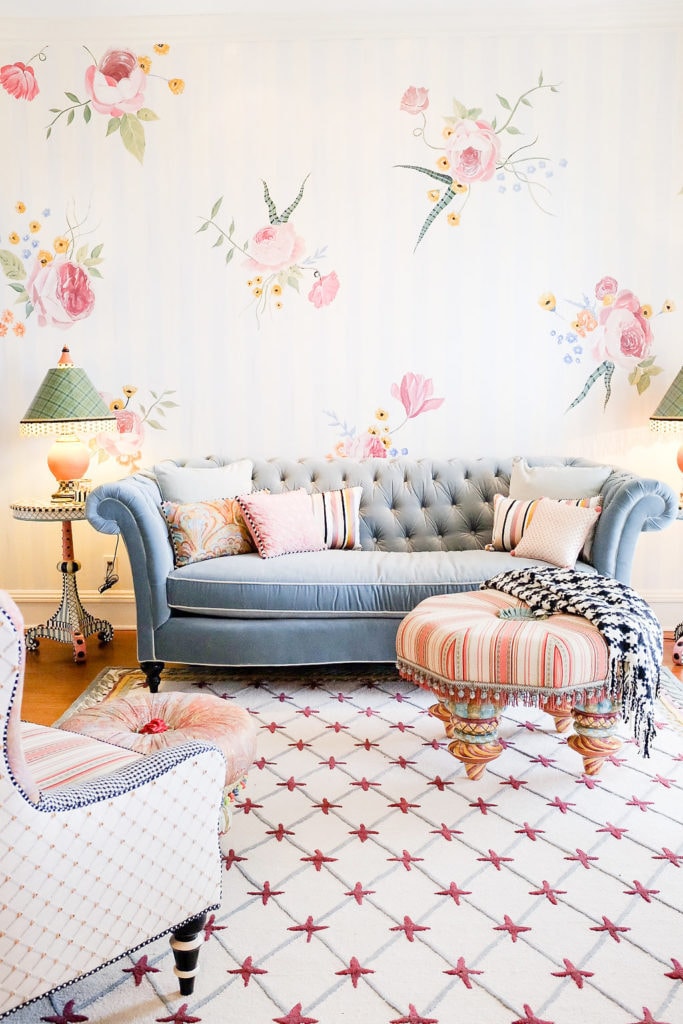 A few weeks ago I had the opportunity to head to Aurora, NY and tour the MacKenzie-Childs' headquarters with my mom. This was the ultimate bucket-list trip as my mom and I are Courtly Check enthusiasts. Aurora is essentially MacKenzie-Childs land. The town is decorated in black and white checks, everyone looks forward to the barn sale like it's Christmas, and you can't find a single person that won't tell you their fondest MC memory. We were able to witness the talent and care that goes into each plate, mug, vase, side table, and pitcher. Naturally, this was such a dreamy trip for us as we drool over each print, but ultimately, this was an even more special trip for our relationship.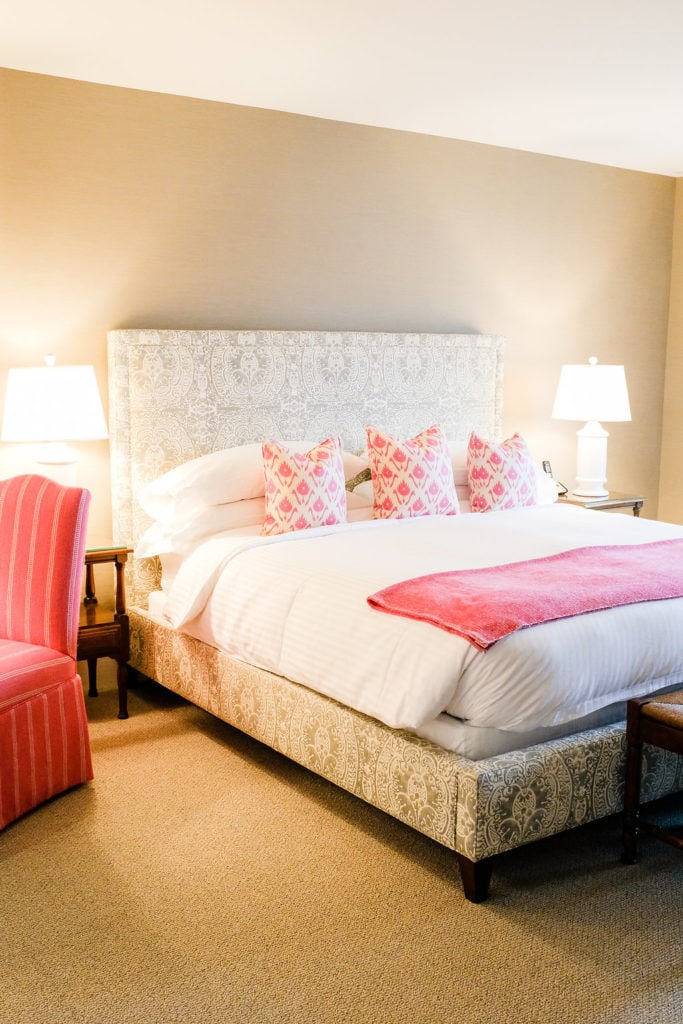 I could gush for hours over my mom as many of us can about our parents, but this trip was so dear to me because it represented me spoiling her. Moms sacrifice so much for us and MacKenzie-Childs was always a *small* sacrifice my mom made when I was growing up. Like most moms, she never treated herself because anything extra in their budget went to tap shoes, dance lessons, camp, etc. Her best friend, Tara, had the most stunning MacKenzie-Childs collection and my mom adored it. As we got older, my dad would get her pieces for each holiday, and her collection slowly grew. When I graduated college, I was, of course, eyeing MacKenzie-Childs pieces but couldn't justify purchasing them in post-grad apartment. She'd come over and help me decorate and gave me her paper towel holder. I know it seems so small, but when she gave me that piece it felt like this continual sacrifice she was making. After working longer, I repurchased her a new paper towel holder and have added to her collection with each birthday she celebrates. To have the honor of taking her on this trip years later felt like a significant milestone in which I could say, "Okay, you get what YOU want."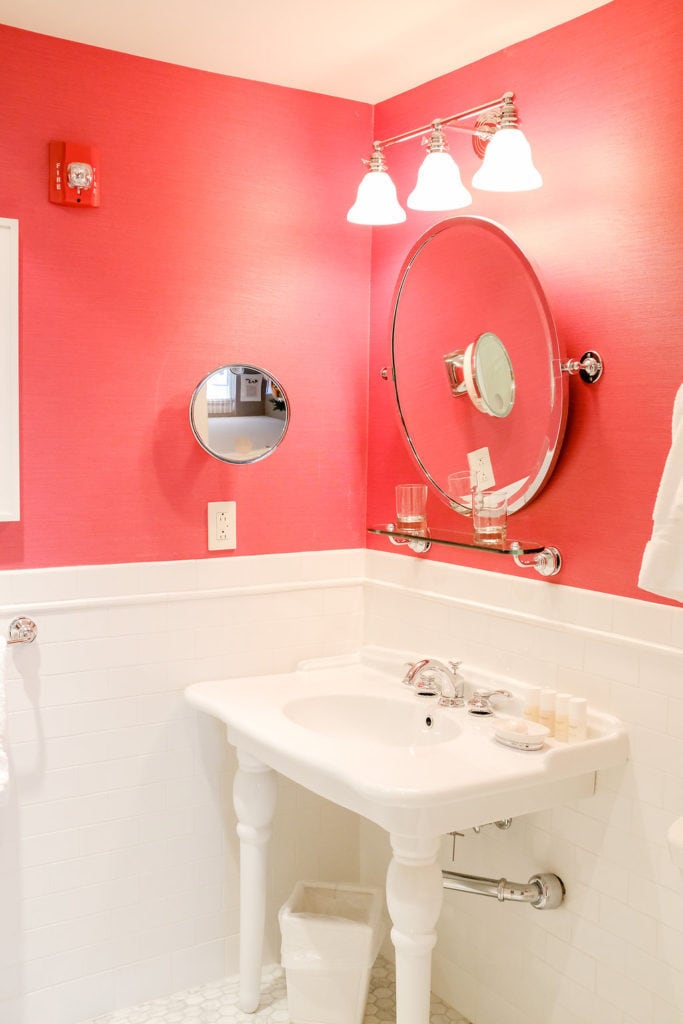 We were lucky enough to go on this trip with some other bloggers and their mothers. Funny enough, my mom had never met Ashley's mom. Y'all, they are twins. They talk the same. Dress the same. Buddy up together 24/7. There were meals Ashley and I didn't even get to sit by them, and they were just over in the corner talking non-stop as if they didn't care we were in the other room. It was hilarious, but also special to enjoy!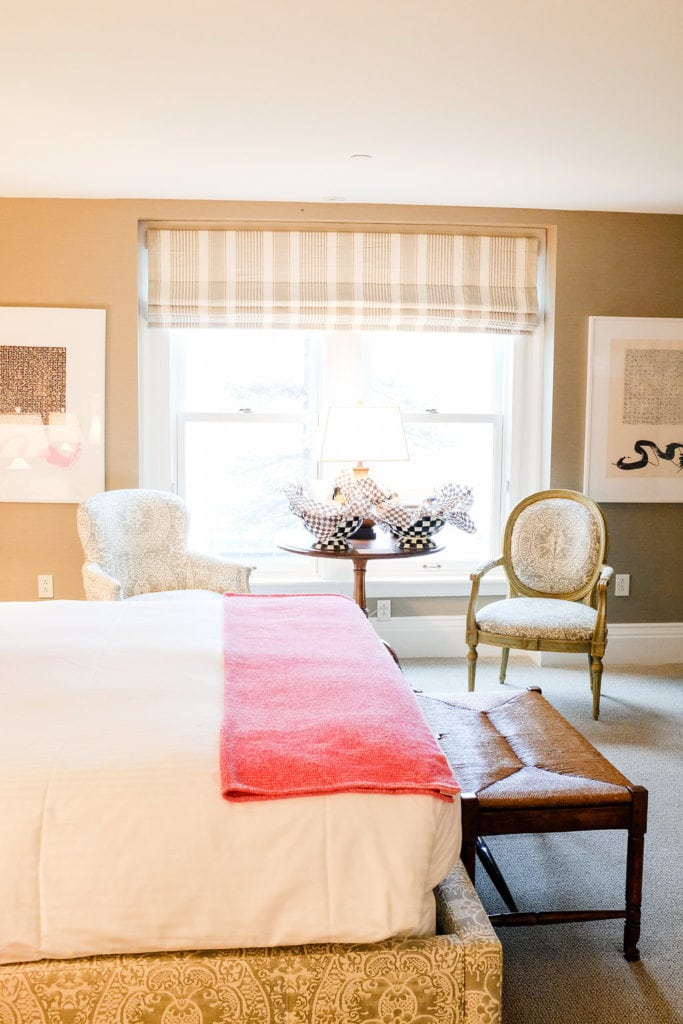 We stayed at The Rowland House during our trip and I want to go back with Paul, so badly! To sit reading by the fire drinking tea, was maybe the most relaxed I've been in years. We got lucky with the pink room and as you can imagine, I was more than thrilled about it. 😉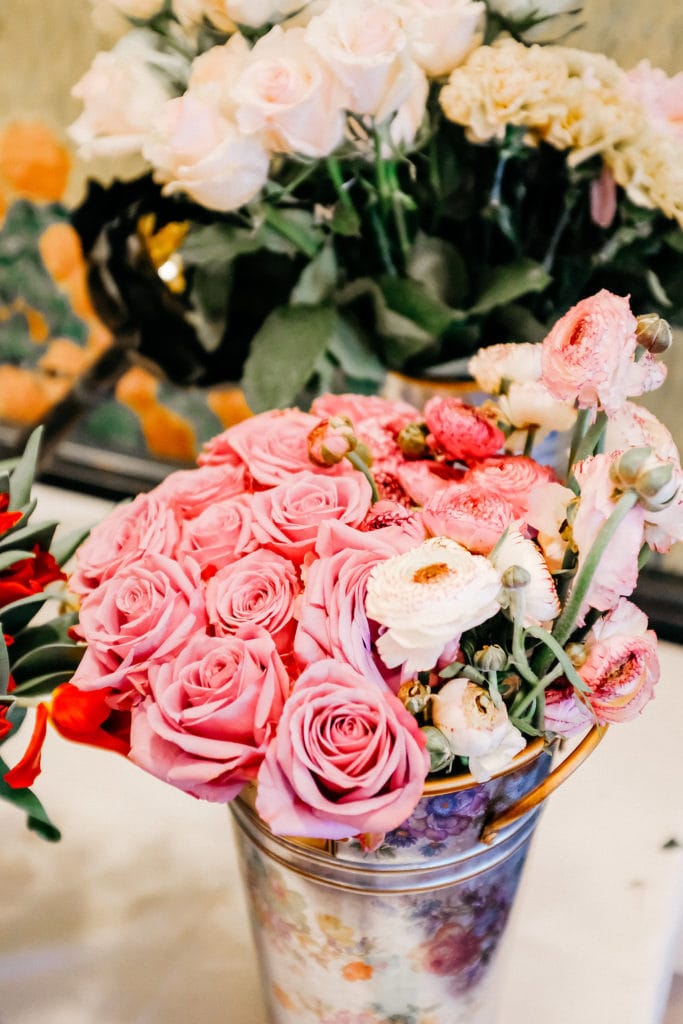 We started #CampMackenzieChilds with a whimsical flower class hosted by Figs and Twigs. My mom was entirely in her element! Her mother owned a flower shop, and she'd work for her on the weekends when I was a little girl. I'm proud to say I had a faux cash register and ate my donut holes while I kick-started my love for entrepreneurship. MacKenzie-Childs is all about these beautiful little prints that can imperfectly mix and match in your home, so I learned a lot about arranging flowers. Naturally, I'm so Type A and think, "Okay, I have to have two hydrangeas to this amount of peonies and my roses have to be cut all at perfect angles."  This class taught me how to relax and enjoy the process of arranging. Flowers are just like anything else in your home if you appreciate how you purchased the piece or made the arrangement you'll always look at it fondly.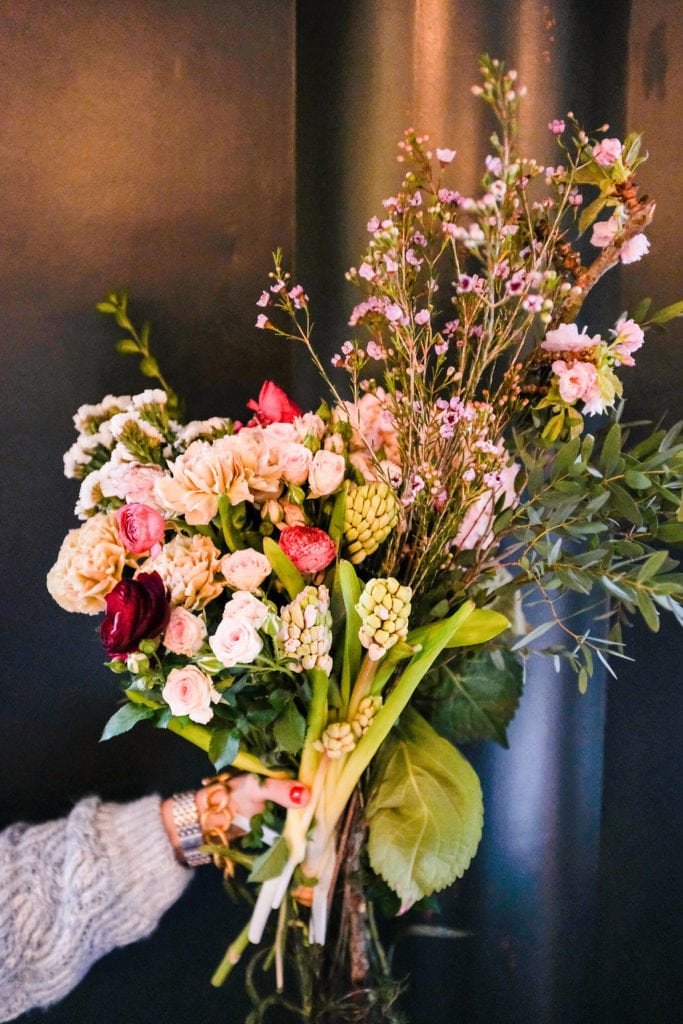 These were the blooms I pulled to fill my pitcher!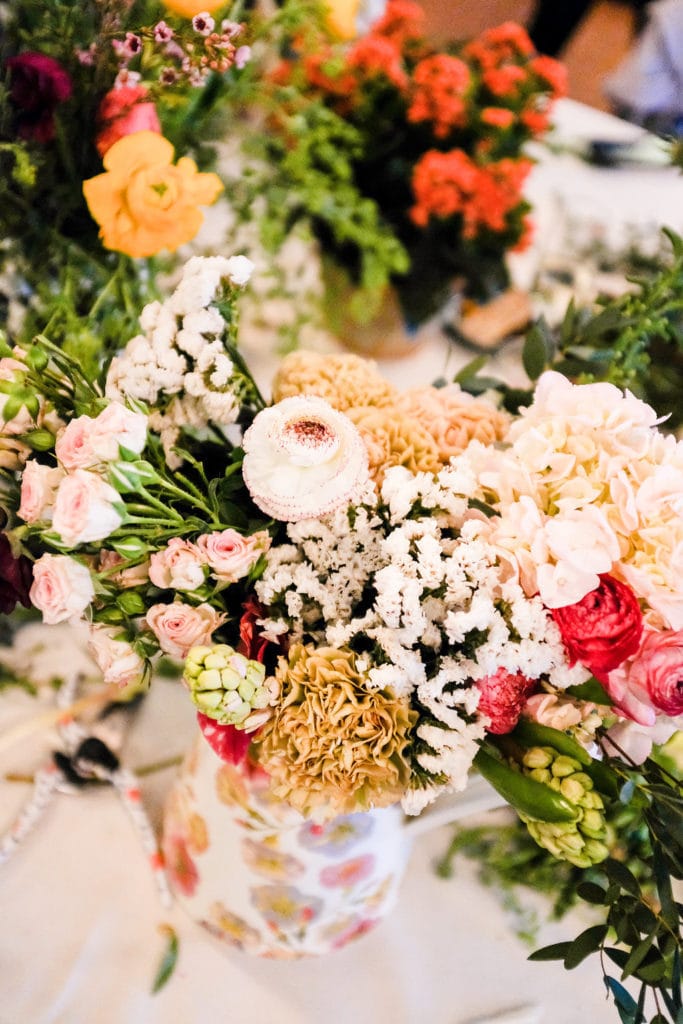 After our class, we went to eat at the Fargo Bar and Grill. The tater tots…..THE tater tots were the best thing I've ever eaten. I ate my weight in them!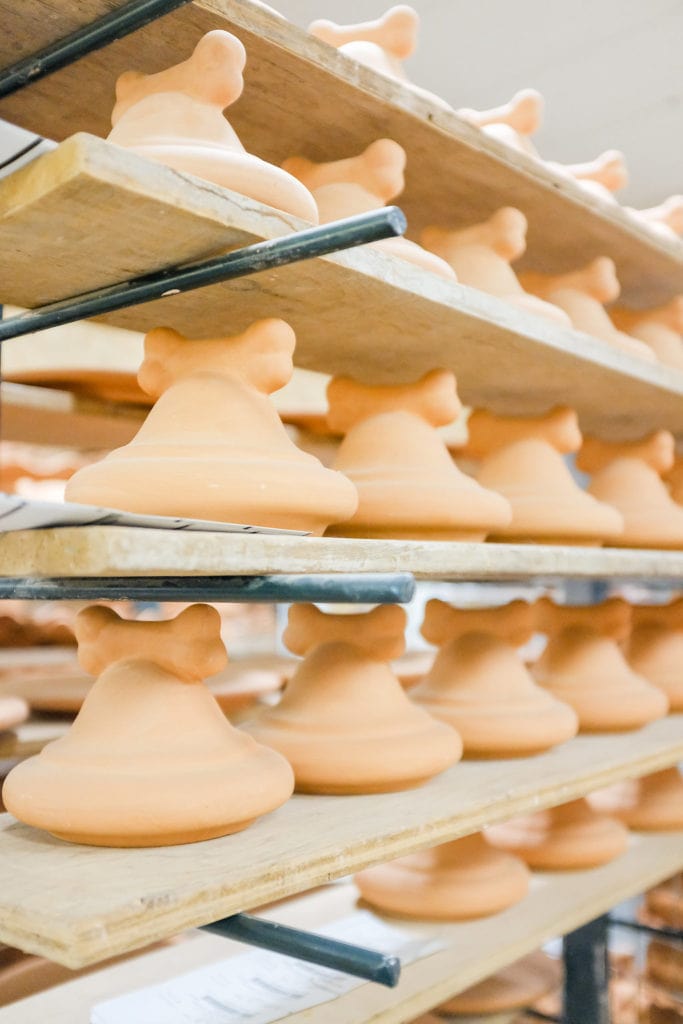 The next day we were up early to tour the factory. It's no secret MacKenzie-Childs has investment-worthy pieces. These are gifts to be treasured and last for years. It's always exciting and special to purchase one of these beautiful pieces, which is why they've become such a household name in gifting. However, after seeing what it takes to make one single plate [we saw the entire process!] I have told any and everyone that I was shocked at the affordability in comparison. To see the craftsmanship these artisans put into every item that gets the "MacKenzie-Childs" stamp was a treat and definitely made my collection feel even more valuable. The painters will study the pieces and prints for YEARS before they ever paint a piece for market.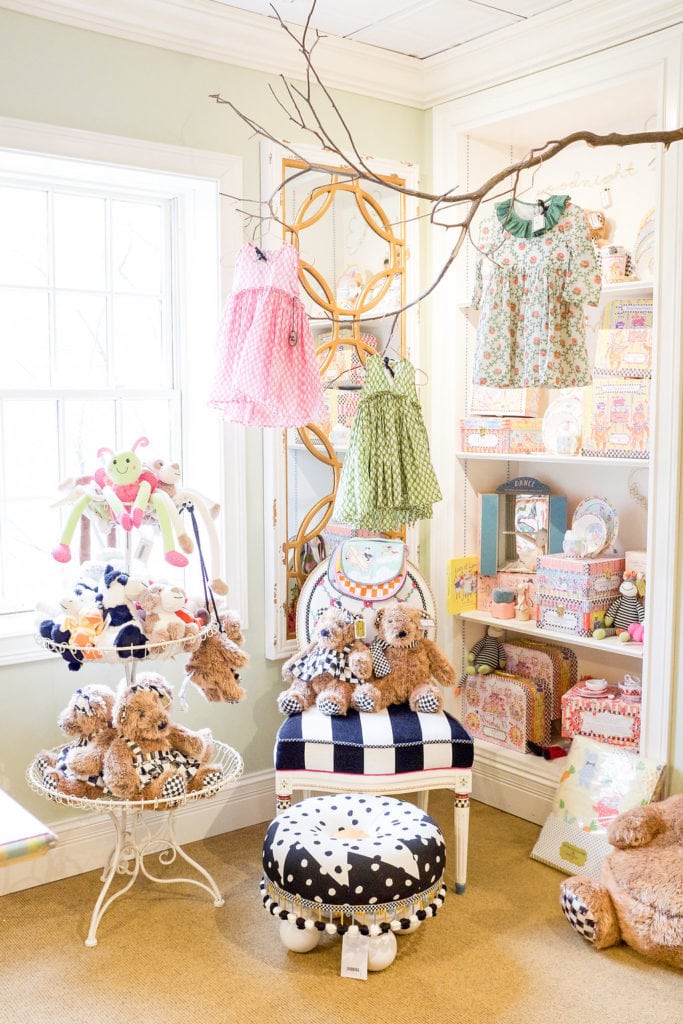 There's a gift shop the size of a grocery store on site [Okay, maybe I'm exaggerating. But it's quite large!] and I had to grab Maxi a little bear. These are SO soft.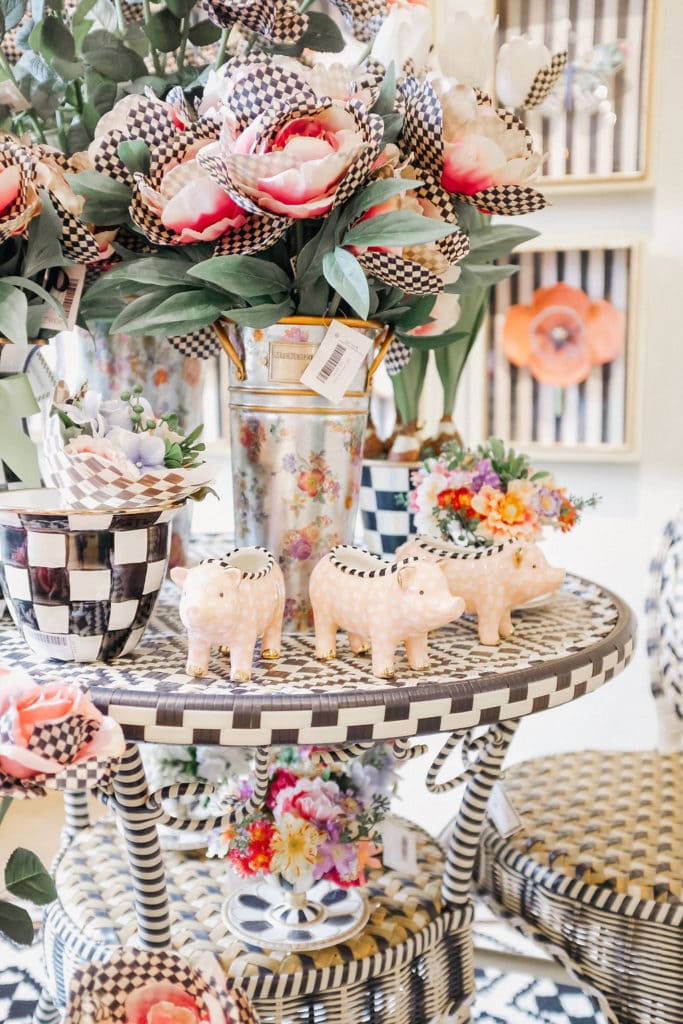 I also took home a little pig to store her pacis.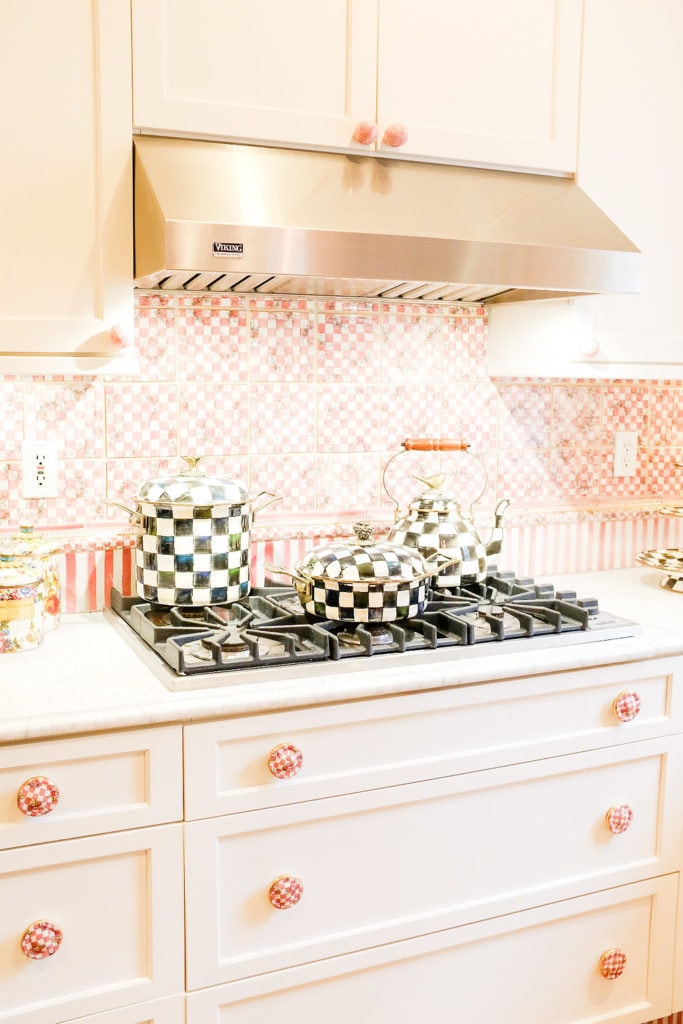 If you make your way to MacKenzie-Childs, you can tour the Farmhouse for free. These tours last about 40 minutes. This entire home is decorated with MacKenzie-Childs' prints new and old. I snapped this picture to send to Paul and ask what he would think of a pink checked kitchen.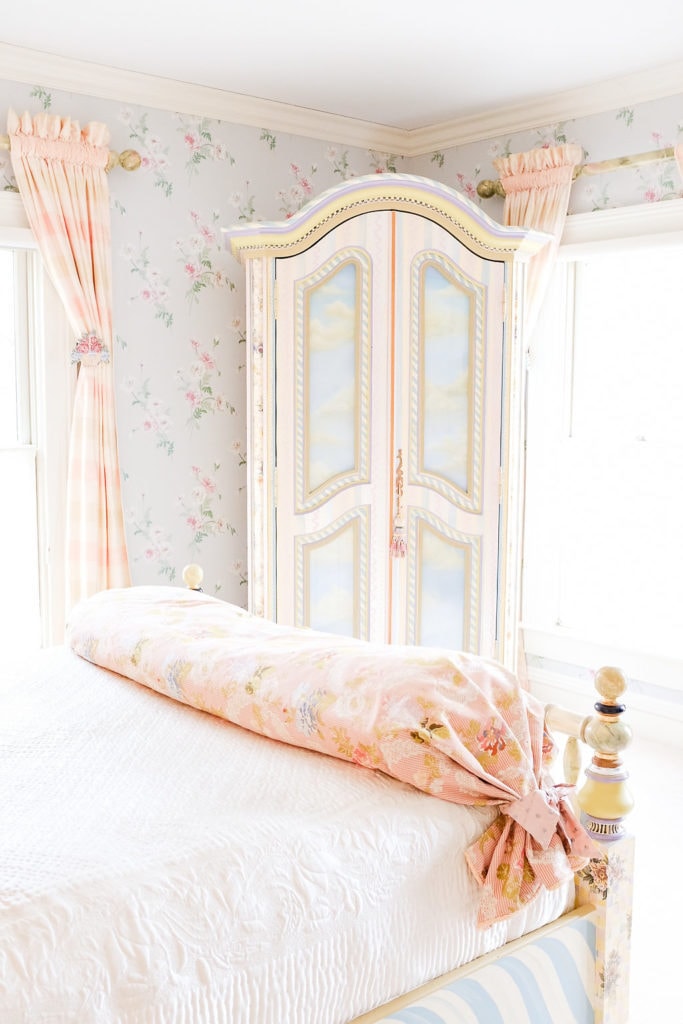 We ended the afternoon by getting to paint pieces for our mothers for Mother's Day. I've never felt so inept at something in my life! I'll show you what I painted after I gift her for Mother's Day, but I'm just hoping she can at least tell the print I was going for. If not, it's going to look like our floor after Maxi drops blueberries and I step on them. Oops.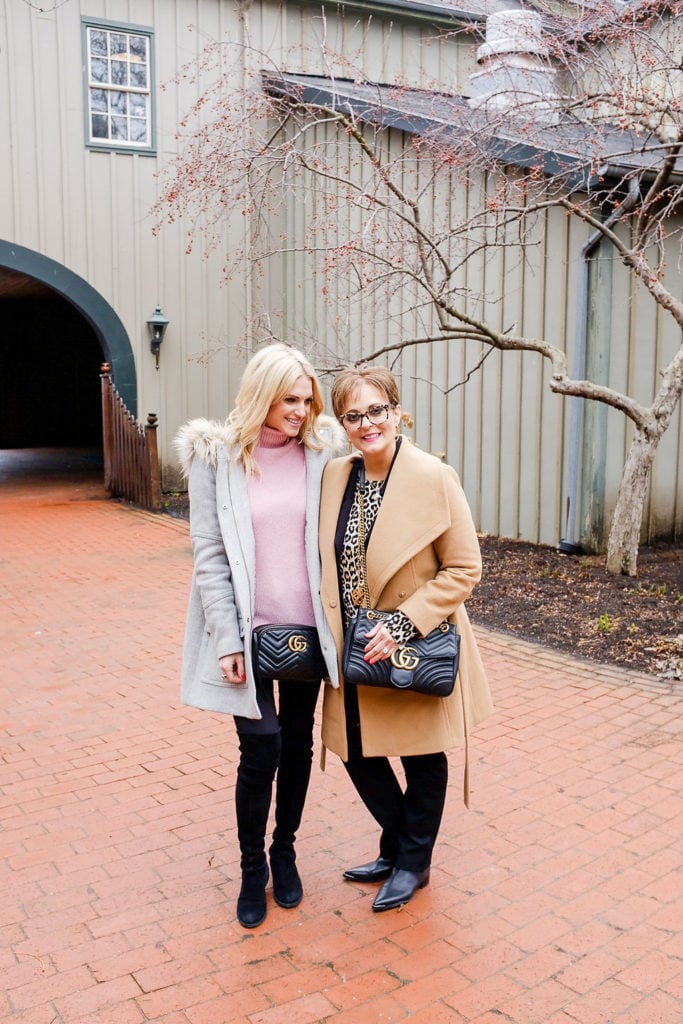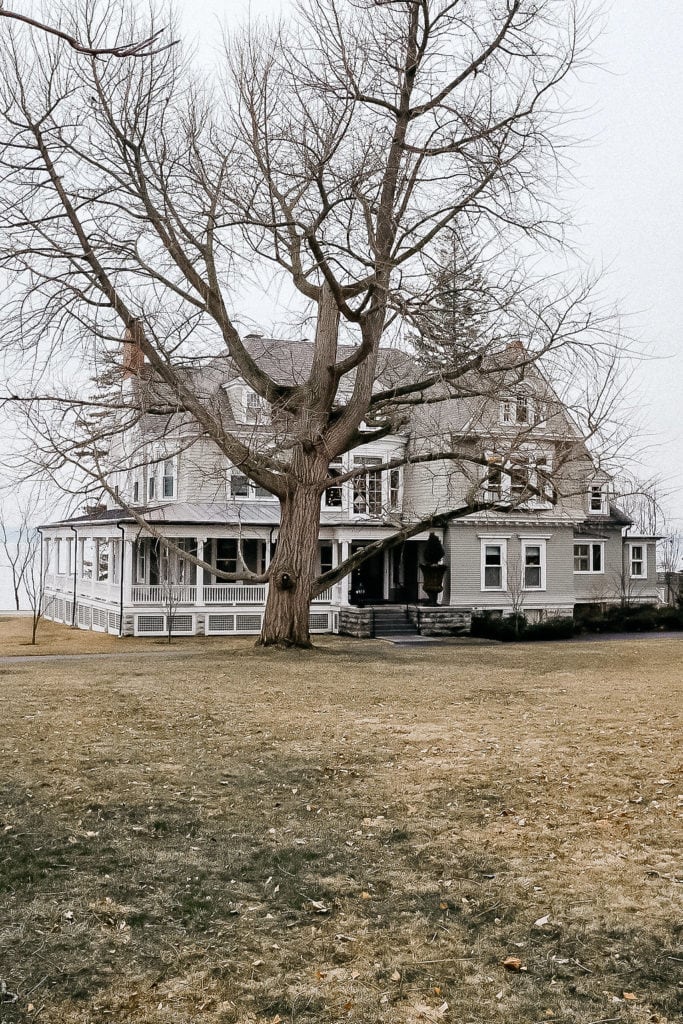 Later that evening we had the most indulgent dinner at one of the inns in town. Every single course was served on the Thistle & Bee Collection, which felt so festive. This was another evening in which my mom sat by her new BFF and Ashley and I agreed, "We have been replaced."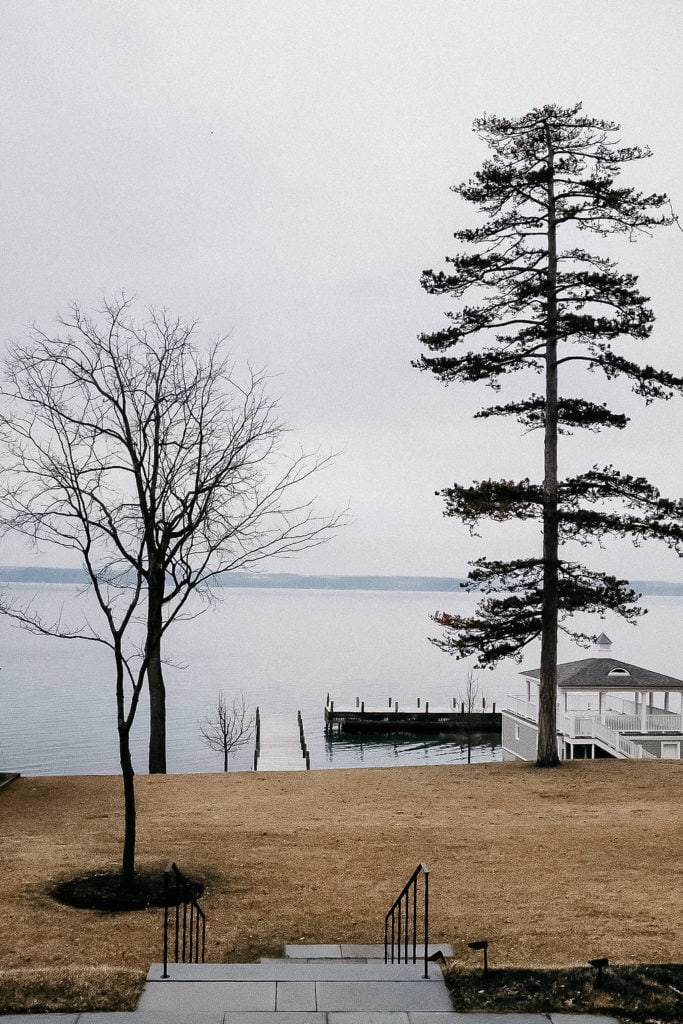 Our last day at #CampMacKenzieChilds was mostly spent at The Rowland House. We got to see a peek at their holiday collection this year. Thanks to that, I've already planned my Christmas Tree! We also enjoyed a farm-to-table lunch and took a place setting class. MacKenzie-Childs is all about incorporating their brand into your lifestyle, so I learned a lot of tricks. First and foremost, I've had our wedding china just sitting in the cabinet because we only have the dinner plates. I hadn't felt justified in purchasing more of our pattern yet, but this class taught me how I can incorporate it into what we already have. I went home and put the plates in with my Sweetbriar Collection and it looks perfect on my Parchment Check placemats.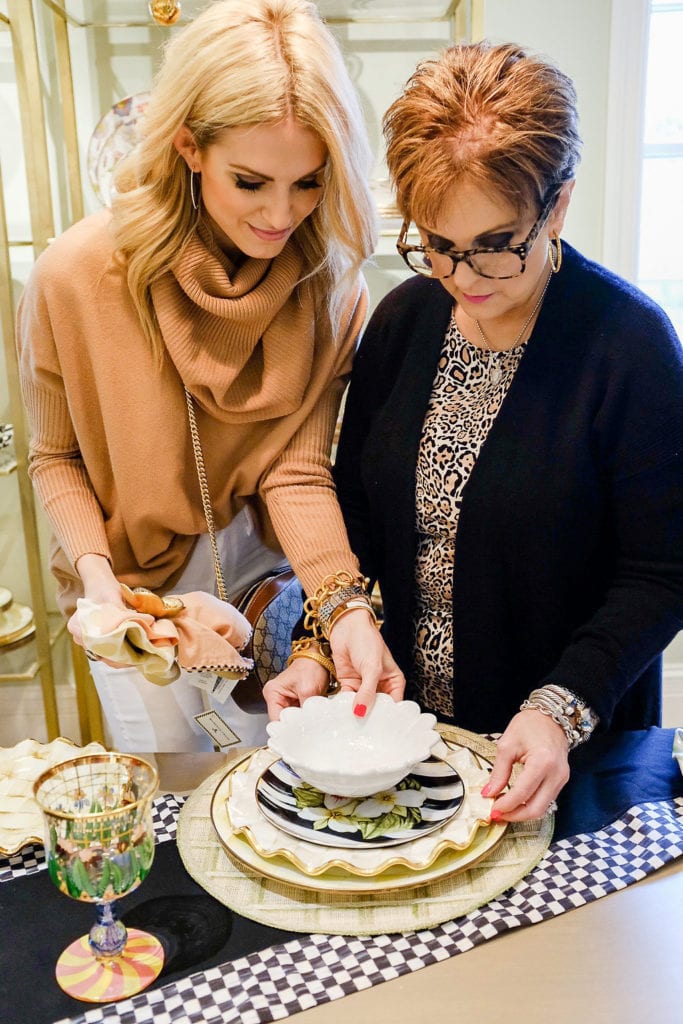 I purchased my mother-in-law those mossy green placemats on our trip because she is such a fan of them! She had texted me after I blogged my blush ones and she asked if they had green. I wasn't sure, so when I saw them during the place setting class I grabbed her some. AKA, stopped the class and was like, "Hi, I need this for my mama-in-law and PLEASE say you have 8. PLEASE!" ha! I couldn't forget her during this trip! If you don't gravitate towards as girly shades, definitely try those.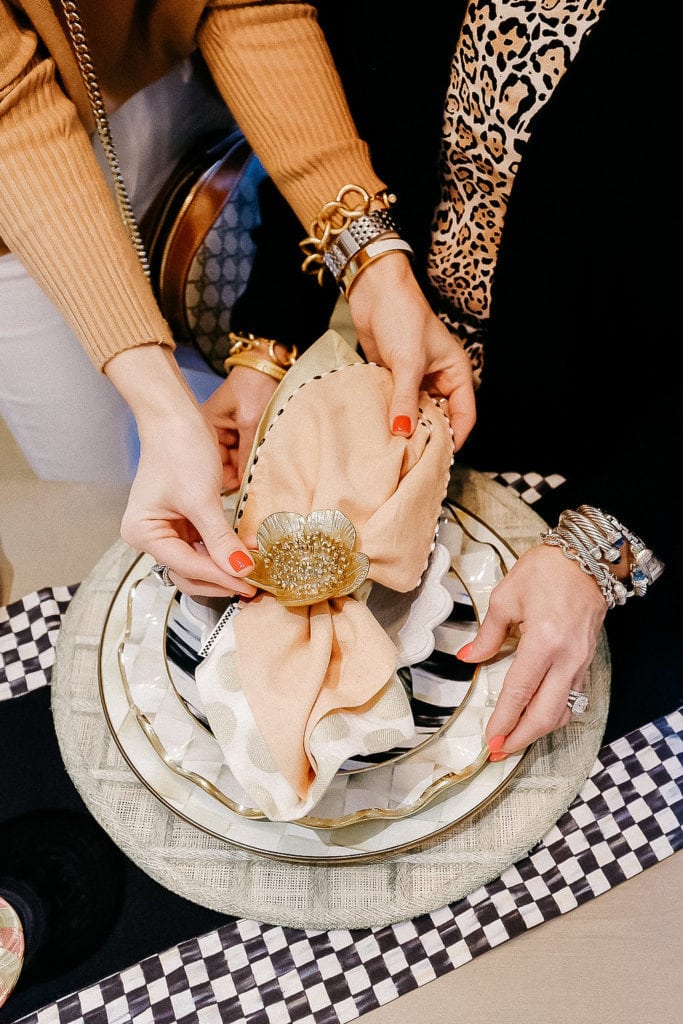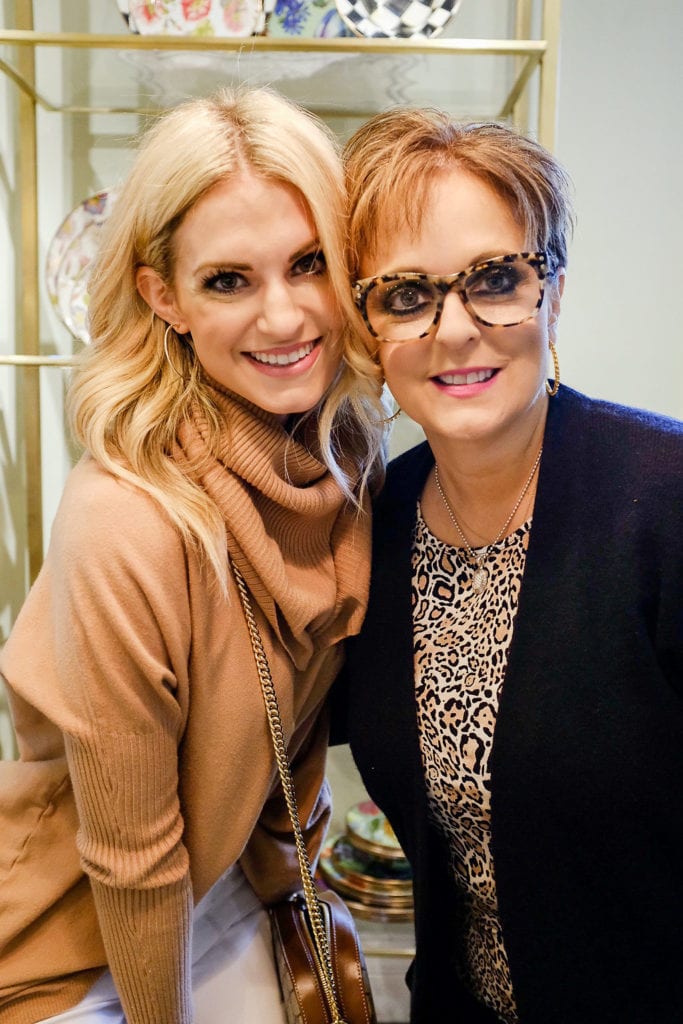 On the last day of the trip, I asked my mom, "What have you learned from this trip?"
I mean, we learned quite a bit in terms of hosting, the history of MacKenzie-Childs and how to paint the pottery! She looked at me and said, "I learned I need to take separate time with my girls." I was a little confused by her response but she went on to explain how she would always feel such mom guilt if she took me to do one thing or my sister to do another. She thought she had to always be fair with both of us. She said we are both different people and different individuals and we can be amazing sisters by feeling assured in the love we have with our parents. She said she now knows she wants to do something with us individually every few years.
I needed to hear that so badly! While I only have one child, it was powerful to hear my mom confide in me that she has mom guilt. I have always viewed my mom as the perfect mother because she loves her daughters so deeply. In fact, I constantly tell her, "Mom, I never saw you flustered. I'm flustered all the time. How did you do it?"
I realized I never saw my mom flustered because I've always seen her through this lens of the absolute love, respect and adoration. I always have mom guilt! If I work, I feel guilty Maxi is playing by herself. If I don't do work, I feel guilty to my readers. If I go to Target, I feel guilty I left her with Paul. If I don't get groceries, I feel guilty as if I'm neglecting to feed my family. When you type those feelings it seems silly, but I think mom guilt can be all-consuming. I feel confident in who I am as a mother, but boy can I be hard on myself. To hear my mom say the same thing gave me such comfort. It almost felt like, "Okay, If I felt that way about my mom and she experienced mom guilt, I hope Maxi feels that same way about me in the future."
So while this trip was a trip of a lifetime because we share this love of MacKenzie-Childs, it was a trip I really needed in this time of my life because I experienced freedom in how I feel as a mother. I felt accepted and validated in my emotions because I was able to share them with my mom. And at the end of the day, that's the power of a good brand. You may know MacKenzie-Childs as the tea kettle so popularly gifted from a mother to a daughter at her bridal shower, but I also view it as a brand of tradition passing down hospitality, dinnerware and love from one generation to the next.
Here's a little video we filmed while we were there!
Below I'll link my favorite pieces I saw that would make fabulous Mother's Day gifts!

In partnership with MacKenzie-Childs. All opinions are my own.