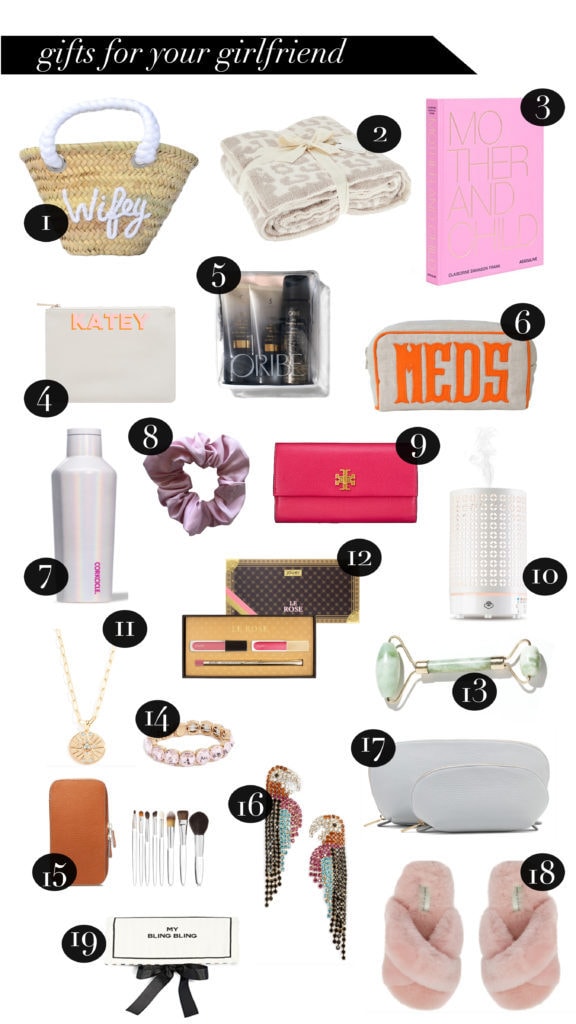 one | two | three | four | five | six | seven | eight | nine | ten| eleven | twelve | thirteen | fourteen | fifteen | sixteen | seventeen | eighteen | nineteen
Popping in today to share a post on what to get your girlfriends for their birthdays or any reason you have to celebrate!
I love a good gift occasion. Last night we celebrated my mom's birthday and my dad kept saying, "You get so into gifts." I get it from my mom! What's better than a sweet card and gift wrap to match?! Not much, my friends. 😉
Maybe you have a girlfriend all about her nutrition that needs a precious bag to pack her vitamins in? If you want to celebrate a newly-engaged friend, this tote is a must. Or if you have a beauty queen in your friend tribe, get her a silk pillowcase! She will love that it extends the life of her blowouts. If you use code "Katey" at Savvy Sleepers they will also give you a free silk scrunchie with each pillowcase purchase. I use the silk scrunchie at home lounging or when I wash my face, so it doesn't put dents in my hair.
Tonight we are starting project Home Edit over at my mom's home. I've got my Container Store bins, my labels and I'm ready to go. Just give me an apron! Not that I technically need an apron, but I'll take a monogrammed one. *Should have added that to the gift guide*
I also wanted to take a moment and say thank you all so much for your unbelievably kind comments and e-mails in regards to Friday's post. I was so anxious to post it and you all blew me away. This blog sometimes feels like a sisterhood of readers and the encouragement you gave me was just beyond anything I could have imagined. There's friendship beneath all the frivolity of gifts and beauty products and for that, I am so grateful!
Be blessed this week!