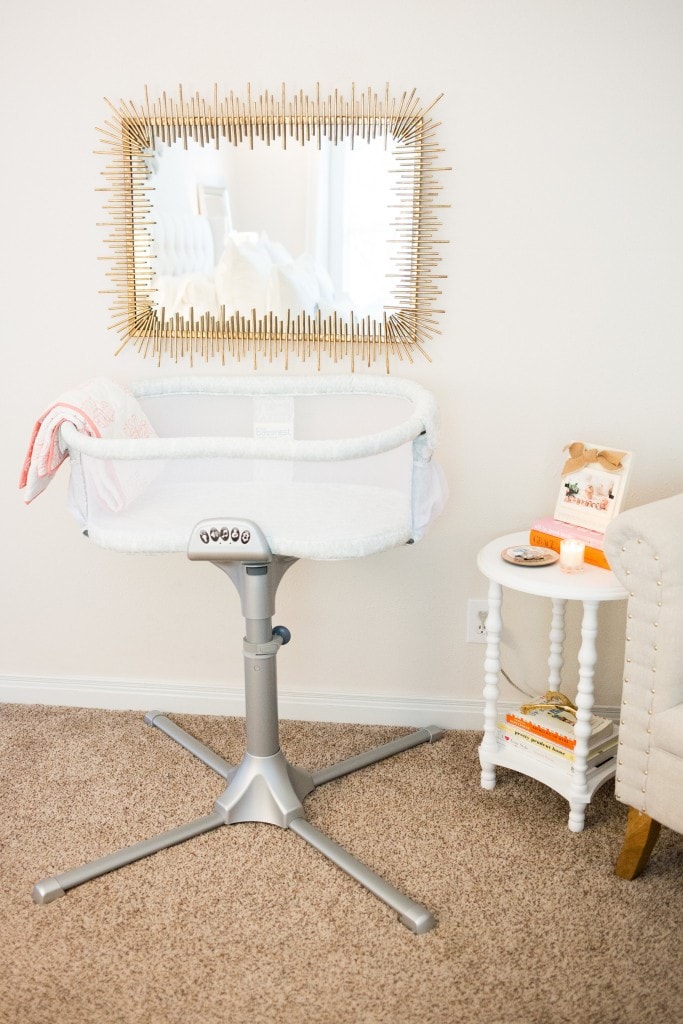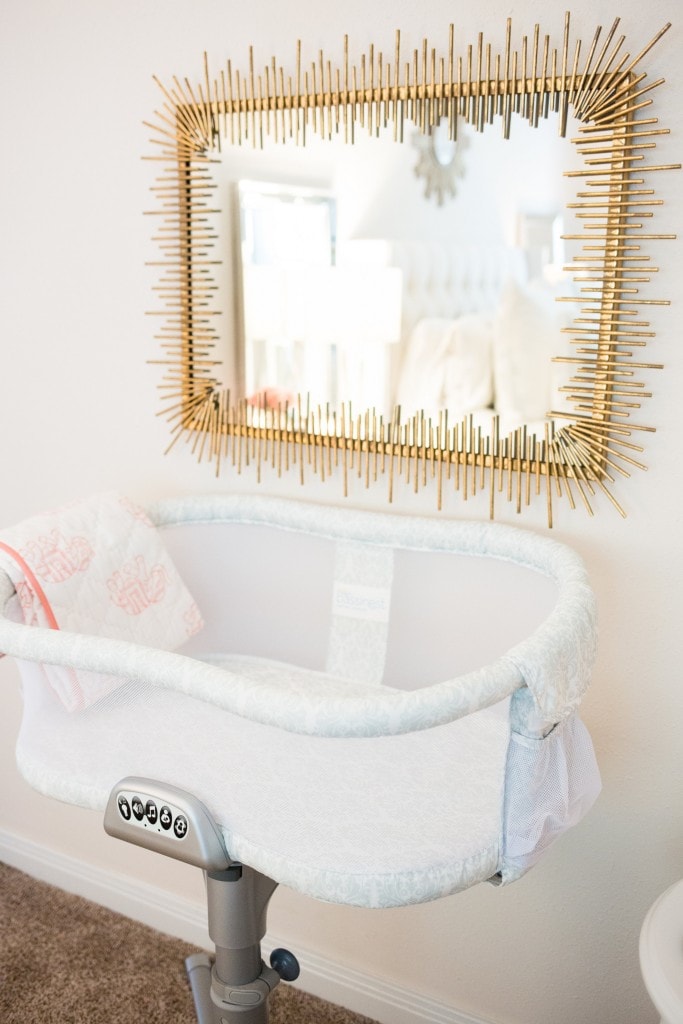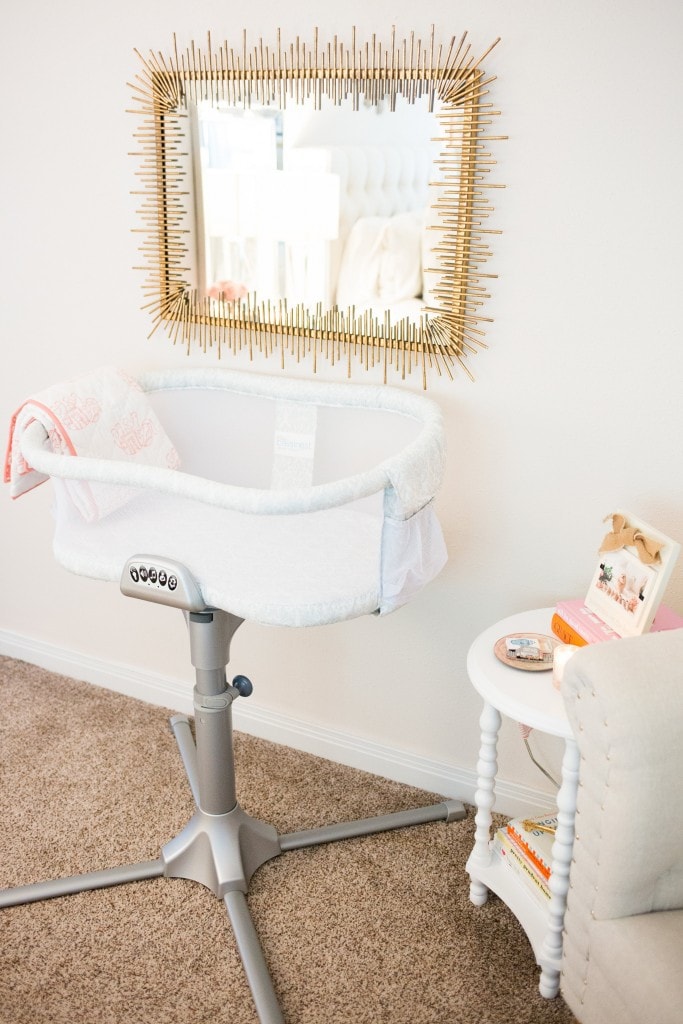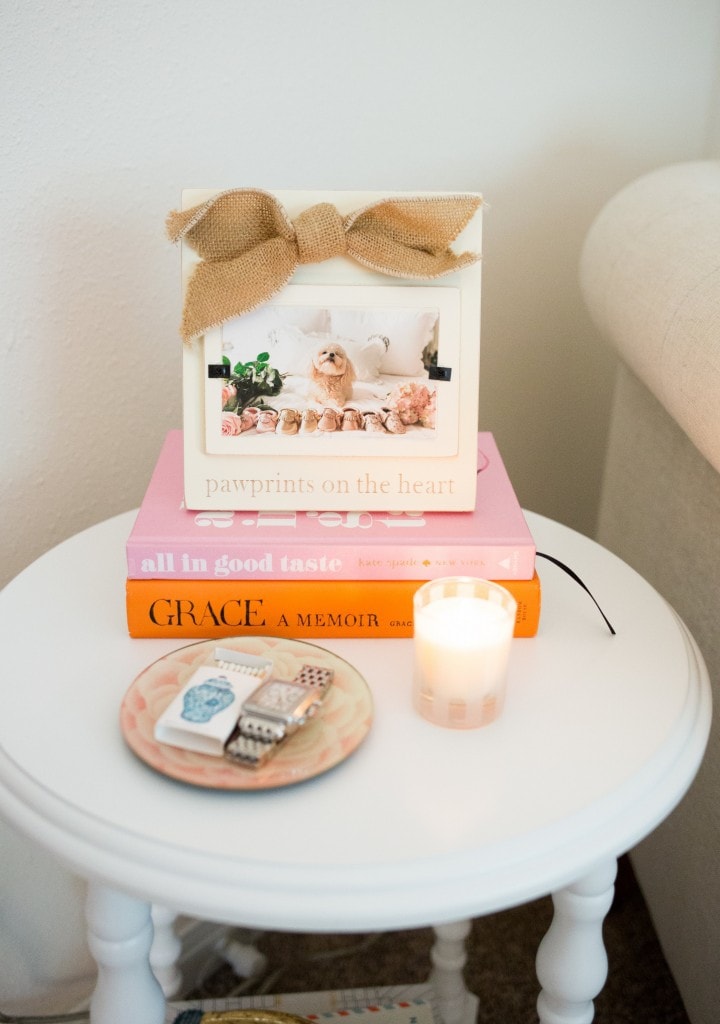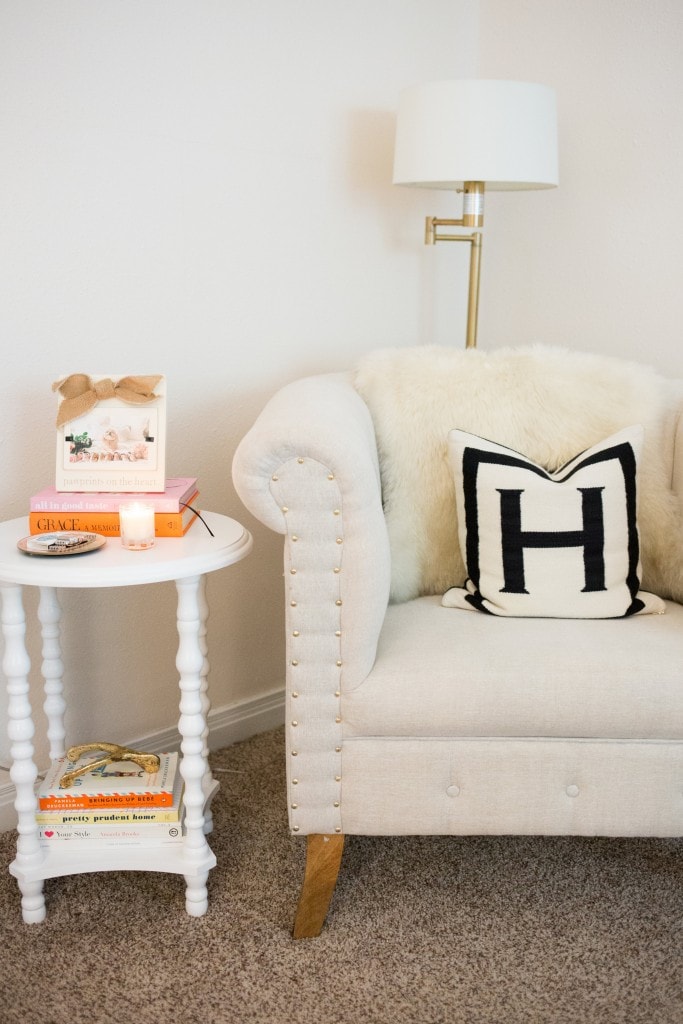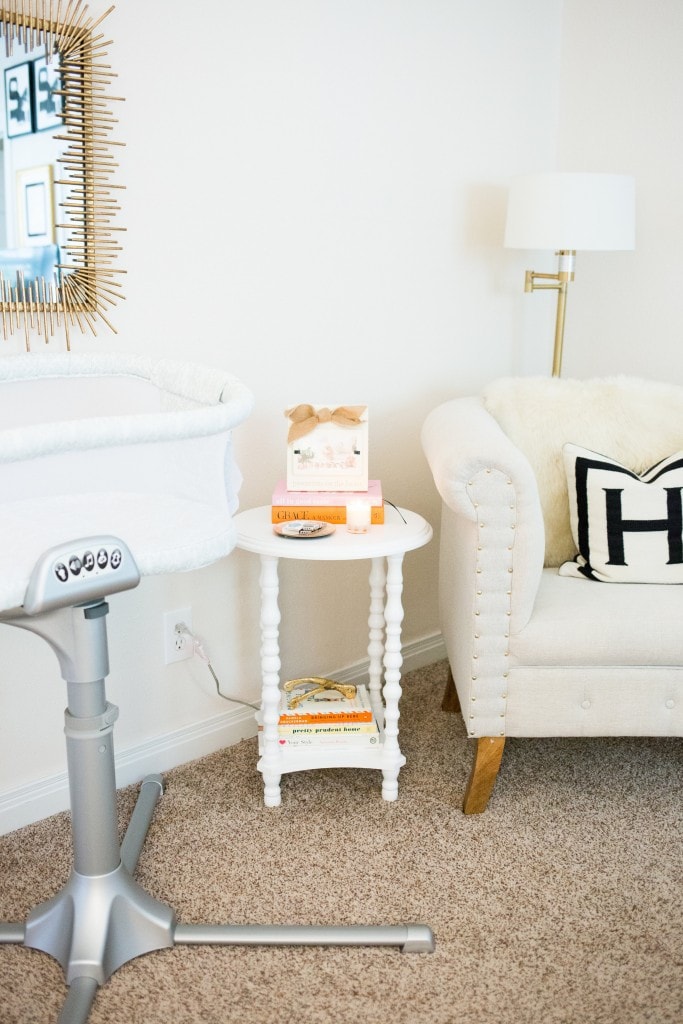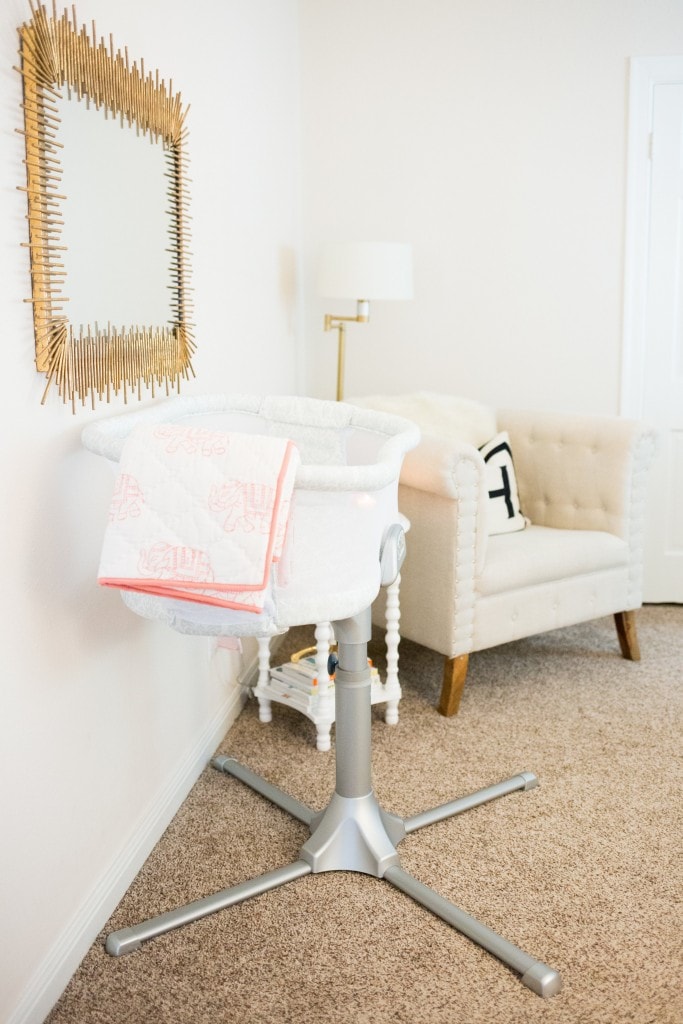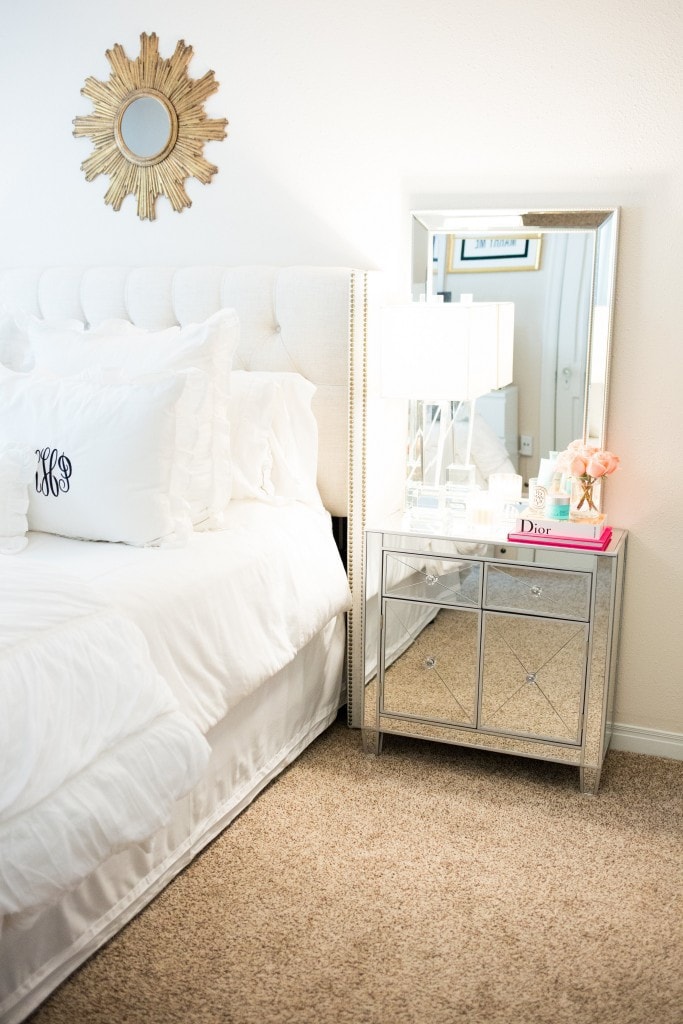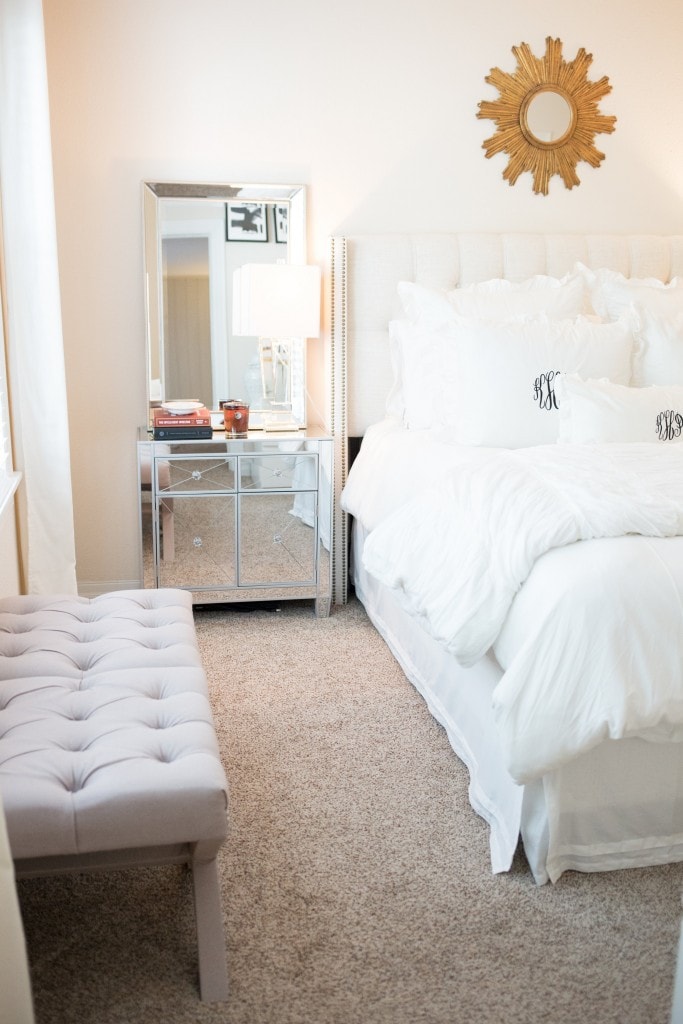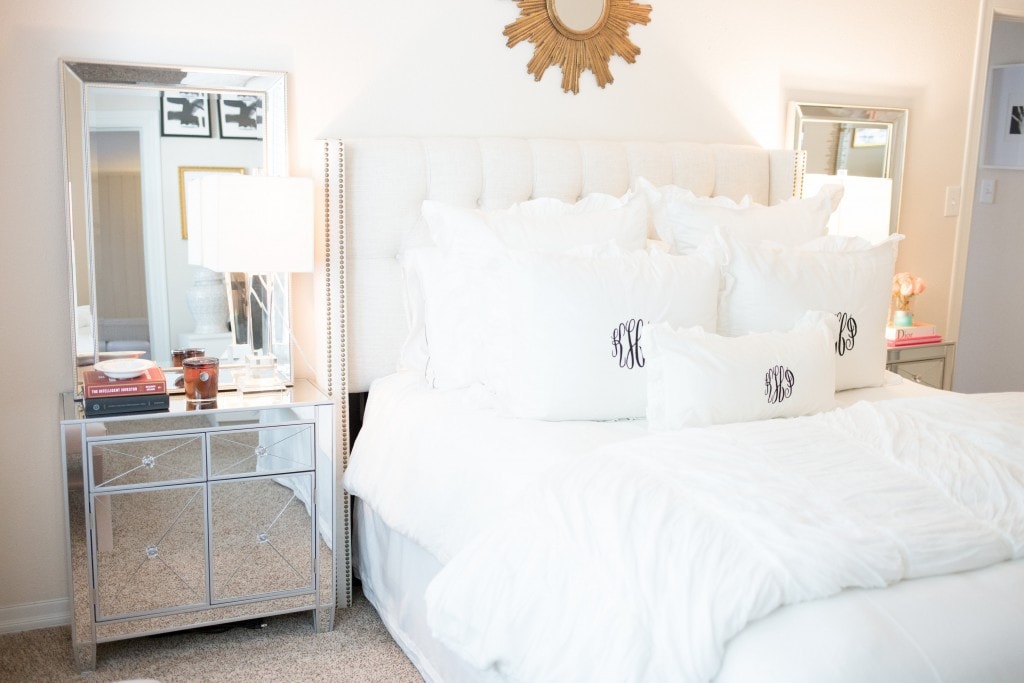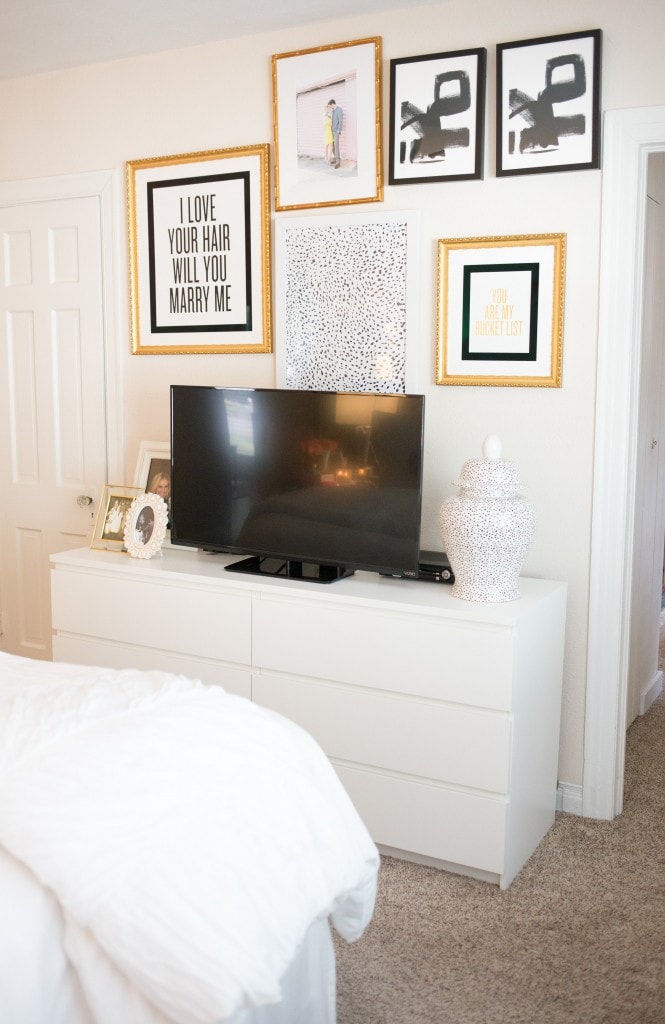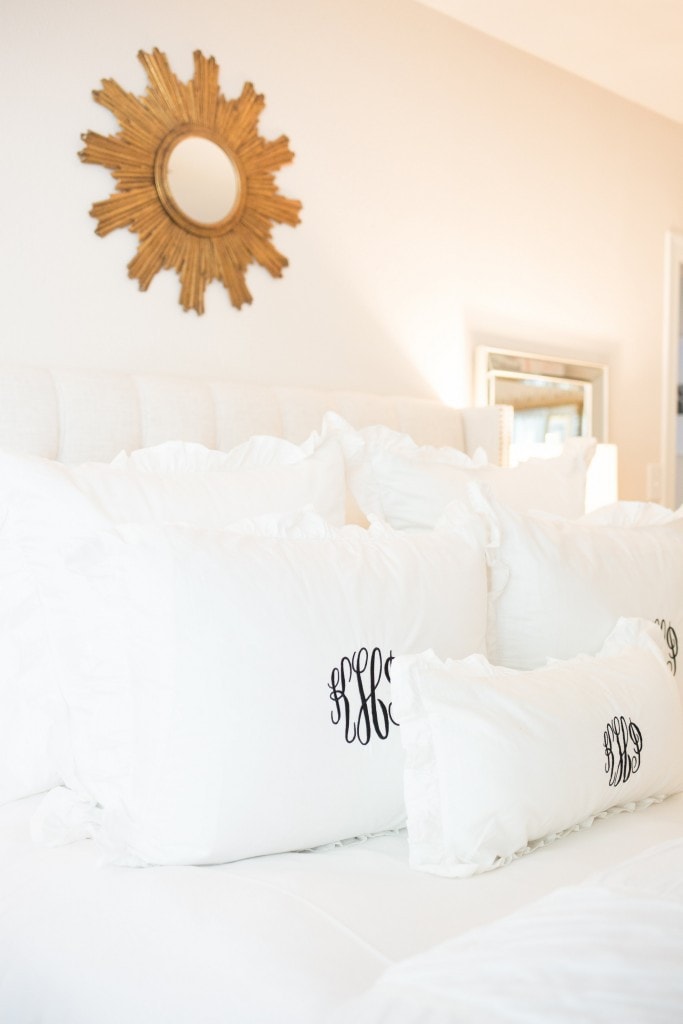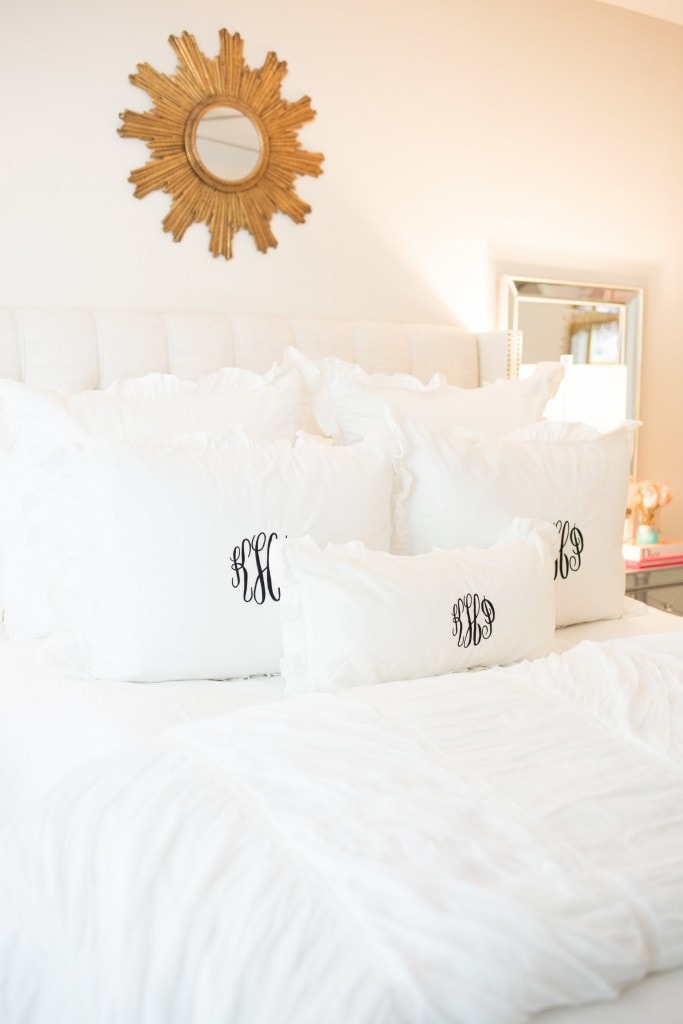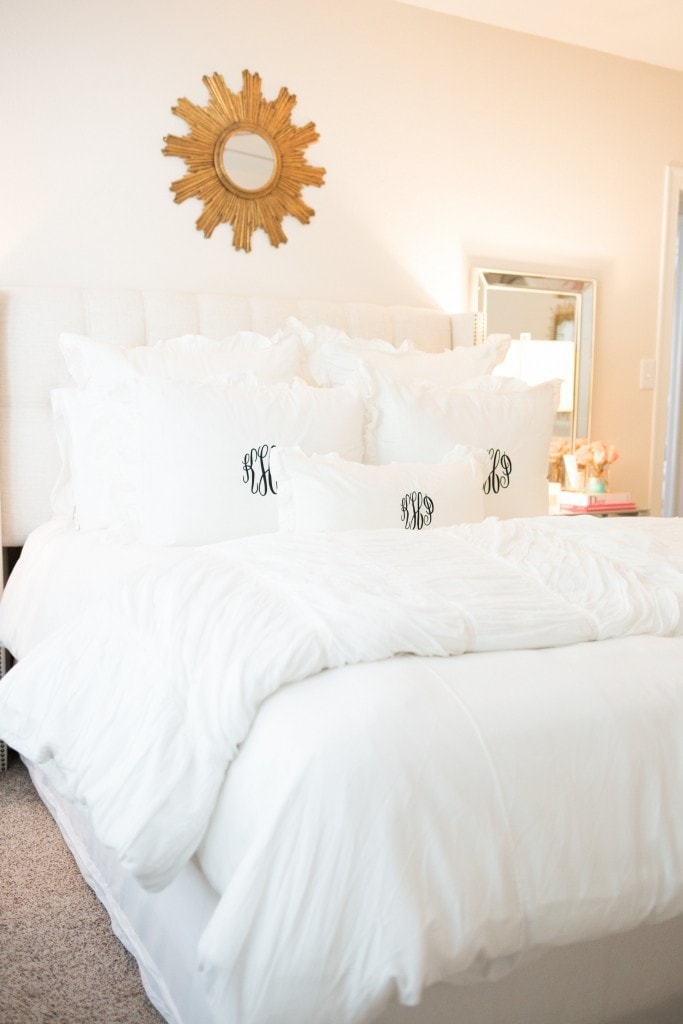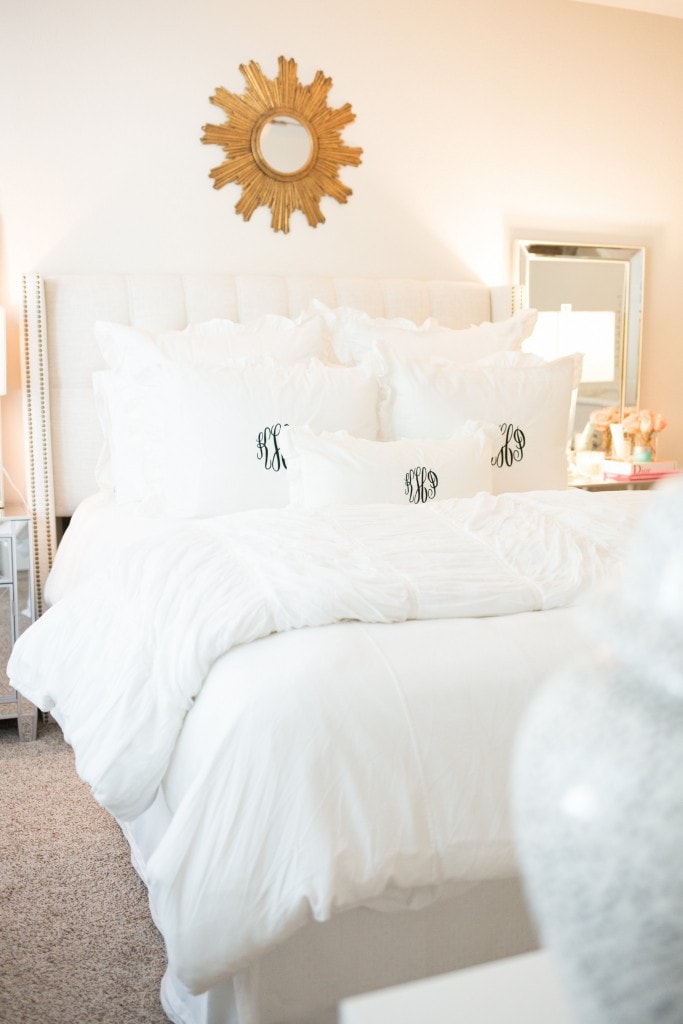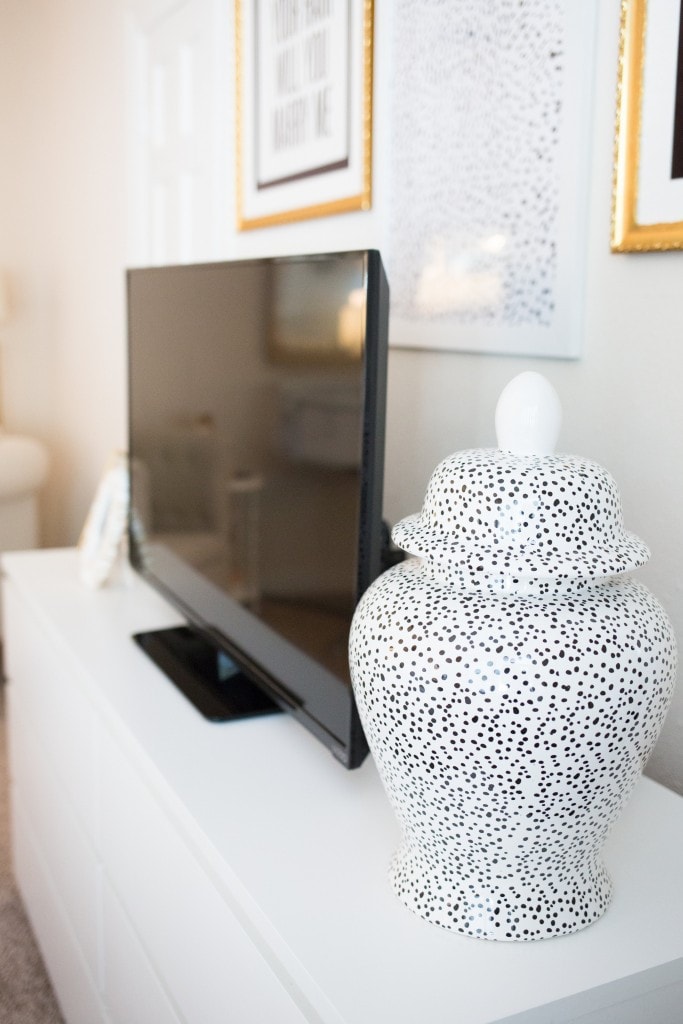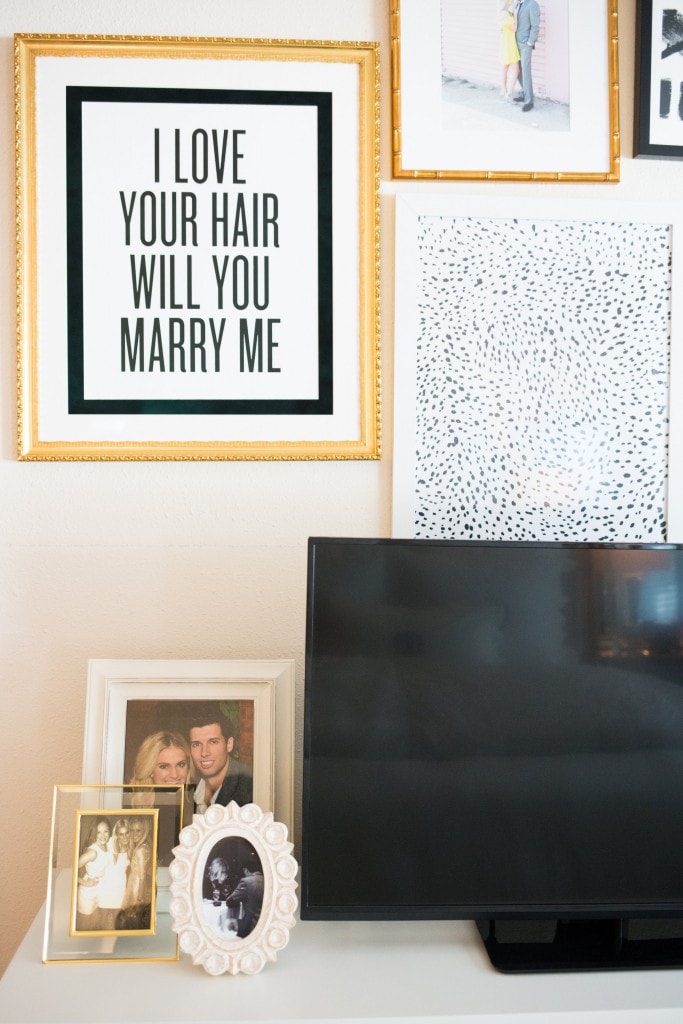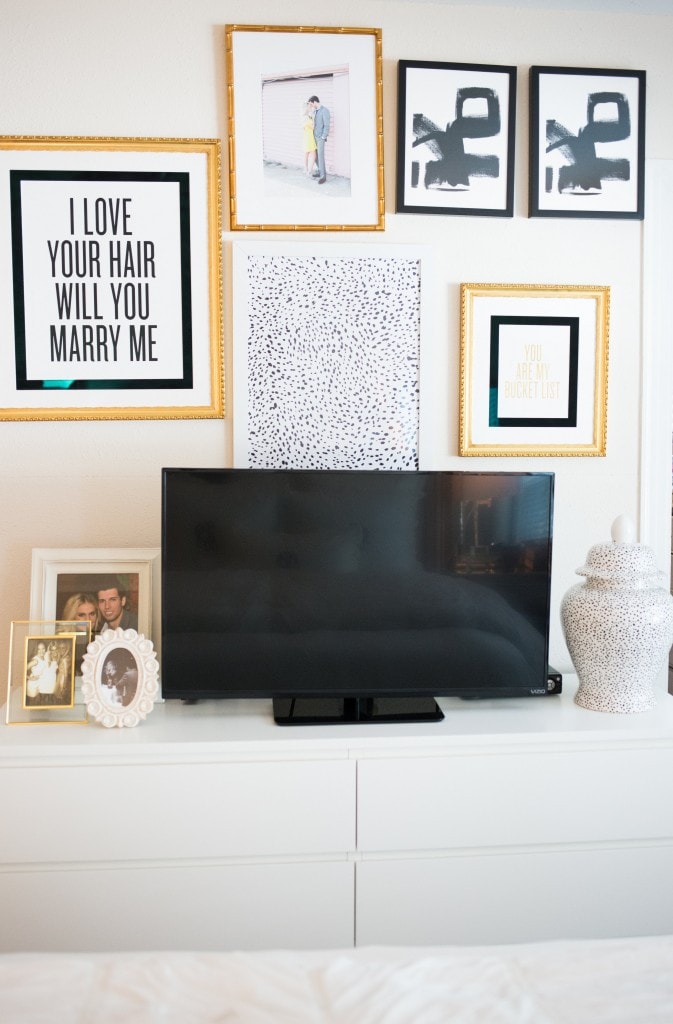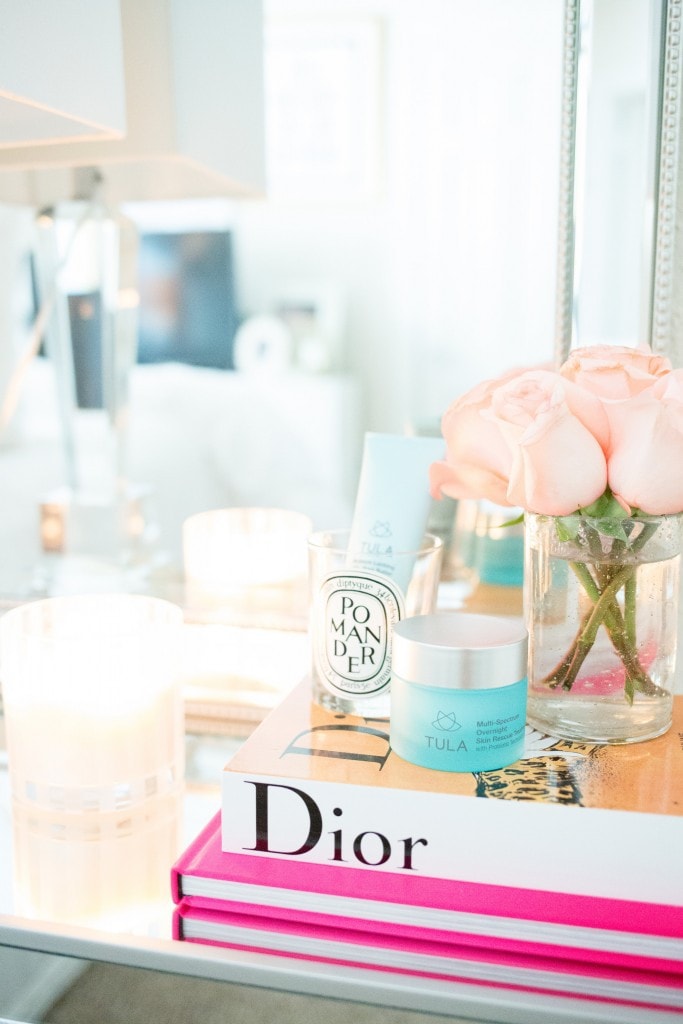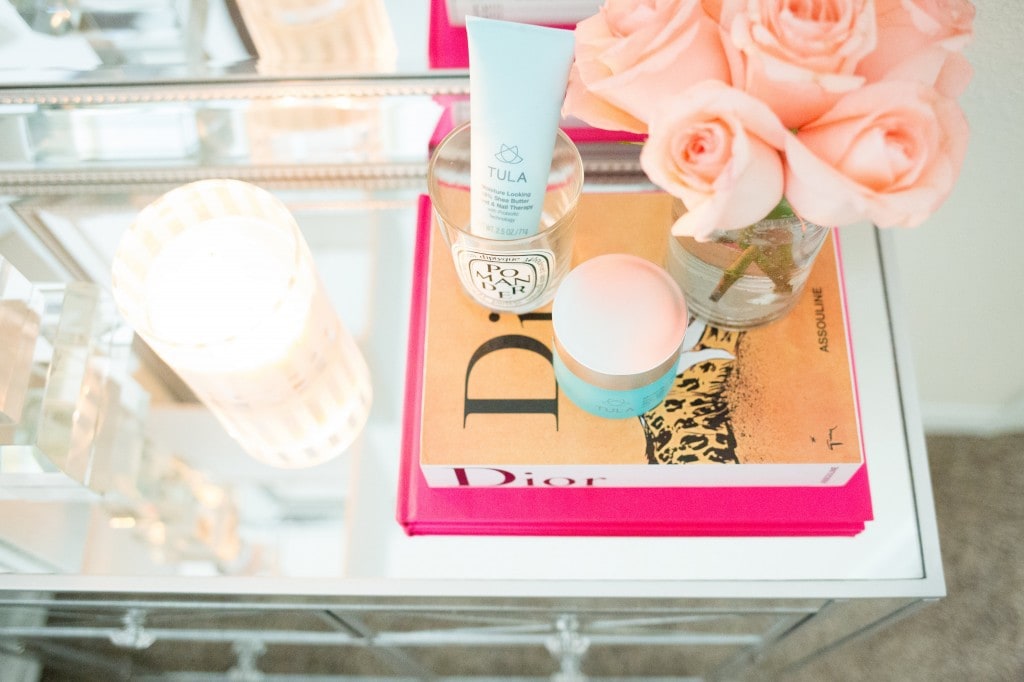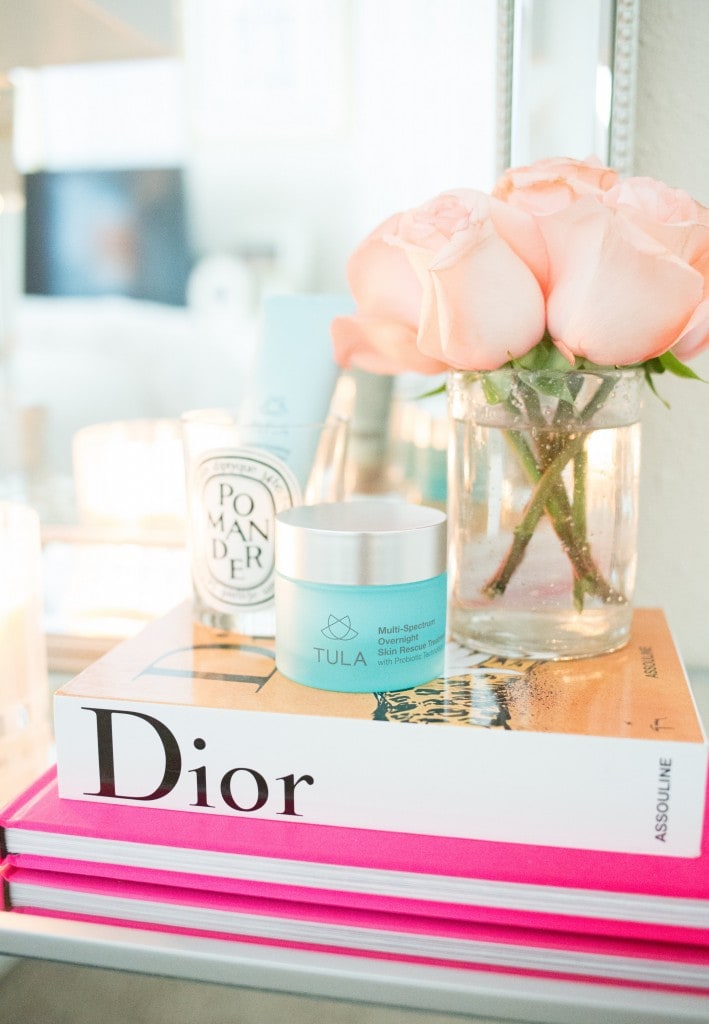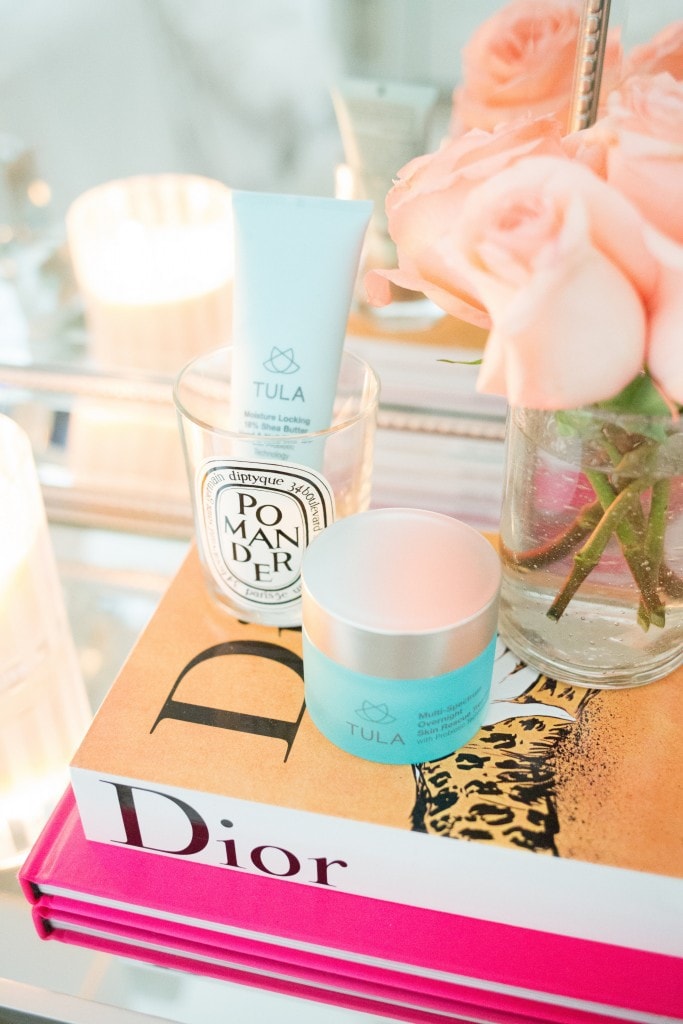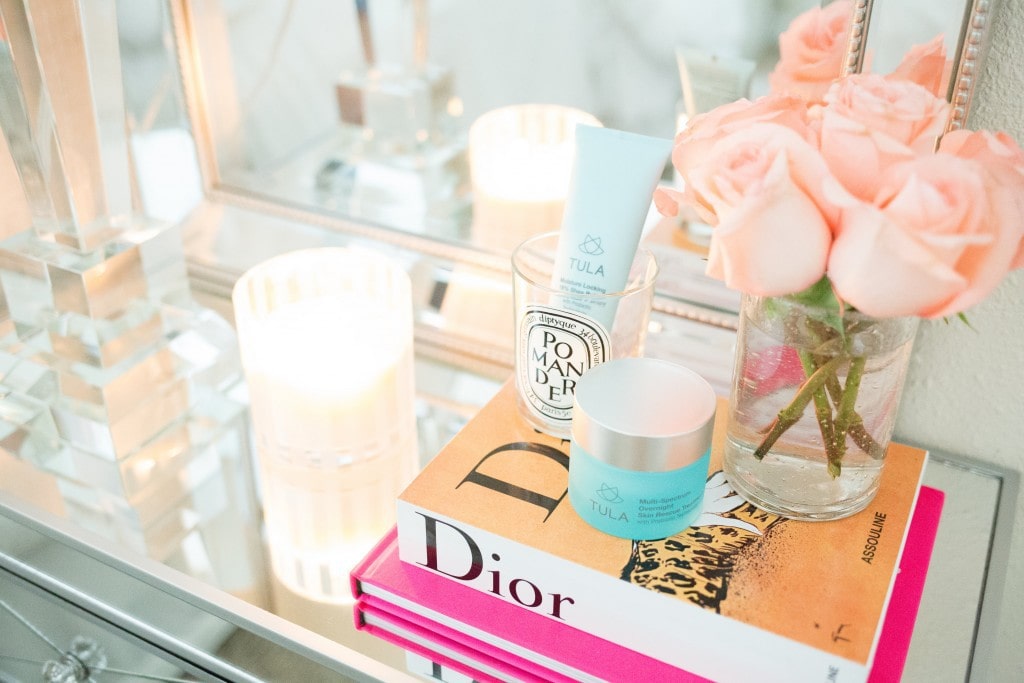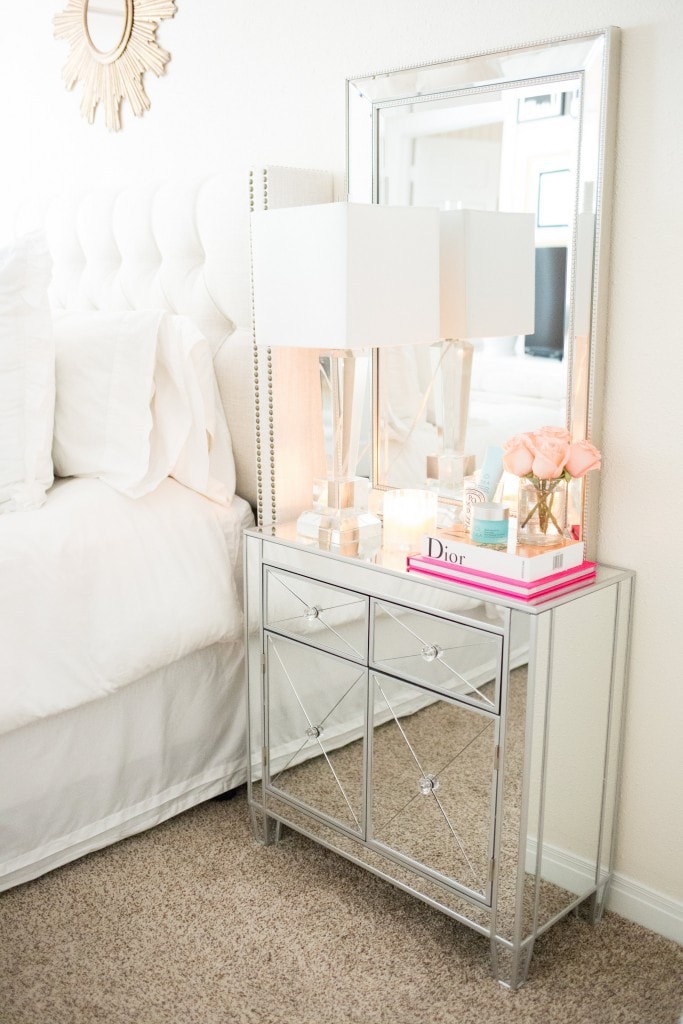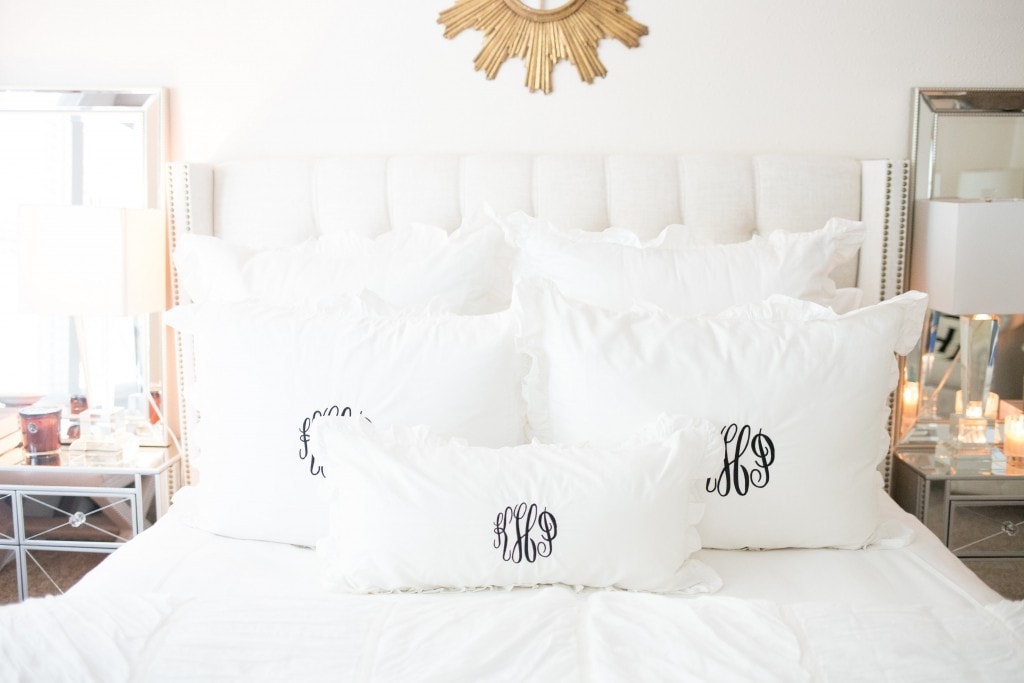 Headboard: Wayfair | Bedding Pillows: Crane & Canopy [c/o] | Duvet: Pottery Barn | Duvet on End of Bed: Anthropologie | Nightstands: Wayfair, Similar | Lamps: Homegoods | Side Table: Homegoods | Chair: Homegoods, Similar | Mirrors: Similar | Candle: Henri Bendel [c/o] | Dior Book: Amazon | TULA Overnight Treatment: TULA [use code shopkatey25 for 25% off!]  [c/o] | TULA Hand Cream: TULA | Bassinet: Halo | Baby Quilt: Rickshaw Designs [c/o] | Frames: Wedding Gifts | Dalmation Jar | Shop Rachel George [c/o] | Dresser: Ikea Malm Dresser | I Love Your Hair Print: Read Between The Lines | Mirror Above Bassinet: Safavieh | Faux Sheepskin: Similar [for a steal!] | H Pillow: Jonathan Adler | X-benches: Overstock, Similar In Stock | Sunburst Mirror: Similar
Photography by: Madison Katlin
---
At 25 weeks pregnant, nesting has kicked in! Up until now I have had no desire to clean or organize and I'm a ridiculous clean freak! My #1 hobby is purging, so it was so bizarre that I just did not care! But slowly that desire came back and I was even contemplating at 1 a.m. the other night if I could go deep clean our pantry. haha!
One of the first rooms I wanted to purge and organize was our master bedroom. I knew that no matter what I wanted our master organized, clean, and filled with lots of new pajamas since I'll be living in this room for quite a while after we bring our little girl home from the hospital. This room has an odd layout, because when we bought it the room had 4 doors going into it! 1 to the hallway, 1 to my office, 1 to the closet and 1 to the outside. The very first thing I did before I even moved in was enclose the door to the outside. Paul and I didn't live together before we were married so I lived in this house for about 6 months and I was not about to sleep next to a door that went outside. I watch far too much Law & Order SVU for that. Far too much! But even after we enclosed a door it still has an odd layout as it is a smaller bedroom and you're dealing with 3 doors as opposed to the standard 2. So that's why it's a little bit harder to photograph and you can't really see the whole room in one shot in case you're wondering. 🙂 But numerous doors and all, it has become one of my favorite rooms because it is so relaxing and clutter free!
Here's a few tricks I use for keeping our master bedroom as peaceful as possible:
1. Neutral Furniture
I'm all about decorating your home in products you love, not products you "think" you're supposed to love. So if that means you have a big zebra ottoman, that means you have a big zebra ottoman. And more people will probably ask you where you got it than if it were just neutral! 😉 So go on and decorate with what you love! But I definitely didn't want to do anything overly trendy or eye-catching in our bedroom. I kept it to mirrored, white and linen furniture and I'm so glad I did. These pieces are the first and last things I see each day so I wanted it to be calming and feel like we were at a hotel. These nightstands were my favorite piece we found for our bedroom because of the cabinets. We had open nightstands and I hated how you saw all of our books and clutter. It just didn't seem relaxing, it made me feel like I needed to get up and organize things in a certain spot. Now I can shut the cabinet and not see it. I'm sure when baby H comes I'll keep things like burp clothes, diapers, etc. for when I don't want to go to her nursery in the middle of the night to grab something. Here is a similar one in stock.
2. Layers of Texture
I'm a big believer in white bedding and I 100% acknowledge it can be intimidating. I mean before I was pregnant my two favorite things were red wine and spray tans, the ultimate enemies of white bedding. Here is a post I did this past summer on how I keep our bed linens white. A trick for making your bedding feel like a hotel is to put two duvets in your duvet cover! That's what stores like Pottery Barn do to make you want to dive into their styled beds on the floor. If you don't like that look another trick is to add another white duvet in a different texture at the end of the bed. Our duvet is Pottery Barn so it's very classic and then I put one from Anthropologie [a bit more trendy] on the end of the bed. Or do the reversal with a more textured duvet and something clean on the end. I also suggest picking up a few faux fur sheepskin throws to throw on the back of a chair or to put on the floor by your bed. Or if you are still living in a bachelorette pad I would sweep these up and throw them on my bed- so feminine and romantic!
3. Keep Beauty Products in or on Nightstand
Nothing makes you feel less peaceful than waking up in a face full of makeup or with dry, tired skin. To combat both of those issues I have a trick to keep my favorite nighttime routine beauty products on and in my nightstand. This makes it to where I honestly can't NOT use my products no matter how exhausted I am. I keep makeup removing wipes [which I don't encourage, but if you're exhausted this is better than sleeping in makeup!], an overnight  treatment/moisturizer if I have already washed my face and a hand cream. I know most of you aren't pregnant, so I wanted to share my favorite overnight treatment before I was pregnant! Y'all know my love for TULA and they created an overnight treatment that is meant to repair your skin. The Overnight Skin Rescue Treatment is an anti-aging product [which is why I'm skipping during pregnancy] but it also moisturizes, repairs damage, REDUCES pore size [amen!], and heals any issues you have going on. Meaning if your skin is confused like mine can be and has blemishes and fine lines, it will work to repair both overnight. You also wake up with a really plump texture that looks like a fresh-faced model. The other product I keep is the TULA hand cream in my nightstand. One trick for extending manicures is to use a generous [more than you normally would] amount of hand cream right before you go to sleep and I let it absorb overnight while I sleep. This helps my cuticles stay soft and polish stay  on because this TULA product is not only a skin treatment, but a nail therapy treatment as well. Because my nighttime routine consists of TULA they were so generous to give COF readers 25% off until Friday! Use code: shopkatey25 at checkout and get 25% off [it just won't apply for the duo hand cream sale they currently have going on]. If you haven't tried TULA, I really suggest the discovery kit so you can get a feel for everything here. Or if you are interested in just the hand cream [it is so good and doesn't leave your hands feeling greasy!] they are currently running a special. You can purchase two creams here for $32, which is 30% off! Keep them both for yourself or gift one for the holidays. My top two favorite TULA products are the exfoliating treatment mask which heals any blemish for me in two days and their cleanser which I buy in bulk. I always buy 3-4 at a time because someone that shares a home with me *my husband, cough* uses this stuff up like candy. Here's a few other posts I've shared my reviews on the skincare line if you are curious and haven't read them before: here, here, here.
What are your favorite things in your bedroom?!
One last reminder you can get 25% off TULA until TOMORROW with code: shopkatey25 at checkout!

P.S. I do want to note she won't sleep with that quilt in her bassinet of course. I just thought it was a sweet addition for tummy time and cuddling in our room. 🙂 The bassinet also won't be under a mirror when she is sleeping. The reason we went with the Halo is it swivels and is meant to be placed by your bed while baby sleeps so you can easily sit up to nurse, etc. It's just right there until she comes home from the hospital.
P.S.S. I use the other TULA products while pregnant! My doctor and dermatologist approved, I just have chosen to stay away from anti-aging or eye cream while pregnant! I use the cleanser and moisturizer daily.