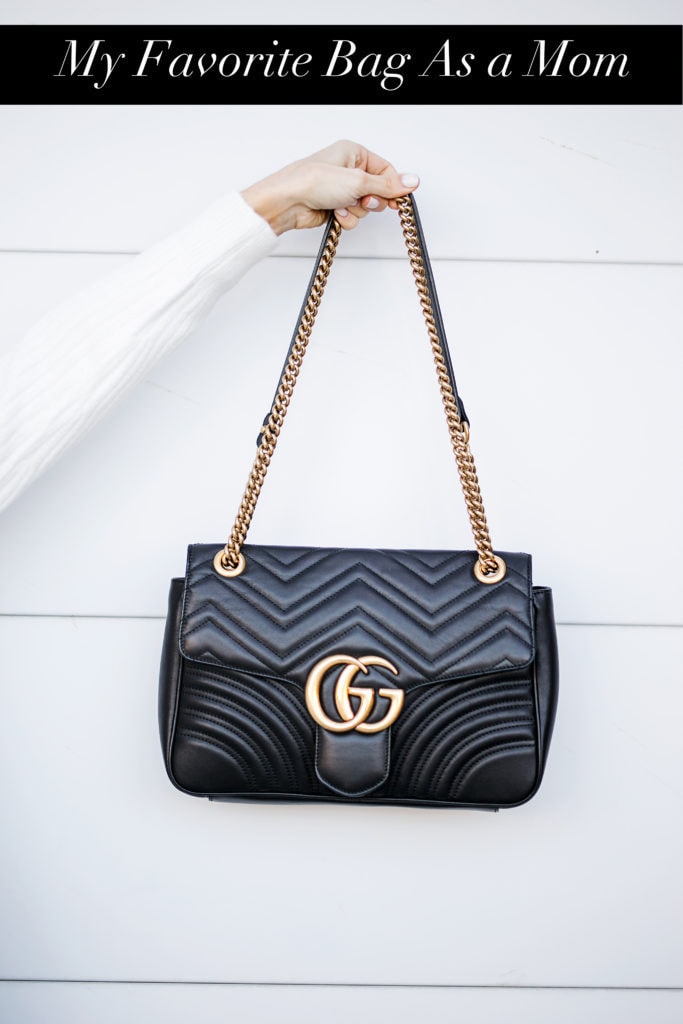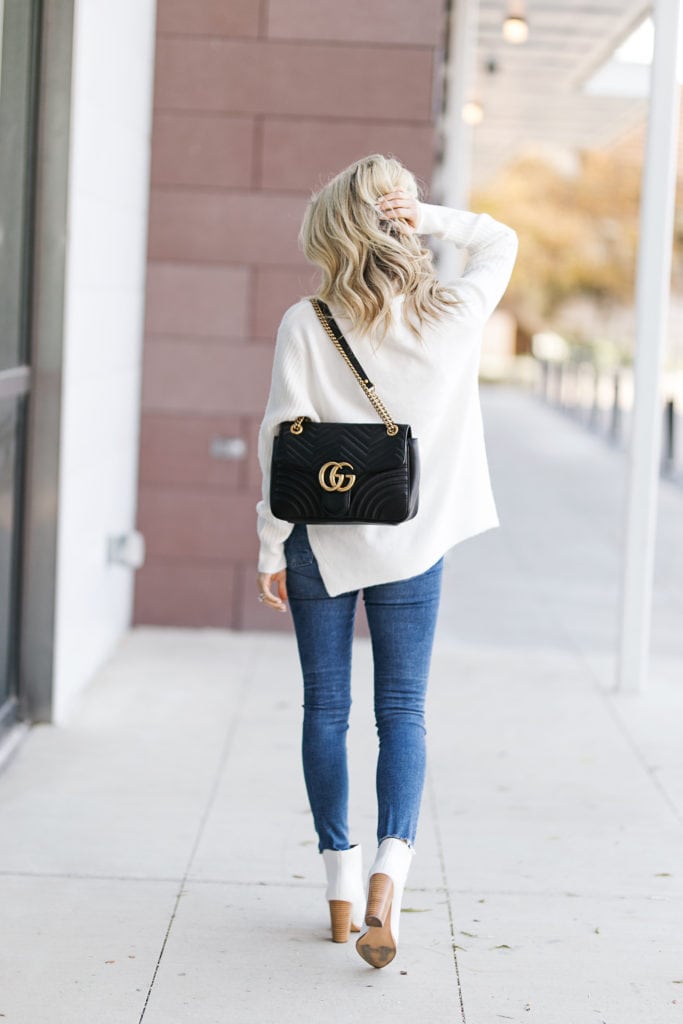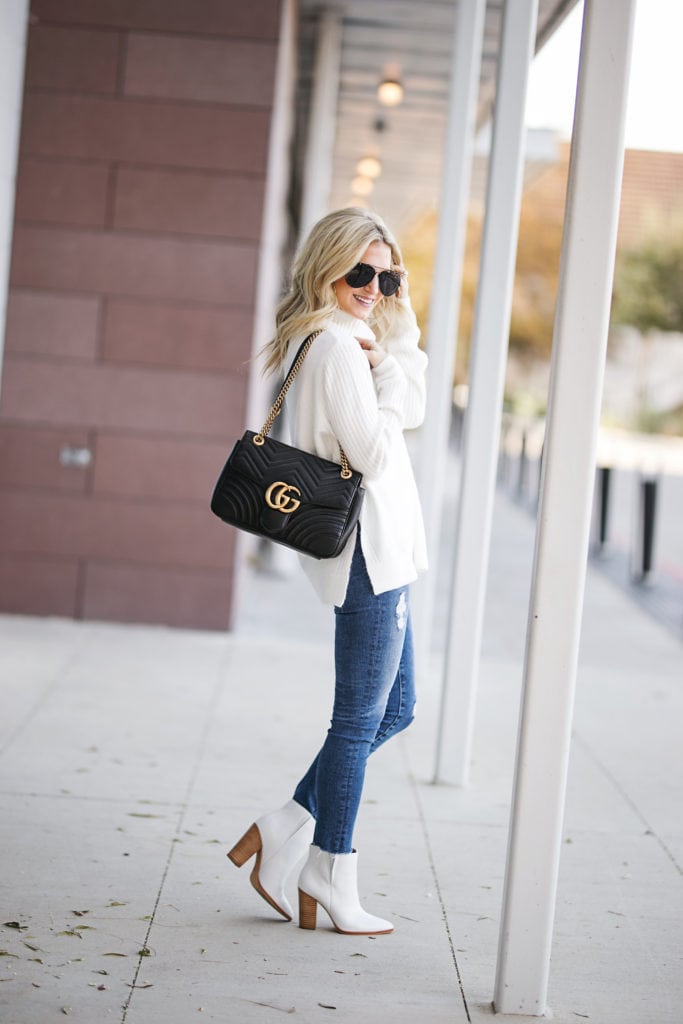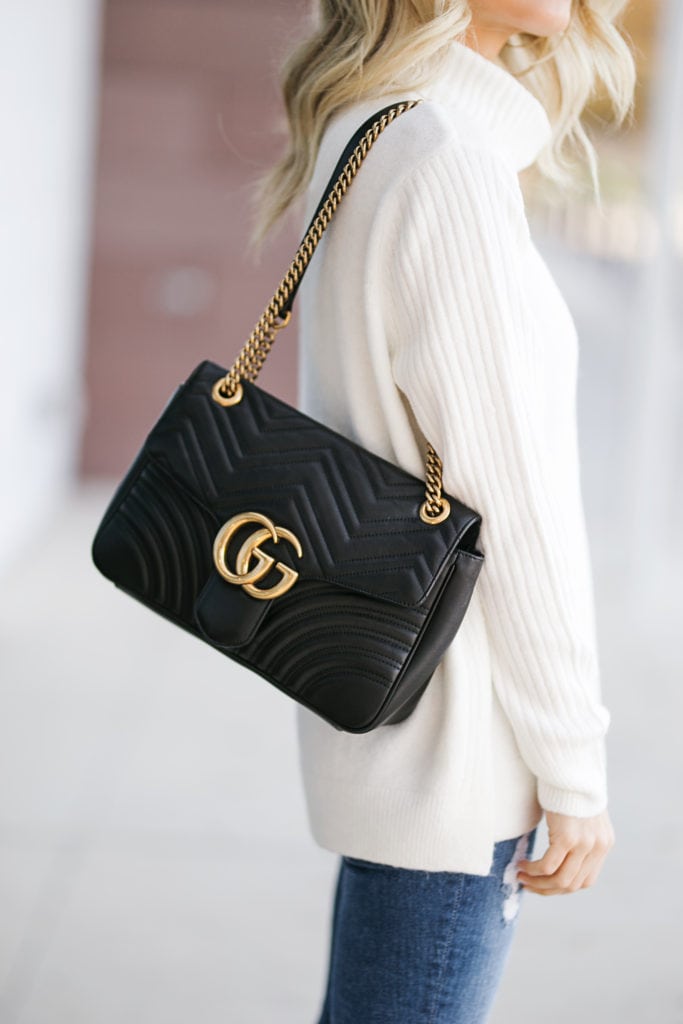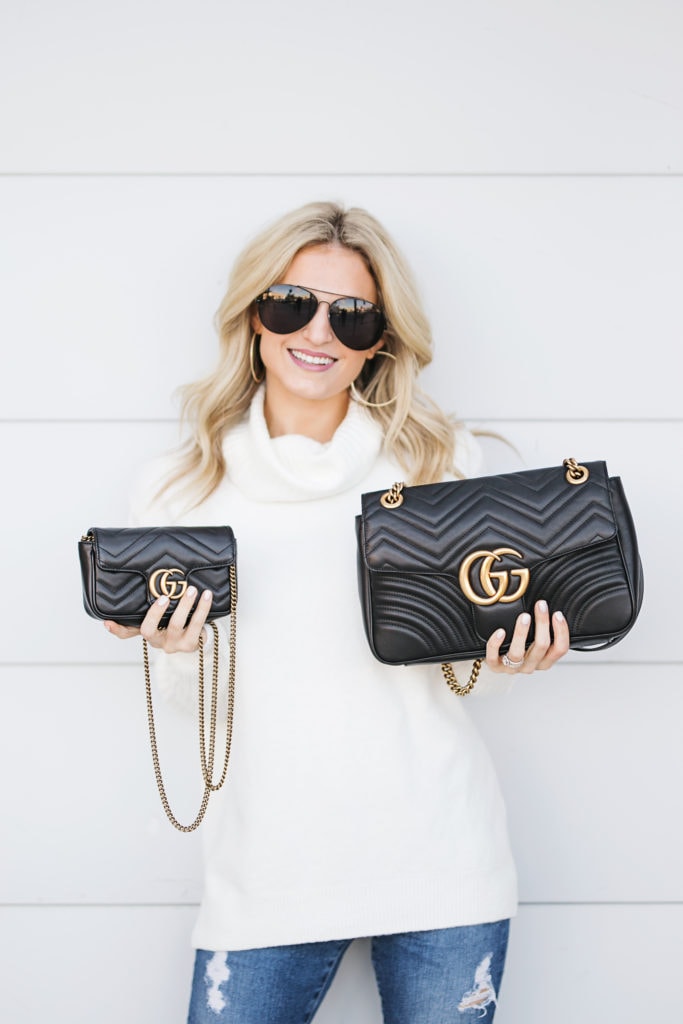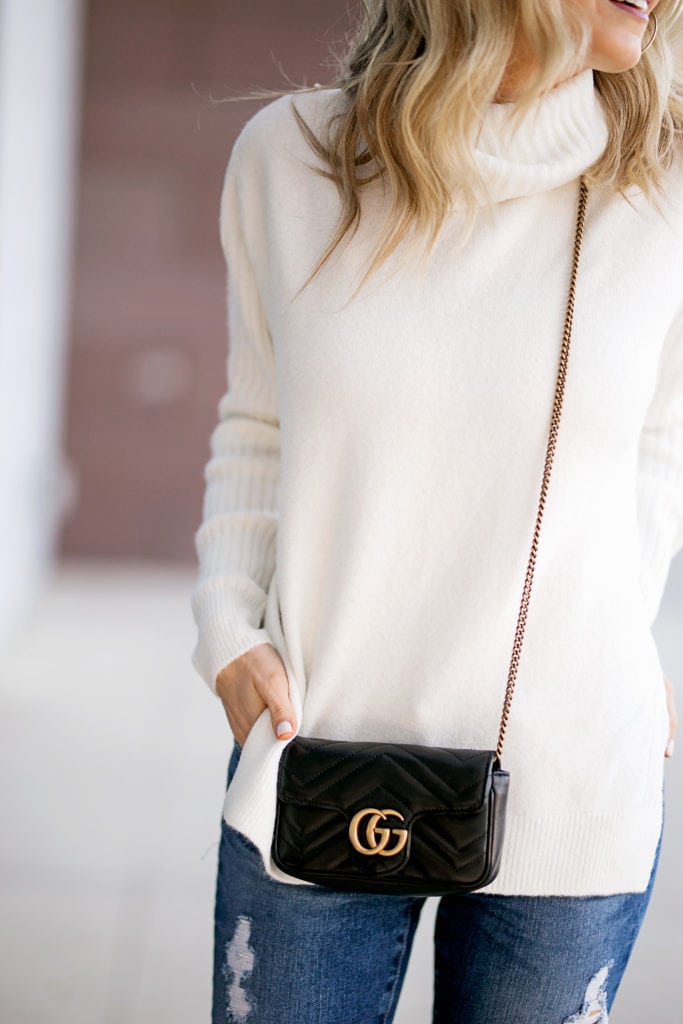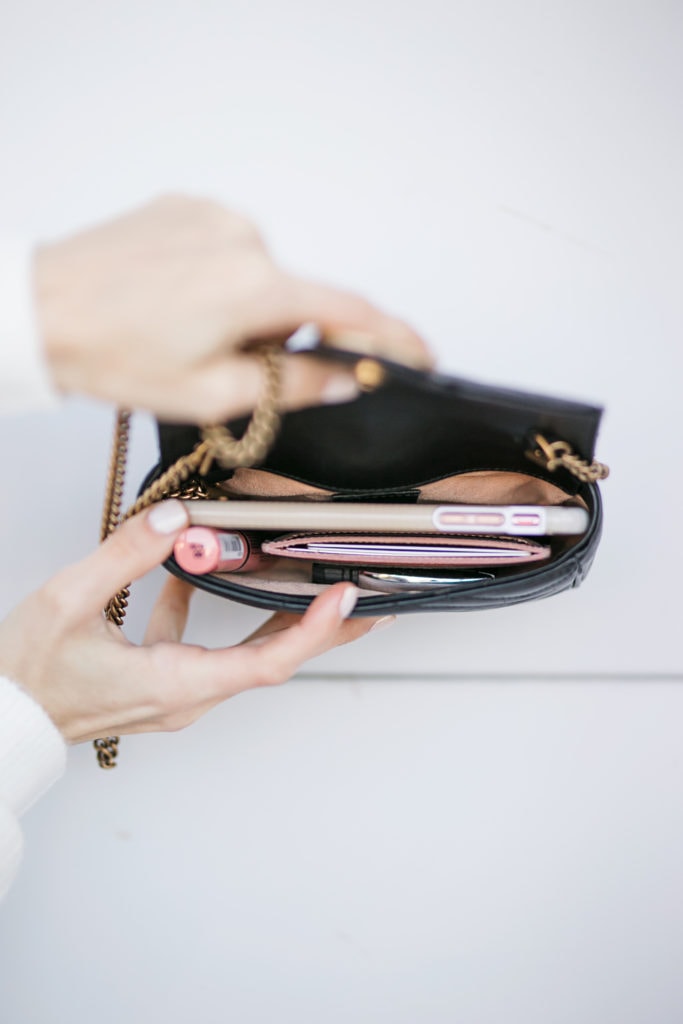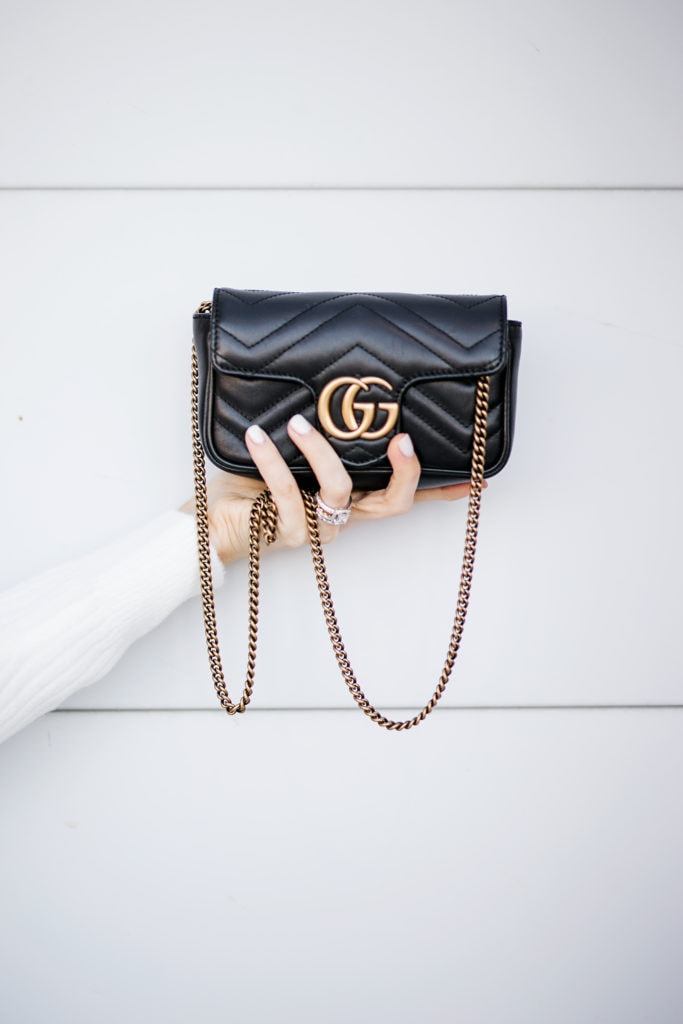 Bag: Gucci Marmont, Mini [Sold Out] | Sweater: Topshop | Jeans: AG [similar shade] | Booties: Halogen | Sunglasses: Nordstrom
Photography by: Angie Garcia
---
This week I asked for a few questions to film a FAQ. Full disclosure, I haven't filmed it just yet and I can't make any promises. I don't necessarily like doing videos as it isn't my strong suit, so I still am toying with the idea telling myself to, "Suck it up and do it." But while I try to gain some courage to film, I've gone through all the questions that were sent via comments and messages. I was blown away by how many of you asked, "What is your favorite bag now that you're a mom?"
No need to ask your fashion fairy blogmother twice, because you know I love talking about handbags any second I get. I'll talk your ear off.
Handbags are easily my favorite accessory to purchase, style and peruse. I'm all about organization and I love that we take our handbags with us wherever we go as they tote our lives in them. Because I'm such a handbag fiend, I've had great experiences and not so great experiences. I've had bags get severely damaged, I've purchased bags that never work out and all along I find some gems I know will be on my shoulder when I'm 60. The Gucci Marmont line? That will be on my shoulder when I'm 80. This bag is 100% baby proof. I mean my child could use it as a teether [which she has] and it's fine.
So let's backtrack. Before baby, I kept my bags in immaculate condition, wiping them down with a cloth after each use. They never accumulated dust, scratches or even housed more than two or three receipts at a time. I swore up and down I'd maintain those habits when baby arrived and I would keep my goods well manicured.
Then, life happened.
Now, I still treat my bags extremely well. I have built-in shelves in my closet for them. I keep all my dust bags. I still wipe them down once a month. I have a pretty strict purse organization routine [you only need "X" number of lip glosses, etc.]. However, when I'm putting Maxi in the car seat and she feels the need to let her mother [and the entire parking lot] know that a car seat is torture, and I've got the grocery bag in the crook of my arm smashing the bread and I'm also trying to get her put in swiftly since the world is DANGEROUS, life happens. In that moment I don't even care if spray paint gets on my bag. I'm getting my baby in the car quickly, safely and checking her car seat straps more than the integrity of my handbag. And in those instances, a few bags have gotten damaged. There are scratches and scuffs. Does it bother me? Heavens no. Your items are going to get use and if my bag gets mommy battle wounds, so be it! However, designer handbags are quite the investment and it can be frustrating to see a certain leather scratch when the brand claims it doesn't. You immediately lose hundreds, if not thousands, in terms of resale value.
So what does that have to do with the Gucci Marmont collection? Everything.
This bag was my Valentine's Day present from Paul and so I've had it almost a year. I feel comfortable reviewing it as I've carried it before baby, with baby, on date night and while traveling. It's incredible and I don't say that lightly. My child has chewed on this bag while in the grocery cart. We've spilt breast milk on it. Formula on it. Cheerios on it. Wine on it. It's hit my car 50+ times putting Maxi in the car. Peaches has pawed at it. It's been thrown in a suitcase while traveling. It still looks brand new.
In fact, my mom saw me take this bag out one day and she saw the usual scenario go down where Maxi is playing with it/it's hitting my car while I buckle her. She saw me carry it again and said, "Why isn't this scratched? You treat it horribly." I shrugged and just told her it was well made.
She went to Nordstrom and bought one and for Christmas told my dad she wanted it in porcelain rose as well.
So let's chat details, shall we?
Sizing:
12″W x 7 ½"H x 3″D.
12" strap drop; 21" shoulder strap drop.
1.7 lbs.
Details:
Flap with spring closure
Sliding chain strap can be worn doubled or extended
Interior zip and wall pockets
Structured silhouette with flat base for stability
Sueded microfiber lining
Leather
Made in Italy
Design Appeal:
A classic flap bag with feminine and masculine detailing.
Logos nod to '70s-era Gucci design
Although it has feminine details [like a heart on the back] it's incredibly functional. It's not dainty.
This line carries an array of price points and sizing so many are able to try the trend based on budget and lifestyle. Sizes include: Super Mini, Mini, Medium, Large [this bag featured], Maxi.
The Medium can be worn on the shoulder with the double chain or as a cross-body bag, which is what I do when I have my diaper bag on me.
What I Keep in Mine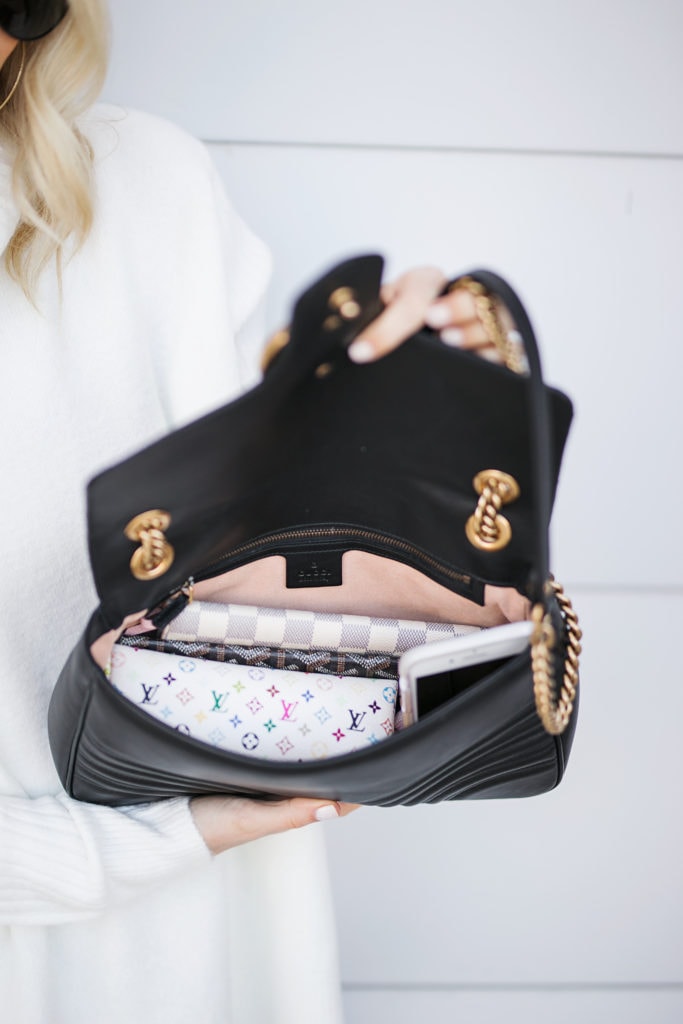 Flap Wallet
Pouch for Checkbook & Reciepts
iPhone 8+
Keys & Keyring
Makeup Bag with chapstick, lipstick, gloss, powder, ponytail holder, hand sanitizer and pacifier.
In these photos I featured the other Marmont item I have which is the super mini. Unfortunately, it was so popular at Nordstrom it sold out. However, Nordstrom carries quite the Marmont stash from their velvet bags [my dream!] to embellished beauties. Honestly, what led me to review this bag was the fact my husband notices how well it maintains its original design and integrity. Being married to a fashion blogger, my husband is quite the good sport. He never complains about a trip to the mall or snapping a photo. If anything, he really encourages what I do. But does he notice details? No. If I told him we needed to run to Nordstrom and get some MAC makeup, he'd think you could purchase it in the children's department. He truly has no clue about brands or designers or what is what. As we were packing to move earlier this year, I commented on which bags held up being a mom and which bags didn't. I told him my Gucci Marmont wasn't scratched and he said, "So why don't you just only buy those from now on?" He's a CPA. and quite logical at that. 😉 But I'm his wife and have to bring some impracticality to our life. However, I think it says a lot when your husband thinks you should just only buy one time of brand, because he wouldn't notice if I came home in a brown wig.
Here's a bit more of the Marmont line include my favorites from the collection.

Do you have anything from the Gucci Marmont line?! Have you shopped it at Nordstrom?

In collaboration with Nordstrom. All purchases and opinions are my own.