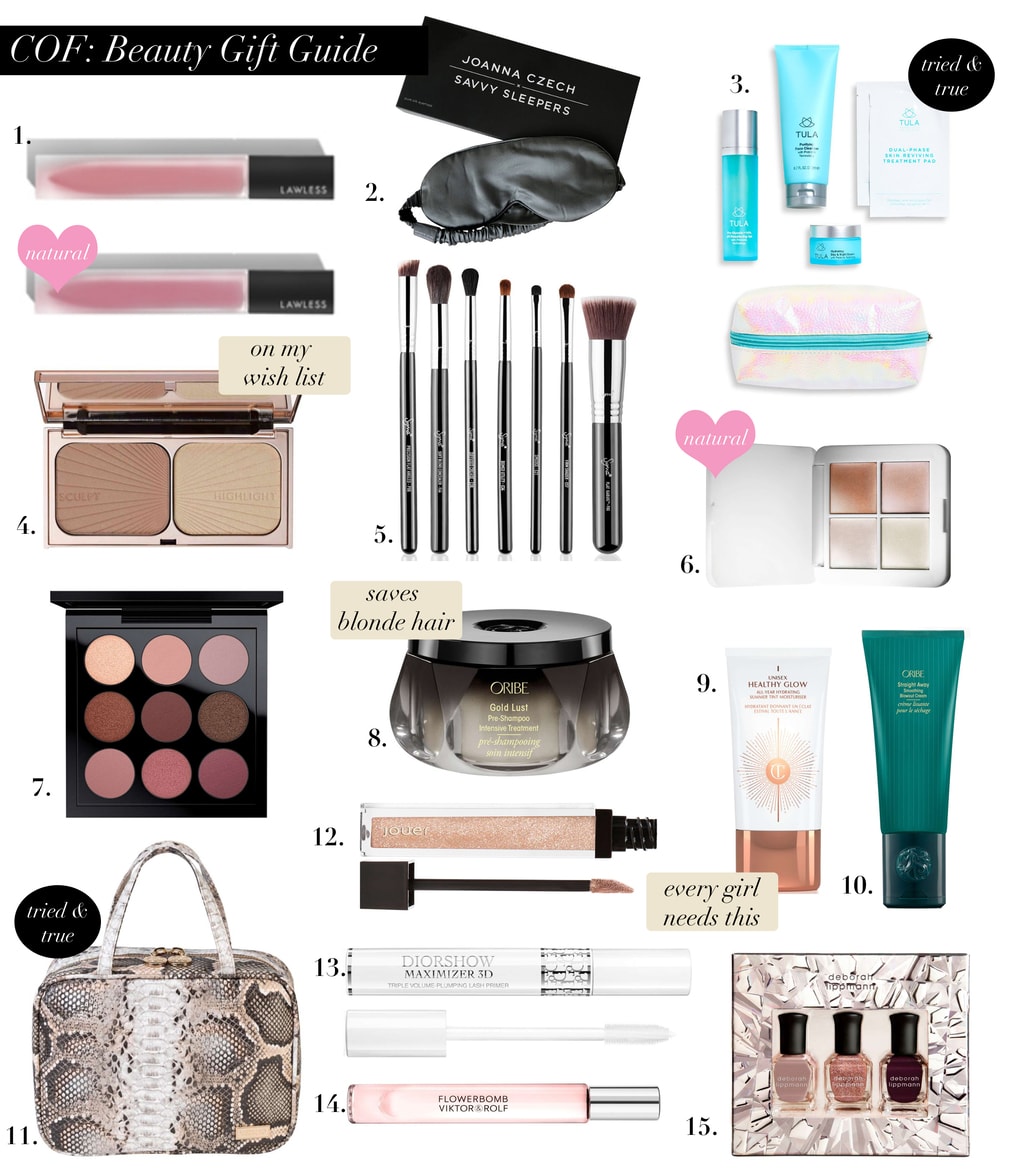 one | two | three | four | five | six | seven | eight | nine | ten | eleven | twelve | thirteen | fourteen | fifteen
---
Are beauty gifts our crutches because we love them or because we know the recipient loves them? I still don't know the answer to that, but I DO know my "go-to" gifts are always beauty related. I'm a firm believer that the right shade of lipstick can do just about anything, including change your life. 😉 Here are my picks for the beauty queen in your life!
Lawless Beauty Liquid Lipstick: Many of you know my stance on natural beauty products. I like a balance in my makeup bag. I add in natural products like coconut oil, castor oil, rosehip oil, Beautycounter where I see fit. Then I don't bat an eye when I throw on self tanner and other items. But I get a bit more nervous about products with Maxi! I use natural products with her and I noticed that my lipstick gets on her from me giving her "sugars" 500 times a day. I got on the hunt to find natural lipsticks back in May. I'll be honest, because most are made from coconut oil they glide right off.  I spent nearly $120 on natural lipsticks and ended up just giving them to people that wanted them because I couldn't work with them. They would either come off on Maxi's clothes or leave my lips with a light stain. It kind of looked like I had eaten something greasy and drank red wine. Not a cute look. Anyways, Lawless Beauty JUST launched these lipsticks and I ordered them within 5 minutes of the launch. I then called my girlfriends and forced told them to buy them. I've followed Annie Lawless for years on social media. She is the co-founder of SUJA Juice and I've blogged her many years ago. She created Lawless Beauty so that we could have GOOD lipsticks without toxic formulas. But the most amazing part is that these are actually super pigmented and matte, unlike any other natural lipstick I had tried. My favorite shades are Cameron and Brad. I wear these during the day with Maxi and then wear my other lipsticks shooting for the blog/when I'm out with Paul. I get so many questions about these on Snapchat/Insta Stories and wanted to wait to share them in this post. My daily lipstick when I'm not worried about Maxi getting it on her is Chanel Lipliner #5, Stila Perla and Jouer Lip Topper. If I know I'll be at music class with her and crawling on the floor/kissing her I wear Stila Pink Moscato Lipliner [not natural, but it's not all over the lip] and top with Lawless in Brad. Those two looks give an extremely similar effect!
Savvy Sleepers Silk Eye Mask: If your girlfriend loves her lash extensions, this is the gift to get her! I haven't had extensions so I can't speak from experience, but I've heard you have to be careful when sleeping to not get them crinkled. This silk mask protects them while you sleep! I got one because our bedroom is so light and on the rare occasion I do get a 20-minute nap in, I hate spending that time NOT sleeping thanks to sunshine. If you just like eye masks in general, a silk one is the best option for your skin and hair. I had a friend who had her hair break off because the normal elastic was too harsh to be on her hair for 8 hours at night. This also helps prevent fine lines around your eyes.
TULA Balanced Skin Set: Out of all the holiday sets, I think this is my favorite! I say that because my favorite skincare product TULA launched this year has to be the treatment pads. They completely change the texture of your skin and give you a mini hydrafacial. I'll be honest, I dealt with a lot of breakouts this year thanks to pregnancy, nursing, breastfeeding and weaning. Your body goes through a lot during pregnancy and a lot the year after you give birth. When I would use a traditional acne cream, my skin would be so dry it would crack! I tried these and they make every little blemish go away, but they also heal your skin so I wasn't left with flaky skin. Now you only want to use these once a week as they are pretty powerful! You can work up to two times a week but I only do it once. Along with these pads you get my all-time favorite cleanser, the moisturizer and the resurfacing gel which acts as a toner! This kit keeps your routine simple, but strong which I know we all like.
Charlotte Tilbury Contour Kit: Charlotte Tilbury is one of my favorite makeup brands because it is pigmented, but never looks "cakey". I haven't tried the contour kit, but this fall I purchased the contour wands and love them! I feel like my skin looks 100% different with them, hence why I'd love to try the powder version.
Sigma Brush Set: This is a wonderful gift for a daughter or a mom that needs a beauty bag update! Sigma is my favorite brush brand and this brush kit features their top sellers!
RMS Luminizer Quad: This is a top item on my wish list! *Hint* *Hint* Paul! RMS is an all-natural beauty brand and I've really enjoyed the products I have purchased from them. I wear their products in the summer as they are more sheer being natural, but they feel incredible on the skin. This highlight palette is adored by all girls! If you have a friend that is only into the "no-makeup" makeup look, she will need this. If you have a friend that loves lash extensions, lip plumper…the works…the will love this just as much. My friend has this palette and so I've seen how buildable it is. She uses her beauty blender and puts it on her skin and even uses the darker shades as eyeshadow as well.
MAC 9×9 Palette: You can't go wrong with a MAC Times Nine Palette! I've personally owned the Amber Times Nine and would love the others! This is the perfect gift for a girl who is a maximist at heart, but loves to keep things clutter free. She gets a pocket-sized palette with a ton of product. I purchased this palette about 4 years ago and I wasn't sure how long it would lasted. It lasted an entire 2 years and still had product. I only tossed it because it had expired.
Oribe Pre-Shampoo Treatment: Know a blonde? Gift this. I'll be honest, I tested a haircare line for a few months after I had Maxi and it severely damaged my hair. I'm talking I was sending Snapchats to my hairdresser crying. But alas, she had other clients using this brand and it did the same. Thankfully, she did some special treatments and I found THIS product. All is well again, in fact Paul keeps commenting on my hair and he has never done that. This pre-shampoo treatment is like liquid gold for blonde hair. I say blonde, because let's face it highlights/bleach/whatever is the most damaging thing you can do next to certain types of extensions. This is a balm that you use once a week and let it melt into your hair. I apply all over, but for finer hair just do the middle of your hair to the ends. Let it sit for 20 minutes, but I'm over the top and do about an hour. Then wash your hair. I promise you, it makes my hair feel like a silk pillowcase. I thought I would need to chop my hair because of this other line I was using and now I feel like this product made my hair the best it has ever been.
Charlotte Tilbury Unisex Healthy Glow: I use this instead of primer! I blogged it here and it's still going strong. If you have a friend that adores self tanner, she will want this. It transforms to any skin tone and gives you that "just airbrushed" look.
Oribe Blowout Cream: Let's get back on the Oribe train. This blowout cream makes your hair so silky and straight! I like to think I know a lot about beauty products and tricks, but one thing I can't do is a blowout. I mean I just raise the white flag and surrender to sleeping on wet hair each time I get out of the shower. I can't do it. I won't do it. I don't have the patience to do it. But I recently purchased this and my toddler skill set of using a blowdryer had me looking like I left a salon. You truly don't need a round brush and it works! I would gift this to a friend that loves to go to Dry Bar!
Travel Beauty Bag: THIS BAG IS IT! I shared how I packed my hospital bag back in January and I've gotten hundred of e-mails since asking about the travel makeup bags I packed. This is the smaller size, but these are the bags I travel with. I never had a link for you all because I had purchased mine at a boutique and for a while they weren't online. Nordstrom has this line now for the holidays. The ones they have are the medium size and I asked Paul for this bag for Christmas! Grab this for a mommy-to-be or a friend with frequent flyer miles! [Note: This one just sold out! You can get same size here and here]
Jouer Skinny Dip Lip Topper: If your girlfriend loves liquid lipstick but complains about cracked lips, she needs this. You dab this lip topper [not a gloss] in the center of your lip and your lips stay moisturized and glow. Don't apply this all over the lip as it is "glittery" but when it is in the center of your pout it gives a glow as opposed to shimmer. It's one of my top beauty purchases of 2017.
Dior Primer: A lot of my friends work in the beauty industry and they do everything from buy for major luxury retailers to PR. Because they are surrounded by beauty products 24/7, not much excites them anymore. In fact, when I ask if they want to go to Sephora or Ulta that is the last thing they want to do. They've tried everything and think every palette is a remake of another palette. But this primer? They all rave about it. One girlfriend texted me 3 times to make sure I purchased this. This is the gift to get your girlfriend that is breaking up with lash extensions. There is always that awkward "grow out" period, but this product makes you feel like your lashes are so much longer.
Flowerbomb Rollerball: If there is one perfume my husband always notices, it is Flowerbomb. It doesn't matter how often I wear it, each time I put it on he compliments it. Then he asks what it is and I'm like, "My love! It's the only perfume you've ever asked about! Flowerbomb, duh!" Gift your girlfriend that loves to travel this so she can keep it on her purse and touch up as needed!
Deborah Lippman Polishes: Lastly, this is my ultimate beauty gift I give year after year! Deborah Lippman makes the cutest polish gift sets and for $24 this is a wonderful price point! You can add it to a candle or gift alone and your coworker or sister-in-law is sure to love it!
Editor's Note: The Stephanie Johnson bags sell out SO quickly and as I figured, they sold out again. This brush case and makeup bag are still available…for now! lol
---
Giveaway
Congratulations to @meg_roth for winning the Duluth Pack giveaway! E-mail me to set up shipping! Now for the beauty giveaway, this one is fabulous if I do say so myself. One lucky girl will win a TULA gift set valued at $225! I'm so excited for a girl to get to try the brand if she hasn't yet.  I'll share more details on my Instagram later today and how to enter!
Happy gifting!