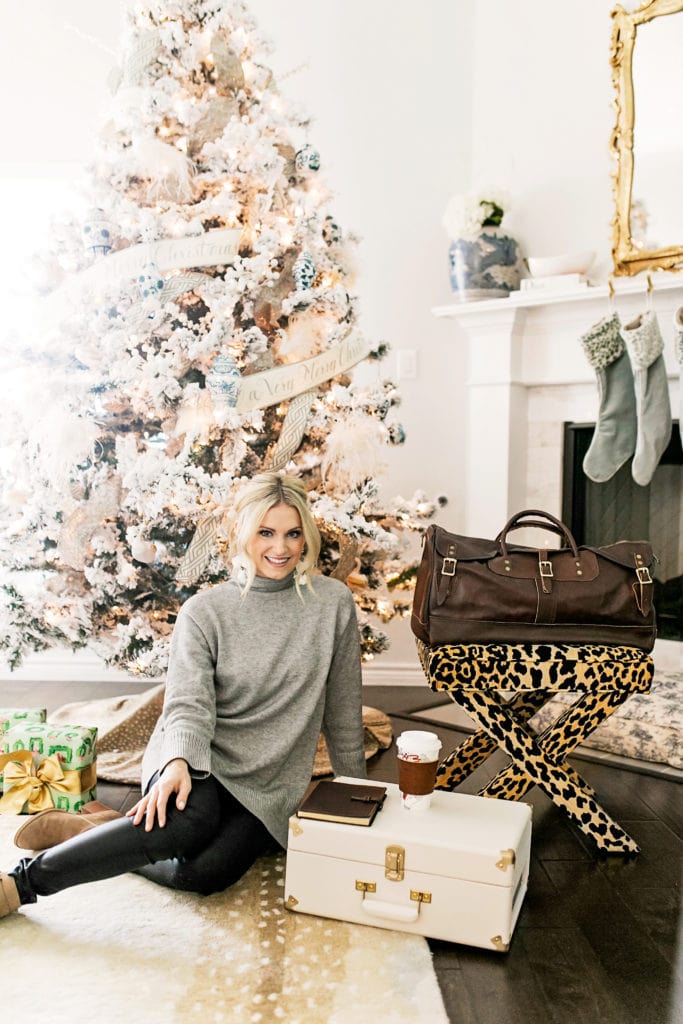 I've said it before and I'll say it again, men are more difficult to shop for than women. In my experience, they either don't want anything or they want something outrageous like sporting event tickets. There's rarely a happy medium! So today, I decided to break down my "go-to" gifts for your guy based on how long you've been together. Now you don't have to follow that, hopefully this just breaks it down a bit!
If You Just Started Talking

Coffee gift cards are a definite "go-to" option, but dress it up so it's not a tired gift! Duluth Pack is a great leather company where all items are made in the USA. I shared a few of these gifts on my Insta Stories and got an overwhelming response to share more of this shop on the blog. I shared this coffee sleeve in my Stocking Stuffer post this week and it's only $10! You could pair it with a monthly coffee bean subscription or the Northwoods Roast that Paul loves. If you're still in that phase of, "What are we?" this shows your thoughtful, but you're not going over-the-top when you're still deciphering how you feel about the relationship!
If You're Newly Dating
If you've had "the talk," and you know you're committed, but maybe not so serious, grab him a leather journal for his desk! Paul loves leather goods for his desk and the nice thing about this journal is you can refill it with other notepads or refills over the years. From using it for his devotionals to his work "to-do" list, this is such a nice gift a man will appreciate!
If You've Been Together Over a Year
I gifted Paul a Crosley record player our first year of marriage and we have used it so much. The fun thing about this turntable is that you can plug your iPhone in if need be, but it's definitely a gift you can gift off of. Paul and I will always order one another records when either of us mention we love a song on the radio. It's a wonderful way to stay thoughtful throughout the year!
If You're Engaged or Married
My top splurge-worthy gift for a guy is a Duluth Sportsman's Duffel. This is what I got Paul our first married Christmas and my dad was so envious of it during trips, we got it for him last Christmas. You can see a more in-depth review of this bag and what it fits here. This is a piece that looks even better with wear and it's something a father can 100% pass down to his son. If you aren't wanting to spend the price for leather, they have a handsome option with canvas and leather, too. From round duffels to duffels with wool, check out the other options here. If you're engaged this would be such a sentimental gift to give as he can take it on your honeymoon!
If You're Meeting The Parents/Need Gifts for Your In-Laws
The first Christmas I met Paul's family I was so nervous. I'd heard how Paul's stepmom was a wonderful cook, so I felt very anxious to gift her something. I ended up making Paul's dad and stepmom a basket filled with baked goods and baking materials from William Sonoma. William Sonoma always has cute things this time of year like Peppermint Bark and cookie sprinkles. Grab a few kitchen items like these pancake mixes and then throw in your favorite baked good. This is my "go-to" coffee cake recipe from my Nana. Make some of this to include in the basket and they'll love it! It's so nice to munch on when guests are over for the holidays.
Giveaway
Congratulations to the winner of the last gift guide's gift! Andi Powell, you won the Jenn Thatcher Longhorn print! E-mail me to set up shipping.
This week's giveaway is so exciting! We are giving away a $150 gift card to Duluth Pack so you can shop for your guy [or yourself!] for the holidays! Head to Instagram later today to enter!
Sale Details
Right now Duluth Pack has the 12 Days of Christmas going on! A top-seller is on sale each day and today the round duffel is 35% off. They also have free shipping for orders over $100.
What do you like to gift your guy?!


Sweater: Anthropologie | Earrings: Baublebar | Leggings: Nordstrom | Booties: Sole Society | Holiday Home Decor: This Post | Leopard X-Bench: This Post | Crosley Record Player: Urban Outfitters [exact is a few years old] | Drink Sleeve: Duluth Pack [c/o] | Journal: Duluth Pack [c/o] | Duffel: Duluth Pack [c/o] | Sugar Canister: Hobby Lobby
Photography by: Angie Garcia